Jammin' Jars 2, by Push Gaming
21 Feb 21Chloe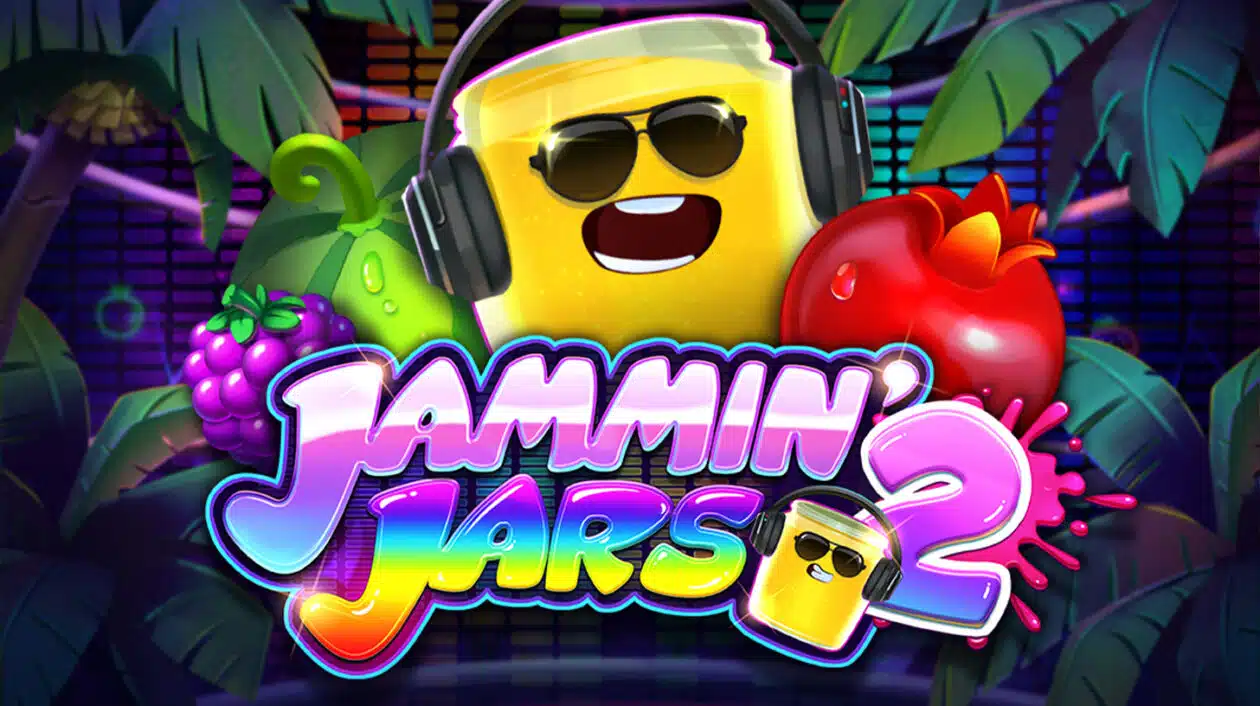 Back in 2018, Push Gaming presented us with what soon became one of the biggest slots of all time – Jammin' Jars. If you haven't either played, or watched someone else play, this slot yet, I have to first ask if you have been living under a rock. However, for the sake of understanding, here's a quick recap… Jammin' Jars is played on an 8×8 grid, where adjacent clusters of 5 or more fruits form a win. Winning fruits are removed, with all other symbols dropping to replace them. New symbols then fall down from the top of the grid into any empty spaces. A colourful jar symbol is both the wild and the scatter in this slot. Each time a jar is used within a win its multiplier increments by 1.
3 jars in view awards 6 free spins, which may not seem like a lot. However, 3 wilds and cascading symbols mean it can last a while. In this game, it only takes 1 spin to make the bonus. Multiple jars can combine together to form a larger win, with both multipliers in play.  An additional wild jar can land during the free spins, which also sticks. Unlike the base game, the multipliers attached to the jars continue throughout all 6 spins, rather than reverting back to zero for each new spin. Within the base game, there is also a rainbow feature, which places one or more colossal fruits on the board.
And there you have it, Jammin' Jars in a nutshell! We have seen some huge hits on this slot, frequently surpassing 10,000x. We ourselves hit a huge 1,930x win in February 2021! Nearly 3 years after release, Jammin' Jars continues to be one of the most hotly requested slots, but that could all change soon, because there's a new jar in town, already one of the most highly anticipated releases of the year.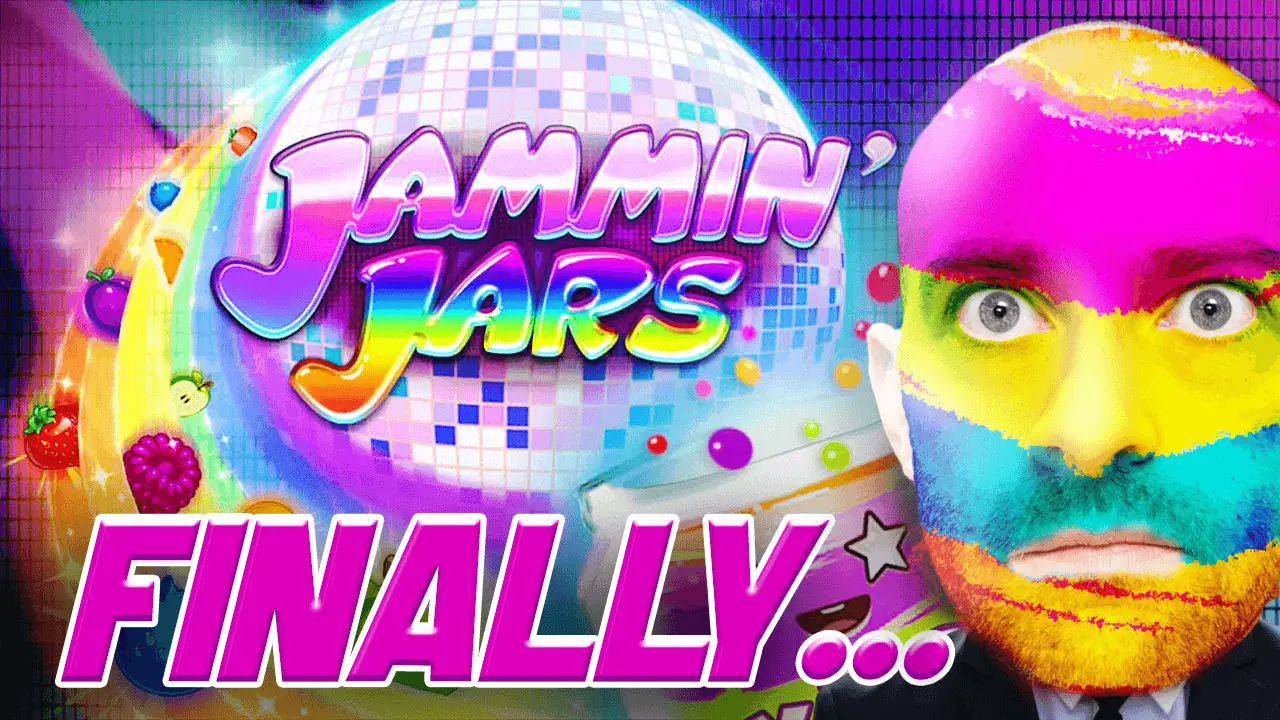 Jammin' Jars 2
In many ways, slot sequels are like movie sequels. They are either blockbuster hits, or complete flops. When you think of a slot sequel that swept the sector worldwide, the mind immediately goes to Dead or Alive 2. In fact, if it wasn't for the "2" in the name, it would be all too easy to forget that Dead or Alive, the original, actually existed.
Other examples of sequel fan favourites include Reel King Megaways, Wild Blood 2, and Rick and Morty: Wubba Lubba Dub Dub, which turned the normal sequence of events on its head in 2020, releasing a 5×3 format after a Megaways version of the game. At the other end, there have been scores of sequels released that have been underwhelming, to say the least. Pink Elephants 2 seemed to disappear from our minds almost as quickly as it appeared. That could be down to the fact that the original wasn't the most popular slot.
More recently, in October 2020, when Push Gaming were celebrating their 10th anniversary, Reactoonz 2 was released by Play'n GO. Fans worldwide took to social media to express their excitement at the prospect, as Reactoonz had gained admiration from players across the globe, but very quickly the excitement turned to disappointment for a lot of players. Reactoonz 2 turned out to be a marmite slot, with a far bigger ratio of players falling on the negative end of the scale. The wins were lower, the maximum win was smaller, and although the chance of achieving the maximum win was higher, we learned that most players didn't care – the maximum win is important to players, who want to feel as though the sequel brings things that the old didn't, including monstrous wins.
Reactoonz 2, as mentioned above, showed that players want to feel that they are being given more by a sequel. They don't just want new graphics, or a new soundtrack. They want better wins, and bigger wins. But, it's hard to think of how Jammin' Jars could improve upon its' already stellar success, and I can't help but wonder… Are Push Gaming setting themselves up to fail? I mean, as the age old saying goes, if it isn't broken, why fix it?
It's going to take some pretty impressive changes to improve upon the success they have experienced with Jammin' Jars, and it will be interesting to see which mechanics they choose to change, if any, or will they simply add some bells and whistles and slap a "2" on the end of the logo? We think a provider that has been around as long as Push Gaming will have some big tricks up their sleeve.
Some of the most common complaints that surround Jammin Jars are the amount of truly, truly awful bonuses that greet players, often after a long grind. Unfortunately, higher volatility games are exactly that – volatile. Players should probably not expect to see bonuses in a higher frequency, or lower volatility, than Jammin' Jars, as sequels usually take things higher on the volatility scale, except Reactoonz 2, which will continue to be one of the anomalies.
Jammin' Jars 2 Predictions
So, if we don't think Jammin' Jars 2 will give us any more frequent bonuses, or a lower volatility, what do we think Push Gaming are going to present to us in June 2021? Currently, we know Jammin' Jars 2 is going to include a new "Giga Jar", but we are unsure of what that is, exactly. We have a few suspicions, though:
Bonus Rainbow Feature: This suspicion does not include the Giga Jar, but we love to think it could still be true. The rainbow feature is the best, and arguably the only impressive, feature within the base game. When you have two jars on the screen with multipliers building up, a rainbow feature can provide some huge wins, and the bigger the multipliers, the bigger the wins. If Push Gaming were to include the rainbow feature within the bonus on Jammin' Jars 2, this could be what takes it to the next level.
Colossal Jars: There is the option to have one, or more, colossal jars, both within the base and bonus game in Jammin' Jars 2. This could be the Giga Jar. Regardless of size, colossal jars would, of course connect to more symbols, giving the chance for more wins, hopefully meaning the multiplier attached to said jars would increase more substantially. This would be reminiscent of Cyberslot Megaclusters, which has a colossal wild, enabling more wins.
More Jars: Currently, it is only possible to get a maximum of 4 jars while playing Jammin' Jars. This means there could be a possibility of more jars in Jammin' Jars 2, with the Giga Jar potentially being the extra jar. That said, we have experienced a lot of 4 jar bonuses that pay next to nothing because they are so far apart, so we're not sure 5 or more jars would make a hugely substantial difference in general game play. Of course, for the players who would build up multipliers on every jar, even one extra jar could change everything.
A 100x Jar: This is the one for me. Sometimes we just have a feeling in life, and I think a special jar (Giga Jar, perhaps?) with a huge multiplier that has the chance to drop in during the base or bonus, could be the thing to take Jammin' Jars to the next level. Naturally, the multiplier would not necessarily need to be 100x, but any jar with a particularly huge multiplier could be incredible, and it would be very Sweet Bonanza-esque!
Special Multiplying Jar: Finally, the last of the ideas we have is the prospect of the Giga Jar incrementing in larger multipliers than just x1, which again could result in some huge wins. Considering that we have seen multiple jars surpass a 20x multiplier within the bonus, even one jar incrementing by x2 could change the entire game, and have us seeing some of the hugest wins possible!
One things for sure, whatever the changes that will ensue for Jammin' Jars 2, we think the maximum win will be bigger than before, and the volatility will be higher than ever. If not, we're not sure how it could knock Jammin' Jars off its' pedestal. As more slots are released, we continue to see higher and higher maximum wins, with one recent notable slot being San Quentin by Nolimit City, which has a maximum win of 150,000x bet. Push Gaming could try to match some other providers available in terms of maximum win, and offer us a max win within Jammin' Jars 2 that stops us in our tracks. Regardless, we're excited to see where they go with this release, and we can't wait to try it.
What do you think about the prospect of Jammin' Jars 2? Are you a fan of Jammin' Jars, and have you been one of the lucky players to experience one of those huge hits in the past? Do you think any of our predictions could come true, or do you have another idea of your own? If you do, be sure to let us know down below!
"We're all about making games that can stand the test of time at Push Gaming. In recent years, we have continuously received positive feedback from both players and partners on Jammin' Jars, and we are now finally delighted to say that Jammin' Jars 2 will soon be a reality.
With the launch four months away, we've got some exciting news to announce ahead of delivery day, with well-known industry personalities and big-name casinos getting in on the action. With so many colours, themes and variations to play with, I'm sure we've got an incredibly funky series lined up to delight players for years to come."
James Marshall, Push Gaming CEO