Overview
Hacksaw Gaming launched in September 2018, beginning their journey designing online scratch cards with huge prizes on offer – up to €500,000. Hacksaw Gaming was founded to rethink classic products already existing in the market. Offering technology and design built with users in mind, their products focus on a "mobile first" approach. An intelligent approach, given that mobile devices continue to take control in this new age, and so many adults no longer own desktop devices, instead turning to their mobile devices to access casino games. Visually, Hacksaw Gaming offers slots that are distinctive, yet simple in design. It would be all too easy to look at some of the games and feel they are created for the smaller, casual gambler. Hacksaw Gaming's portfolio is filled with games that pack a huge punch with potential, volatility, and user experience, evidenced by them receiving their first SiGMA award in 2019, just one year after launch. Hacksaw COO claims Hacksaw Gaming was started because there was a visible gap in the market for new, and innovative products. Innovation, mobile-first experience and quality are the values they uphold with every product they design. Here's what we have said:
It is always a mark of bravery to continue to produce unique games, especially with such interesting styling, in particular when you don't have too large a catalogue of games under your belt. Hacksaw Gaming seem to be setting themselves apart as a provider with little to no interest in continuing to produce the same "quick" games available elsewhere, and that in itself gets a huge tick from us.
Popular Hacksaw Gaming Games
Hacksaw Gaming have become experts at releasing slots that players have faith in before taking their first spin.  Despite the simple approach taken towards design, audios are a strong focus, adding to the user experience, which brings us to what, in our experience, is the most hotly requested Hacksaw Gaming release – Chaos Crew. Coincidentally, Chaos Crew also has the strongest audio track, with so many viewers and players likening it to memories of being in a nightclub in their early 20s. Invoking fond memories through audio is an incredibly difficult task to undertake, and do well, but Hacksaw continue to manage it. Players can join Cranky and Sketchy in Chaos Crew, which offers an RTP of 96.30% with volatility levels rated high. Adopting the "3 lives" approach within free spins, players can land win values and multiplier win values, which can add to all 5 reels, giving the potential for some huge wins – up to 10,000x bet.
Next up is Frutz, another 2021 release from Hacksaw Gaming. Taking on a similar visual approach, Frutz separates itself from Chaos Crew by adopting the cluster pays mechanic, and increasing the RTP slightly to 96.40%. Similarities remain, including high volatility levels and a maximum win of 10,000x bet. Frutz offers players 3 separate feature buy options, ranging from 93x bet to 200x bet for between 8 and 10 free spins. During the bonus round, multipliers that land add to the total multiplier for chances to hit big, with the multiplier frequently climbing to huge heights. Frutz continues to be well requested even from players in feature buy restricted areas – possibly helped by the fact that the bonus will land organically once in every 210 spins, on average.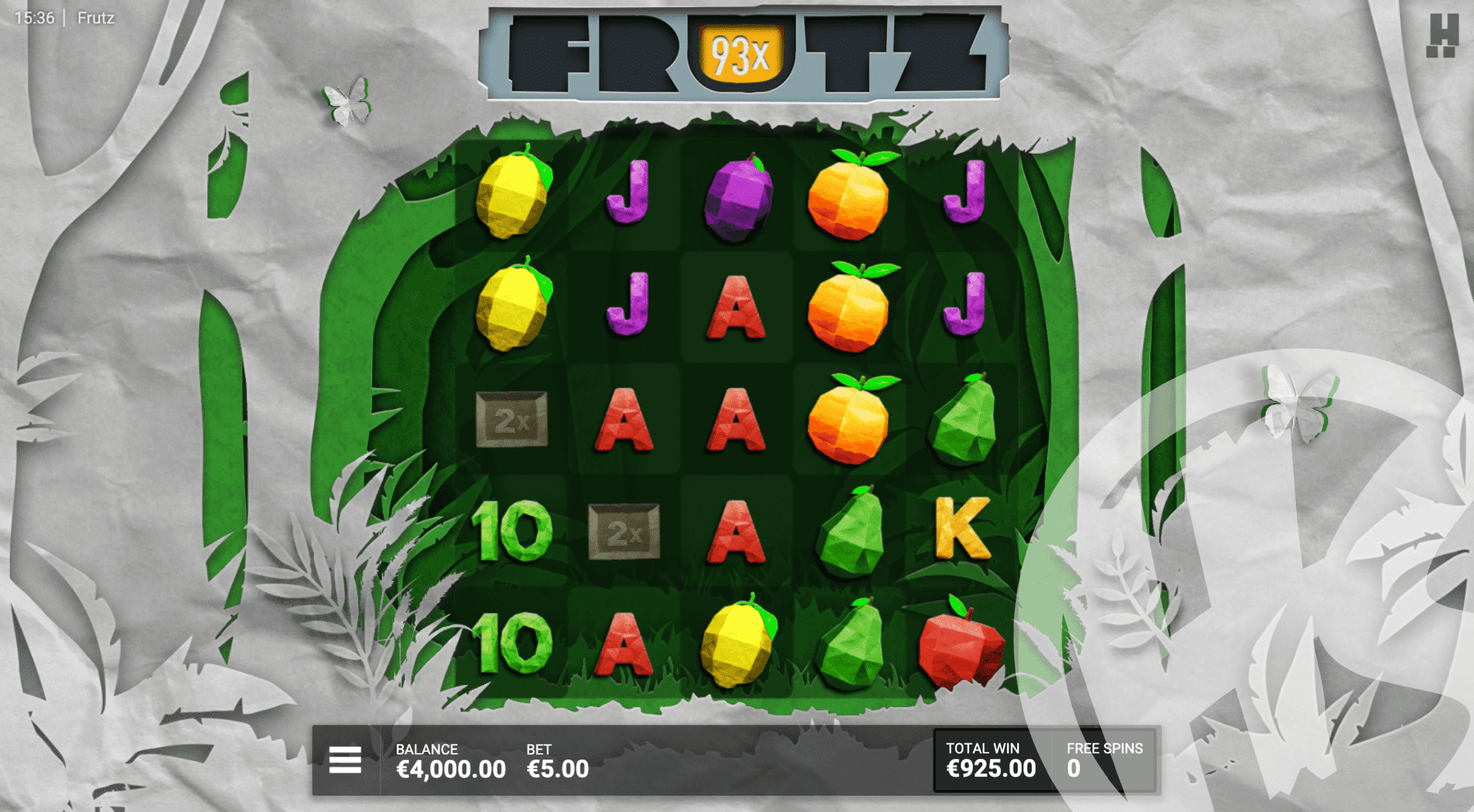 Back in 2020, Hacksaw Gaming presented us with Cubes, reminiscent of a Rubik's cube, which is third in our list. Slightly lower on both scales, Cubes is a medium volatility release, with a maximum win of 3,167x bet. Taking on the cluster pays mechanic, free spins are triggered by achieving a win with 5 of the 6 available colours in one spin – green, yellow, red, turquoise, blue and purple. Any win involving the middle cube awards a multiplier on top of the existing win, denoted by the amount of cubes involved in the win, up to a maximum of x22, and helping you along the way to free spins is the expanding grid. Once in free spins, landing a cluster of 70 cubes rewards players with 2,500x bet.
Finally, it's time for our favourite – Stack 'Em, the 2021 release responsible for our biggest Hacksaw Gaming win. Canny the Can, the beloved Stick 'Em character, made his comeback for this release, bringing his friend Mona the Mouse along for the ride. Highly volatile, Stack 'Em continues with cluster pays, offering players wins up to 10,000x bet in size and an RTP of 96.2%. Offering huge wins for clusters of 25 or more, and a monstrous multiplier in free spins, it's no wonder a lucky player hit the maximum win within a week of release, landing roughly €10,000 from a €1 bet (currency exchanged). A feature buy is also on offer for a cost of 129x bet, which is how we achieved our win, which you can read about below.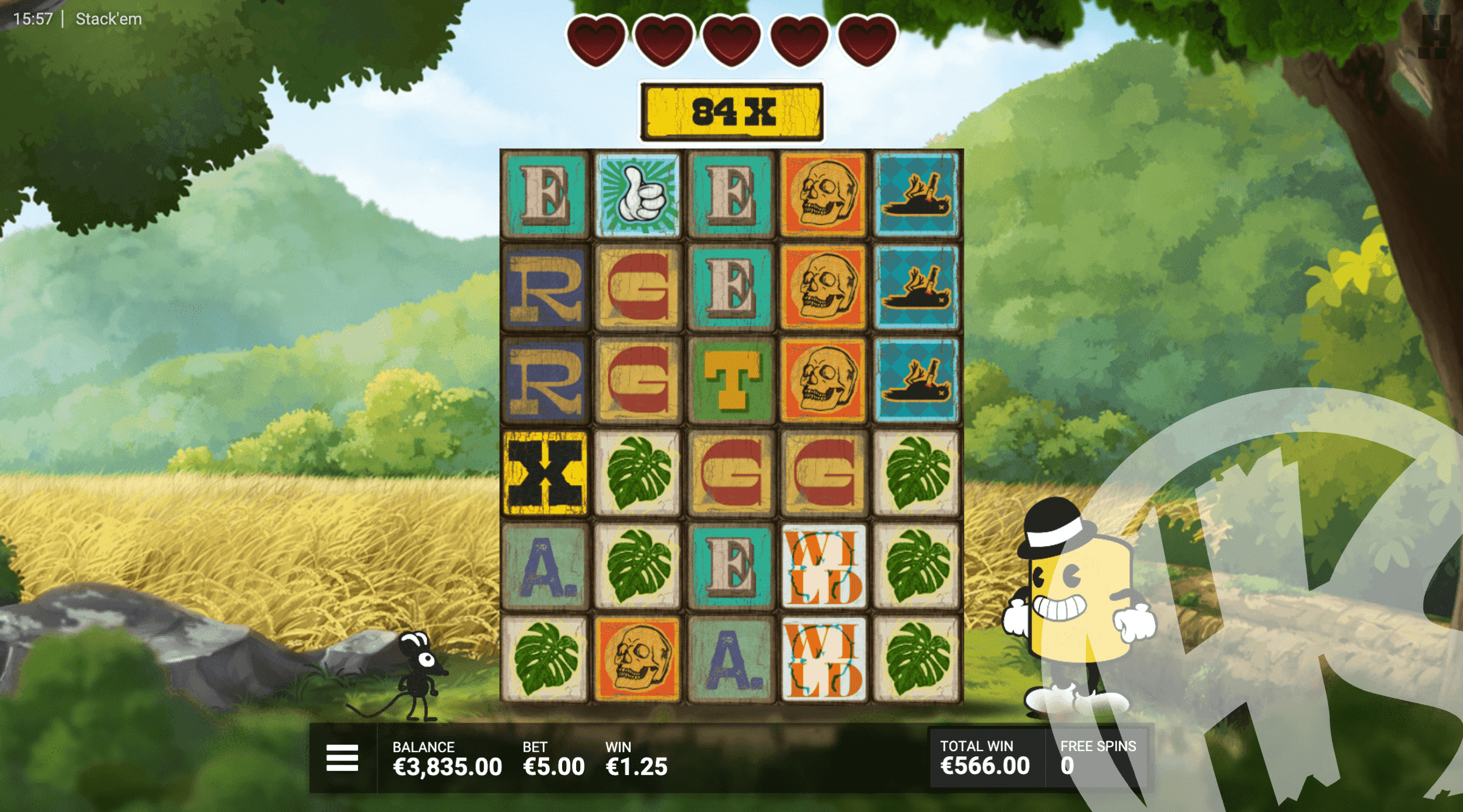 Some other notable Hacksaw Gaming releases include:
Aztec Twist
Cubes 2
The Respinners
Cash Compass
Stick 'Em
Our Biggest Hacksaw Gaming Win
With Hacksaw Gaming sitting comfortably as one of the most volatile studios on the market, it's no surprise that our biggest win so far has been during somewhat of a losing streak. After a viewer asked us to play Book of Time as a birthday treat for them, we were questioning their sensibility after losing on quite a few Buy Bonus options in a row – until this happened. Did we get the maximum win of 10,000x bet? See for yourself.