Hi Bryan and Johan. Congratulations on the success in 2023 so far. We had a great win on your previous release, Treasures of the Dead. Do you think it's difficult to approach classic themes or mechanics and present them in a new light, or do you think it's more difficult doing something new?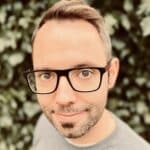 Revamping classic themes or mechanics can be challenging but exciting. It's all about respecting the original elements that players love while introducing fresh and innovative twists. On the other hand, creating something entirely new requires immense creativity and a deep understanding of player desires. Both have their unique challenges, and both are vital for keeping our portfolio vibrant and engaging.
Big Potential From Lucksome
Your next big release, 6 in the Chamber, is coming out in July 2023. Could you tell me a little bit more about this release? Specifically, what was the thinking behind this theme, and the artwork involved?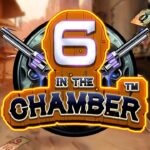 Imagine if a classic Western movie set had a baby with a neon-lit Cyberpunk future, and you'll start to grasp the vibe of 6inC.  It merges the grit and charm of the old wild west with the sharp, neon-futuristic elements of cyberpunk aesthetics. We wanted something post-apocalyptic and futuristic with a comic feel to it.
6 in the Chamber is described as a 'super high' volatility game. Do you feel it's important to have a balance within your catalogue of different volatility levels, to give something to each individual player?
Indeed, it's crucial to cater to a diverse player base with different risk appetites. While high volatility games like 6 in the Chamber can provide substantial win potential, other players might prefer less risky options. So, a balance in the game catalogue helps ensure everyone finds a game they enjoy.  This is why Lucksome's portfolio is so diverse.
Volatility In Lucksome Releases
If you had to choose just one volatility level to stick to, which would you choose?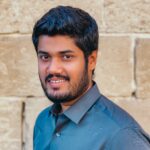 Horrible question! Me personally – life is about balance so I would choose right down the middle, if I HAD to choose.  But sometimes (like many) I'm really good to play a risk vs. reward game and the excitement that comes along with it.
Wins are possible up to 100,000x bet in 6 in the Chamber – huge potential that any player would be excited to come close to. Do you feel each studio now needs at least one of these 'big' releases?
I think you can't have a lot of these games around – unless you know what you're doing because it takes some serious skill to make these games actually work.  You have to be very precise with the mathematics to get experience right.
6 In The Chamber
Considering every aspect of 6 in the Chamber, what are you most excited for players to see? [artwork, music, features etc]
Honestly, the game seems complex, but its not.  It's a 5×3 10 Liner.  Sure there are options to play around with – but its – "Do I want to play for 100,000x or 50,000x?"  If it's the former switch on Hunter Mode – if not just play.  Then it's just about the Cascades.  Very simple.  6 in the Chamber, six cascades in to win the top prize of 10,000x in the Base Game.  If you trigger Free Games – then 8 cascades to hit the top prize.  We are really excited to see if player will use the feature exchange when they win 100x or more to access a special version of free games where Buffalo Bill, the top prize is on the bounty board from the beginning.  You can only access this super feature from the Feature Exchange screen.  Also excited to see how many monster wins we will get from the game as we have crafted the math to deliver really big wins as frequently as we could.  Hoping we'll see a 100,000x win in the first week of launch!
More From Lucksome
What's next for the Lucksome team as we move into the second half of 2023? Do you have any secrets you can share with us?
We are on fire now! We have loads cooking:  Bon Bomb™  Bonanza with the Hyperboom™  mechanic has just launched and is going brilliantly! We have Joker Lux™  launching in July along with 6inC and we have our new Dynamic Ways mechanic coming in Early Sept: FatStacks™  which will be the first game of its kind Miami Cash™.   We have a big sequel of a brand everyone will recognise coming this year too, and we have 2 new grid game concepts in the works too.  The future looks as exciting as a treasure map with X marking a spot right in your backyard!