It's time for Nolimit City's first release of 2022, and it's a big one. I usually use this space to give an intro and a brief overview, but I figured why bother? By now, you know Nolimit City, you know the games they release, and you know what to expect – or so you think. Here are some facts about Tombstone RIP:
300,000x bet maximum win.
3,000x bet feature buy.
No wins awarded below stake level.
Enhanced Bet makes its debut.
Hangings galore.
New volatility label of 'insane' created.
96.08% default RTP (94.08% also available).
Intrigued? I thought so…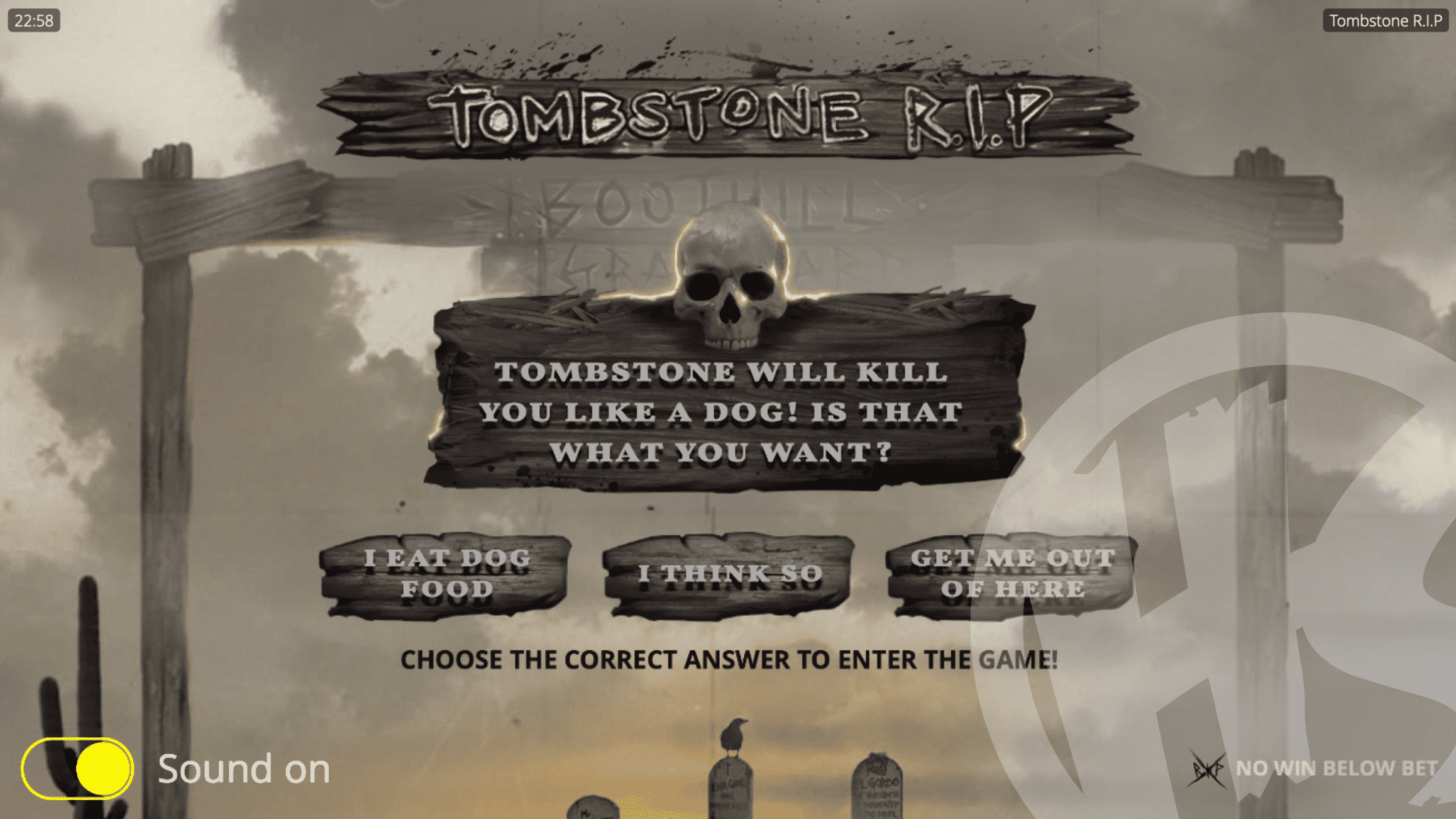 Visually, things are a bit subdued, for want of a better word. Maybe it's just me, but whilst the graphics are as brilliant as I would expect from the team at Nolimit City, they certainly aren't vibrant, or eye catching. Instead, everything is rather dull, as if the saturation was massively decreased on this landscape. What they have captured however, is your typical western town, complete with gallows when we see some of these fictional characters hanged. Once again, a special nod to the sound team, who have knocked it out of the park yet again, creating the perfect atmosphere – almost eery at first, and building to something spectacular.
Before entering the game players will be asked a multiple choice question, being kicked out of the game if they get the answer wrong. Now, maybe I was having a bit of a daft day today, but whilst some of these questions were obvious in choosing the most 'extreme' answer, I did get a few wrong, and it is frustrating to then restart the game, but adds some fun nonetheless, and gives an indicator of the insanity that awaits.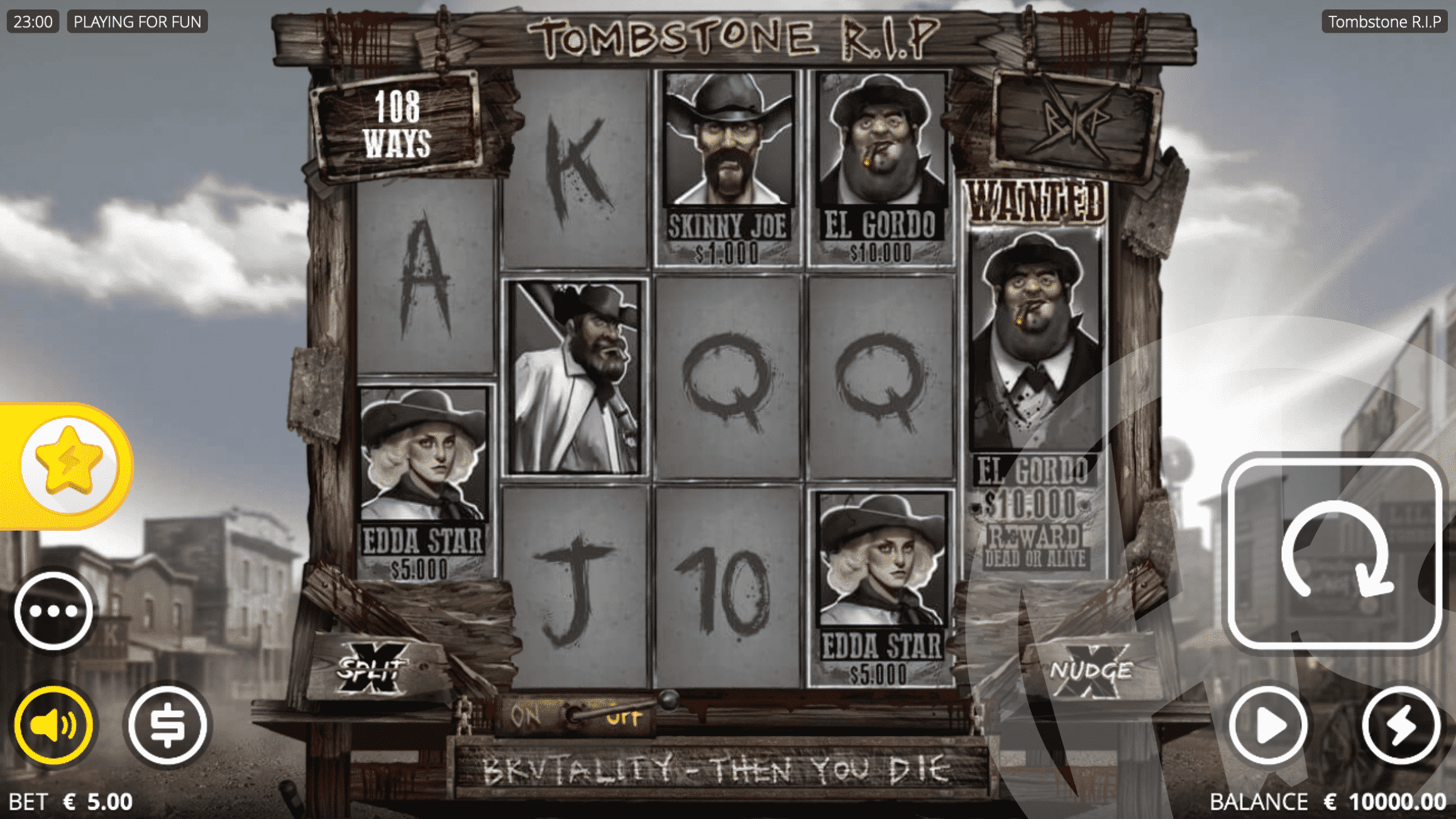 Tombstone RIP Base Features
Taking place across 5 reels, with 2-3-3-3-2 symbols on each, wins are formed by matching at least 3 matching symbols on adjacent reels, beginning with the leftmost reel – resulting in 108 ways to win, at a minimum. Of course, this can be increased with the help of Reel Split Wilds and xSplit symbols, which we'll explain more of down below. First though – the payable. Beginning at the lower end, 10, J, Q, K and As pay between 0.1o and 0.2ox bet for 3 of a kind, increasing to values between 0.50 and 0.90x bet for 5 of a kind. Premiums introduce us to 5 new characters, paying between 0.30 and 0.50x bet for 3 of a kind, increasing to values between 1 and 4x bet for 5 of a kind.
The fifth reel immediately holds some unique qualities – first, it can only contain premium symbols, wilds, xSplit Wilds or Boothill Scatter symbols. Symbols on the fifth reel will also count as a double symbol.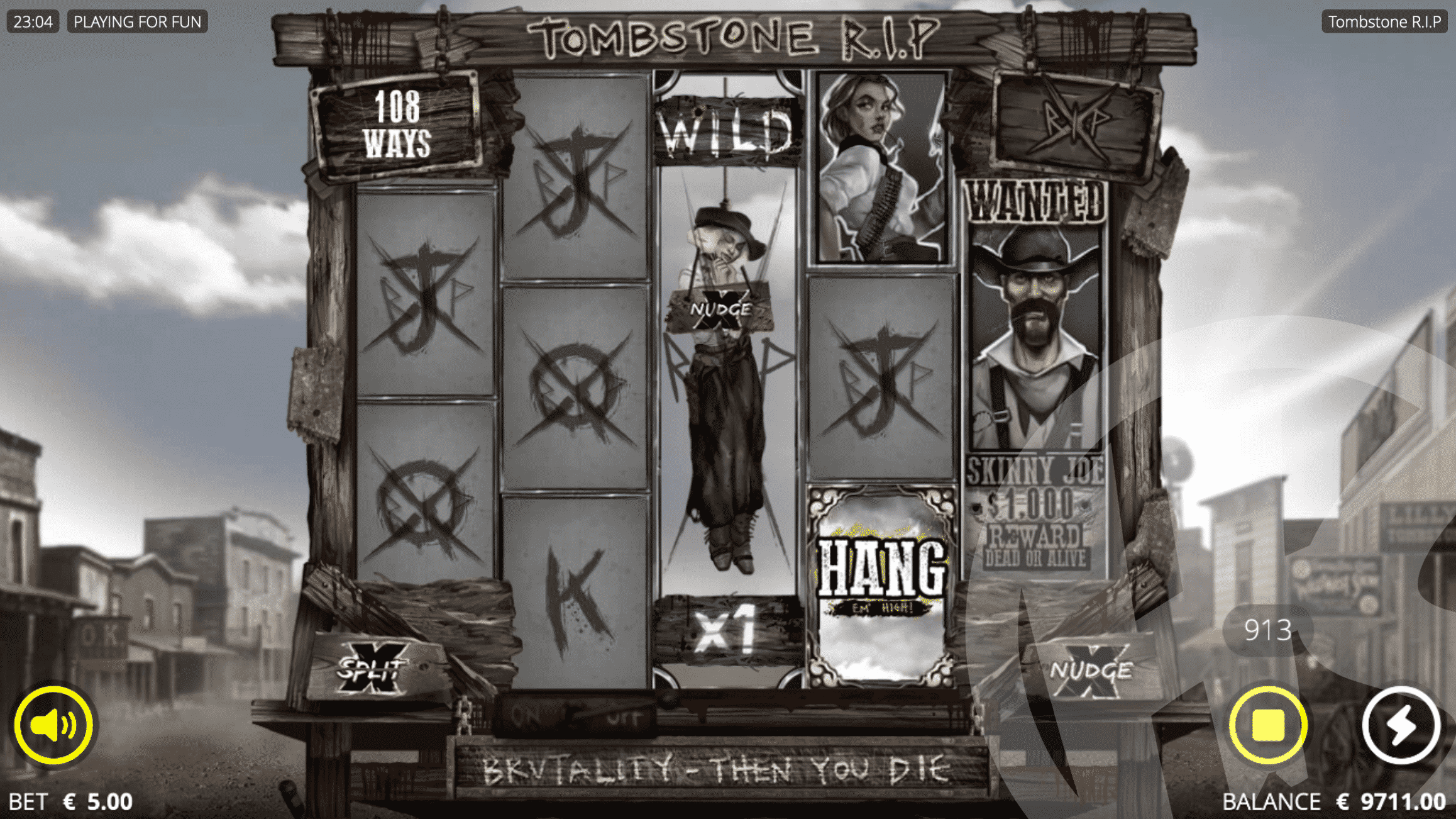 So first up in the list of features is the Enhanced Bet – which is pretty easy to miss if you're not looking out for it. Located at the bottom of reel 2, players can flick the lever to increase their base bet by 10%. Payouts will not increase in doing this, and the base game will become even more brutal, awarding less. However, it will increase the probability of triggering either of the free spin features, with a guaranteed Scatter on reel 2 for every spin. Enhanced chances are:
Win Cap: 1 in 81m spins (increased from 1 in 130m spins)
Hang 'Em High Freespins: 1 in 96 spins (increased from 1 in 194 spins)
Boothill Freespins: 1 in 63,000 spins (increased from 1 in 85,000 spins)
RTP increases by 0.20% when Enhanced Bet is activated.
Next up it's the xRIP feature – the most talked about within this release, and the reason for its seemingly shocking hit frequency of 8.7%. Any spin in the base game or either bonus round that generates win combinations where the total pay out is below the base bet triggers xRIP. When xRIP is triggered, there is no payout. So on the one hand, no more annoying wins of 0.2x bet, but on the other – you don't really notice how many smaller wins you get until they're gone.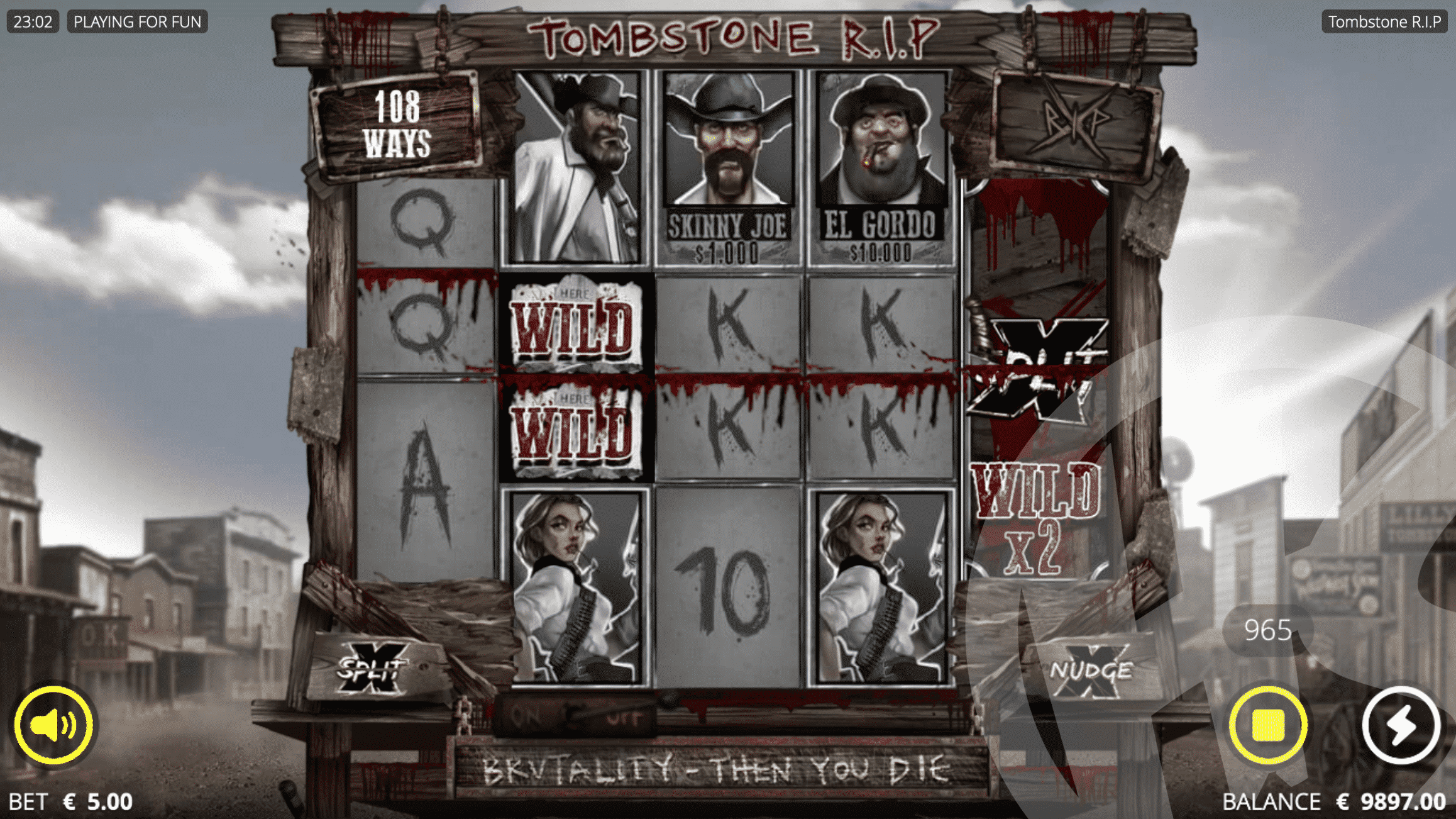 Following on from xRIP are xNudge Wilds – one of Nolimit City's most famous mechanics. xNudge Wild is a wild reel, that will always nudge to be fully visible. When a part of an xNudge Wild lands on the reels, it will nudge up or down, with each nudge increasing the multiplier by x1. Several Wild multipliers add together for a total Wild multiplier, and xNudge Wilds can only appear on the middle 3 reels.
Next up it's regular Wild symbols, Splitting Wilds and xSplit symbols. Regular Wild symbols can land on reels 2-5, and substitute all symbols except Scatters and special symbols, whilst Reel Split Wild symbols can land on the middle 3 reels. After landing, it splits itself and the other symbols on the reel in half, doubling the symbols on the reel and increasing the ways to win.
xSplit can only land on reel 5, counting as 2 symbols high. When it lands, it will choose 1 of 4 paths at random to split symbols to the left:
All 4 symbols in the top row.
All 4 symbols in the bottom row.
3 symbols in the middle of the middle 3 reels, and the top symbol on the first reel.
3 symbols in the middle of the middle 3 reels, and the bottom symbol on the first reel.
If the symbol on the path has already been split by a Reel Split Wild symbol, then both 2 new symbols will be split, resulting in 4 symbols on the initial position. In each of these instances, the ways to win will have been increased. xSplit symbols will leave behind a Wild x2 on the fifth reel where the xSplit initially landed.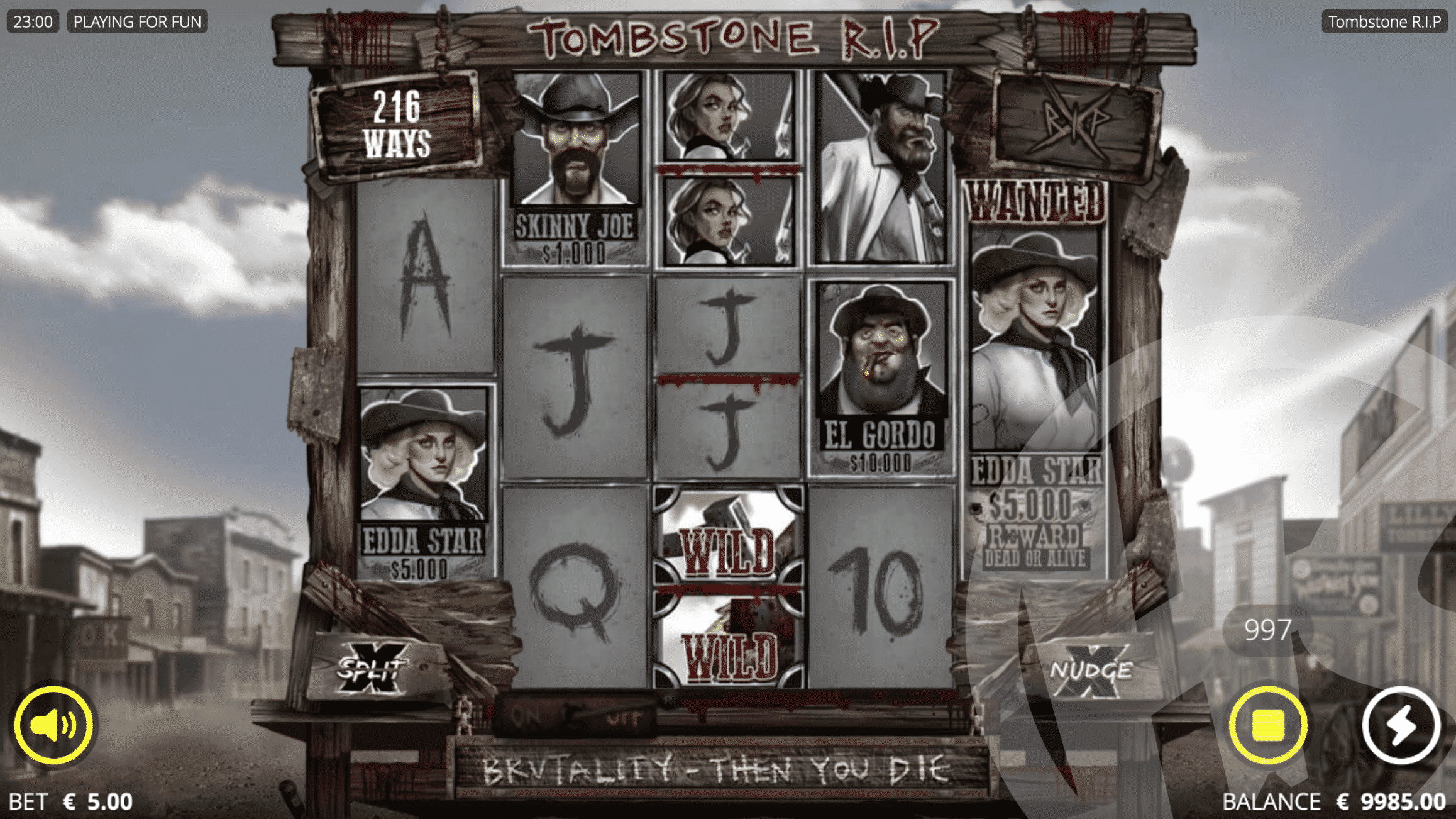 Finally it's Scatter symbols. Hang 'Em High Scatter symbols can only land on the middle 3 reels of the base game, whilst Boothill Scatter symbols can only land on reel 5 of the base game or Hang 'Em High Freespins. Landing 2 Hang 'Em High Scatters will turn them into Reel Split Wilds.
If you land a Boothill Scatter symbol without activating Boothill Freespins, the last reel will respin and land a cowboy symbol. This cowboy symbol then becomes Wild on all reels, and awards a random symbol multiplier between x5-x999.
Split Scatters will be considered as 1 Scatter.
Tombstone RIP Bonus
Land 3 Hang 'Em High Scatter symbols to trigger 8 Hang 'Em High Freespins. The win multiplier during Freespins will be increased by varying amounts, depending on the Wilds that land:
Regular Wilds: x1
Reel Split Wilds: x2
xSplit Wilds: x2
xNudge Wilds: x1-x3
The increased multiplier will then remain for the duration of Freespins. Landing a Boothill Scatter symbol on the last reel will upgrade to Boothill Freespins and award an additional +2 free spins. According to the team at Nolimit City 35,000x bet+ wins won't be out of place in Hang 'Em High Free Spins.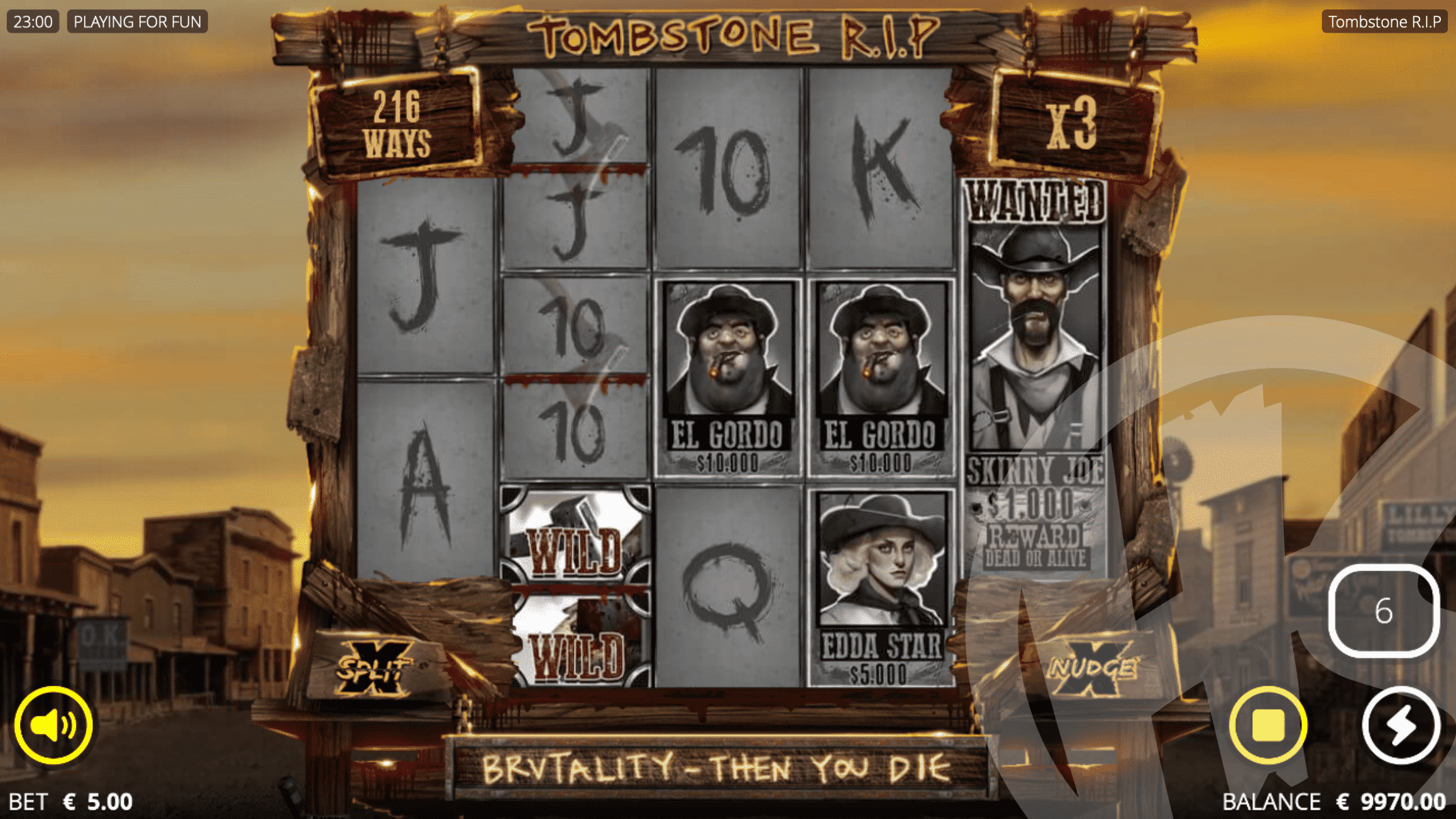 Land 3 Hang 'Em High Scatter symbols and a Boothill Scatter symbol to trigger 10 Boothill Freespins. The win multiplier will again be increased during Freespins by varying amounts, depending on the Wilds that land:
Regular Wilds: x1
Reel Split Wilds: x2
xNudge Wilds: x1-x3
The increased multiplier will then remain for the duration of Freespins. For each spin, the Cowboy symbol which lands on the last reel will turn all instances of that symbol to Wild symbols. Also on each spin, a random multiplier ranging between x5-x999 will be drawn and applied to a random Cowboy symbol – not necessarily the Cowboy symbol which lands on reel 5. The multiplier only affects the drawn Cowboy symbol and adds to the overall multiplier before payout is calculated. Still considered insanely volatile, Boothill Freespins will really cost you if you're in a position to buy them…
Players in appropriate regions can fast track some of the excitement with Nolimit Buys:
8 Hang 'Em High Freespins: 70x bet (96.47% RTP)
10 Boothill Freespins: 3,000x bet (97.03% RTP)
El Gordo's Revenge is the moment the maximum win has been achieved – in this case 300,000x bet. If the total win exceeds this amount the game round will end and 300,000x bet will be awarded.
First Impression
Let's start off with the obvious – the artwork within Tombstone RIP is second to none. To the point where it almost feels like a waste to be placed in an online slot, where so many players can't or won't fully appreciate the skill involved. Unfortunately this is exactly why, although artwork is important, it can only carry you so far when you create a slot, particularly online where people are often focused on more than just the game they play. That said – yes, graphics and animations are superb. My only personal gripe would be in this kind of two tone approach the team took within Mental has returned in symbols – it looks good, but everything kind of blends into one until it gets fired up. We do see more of the darker themes the team are used to, but in my opinion they don't feel too dark – maybe it's the cartoonised feel, or maybe we're just desensitised thanks to Quentin Tarantino and the likes, but it feels like these really extreme things never fully show in slots, but are pretty cool nonetheless to see adult themes showing through in a form of entertainment aimed at adults 18+.
When it comes to game play, it's as brutal as it gets. My experience (albeit on demo play) was very much like a slap in the face, and then another, and another. First, 8 Hang 'Em High Freespins landed within the first 10 spins, returning a dismal 0x bet (yes, I saw the Broke Bill 'nothing' card). Next, I opted to purchase two lots of 10 Boothill Freespins on €3 stake, for a whopping cost of €9,000 each, returning less than €3,400 between the two – ouch. This is the game we've been presented with – gruesome, and not for the faint of heart.
Sure, things are balanced by the 300,000x win cap, and 300,000x is a hell of a win, but at times Tombstone RIP just seems like it might be a bit too intense, especially if you're just playing for a bit of a light hearted fun. If you're the kind to like frequent, decent bonuses, this one probably won't be for you. While 'normal' bonuses are still fairly frequent (on average 1 in 194 spins or 1 in 96 spins with enhanced bet), there's nothing so far to indicate that this is the game you come to in order to slowly build a balance – it feels too all or nothing for that. 85% of all normal free spin sessions will not return money back, costing 70x bet to buy, and representing 20% of the total game RTP.
Win cap stats are as follows:
Base game: 1 in 130m spins (1 in 81m with enhanced bet)
Hang 'Em High Freespins: 1 in 1.36m (1 in 109 will upgrade to Boothill)
Boothill Freespins: 1 in 16,000
When it comes to super free spins, these will land on average 1 in 85,000 spins (or 1 in 63,000 with enhanced bet), or alternatively players might get lucky with the upgrades. However, when we get to the super free spins things don't actually feel like they get any easier – 70% of all super free spin sessions will not return money back (and don't forget these cost 3,000x to buy), representing 35% of the total game RTP. Only 1% of super free spin sessions will return between 30,000x and 300,000x bet – and that's a BIG section, with a lot of room.
It feels like once you've laid the stats out, they speak for themselves, and there's not much left to say. I guess the pessimist in me could feel like Nolimit City are alienating a large portion of players with such intense volatility, but the other part of me respects them for forging their own path, and going their own way. After all, there's plenty of low-medium volatility games available, so maybe it's time for something new? And new it is, with a category of 'Insane Volatility' created just for Tombstone RIP.
Certainly, I'm glad to see the minimum stake has now been lowered to 0.10, so at least those who regularly play on 0.30/0.40 can drop the stake down and give this level of volatility a go, but I'm not quite convinced it's low enough to enable those who would usually play on 0.20 to really sink their teeth in – unless they're prepared for the worst, of course.
Final point to cover is, obviously, the xRIP – removing all wins below base bet. Actually, this feature isn't quite as dramatic as I thought it would be. In my experience, it lulls you into an almost false sense of security – you're too busy noticing the half decent wins it throws in to notice you're not getting the lower wins. However, it didn't make the huge difference I really expected. For something so unpredictably insane, it plays… not SO insanely.
People always ask 'where do you think volatility is going to go', and I guess we have the answer. Could Tombstone RIP have been tweaked ever so slightly and released as a jackpot game? Probably, but we know Nolimit like to be different. I don't think you'll know if this sort of thing is for you until you give it a go, and it's worth a try since it's came from one of the best studios around. No matter what, we have to continue to admire those willing to push boundaries, and produce new things. What I do know is that at some point someone will be playing on 0.20 and win 60k, and then opinions might shift…
*Specific statistics taken from Nolimit City on BigWinBoard.com
*The screenshots taken of games reviewed on this site are taken from Demo Play, as reviews are often written before games are released for real play.