4ThePlayer are a provider that have established themselves as just that – for the player. By offering features based upon feedback and their own experience as players, the team are trying to bring us releases that we will enjoy, but that are a little bit different. Their most recent release, 10x Rewind, offers players the first chance ever to travel back in time in a slot game – wherein we can see the wins we can expect from a feature before they've even happened, giving us anticipation and hope for multipliers to improve upon these wins.
In anticipation of the 10x Rewind release, I sat down with Henry McLean, Co-Founder of 4ThePlayer, to ask him some questions about the team, and this latest release.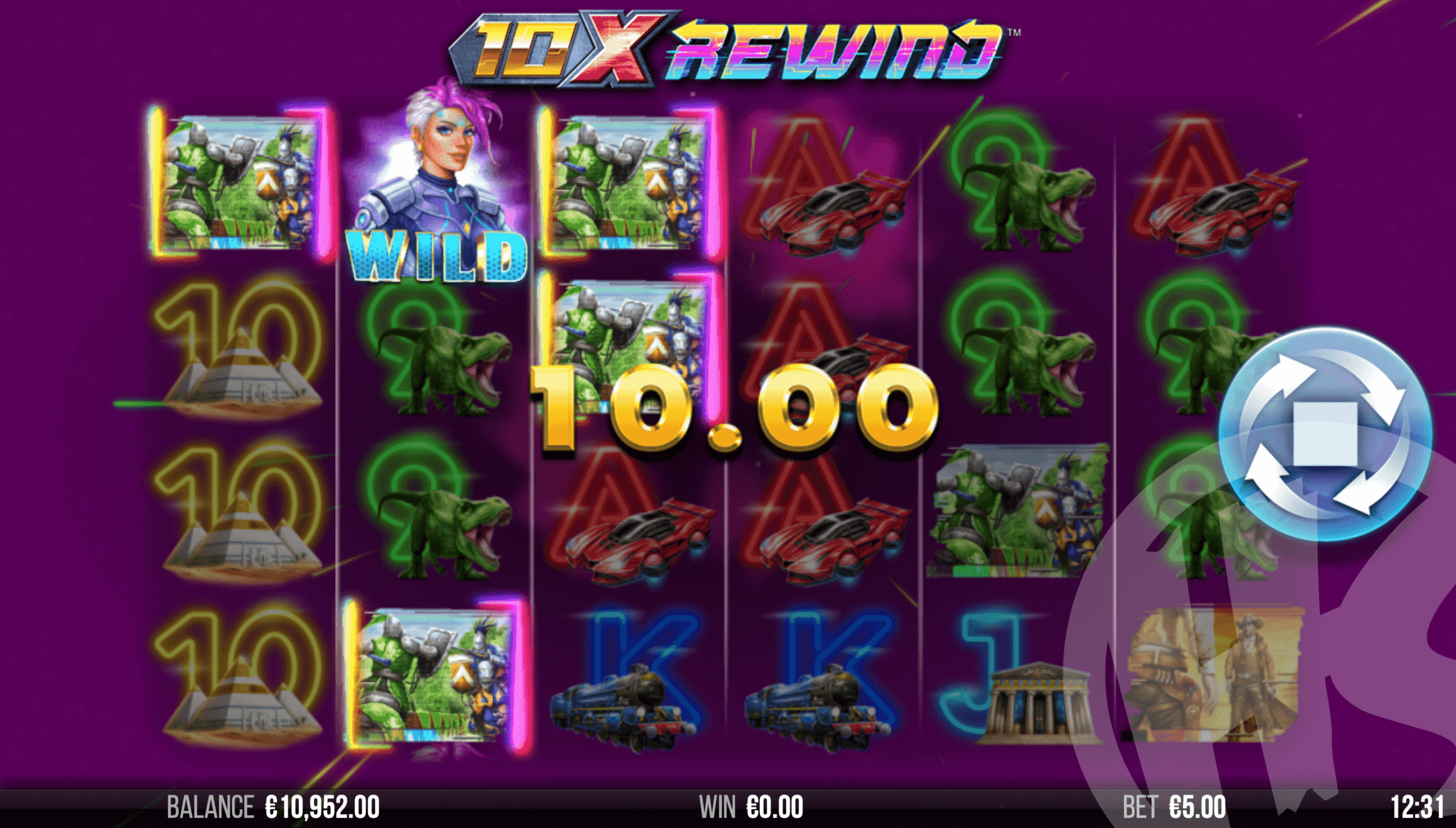 Hi Henry, congratulations on the success 4ThePlayer have enjoyed so far! With your main aim to create games for players, based on what players enjoy, did you expect your games to be so well received?
Thank you! We are pleased with how our games and our brand have been received so far. It is always a risk when you are innovating as by definition you're doing something new – it would have been much safer for us to make yet another 'Book of' slot but that's just not us! We do things differently and strive to be a 'boutique' rather than a content conveyor belt.

In terms of 'did we expect success'… we hoped for it but it's impossible to know which games will be a hit and which won't before you push them out into the world. That said, based on our experience we have a good idea of what should work – but you never know and we never take it for granted. 
Your games are distinctive, often quite different from what we currently have on offer, with a strong element of choice for players – such as 6 Wild Sharks and 2 Gods Zeus vs Thor. Is this an important element for your team, to keep things unique and interactive?
We want players to have fun. After all, gambling is entertainment and we believe there is a correlation between player interaction and fun. We enjoy allowing the player to customise their experience to their own tastes: 6 Wild Sharks is a good example of this. In the bonus round, players can trade their free spins for 1 super volatile spin by locking in the WILDS, or they can have a softer bonus round by letting it play out without locked wilds, all depending on what they want. 
Watch this space for some more exciting interactive player choice games from us next year! ? 
Your next release, 10x Rewind, is set for general release on 16th September. As I understand, this is the first slot that allows players the chance to truly travel back in time. Could you explain how your team came up with this idea?
This really is the first game where you can rewind through your previous wins and win them again, boosting them with multipliers or cash prizes. This really is the first game where the player can time travel! 
I would love to say it was my idea but no – it was Andrew, our CEO and product genius, who came up with it. Andrew has an amazing Excel spreadsheet of ideas that he adds to when he has those lightbulb moments. 
He tells us this idea came from thinking about the player journey in a game: traditionally the player always goes forward and wins come from the RNG (Random Number Generator) – so what if this was changed and the player was no longer going forwards but backwards and through their own wins! 
The format of 10x Rewind means players' excitement is completely changed, in that the bonus value can now be anticipated, with the opportunity to enhance this further with multiplier values. Do you think removing this element of 'surprise' for players will be something many will miss, or do you feel it keeps things equally as exciting in a different way to debut the 'rewind' feature?
You are right: 10x Rewind does change the way you think! As soon as you get that big win you are really hoping to win Rewind Win Spins. In terms of ruining the excitement, it doesn't at all – if anything, it adds to the excitement as a small win can suddenly become an epic win thanks to the power of those scatters giving you an additional cash prize or increasing your win multiplier! 
With a feature frequency of 1 in 175, Rewind Win Spins are much more frequent than a lot of other games. 
You've previously made it known that your team is made up of gamblers – those who have experience in playing slots and recognising interesting features. How much weight does this hold in the decisions you make? Do you often look back upon your own experiences when conceptualising a new idea?
We think it's key! If we didn't play ourselves, how would we understand those magic moments of near misses or epic big wins? As a team, we play a lot of games, and we have a slots session every Friday to look at what has recently been released: the good, the bad, and the ugly! That experience definitely goes into the games we make.
We also spend a lot of time beta testing our games before release; fine-tuning the maths and features based on our experience and likes and dislikes.
Your team are very transparent with the statistical side of your releases, with clear information regarding which category of wins can be expected, and how often. Do you think it's important to make this information readily available to players?
We think it's important to help players make informed decisions and find the right game for them. Not every game is right for everyone or for what the player wants at that moment.
For example, if I am a super casual player who enjoys playing soft slots and I want my balance to last a long time, I am not looking for a super volatile game with a long wait for the bonus. We want the players to be able to see that information.
When we created SLOT STATS™ (our infographic on the game splash screen) we were the first to clearly display this. I think I mentioned to you before that it was inspired by GDA labels in the food industry. Since we launched SLOT STATS on our first game, we are pleased to see other developers are starting to embrace it, which is great as we're helping change the industry. Math data should not be a game of 'hide and seek' for the player. 
Do you think you'll ever go down the more 'expected' path, with options including book games, or perhaps licensing a mechanic from another provider – for example Megaways?
4ThePlayer is all about entertainment and innovation; where we think there are synergies we will collaborate or potentially license IP – as long as we think the outcome will be exciting for the players! 
In fact, we do have a licensed IP game coming out in November: our Yeti from 9k Yeti is returning in a GIGABLOX game called 90k Yeti GIGABLOX! We look forward to telling you more about that soon!
And finally, what is your favourite game from the 4ThePlayer catalogue?
That's like asking a parent to choose their favourite child!

Every game has a different and unique appeal. 9k Yeti has a special place in my heart as it was our first slot. Every time we release a new game, I get super excited by the concept and features, so currently 10x Rewind is my favourite – but ask me again next month and it might be 90k Yeti GIGABLOX!
You can read the 10x Rewind review here, or head over to the forum and let us know if you have a favourite 4ThePlayer release.