4ThePlayer, as I'm sure you can tell by their name, have established themselves as a provider that works "for the player", offering features based upon feedback, and the mechanics that have been well received by players elsewhere, with enough tweaks to keep things innovative, and interesting. So far, 4ThePlayer have set a theme with game names beginning with numbers, for example their recent 3 Secret Cities, and this trend continues with their upcoming release, 10x Rewind, which offers players the first opportunity to travel back in time within a slot game. At first glance, there's no theme within 10x Rewind, and it can all seem a bit muddled, for want of a better word, however after speaking to Henry McLean, Co-Founder of 4ThePlayer, it becomes much clearer:
"We wanted to keep with the travelling back in time overall theme… [the background has a bit of a retro-time travel feel]… and with the symbols, we looked at the games most popular for players. So we knew players liked dinosaur games and Egyptian games[etc], so we wanted the feeling to be travelling back in time to player's favourite places."
Once prepped with this knowledge, the whole aesthetic became a lot more cohesive, because although the symbols take us to different eras, they work to help us reminisce over the games that have come before, such as Legacy of Egypt when we see the pyramids, or Raging Rex with the dinosaur. Audios are retro, synth-like, and have a strong beat running throughout – a song we'd be happy to add to our 'going out-out' playlist. Henry stated that they are for players, but they are players too. Let's not imagine a bunch of suits sitting around a conference room table, these are players, who draw from their own experience and preferences, whilst striving for innovation and creativity in each release. With a catalogue of all games released within the previous 2 years ranked, 4ThePlayer have worked hard to find the "sweet spot" of what players enjoy, by considering what is popular against what has been 'overdone'.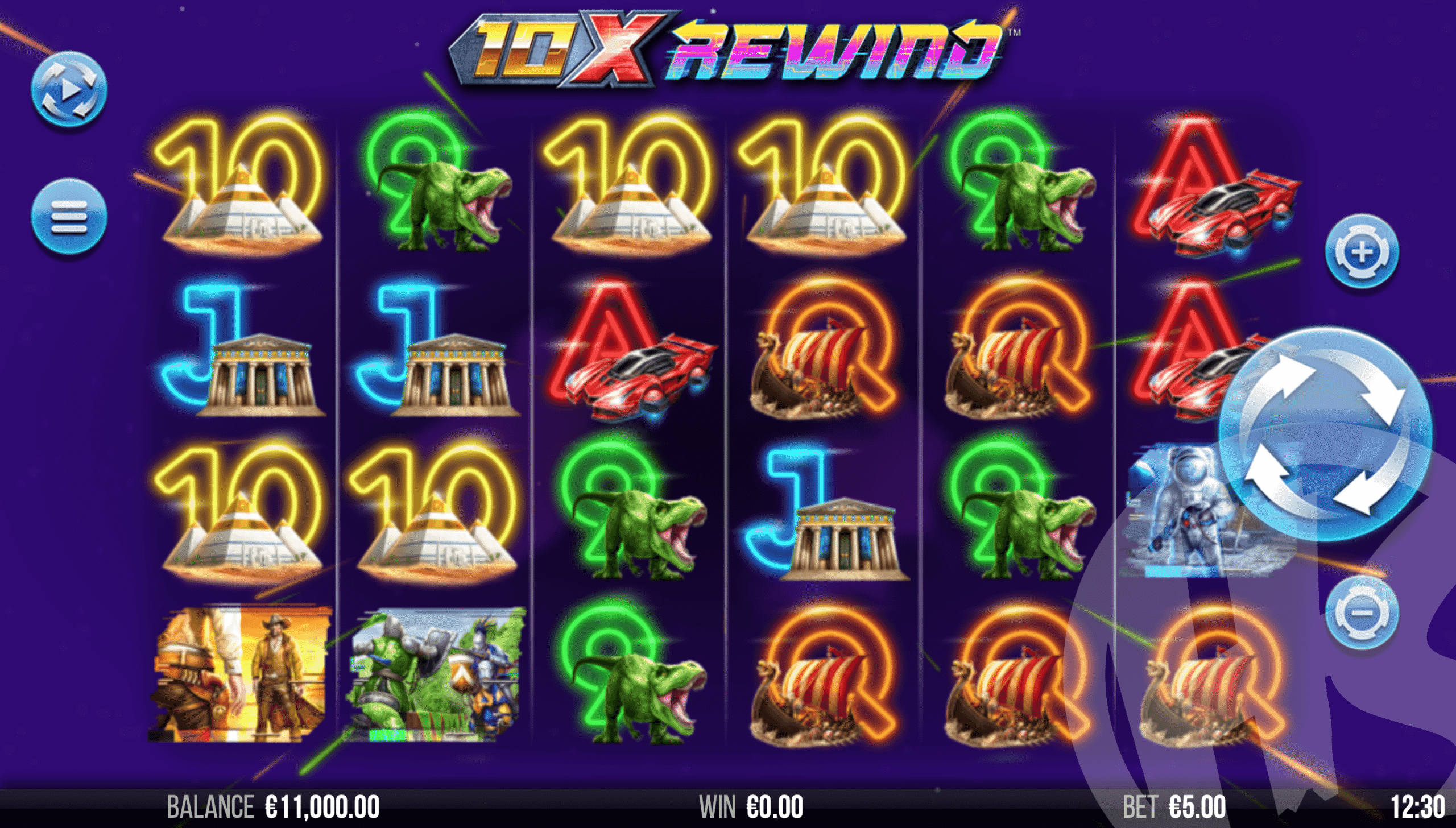 On the statistical side of things, the overall RTP is a fair 96.47%, and the maximum win available is 20,000x bet within 10x Rewind, which remains highly volatile. The bonus frequency is 1 in every 175 spins on average, with the average "best win" after 100 spins as follows:
All players: 54x bet
1 in 10 Players: 200x bet
1 in 100 Players: 508x bet
1 in 1,000 Players: 1,115x bet
10x Rewind Base Features
With 4,096 set ways, wins are formed within 10x Rewind by matching at least 3 symbols across 3 adjacent reels, beginning at reel 1. Symbols include dinosaurs, boats, trains, cars, pyramids, temples, alongside a variety of characters, including an Indiana Jones type, an astronaut, a gladiator, and knights, with these premium character symbols rewarding players up to 6x bet. Finally, time traveller wilds aid wins, substituting for all symbols except Scatter symbols, represented by Atoms.
4ThePlayer once again utilise their popular Big Reel Portrait Mode™, which stacks reels atop each other, spinning from right to left, perfecting the experience for mobile users. If you'd rather keep things in the classic style there's no need to worry – Big Reel Portrait Mode can be turned on and off as often as you'd like.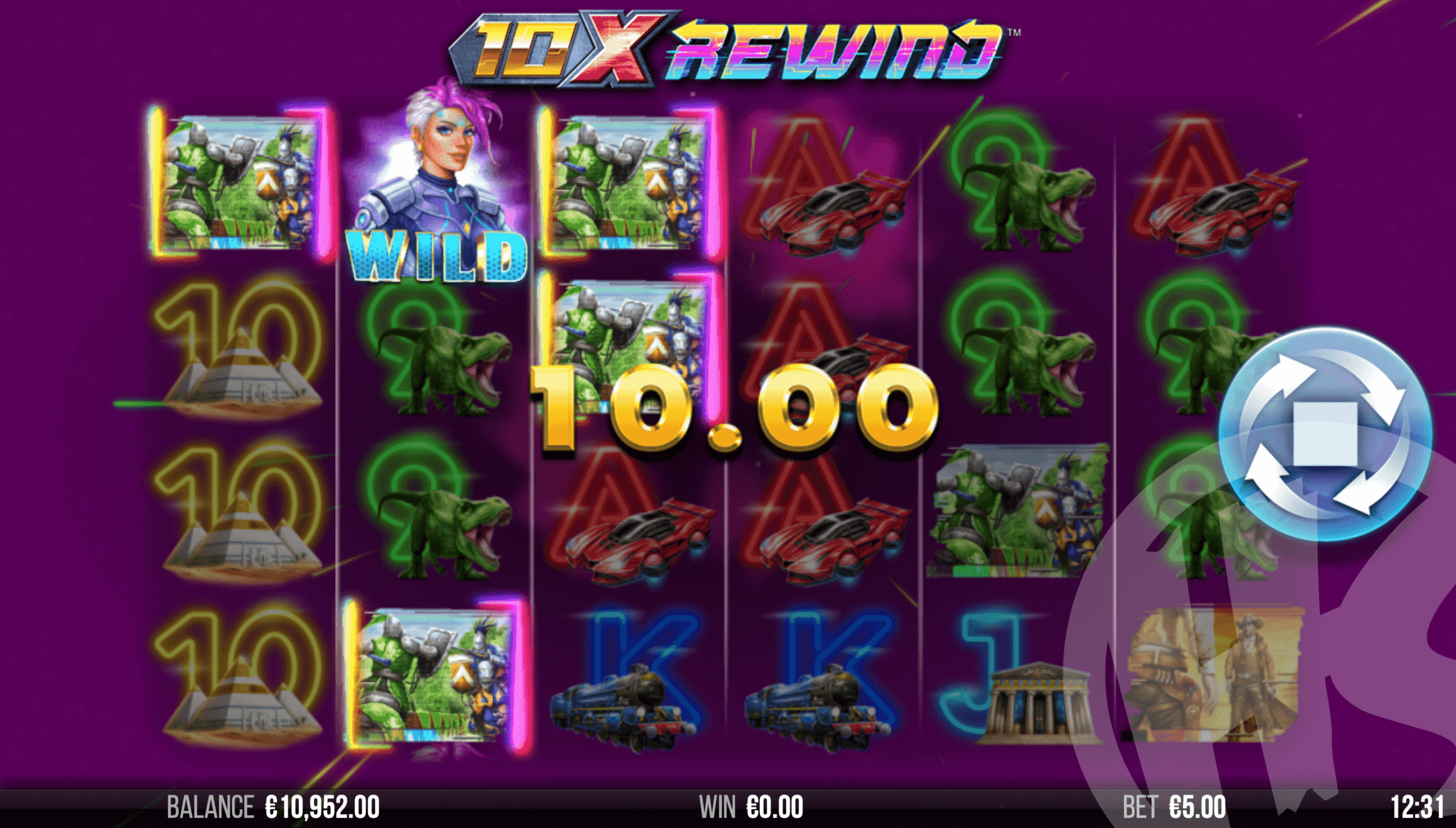 10x Rewind Bonus
3 Scatter symbols triggers 5, 7 or 10 win spins, with a pick bonus at the beginning to determine the amount of win spins rewarded, wherein we see the first glimpse of travelling back in time that 10x Rewind promises us. During win spins, players will be re-awarded their 5, 7 or 10 most recent wins. The reels will spin backwards, with graphics not unlike rewinding an old VHS tape once you were finished to avoid the next watcher shouting, and stop upon reaching any previous win. Players are guaranteed at least 5 wins with every feature triggered, given that these are win spins on offer, not just regular spins.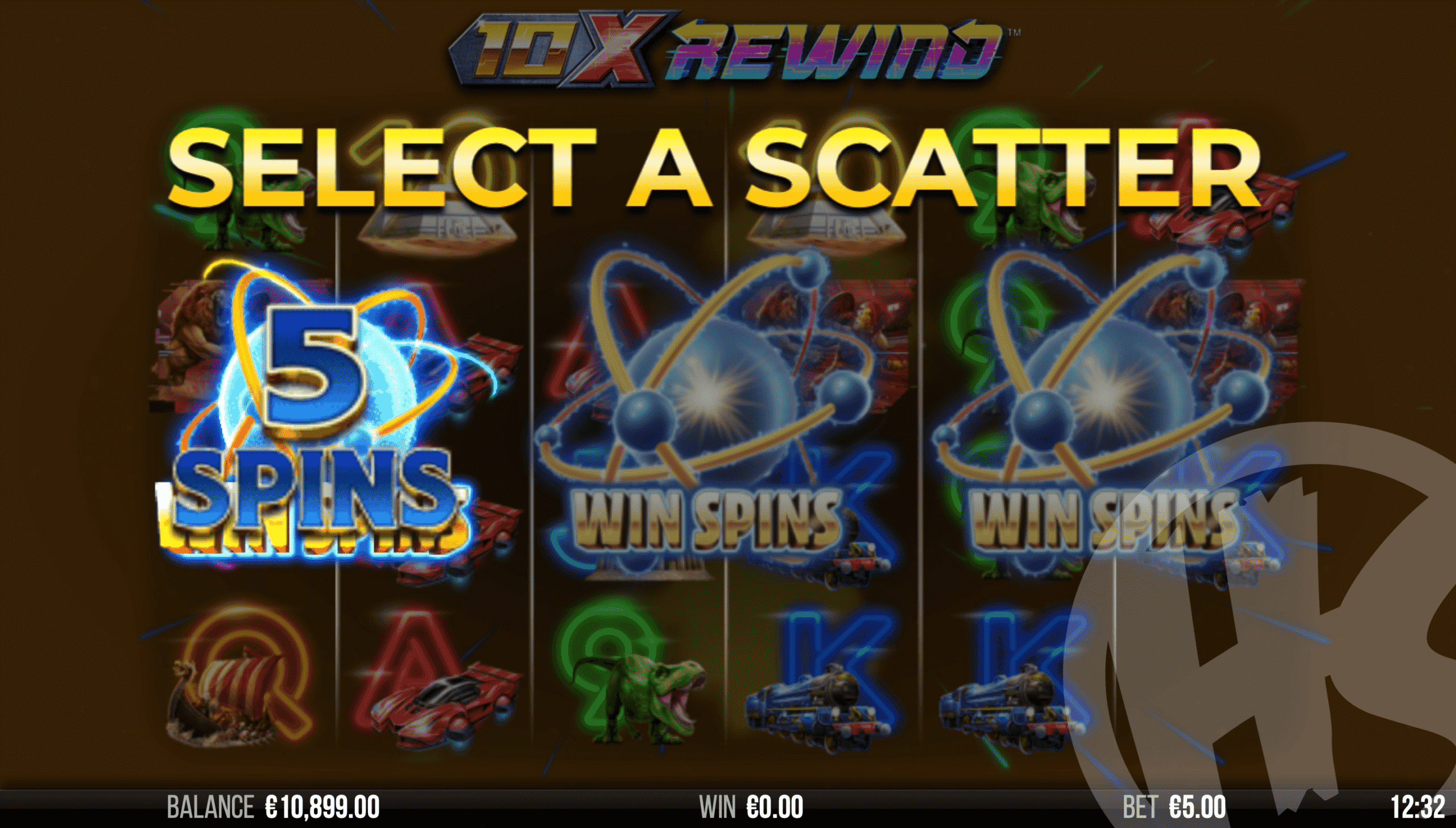 There's a few aspects of the win spin feature to be aware of, which adds to the excitement (or the tilt, depending on how you view a half empty glass). First, Scatters are frequent within 10x Rewind, with 1 or 2 Scatters landing more often than most other releases, however these Scatters come back to help us within win spins, as during the feature Scatters can increment the multiplier (which works throughout the entire bonus), award a cash prize, or award additional free spins. However, a Scatter landing will count as one of your win spins, so keep an eye out for base spins with Scatters and wins, as you'll be hoping to trigger the feature not long after.
Next, you will always be shown your 5, 7 or 10 most recent spins, irrespective of your last feature trigger. For example, if a feature round has just finished, and you trigger the feature on the next spin after, you will be shown the same 10 wins. However, with the addition of Scatters behaving as we've mentioned, it's unlikely players will re-live the exact same feature again, and instead we can cross our fingers for higher multipliers or additional spins. It's a nice touch to know what kind of bonus we can expect, and be able to track when the 'best time' to trigger the feature during our gameplay is, but we imagine players will experience the dreaded tilt if they're fortunate enough to land huge wins during the base, counting through future wins to the point where they know they cannot relive it.
As you relive your previous wins, you will see at the top of the screen the time the win was awarded, so we can be sure our game history is actually used. If you are fortunate enough to trigger win spins before you have achieved the respective amount of wins, other players wins will be chosen at random for you from the RNG.
There is no feature buy available on 10x Rewind, namely because the mechanic could not possibly work with an immediate trigger, wherein players would be stuck in a time loop, re-living the same wins time and time again.
First Impression
10x Rewind is another interesting addition to 4ThePlayer's catalogue, and continues their established trend of doing things 'a little bit different'. We love to see studios taking things in their own direction and establishing their personal style – things would be a bit boring if every studio presented us the same games!
The idea of going back in time to visit previous wins is interesting, and at first glance players may think this takes the excitement of a feature away, however in my experience the excitement remains, in entirely different ways. After landing a €300 base win, triggering win spins was more important to me than ever,  and with each scatter that landed afterwards the tension became palpable, as each of those scatters that followed could potentially be multiplying this win by x2+. By the time I had counted 10 wins, the tilt was real, however at a later point during the feature I managed 20 win spins thanks to Scatters – so there's an outside chance if we've passed 10 wins it could still happen. To create this level of excitement before a feature has triggered is an impressive feat, and it's inevitable that players across the sector will be unable to help these feelings. On the opposite end, there are periods of play where wins are smaller, and inwardly we beg not to trigger win spins, not unlike the experience of Kingmaker, wherein yes, we love a feature, but we know a better one awaits down the line. All of this goes towards making the base game, which is usually the least-loved aspect of a slot, incredibly exciting.
Every player on average will achieve a 54x win during 100 spins, and if you've watched our streams you'll know that we regard 60x stake as a 'standard' bonus, exactly what we would expect with anything further considered to be even better. Knowing that every player on average will achieve just slightly less than our standard bonus expectation during 100 spins is a great touch, going even further to keep the base game exciting.
With incrementing multipliers during win spins helping this highly volatile release to boast win potential up to 20,000x bet, and a fair RTP of 96.47%, 10x Rewind might just be a game you have to try to fully understand the excitement.
*The screenshots taken of games reviewed on this site are taken from Demo Play, as reviews are often written before games are released for real play.