Fantasma Games are back with another release, and this time they're taking a closer look at Alice and her famous adventures, with Alice in Adventureland. With Rocketkat wilds and multiplying wilds, Scatter collection, Ultrabombs and one big spin on offer at the very end, there's plenty to attract you down this particular rabbit hole. RTP is decent at 96.26%, and wins are on offer up to 10,000x bet, so let's take a closer look at how this highly volatile (4/5) release operates.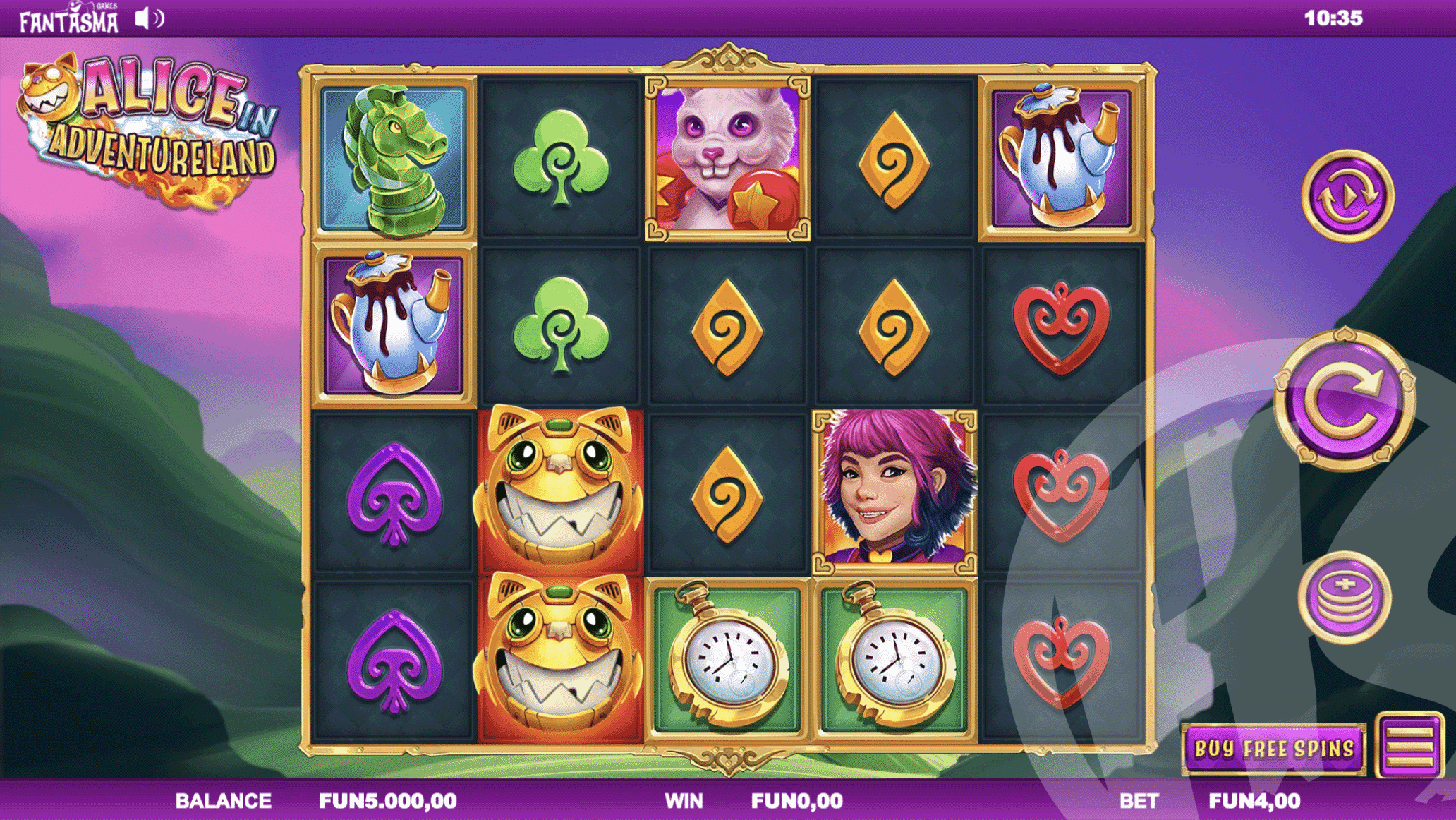 Things are quite calm in Adventureland – there's no sense of the trippy Wonderland Tim Burton breathed life into. Instead, it's pretty pink skies and smooth green hills to give an overwhelmingly peaceful sense. Maybe not quite what you would expect from Wonderland, but nothing particularly bad either. Audios are interesting, and feel suitable, albeit not overtly 'mad'.
Alice in Adventureland Base Features
Taking place across 5 reels, Alice in Adventureland features 20 fixed win lines, with wins formed by matching at least 3 symbols on adjacent reels, beginning with the leftmost reel, along one of these 20 lines. Symbols available begin at the lower end with orange diamonds and green clubs awarding wins of 0.10x bet for 3 of a kind, up to wins of 2x bet for 5 of a kind. This is followed by purple spades and red hearts, awarding wins between 0.10 and 2.50x bet, for wins between 3 and 5 of a kind. At the premium end, we have chess piece knights, teapots and pocket watches, each awarding 0.50x bet for 3 of a kind, increasing to values between 3 and 4x bet for 5 of a kind wins. Boxing rabbits and a unique Alice character finish the line up, awarding 0.50 and 1x bet for 3 of a kind matches, increasing to 5 and 10x bet for 5 of a kind wins. Wilds are the final symbol available, paying 1x, 2.5x and 15x bet for 3, 4 and 5 of a kind matches, respectively. Wilds substitute for all symbols except Scatters, which are represented by Hearts, in a classic tattoo style. Scatters can only land on reels 2, 3 and 4.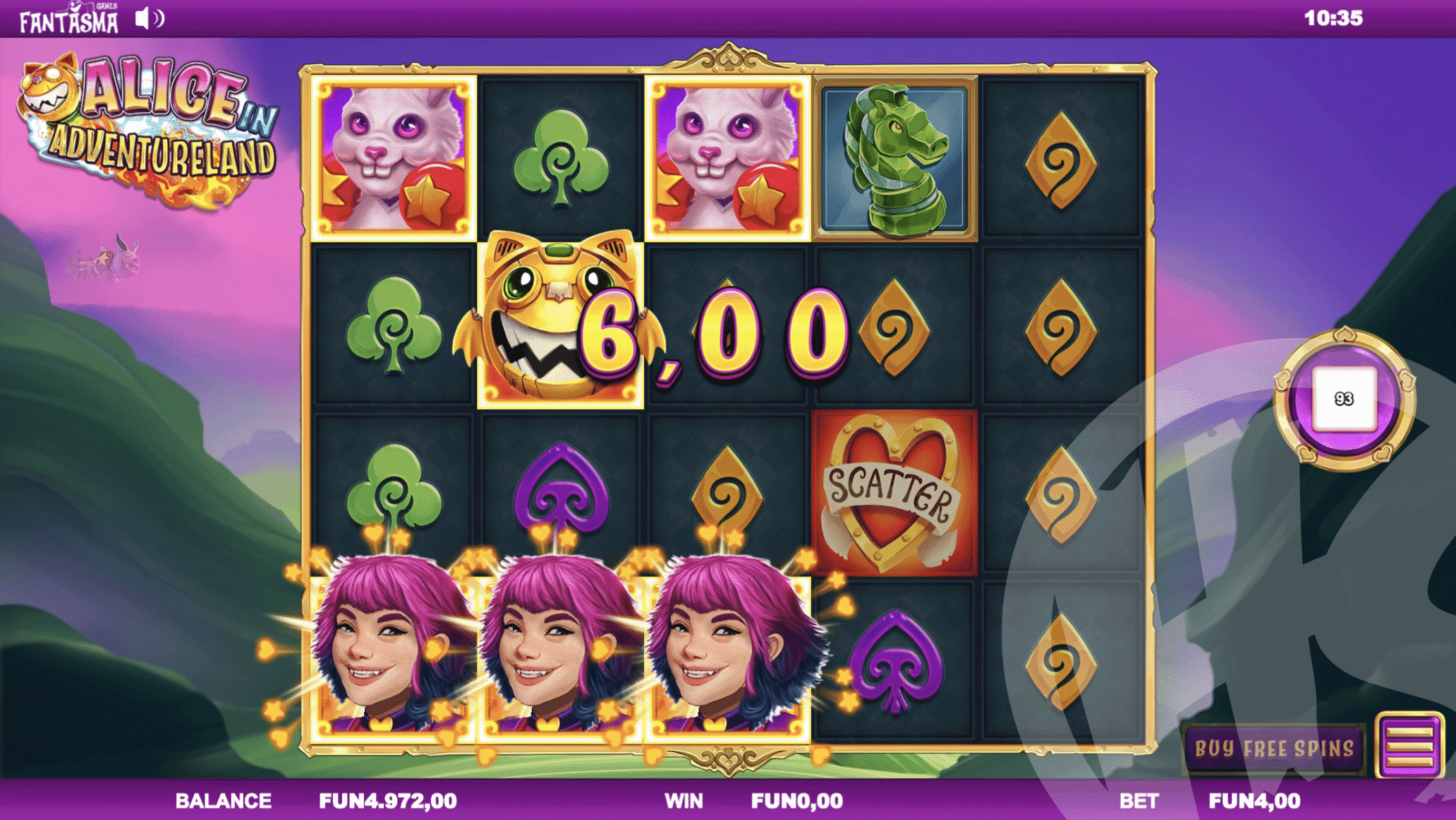 A few different Special Symbols help to make Alice in Adventureland exciting. The first, and available in the base game, is the Rocketkat symbol – a golden Cheshire Cat face. Capable of landing on reels 2-5 in the base game, the Rocketkat Feature will be triggered if the Rocketkat symbol lands on more than 1 reel. Once activated, every Rocketkat symbol in view will travel to the left, upgrading a random number of symbols it passes through, with a 50/50 chance of upgrade. Rocketkats will always leave a Wild in their original position.
Regular symbols and Scatters will be upgraded to Wild symbols, whilst Wilds be upgraded to x2 Wilds. If the Wild already has a multiplier, the upgrade increments the multiplier by +1, up to a maximum of x9 Wild symbols. Rocketkat symbols act one at a time, starting from the leftmost reel. If more than one Wild Multiplier is used to form a win, the multiplier values will be added together before multiplying the win.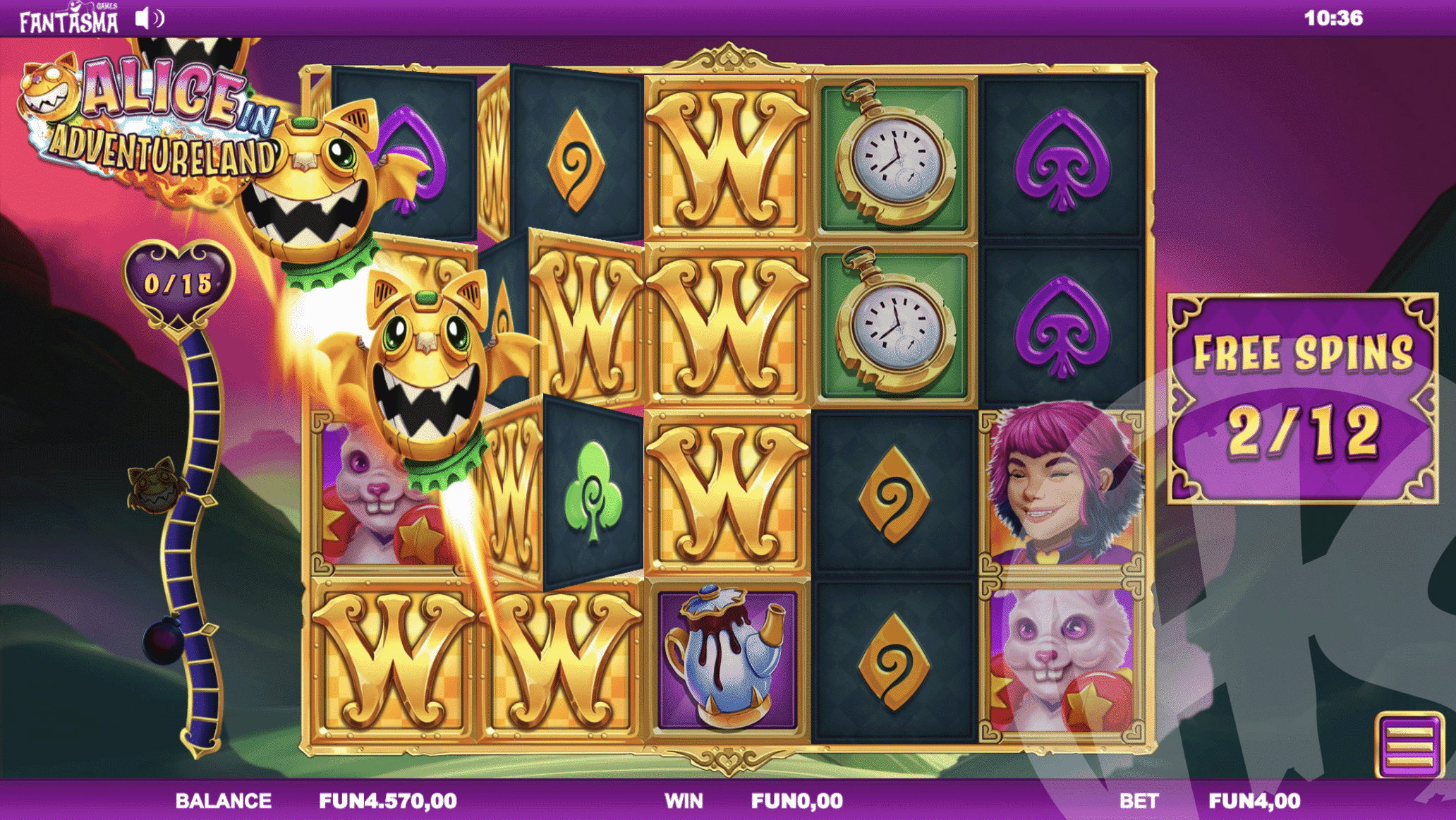 Next up is the Ultrabomb Feature, which only occurs in free spins (more on these below). The Ultrabomb is a Wild symbol, which can land on the first reel during free spins, or reels 1-3 during the Adventure Spin (possible to trigger at the end of free spins). Ultrabombs have a number displayed on them – this is the amount of symbols which will be upgraded once the Ultrabomb is activated. To activate Ultrabombs, a Rocketkat symbol must pass over them.
Ultrabomb upgrades are the same as Rocketkat upgrades – regular symbols and Scatters become Wilds, and Wilds become multiplying Wilds, up to a maximum of x9.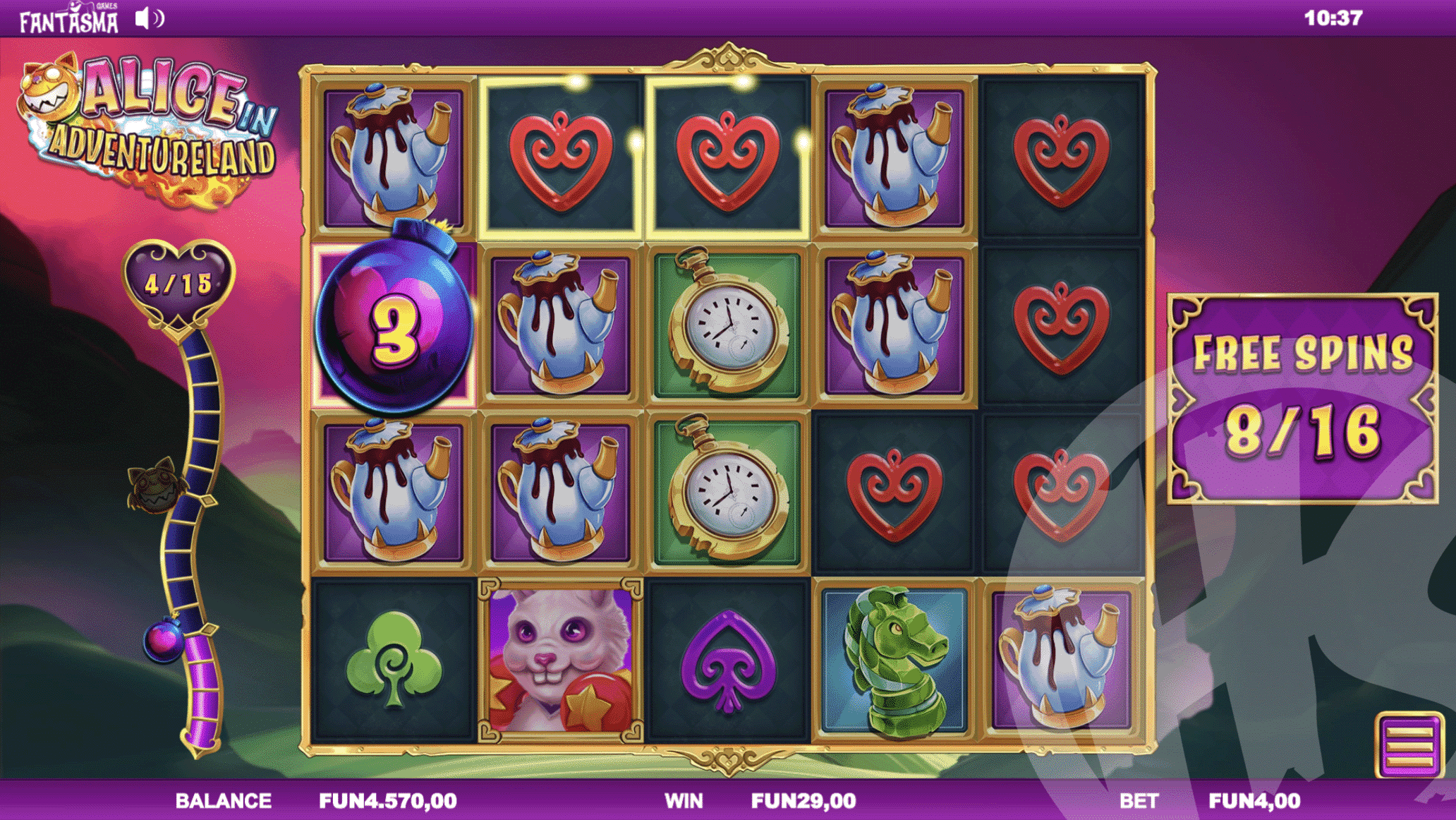 Alice in Adventureland Bonus
Land 3 Scatter symbols to trigger 12 Adventure Free Spins. During free spins, all additional Scatters that land on the reels will be collected and added to a meter beside the reels. The triggering Scatters do not count – all features begin at 0 Scatters collected. As players progress through this collection, different features or rules are activated:
Collect 4 Scatters (Level 1): Activates the Ultrabomb Feature and awards +4 free spins.
Collect 9 Scatters (Level 2): Rocketkat symbols will now always upgrade every position they travel across. +4 additional free spins are also awarded.
Collect 15 Scatters (Level 3): Awards the Adventure Spin, which is played out when all initially awarded Adventure free spins have ended.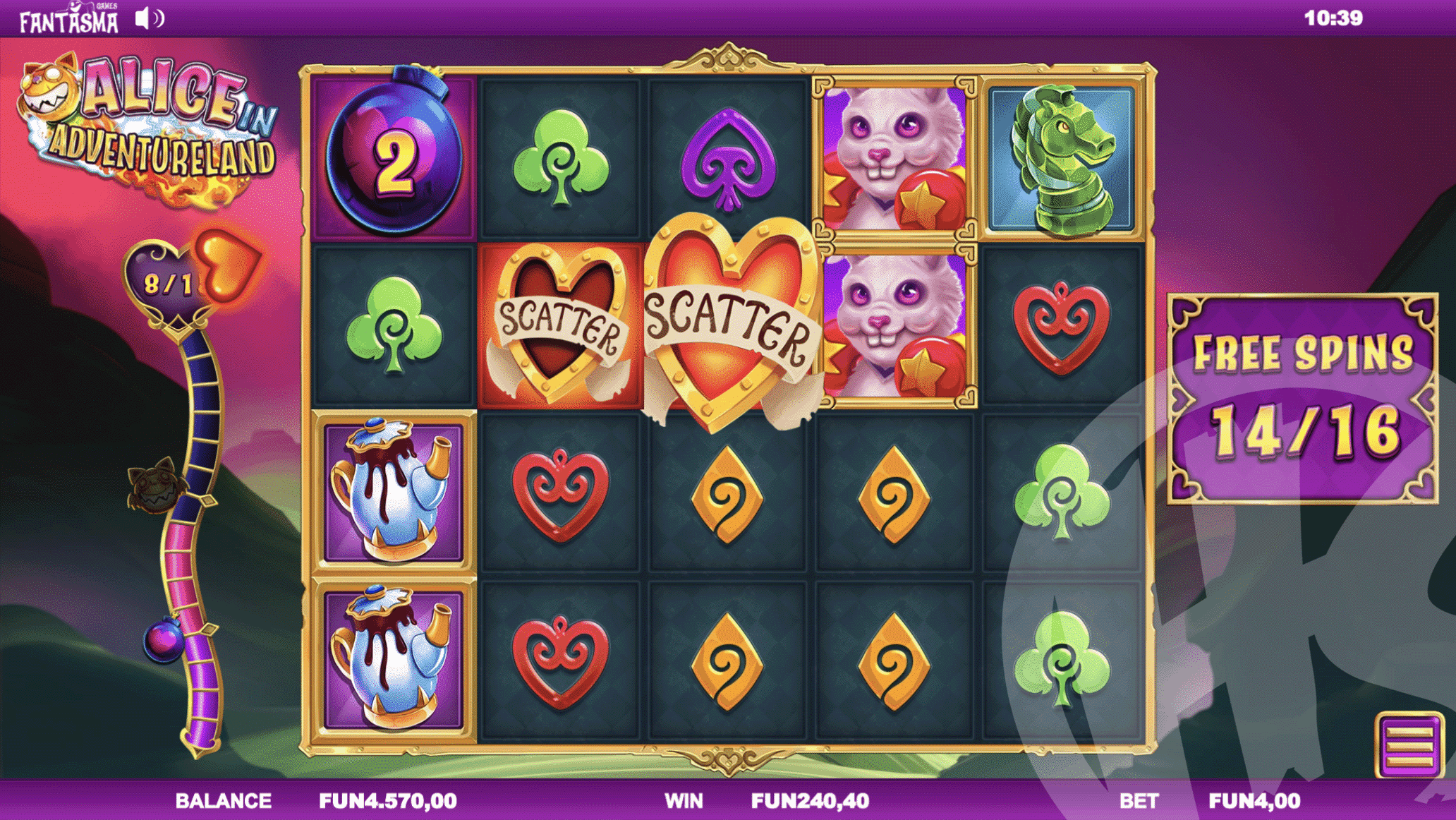 Upon reaching Level 1, one Ultrabomb will be placed in a random position on reel 1 at the beginning of every spin. If an Ultrabomb is activated (see above), it will leave a regular Wild behind in its place.
If the Adventure Spin is triggered, one spin is awarded at the end of all regular free spins. During this Adventure Spin, between 3- 12 Ultrabomb symbols and 3-7 Rocketkat symbols are randomly placed on the reels. The Rocketkat feature is guaranteed to upgrade all symbols it passes through, however during the Adventure Spin, rather than travelling straight left as normal, it may travel in any one of five directions – left, up, diagonally up left, down, or diagonally down right.
Adventure free spins cannot be re-triggered, and are always played with the same bet and number of win lines as the base game. Players in appropriate regions can buy the feature for a cost of 100x bet – and doing so increases RTP ever so slightly to 96.30%.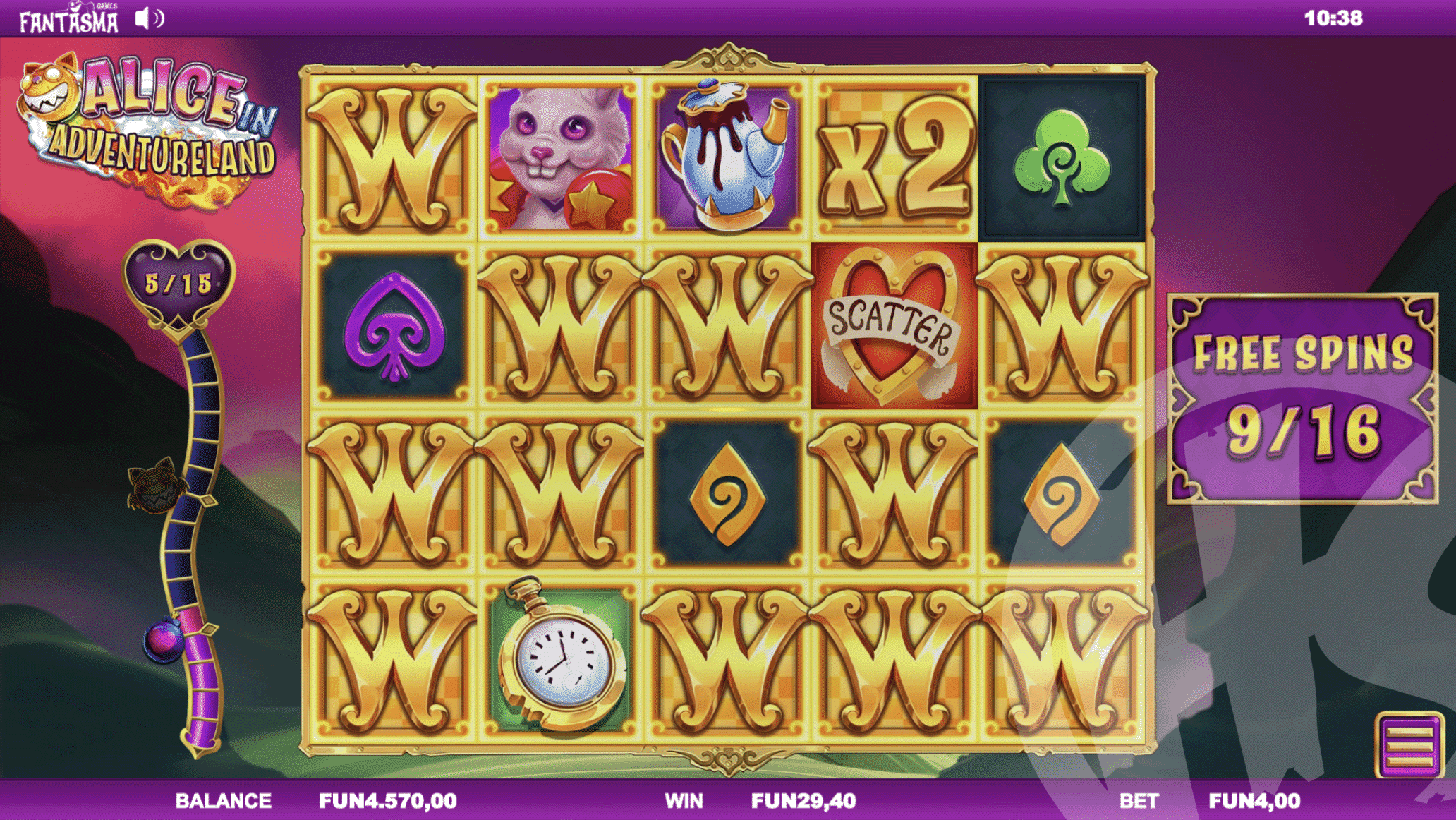 First Impression
If you've been a player for a while, especially the type that likes to broaden their horizon and try new games, you'll know the styling different developers have to offer. With that in mind, it would be easy to sit and imagine what the Wonderland (or in this case, Adventureland) would look like if it were designed by someone else – some providers might go crazy on the graphics, or bring in over the top characters, whilst others might focus on some loopy music. Whatever the result elsewhere, we've got a look at the Fantasma Team and their idea for this journey – and it's pretty simple. Remember though, simple is not always a bad thing. In this instance, the team have stripped back the bells and whistles, and allowed the features and mechanics to speak for them – and it works.
The features on offer combine well to evoke excitement – particularly with one big Adventure Spin to work towards – not something we achieved in testing, but something that definitely sounds like it could knock your socks off. Collecting Scatters and progressing through the features didn't come across as too 'difficult' to do, with many of our test bonuses surpassing Level 2, and being within touching Distance of Level 3.
RTP is fair at 96.26% (96.30% for feature buy), and volatility is high at 4/5, with maximum wins on offer of 10,000x – a solid line up of stats that should please any player, particularly in this current market.
In an ideal bonus round, Rocketkats will interact with Ultrabombs, Scatters will be landing thick and fast, and the wins will be rolling in – tiding players over until they get to that Adventureland Spin where the magic really happens. Of course, this won't happen every time, but Alice in Adventureland is an interesting enough release to keep players interested while they wait for the magic.
*The screenshots taken of games reviewed on this site are taken from Demo Play, as reviews are often written before games are released for real play.