Amongst the list of places you wouldn't want to find yourself is an abandoned cathedral – especially hiding from someone lurking in the shadows known as 'Shadow Girl'. In said cathedral, there is a 'dark mist, where the underworld is free to roam, and immortality beckons', but Shadow Girl has spent decades studying the forbidden arts, far away from any form of civilisation, eventually discovering the ritual for eternal youth. The whole thing just screams grim, but this is indeed where we find ourselves today, thanks to the minds at Nolimit City. Set aside the glamour of this team's latest release, Benji Killed in Vegas, and welcome the nightmare that is Blood & Shadow. With RTP options available up to 96.13% (up to 96.18% feature buy), this extremely (10) volatile release can produce wins up to 6,666x bet.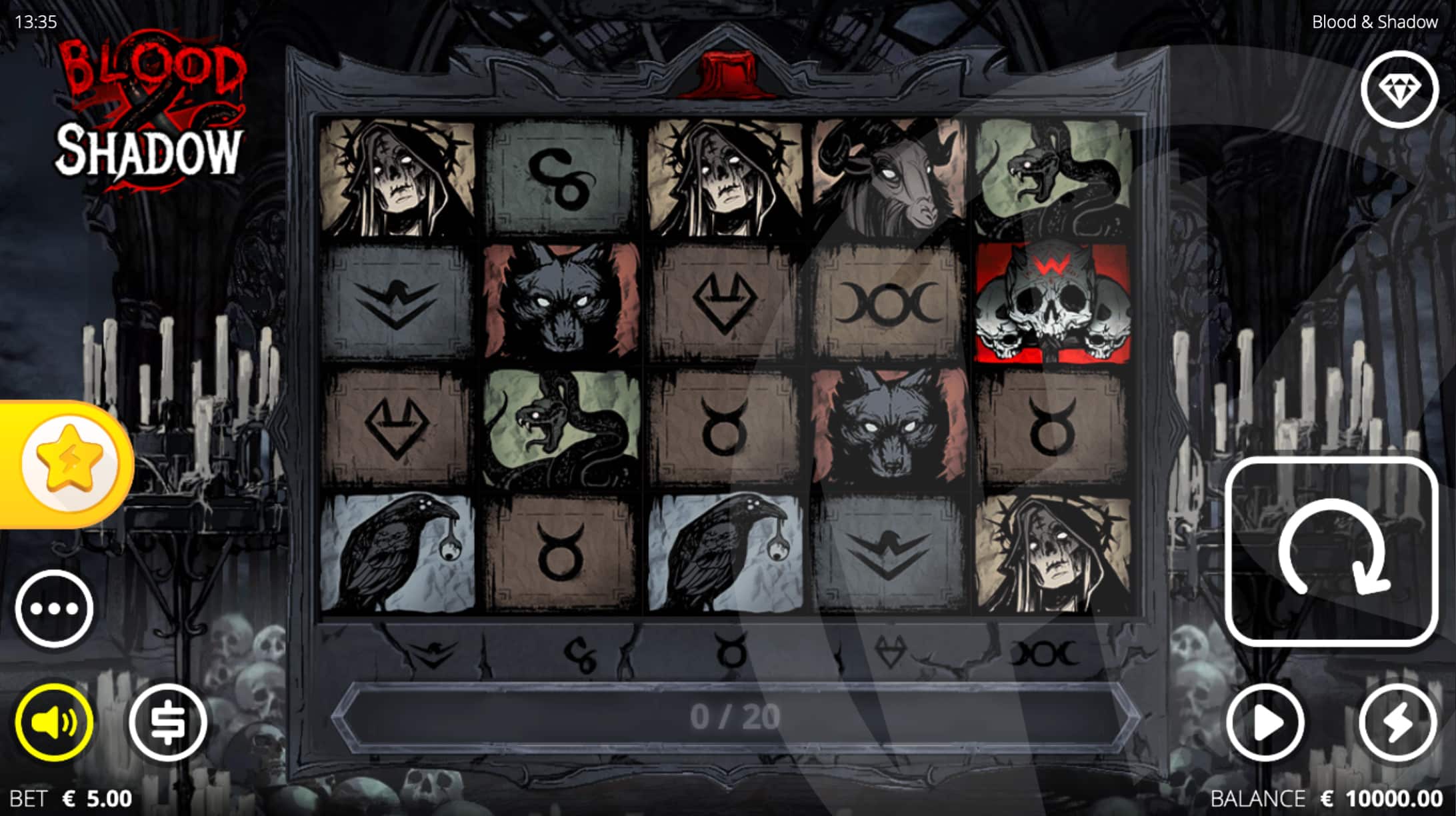 Blood & Shadow Base Game
If you're just looking at the thumbnail image and the name, you'll probably think Blood & Shadow is a follow on to Book of Shadows, the 2020 release from Nolimit City. I mean, Shadow Girl is definitely the same person, so there is that. This release isn't a prequel or a sequel to anything though, and instead stands alone in the creepy, menacing way it was designed to. Everything is pretty dark in this tall cathedral, with arched windows, dripping candles to the sides of the reels and skulls lining the floors – presumably belonging to those from whom the demons feed. The usual Satanic imagery is present with pentagrams, symbolism, Baphomet, and all the rest that you expect – a bit like Quickspin's Book of Inferno. It's all very striking, and is finished off a chilling soundtrack to bring it all together.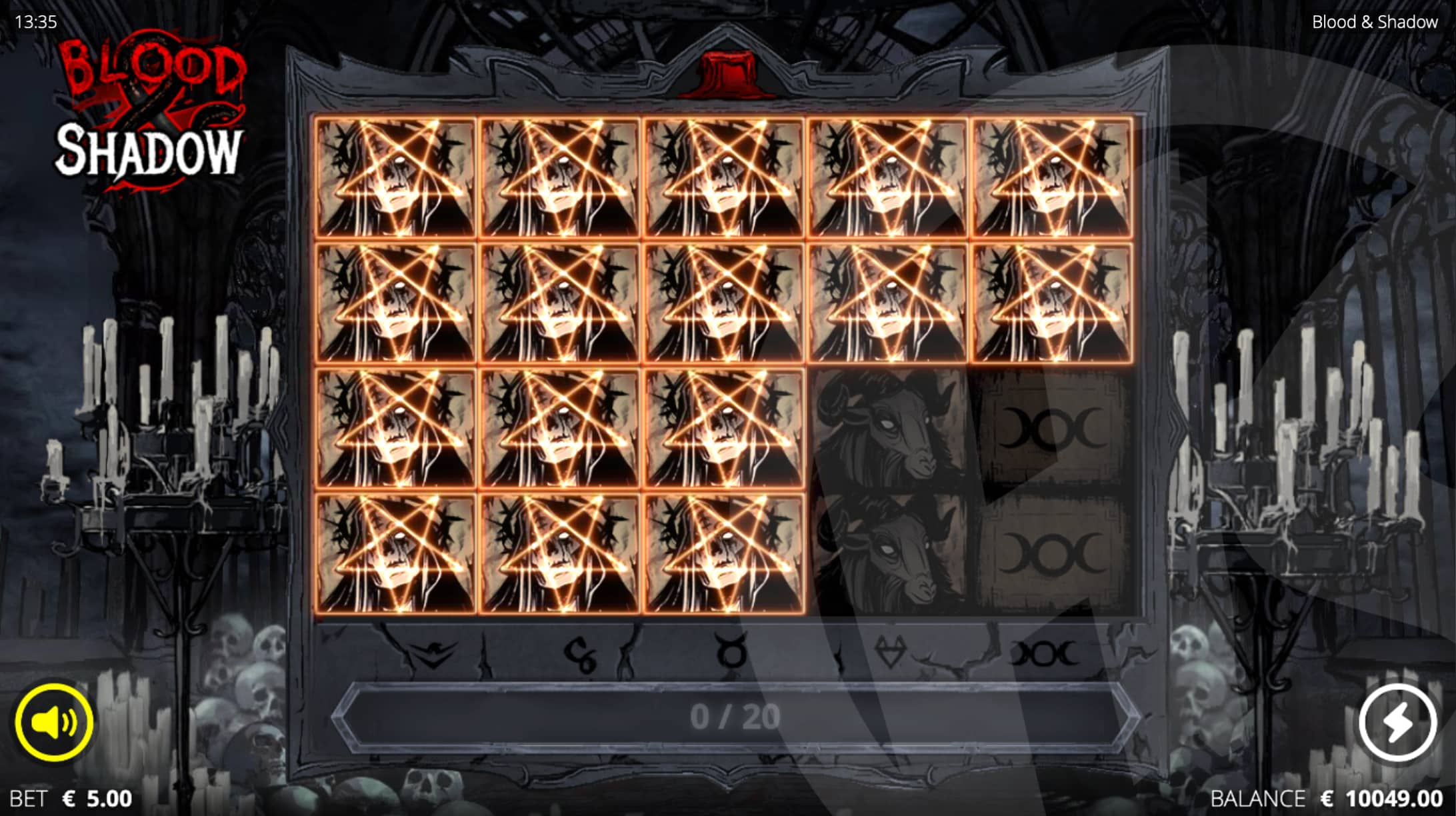 Blood & Shadow Base Features
Taking place across 5 reels, wins are formed on Blood & Shadow by matching at least 3 symbols on adjacent reels, beginning with the leftmost reel. Each reel can hold 4 symbols, producing 1,024 ways to win although this can increase to 3,125 ways to win in Cursed Spins, which we'll get to later. Symbols available begin with non premiums which are made up of five etchings, producing wins between 0.05 and 0.20x bet for 3 of a kind matches, increasing to values between 0.15 and 0.60x bet for 5 of a kind wins. For medium paying symbols we have crows, serpents, rams, wolves, and what looks to be a dead version of Shadow Girl. Land 3 of a kind of any of these symbols to see wins between 0.30 and 0.50x bet, increasing to values between 0.90 and 1.50x bet for 5 of a kind matches. High paying symbols are the same as the mediums, although now they're very much alive and evil – quite devilish. Land 3 of a kind of any high paying symbol to see wins between 0.75 and 2.50x bet, increasing to values between 3 and 8x bet, again for 5 of a kind matches. It's worth noting at this point that you don't always have the opportunity to land high paying symbols but we'll get to that in a moment, along with Sticky Wilds and xSplits.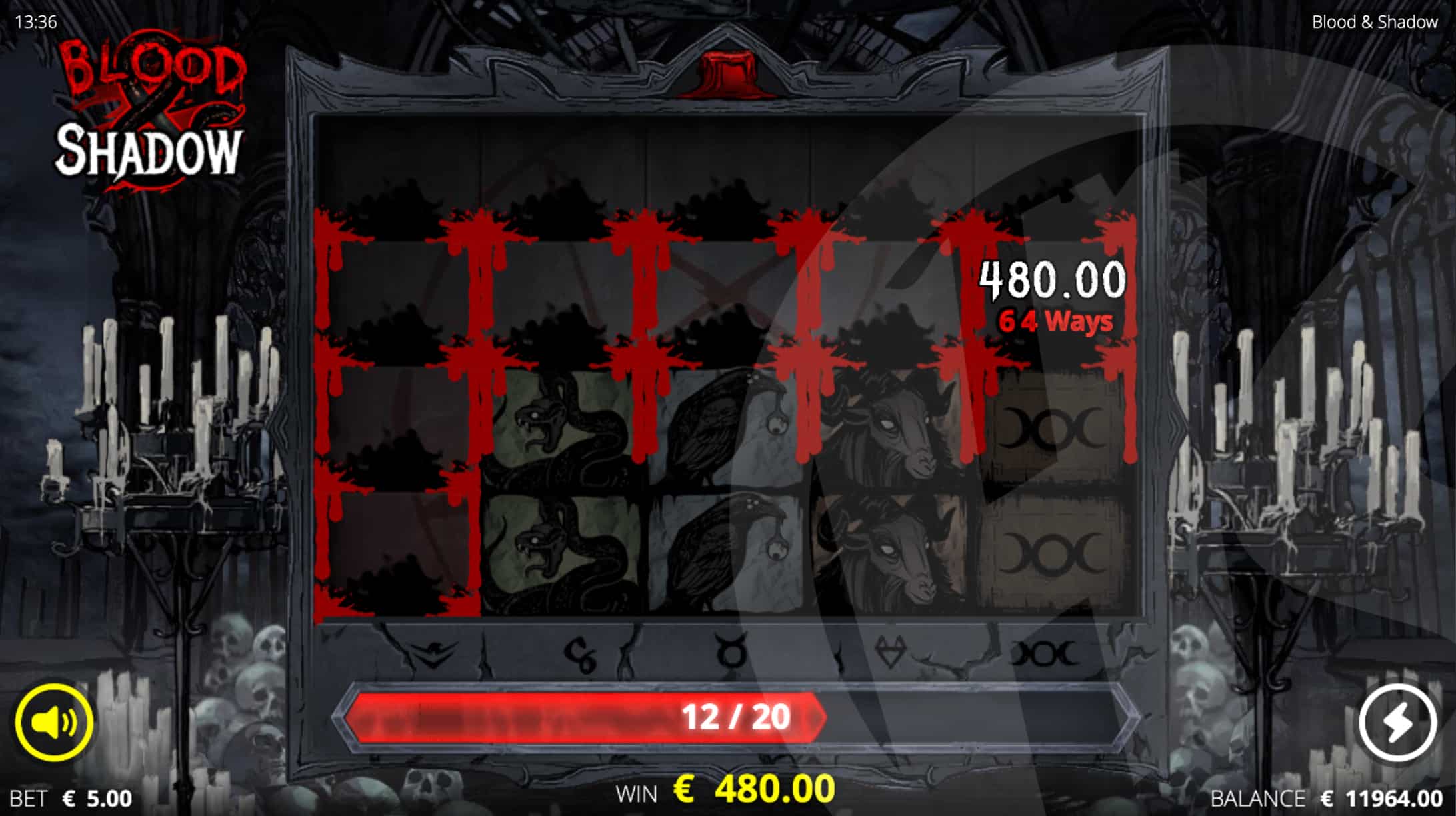 Alright, so the first thing to cover is the fact that winning symbols will be destroyed and removed from the reels. All remaining symbols will then tumble down to the bottommost available position on their respective reels, with new symbols dropping in from above to fill any remaining gaps. This continues until no new wins are formed.
Working hand in hand with this is the Ritual Bar below the reels, in which there are 5 levels of progression. Each time a medium or high paying symbol is removed from the reels, it will be added to the Ritual Bar. Medium paying symbols will progress the bar by +1 per winning symbol, whilst high paying symbols will progress the bar by +2 per winning symbol. Any Scatters that land on the reels will also be added, progressing the bar by +10 per Scatter.
Each new level reached will remove 1 low paying symbol from the reels, and upgrade 1 medium paying symbol to its high paying counterpart.
A total of 20, 30, 40, 60, and 80 symbols are required to progress to each level, respectively. If you exceed the number of symbols required, the excess will carry over. The Ritual Bar resets ahead of the next paid spin.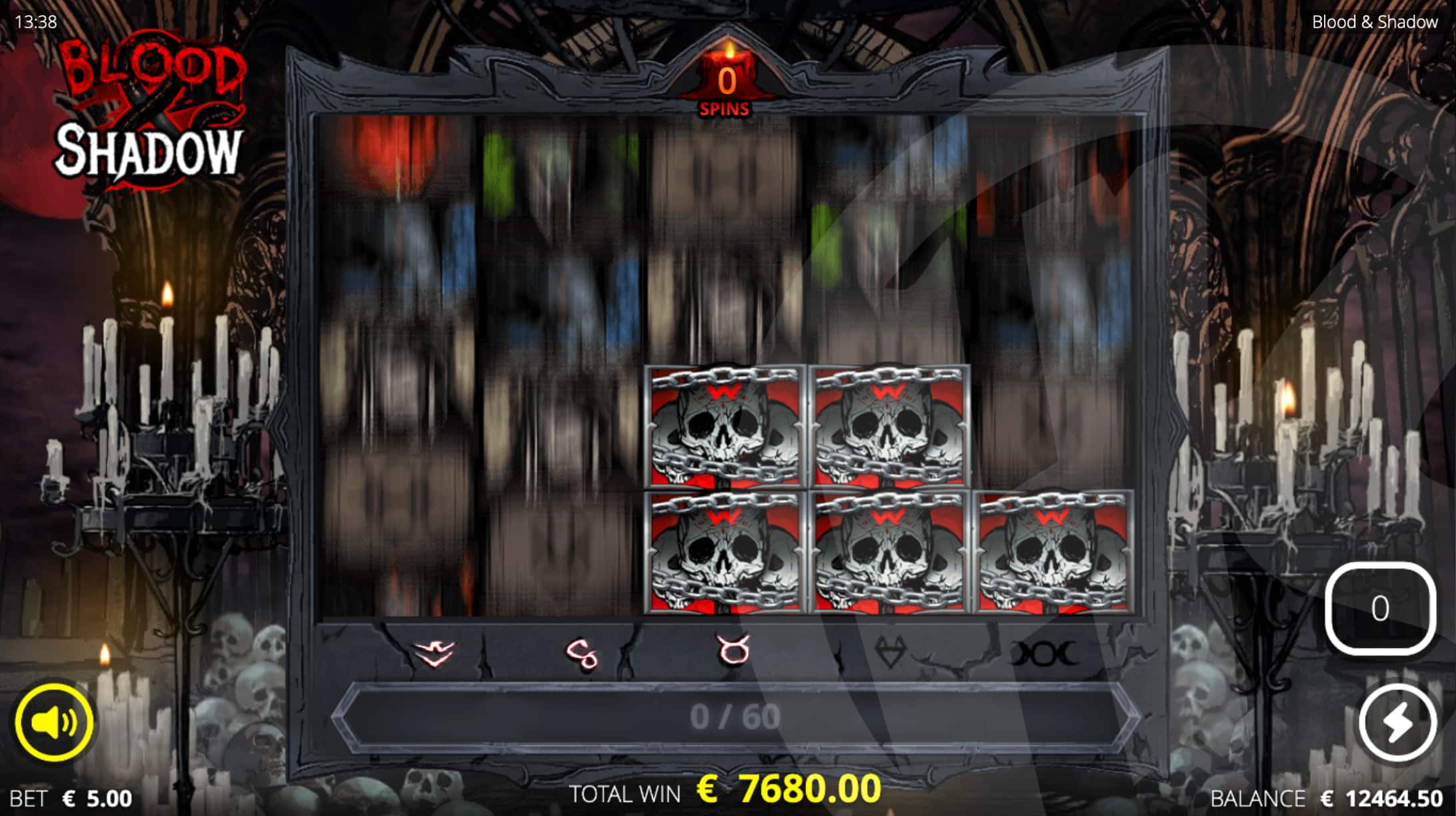 Blood & Shadow Bonus
Each time a new level of the Ritual Bar is reached, +2 Candle Spins are awarded. Before progressing to the next level, any outstanding wins play out. During Candle Spins, the Ritual Bar performs the same as in the base game. It is possible to land Sticky Wilds during Candle Spins. Sticky Wilds can only land on reels 2-5, and will drop to the bottommost available position on their respective reels, sticking in place until they are used in a winning combination. After being used as part of a win, Sticky Wilds are destroyed with winning symbols.
When level 4 of the Ritual Bar has been reached, players are awarded +6 Cursed Spins. Again, any outstanding wins are played out before progressing into Cursed Spins. During Cursed Spins the Ritual Bar is removed, with each reel now holding 5 symbols – producing 3,125 ways to win. Additionally, only high paying symbols, Sticky Wilds, or xSplits can land on the reels. Sticky Wilds behave in the same way as they do in Candle Spins, whilst xSplit will split either the entire reel they have landed upon, or the entire row they have landed upon. It is possible to land multiple xSplits per row, but only one per reel. Finally, landing a Scatter symbol during Cursed Spins will award an additional +1 spins.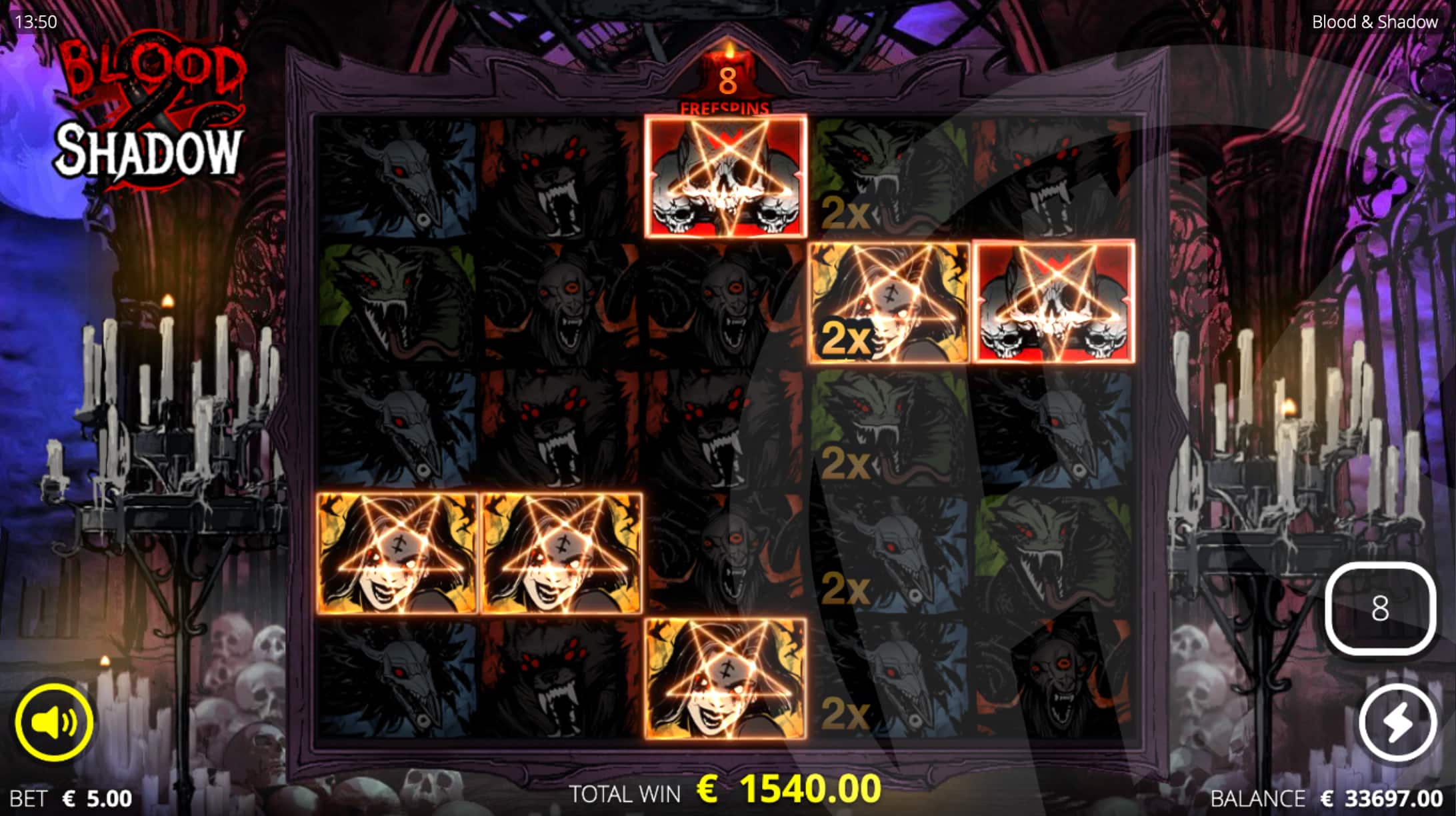 Players in appropriate regions can take advantage of the following Nolimit Bonus options:
Baphomet Rite (instantly progresses the Ritual Bar to level 3, awarding +6 Candle Spins, removing 3 low paying symbols, and upgrading 3 medium paying symbols) – 66x bet (96.18% RTP)
10 Cursed Spins – 500x bet (96.10% RTP)
Lucky Draw (level 1-5) – 55x bet (96.01% RTP)
Lucky Draw (level 3-5) – 166x bet (96.04% RTP)
The above RTP values are based upon the main game setting of 96.13% RTP.
The maximum win available in Blood & Shadow is 6,666x bet (The Pact is Sealed). If the sum of a single game round exceeds this, the game round will end and 6,666x bet will be awarded.
First Impression
Blood & Shadow is one of the more interesting games from Nolimit City – at least in my opinion. The idea of a common bonus round is more or less removed, a bit like Print Studios chose to do with Reapers. The essence of a bonus is still there, but instead it's a more progressive aspect with the main 'bonus' reserved for rare occasions. What this means is that every 13 spins players can expect to see Candle Spins, but only 1 in every 10,030 spins can they expect to see Cursed Spins – quite a difference. Don't forget though, there are multiple levels to work through.
In any instance, players can still see good wins from Candle Spins, with Sticky Wilds, and low and medium paying symbols removed and upgraded on the reels. The real action is in Cursed Spins though, although it almost doesn't bare discussing when you consider the rarity of this one. Bigger reels leads to increased ways to win, combined with Sticky Wilds, additional spin potential, and xSplit. Ultimately, wins are possible up to 6,666x bet – quite low for a studio like Nolimit City, but also quite rare – rarer than 5 of the past 6 releases from this studio.
Well, such is the price you pay for volatility, which brings me to my next point – this is an extremely (10) volatile release. Finally, RTP options are available up to 96.13%, so as always it's worth checking this.
There's nothing friendly about Blood & Shadow, in name or nature – but if you're a fan of a progressive kind of game, or Nolimit City and the work they produce, you'll probably find enjoyment in it. Other maths information, for those who are interested, is as follows:
RTP – 92.04% – 96.13%
RTP Main Game (levels 0-4)  – 94.38%
RTP Cursed Spins – 1.75%
Hit Frequency – 27.18%
Win 100x bet – 1 in 914 spins
Candle Spins – 1 in 13 spins
Cursed Spins – 1 in 10,030 spins
Max Win – 6,666x bet
Max Win Frequency – 1 in 97m spins (96.13% RTP)
*The screenshots taken of games reviewed on this site are taken from Demo Play, as reviews are often written before games are released for real play.