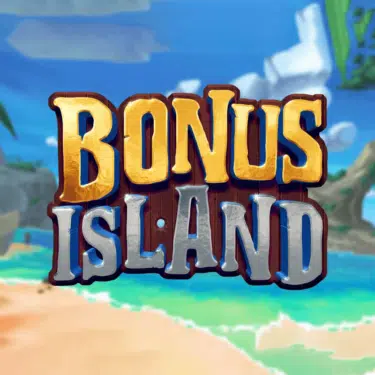 Bonus Island
Game Provider: Inspired
Release Date: Available Now
Bonus Island
Game Studio Inspired
Release date Available Now
RTP 95.78%
RTP Feature Buy N/A
Paylines 15,625
Volatility High
Min Bet 0.20
Max Bet 20
Max. Win 25,000
Rating 8.1/10
For lovers of Deal or No Deal Megaways, there's a new slot on the block. Bonus Island, the latest release from Inspired Entertainment, brings us a slot that combines Deal or No Deal Megaways, Razor Shark and Reel King Megaways, whilst still keeping things fresh and interesting. Pirate themed, Bonus Island pays 15,625 ways. Included are cascading wins, mystery symbols, coins and a free spin gamble for the brave at heart. The RTP for this slot sits at 95.78%, which isn't the highest, but still decent all the same. From our experience on this slot, volatility level sits at high, and a bonus isn't always an easy feat to achieve. That said, there are a few tweaks to what could otherwise be considered a regular game. These tweaks give players more opportunities to hit those free spins.
Bonus Island's pay table consists of 10 symbols; 4 regular symbols and 6 premiums. At the lowest end of the pay table, J and Q both pay 0.4x bet for 6 of a kind, and K and A both pay 0.6x bet, again for 6 of a kind. Premiums consist of telescopes, and scrolls, which both pay 1x bet for 6 of a kind. Swords and guns pay 2x bet for 6 of a kind. Anchors pay 5x bet for 6 of a kind. At the top end of the pay table, the pirate is the highest paying symbol. This pays 10x bet for 6 of a kind. There are no wilds within this slot, but there are mystery symbols hidden within wooden crates (Mystery Boost™). These appear on all reels, and are quite frequent.
Bonus Island Base Features
As mentioned above, Bonus Island pays 15,625 ways, and wins cascade, paying from left to right as expected. A minimum of 3 matching symbols (at least one on each reel) across reels 1-3 is required to count as a winning spin. Mystery symbols appear on every reel, and when opened reveal the same symbol, or coins. To open the mystery crates, players must land a bomb, otherwise known as a transform symbol, on any reel. The transform symbol remains for the duration of the spin, through every cascade, so it is a considerable boost towards the bonus if the bomb is in view.
If the mystery crates reveal coins, the coin feature starts, and counts as one win towards the bonus. Coins will be either bronze, silver, or gold in colour, and each have cash values attached in the form of x-win values (for example a x10 coin will pay £20 on a £2 stake). Naturally, the gold coins contain the highest amounts, and bronze the least, with the silver falling somewhere between the two. As with most Inspired Entertainment slots, there is a Spin Chance when players run out of money, which is triggered automatically when credits drop below the chosen bet amount.
It is effectively a chance to gamble your remaining credit for a chance to win another spin at the stake higher than your credit. The gamble chance is proportional to the amount of credit in relation to the chosen bet; ie, 10p credit remaining gambled for a 20p spin will be a 50/50 gamble. If a player wins the gamble, the spin is played automatically. If a player loses they revert back to the base game having lost their credit. Players must gamble their entire remaining credit in the Spin Chance and cannot just stake a portion of it. Alternatively, players can select the "No Thanks" option to exit Spin Chance and keep their credit.
Bonus Island Bonus
Four consecutive wins are required to trigger the bonus feature. Five and six cascades trigger the mega, and epic bonus respectively. During the bonus feature, players are taken to a map with 20 treasure chests in view. 15 of these chests are awarded "x stake" values from x1 to x20, and 5 of these chests have free spins attached. This is where the slot becomes reminiscent of Deal or No Deal Megaways; players choose from the remaining treasure chests, being offered cash values along the way based on the values remaining. At the end of the bonus feature, players can choose to open their chosen chest, or swap for the remaining chest. Players are then awarded whatever value is in the opened chest. Quick pick is available, both to choose a chest, and to open the remaining chests in view.
The mega bonus is an enhanced version of the above bonus, with 10 free spins positions. The epic bonus removes all x stake treasure chests from the board, instead giving players just 10 chests to choose from. In this instance, all chests have free spins attached. One interesting feature of the bonus is in the gamble wheel, which is triggered after players are awarded a prize. Whether awarded an x stake win value, or free spins, players are given the chance to gamble the whole way to 16 free spins. Once 10 free spins have been reached, any further gambles will still award a certain amount of spins should the gamble lose. Players can also choose to deal from the very first amount offered within the bonus and take that amount to the gamble wheel.
During the free spins, there is a multiplier attached which increments with every cascade. Also active are the coins mentioned above, which work hand in hand with the multiplier. This means a x10 coin could potentially be x30 if the multiplier is x3 at the start of the relevant cascade. Alongside coins, extra free spins can also land. The mystery symbols and bombs we know from the base game are not active during free spins. Instead, there is a new skull mystery symbol which can land on the reels. This symbols explodes immediately, rather than needing a bomb to trigger. It is this mystery symbol that awards the aforementioned coins and extra spins. If it awards neither of these, all mystery symbols in view reveal the same symbol.
First Impression
Bonus Island brings together various known slot concepts in a new and interesting way. It certainly seems to be an upgrade on the cascade bonus games we already know, such as Deal or No Deal Megaways or Sweet Success Megaways. It is certainly a lot more interesting to play given that every bonus can be gambled for free spins. Compared to Reel King Megaways, one of Inspired Entertainment's previous cascade bonus games, Bonus Island is just unique enough to stand on its' own two feet rather than being labelled a sequel.
Overall, the win values and potential of this game are good. Although it can feel like a long slog to land the bonus, and an even longer slog to land free spins, we would expect the free spins to give a pretty decent return. Mystery Symbols and coins serve their purpose of keeping what is otherwise a fairly boring base game interesting. The transition of coins into the bonus working alongside the multiplier give an indicator of what this slot can do.
*The screenshots taken of games reviewed on this site are taken from Demo Play, as reviews are often written before games are released for real play.