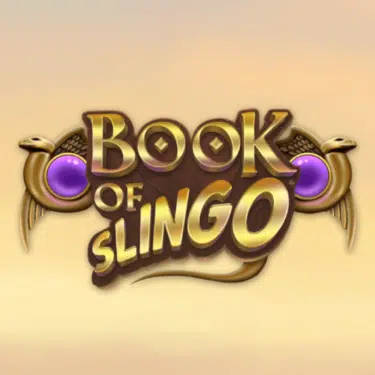 Book of Slingo
Game Provider: Slingo Originals
Release Date: Available Now
Book of Slingo
Game Studio Slingo Originals
Release date Available Now
RTP 95% - 96.38%
RTP Feature Buy N/A
Paylines 12
Volatility Medium - High
Min Bet 0.10
Max Bet 100
Max. Win N/A
Rating 7.9/10
Slingo Originals, responsible for the many Slingo games available to players across the sector, are often considered one of the most controversial providers. Where many players enjoy the fast-paced action of a Slingo game, others consider Slingo to be just too risky, given that the cost of the top feature on a game of Slingo can cost over 200x stake.
Comparatively to the feature buys available on other games, usually around 100x stake in cost, Slingo can seem incredibly expensive.
Now, Slingo Originals have combined Slingo with one of the most popular slot mechanics of all time, with their new release, Book of Slingo, a medium to high volatility slot with RTP between 95% and 96.38%.
Visually, Book of Slingo looks much like you would expect from any Slingo game, with the addition of Egyptian graphics and backing tracks. Palm trees are visible in the background, with the Slingo board game placed within the walls of an Egyptian tomb, with Anubis statues in the forefront, and audios are exactly what one would expect from an Egyptian themed game.
Book of Slingo Base Features
The pay table consists of 10 symbols, including 10, J and Qs paying 0.5x stake for 3 of a kind, and 1x for 5 of a kind. K and As pay 0.5x and 1.5x for 3 and 5 of a kind, respectively, bringing up the end of the lower paying side of the pay table.
Premiums consist of Egyptian Gods, including Horus and Sebek symbols paying 0.05x for 2 of a kind and 7.5x for 5 of a kind. Anubis is next up, offering players 0.05x for 2 of a kind, and 20x for 5 of a kind.
The Eye of Horus is the highest paying symbol, coming in at 0.1x for 2 of a kind, and a whopping 5ox stake for 5 of a kind. Similarly, the scatter symbol is a book, paying 50x for 5 of a kind.
Slingo
Book of Slingo takes place on a 5×5 grid, with 12 Slingo win lines, and a ladder of prizes at the left hand side. Once a stake is chosen and spent, 11 spins are awarded to try and climb as high on the ladder as possible.
This is done by matching numbers across the Slingo win lines, by landing matching numbers to the reels above within the 5 reel area at the bottom.
For each of the 11 spins, 5 different numbers will land, and any matching numbers on the adjacent reels above will be highlighted and removed from the grid, instead replaced with a scarab symbol. Alongside regular numbers, the following symbols can land on the reels:
Wilds: Allow you to mark off any number from the column above
Super Wilds: Allow you to mark off any number from the grid
Scatters: Book Scatters can trigger Free Spins, if 3 or more land
Free Spin: Adds an extra spin to the base game
Blockers can also land, which prevents matches being formed on the grid.
Once the 11 spins have ended, provided you have advanced at least one position on the ladder, you will be given the option to purchase more spins.
The price will be shown at the right hand side, and will be the price for one more spin, where a matching number is not guaranteed.
Players can purchase up to a maximum of 40 extra spins, and will be awarded the following as they progress the ladder:
2 Slingos: 0.5x stake
3 Slingos: 1x stake
4 Slingos: 2x stake
5 Slingos: 3x stake
6 Slingos: 5x stake
7 Slingos: 10x stake
8 Slingos: 40x stake or Bonus
9 Slingos: 75x stake or Bonus
10 Slingos: 150x stake or Bonus
Full House: 250x stake or Bonus
Once 8 Slingos have been reached, the bonus offered has an increasingly valuable expanding symbol as you progress, to the most valuable expanding symbol offered for the Full House bonus.
Alternatively, at any point along the way, players can collect the cash prize. Best Strategy is to make a selection in which the most Slingos will be possible.
Extra spin prices may be in excess of your stake, and in our experience so far it can cost in excess of 500x stake to reach the full house, where the prize on offer is 250x or 10 free spins with Eye of Horus expanding symbol.
Book of Slingo Bonus
Triggering the bonus in Book of Slingo is possible by landing 3 or more scatters across the bottom reel, with a special expanding symbol chosen at random:
3 Scatters: 10 free spins with any expanding symbol
4 Scatters: 10 free spins with a premium expanding symbol
5 Scatters: 10 free spins with the highest paying expanding symbol
Alongside landing scatters on the bottom reel, some cash prizes can be exchanged for free spins (8 Slingos or higher).
Expanding Symbols
In this instance, a particular expanding symbol is already chosen, increasing in value to the Full House:
8 Slingos: 10 free spins with Horus expanding symbol
9 Slingos: 10 free spins with Sebek expanding symbol
10 Slingos: 10 free spins with Anubis expanding symbol
Full House: 10 free spins with Eye of Horus expanding symbol
The selected symbols expand to cover the whole reel, and pays as a scatter across all win lines.
During free spins, additional scatters can land, triggering extra free spins, with an unlimited amount possible:
3 Scatters: 10 extra free spins
4 Scatters: 15 extra free spins
5 Scatters:  20 extra free spins
First Impression
Book of Slingo will inevitably become another game at the bottom of the ever-growing list of controversial slots. Players continue to take issue with certain features that they deem to be too expensive. That said, Book of Slingo has the ability to land free spins regularly within the base game, and at 4 different ladder stages.
Players do not need to shoot for the Full House, but they should be aware that in our experience on Demo Mode we experienced a vast array of pricing to reach the top; at one point costing us 75x stake, and at another point costing us over 500x stake. However, for players who enjoy Slingo games and players who enjoy book games with expanding symbols on offer, Book of Slingo provides the best of both worlds.
Where many other book games fall behind with the lack of expanding symbols, in our experience Book of Slingo is regularly offering 4 or more of a kind. RTP is fair, sitting at 96.38% based on best strategy, but does drop as low as 95% for each additional spin purchased.
Volatility is medium to high, so inevitably there will be some players that will hit some huge wins. Overall, not a bad addition to the Slingo Originals catalogue, adding something extra that we haven't been offered before.
*The screenshots taken of games reviewed on this site are taken from Demo Play, as reviews are often written before games are released for real play.