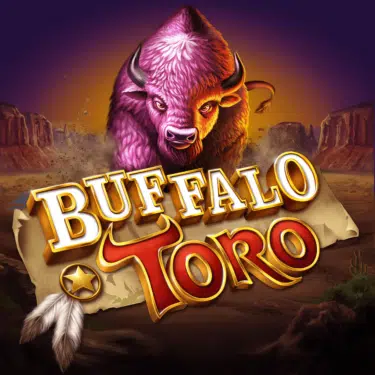 Buffalo Toro
Game Provider: ELK Studios
Release Date: Available Now
Buffalo Toro
Game Studio ELK Studios
Release date Available Now
RTP 94.0%
RTP Feature Buy 94.0%
Paylines 4,096
Volatility High
Min Bet 0.20
Max Bet 50
Max. Win 50,000x
Rating 8.4/10
ELK Studios are back with another Toro release, following from the success they've had so far in titles such as Wild Toro 2, Book of Toro, and Toro 7s. This time? It's Buffalo Toro, where Toro has travelled to the west to save the remaining population of ultra-rare Golden Buffalos. Going head to head against these conservation efforts is the Matador – determined to find the Golden Buffalos and collect their golden plaids. With an RTP of 94.0%, this highly (8/10) volatile release is capable of producing wins up to an impressive 50,000x bet.
At first glance things seem like a bit of a mismatch in Buffalo Toro, but this is generally what happens when you go for a hybrid of two contrasting styles. On the one hand, we have the Spanish stylings of the Matador and Toro, although both have now gone slightly incognito, and on the other we have an expansive desert, with cacti, and standard American styled symbols – like the bald eagle, America's national bird, which apparently symbolises the strength and freedom of America – who knew? Audios are fitting with the overall theme – I can't quite decide if I think they're more American or Spanish, so I guess that's how you know you've done fusion well.
Buffalo Toro Base Features
Taking place across 6 reels, wins are formed on Buffalo Toro by matching at least 3 symbols on adjacent reels, beginning with the leftmost reel. There are no fixed win lines, which means symbols can land in any position on reels, for a total of 4,096 ways to win. Symbols available begin with non premiums, with 9, 10, J, Q, K, and As. Land 3 of a kind non premiums to see wins between 0.10 and 0.30x bet, with these wins increasing to values between 0.80 and 1.60x bet for 6 of a kind wins. At the premium end we have an assortment of typically American animals, matching in colour to their non premium counterpart – bears, wolves, cougars, and bald eagles. Land 3 of a kind premiums to see wins between 0.40 and 0.50x bet, with this increasing to values between 2.4 and 3x bet for 6 of a kind. Rounding up symbols are buffalos, which are the only symbol to pay for 2 of a kind. Land 2, 3, 4, 5 or 6 of a kind buffalos to see wins of 0.50, 1, 2, 3 and 6x bet, respectively.
There are a number of Wild Symbols available in Buffalo Toro. The first is the regular Wild Symbol. Wilds substitute for all regular pay symbols – they do not substitute for Bonus, Super Bonus, Matador, Toro, or Multiplier Wild Symbols.
The second is the aforementioned Multiplier Wild Symbol. When one or more Multiplier Wild Symbols land on the reels and contribute towards wins, a multiplier of x2 or x3 is chosen randomly to be applied to each contributing Wild. If more than one Multiplier Wild Symbol is used in a win, their values are added together.
Next up is the Walking Wild – which is the Toro Wild Symbol. Anytime a Toro Wild lands on the reels, he generates respins as he moves to the left. One respin is generated for each position he moves to the left, and once he moves off the reels, respins will end. If a Matador Symbol lands during respins, the Wild Toro Feature will begin.
If the Toro Wild Symbol is in view with a Matador Symbol, the Wild Toro Feature will begin. In this feature, Toro moves towards the Matador (through the path of least resistance), and leaves a regular Wild Symbol behind in every reel position he passes through. When he reaches the Matador, the Matador will be knocked off the reels, and replaced by the Toro Wild Symbol. Once the Wild Toro Feature ends, the Toro Wild Symbol will still be on the reels, so players will see the above respins until the Toro Wild Symbol has moved left off the reels. If another Matador Symbol lands during the Toro Wild respins, the Toro Wild Symbol will move towards the Matador Symbol again, and this process will repeat until the Toro Wild Symbol moves off the reels at the left-hand side.
Without a Toro Wild Symbol in view, the Matador Symbol does nothing, but if 2 or more land in view, they trigger the Matador Respin Feature, in which they stick in position, and a respin is awarded. If at least one more Matador Symbol lands during the respin, a further respin is awarded. Respins continue until no more Matador Symbols land, with the goal being to land a Toro Wild Symbol to trigger the Wild Toro Feature.
Buffalo Toro Bonus
Land 3, 4, 5, or 6 Bonus Symbols to trigger 8, 12, 16 or 20 free spins, respectively. When the Bonus begins, there will be a premium symbol above each reel (lowest to highest, from left to right) – each with 3 counters underneath. During the Bonus, the aim is to collect Golden Buffalo Symbols on the reels, which will then be applied to the counters under the premium symbols. Each time 3 Golden Buffalo Symbols are collected, one premium symbol will upgrade to buffalos – first bears, then wolves, then cougars, and finally bald eagles.
When a Golden Buffalo Symbol is collected, it leaves a regular buffalo symbol behind in its place. Once all 12 symbols have been collected and all premiums have been upgraded, it will not be possible to land additional Golden Buffalo Symbols.
Land 2, 3, 4, 5, or 6 Bonus Symbols during the Bonus to trigger an additional +4, +8, +12, +16, or +20 free spins, respectively.
If one of the triggering Bonus Symbols was a Super Bonus Symbol, the Super Bonus will be awarded. Again, landing 3, 4, 5, or 6 Bonus Symbols (with at least one of these being a Super Bonus Symbol) will trigger 8, 12, 16 or 20 super free spins, respectively.
Things are much the same in the Super Bonus, with one distinction – each time 3 Golden Buffalo Symbols are collected and a premium symbol is upgraded to buffalos, players will trigger a new level of Rampage Reels. The Super Bonus begins with no Rampage Reels, but for each four premium symbols upgraded between 1-2, 1-3, 1-4, or 1-5 Rampage Reels are awarded.
Rampage Reels are reels which only contain buffalos, and having 1-2 Rampage Reels activated means that as reel spin at the beginning of each free spin, between 1-2 reels will highlight and be filled with buffalos, before other symbols land. The more Rampage Reels you have activated, the more reels can be filled with buffalos – the maximum number of Rampage Reels is 5.
Land 2, 3, 4, 5, or 6 Bonus Symbols during the Super Bonus to trigger an additional +4, +8, +12, +16, or +20 free spins, respectively.
Players in appropriate regions can go straight into the action with a number of  X-iter™ options:
10x bet – Matador Respin (2 Matadors Guaranteed)
25x bet – Toro Goes Wild (Guaranteed Toro and Matador)
50x bet – 3 Rampage Spins (Rampage Reels Guaranteed)
100x bet – Bonus Game
500x bet – Super Bonus
When buying one of the base game features (Matador Respin, Toro Goes Wild, or Rampage Spins), it is possible to have other features interact – for example, you may land a Matador and Toro in buying the Rampage Spins.
The maximum win available in Buffalo Toro is 50,000x bet. If the sum of a single game round exceeds this, the game round will end and 50,000x bet will be awarded.
First Impression
ELK Studios have really knocked it out of the park with the graphics on their Toro series, and Buffalo Toro is no different. There's a lot happening in this release, particularly in the base game, which really helps to keep things ticking over, especially for players in territories without feature buy options. The Wild Toro Feature continues to be a well executed and exciting one, especially now with 4,096 ways to win, so there's no need to land anything in a particular place. The aim in the base game is a simple one – land Matador Symbols as far away from Toro Wild Symbols as possible, and hopefully see a few wild line wins.
Moving into the Bonus and the goal again is clear – collect Golden Buffalo Symbols. Doing so will see premium symbols upgraded to buffalos – not a new concept, but one that we know works well, namely in releases like Pink Elephants. When it comes to the Super Bonus, players can see up to 5 Rampage Reels, which we know can be exciting. With a number of X-iter options available, players can pretty much see whatever they want, but this does come at a cost – 500x bet for the Super Bonus, for example. Additionally, 10x bet to see 2 Matadors might not be the wisest choice when 25x bet guarantees the Toro Wild to go with them.
Wins are available up to 50,000x bet in Buffalo Toro, although it's obvious this won't be an easy task, especially with a highly volatile maths model, rated 8/10 by the team. RTP is the final point to cover, coming in at 94.0% – lower than expected, but fixed, so there is that. Overall, Buffalo Toro fits well in with this series, and should be capable of exciting more than just fans of the previous releases.
*The screenshots taken of games reviewed on this site are taken from Demo Play, as reviews are often written before games are released for real play.