If you're a fan of Relax Gaming, you'll probably have played Dead Man's Trail, the September 2021 release from the team. It's fair to say you've played Temple Tumble too, but have you ever played a combination of the two? It just might be your lucky day as we dive deep into the underground biker world in Dead Riders Trail, a rip roaring release that is anything but relaxing. With a fixed RTP of 96.20% (96.50% Feature Buy), three feature rounds, a highly (5/5) volatile maths model and wins on offer up to 50,000x bet, let's take a closer look at what makes the wheels turn on Dead Riders Trail.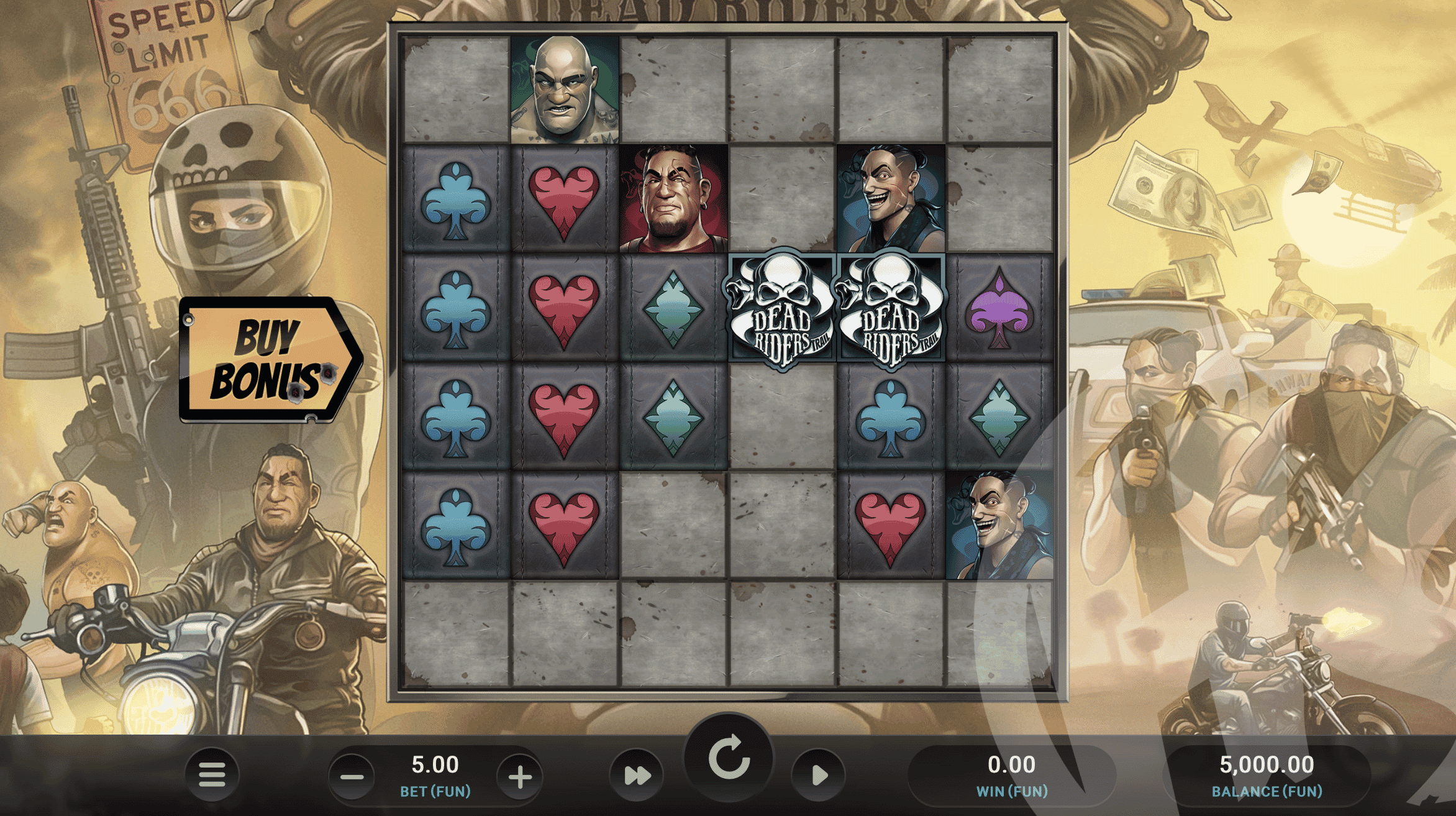 Visually, what is there to say? I can't remember the last time Relax Gaming missed with their graphics, and Dead Riders Trail is no different. Things are grungy and bold, even down to the 'Route 666' signs and symbols, and the characters shooting from behind their own symbols after a win. Audios are on theme, but interestingly upbeat for the grimy picture that has been painted. Overall, it works well together, and we'd expect nothing less.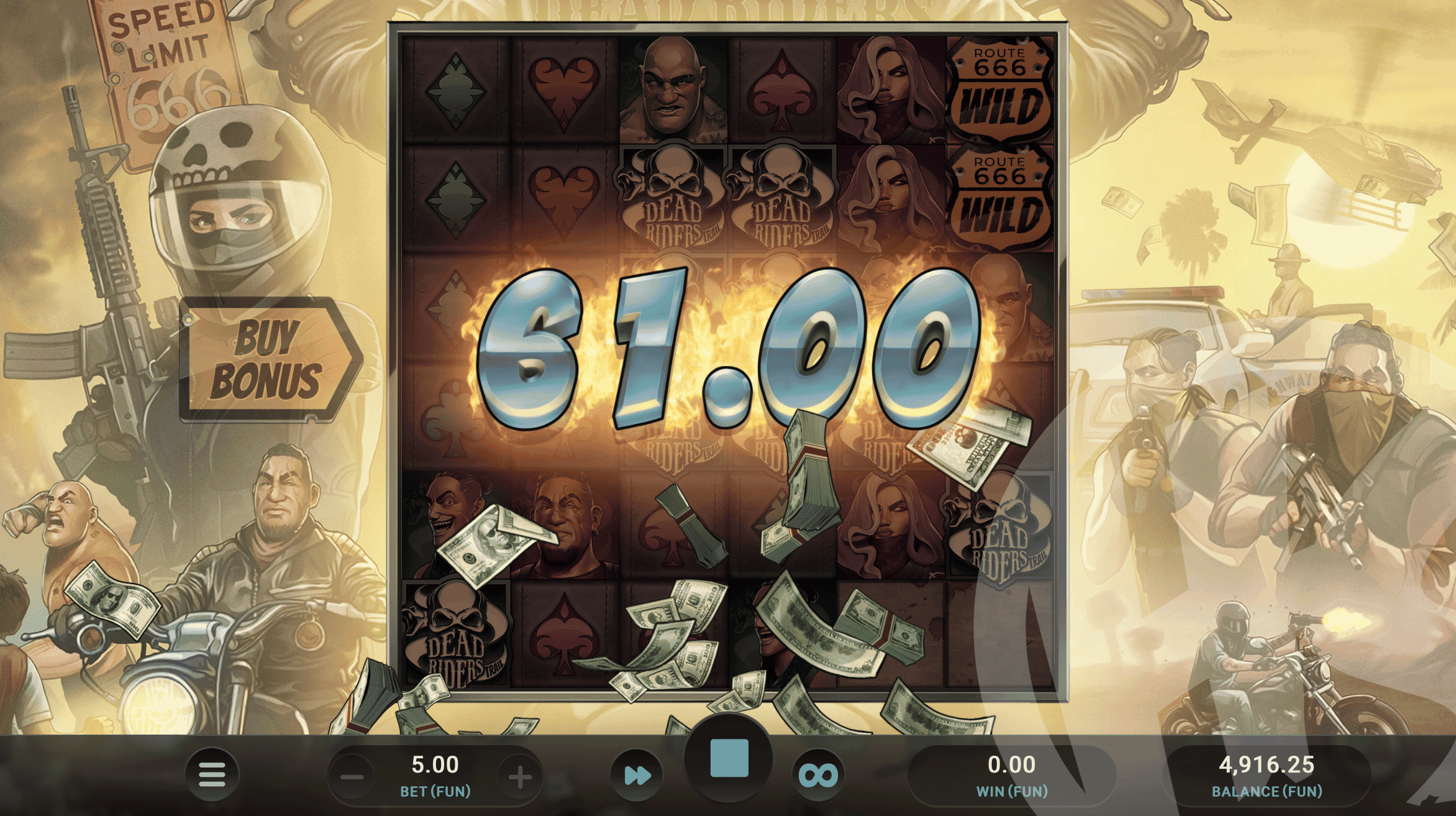 Dead Riders Trail Base Features
Taking place on a 6×6 grid, wins are formed on Dead Riders Trail by matching at least 3 symbols on adjacent reels, beginning at the leftmost reel. Symbols begin at the non-premium end, with blue clubs, purple spades, green diamonds and red hearts, each paying 0.05x bet for 3 of a kind, up to 0.2x bet for 6 of a kind. At the premium end, we have four character symbols – again blue, purple, green and red in colour. Premiums pay between 0.1 and 0.2x bet for 3 of a kind, up to between 0.4 and 0.6x bet for 6 of a kind. The highest paying symbol is the Dead Riders Trail logo, awarding wins between 0.3 and 1x bet, for wins between 3 and 6 of a kind. Finally, Route 666 Wild symbols are available, substituting for all regular pay symbols.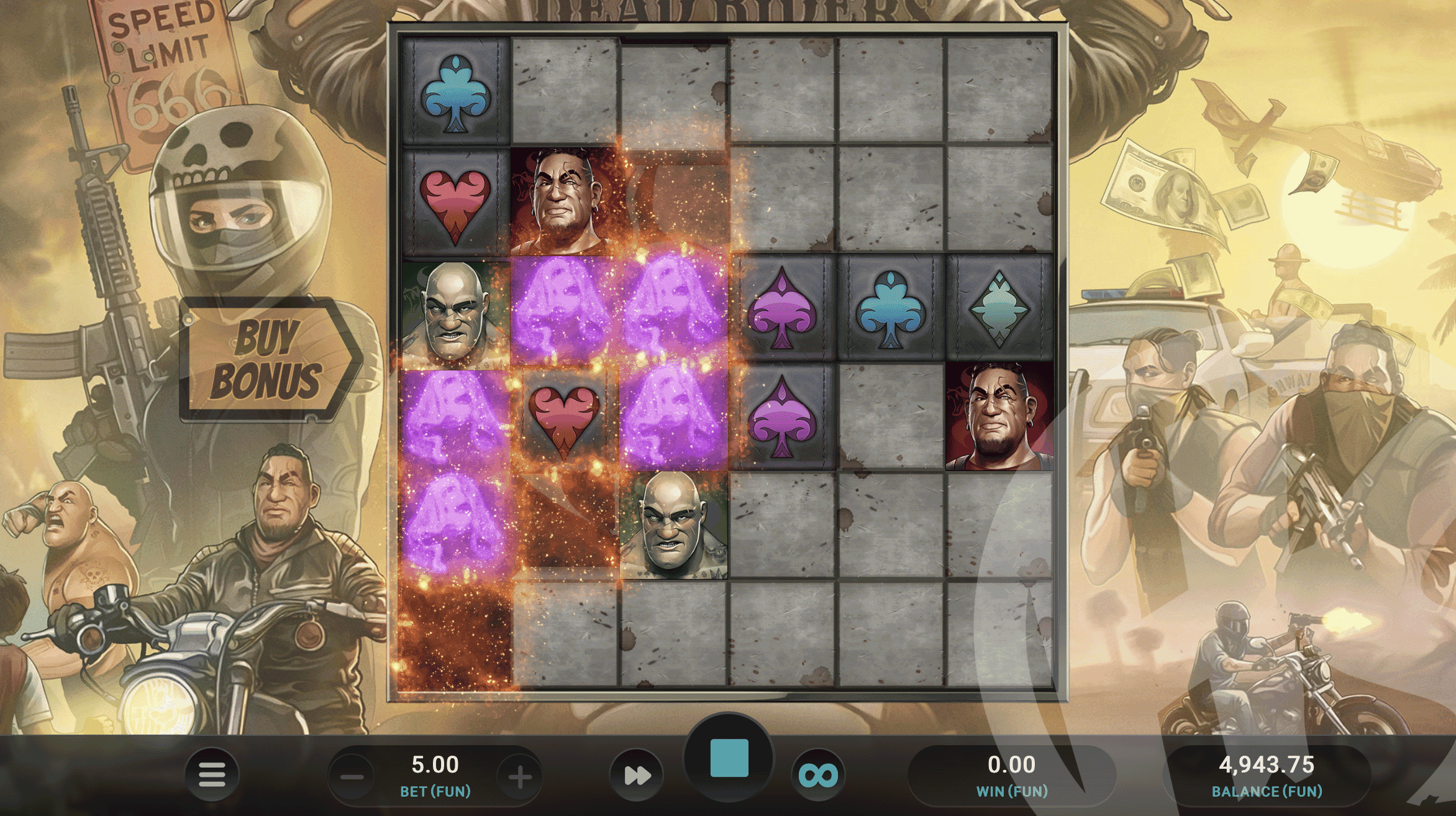 The first thing to be aware of in Dead Riders Trail are the stone blocks in view on every spin. Having featured in a number of Relax Gaming releases before, most notably Temple Tumble and Cluster Tumble, these stone blocks are removed by achieving wins. When a win is formed, all symbols involved in the win are removed from the grid. Symbols then cascade down, and new symbols drop in from the top to fill the space. Before the cascade, however, any stone blocks which are touching a winning symbol will be exploded off the grid, opening more spaces, and therefore increasing the ways to win. The starting ways to win change at the beginning of every spin, but when all stone blocks have been removed there are 46,656 ways to win.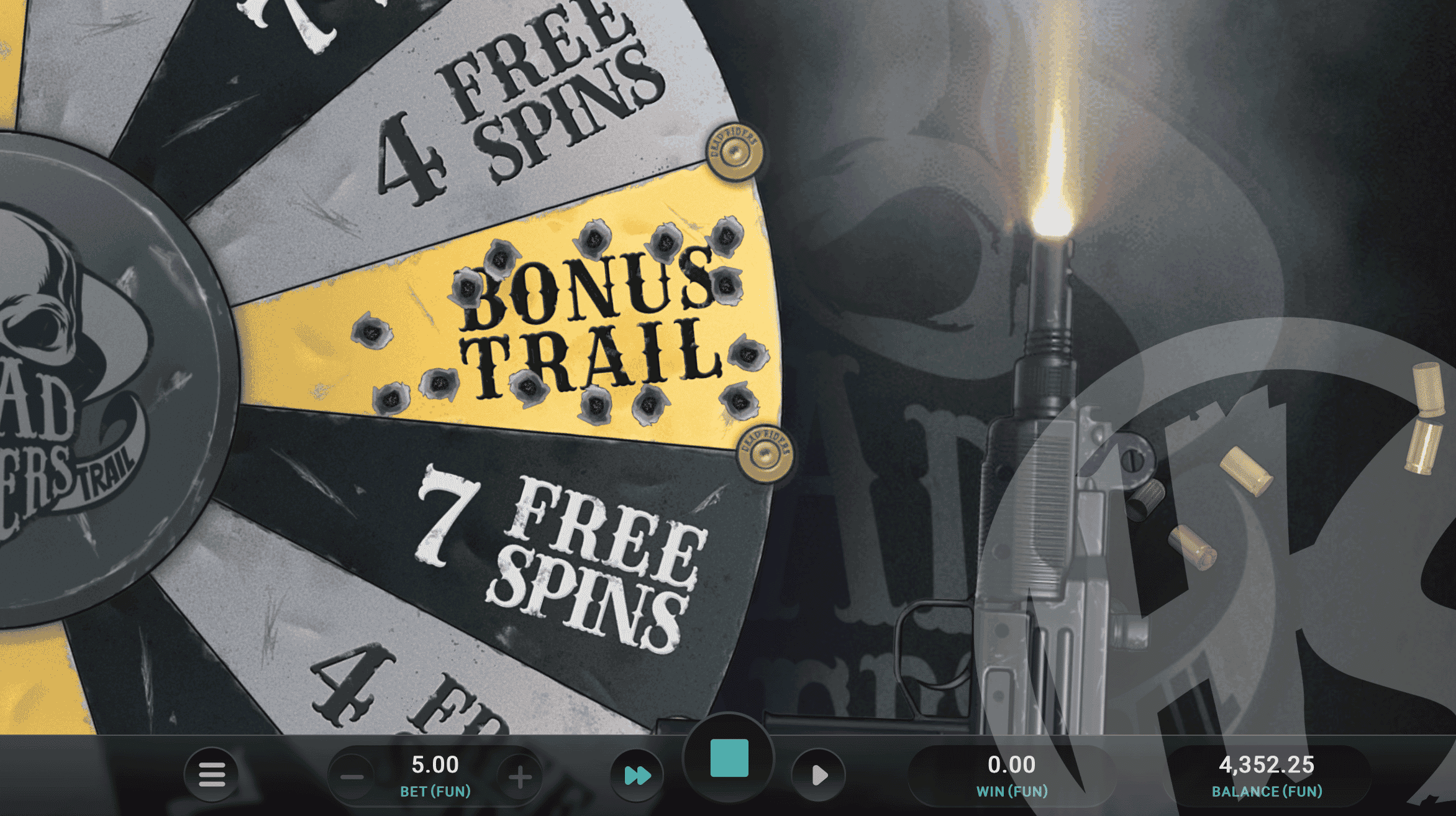 Blasting away all stone blocks in the base game triggers the Feature Wheel, where players can win:
4 Free Spins
7 Free Spins
Bonus Trail
Super Bonus Trail
The awarded free spins are regular base game Free Spins, with one difference – a random amount of bombs are attached to stone blocks at random. Removing a stone block with a bomb attached (in the same way you would remove a stone block in the base game) will trigger the bomb, clearing the entire reel, and transforming all symbols within the reel to the same symbol. Whilst you are not guaranteed the highest paying symbol, you are guaranteed to see all symbols transform to the one which will generate the largest win. Clearing all stone blocks in Free Spins awards +3 spins.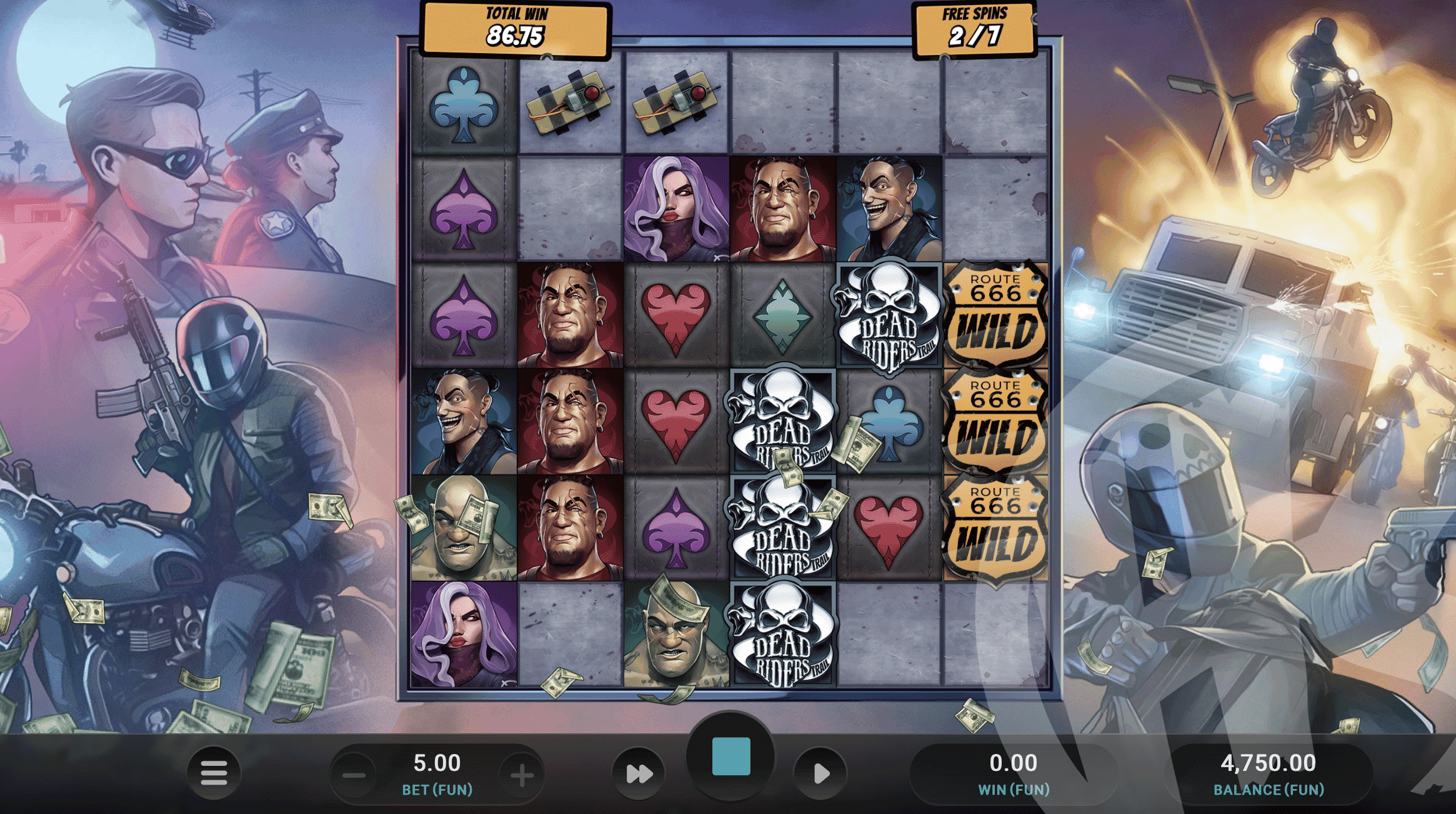 If you spin the Feature Wheel and land on 4 or 7 Free Spins, you have the opportunity to gamble for the Bonus Trail. If you choose to take the gamble, you sacrifice all Free Spins you have won – if you lose the gamble you return to the base game, having won nothing.
It is not possible to gamble to the Super Bonus Trail – this must be triggered through the Feature Wheel. The only available option is to gamble to the Bonus Trail from Free Spins. If you trigger the Bonus Trail from the Feature Wheel or gamble to it, you will be taken straight to the feature with no option to gamble further.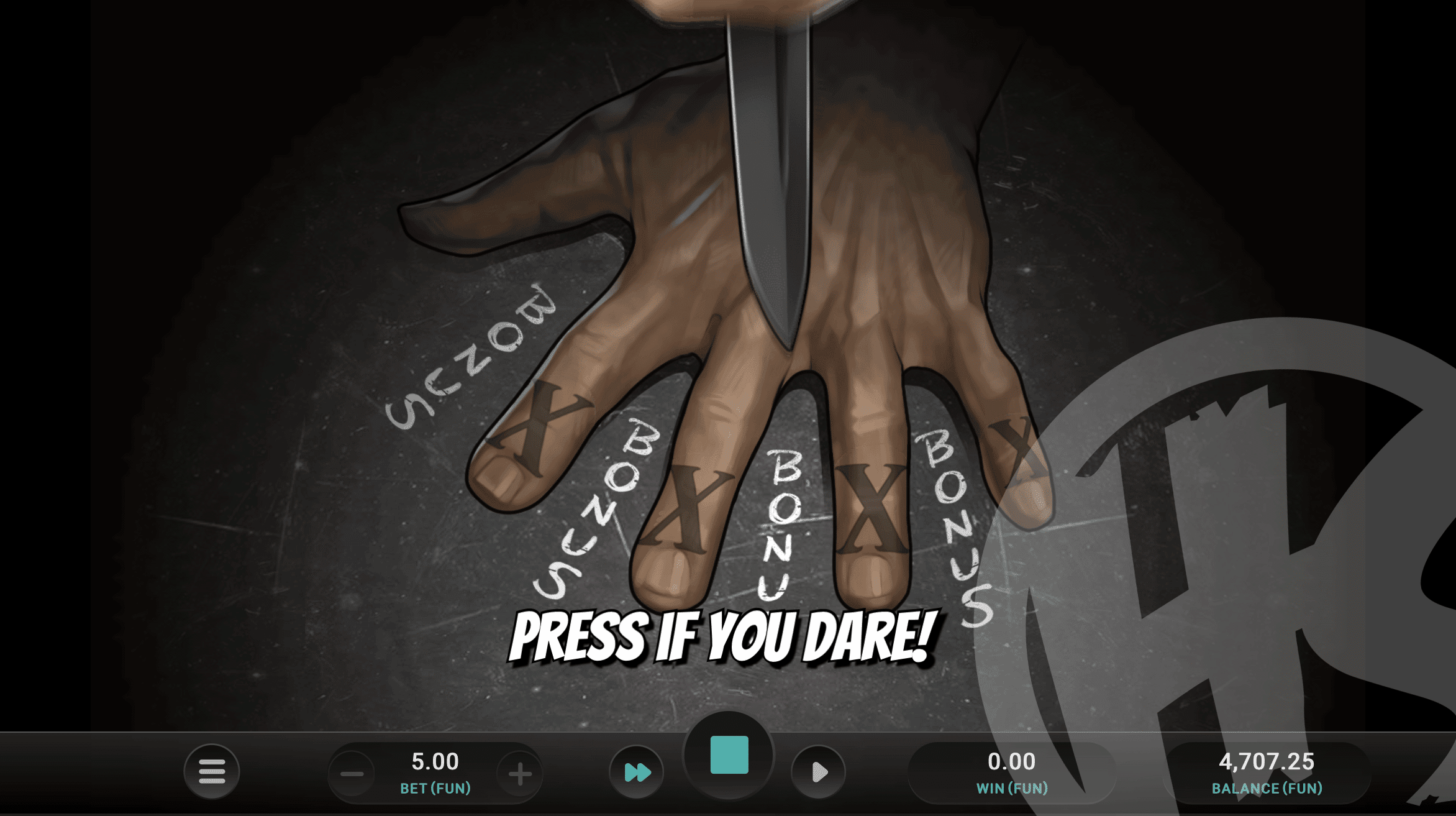 Dead Riders Trail Bonus
We leave the tumble series behind when we enter the Bonus Trail, and instead are given a screen resembling Dead Man's Trail. It's all very simple – you begin with 0x, and each space on the board resembles a bet multiplier value. You start with 3 turns, and on every turn you move between 1-6 steps forward, collecting whichever value you land on at the end of your moves. One fuel can (or one turn) is removed each time you move after collecting a value, but if the bet multiplier you land on has a fuel can attached to it, it will refill your turn meter back to 3. After refilling your turns, the fuel can is removed from the bet multiplier value, but all bet multipliers remain after being collected. When no more turns remain, the feature will end.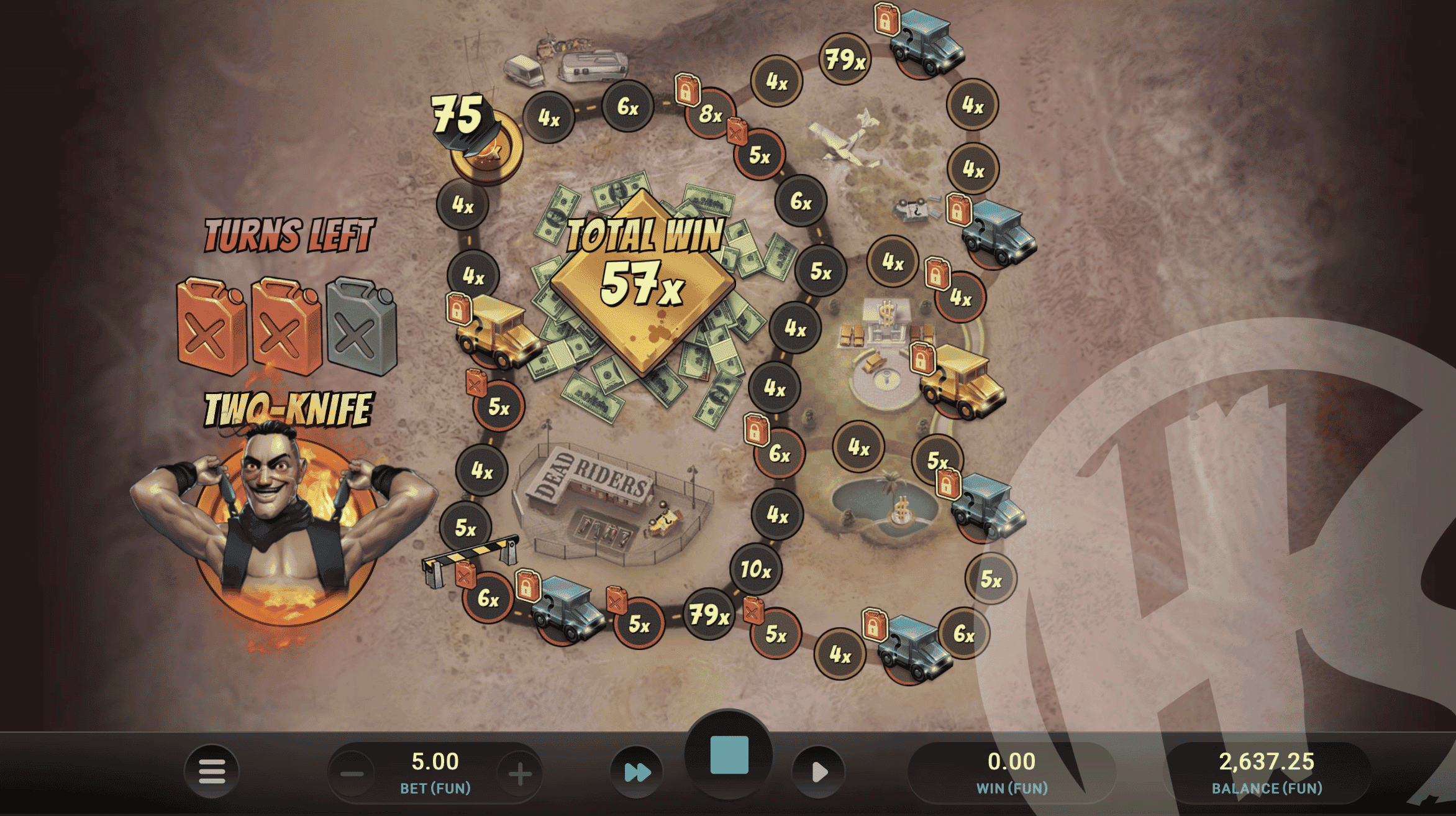 There are a number of trucks scattered around the trail – landing on a silver truck will award one of the following features:
Cash – 25-50x bet.
Sniper – 3-6 tiles are selected at random, and their values are multiplied by 2.
Payer – a value between 3-10x is added to all normal tiles.
Two-Knife – adds a value between 50-200x to 2-4 randomly selected normal tiles.
Refuel – 2-4 fuel cans are placed randomly on normal tiles.
Shoot Back – the total win is far is placed on 1-3 normal tiles at random.
Collect – the values of the closest 4 normal tiles are collected.
Collect All – the values of all normal tiles are collected.
Landing on a gold truck will award Collect All, or one of the following persistent features:
Persistent Sniper – 3-6 tiles are selected at random, and their values are multiplied by 2 at the beginning of every turn.
Persistent Payer – a value between 3-10x is added to all normal tiles at the beginning of every turn.
Persistent Two-Knife – adds a value between 50-200x to 2-4 randomly selected normal tiles at the beginning of every turn.
In addition to the above, completing a lap adds +3x to every normal tile, and a fuel can to the meter. The maximum value of a normal tile is limited to 1,000x bet.
The Super Bonus Trail works in the same way as the Bonus Trail, except the silver truck positioned closest to the starting point is changed to a gold truck, giving a much higher chance to trigger the higher tier features.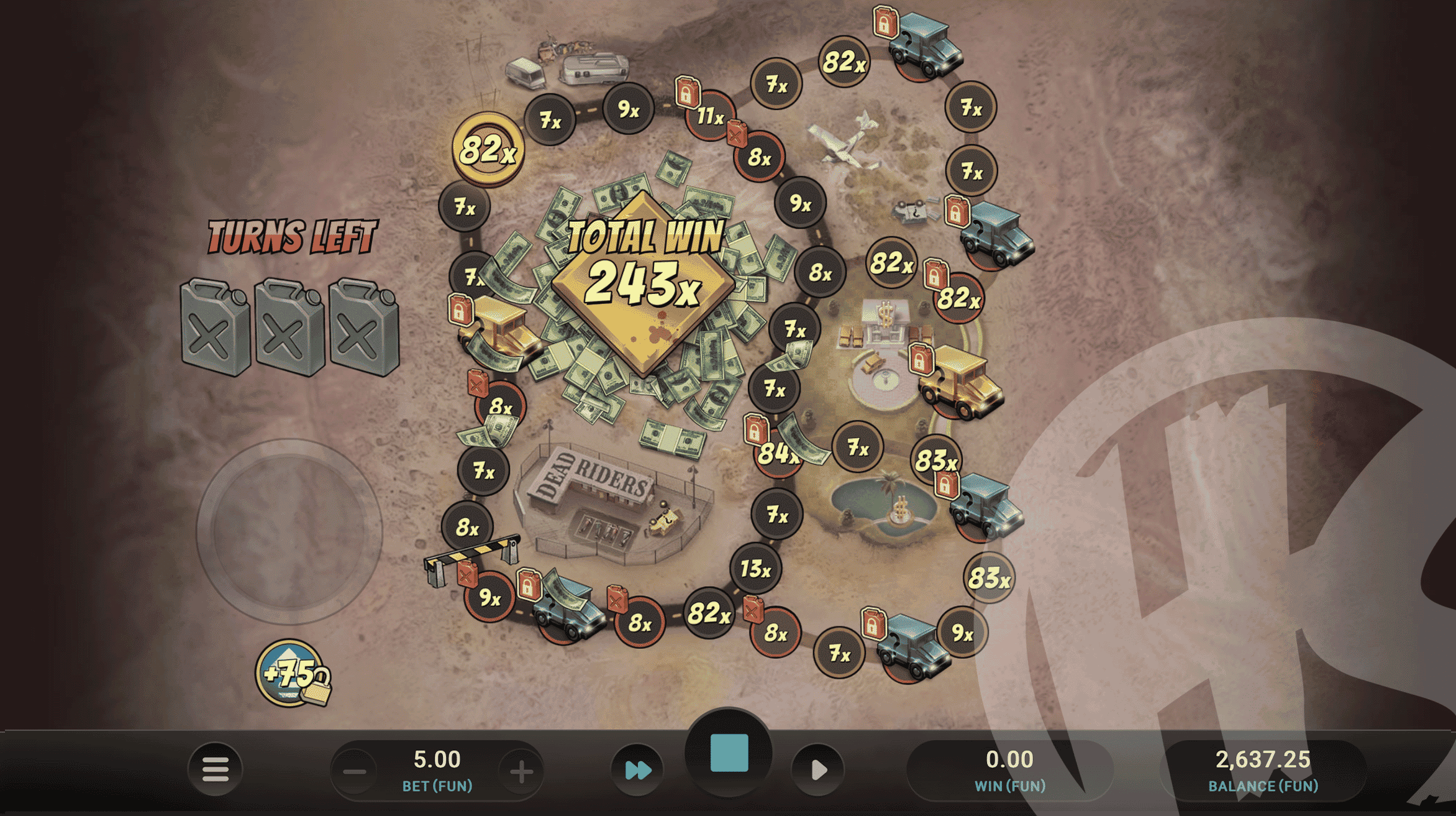 Players in appropriate regions can fast-track the action with 3 Feature Buy options:
50x bet – Feature Wheel (96.50% RTP)
90x bet –  Bonus Trail (96.50% RTP)
250x bet – Super Bonus Trail (96.50% RTP)
The maximum win available is 50,000x bet. If the win in a single game round exceeds this, the game round will end and 50,000x bet will be awarded.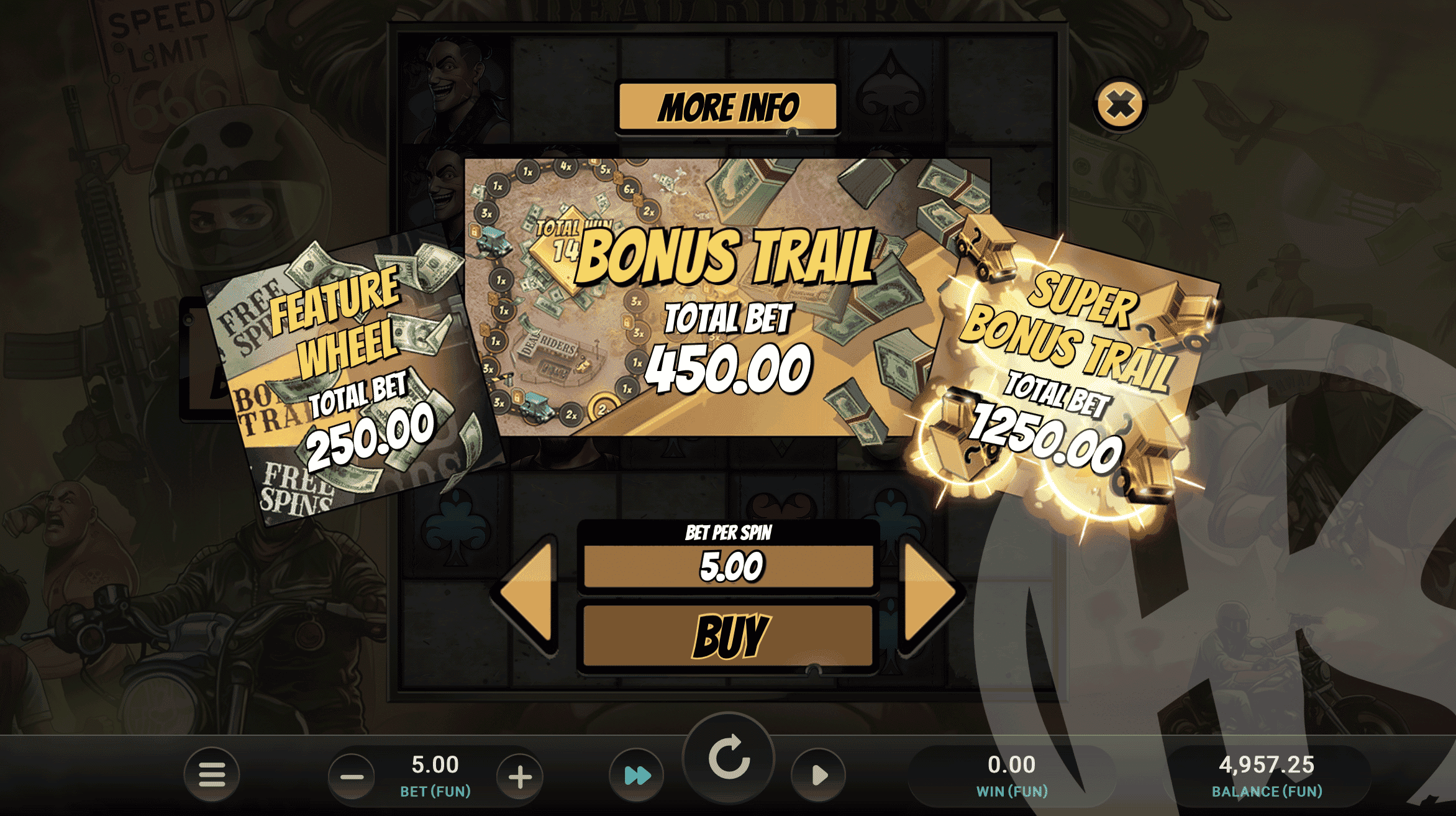 First Impression
Dead Riders Trail is a seamless combination of so many of the things Relax Gaming have done perfectly, beginning with the base game. Their tumble mechanic has proved to be one of their most popular, regardless of the pay mechanic associated with it – Temple Tumble, Cluster Tumble and Space Miners are proof of this. There's nothing in the way of features in the base game, but this isn't something missing – rather it's a testament to the fact the team know when enough is enough, not overloading their releases.
Offering the Feature Wheel is something new we're seeing, but it works, especially by offering a gamble to the bonus, which UK players will more than likely be glad of. Free Spins themselves are exciting, with full reel removal and transformations – especially when considering the transformation will facilitate the largest possible win.
However, most of the action sits in the Bonus Trail, or the Super Bonus Trail – something we know from Dead Man's Trail. Bringing back some of the features from the likes of Money Train works perfectly with this kind of feature, and things are made even better in Dead Riders Trail by offering 3 turns rather than filling positions with death symbols – it makes a huge difference to be hoping to land on fuel, rather than dreading landing on a skull and crossbones, which makes Dead Riders Trail a bit more joyful to play through.
With a highly volatile maths model, things are sure to take a turn for the worse from time to time, but with wins on offer up to 50,000x bet and the team that brought us releases like Money Train 2 behind the scenes, we would expect no less. The whole thing is topped off nicely with a fixed RTP of 96.20%, and a number of Feature Buys (96.50% RTP) for those who can make use of them.
If you liked Dead Man's Trail, you'll love Dead Riders Trail. If you weren't so sold on Dead Man's Trail, still give this one a go – a whole different base game and approach to the bonus means things feel new, in a familiar sort of way.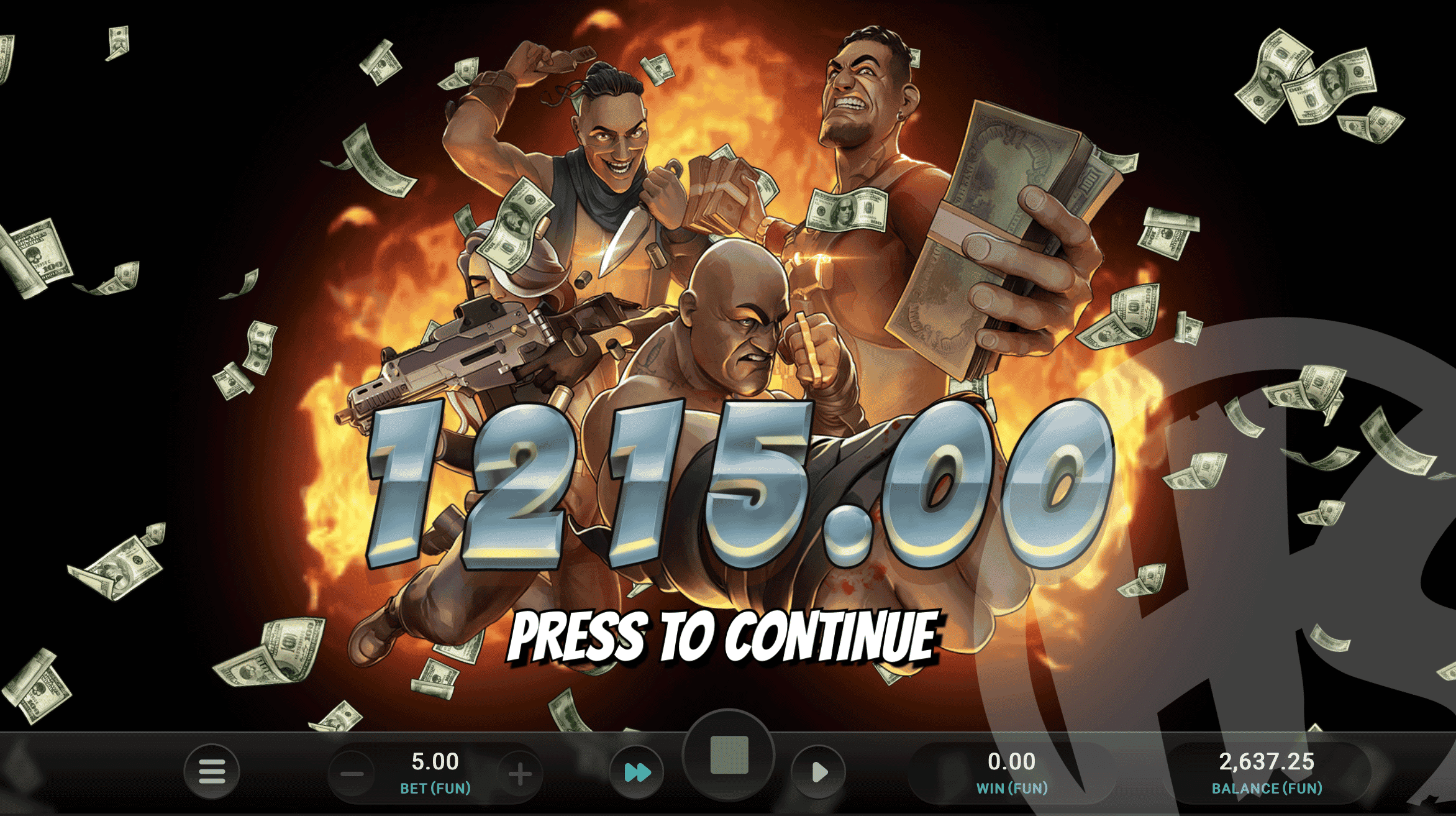 *The screenshots taken of games reviewed on this site are taken from Demo Play, as reviews are often written before games are released for real play.