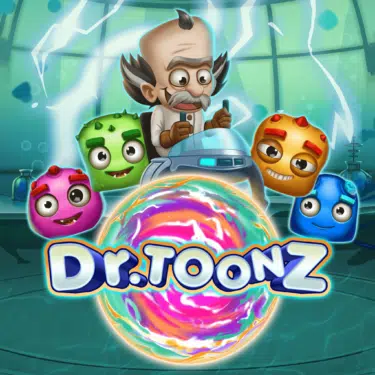 Dr. Toonz
Game Provider: Play'n GO
Release Date: Available Now
Dr. Toonz
Game Studio Play'n GO
Release date Available Now
RTP 84.25% - 96.25%
RTP Feature Buy N/A
Paylines 4,096
Volatility High
Min Bet 0.20
Max Bet 100
Max. Win 22,000x
Rating 8.2/10
In 2017, Play'n GO released Reactoonz, an alien themed grid game adopting the cluster pays mechanic, which shot to fame across the sector, remaining one of the most popular releases within their extensive catalogue to this day. Featuring Gargatoonz, or Garga as players more affectionately know him, the 3×3 wild that facilitated in wins up to 4,750x, Reactoonz was dubbed one of the more exciting games to play, with 4 quantum modifiers on offer to lend a helping hand. However, before Reactoonz, and before Gargatoonz, there was Dr Toonz, the crazy scientist responsible for all this madness.
"Once a highly respected scientist, Dr Toonz risked his reputation to pursue his belief that life forms could be created in new and wonderful ways. Shunned by the scientific community, Dr Toonz chose the vibrant life that his creations ensue. As the great philosopher, Aristotle said, 'There is no great genius without a mixture of madness.'"
Now, we're getting a look into the laboratory of Dr Toonz, to see these life forms created in the upcoming release, Dr. Toonz. Things have taken a slight turn this time around, particularly in comparison to Reactoonz 2, the sequel to the fan favourite. This time, it's more of a prequel, with no grid or clusters pays in sight – the experience has changed in this highly volatile release wherein wins up to 22,000x bet are possible.
Aesthetically, things are as quirky as you would expect, with the play taking place inside an aqua laboratory, and Dr Toonz to the left of the reels – looking suspiciously like an Albert Einstein that has been put through a cartoon generator. There's some beakers and interesting looking equipment in view towards the back, and the main reels, of which there are 6, seem to be filled with some sort of liquid substance – probably water, but with this scientist, you never know. Audios are bizarre, almost extra-terrestrial like, with liquid sounds as the symbols land on the reels and sound bites of the nutty doctor dispersed throughout, including chatter of a Nobel Prize and 'e=mc²'. Overall, it all works to create a peculiar experience that piques our interest.
Dr. Toonz Base Features
Taking place across 6 reels, wins are formed by matching at least 3 symbols in any position on adjacent reels, beginning at the leftmost, for 4,096 ways to win. Symbols available are the freaky, familiar faces we know from the past, beginning with the lower paying 1-eyed creatures – yellow, green, red and purple, each paying 0.1x bet for 3 of a kind matches, and between 0.25 and 0.30x bet for 6 of a kind. At the premium end, we are treated to our 2-eyed friends, slightly more defined than the lower end, and blue, yellow, green and pink in colour. Blue, yellow and green creatures pay between 0.16 and 0.24x bet for 3 of a kind, whilst landing 6 across a win line awards between 0.40 and 0.60x bet. As always, pink is the highest paying available alien, although this time the difference is more subtle, paying 0.32 and 0.80x bet for 3 or 6 of a kind. Finally, quantum wilds are available, visually similar to atoms, substituting for all symbols except Scatters and paying 1.60x bet for 6 of a kind.
A host of features are available in the base game to keep the action moving, the first of which being Cascades, wherein every symbol involved in a winning combination is removed from the reels, allowing new symbols to drop down in their place and help to form more wins. Cascades continue until no more wins are formed.
Next up is the Quantumeter, visible under Dr Toonz'… Hoverboard? Maybe not, but whatever it is I'm sure he didn't buy it off Amazon – this is a homemade contraption. At the beginning of every spin in the base game, the Quantumeter is charged between 0-2 charges. Each winning cascade further charges it by 1, up to a maximum of 3 charges. The fully charged Quantumeter then activates after all winning combinations have been collected.
Each charge feature has a unique colour, which is chosen randomly at the beginning of each spin:
Quantum Wilds (blue): Adds 2-6 wilds to the reels.
Disintegration (red): Removes all 1-eyed symbols and adds 2 wilds.
Metamorphosis (yellow): Transforms 5-8 symbols to another. Wilds and Scatters are excluded.
The Quantumeter can only charge once per spin, and it is cascades that charge it, not winning combinations. Should 3 different combinations form at once during a spin, they will count for one cascade.
Dr. Toonz Bonus
Landing 3, 4, 5 or 6 DNA Scatter symbols triggers 10, 15, 20 and 25 free spins, respectively. During free spins, the Quantumeter always begins at 1 or 2 charges, with the maximum charge remaining at 3. The charge features remain the same as during the base game, and continue to be chosen at random at the beginning of each spin.
At least one reel is chosen at random on every spin to have a x2 multiplier, which doubles the win amount of symbols on that reel. It is possible to have anywhere between 1-6 reels with a x2 multiplier attached, for a potential of a x64 total multiplier.
It is not possible to retrigger the free spins feature.
First Impression
Aside from the symbols available and overall aesthetic, there's not much to be compared to Reactoonz. Play has moved away from a grid, with no cluster pays mechanic and Scatters now required instead to trigger an actual bonus round, meaning the resultant experience is entirely different to the 2017 classic. However, similarities do remain, despite playing out in different ways – the quantum charge features are not completely dissimilar to those present in Reactoonz, although this time around the outcome is the possibility of a nice base win to keep things ticking over, rather than a step towards a feature. What we end up with is a game that will inevitably be less 'tilting' than the original, but potentially less thrilling.
That said, Dr. Toonz is still a fun, bright, easy to play game. There's enough happening to keep our attention, but not so much that it requires any real heavy thinking to play. The 3 charge features on offer can be rewarding, and with 4,096 ways to win it certainly is possible to see decent wins outside of the feature. When we move into free spins, the possibility of up to a x64 multiplier and between 2-6 wilds in play with the quantum charge, makes it easy to see how this highly volatile release can produce wins up to 22,000x bet. RTP is, at default, 96.25%, however settings go as low as 84.25%, so it's worth checking.
Whether you did or didn't take to the Reactoonz experience, there's nothing to say you'll feel the same way about this, as the result is entirely different at its core. However, if it brings you joy to look at those bright little alien faces, you'll feel right at home.
*The screenshots taken of games reviewed on this site are taken from Demo Play, as reviews are often written before games are released for real play.