Last warning to look away if you're hungry… ELK Studios are tapping into the sweet tooth of players worldwide in their upcoming release, Dropz. Alongside all the regular information, we've also been given a fun fact – apparently during the Middle Ages in Europe, sugar came at such a high cost candy was a delicacy available only to the wealthy. Thankfully, this candy is a lot more accessible, and is packed with plenty of features to keep you entertained for hours – all whilst not actually rotting your teeth. With wins available up to 25,000x bet, this highly (7/10) volatile release comes with a default RTP of 94.0%.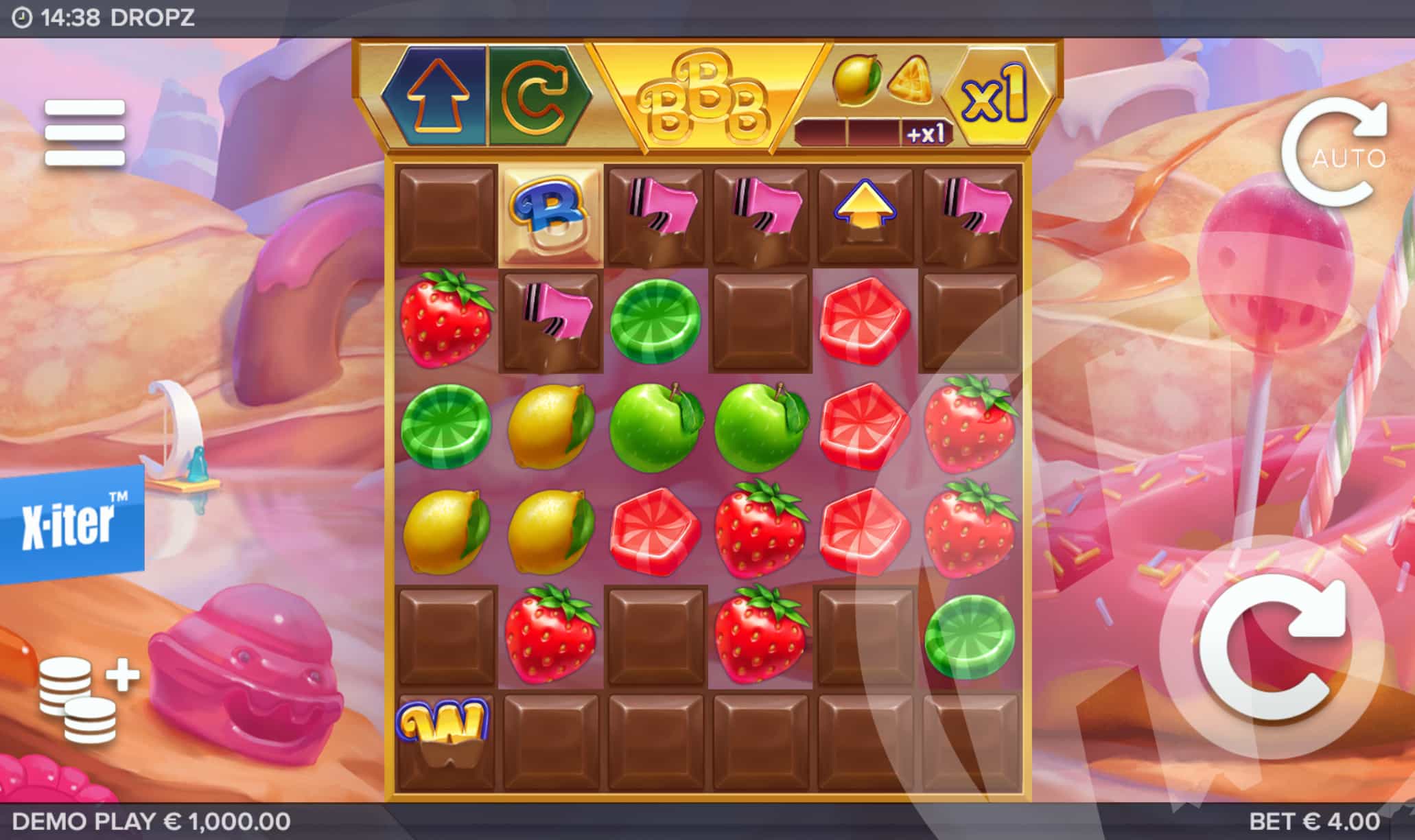 Visually, it's a bit like Candy Crush, if it were a slot. There's chocolate, sweets, donuts, lollipops, and an interesting juxtaposition of fruit alongside the aforementioned. Everything is bright, colourful, and just nice to look at. Music is funky – not quite what you'd expect, although it doesn't seem like there's any style of music that naturally accompanies candy and fruit, so it's dealers choice. Overall, yeah – it's just quite nice.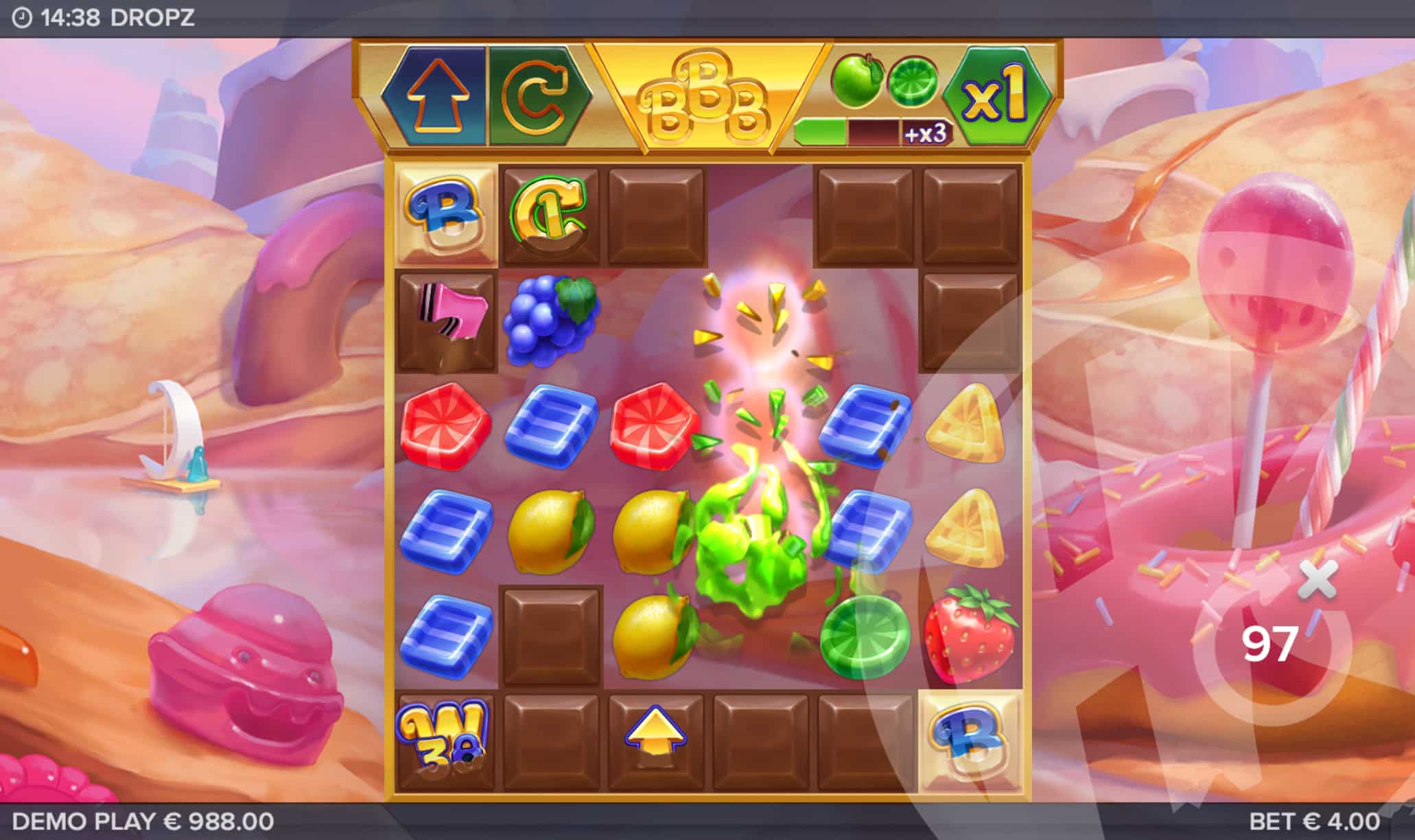 Dropz Base Features
Taking place across 6 reels, wins are formed on Dropz by matching at least 3 symbols on adjacent reels, beginning with the leftmost reel. When all chocolate has been removed from the reels, each reel can hold 6 symbols in the base game, forming 46,656 ways to win, however at their starting position each reel contains 3 symbols – or 729 ways to win. Symbols available begin with non premiums – yellow, blue, green, and red candies. Landing between 3 and 6 of a kind of any non premium will award wins between 0.05 and 0.25x bet. In the mid range, we have lemons, grapes, and apples – awarding wins between 0.10 and 0.50x bet for 3 of a kind, increasing to wins between 0.50 and 2x bet for 6 of a kind. Premiums are strawberries and pink 7s (that look a bit like liquorice allsorts), which pay 1 and 2x bet respectively for 3 of a kind, up to 5 and 50x bet respectively, for 6 of a kind.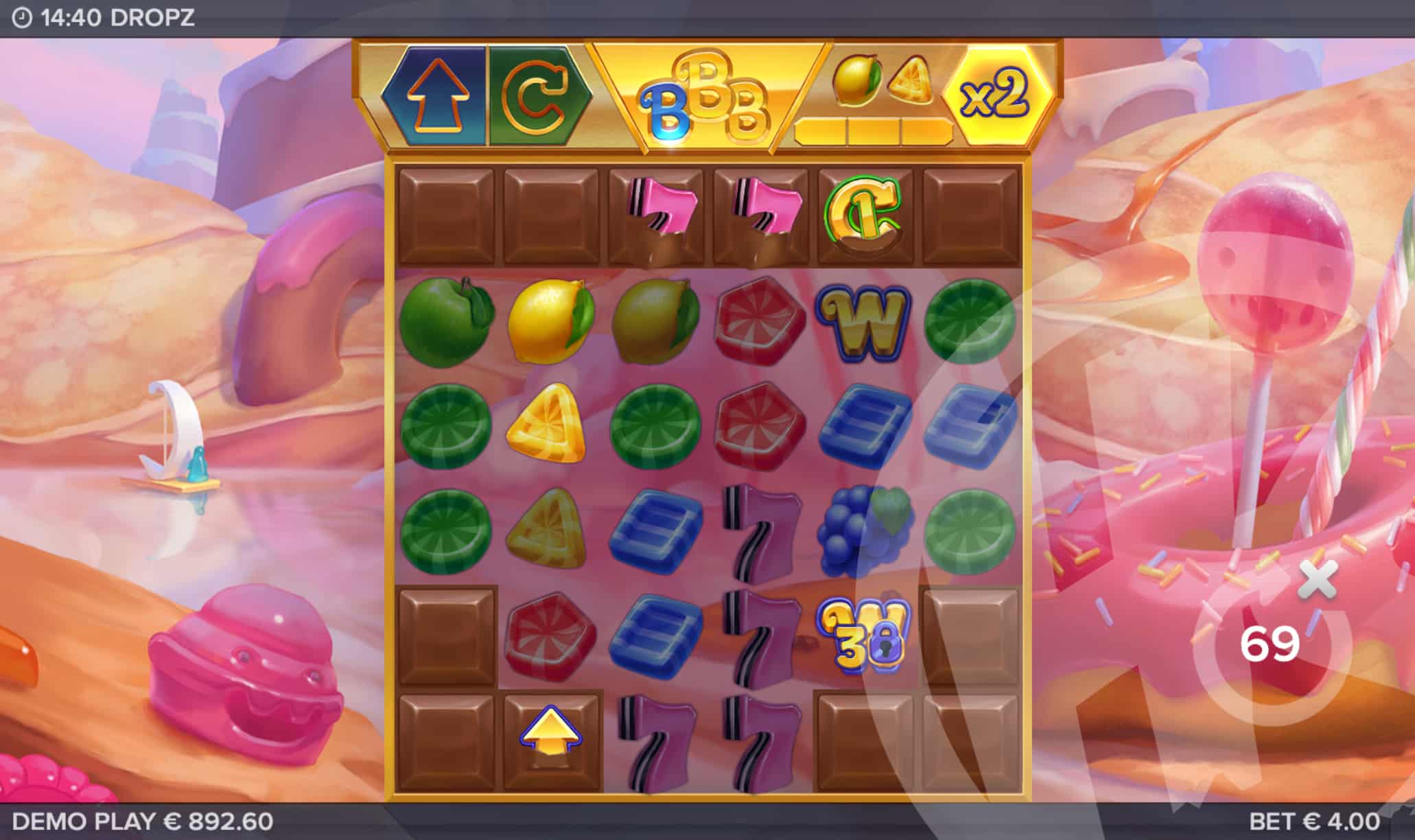 Alongside regular pay symbols, there are a host of special symbols in Dropz, but first let's cover the Avalanche feature. All symbols involved in a win are removed from the reels, and any chocolate blocks adjacent to removed symbols are also cracked and removed. After removing symbols and/or chocolate blocks, symbols will drop down from above, with new symbols dropping in to fill any gaps – and potentially form new wins. Avalanches continue until no more wins can be formed. If one of the special symbols below are inside a chocolate block, its' associated feature will activate:
Level Up – Activates the next level with more rows.
Dropz – Awards 1-2 additional symbol drops.
Wild Symbol – Substitutes for all regular paying symbols.
Locked Wild – A Wild Symbol that is charged to last for use in 3 wins (or until the spin ends).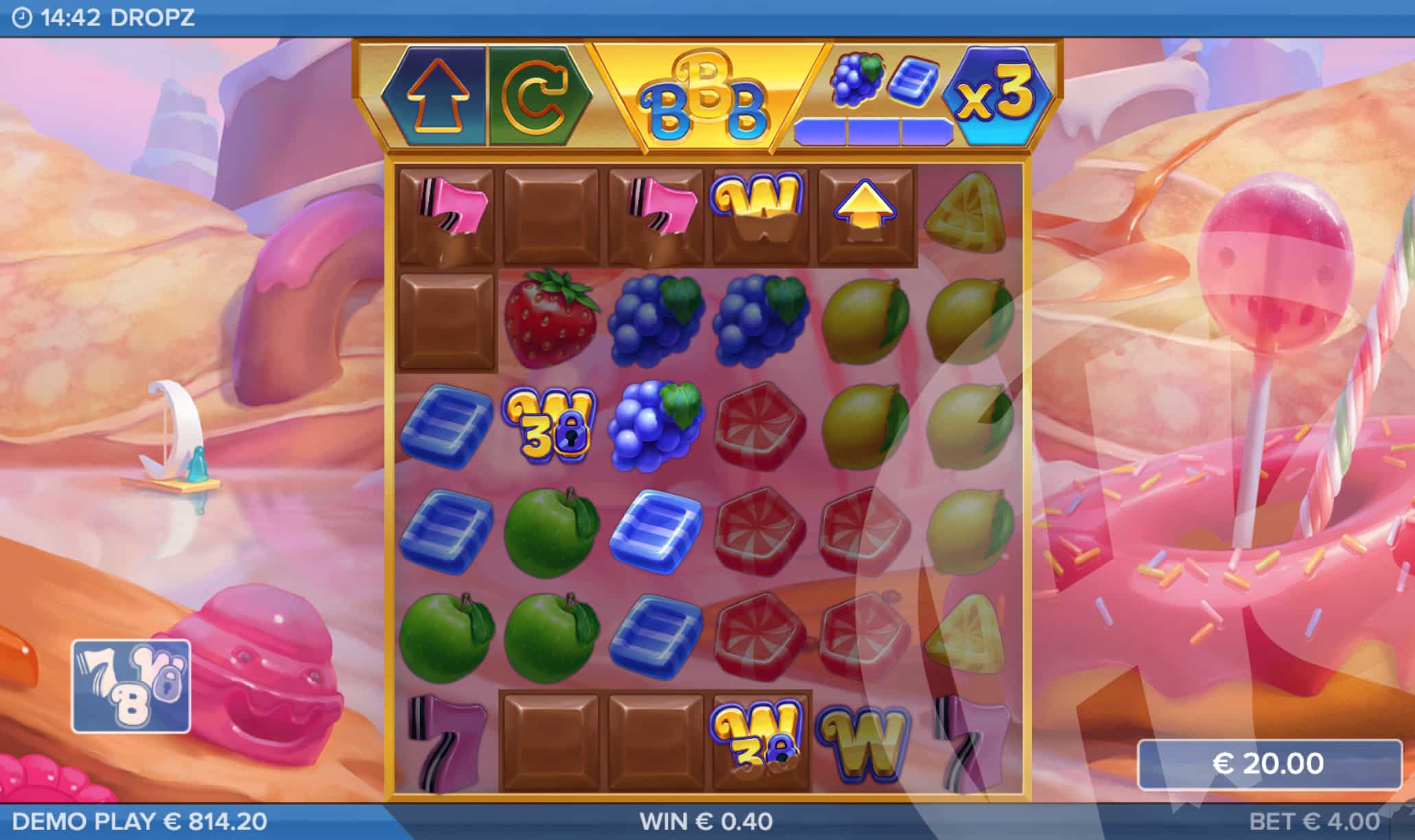 If Level Up is activated, the next level will be activated after Avalanches have finished. The game begins at Level 1, and the following levels are possible:
Level 1 – 6 rows, each with 3 symbols and 3 chocolate squares.
Level 2 – 7 rows, each with 3 symbols and 4 chocolate squares.
Level 3 – 8 rows, each with 3 symbols and 5 chocolate squares.
Alongside special symbols, Symbol Pairs and Multipliers are active. At the top of the reels, a multiplier is displayed – this always begins at x1 in the base game. There are two symbols beside this multiplier – this is the active symbol pair. When these two symbols land adjacent to each other (in any direction) on the reels, they add to the meter to fill it, and once the meter is full, the win multiplier increases by the value displayed. The meter then restarts again with a new symbol pair, to increase the multiplier further. Additionally, symbols and chocolate blocks above and below the pair will explode from the reels, leaving room for more wins.
The win multiplier will reset back to x1 ahead of the next base game spin, but if the level has increased both multipliers and meter progress will carry over, along with any Bonus Symbols that have been collected.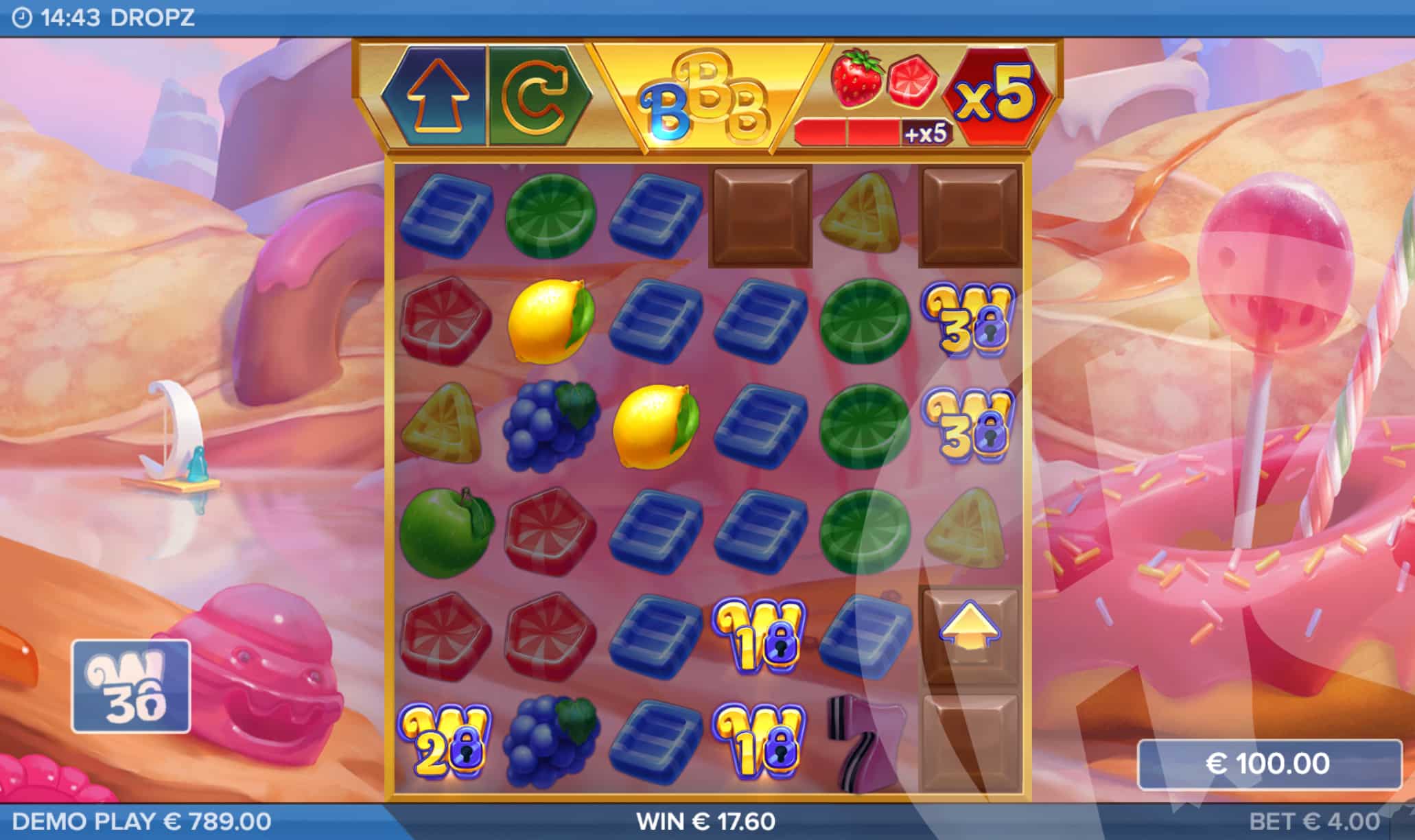 Dropz Bonus
Collect 3 Bonus Symbols to trigger 5 Free Redropz, with 8 rows active – each of these rows begin with 3 symbol spaces, and 5 chocolate blocks. The win multiplier will carry over from the base game into free dropz, and will not reset during the Bonus. Any chocolate blocks removed during Free Dropz will only be replaced by paying symbols, meaning each row can contain up to 8 symbols, or 262,144 ways to win. Although no new chocolate will appear during Free Dropz, new features (special symbols) can appear in chocolate that remains on the reels.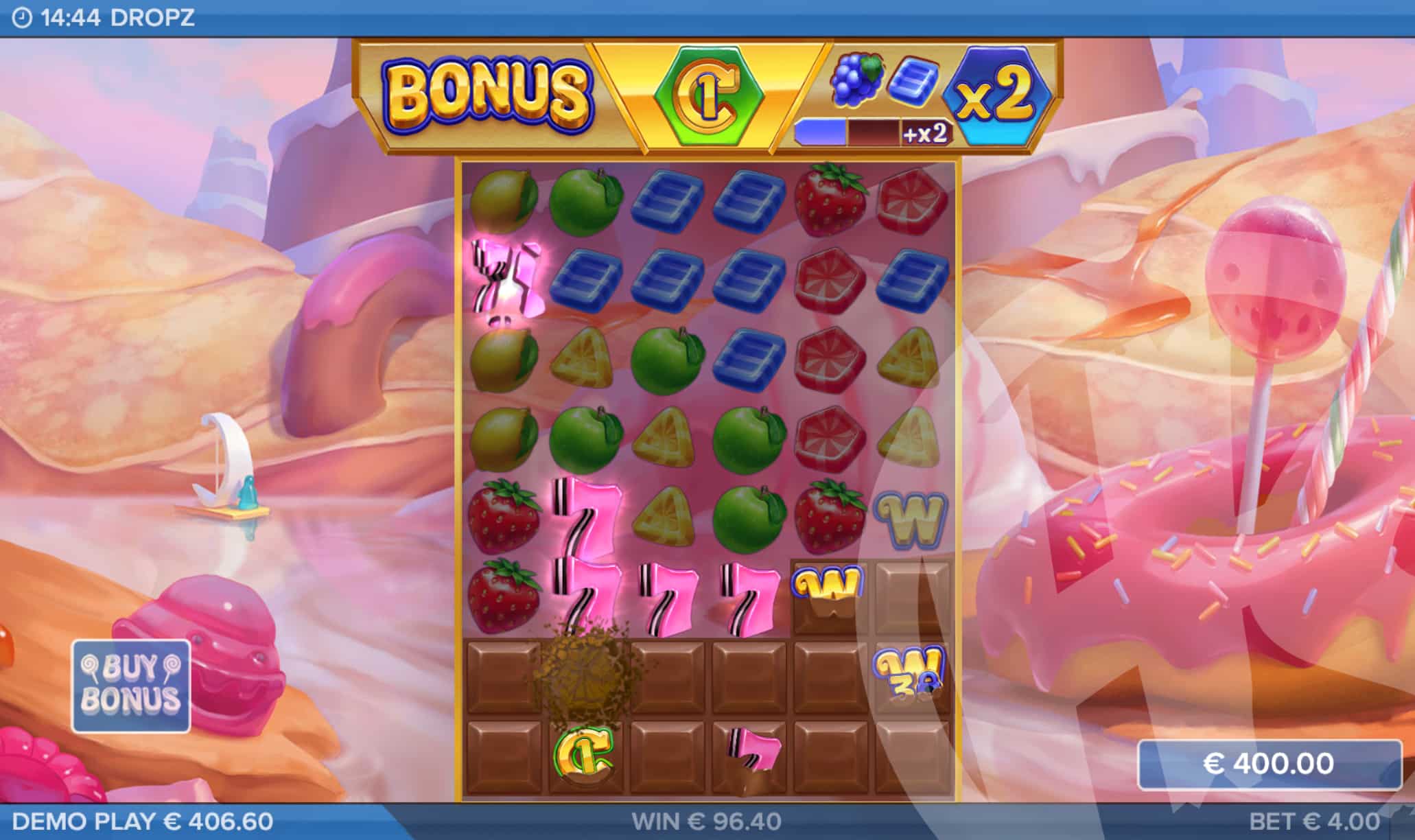 Players in appropriate regions can make use of a number of X-iter options in Dropz:
Bonus Hunt (2x bet) – more than double the chance to trigger the bonus.
Feature Crescendo (5x bet) – more features and more premium 7 symbols in drops.
Locked Wilds (25x bet) – 3 Locked Wilds in the first symbol drop.
Buy Bonus (100x bet) – buy Free Dropz.
Super Bonus (500x bet) – buy Super Free Dropz (x10 starting multiplier).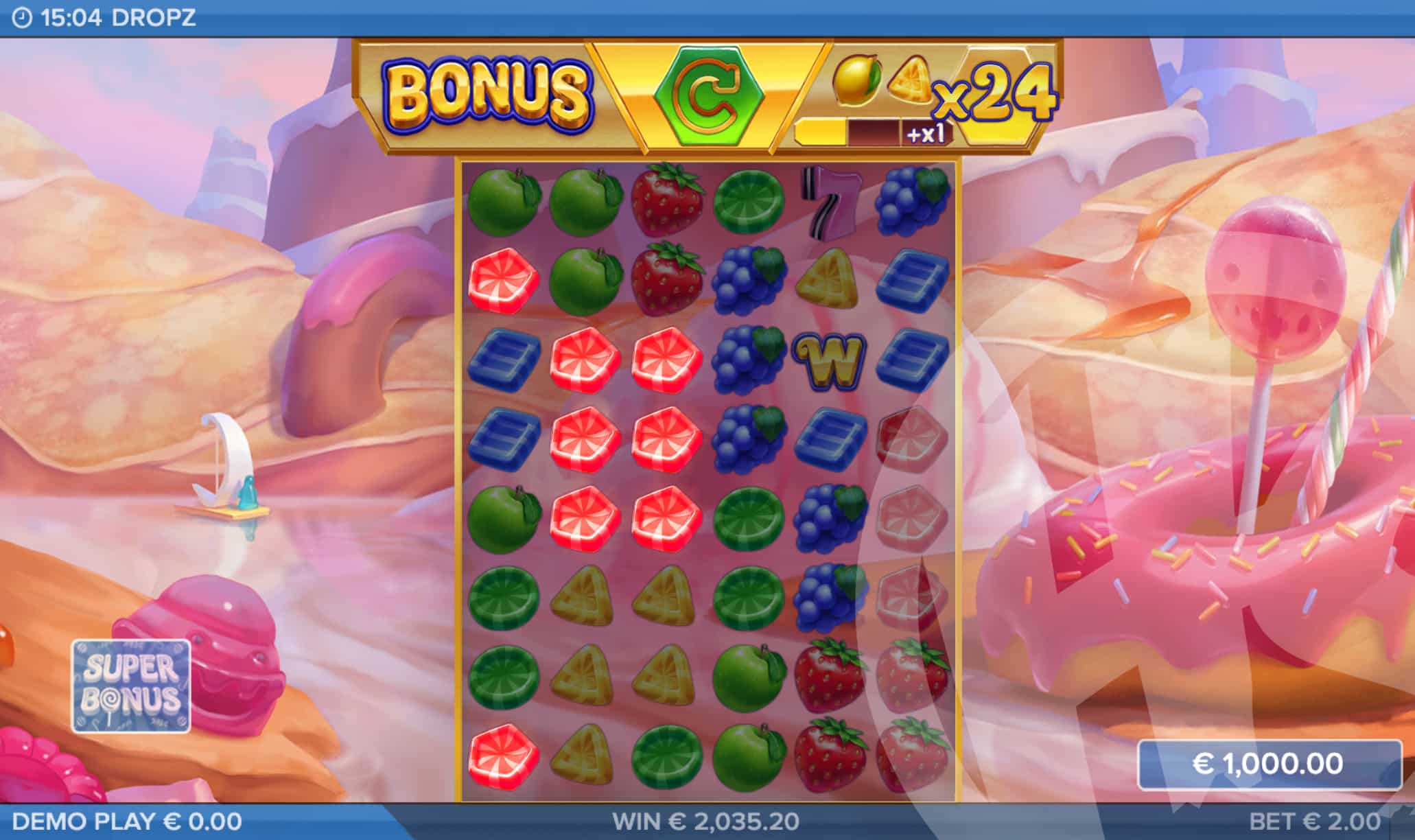 First Impression
ELK releases are always fairly packed with features, and Dropz is no different. With Level Ups, Wilds, Locking Wilds, and Symbols Pairs working with multipliers, it's all happening. In spite of this, it's not complex gaming per se, although the one confusing thing is that the highest paying symbol (7s) is always visible, even when encased in chocolate, so there's always that feeling of 'is that a win?'. As usual, the team have done an excellent job of tying the available features into a number of X-iter options to cater to players of any budget.
The base game has plenty going for it, and these features do help to move things along, but things definitely come into their own in the Bonus, especially with the win multiplier capable of reaching huge values – Dropz is another in a long line of examples showing just how much excitement a win multiplier can add. If you are opting for an X-iter buy, the Super Bonus value is clearer than ever with the multiplier starting at x10.
Graphics, sounds, it all works. Things are highly (7/10) volatile, and wins are available up to 25,000x bet, but RTP is where Dropz falls behind a bit. First thing to note is that RTP is not technically fixed, but the low setting of 87.0% will only be reserved for particular regions. The setting that most players will receive is 94.0%, which in itself is lower than we've come to expect, so a bit of a disappointment.
If you're a fan of these action packed, multiplying, sweet themed releases, Dropz will suit you down to the ground. Have some chocolate on hand though, because you might get peckish.
*The screenshots taken of games reviewed on this site are taken from Demo Play, as reviews are often written before games are released for real play.