Nolimit City are bringing us a bit of everything we've experienced from them before, combined into one new, super slot. East Cost vs West Coast xWays xNudge takes us back to the mid-90s, right into the middle of the legendary hip hop rivalry between The Notorious B.I.G, and Tupac Shakur, with our attention during this slot split between Los Angeles and New York City. Visually, the theme of this slot is instantly recognisable, with symbols printed like graffiti on brick walls, some hip-hop backing music, and the palm trees of LA set against the skyscrapers of NYC in the background.
With every new slot Nolimit City bring us, they seem to pour more of their effort into the themes, which we love to see. Its all too easy to theme a slot, add some music and a few barely-relevant symbols, and call it a day, but Nolimit City put heart into these games, covering areas most people wouldn't even consider. East Coast vs West Coast has an RTP of 96.04% as standard, with two bonus buy options, and a max win of 30,618x bet. Ways are increased by the xWays mechanic, so although this slot starts on 243 ways, that can increase as high as 84,375 ways, and volatility level is extreme.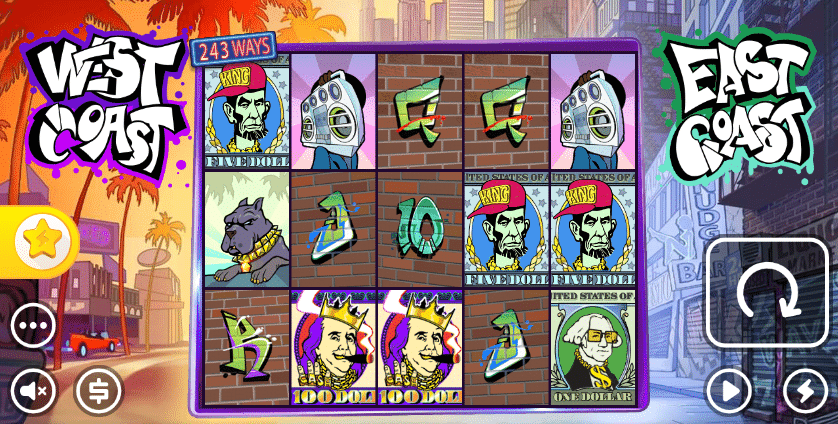 Nolimit City have spent a lot of time on this pay table, which reflects the theme better than any slot we have seen recently, except maybe their other most recent release – San Quentin. 12 symbols make this up, beginning with the suit symbols at the lower end of the pay table. 10, J, and Q all pay 1.5x bet for 5 of a kind, and K and A both pay 1.75x bet, again for 5 of a kind. As mentioned above, these suit symbols sit on a brick wall background, written with a bright, eye-catching graffiti font. Premium symbols are where the fun begins, with a boombox paying 2x bet, and a pitbull with a solid gold collar paying 2.5x bet, both for 5 of a kind.
Three presidents on their appropriate dollar bills finish off the premium symbols, beginning with George Washington on the $1 bill, followed by Abraham Lincoln on the $5 bill, and Benjamin Franklin on the $100 bill. The presidents pay 3x bet, 3.75x bet, and 7.5x bet respectively, all for 5 of a kind, and have each been embellished with caps, jewellery, and cigars to increase the edgy vibe of the slot. Although pays can seem low, it is important to remember we're working with a slot that pays in ways, rather than pay lines, so landing 5 Franklins across the reels, with 2 on the last reel immediately doubles that win. The potential here with a max 84,375 ways is huge.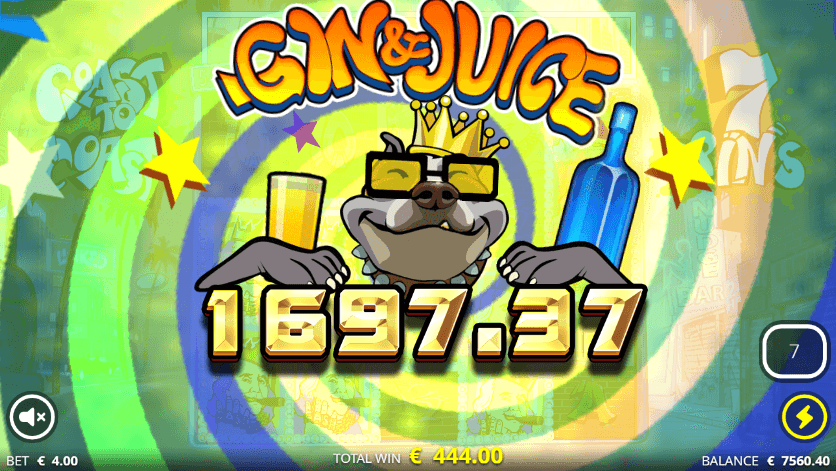 A wild symbol is in play during East Coast vs West Coast, aptly represented by a solid gold knuckleduster. This symbol has the word "WILD" emblazoned across the front of it. Extremely flashy, but definitely era-appropriate. Wilds substitute for any symbol is except the bonus, which is our final symbol. The bonus symbol is an easily recognisable silver alloys symbol, with the word "Bonus" written across it, so there is no room for confusion. Landing a different amount of scatter symbols does a different amount of things, starting with re-spins, and going as high as unlocking the top bonus. This top feature sits at a cost of 420x bet if you'd rather buy the feature.
East Coast vs West Coast Base Features
There are 3 different bonus rounds, a Respin round and 5 enhancers available within East Coast vs West Coast. The enhancers do not appear during the base game, and instead are triggered by the bonus symbols. Landing 2 bonus symbols awards a Drive By Respin, with one enhancer randomly chosen to be active. The separate enhancers available within this slot are:
xWays: This enhancer transforms into any other symbol except the wild or bonus symbol. It will reveal 2 or 3 symbols of the same kind, and expand the reel height.
xNudge Wilds: This enhancer transforms into a 3 row high wild symbol, which will automatically nudge to be fully visible. Each of these nudges increases the wild multiplier by 1 (this is reminiscent of Deadwood and Tombstone). Landing more than one wild multipliers adds the multiplier together to get a total multiplier for the win.
Multipliers: This enhancer causes symbols to multiply and create even more ways to win. Landing more than one symbol multipliers multiplies each other for an explosive number of win ways.
Linked Reels: This enhancer links two or more reels together, where the linked reels will land the same symbols next to each other on all linked reels.
Infectious xWays: This enhancer, when activated, causes the revealed xWays symbol to infect all other same symbols on the reel, to expand to the same size.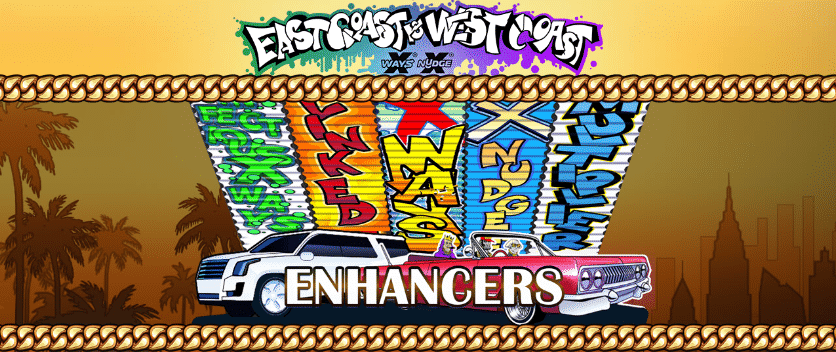 East Coast vs West Coast Bonus
Landing 3 or 4 bonus symbols in East Coast vs West Coast awards 8 free spins, with 3 enhancer positions unlocked, and 10 free spins, with 4 enhancer positions unlocked, respectively. Before beginning the free spins round, players can choose between East Coast Spins or West Coast Spins. West Coast Spins are high volatility, where players can win more often. East Coast Spins are extreme volatility, labelled high risk, high potential.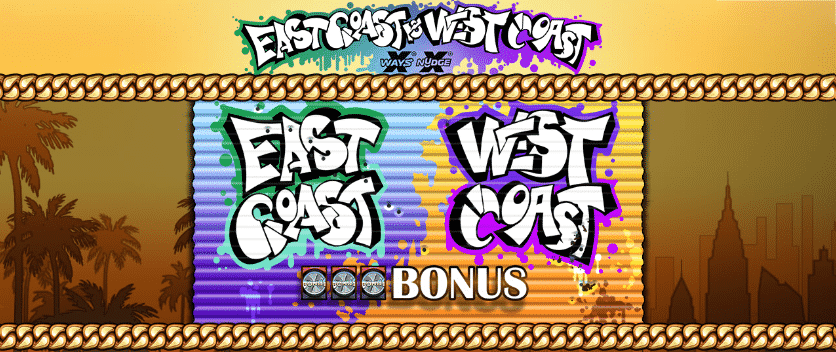 During West Coast Spins, the two enhancer positions above reels 4 and 5 are locked. Within reels 1, 2 and 3, xWays, xNudge Wilds, Multipliers and Linked Reels are each available to land. During East Coast Spins, the enhancer positions above reels 1 and 2 are locked. Also, at least one Infectious xWays symbol will land on every spin. Landing another bonus symbol awards 2 more free spins, and unlocks one of the locked enhancer positions. Unlocking both locked enhancer positions turns East Coast Spins into Coast to Coast Spins. It will cost a player 80x bet to buy an East Coast or West Coast feature. The volatility for these bonus rounds is 96.2%.
Coast to Coast Spins are the top bonus feature available in East Coast vs West Coast, and for players wishing to buy this feature it will cost a whopping 420x bet. Players can buy this feature, or unlock it within East or West Coast Spins. Alongside this, players can also land this bonus organically with 5 bonus symbols in the base game. During Coast to Coast Spins, all enhancer positions are unlocked. Two separate enhancers land on each spin, covering up to 5 reels, for maximum volatility and potential. This feature has an RTP of 96.89%.
Optimal return to player is achieved by choosing West Coast Spins bonus mode.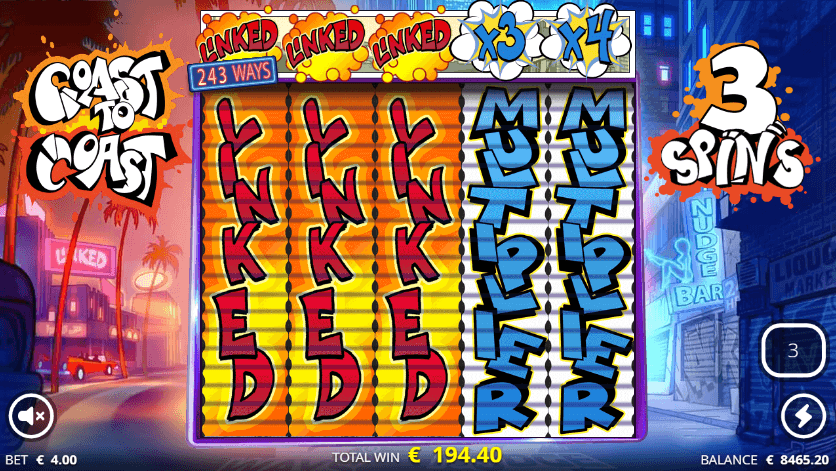 First Impression
Nolimit City have been banging out some incredible games over the past year. As it turns out, East Coast vs West Coast is no exception. It is so clear to see the effort and thought that has went into this slot. As a result, they have produced something of a masterpiece. We have already witnessed some incredible wins on this slot, and expect to continue to see more. The volatility is extreme, the max win is a huge 30,618x bet, and there are two feature buy options. This slot has everything we could ask for, and then some. Nolimit City have done an incredible job here, and continue to go from strength to strength with every new release. We can't wait to see what else they have up their sleeve for us.
*The screenshots taken of games reviewed on this site are taken from Demo Play, as reviews are often written before games are released for real play.