Nolimit City are on an incredible run of games lately, bringing us some of the biggest releases of the year so far. Frequently considered now to be "the ones to watch", players across the globe remain impressed by the boundaries consistently being pushed within Nolimit City releases, and the potential that lies under the surface. Now, Nolimit City are going in a direction we haven't seen from them, with their first release within a grid format. Although the slot doesn't bring us a concept we haven't seen from another provider, it does show us these well-known approaches with a new twist.
Fire in the hole is in many ways like money train 2, although with a slightly higher maximum win, sitting at 60,000x bet. RTP sits at 96.06%, but can go as high as 96.69% within the various bonus options, and three feature buy options are available for players outside of the United Kingdom. Let's take a look at what this slot has to offer.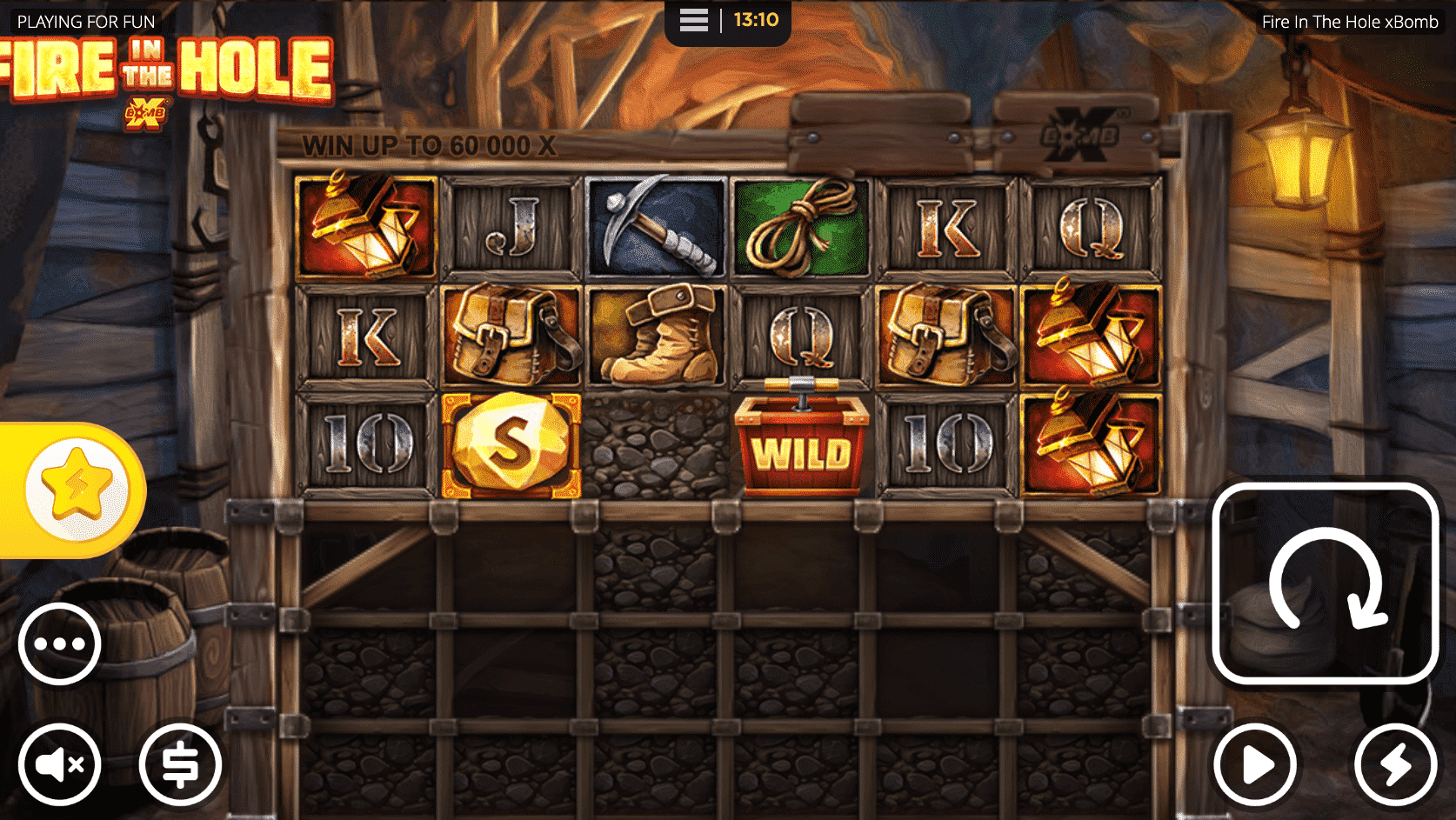 Winning combinations are created by marching three or more symbols from left to right, an any position on the rows. The pay table is made up of 10 symbols, 5 at the lower end, and 5 premium symbols. At the lower end of the pay table, 9s and 10s pay 1 and 1.05x bet for 6 of a kind, respectively. Js and Qs pay 1.1 and 1.25x bet respectively, again for 6 of a kind. Finally, Ks pay 1.5x bet for 6 of a kind. Premium symbols include picks, which pay 1.75x bet for 6 of a kind, and ropes which pay 2x bet, again for 6 of a kind. Boots and satchels pay 2.5x bet and 3.75x bet respectively for 6 of a kind.
The highest paying symbol available is the lantern, which pays 7.5x bet for 6 of a kind. All symbols pay for 3, 4, 5 or 6 of a kind, and although the wins available may seem low, Fire In The Hole begins at 64 ways, and builds up to 46,656 ways available to win. Two variations of a wild symbol are available, and a scatter symbol, to further enhance gameplay. Winning symbols are paid out and removed before triggering a collapse, meaning symbols fall downwards, leaving empty positions for new symbols to drop into from above.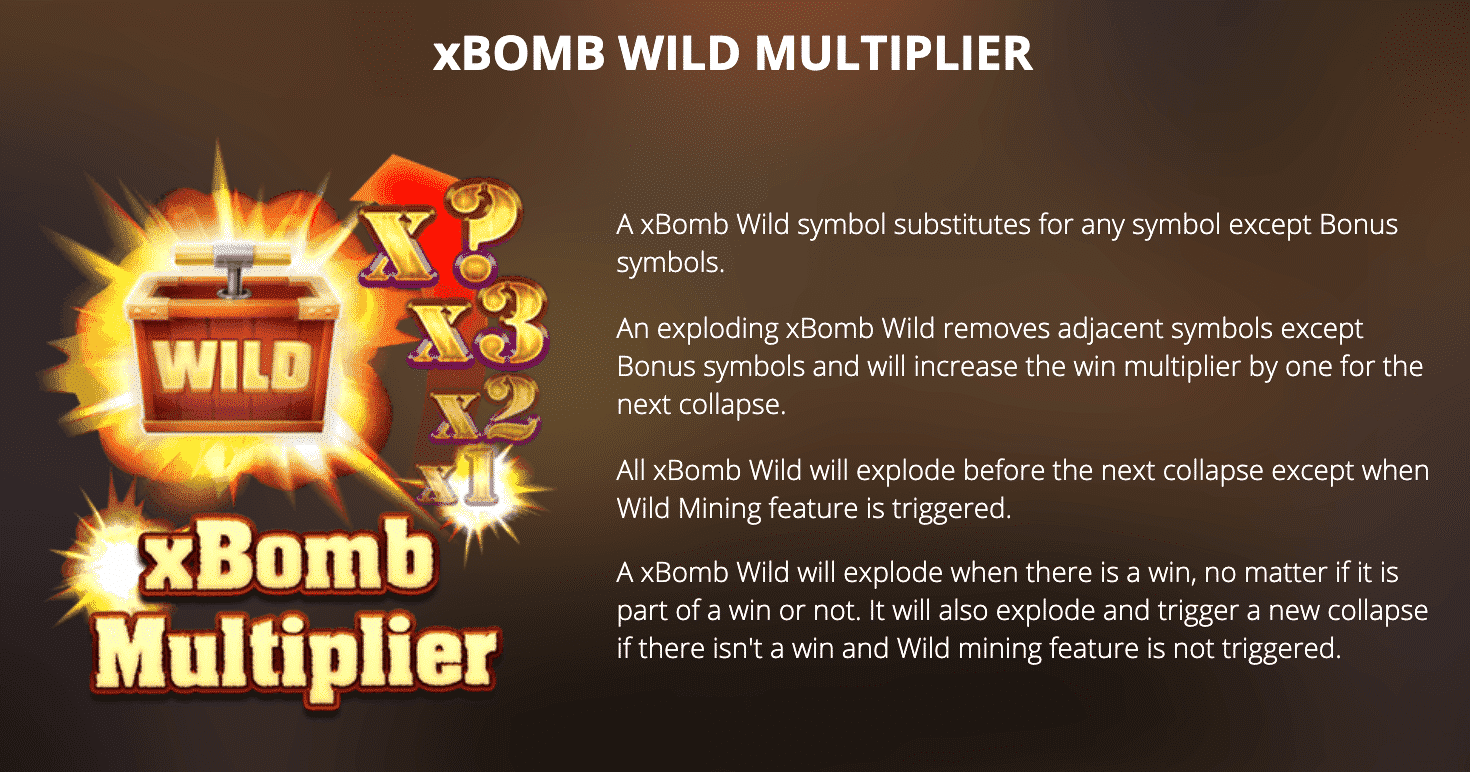 Fire In The Hole Base Features
Each spin within the base game begins with three active rows, and each collapse opens an additional row. This continues up to six rows, and a new collapse can be triggered in one of three ways. First, by a winning combination which, as mentioned, is formed by matching 3 or more symbols from left to right. Second, a wild explosion when there is no win, known as an xBomb Wild explosion, and third, when the Wild Mining feature is triggered.
An xBomb Wild symbol substitutes for any symbol except a scatter, and when one of these symbols appears on the grid, it removes adjacent symbols except scatters, and increases the win multiplier by one before the next collapse. An xBomb Wild will explode when there is a win, no matter if it's part of a win or not. It will also explode, triggering a new collapse if there is neither a win or Wild Mining feature triggered.
Wild Mining is triggered within the base game when 3, 4 or 5 of the same symbols align horizontally but do not form a winning combination, for example when a symbol appears on all reels except reel 2. The triggering symbols will be removed, creating wild symbols in the middle positions of the alignment. If 3 symbols are removed, one wild is awarded. If 4 symbols or 5 symbols are removed, 2 or 3 wilds are awarded, respectively. All positions above the bar will explode, except for scatter or Wild symbols, and a new collapse will be triggered.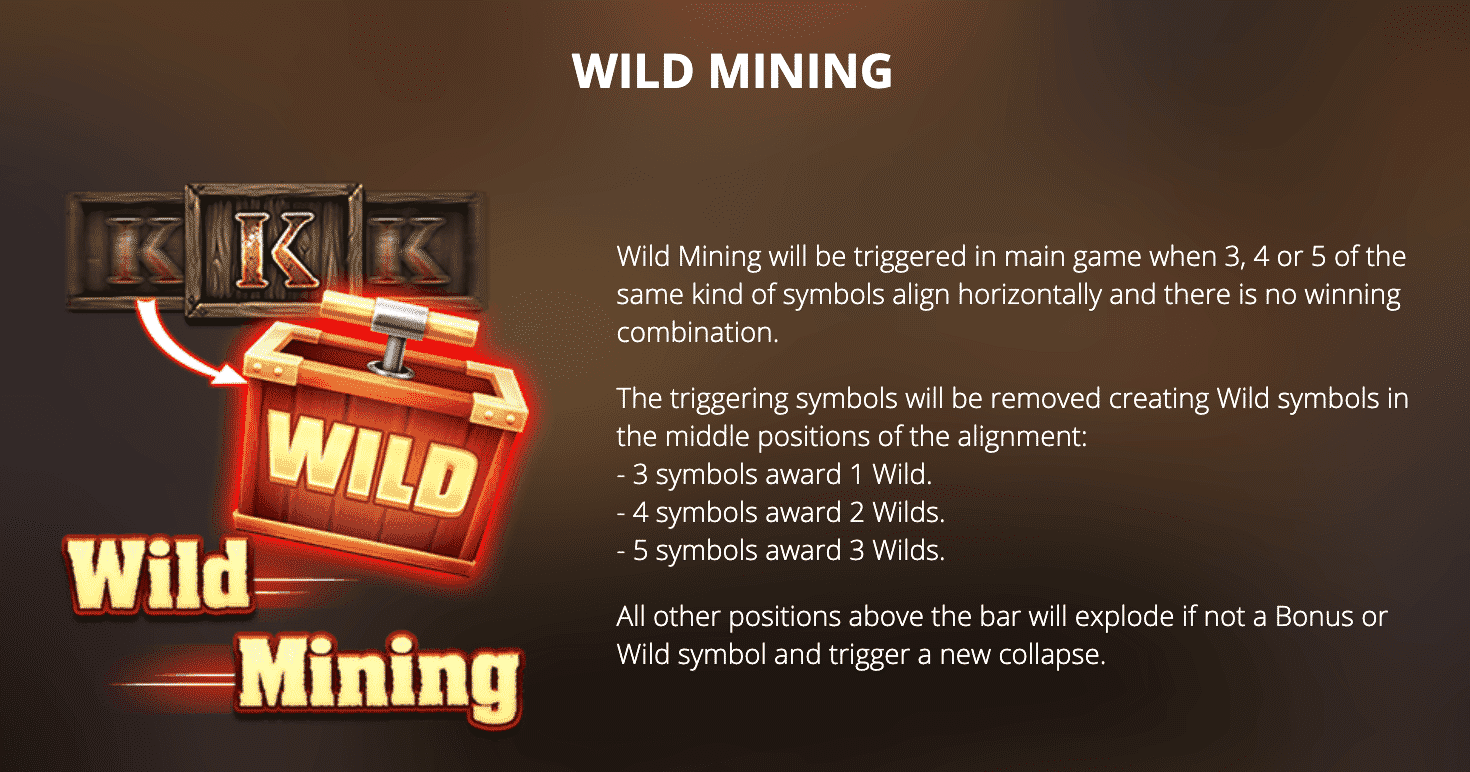 Fire In The Hole Bonus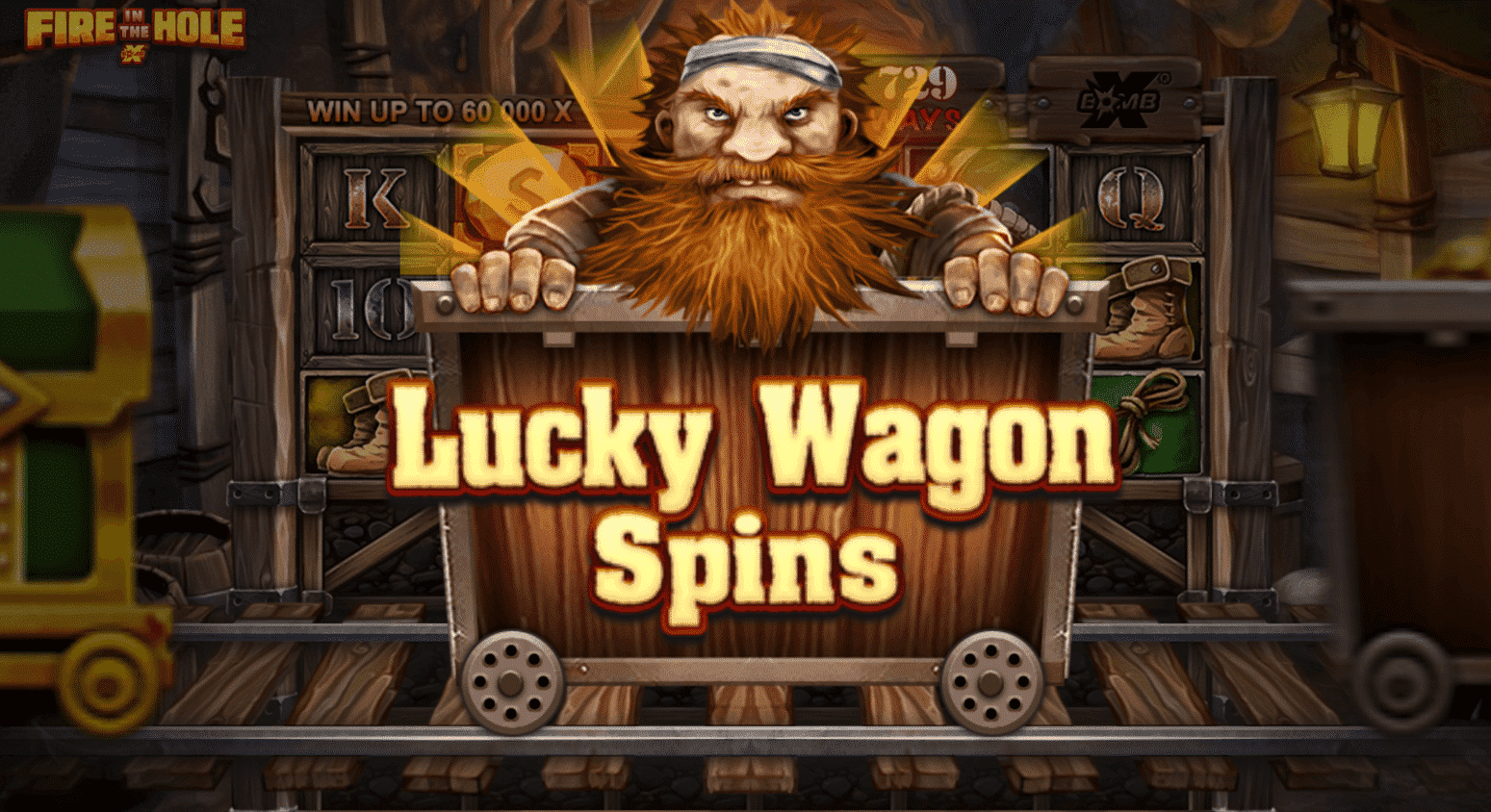 Landing 3, 4 or 5 scatter symbols triggers lucky wagon spins, with 2, 3 or 4 rows open initially, respectively. The bonus feature starts with 3 spins. Every time a coin lands in any position on the reels, the spin counter resets to 3. Coin values are x bet amounts, for example a x10 coin is worth 10 times the chosen bet. During the bonus feature, a row at the top of the reel area reveals enhancers for each spin, with different enhancers chosen for every individual spin. There are 6 enhancers available, and enhancers are activated when a coin lands in any position on the reel underneath the enhancer.
The 6 enhancers available are:
Coin Values: These set the value of the coin, revealing any of the following amounts – 1x, 10x, 15x, 25x, 50x and 100x bet.
Multipliers: These multiply the value of all coins on the reel underneath the enhancer.
Dynamites: Dynamites blow up blocked positions if there are any available or adds values to coins. This happens in the following order:

Adds the dynamite count to the coin value
Blows up blocked positions within the reel area
Activates chests in the bottom row
Adds the dynamite count to occupied positions in the area underneath

Bag: This collects all coins in the reel underneath, and places that value in the triggering coin position.
Chests: The chest enhancer collects all values in the reel area and removes all occupied positions except the Dwarf. This value is then placed in the triggering coin position.
Dwarf: This enhancer collects all values in the reel area and places the total value in the triggering coin position. This continues for every spin.
At the bottom of the reel area, there is another row containing Collect Chests, which can be activated by Dynamites. When a Collect Chest is activated, it collects values in the reel above. It then continues to do this for every spin. Lucky Wagon Spins end when the entire reel area is full, or when no more spins remain. If any Collect Chests are activated, the value is awarded 3 more times.
Theoretical RTPs are as follows:
Base Game – 96.06%
3 Scatter Feature (60x cost) – 96.07%
4 Scatter Feature (157x cost) – 96.20%
5 Scatter Feature (500x cost) – 96.69%
Each of the feature buys have different maximum available stakes. As always, feature buys are not available to players within the United Kingdom, and some EU countries.
Winning 60,000x bet cleans the mine out, ending the bonus feature, and it's Beer Time.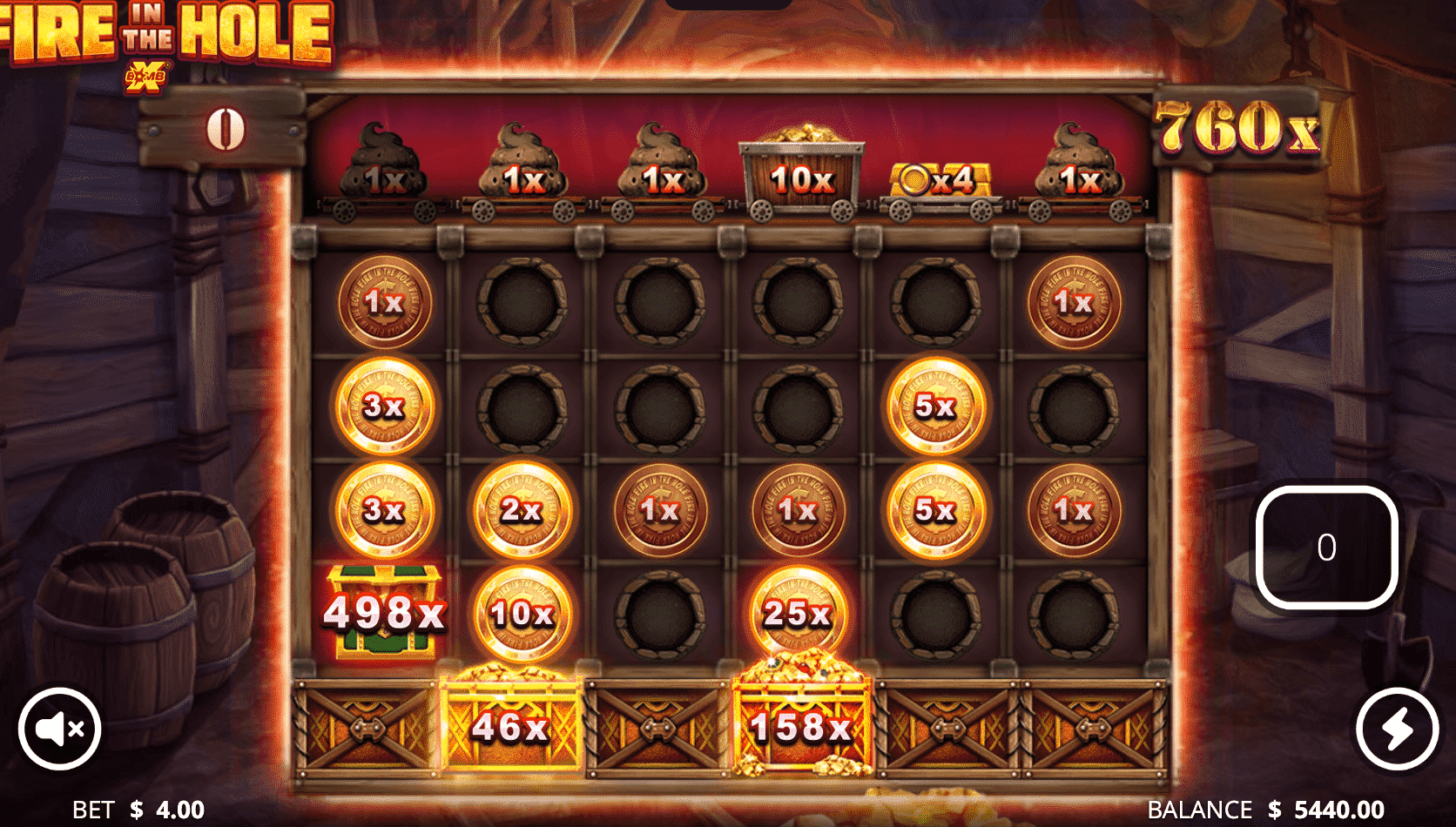 First Impression
Fire In The Hole is a great addition to what is already a stellar catalogue of games for Nolimit City. Although, as mentioned, it bears a great deal of similarities to Money Train 1 & 2 by Relax Gaming, it does bring forward this mechanic in a new and interesting way. It's great to have the Collect Chests at the bottom of the reel area, so players know just what they need to unlock them. Alongside this, extra scatters awarding a larger reel area is also a great step forward. Again, players can follow closely and see how the game changes with extra scatters, knowing that once the reel area is fully unlocked it just takes one certain symbol to unlock Collect Chests.
In our experience, players like to feel as though they are moving towards something. Fire In The Hole does offer that feeling with such an immense max win, and the bonus features. Fire In The Hole has a more relaxed look and feel in comparison to some recent releases such as San Quentin. Nonetheless, it packs a serious punch. Nolimit City have again produced something to be proud of here.
*The screenshots taken of games reviewed on this site are taken from Demo Play, as reviews are often written before games are released for real play.