What would you do if you found the world's largest golden nugget? Is it a finders-keepers kind of situation? I wonder how you'd cash it in. Anyway, the biggest discovered so far actually weighs over 150 pounds, and is over 20 inches long. I guess the idea of discovering hidden treasure deep below the earth feeds into the fascination that surrounds mining, which is why there's no shortage of mining slots on the market. We're back again today thanks to the team at Foxium, who are bringing us into their depiction of a mine in Fortune Pike Gold. With an RTP of 96.02% (96.22% boost feature), this medium volatility release can produce wins up to 10,000x bet.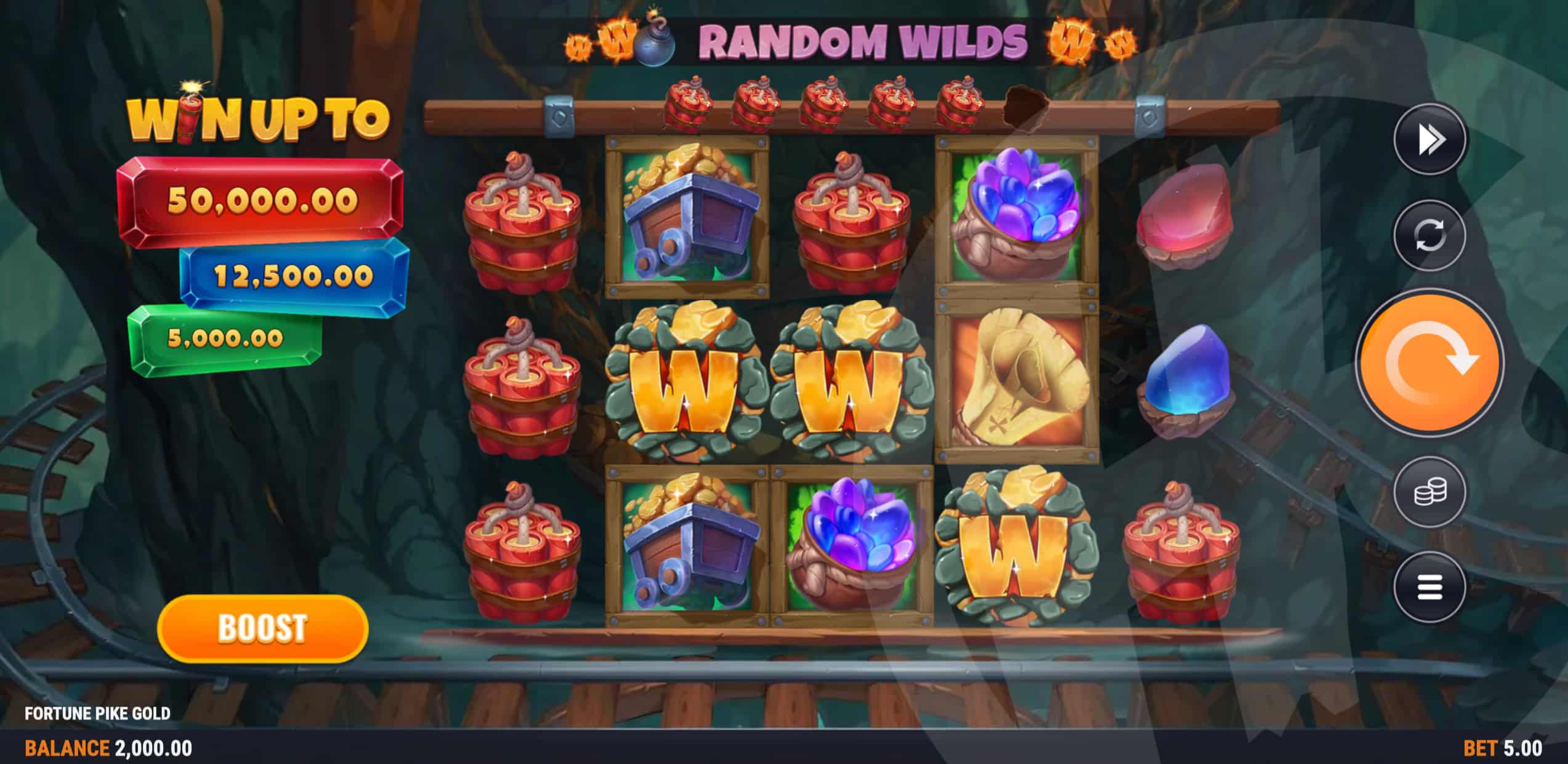 Like I said, we're in a dark mine today, with deep grey stone and a wooden track running across and around the reels, twisting and turning like a rollercoaster. There are various gems, carts, gold, bombs, bats, tools, scrolls, lamps, and a miner – pretty much everything you'd expect to see. Oh, and some dynamite, which brings one of the more interesting features into play. Everything is tied together by an upbeat soundtrack, helping to pique interest.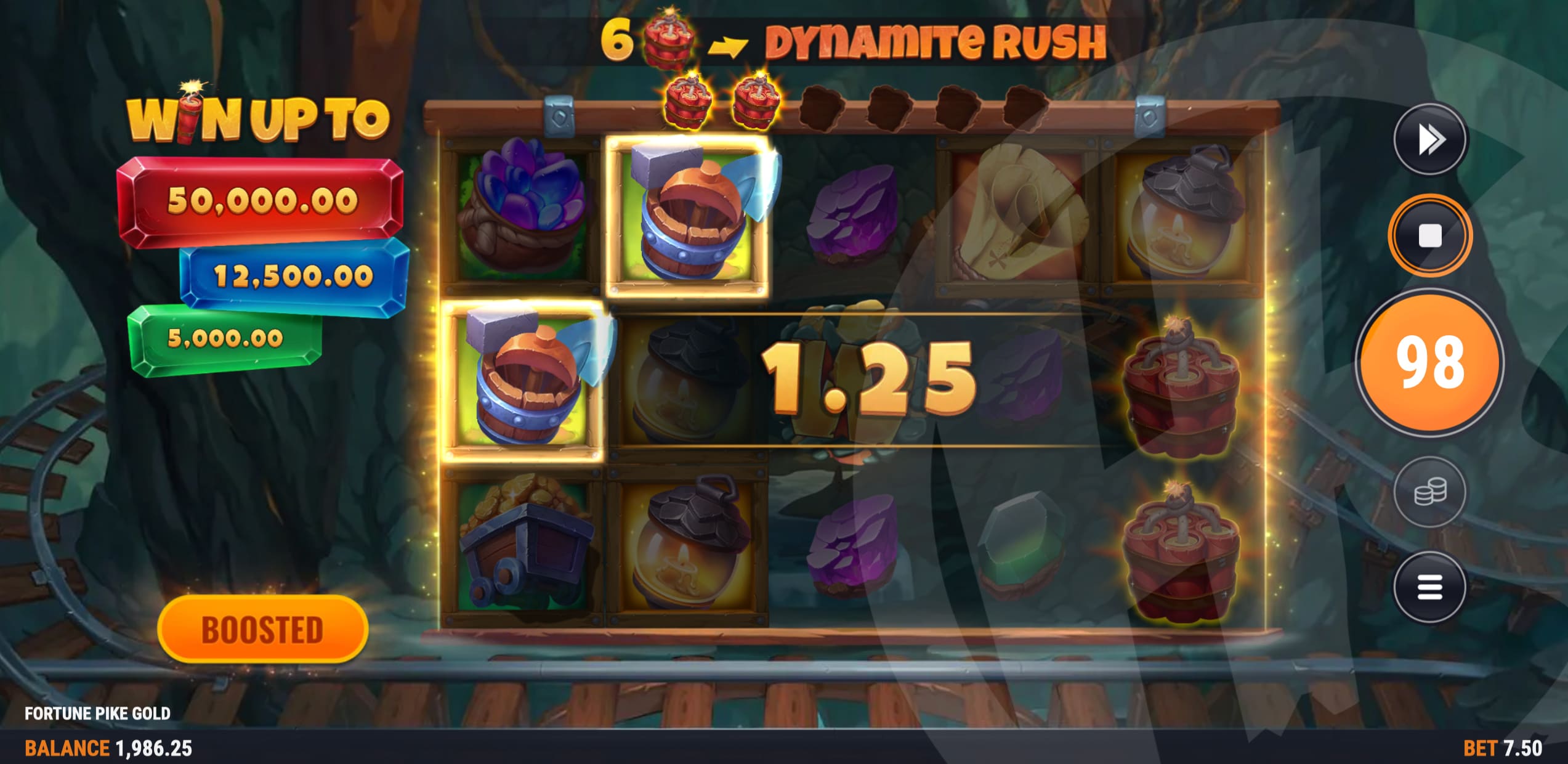 Fortune Pike Gold Base Features
Taking place across 5 reels, wins are formed on Fortune Pike Gold by matching at least 2 or 3 symbols on adjacent reels, beginning with the leftmost reel, across 1 of 20 fixed win lines. Symbols available begin with non premiums, with purple, green, blue, and red stones, awarding wins between 0.25 and 2.50x bet for matches between 3 and 5 of a kind. At the premium end we have lamps, tools, scrolls, and bags of gems, awarding wins of 0.25x bet for 3 of a kind matches, increasing to values between 5 and 10x bet for 5 of a kind wins. Carts filled with golden nuggets come in as the highest paying symbol and also the only to pay for 2 of a kind, producing wins of 0.10, 0.50, 2.50, or 12.50x bet for 2, 3, 4, or 5 of a kind matches. Finally, Wild symbols are available to substitute for all symbols except Scatters or Dynamite symbols.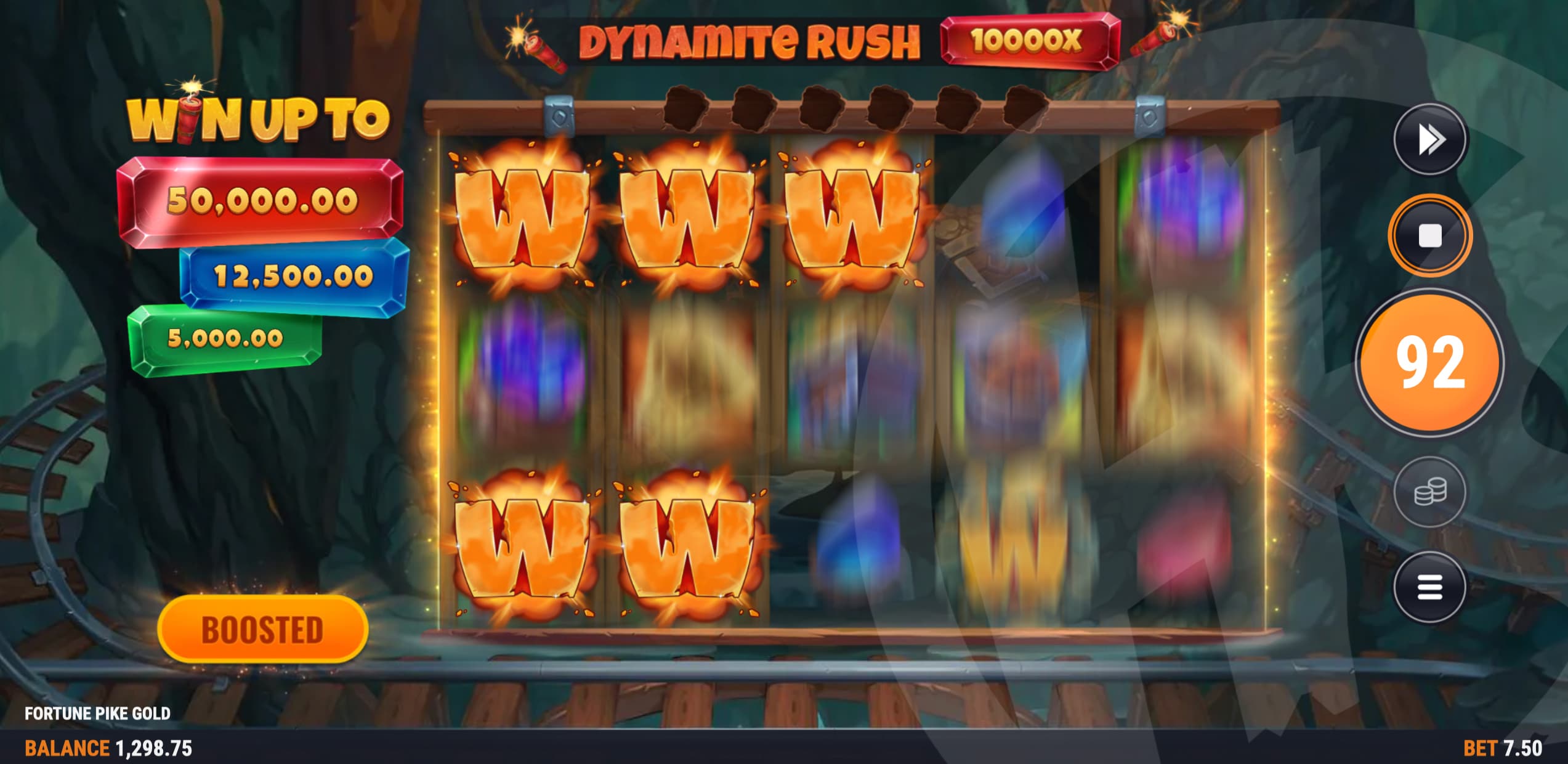 Alright, so the first thing to cover in Fortune Pike Gold is the Boost feature. By betting an additional 50%, the chance of triggering Lucky Dinky Random Wilds or Dynamite Rush is increased.
Next is Lucky Dinky Random Wilds, and the Lucky Dinky Cart Ride. On any spin, Lucky Dinky can randomly swing in on a rope, adding 3-10 Wilds to the reels in order to create winning combinations. Lucky Dinky can also randomly add Dynamite Symbols to the reels. Both of these features can occur in the base game or Free Spins.
It is possible to land Dynamite symbols in any part of the game, but they only hold a value during Dynamite Rush, which we'll explain next.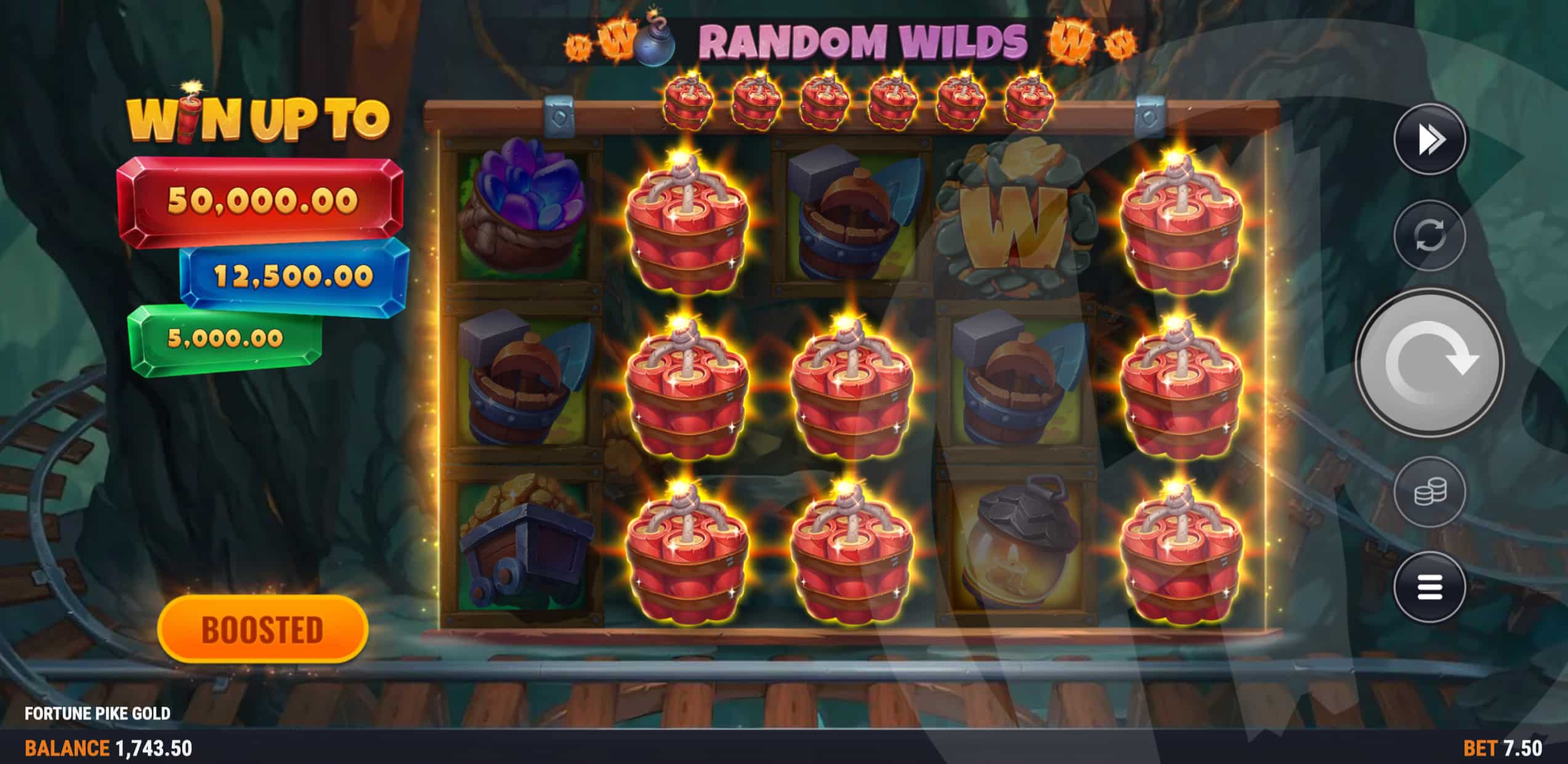 Landing 6 or more Dynamite symbols will trigger the Dynamite Rush game, in which 5 bonus spins are awarded. Each of the triggering Dynamite symbols will be held on the reels, along with any new Dynamite symbols that land. During the 5 bonus spins it is only possible to land Dynamite symbols.
As Dynamite symbols land, any that are grouped together will form new, larger shapes – for example, two single Dynamite symbols side by side will form into one larger 1×2 shape, and if another two Dynamite symbols land above them, they will all form a 2×2 shape. Each Dynamite symbol can only form part of one shape at any one time, but the shapes can continue to change.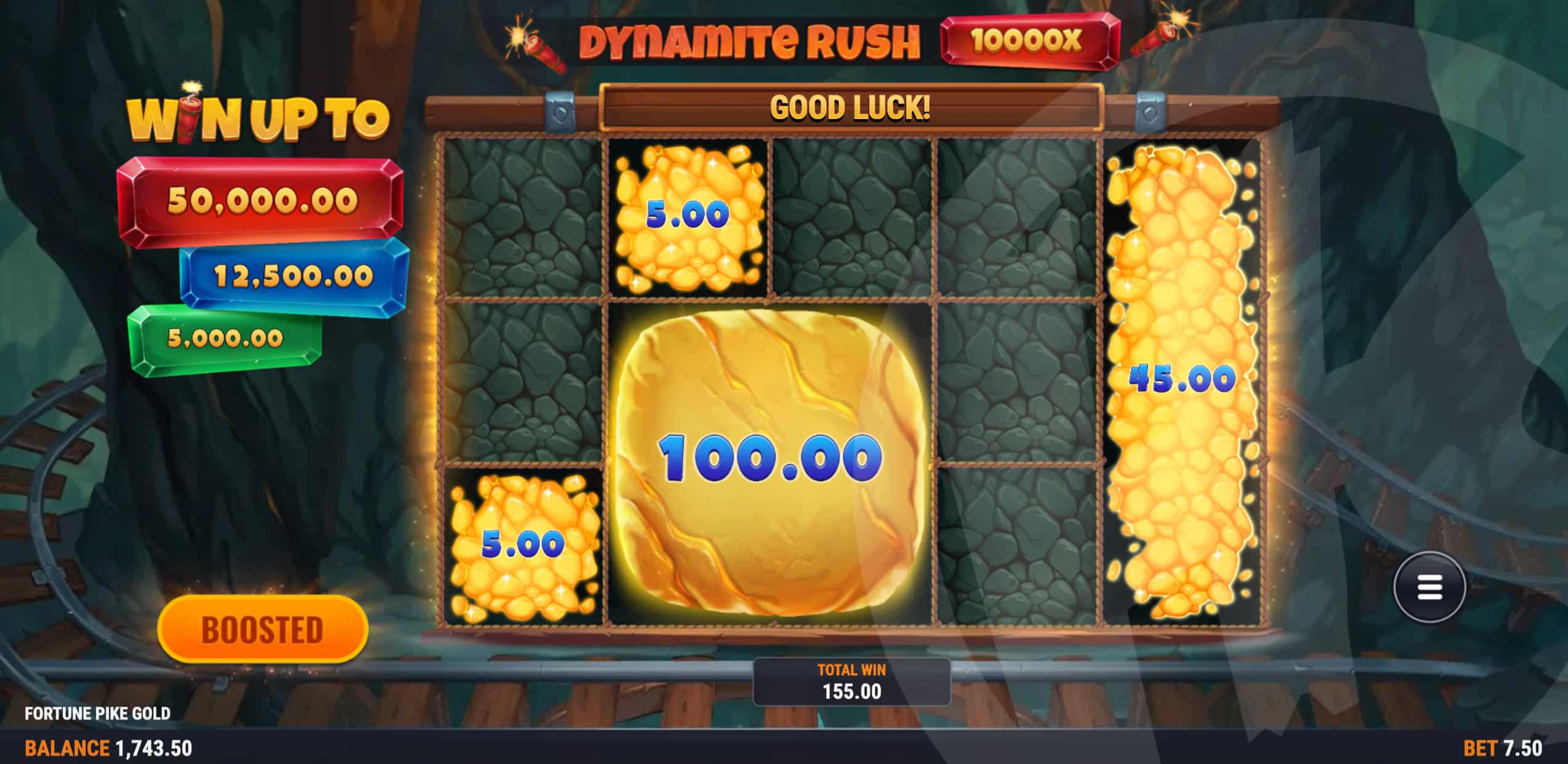 Possible Dynamite Rush rewards change depending on the size and orientation of shapes:
1×1 – 1x bet
2×1 – 3x bet
3×1 – 5-9x bet
2×2 – 15-20x, 100x, or 1000x bet
2×3 – 25-30x, 200x, or 1100x bet
3×2 – 25-30x, 300x, or 1200x bet
2×4 – 35-40x, 500x, or 1300x bet
3×3 – 45-50x, 600x, or 1400x bet
2×5 – 70-80x, 800x, 1500x, or 2500x bet
3×4 – 100-115x, 1000x, 2000x, or 5000x bet
3×5 (full screen shape) – 170-195x, 2500x, or 10000x bet
In the list above, height is listed first, then width.
Fortune Pike Gold Bonus
Scatters appear on reels 1, 3, and 5. Landing 3 Scatters will trigger 10 Free Spins, whilst landing 2 Scatters during Free Spins (which can only land on reels 1 and 5) will award an additional +2 spins.
Everything continues as normal during Free Spins, with the Dynamite Rush game triggering when 6 Dynamite symbols land in view, and Lucky Dinky adding Random Wilds and Dynamite symbols to the reels. During Free Spins though, any Random Wilds added to the reels will have a multiplier applied between 2x-5x.
The same prizes are available in the Dynamite Rush game during Free Spins, with the same dependence on size and orientation.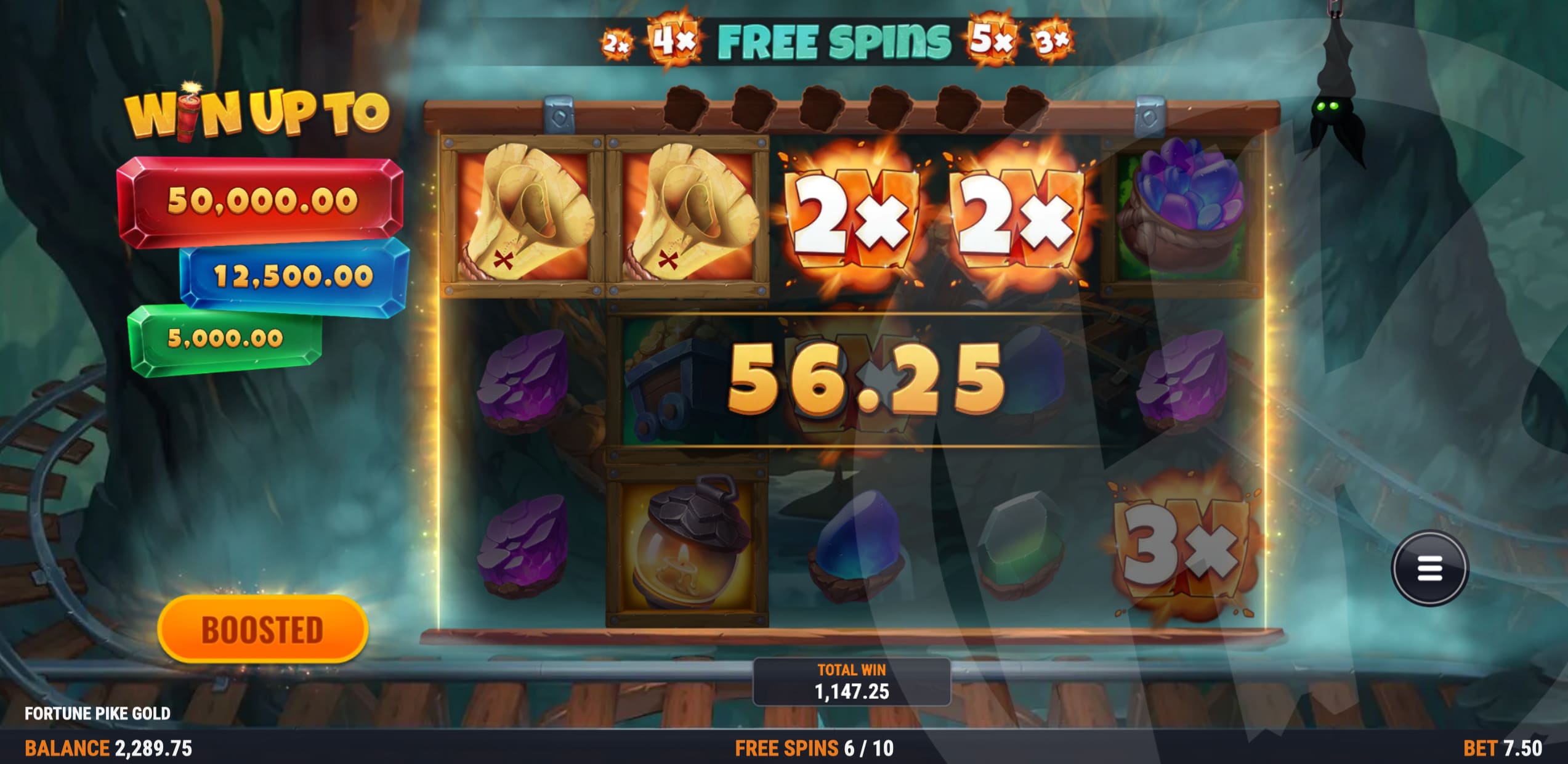 There is no option to buy a bonus in Fortune Pike Gold.
The maximum win available in Fortune Pike Gold is 10,000x bet. If the sum of a single game round exceeds, this the game round will end and 10,000x bet will be awarded.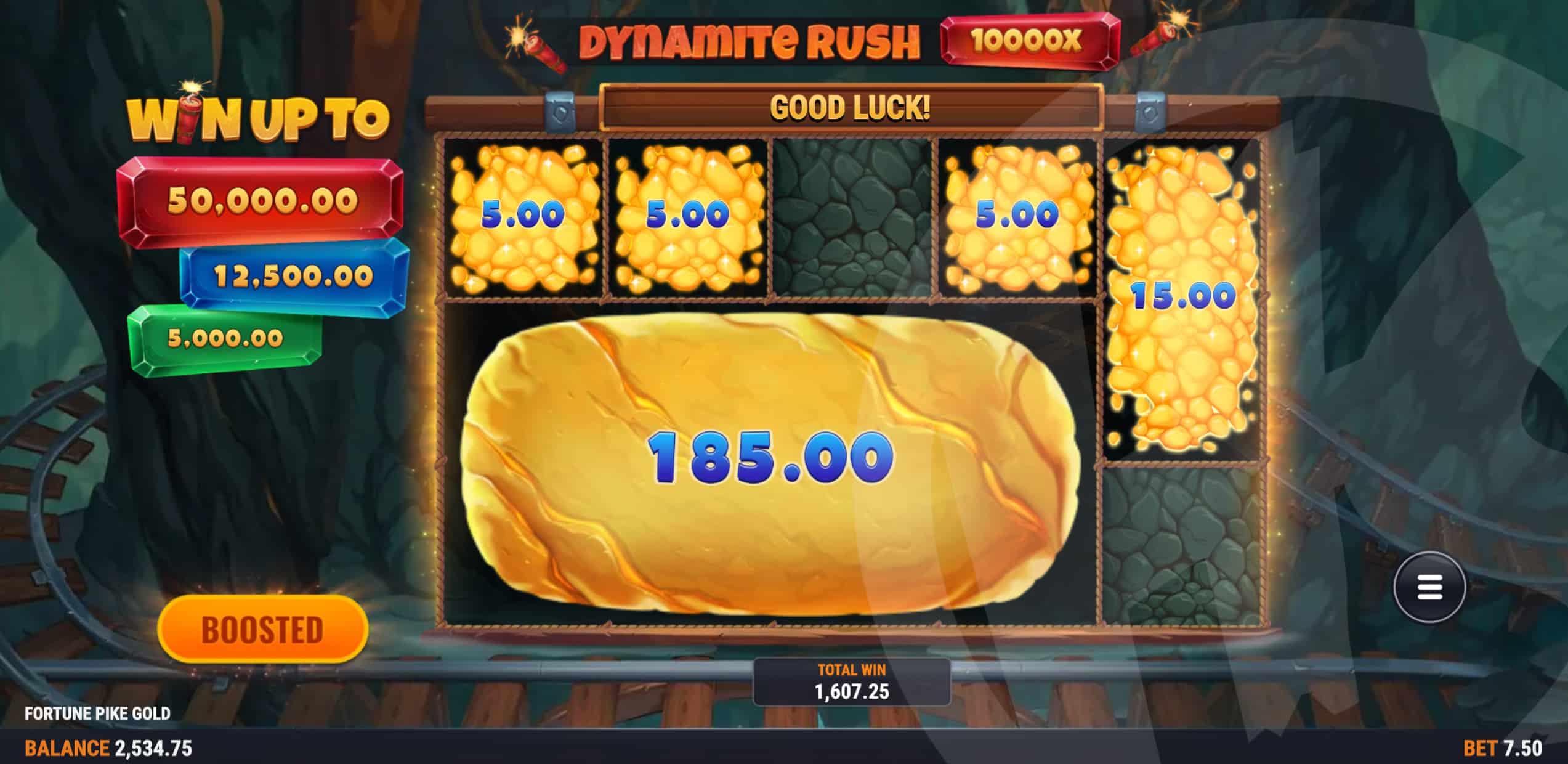 First Impression
There's plenty happening in Fortune Pike Gold to keep players engrossed, and the team at Foxium have done a nice job of splitting these between the base game and free spins – enhancing them slightly in the latter. In the former, Lucky Dinky Random Wilds and Dynamite symbols are what you're looking for – especially if the Dynamite Rush game is triggered.
Moving into free spins and things pick up a little, with the same Dynamite Rush game triggering and Lucky Dinky Random Wilds now containing multipliers between 2x-5x. It seems most of the focus is on Dynamite Rush though – through this feature wins are possible up to 10,000x bet, and this is the only place this maximum win is available.
Finally, maths is rated as medium for volatility, and RTP is 96.02% (96.22% boost feature). And that's all she wrote. Simple yet interesting, if you're a fan of a softer game that still offers decent potential, Fortune Pike Gold could be for you.
*The screenshots taken of games reviewed on this site are taken from Demo Play, as reviews are often written before games are released for real play.