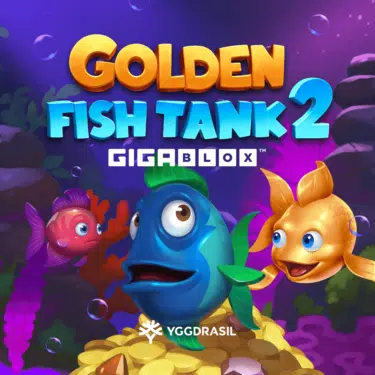 Golden Fish Tank 2 Gigablox
Game Provider: Yggdrasil Gaming
Release Date: Available Now
Golden Fish Tank 2 Gigablox
Game Studio Yggdrasil Gaming
Release date Available Now
RTP 96.0%
RTP Feature Buy 96.0%
Paylines 25 - 40
Volatility Medium - High
Min Bet 0.25
Max Bet 100
Max. Win 5,000x
Rating 8.8/10
Back in 2019, provider Yggdrasil Gaming released Golden Fish Tank, an underwater adventure with feature picks to enhance the bonus round. Quickly becoming one of their most popular releases, players enjoyed both playing the game, and watching their favourite streamers attempt to crack the maximum win – made even better by interactivity through the feature.
This year, the team are bringing us a sequel, combined with their trademark mechanic, Gigablox™, in the form of Golden Fish Tank 2 Gigablox.
Stacked wilds are still the goal, but now the game is backed up by a hit frequency of 26%, medium-high volatility levels, 96.0% RTP, and a maximum win of 5,000x bet. Let's take a deeper dive into this new release…
Visually, things have stayed more or less exactly the same, with the same characters and aquarium setting, although graphics have been considerably tightened, bringing this release up to date with sharp imagery.
Audios are similar to the bubbling backing tracks of the original, although have been adapted slightly for this newer version, still smooth, and suiting the theme well.
Golden Fish Tank 2 Gigablox Base Features
Taking place across 6 reels, Golden Fish Tank 2 Gigablox features 25 fixed lines, with wins formed by matching symbols across a win line, beginning at the leftmost reel. Of course, in spite of always having 6 reels active, the Gigablox feature goes towards making it sometimes seem like we have less, with reels combining to form Gigablox symbols each spin.
On any spin, at least 2 adjacent reels will combine to form Gigablox symbols up to 4×4 in size, although this can increase to 6×6 during free spins.
Once the reels have stopped spinning, Gigablox symbols will then separate again, releasing these mega symbols down into matching regular sized symbols to form wins.
Helping to form wins are a host of symbols, including diamonds, clubs, spades and hearts at the lower end of the pay table, rewarding players with wins between 0.2 and 2x bet, for wins between 3 and 6 of a kind. At the premium end, we meet our fishy friends – landing 3 of a kind pink or blue fish will award wins of 0.6 and 0.8x bet respectively, increasing to wins of 6 and 8x bet respectively for 6 of a kind matches.
Next up is our white and orange fish, paying between 0.8 and 10x bet for wins between 3 and 6 of a kind, which leaves the green fish as the highest available premium symbol – land between 3 and 6 of a kind for wins between 1 and 12x bet.
Finally, golden wilds can land on any reel, paying 1.6x bet for 3 of a kind, whilst landing 6 across a win line will award values of 20x bet. Wilds substitute for all symbols except Scatters, which are represented by golden fish.
Treasure Chest
One new feature has made its way into Golden Fish Tank 2 Gigablox – the Treasure Chest, which lands on the reel 5.
Treasure Chest will always award a prize, even if only partially visible. The bigger the chest, the better the average prize. In the base game, prizes can be:
Between 2-500x bet cash win.
5, 9 or 16 Free Spins.
Golden Bet
And that's pretty much all there is in the base game of Golden Fish Tank 2 Gigablox – much like its' predecessor things are mostly about the bonus round.
Golden Bet gives us a chance to enhance the feature before we even trigger it, however.
If the feature is triggered with Golden Bet active, players are granted an additional +1 feature pick. Golden Bet costs an extra 20% per spin, and does not increase pay values listed above.
Golden Fish Tank Gigablox Bonus
Landing 5 or more Scatter symbols in the base game triggers Free Spins – and remember, this could just be one giant Gigablox symbol.
A 4×4 Gigablox Scatter will break down to reveal 8 Free Spin symbols. Each Scatter in view awards 1 free spin, alongside a random amount of Feature Picks – anywhere between 3 and 7.
After being awarded the Feature Picks, one more will be awarded if Golden Bet is active.
Gamble
So first up, before even beginning to pick features, players have a decision to make – 'I'm happy!' or 'I want more!'. Basically, would you like to gamble?
Although no more free spins will be awarded, players have a chance to gamble up to 8 feature picks, by finding a golden starfish (1 in 3 chance).
Players can gamble for just one additional pick, or can continue the whole way to 8 picks, but if they choose a grey starfish the entire bonus round is forfeited.
Now, once you're happy with the amount of feature picks, it's time to actually pick the features – everyone's favourite moment! An assortment of objects like shells will appear at the bottom of the fish tank, and players will choose at random to reveal their features. Features available are:
Wild Fish: One fish symbol is turned wild.
x2: A x2 multiplier is applied to all wins.
Extra Wild: 1-2 wilds added in random positions on every spin.
Fish Stacks: High stacks of fish on the reels.
Extra Free Spins: 1-5 additional free spins.
Expanded Reels: An additional 2 rows are added to the reels, meaning 6×6 Gigablox symbols can land.
Only one 'Fish Stack' can be awarded per free spins round, so if you choose a stacked fish all other fish stack picks will be revealed and greyed out, no longer able to be chosen.
If 'Expanded Reels' has been chosen, the additional 2 rows will activate a total of 40 pay lines.
All features last for the duration of the free spins round.
And that's it! Once your features have been picked, it's time to make your way to the deeper purple tones of the bonus round, and play through your free spins.
If you're lucky, you'll have chosen the same fish to appear stacked and wild, meaning you have stacked wilds – the same goal as the original Golden Fish Tank. During free spins, Treasure Chests can continue to land on reel 5, again awarding a prize, even if only partially visible. The bigger the chest, the better the average prize.
In free spins, prizes can be:
Between 2-500x bet cash win.
1, 2, 3 or 5 Extra Free Spins.
Feature Buy
Players in appropriate regions can fast track things and go straight into the free spins with the Feature Buy option, with two choices available.
5-16 Free Spins with 3-7 Feature Picks – 60x bet
5-16 Free Spins with 4-8 Feature Picks – 100x bet (Golden Bet)
The maximum win available in Golden Fish Tank 2 is 5,000x bet. If the sum of a single game round exceeds this, the game round will end and 5,000x bet will be awarded.
First Impression
Golden Fish Tank is certainly an incredibly popular release from the team at Yggdrasil – maybe it could be the feature picks, the low volatility, the chance of a full screen of wilds allowing us to 'complete the game', or maybe we just like the bright colours, friendly characters and upbeat audios. Either way, players took to Golden Fish Tank like a fish to water, and it seems Golden Fish Tank 2 Gigablox will be no different.
Features available are more or less exactly what was available in the original, which is joy to our ears – if the feature pick had been removed it just wouldn't have felt worthy of being a sequel. Rather, we have the same features now with the added excitement of Gigablox symbols up to 4×4 in size during the base game and 6×6 in size during free spins.
Further to this, treasure chests can now land, to facilitate free spins, or wins up to 500x bet in size. Finally, the gamble feature does turn the excitement up slightly, but players who choose to stay away from added risk will be glad to know it's entirely optional, and it is possible to reap rewards without gambling.
Statistically, things are solid – 96.0% RTP, medium to high volatility, and wins up to 5,000x bet in size (more than double the original's win cap) all go towards making Golden Fish Tank 2 Gigablox a great additional to Yggdrasil's diverse and unique catalogue.
*The screenshots taken of games reviewed on this site are taken from Demo Play, as reviews are often written before games are released for real play.
Did you know? We ourselves 'completed' Golden Fish Tank! Watch our full screen of wilds below: