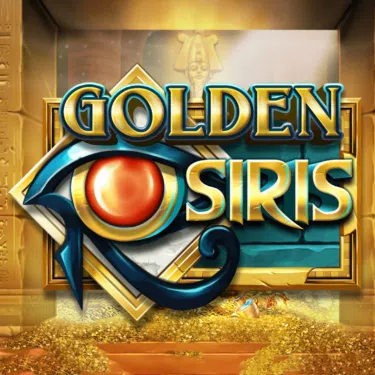 Golden Osiris
Game Provider: Play'n GO
Release Date: Available Now
Golden Osiris
Game Studio Play'n GO
Release date Available Now
RTP 96.27%
RTP Feature Buy N/A
Paylines Cluster Pays
Volatility High
Min Bet 0.10
Max Bet 100
Max. Win 12,000x
Rating 7.6/10
Play'n GO have never been one to shy away from new releases, committing to releasing 52 new slots in 2020. However, if there's one area in which they have dominated, its grid slots. They have continually produced grid games that each have their own unique play point, whilst being aesthetically appealing, and packing potential, including Reactoonz, Honey Rush, Tome of Madness, Wild Frames, and their more recent Diamond Vortex.
Now, they're bringing us back to Egypt with Golden Osiris, their latest release. Set on a 7×7 grid, this slot is as visually appealing as the music is soothing. Symbols stand out from one another, with premiums clearly distinguishable from the lower paying symbols, and volatility is high, with a max win of 12,000x bet. The RTP on this slot sits at 96.27%, and we suspect we'll see some exceptional wins on it if it's anything like its' grid based predecessors.
There are 9 symbols within this slot, consisting of 4 standard symbols, and 5 premiums. The 4 lower paying symbols are gems; green, blue, yellow and red in colour. Green and blue gems pay 3x bet at the highest level of 15+, and yellow and red pay 4x bet, again for a cluster of 15 or more. The first two of the premium symbols are blue birds and green cats, where pays start at 0.4x bet for the minimum cluster of 5, up to 8x bet for 15+.
Purple Ankhs are up next, starting at 0.6x bet for 5, up to 12x bet for 15+, followed by blue dogs, paying 1.6x bet for 5 of a kind, up to 25x bet for a cluster of 15 or more. Finally, the highest paying symbol, a red scarab, pays 1x bet for 5, up to a whopping 50x bet for 15 or more. Wilds are in play too, and can have a multiplier attached.
Golden Osiris Base Features
There are a few different aspects at play during the base game on this slot. This is, of course, to be expected within a Play'n GO Grid Game. First, is the placement of wilds. At the start of every spin, up to 6 wilds are hidden underneath symbols on the grid. These are highlighted in gold so players know where they want their wins to fall. If a win is formed using the symbol on top, the wild appears once the symbols are removed. These wilds can have a multiplier attached.
The multipliers available are x2, x3, x4, x5, x7 or x10, attached at random, or can just be single, non multiplying wilds. It is worth noting that if a win is formed using two of these multiplying wilds, only the highest multiplier is applied to the win. However, even though only the highest multiplier from the multiplying wild selection is applied, it is multiplied together with any multiplier that has been provided by the pyramid charger.
The second feature at play during this slot is the pyramid feature, on the right hand side. This is a common mechanic in Play'n GO grid games, and is something we can vaguely recognise from Reactoonz, Tome of Madness, Honey Rush or Wild Frames, each of which require players to achieve wins which build a meter. Of course, in these previous slots the meter is what eventually leads to the bonus, which is not the case within Golden Osiris.
This time, the pyramid meter is used to enhance the base feature, as 3 scatters trigger the free spins feature. 25 winning symbols charge the pyramid, where one symbol is chosen at random to expand. The chosen symbol then transforms adjacent symbols to trigger more wins. The pyramid feature can be re-triggered also. The first retrigger awards a x3 multiplier to any subsequent wins. Every re-trigger thereafter increases by x3, up to x30.
Finally, the base game of Golden Osiris offers players a "Second Chance: Scatter Explosion", which is activated if 2 scatter symbols are in view on the grid at the end of a spin. When this is activated, any adjacent symbols to the scatter symbol are removed from the grid. This offers another chance for the third scatter symbol to land. This feature can activate once per spin, but is not applied during the free spins feature.
Golden Osiris Bonus
Landing 3 scatter symbols triggers the free spins feature, where 5 free spins are awarded to players. During free spins, the pyramid is fully charged on every spin, and can only choose premium symbols to expand. Adding to the excitement, the pyramid charger can retrigger during the feature too. Again, this starts with a x3 multiplier on the first retrigger. This then builds by x3, up to a maximum of x30. Each time there is no win left on one of the free spins, and the pyramid charge has not re-triggered, it resets to being fully charged ahead of the next spin.
Any multiplier awarded from a retrigger on the spin before does not carry over, though. As in the base game, if there are any multiplying wilds attached, only the highest available is awarded to the win. This is then multiplied together with any multiplier awarded by the pyramid charge.
Although only 5 extra symbols are needed to charge the pyramid compared to other well known games such as Honey Rush or Wild Frames, those extra 5 symbols can feel almost impossible to hit. Where Golden Osiris slightly lacks, however, is that once the pyramid meter reaches 25, it does not continue to charge past that point to the next level until the charge has been used. This differs to it's predecessors, meaning getting a cluster of wilds isn't advantageous for retriggering the pyramid charge. Overall, the bonus can feel very difficult to reach. With a volatility level of high awarded it does pack a punch with potential, though. We have seen a few poor bonuses on this slot, which is to be expected from a higher volatility slot.
First Impression
Is this my favourite grid game from Play'n GO? Far from it. However, is it a solid addition to their catalog? Absolutely. It is, in ways, all too similar to the grid games that have come before. That said, it just keeps things interesting enough to save being branded a reskin. There are some elements within this slot that are great additions to Play'n GO's grid format. This includes features such as the second chance scatter, and growing multipliers as the pyramid continues to charge. However, in a few ways it falls short.
In our limited experience this isn't a "quick bonus" slot, something players often look to Play'n GO for. This is particularly true within a Grid Format. Volatility is high, and indeed wins reflect this, with a top win of 12,000x. A great addition to the vast array of Egyptian Slots Play'n GO have tackled in the past, sure. However, we feel it's not quite interesting enough to stand alongside some of the greatest grid games on the market such as Reactoonz and Wild Frames.
*The screenshots taken of games reviewed on this site are taken from Demo Play, as reviews are often written before games are released for real play.