If there's one thing that Play'n GO know how to do well, it's grid games. Reactoonz is arguably the most popular grid games of all time, followed closely by Wild Frames. Other providers have released grid games, but often they seem to lack the skill and attraction that Play'n GO use to captivate players around the globe with these releases. Play'n GO aren't a provider that cause extreme excitement upon any release, but when they release a new grid based game, that does stir something up within us. In May 2021 they are presenting us with their latest grid release – HammerFall.
HammerFall is similar in many ways to Twisted Sister, arguably the least played or requested Play'n GO grid game yet. It adopts a strong musical theme, based upon the power metal band HammerFall from Gothenburg, Sweden. During the base game players can rock along to their popular hit, Second to None, and during the bonus round players can expect to experience Hammer High from their 2016 album, Built to Last.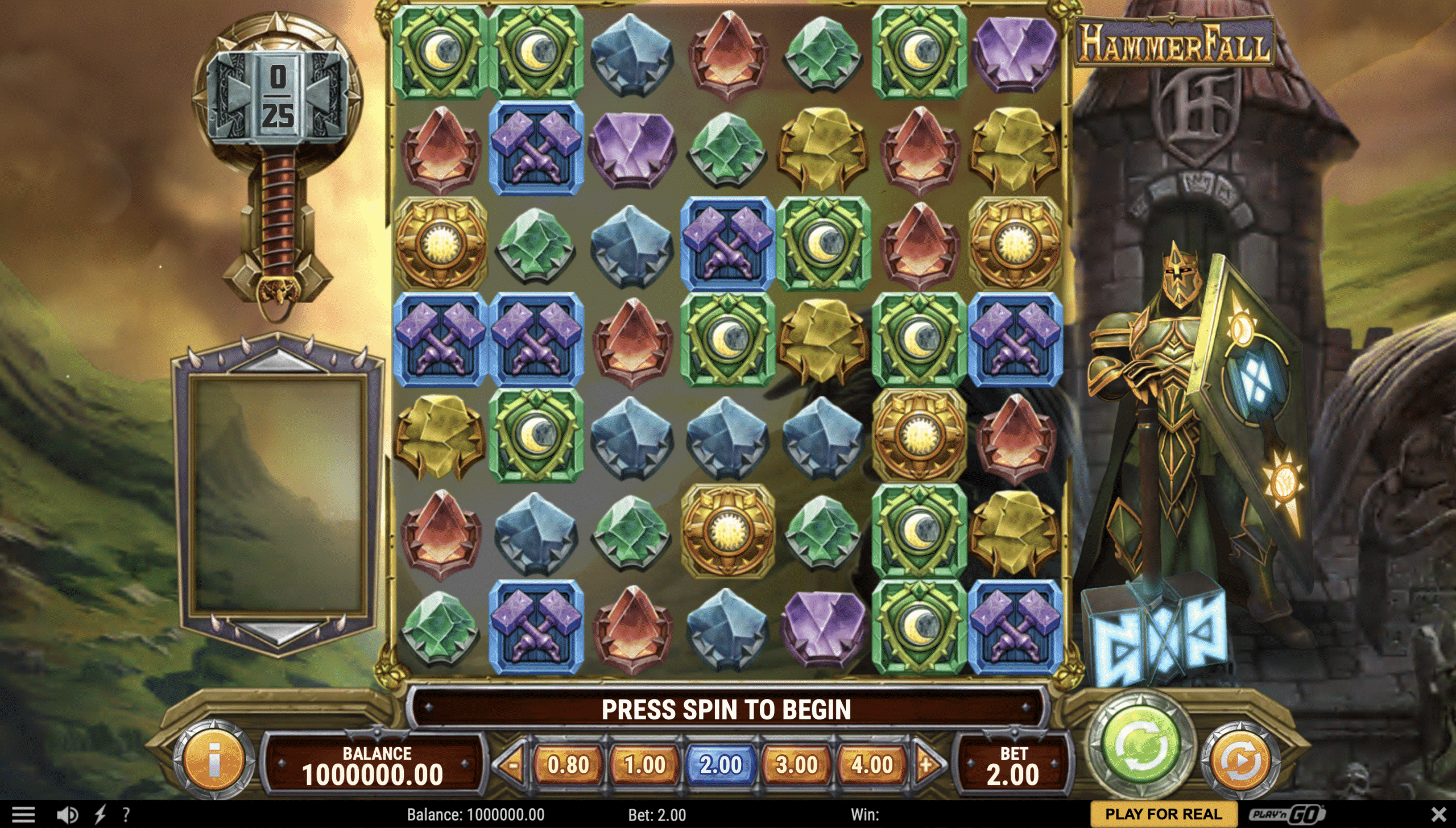 Symbols consist of 5 low paying gems – green, purple, blue, yellow and red in colour, paying between 5x and 25x bet for clusters of 15+. At the premium end, there are green, blue, yellow and purple symbols, including moons, hammers and a sun. These pay between 40x and 500x bet for clusters of 15+. The HammerFall signature H logo is the wild symbol, substituting for all symbols.
Volatility is high on HammerFall, where wins of up to 30,000x bet are available to players. Stakes range between 0.20c/p and €/£100, and Default RTP sits at 96.20%. However, RTP can vary with this slot, and can be any of the following: 96.20%, 94.20%, 91.20%, 87.20% and 84.20%.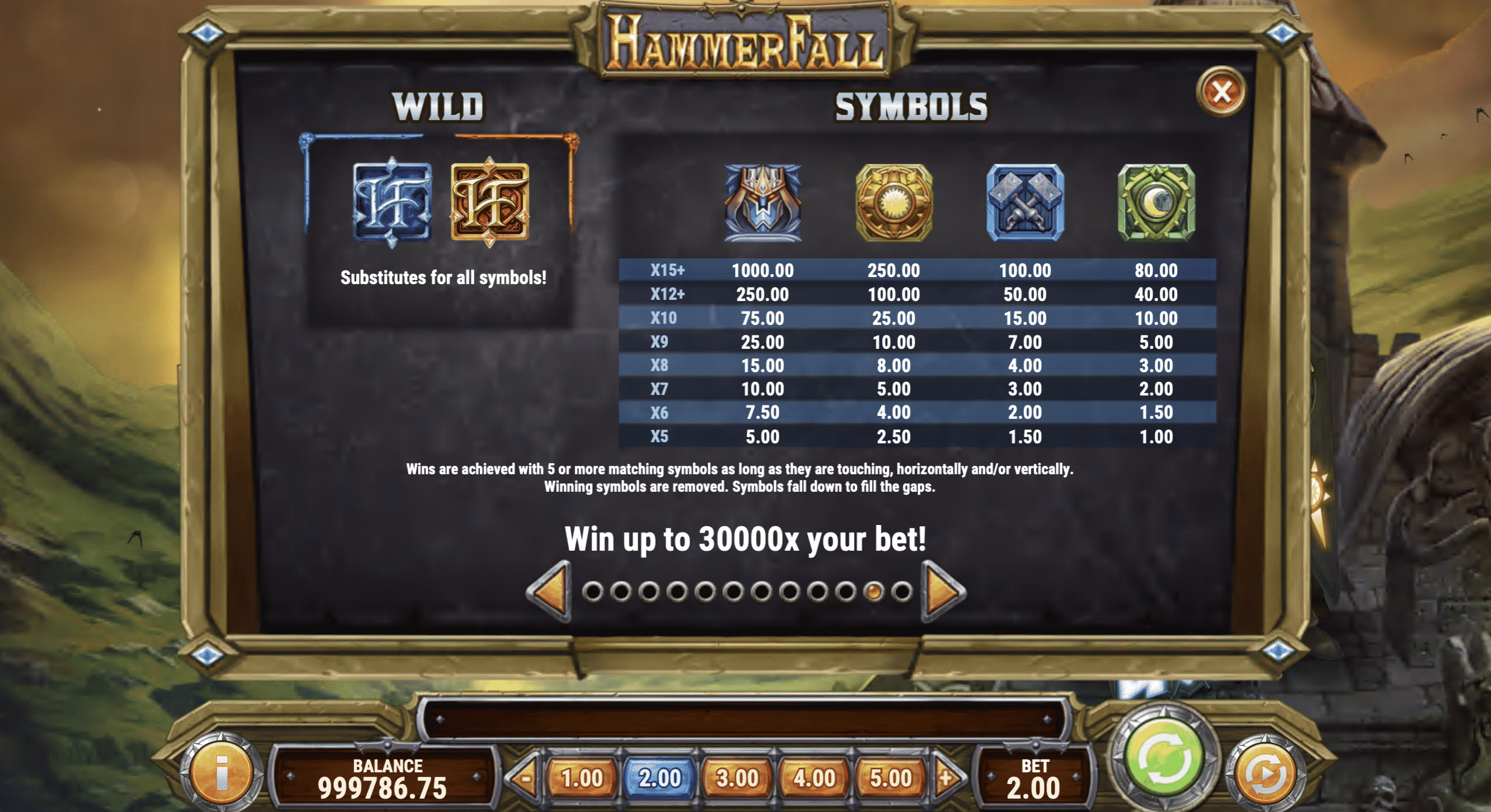 HammerFall Base Features
HammerFall plays on a 7×7 grid, and wins are formed by combining clusters of 5 or more matching, adjacent symbols. Wins are removed from the grid, and new symbols drop down in their place. At the side of the grid, there is a Hammer Meter, which players must charge to 25 to activate a song feature, and can overcharge to 50 to trigger the bonus feature, activating all 3 song features in succession. Charging the meter is fairly simple – each symbol removed from the grid counts for 1 charge, and as a cluster of 5+ is required to win and remove symbols, a maximum of 5 consecutive wins are required to charge the grid to 25.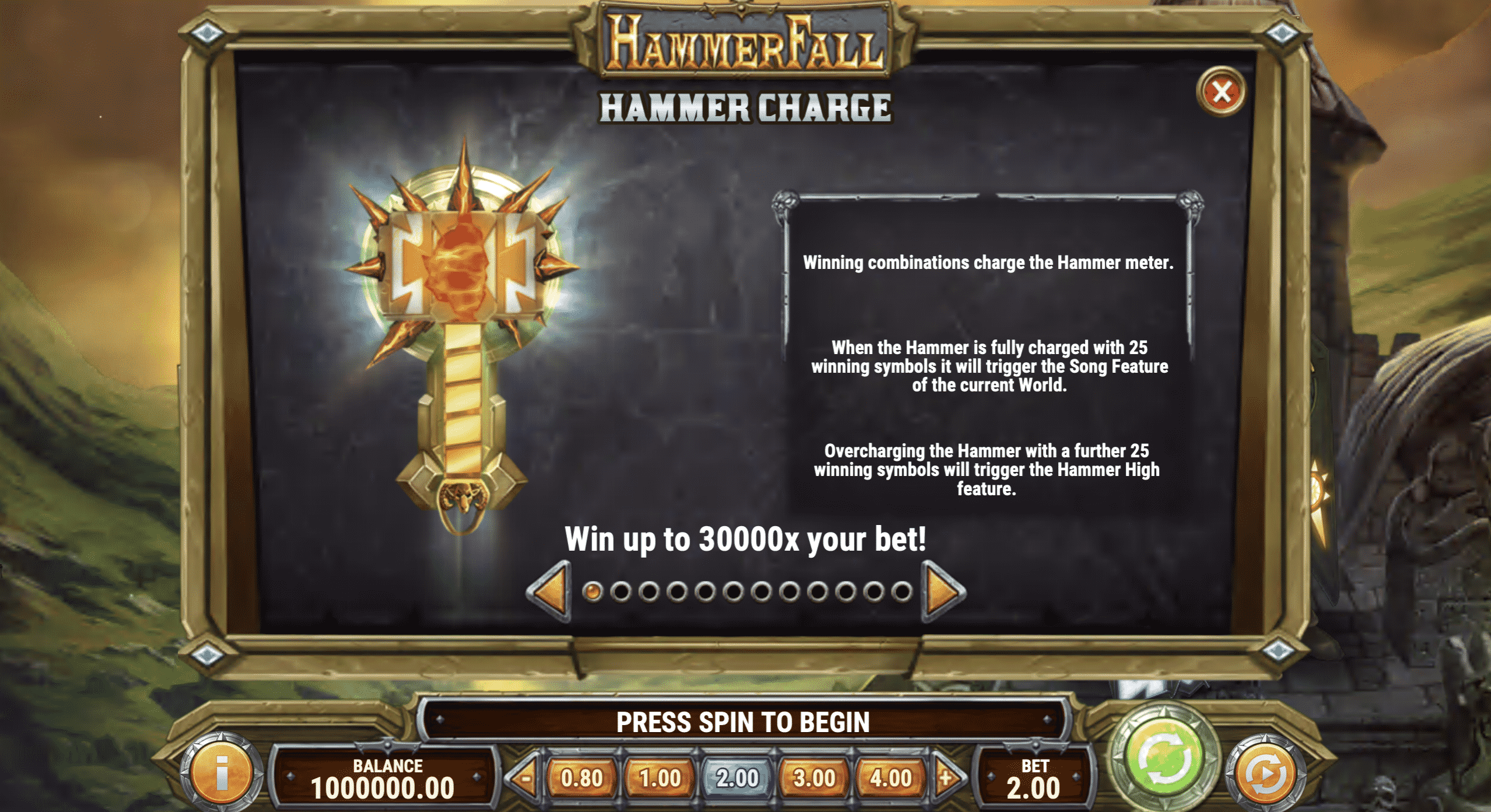 Play'n GO have taken a step back towards Moon Princess with HammerFall, as the background of the slot screen and the border around the grid change in colour, depending on what world you are in. This means you can track which song feature you will be awarded once the meter charges to 25, as each feature corresponds to a world. After triggering each feature, you move to the next world.
Song features available are:
Twilight Princess – This is the yellow world, and once this meter is charged, a 2×2 mega wild lands on the grid.
Second to None – This is the red world, and once this meter is charged, all high paying symbols on the grid are transformed into the same high paying symbol.
And Yet I Smile – This is the purple world, and once this meter is charged, all low paying symbols on the grid are destroyed.
Triggering a song feature does not stop the meter from charging, so the feature you trigger at 25 can help you on your way to 50 symbols.
Wilds are also available on the grid, alongside Lighting Wilds. Lighting Wilds are triggered by forming a win with a symbol within a highlighted grid space. These are known as Super Tiles, and turn into Lighting Wilds if they are part of a winning cluster. Lightning Wilds can have multipliers of x2 or x3 attached.
Non-Winning Spins can also trigger additional Destruction Features:
Never Forgive, Never Forget – One symbol is selected, and all symbols of that type move to the centre of the grid, destroying anything in their paths.
Bring It! – All high paying symbols on the grid are selected. Some of them are destroyed, and others are transformed into matching high paying symbols.
One Against The World – All instances of one symbol on the grid are highlighted. Adjacent symbols will either be transformed to match this symbol, or destroyed.
Chain of Command – A chain of symbols is selected on the grid. Some of these symbols are then destroyed, and others are transformed into the same symbol.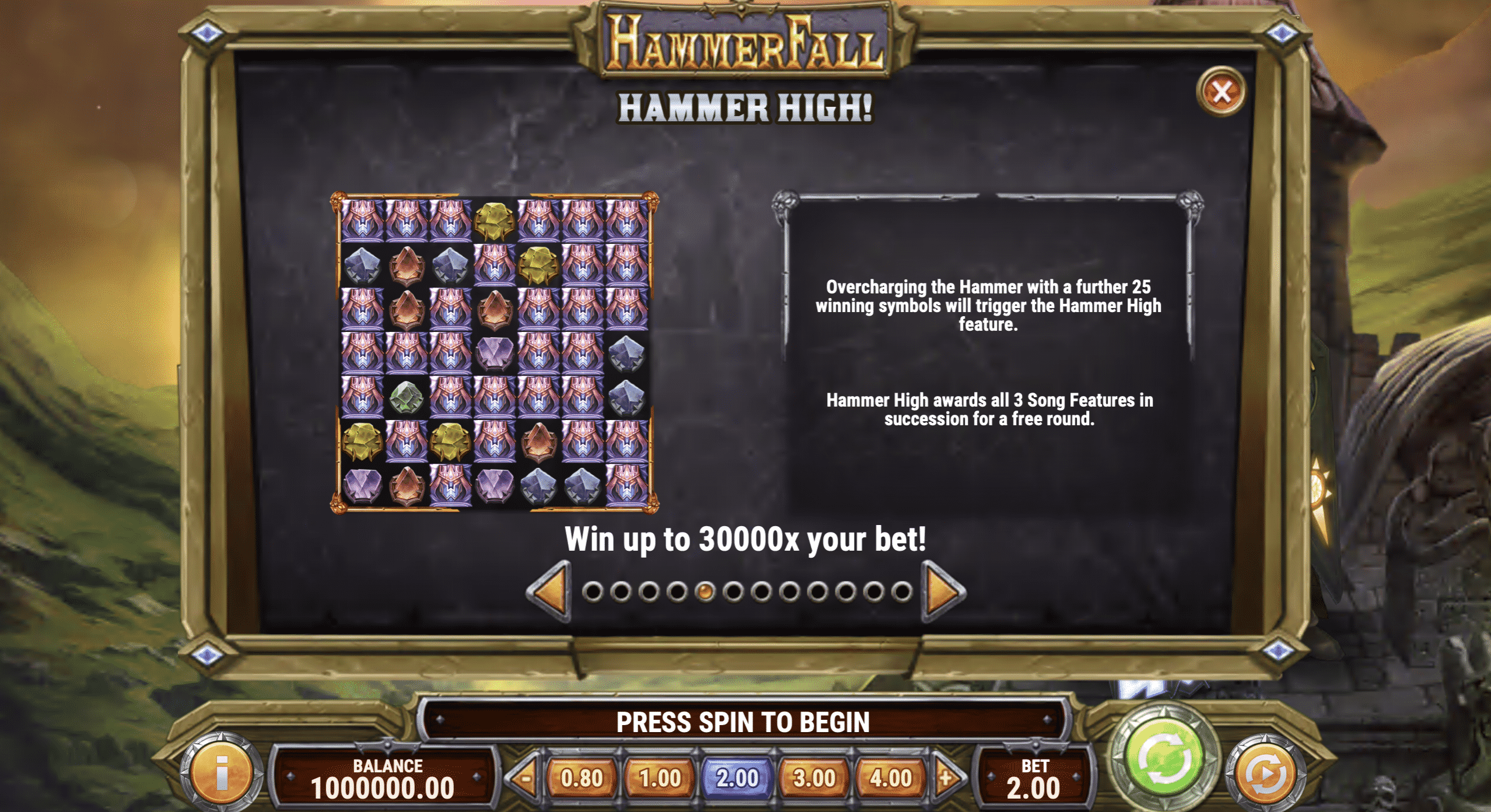 HammerFall Bonus
Charging the Hammer Meter up to 50 triggers Hammer High!, the bonus feature in HammerFall. During Hammer High! all 3 song features are awarded in succession. Players should look out for Second to None changing all premium symbols to the same kind, and then And Yet I Smile removing non premiums from the board, allowing for some huge wins, much like the Transform & Shatter within Wild Frames.
First Impression
It seems that Play'n GO have made a decision to combine a lot of tried and tested features from their other grid games, to combine into HammerFall. There are elements of Moon Princess, the shatter from Wild Frames, the smaller wild from Reactoonz, and some elements of a more recent release, Golden Osiris also. This could be a testament to Play'n GO listening to players and bringing back some of the best features from slots gone by. The look and feel of the game combined with stellar audio mean it creates an enjoyable atmosphere from the first moment. Highly volatile, with wins of up to 30,000x means this slot packs a punch with potential. Nothing alarmingly new comes to the forefront here, but the mechanics that are left behind are enough to please an audience of all stakes. Play'n GO are certainly tapping into a niche audience, and HammerFall will certainly invite fans of the band, if nothing else.
*The screenshots taken of games reviewed on this site are taken from Demo Play, as reviews are often written before games are released for real play.