Stakelogic are back with another exciting release in the form of Hero Clash, where wins of up to 5,000x are on offer alongside 4 different free spin stages. Players are welcomed to join four powerful heroes from around the world in this thrilling addition to the Stakelogic catalogue, set across a 5×3 reel base with 243 ways to win. The four heroes, Slade, Charger, Hot Shots and Sonic Boom, help to form exciting winning combinations by unleashing their unique powers within free spins, triggered with the help of a collection meter, which works towards helping players to get the best experience out of this new release. RTP as standard is 96.10% in Hero Clash, however 6 settings are on offer, ranging between 87.99% and 98.10%. Volatility is high, and the maximum win is a fair 5,000x bet.
Visuals are bright and crisp, with distinctive symbols and the four heroes adopting an almost cartoon effect, helping to keep things fun. When Super Stake is activated, the reels are a bright, shining gold colour, but without this feature most of the action sits atop grey, rocky foundations. Audios take on an almost triumphant feeling, whilst not being too distracting, making the overall experience playing Hero Clash a perfectly pleasant one.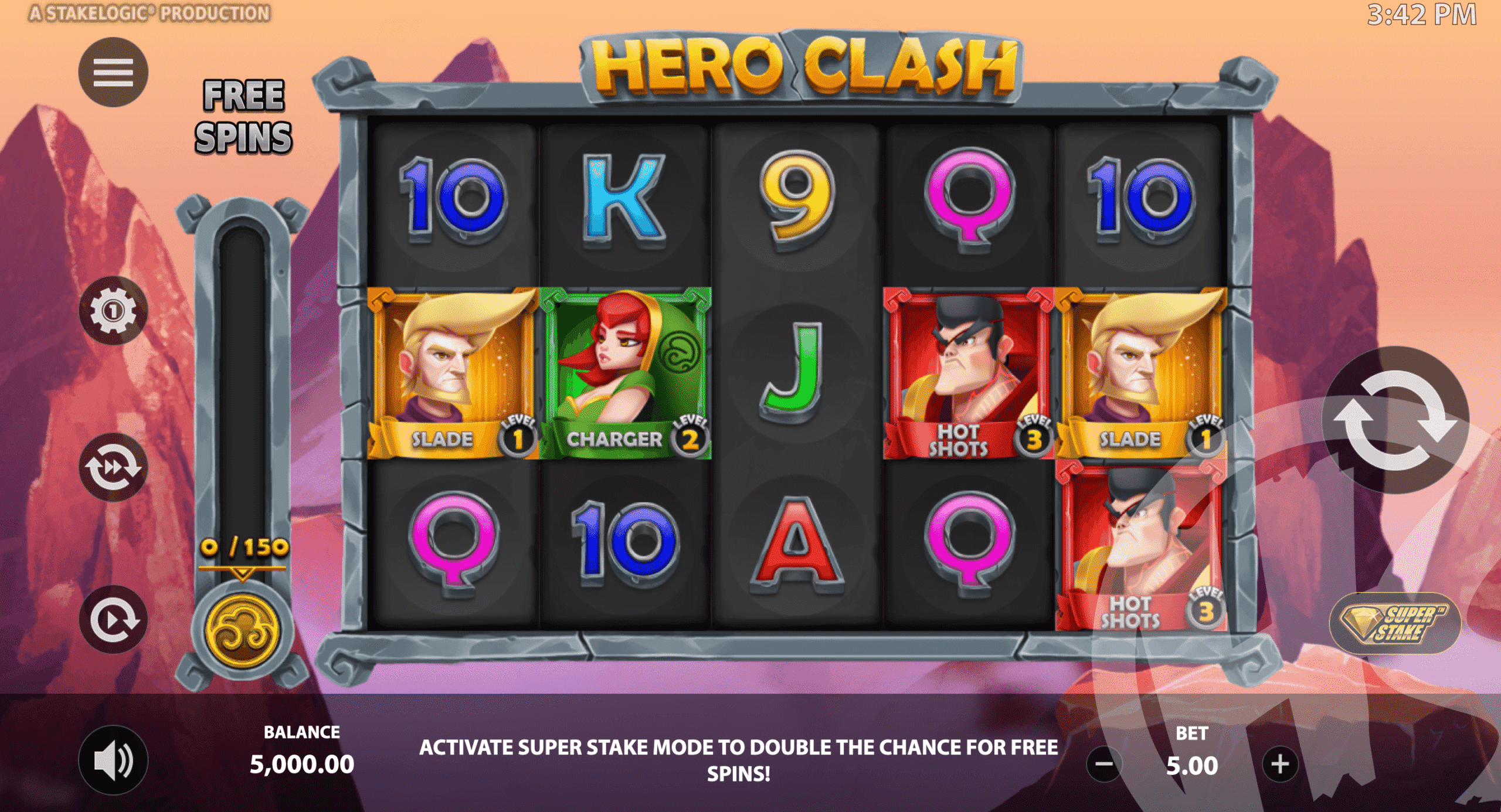 Hero Clash Base Features
Hero Clash makes use of 10 regular pay symbols to form wins. At the lower end, 9, 10, A, J, K, and Qs reward players between 4 and 6x bet for 5 of a kind. Premium symbols introduce our heroes, who make up the four stages of the game – Slade, Charger, Hot Shots and Sonic Boom, paying between 8 and 14x bet, again for 5 of a kind. Wilds substitute for all symbols except Hero Power scatters and Scatter symbols, represented purple Bonus symbols and paying between 0.10 and 20 depending on the trigger.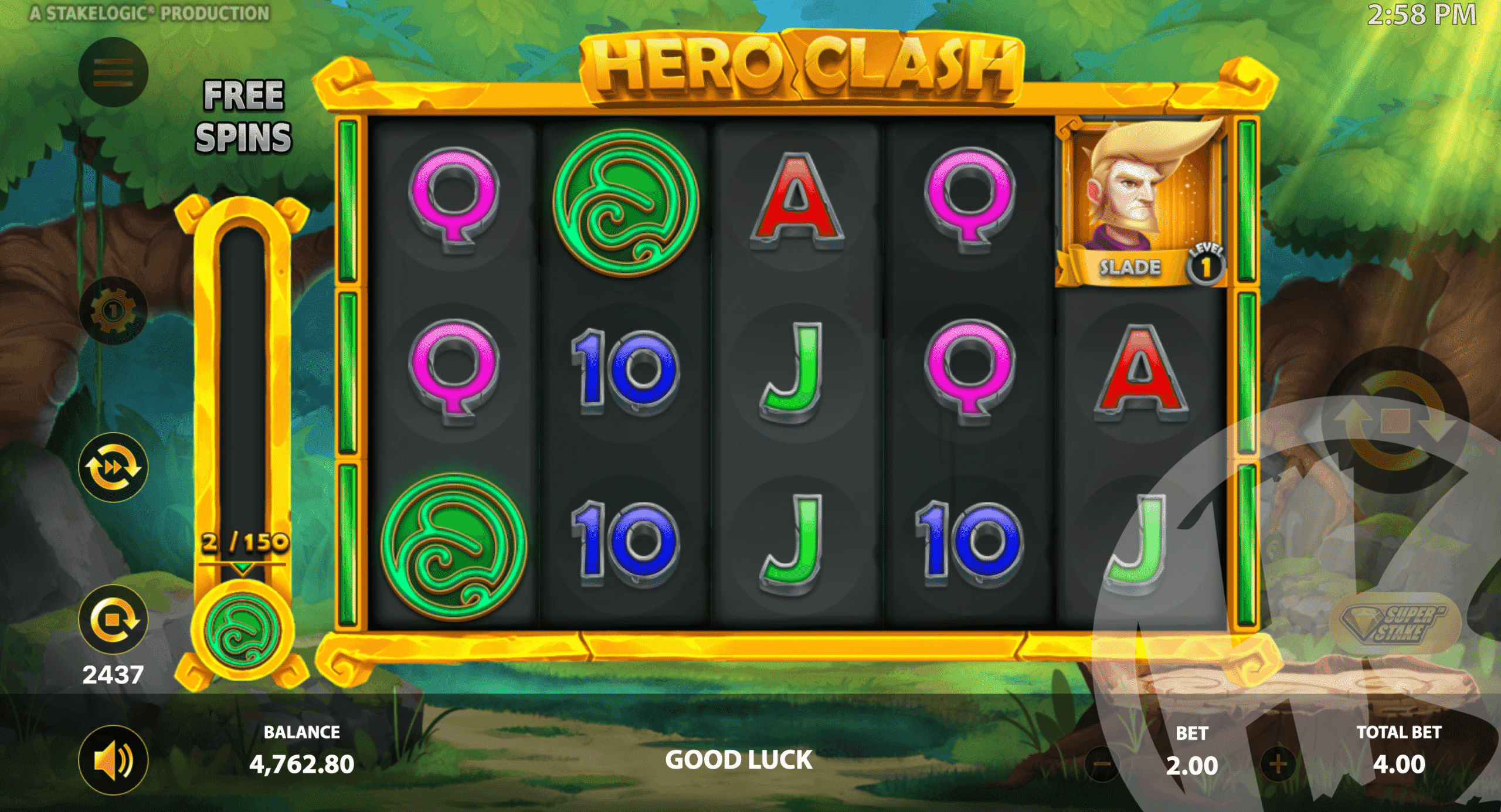 Stakes between 0.10 and 100 are available, inclusive of Stakelogic's Super Stake feature, continued in this release. Players can choose to double the bet to the Super Stake for double the chance of triggering free spins, however symbol payouts are not increased by activating Super Stake. Given the Hero Power Meter, which we'll get to below, it's hard to say how beneficial doubling the bet for an extra feature chance really is.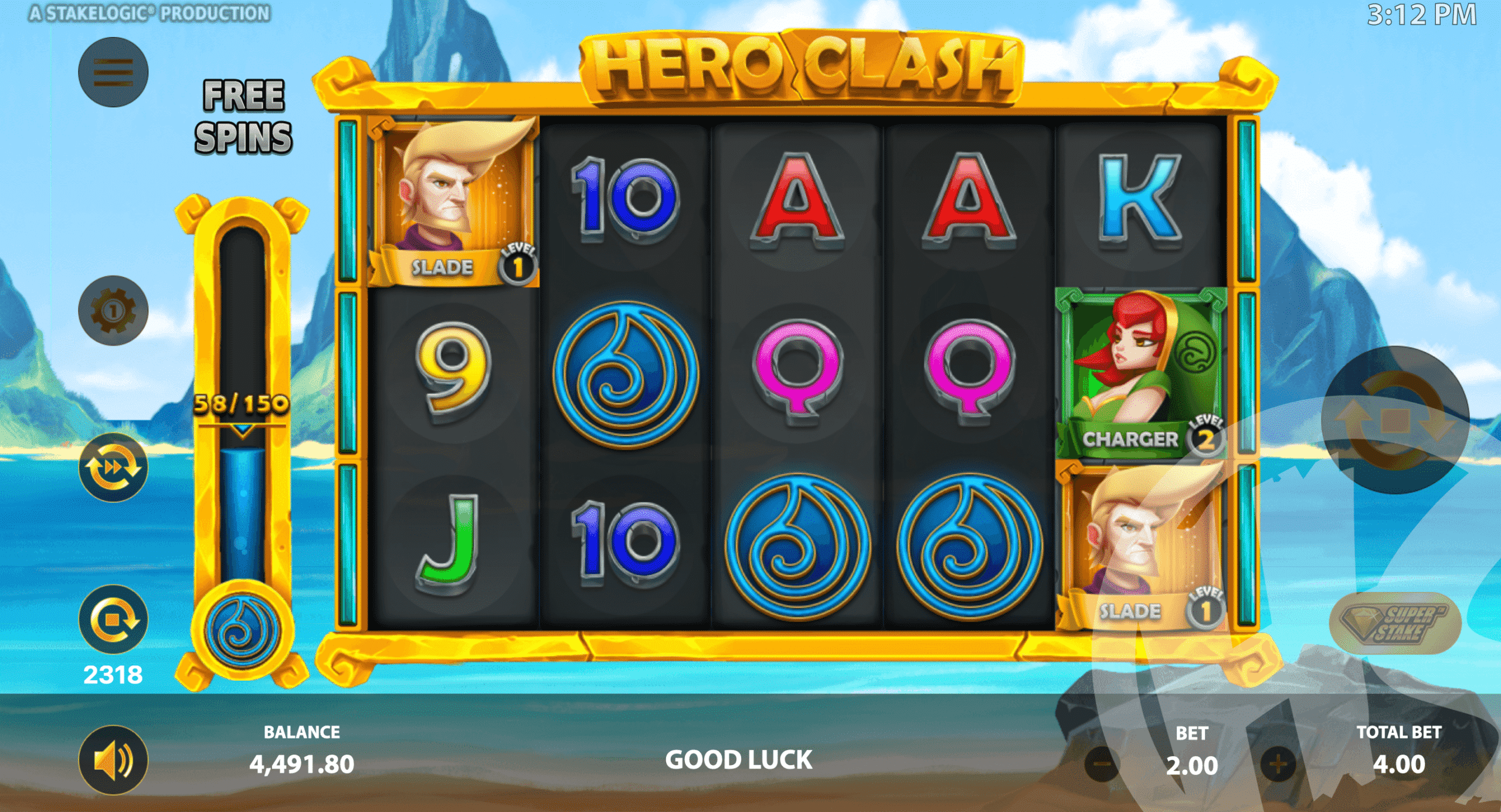 Hero Clash moves players across 4 different stages, indicated by the backdrop behind the reels, and the colour of Hero Power scatters. The first stage is set upon a hazy, rocky landscape, followed by a forest, a volcanic area, and finally a beachfront. Collecting 150 Power scatters fills the meter and awards 12 free spins for that respective stage, before progressing players to the next stage. The Power scatter symbol being collected sits at the bottom of the Power Meter to the left of the reels, and is a somewhat Celtic-styled symbol, reminiscent of the relevant location with clouds, leaves, fire and waves.
Collection is relatively straight forward:
1 Hero Power Point: Awarded on any spin without a monetary win or without Power scatters.
1 Hero Power Point: Awarded on any spin with 2 Power scatters.
50 Hero Power Points: Awarded on any spin with 3 Power scatters.
70 Hero Power Points: Awarded on any spin with 4 Power scatters.
100 Hero Power Points: Awarded on any spin with 5 Power scatters.
Landing 3 or more Scatter symbols also completes the Power Meter, awarding free spins.
Hero Clash Bonus
Once the Power Meter is filled (at 150 Points), 12 free spins are awarded with a x2 multiplier attached to any wins for the duration of free spins. Depending on the relevant location, the bonus will vary slightly, as each hero has a unique hero power that can be used during free spins.
Stage 1 (Slade): Randomly on each spin, Slade can add a 2×2 cluster of wilds (4 wilds in total) to a anywhere on the reels.
Stage 2 (Charger): The middle symbol on the 3rd reel is a sticky wild. On each spin, Charger will add a multiplier between x1-x5 to it.
Stage 3 (Hot Shots): On any spin at random, Hot Shots can add 1-8 wild symbols to random reel positions.
Stage 4 (Sonic Boom): Randomly on each spin, Sonic Boom can add up to 3 wild reels on reels 2, 3 and 4.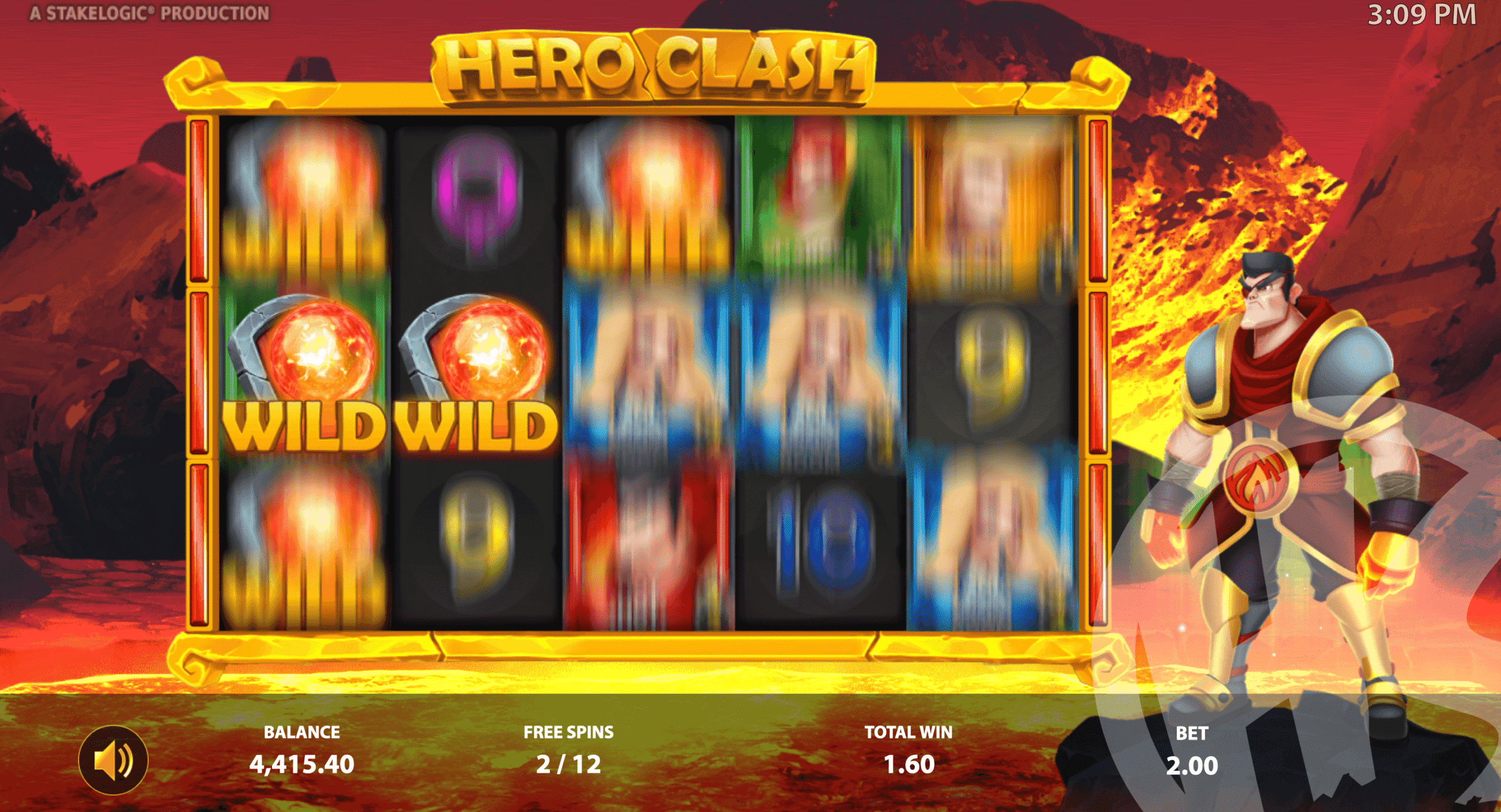 After free spins are completed, the game progresses to the next character stage (or goes back to stage 1 after stage 4), and the Hero Power Meter starts at 0 again. All win values can be gambled on Hero Clash, with a standard suit and/or colour gamble, doubling or quadrupling wins, but this feature can be disabled.
First Impression
Hero Clash seems catered more towards the casual gambler, which is a fine approach to take. From a statistical point of view, the game is reasonably solid, with a maximum win of 5,000x bet on offer and a standard RTP of 96.10% backing these wins up. Volatility levels are high, noted as 5/5 by Stakelogic, which was surprising, as I expected this to be a medium volatility game, based on play. Bonuses will indeed be fairly frequent, but with a highly volatile label attached it seems that these bonuses may very well be "all or nothing".
From a play point of view, progression through slots has been tried and tested with many releases before, and continues to be an exciting concept. Progression occurring through non-winning spins adds to the experience, keeping things moving at a fast pace. In an interesting twist, players know that at the very most they will have 150 dead spins and trigger free spins. Now, we all know that 150 spins in a row with no win isn't going to happen, but knowing the absolute worst case scenario is a helpful indicator of what can be expected, made better by frequent wins and Power scatters landing, helping to remove base game monotony.
Through our play experience, it took around 20 minutes (with Super Stake activated) since starting level 1, and arriving back to level 1 again, having completed all four bonus rounds, so players will be sure to see some frequent action and bonuses in this release, particularly with certain Power scatter combinations adding as much as +100 to the meter.
Super Stake continues to be a well-implemented feature from Stakelogic, however as we did mention above, with the collection system designed as it has been, it's hard to see how paying double the stake for double the chance of free spins is worth it, as Power scatters seem to land thick and fast anyway. After deactivating Super Stake, it took us 120 spins to progress from level 1 to level 2, and a total of 5 minutes (albeit with turbo spin activated). Players should enjoy the fast paced action of Hero Clash, which has some decent wins buried beneath the surface.
*The screenshots taken of games reviewed on this site are taken from Demo Play, as reviews are often written before games are released for real play.