Print Studios, creators of Royal Potato, are this time turning their hand to something a bit more conventional for their fifth release as we travel to the great American outdoors in Huntress Wild Vengeance. Don't let the pleasant scenes fool you – this release is highly volatile, with wins available up to 20,000x bet, and a fixed RTP of 96.45%. With nudging Wilds, Global Multipliers, and an ultra-tense Free Spins minigame Gamble, let's take a closer look at the vengeance you can expect in this one.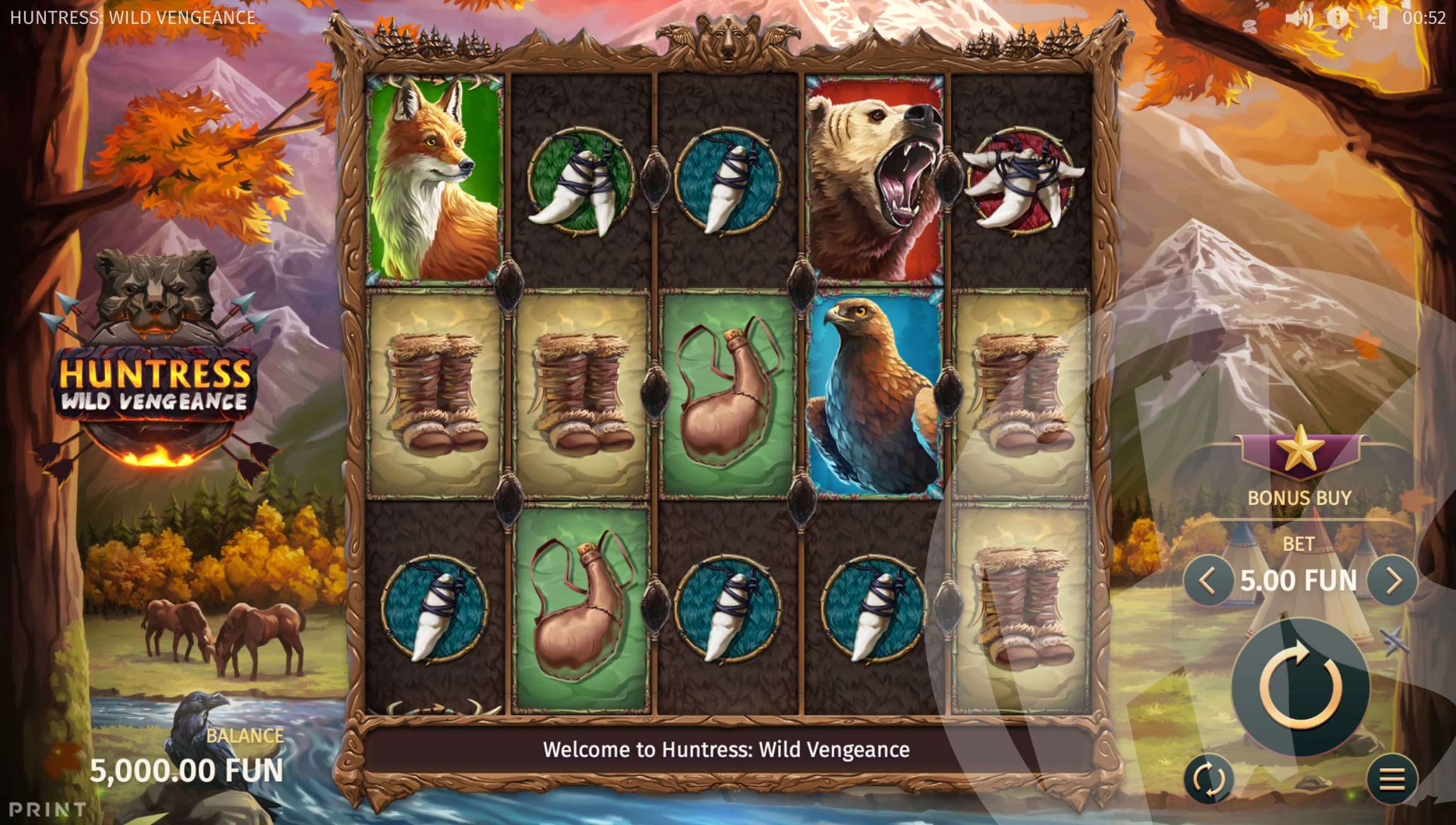 The scenery in Huntress Wild Vengeance is nothing short of beautiful – like something you'd hang in your living room, if you could remove the reels of course. It's autumnal, it's scenic, and its fitting for the overall theme – we're in the wild, but the most picturesque part of it. Audios are subtle, calming, and I'm fairly sure contain the light touch of pan flutes. Overall… Yeah, it's just nice, and there isn't much else to say on the matter.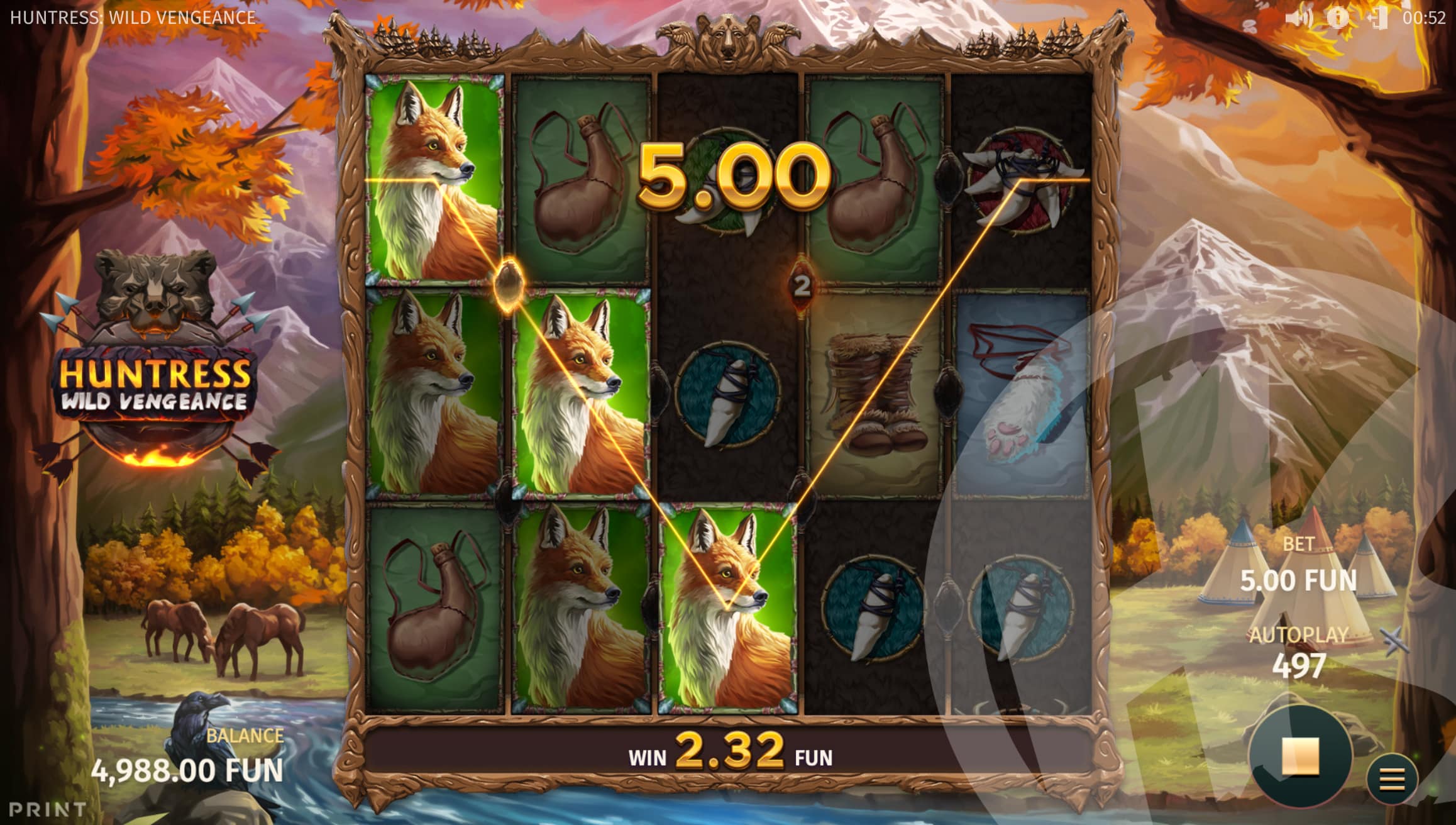 Huntress Wild Vengeance Base Features
Taking place across 5 reels, wins are formed on Huntress Wild Vengeance by matching at least 3 symbols on adjacent reels, beginning with the leftmost reel, across one of 15 fixed win lines. Symbols available begin with four non premiums – 1 tooth, 2 teeth, 3 teeth, and 4 teeth. Don't worry, there are colours to help distinguish things – blue, green, orange/brown, and red. Landing 3 of a kind of any non premium will award wins between 0.10 and 0.20x bet, with this increasing to values between 0.80 and 1x bet for 5 of a kind matches. In the mid range we have rabbit paws and a water pouch, awarding wins of 0.40 and 0.80x bet respectively for 3 of a kind, up to 1 and 2x respectively for 5 of a kind. Finally, premiums introduce us to eagles, foxes, and bears – land 3 of a kind to see wins between 1.2 and 2x bet, with these values increasing to between 6 and 20x bet for 5 of a kind matches.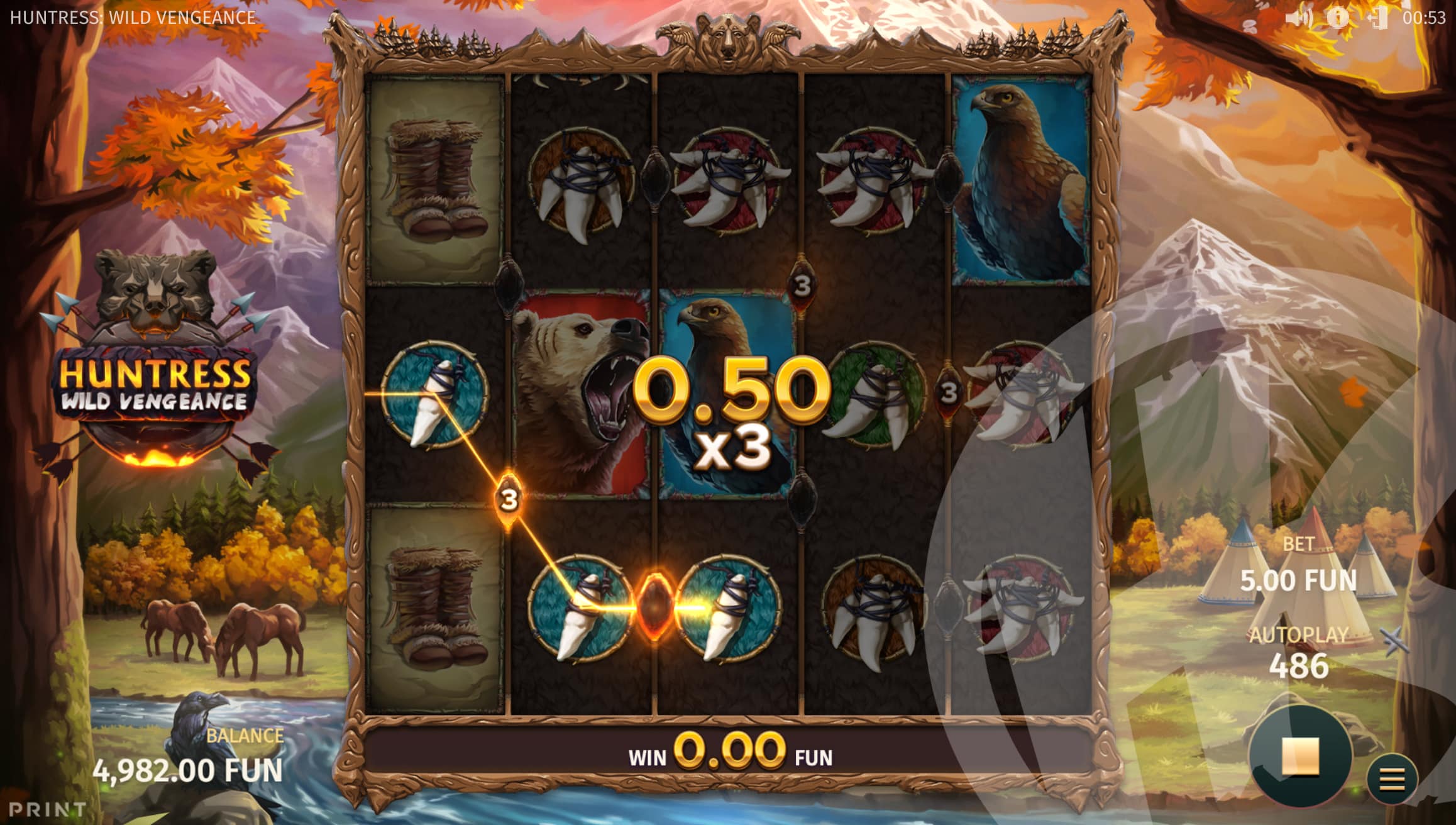 The first thing to cover in Huntress Wild Vengeance are SuperSpinners – which you'll recognise from Crystal Golem and Royal Potato, two of Print Studios' previous releases. There are 10 SuperSpinners on the reels – two between reels 1-2 and 3-4, and three between reels 2-3 and 5-6. On each spin, one or more SuperSpinners will activate, and take on a random value of 2 or more. Any winning combination wherein the win line directly passes through a SuperSpinner will then be awarded this value as a multiplier. After being involved in a win, SuperSpinner multipliers will be increased by a value between 1-9. These values can randomly reset at the beginning of any spin, and if a winning combination passes through more than one SuperSpinner, the SuperSpinner values are added together and then applied as a multiplier. SuperSpinners with no value are considered to be x1.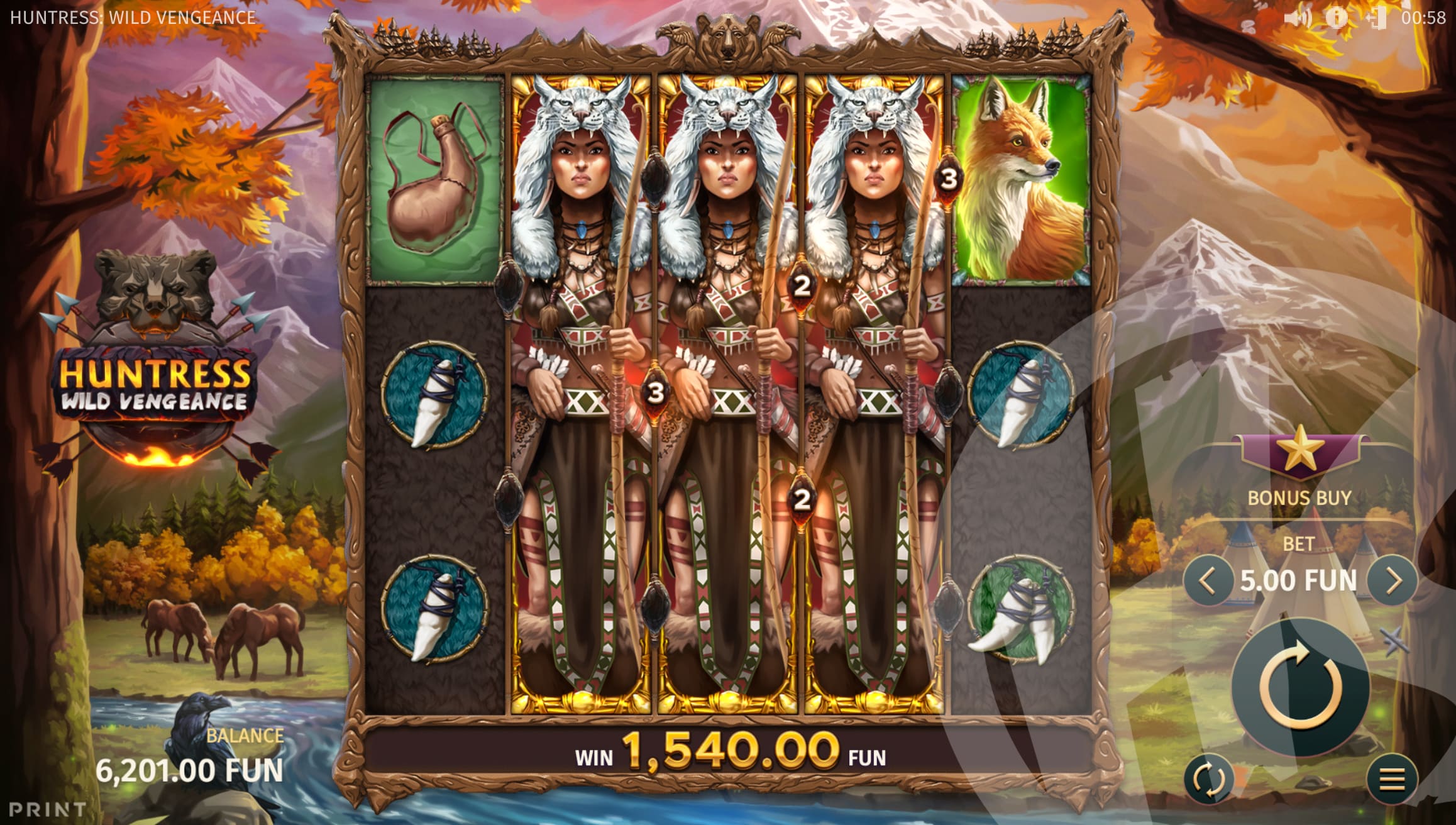 Next up is the Huntress Wild Feature. Huntress Wilds can land on reels 2, 3, or 4, and will nudge to cover the entire reel, triggering the Huntress Wild Feature. All SuperSpinner values in view will then be added to the Global Huntress Multiplier, and become inactive on their reel positions. The Global Huntress Multiplier will sit to the left of the reels, and will apply to any wins that occur when Huntress Wilds are in view, resetting after Huntress Wilds are no longer on the reels.
Landing one or more Huntress Wilds will grant 1 respin with the Wild(s) locked in place. If, during the respin, another Huntress Wild lands, +1 respin will be awarded, locking in the new Wild, and keeping the original Huntress Wild(s) locked in place. These Wilds substitute for all symbols except Scatters. At the beginning of the next spin, SuperSpinners will randomly activate again.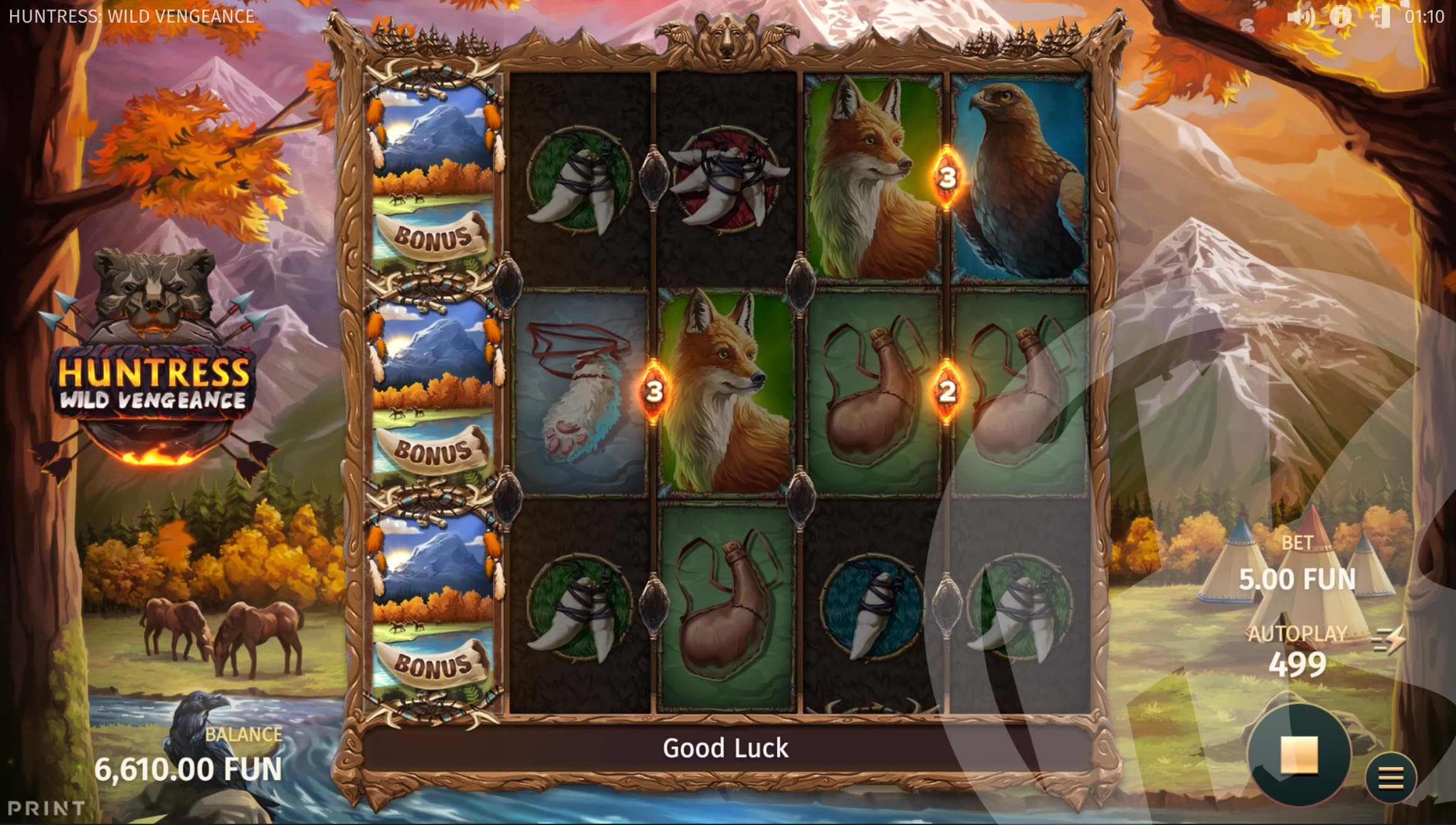 Huntress Wild Vengeance Bonus
Landing 3 or more Scatters triggers 10 Free Spins, whilst landing 4 or 5 Scatters will award an additional prize of 20 and 100x bet, respectively. Before Free Spins begin, players must choose whether they would like to gamble, or accept the 10 spins they have won. If the gamble is chosen, players enter the minigame Gamble, and can win up to 26 Free Spins.
There are two options when gambling:
Win up to 18 Free Spins – 4 Free Spins guaranteed.
Win up to 26 Free Spins – no guarantee.
Once an option is chosen, players will be taken to the minigame, where they must shoot a bear before time runs out. The game will cycle through spin amounts above the minigame, incrementing by +1, with an option to press collect at any point. Basically, each time the spin value increases, you have won this amount, and you must either collect your spins or get to the very end (26 Free Spins) before the bear escapes. The collect button has a timer animation so you know how long you have to collect, but this does not affect your chance – when the spins increase, you have won this amount whether you collect instantly or wait a few seconds. Each time spins increase, there is a chance the bear will escape, signalling that you have lost. Players that aren't sure how this might work have the chance to take either option on a Trial Run first.
During the minigame, long term RTP is the same, regardless of when you click to collect:
Collect 10 Free Spins (no gamble) – 96.41% RTP
Win up to 18 Free Spins (4 Free Spins guaranteed) – 96.45% RTP
Win up to 26 Free Spins (no guarantee) – 96.42% RTP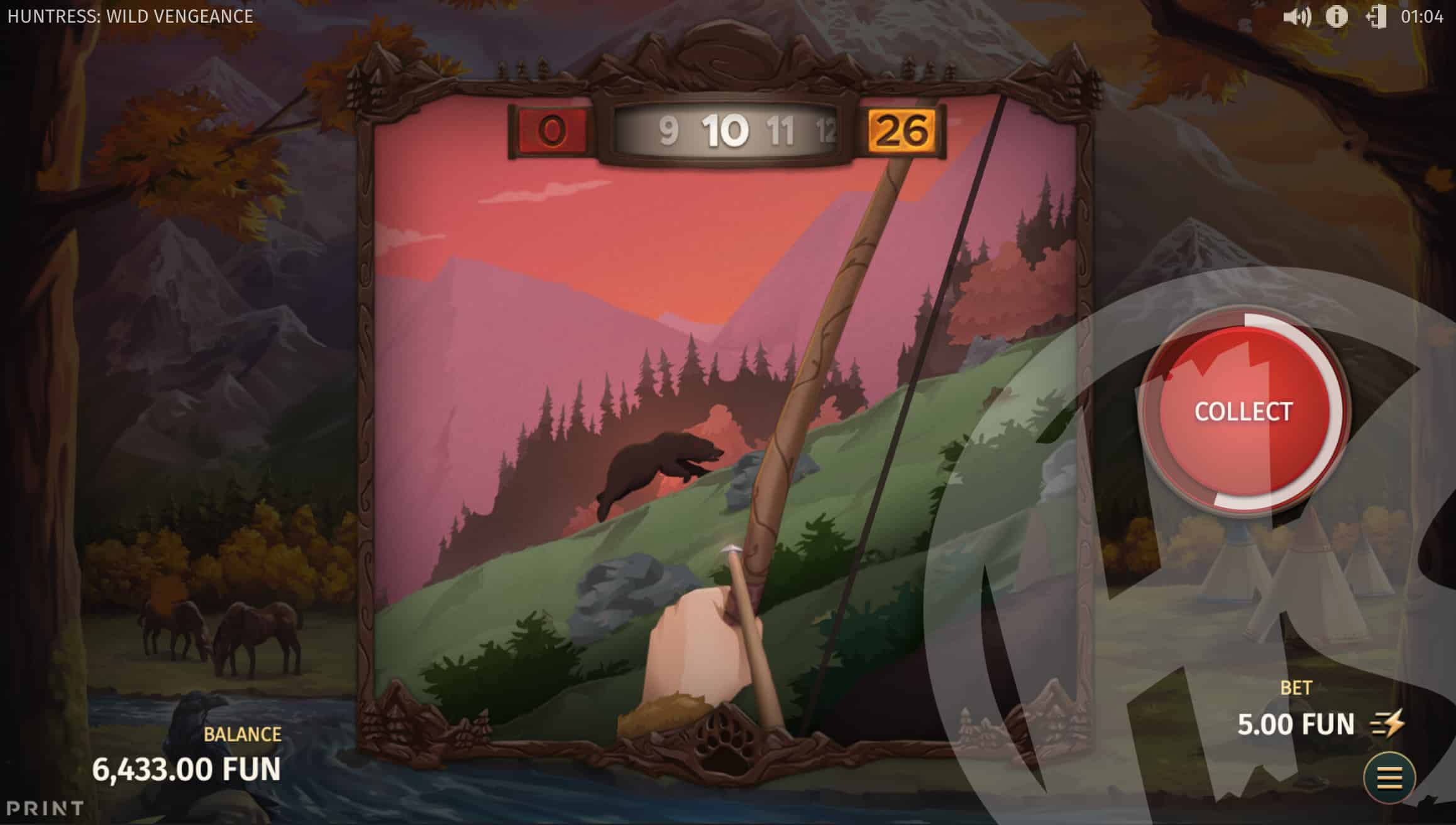 During Free Spins, things are very simple – the Huntress Wild Feature can trigger in the same way as above, and the Global Huntress Multiplier is active. Alongside this, the Global Multiplier does not reset between spins, however it will only apply to wins when a Huntress Wild is in view.
Players in appropriate regions can buy the feature for a cost of 93x bet, with an RTP of 97.20%. Things play through as normal when buying the feature, including the minigame Gamble.
The maximum win available in Huntress Wild Vengeance is 20,000x bet. If the sum of a single game round exceeds this, the game round will end and 20,000x bet will be awarded.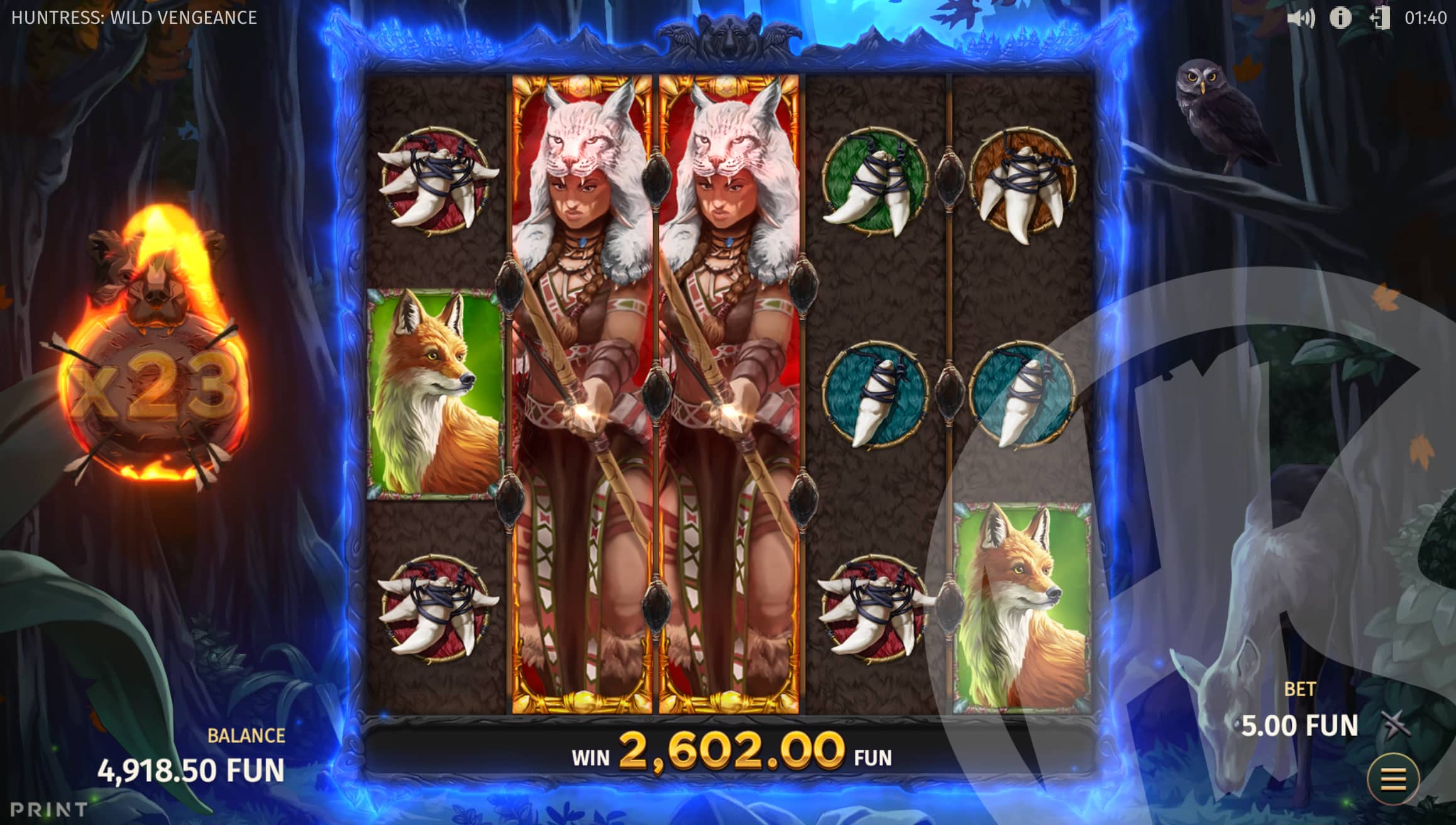 First Impression
For a new studio with less than 5 games under their belt, Print Studios are continuing to knock it out of the park, both with their interesting themes, and their stellar audiovisuals. In this case, it's the latter – we aren't anywhere particularly unique, but it's nice to look at. Graphics really are superb in Huntress Wild Vengeance, proving that you don't need to go too extreme to produce something aesthetically pleasing. This is particularly true in Free Spins, when things turn to nightfall with a neon blue glow, really setting the scene for something exciting.
Speaking of Free Spins, this is where things really come into their own. The Huntress Wild Feature is exciting enough in the base game, especially when all 3 land in view, but this is taken to new heights in Free Spins, with the Global Multiplier not resetting between spins. Potent combinations are possible here – up to the value of 20,000x bet.
Of course, it is possible to gamble Free Spins, and I'll just be the one to say it – I can't handle the gamble. It's not because it's not fair, or not done well, but I just can't handle the pressure. There's something about pressing a button and watching a wheel spin that is so much easier than a timer counting down on every single spin, hoping the bear doesn't escape. Even when testing the slot, the tension was high, and it wasn't my money. This is something that has been done fantastically by the team, however – it's not easy to build tension so much, and they've done it in such a simple way. I imagine this will also be a great game for producing video content – a bit like Vikings Unleashed Megaways, where everyone wants the max, but when the pressure is on, will it happen? It's definitely worth going for the Trial Run on this to experience the pressure.
Highly volatile, and with a fixed RTP of 96.45%, Huntress Wild Vengeance is more than worth a try, especially if you're a fan of the theme, or nudging Wilds working hand in hand with multipliers.
*The screenshots taken of games reviewed on this site are taken from Demo Play, as reviews are often written before games are released for real play.