It's time to head off for a cool beach holiday with Hacksaw Gaming – emphasis on the cool. The team are taking us to a tropical paradise alongside an interesting little piglet, ready to dive into clear blue seas. After a walk on the dark side in Hacksaw's Bloodthirst, players can take on the popular cluster pays mechanic combined with multipliers and frozen symbols in Keep 'em Cool. With RTP options up to 96.19% (96.25% feature buy), this release is rated medium (3/5) volatility, and offers players win potential up to 5,000x bet.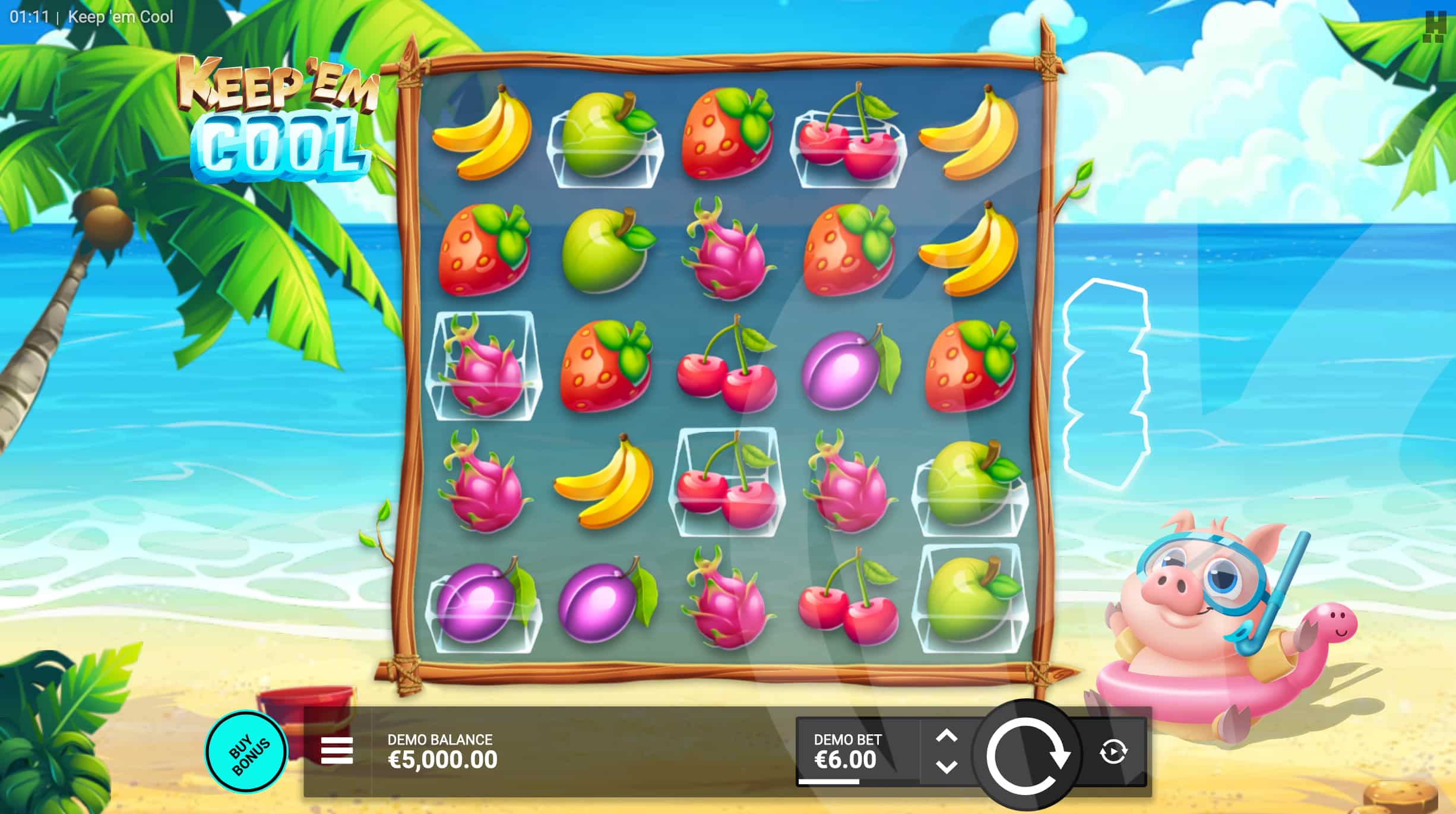 It's a pretty picture in Keep 'em Cool, with a white sandy beach leading into clear blue seas, and bright, cloudy skies above. Bright green palm trees stand to the sides of the grid, which is encased in hand tied wooden pieces. The main character is of course the piglet who has set aside his bucket and is ready to dive in with his arm bands, snorkel, and a pool ring. This is all juxtaposed against frozen ice cube symbols on the reels, which make up the excitement in this release. A tropical tune finishes it off, tying everything together into the kind of holiday we could get on board with.
Keep 'em Cool Base Features
Taking place on a 5×5 grid, wins are formed on Keep 'em Cool by landing clusters of 5 or more matching symbols, touching horizontally or vertically. Symbols pay for 5, 6, 7, 8, 9-10, 11-12, 13-14, 15-16, 17-18, 19-20, and 21+, and begin with non premiums – apples, bananas, and oranges. Land clusters of 5 of any non premium to see wins of 0.10x bet, increasing to values between 400 and 600x bet for clusters of 21+. In the mid range there are cherries, plums, and dragon fruits, awarding wins between 0.30 and 0.70x bet for clusters of 5, increasing to values between 800 and 2,000x bet for clusters of 21+. Finally, the highest paying symbols are strawberries, awarding wins between 1 and 5,000x bet for clusters between 5 and 21+.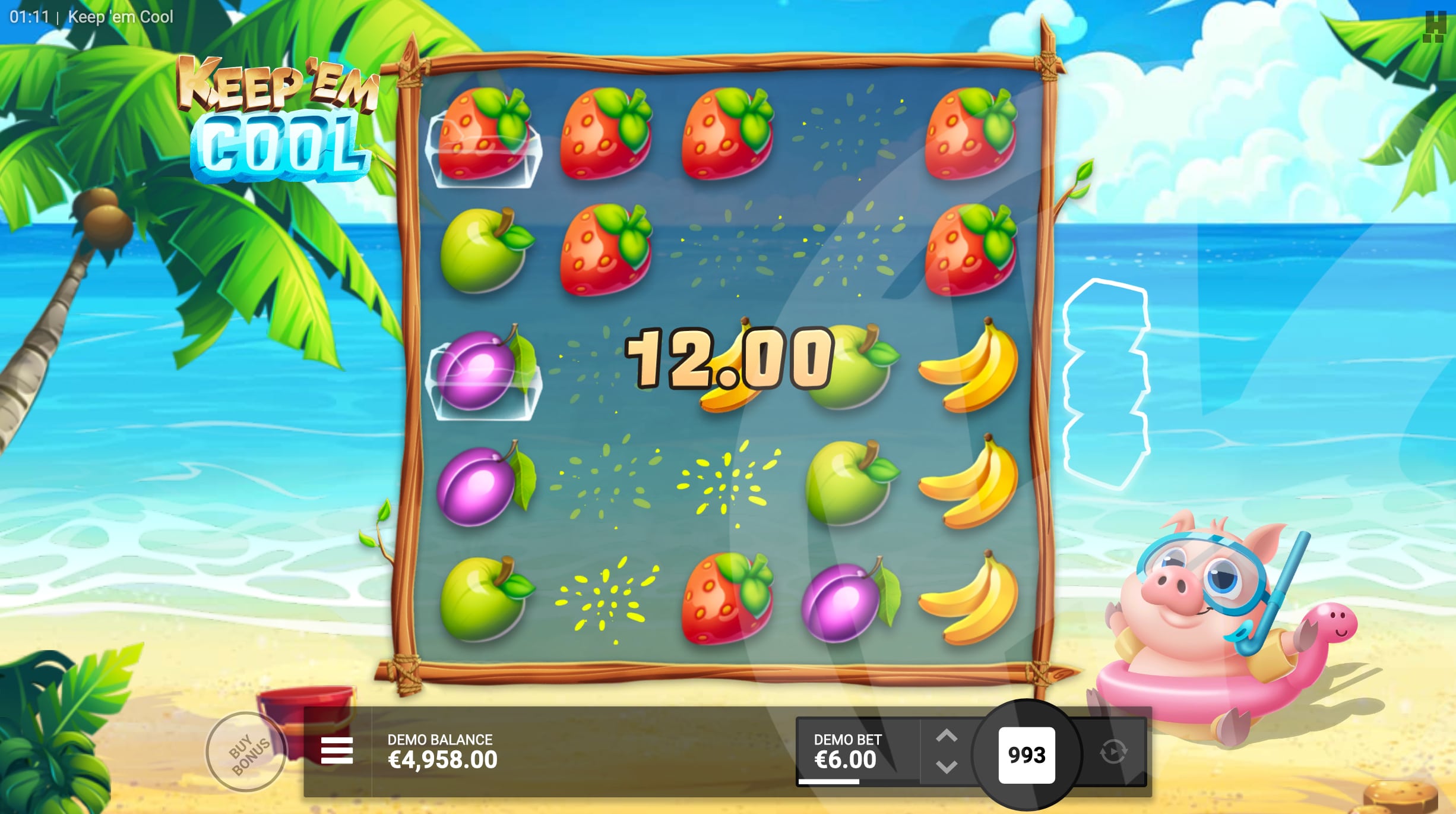 The first thing to cover in Keep 'em Cool is the cool element – Frozen Symbols. All symbols have three states – fully frozen, half frozen, or unfrozen. Each time a winning combination occurs, any symbols involved in the win that were unfrozen will be removed from the grid. Any frozen or half frozen symbols involved in winning clusters are not removed from the grid. After all winning combinations have been paid, all unfrozen symbols will be removed from the grid, regardless of whether they were involved in a winning cluster or not.
All symbols that were not removed from the grid – which are frozen or half frozen – will instead change state. Frozen symbols will become half frozen, and half frozen symbols will become unfrozen.
New symbols will then drop onto the grid to replace any removed symbols, helping to form additional winning clusters. This continues until no new wins are formed.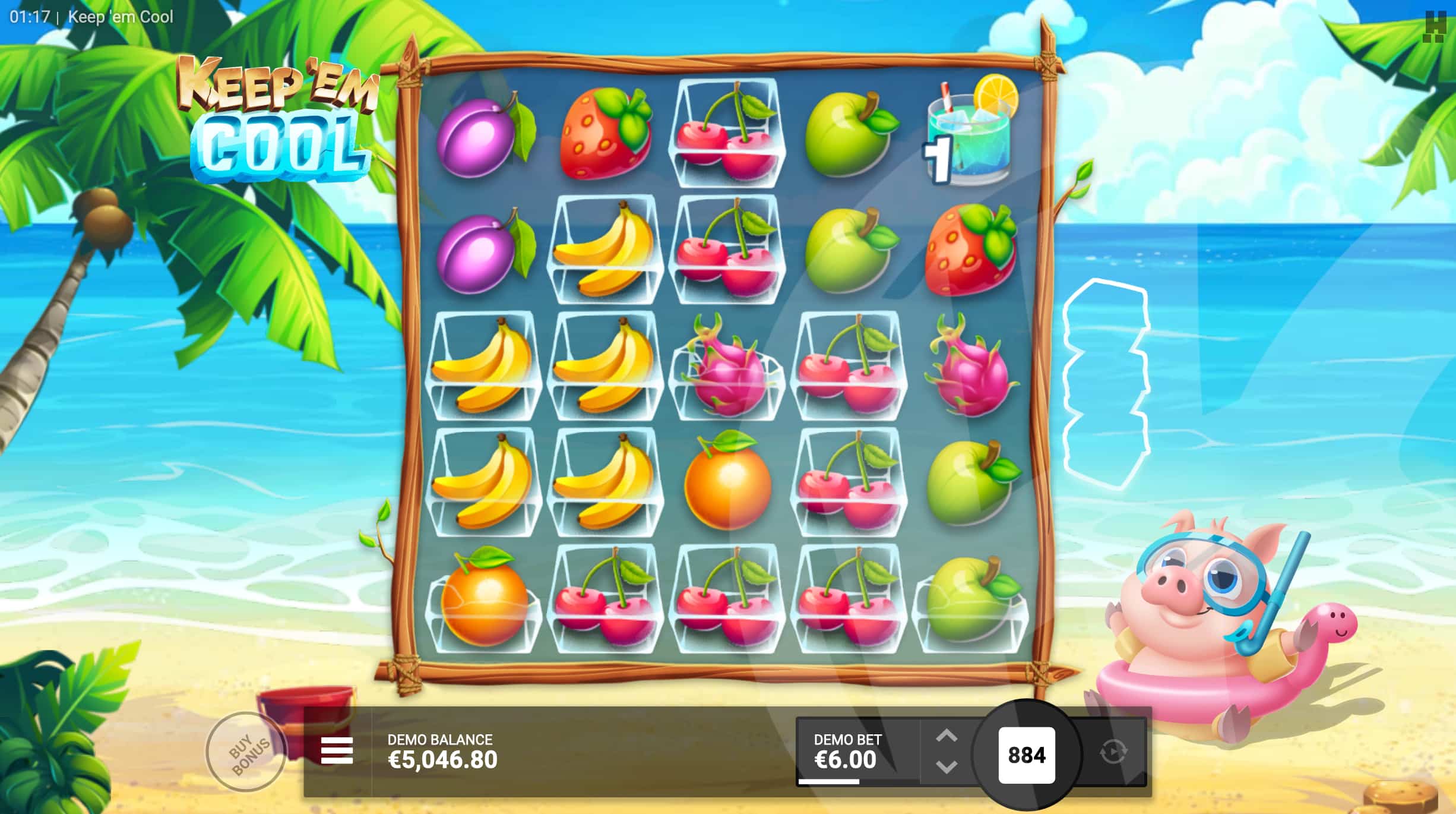 There are two special symbols which can land on the grid – Cocktail Glass Symbols and Blender Symbols.
When a winning combinations occurs whilst a Cocktail Glass symbol is on the grid, all symbols of the winning type are re-frozen to their fully frozen state. More than one symbol can be re-frozen at once. Cocktail Glass symbols will have a number attached – this is the number of times it is capable of re-freezing symbols, being removed from the grid when this number has been exhausted. With Cocktail Glass symbols, players can be awarded the same cluster wins over and over until the symbol is removed, since half frozen or fully frozen symbols are not removed from the grid. Cocktail Glass symbols can award a maximum of 5 re-freezes.
When a Blender symbol lands it will choose one type of symbol to absorb. All instances of this symbol are absorbed by the blender, with new symbols dropping in to replace them. This continues until no more instances of the chosen symbol are on the grid. At this point, the Blender symbol will award a prize equivalent to a cluster of the absorbed number of symbols. Blender symbols always start with a count of 2 symbols, adding +1 for each absorbed symbol.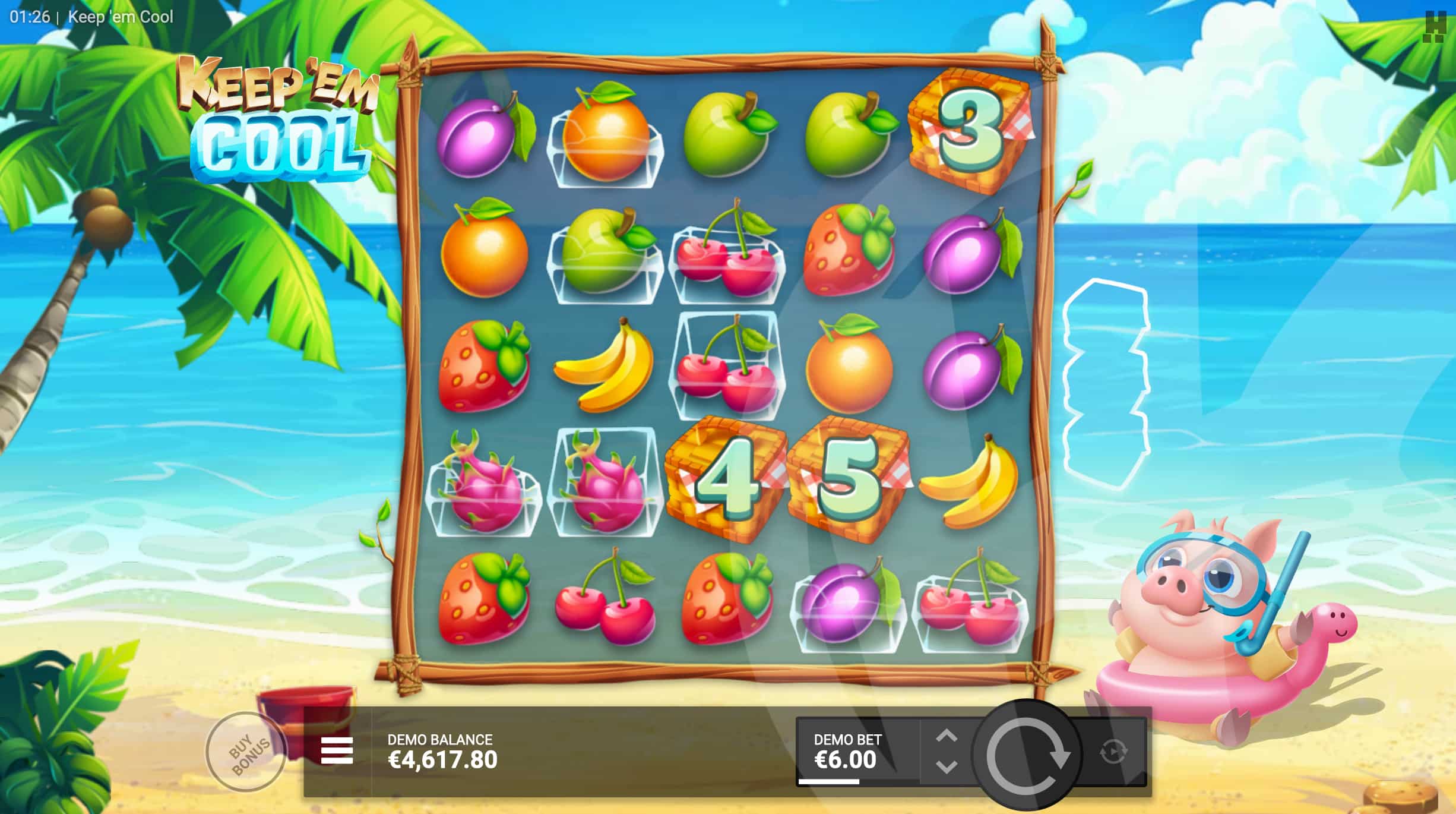 Keep 'em Cool Bonus
Land 3 Picnic Basket Scatter Symbols in one spin to trigger the Sunset Picnic Bonus Feature. Each Scatter will reveal a number of 3, 4, or 5. The sum of the numbers reveals equates to the number of spins awarded – meaning it is possible to trigger between 9 and 15 spins.
Each time a Picnic Basket Scatter Symbols lands during the feature, an additional 2, 3, 4, or 5 spins are awarded.
Aside from this, everything continues as normal in the bonus game, except there is now a higher chance of landing Cocktail Glass Symbols or Blender Symbols.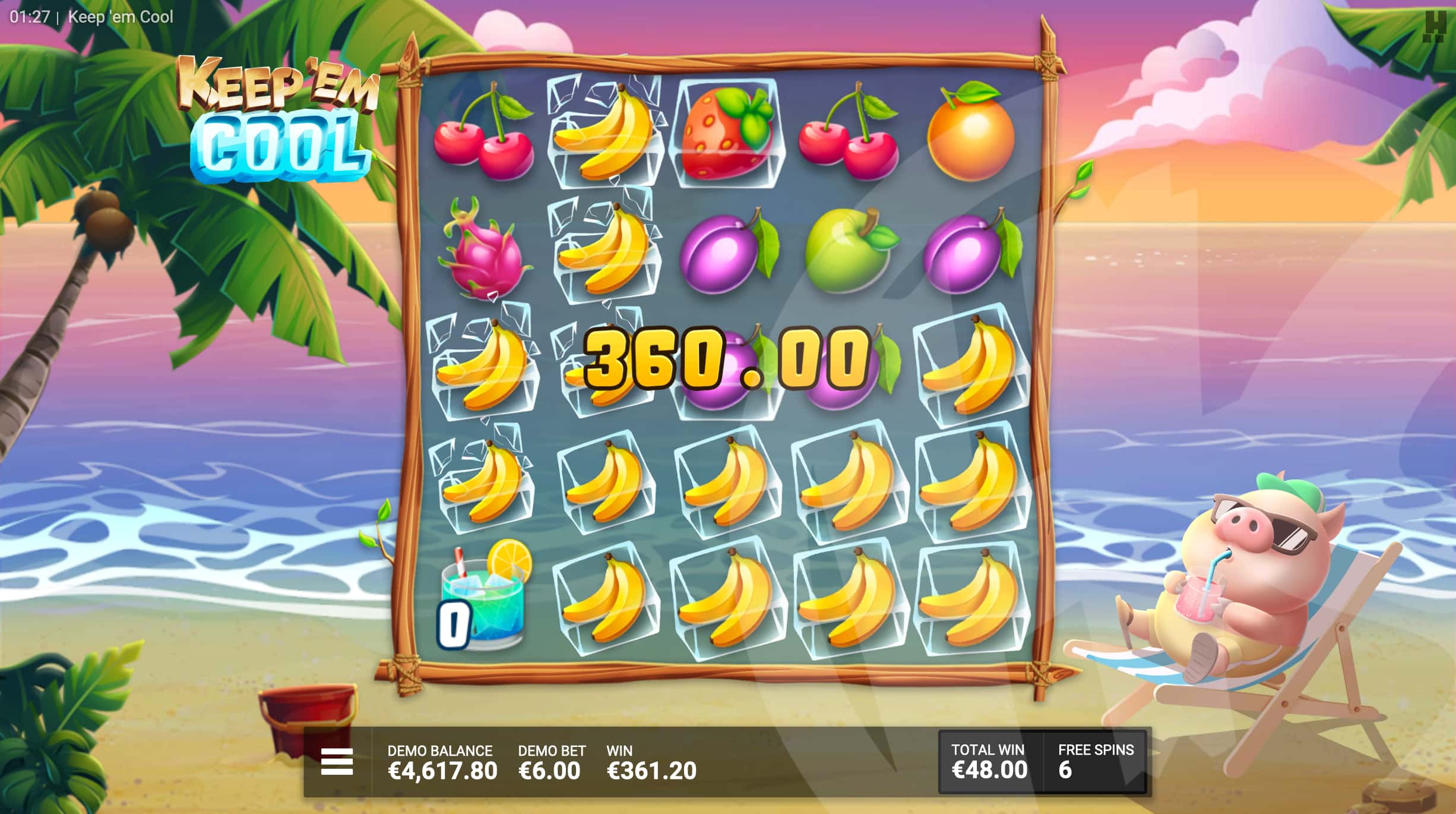 Players in appropriate regions can take advantage of the following Buy Bonus options:
Bonus Hunt FeatureSpins (5x more likely to trigger a bonus) – 3x bet (96.25% RTP)
Sunset Picnic Bonus Game – 100x bet (96.22% RTP)
The volatility of both options is high. The RTP options above are based upon the 96.19% RTP setting.
The maximum win available in Keep 'em Cool is 5,000x bet. If the sum of a single game round exceeds this, the game round will end and 5,000x bet will be awarded.
First Impression
Well, it's back to the friendly side. This team really do change between the darkest releases on the market and the most friendly – seldom opting for a traditional theme. On this occasion, we're going to sunny climates to see Frozen symbols come to life and help form winning combinations. These Frozen symbols make up the bulk of the action in the base game, aided by Cocktail Glass symbols and Blender symbols.
Moving into Free Spins and nothing really changes, although there is now a higher chance of landing the aforementioned special symbols. Blender symbols, in our experience, seem rarer than Cocktail Glass symbols – we saw the latter multiple times during both base game play and Free Spins, but didn't once see the Blender. That said, Cocktail Glasses help to recreate winning combinations up to 5 times, so we aren't mad at their frequency. When the right combinations land, wins are possible up to 5,000x bet.
Finally, maths is rated as medium (3/5) for volatility, and RTP options are available up to 96.19% (96.25% feature buy), so as always it's worth checking this. Keep 'em Cool might not be a flagship release from this team, but there's plenty here to keep you entertained.
*The screenshots taken of games reviewed on this site are taken from Demo Play, as reviews are often written before games are released for real play.