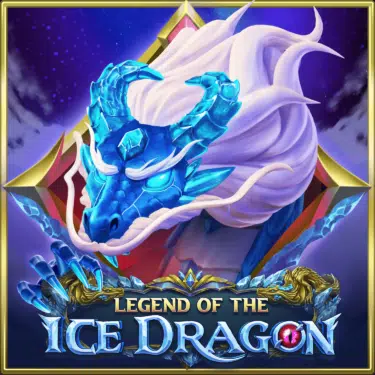 Legend of The Ice Dragon
Game Provider: Play'n GO
Release Date: Available Now
Legend of The Ice Dragon
Game Studio Play'n GO
Release date Available Now
RTP 84.26% - 96.29%
RTP Feature Buy N/A
Paylines Cluster Pays
Volatility High
Min Bet 0.20
Max Bet 100
Max. Win 6,000x
Rating 8.2/10
If I said 'wilds wilds wilds', would you know what game I'm talking about? Well, if you've ever caught a Hideous Slots Live Stream, I'd like to think so – it's Wild Frames, the 2019 release from Play'n GO. If there's one thing their team know how to do well, it's a grid release, usually accompanied by the cluster pays mechanic we love to see. When Wild Frames was released, it quickly swept the attention of players, particular those already fans of releases like Reactoonz. Since its release, the team have released an array of grid games, often with the cluster pays mechanic, but none that have really stood out as a natural follow on from Wild Frames. Until now, that is. Legend of The Ice Dragon offers a playing experience all too similar to that of Wild Frames, complete with a default RTP of 96.29%, high volatility and wins on offer up to 6,000x bet in size.
It's quite hard to describe the visuals of this release – mythical, maybe? It's a bit like the exposure has been turned up to the max on the background, where we can kind of make some subtle shapes out, but mostly it's like very pale lilac clouds. The real star of the show is, of course, the Ice Dragon, who sits to the right of the reels, shining in his bright blue scales. The reels themselves have that frosty kind of feel to them, whilst being immediately recognisable from the previous release. When the reels begin to spin, we hear a deep voice say 'good luck', with more phrases scattered throughout. Although it's hard to image this is intended to be the dragon, who really knows. Audios have an immersive, almost triumphant feel to them, but fit in well with the overall intended theme – which I'm still going to label 'mythical'.
Legend of The Ice Dragon Features
Gameplay takes place on a 7×7 grid, with wins formed by matching 5+ symbols in a cluster, touching horizontally or vertically. Symbols available begin at the lower paying end, with clubs, spades, hearts and diamonds – paying between 0.1 and 0.15x bet for clusters of 5, up to maximum values between 15 and 25x bet for clusters of 30+. At the premium end, green gems, blue flames, and purple crowns reward players with values between 0.5 and 1.5x bet for clusters of 5, increasing to maximum payouts between 75 and 250x bet for clusters of 30+. The highest paying symbol is a red dragons eye, awarding win values between 3 and 500x bet, for clusters between 5 and 30+. Finally, an icy Wild substitutes for all symbols, and can land anywhere on the reels.
The first thing to keep the base game moving forward is the Cascade feature, wherein all symbols involved in a win are removed from the reels, allowing all remaining symbols to fall to the bottom of the grid, and new symbols to drop down in their place. Cascades continue until no more wins can be formed.
On any non-winning spin, 1 of 3 Freezing Features can be triggered:
Avalanche: Destroys all instances of two symbol types in view, leaving up to 7 wilds behind in their place.
Blizzard: 7 symbols are selected in a pattern, with up to 5 of these symbols transformed into wilds. The rest are destroyed.
Hailstorm: One symbol type on the grid is chosen at random. 3 of the chosen symbols will have itself, plus 5 adjacent symbols, destroyed or transformed into wilds. Between 1-3 wilds can be revealed per cluster, for a total of up to 9 wilds.
Any wilds will create an Ice Frame where they land on the grid at the end of each Cascade. When a wild lands on an existing Ice Frame it increments a multiplier, up to x8, with only the highest multiplier used for each winning cluster. Ice Frame multipliers remain inactive until Dragon Blast is triggered.
While Cascades are happening, the Ice Crystal Charger to the left of the reels will be filling up. You can see from looking at it that there are 4 evenly spaced sections within, each requiring 20 winning symbols to fill. Collect 20, 40, 60 and 80 winning symbols to activate the Ice Crystal Features:
Tail Lash (20 symbols): Transforms all high paying symbols into the same high paying symbol.
Ice Scorch (40 symbols): Transforms 3-6 random symbols into wilds.
Destruction (60 symbols): Removes all low paying symbols on the grid.
Dragon Blast (80 symbols): All symbols with Ice Frames transform into Wilds, and all Ice Frame Multipliers activate.
Should the Ice Crystal Charger be Overcharged, additional Ice Frames will be awarded. Every additional 10 winning symbols past 80 will award 2 Ice Frames.
First Impression
It's rare for the team at Play'n GO to make a grid game that doesn't offer a fantastic playing experience, and Legend of The Ice Dragon has already been added to the list of successes. Sure, it's similar to what is already out there, and I would even go as far as to say it's verging on a simple reskin (with a few minor tweaks in Freezing Features), but somehow it doesn't feel like a reskin. It is incredibly similar to Wild Frames, but something about it just feels different – although this could be because of the strong theme.
Aside from feelings, statistics do vary, with the maximum win available in this release now 6,000x bet – a small decrease on the 7,000x bet of Wild Frames. That said, I'm not sure I've ever seen anyone achieve the maximum win on Wild Frames – it's just a release that's fun enough for players to be happy with any decent win, and it doesn't feel like Legend of The Ice Dragon will be much different, with the max win landing on average 1 in 5billion spins. Volatility, whilst still high at 8/10, has decreased from the previous 10/10 rating, meaning this release should in theory be a softer play. As always RTP does vary, so be sure to check before spinning – default should be 96.29%, however.
Excitement continues to build in this release, particularly in those moments where you're just 1 winning symbol from the Dragon Blast feature, or you can see how well positioned your Ice Frames are, so Play'n GO have done a good job of keeping that active.
The deep voice that rings throughout saying things like 'get ready', 'success' and 'feel the cold' does go towards the overall atmosphere, but for me pales in comparison to the female voice of 'wilds wilds wilds', which was so distinctly recognisable no matter who tried to replicate it – it doesn't really feel like the same can be said for this. Maybe I'm judging too harshly, and drawing too many comparisons to Wild Frames – after all, this isn't Wild Frames 2. However, the actual experience of the games feel too similar to not compare the two.
If you're into mythical settings and icy temperatures, Legend of the Ice Dragon will suit you down to the ground, whereas if you prefer glitz and glamour, you might miss the aesthetic experience of Wild Frames. However, I suspect most people will fall somewhere in the middle, just thankful to have another cluster pays release from the team that do them like no other.
*The screenshots taken of games reviewed on this site are taken from Demo Play, as reviews are often written before games are released for real play.