iSoftBet have made no secret of the fact that they enjoy exploring other cultures throughout their portfolio – notably with Aztec culture in their Aztec Gold and Aztec Extra Gold releases. Whilst literature indicates that the Aztec civilisation led a more brutal lifestyle, the Mayan civilisation seemed to favour science – for example, in mapping the stars, and this more laid back community of indigenous people are next on iSoftBet's list to explore, as they bring us Mayan Multi Mayhem. With wins on offer up to 20,000x bet, this medium-high (7.5/10) volatility release comes with a fixed RTP of 95.98%.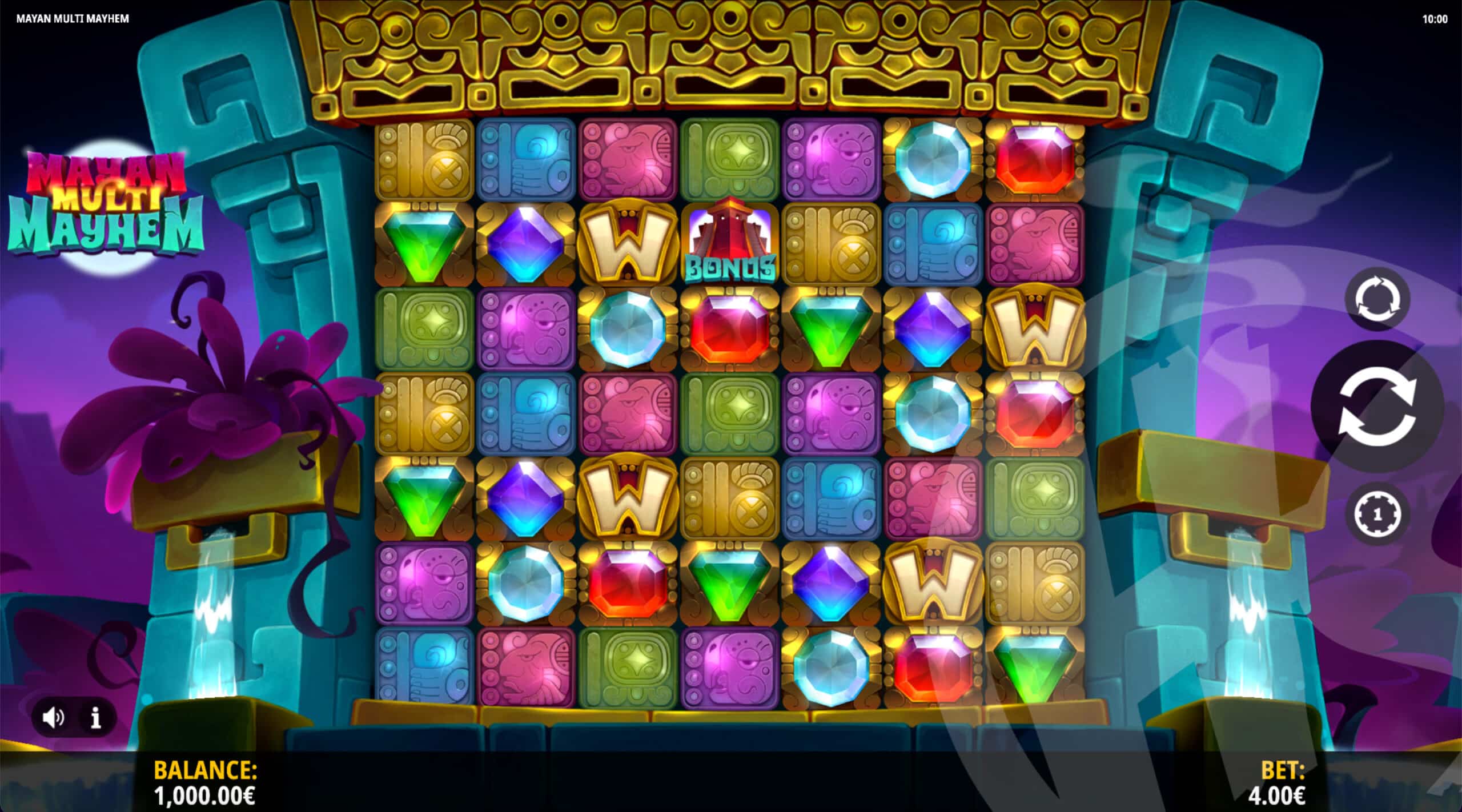 Things are bright, bold, and colourful in Mayan Multi Mayhem – tying in to the overall theme well. The reels are encased in a turquoise stone, with gold, waterfalls, and a deep purple hue breaking up the blue. Symbols themselves continue this – each consisting of a block of colour or gems, making it all very nice to look at. The whole things has a similar vibe to the aforementioned Aztec Gold releases from the team, and this includes audios, which tie the whole thing together nicely.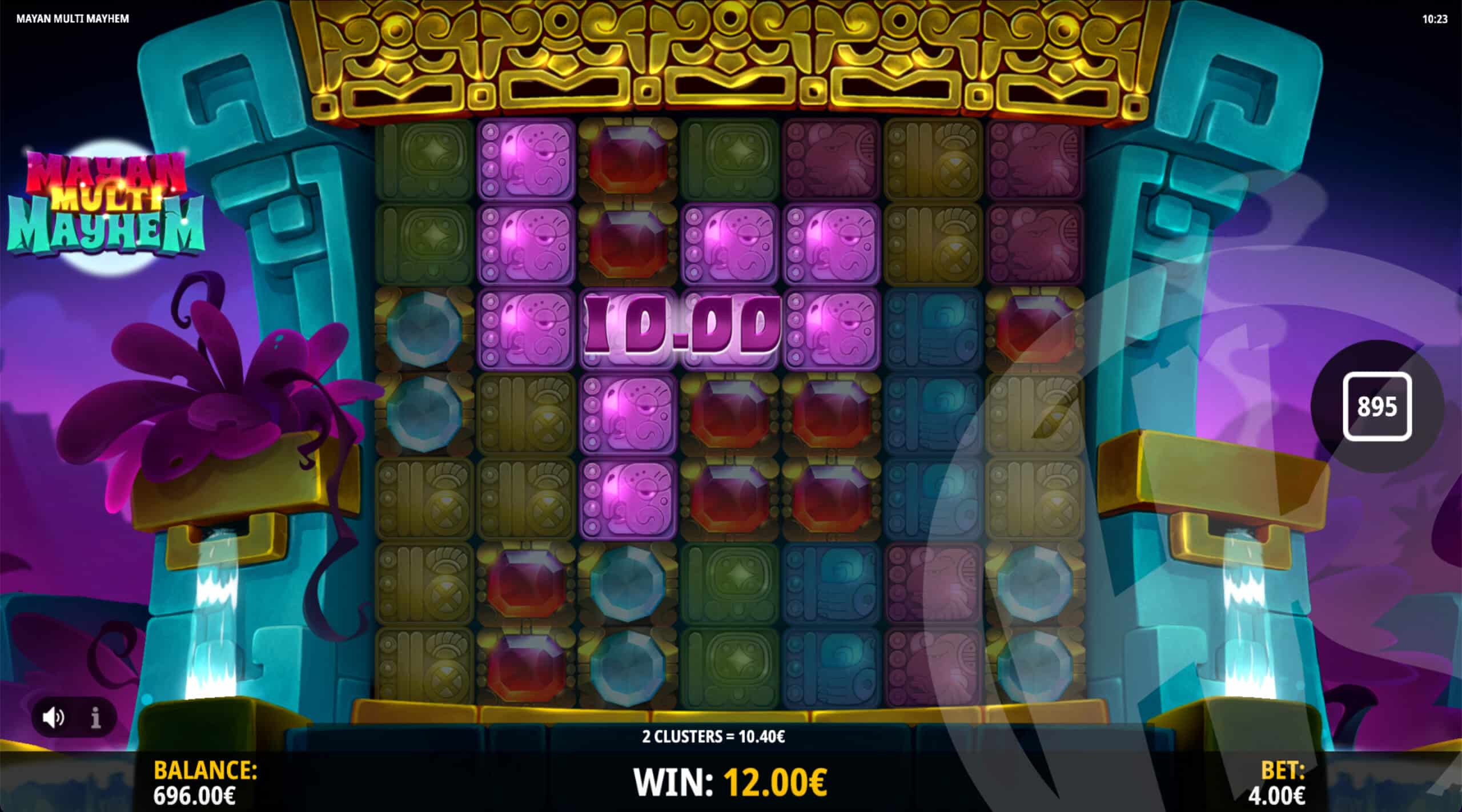 Mayan Multi Mayhem Base Features
Taking place across 7 reels, wins are formed on Mayan Multi Mayhem by matching clusters of at least 5 symbols, touching horizontally or vertically. Symbols pay for clusters of 5, 6, 7, 8, 9, 10+, 12+, and 15+, and begin with non premiums – five styled stones in yellow, blue, red, green, and purple in colour. Landing a cluster of 5 non premiums will award wins of 0.10x bet, whilst landing the maximum cluster of 15+ of any non premium will award wins between 5 and 40x. When it comes to premiums, we have four gems – aqua, red, green, and a blue/purple colour. Land a cluster of 5 premiums to see wins between 0.25 and 0.50x bet, with this increasing to values between 50 and 250x bet for clusters of 15+. Finally, Wilds are available, substituting for all symbols except Bonus symbols.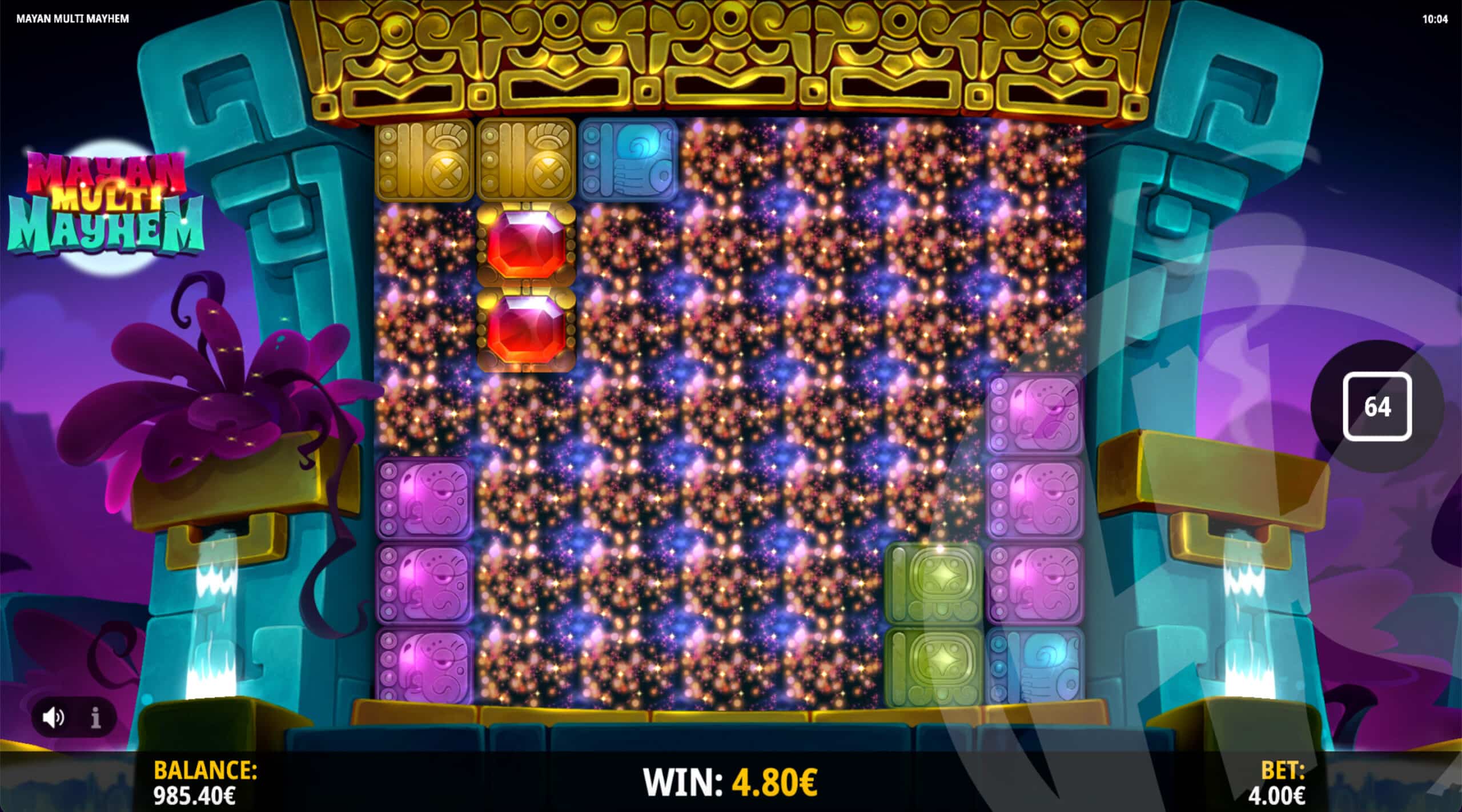 Alright, the first thing to cover in Mayan Multi Mayhem is the tumble/cascade mechanic – I'm not actually sure what name iSoftBet give to this but let's face it, they're synonyms. Either way, on every spin all symbols involved in a win will be removed from the reels. Any symbols left behind will then drop down to the bottommost available position on their respective reel, and new symbols will drop in from above to fill the remaining gaps – and offer the chance for additional cluster wins to be formed. Cascades continue until no new wins are formed.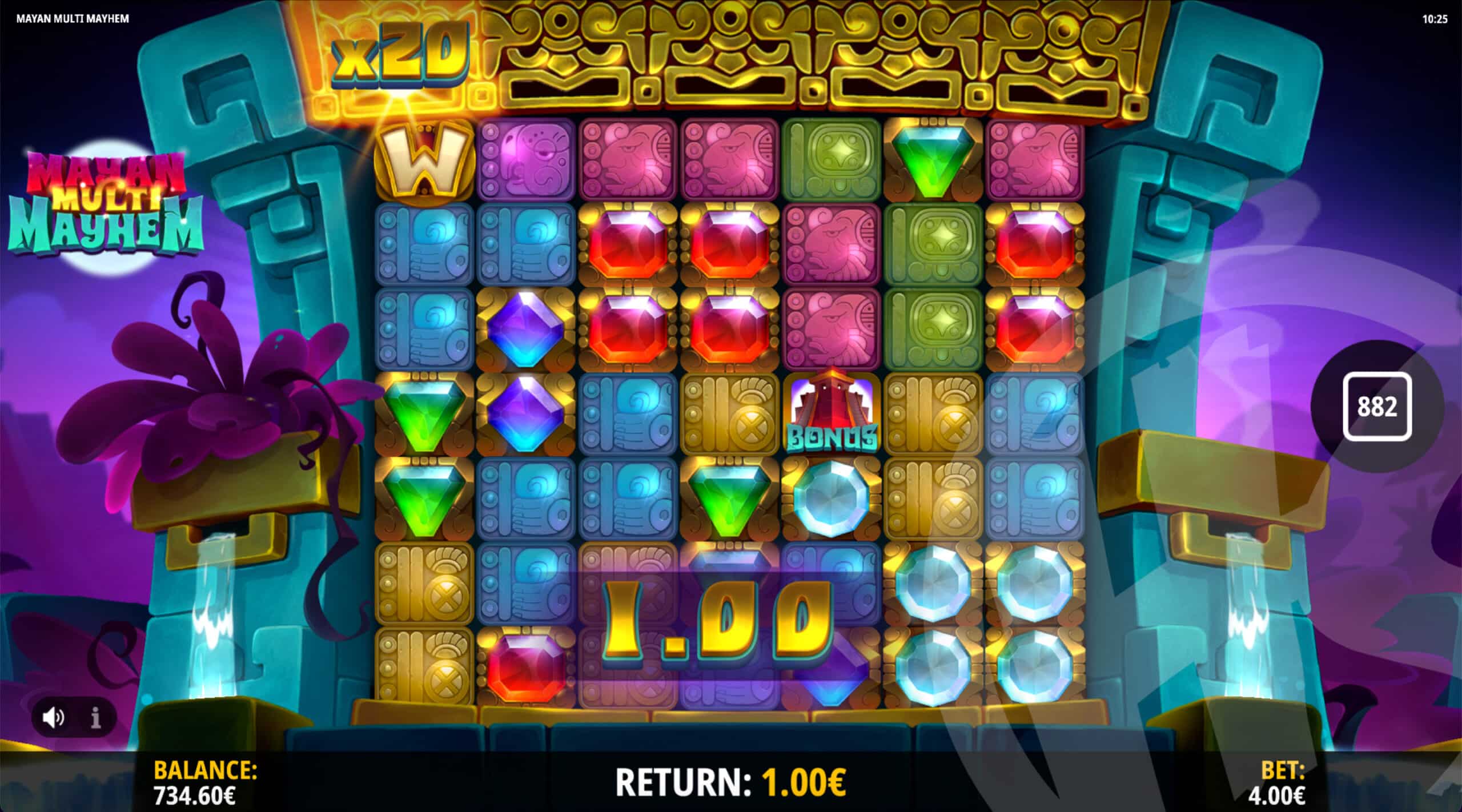 The main feature of Mayan Multi Mayhem – as evidenced by the title – is the Totem Multiplier feature, which works hand in hand with Wild symbols. On every spin, and Wilds which land will be collected into one of the 5 totems at the top of the reels. When a Wild reaches the totem, it is possible that totem will be awarded a multiplier, which will reveal immediately. Each Wild can only fly into one totem, but landing multiple Wilds in one drop or spin can trigger multiple totems, and therefore multiple multipliers – if this is the case, the values will be added together. The total multiplier value will then be applied to the sum of all cascade wins for that spin.
Possible values for the multiplier are – x2, x3, x5, x6, x7, x8, x9, x10, x12, x15, x20, x25, x30, x40, or x50.When multiple multipliers are trigger, they can add together up to a maximum value of x250.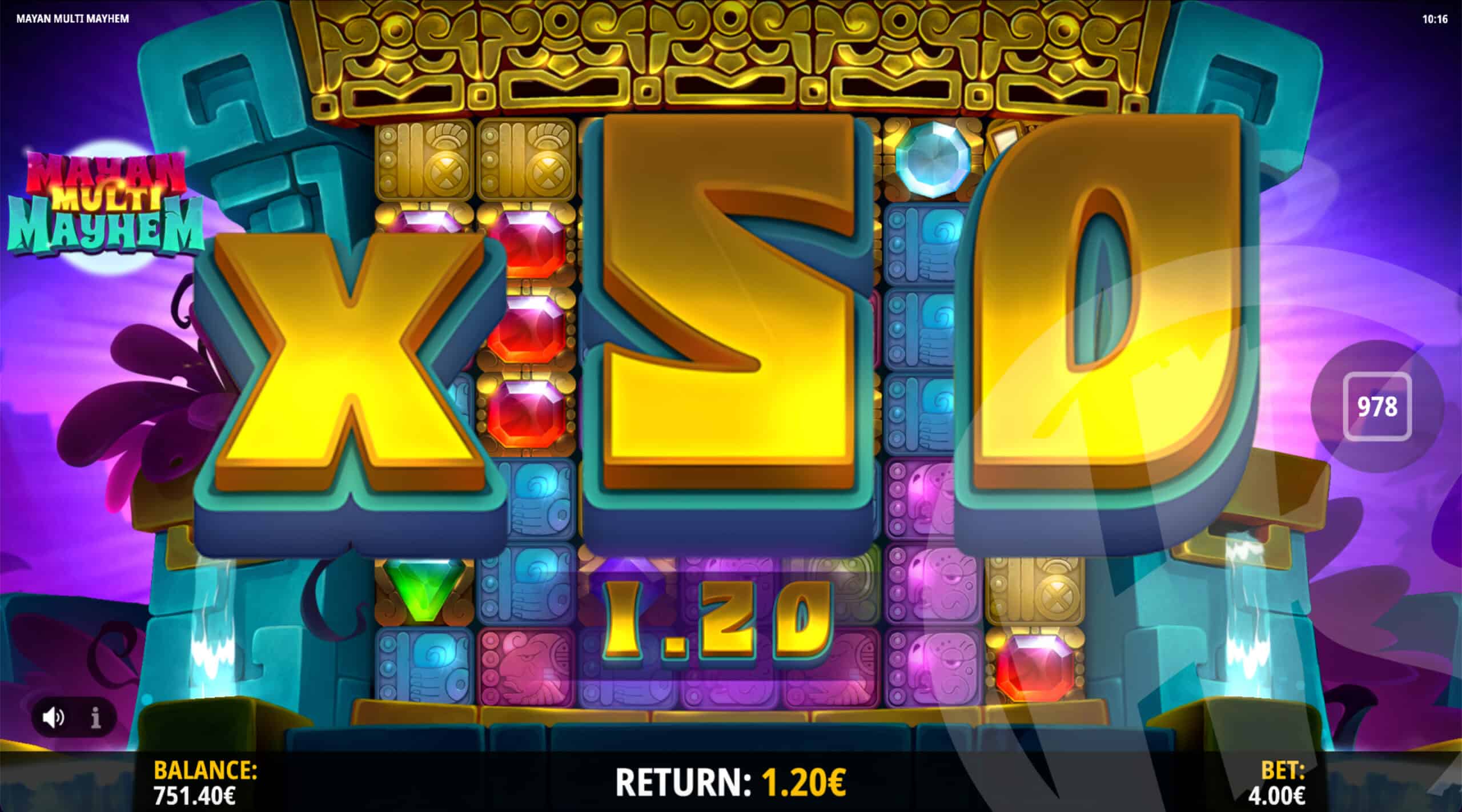 Mayan Multi Mayhem Bonus
Land 3, 4, 5, 6, or 7 Bonus symbols to trigger 8, 10, 12, 15, or 20 Free Spins, respectively. Additionally, during Free Spins, each Bonus symbol that lands in view will award +1 spins.
During Free Spins, at the end of each spin, one possible Totem Multiplier will be removed. This will always start with the lowest multiplier available – x2, and will build up until all but the top available multiplier – x50 – has been removed.
The maximum win available in Mayan Multi Mayhem is 20,000x bet. If the sum of a single game round exceeds this, the game round will end, and 20,000x bet will be awarded.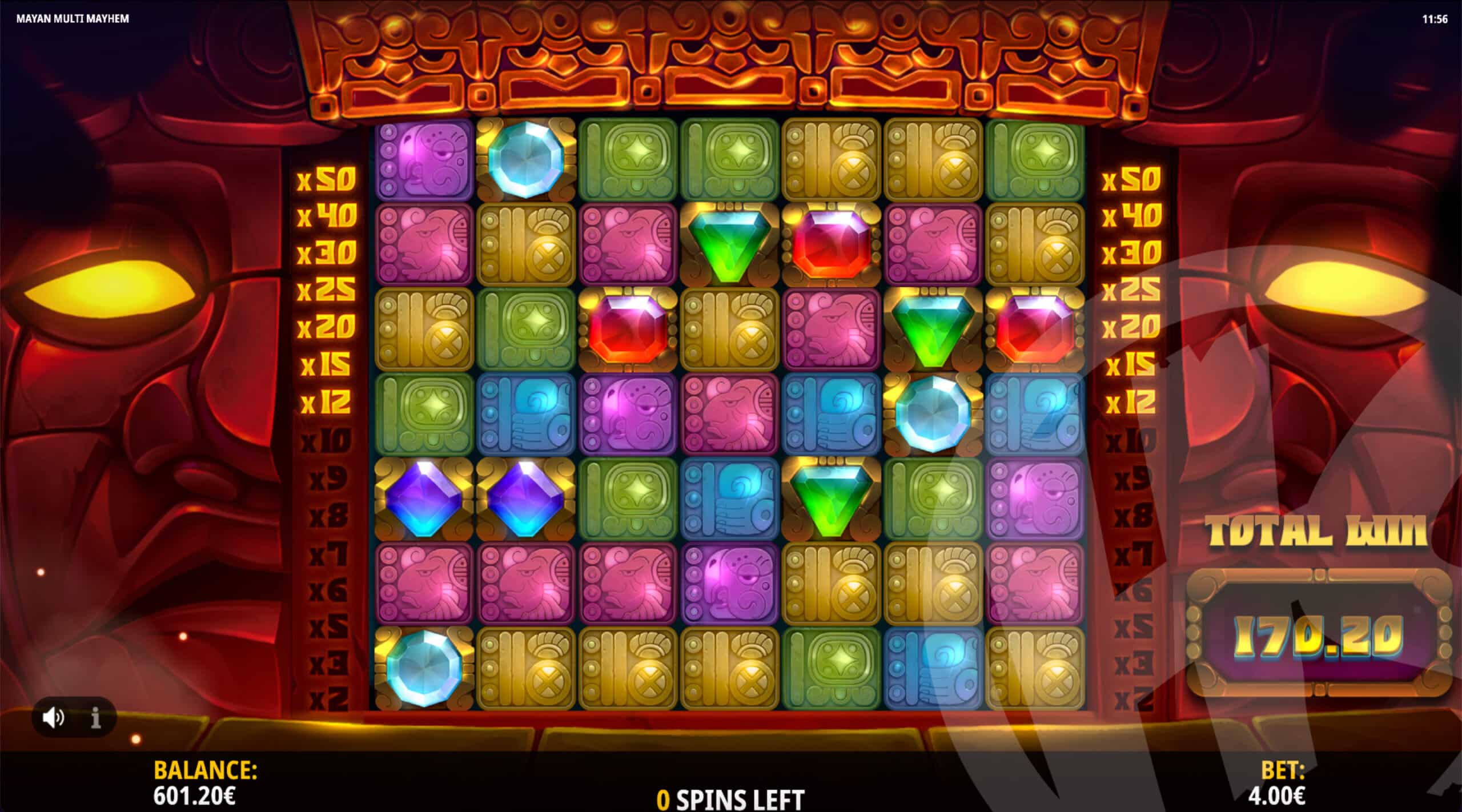 First Impression
Things are pretty simple in Mayan Multi Mayhem, but don't let that fool you. There's only one feature available, but it's a good one – even in the base game, which can be pretty rare these days. Wilds work alongside Totem Multipliers to build win multipliers as big as x250. The best thing about this is the fact that this is, indeed, a win multiplier, applied to the sum of all cascade wins.
Moving into Free Spins and things ramp up a level, with low level multipliers removed on every spin. Of course, there are 15 steps to get to the top multiplier, so it will help to trigger with 6 or 7 Bonus symbols, but with the potential to land +1 spins for every additional Bonus symbol, it's definitely possible to get there with the minimum 3 Scatters. Beside, it's only a minimum value – players can still see x50 multipliers from their first spin, and with the right combinations, this can produce wins up to 20,000x bet.
Maths is described as medium-high volatility (7.5/10) and RTP is fixed, albeit ever so slightly low at 95.98%. Basically, all the ingredients are here for some entertaining gameplay – the kind that will entice fans of cluster pays and wild multipliers alike.
*The screenshots taken of games reviewed on this site are taken from Demo Play, as reviews are often written before games are released for real play.