Across the iGaming sector, it's difficult to find a player who doesn't recognise those distinctive words – Money Train. Released by Relax Gaming in 2019, Money Train quickly moved to the forefront of lobbies worldwide, maintaining a strong presence in the months to come. In August 2020, we were treated to the second instalment, Money Train 2, which offered a bigger maximum win than before, coming in at a huge 50,000x bet. Money Train 2 left a lasting mark, not just across the industry, but with players who continued to reap the rewards of the potential offered, with many reaching the heights of 50,000x with ease. Now, Relax Gaming are bringing us Money Cart 2, set for release July 2021.
Whilst Money Train remains immediately recognisable, players may not be quite as familiar with Money Cart, and may question "why Money Cart 2", when there is no Money Cart 1? For those unfamiliar, Money Cart is the name given to the bonus round both in Money Train 1 & 2. Relax Gaming have chosen to re-establish Money Cart, bringing us a game that focuses solely on the bonus round, with complete removal of the base game, not completely unlike Blueprint Gaming "All-Action" editions, but with a twist, which will inevitably be music to the ears of players in feature buy restricted regions.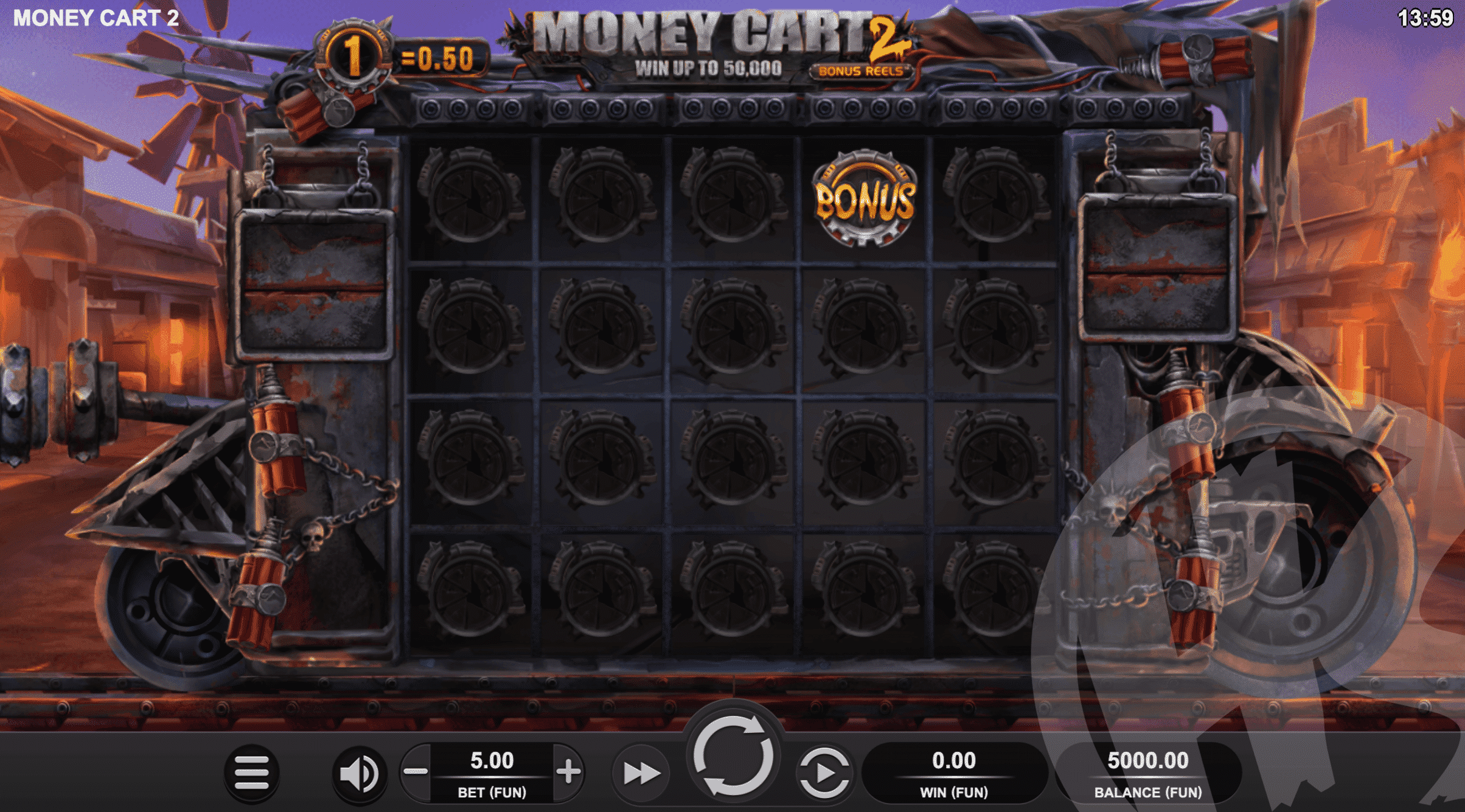 Money Cart 2 Features
As far as audiovisuals are concerned, Money Cart 2 could be Money Train 2, with the exception only for the lack of all symbols except bonus symbols. Relax Gaming have stayed true to what players have voiced adoration for over the years, with the game taking place on a 5×4 grid layout, set upon a ramshackle train with a lowly lit western town in the background. Players have a variety of stakes to choose from, ranging between 0.10 – 200. RTP is one of the most impressive attributes here, coming in at 98%, just slightly lower than Relax Gaming's own Book of 99. Money Cart 2 remains high in volatility – after all, why fix what isn't broken? However, the maximum win is now smaller than we are used to from a bonus like this, sitting at 5,000x bet.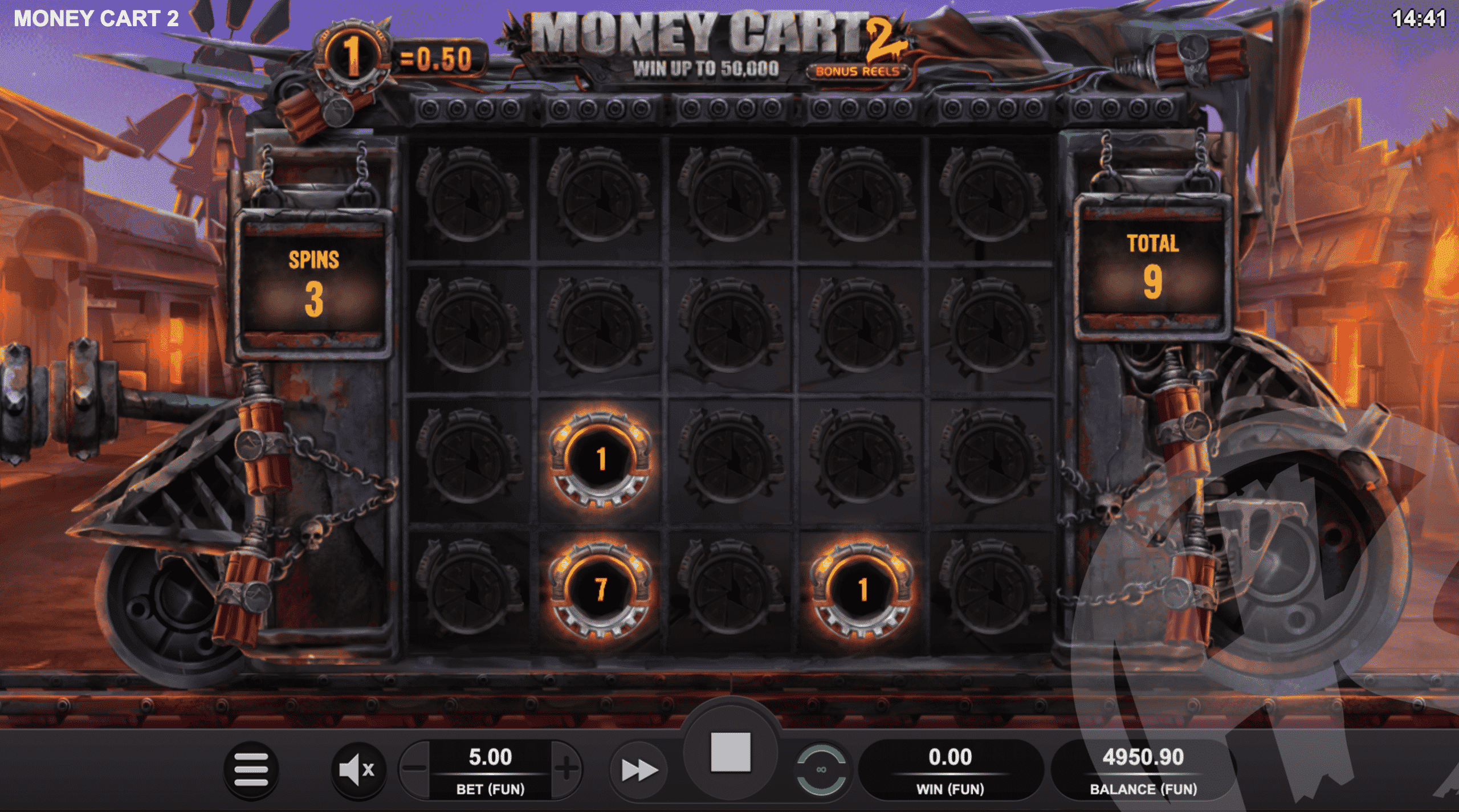 Choose a stake, spin the reels, and hope for at least 3 bonus symbols to land. That's all the action within Money Cart 2. If at least 3 bonus symbols land, the bonus feature begins.
Money Cart 2 Bonus
Players begin with 3 spins, and reels spin for the chance of landing more symbols. Each time a new symbol lands on the reels, spins reset back to 3. If an entire reel is filled, an extra reel unlocks and opens, which can happen twice in a bonus round, for a total potential of 7 reels.
The majority of symbols that will land are the numerical values we recognise from the Money Train releases. However, just like the maximum win, coins are win values, not an 'x-bet' amount. For ease of understanding, players can see what coin values are worth at the top left of the screen. Coins will always be worth 10% of the total stake. At the end of the bonus round, the value displayed in the total is multiplied by the coin value, not the bet, for the total win. For example, a total win of 100, on a €5 stake, will be 100 x 0.5 which is a €50 win.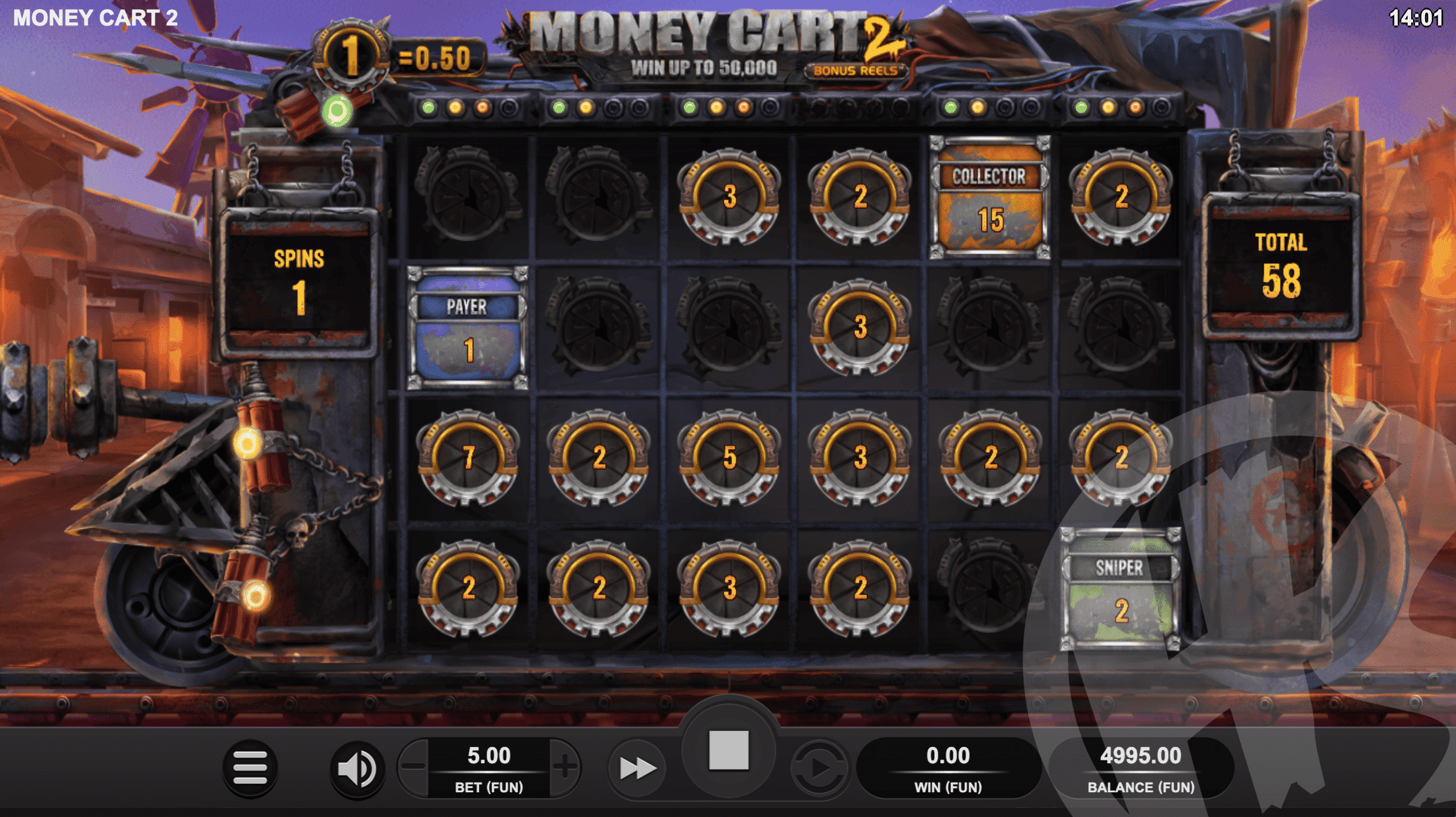 Special symbols can land along the way to help players achieve wins. All symbols available are:
Bonus Symbol: Reveals a value between 1-10 coins
Golden Bonus Symbol: Reveals a value between 20-200 coins
Payer: Reveals a coin value and adds it to all other visible symbols on the reels
Collector: Reveals a coin value and then collects all visible values on the reels and adds them to its own value
Collector/Payer: Reveals a coin value, adds the sum of all other visible values to its own value, and then adds the updated value to all other visible symbols on the reels
Sniper: Reveals a coin value and doubles the values of 3-8 other bonus symbols. It can act on the same bonus symbol several times
Reset Plus: Reveals a coin value and increases the starting value of the spins left counter by 1
Necromancer: Reveals a coin value and brings between 2-7 already used non-persistent special bonus symbols to life again (Collector, Payer, Collector/Payer or Sniper)
Persistent Payer: Reveals a coin value and adds it to all other visible symbols on the reels for that spin and any spin that will follow. This symbol does not pay itself.
Persistent Collector: Reveals a coin value, and then collects all visible values on the reels and adds them to its own value for that spin and any spin that will follow.
Persistent Sniper: Reveals a coin value and doubles the values of 3-8 other bonus symbols at the end of that spin and every spin that follows. It can act on the same bonus symbol several times
The bonus round will end when:
No spins remain
The maximum win has been reached (5,000x)
All places on the reels are filled with symbols, including the additional two reels. This will also award players 50x bet, on top of the win already achieved.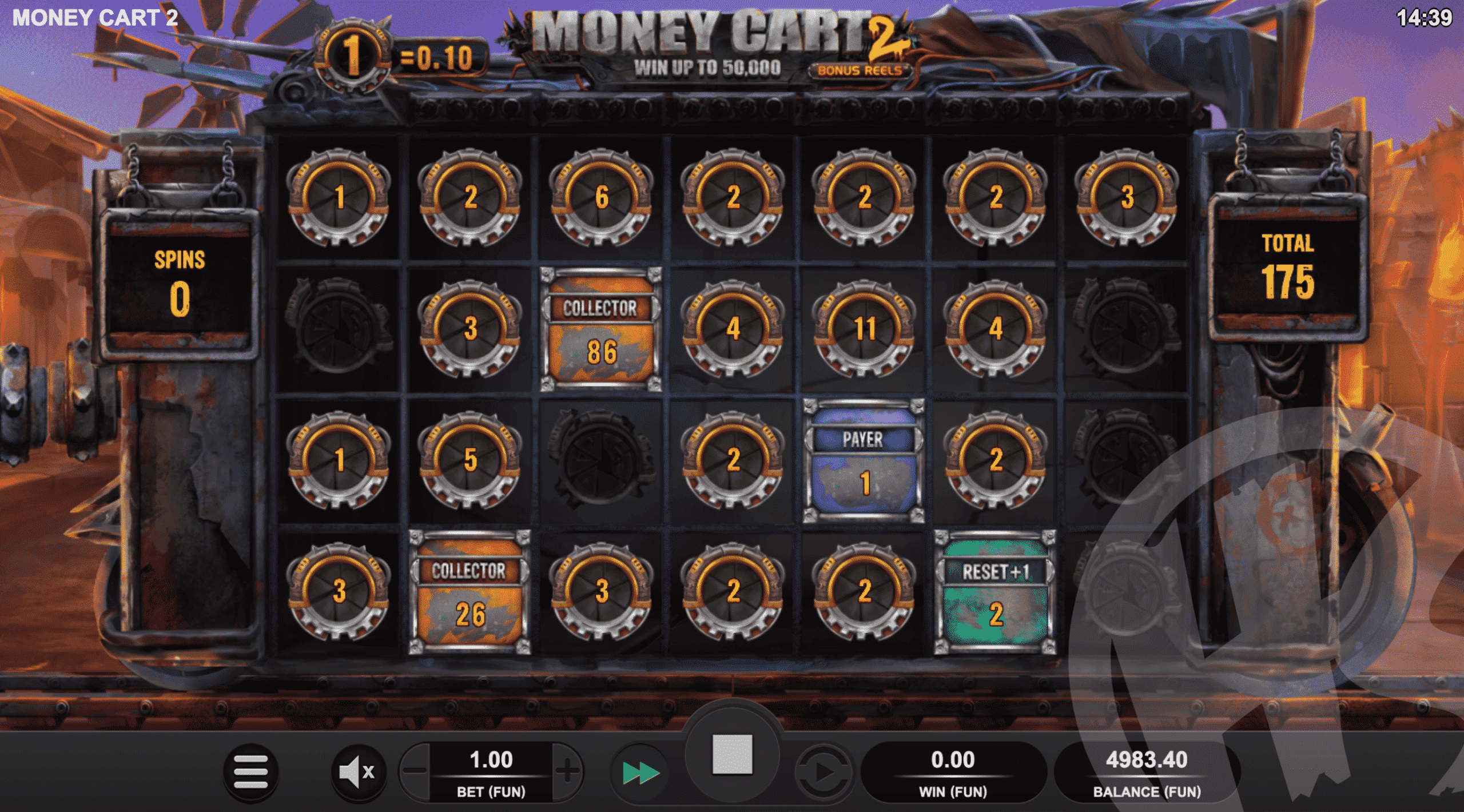 First Impression
Money Cart 2 is certainly an interesting release. We mentioned previously that is seems similar to Blueprint Gaming's All Action editions, which thrusts players straight into the action with no base game, and in ways, it certainly is. On the other hand, there is no "price" to pay with Money Cart 2, and rather than players spending a large amount to guarantee a bonus, instead they choose a regular stake to massively increase their chance of landing a bonus. In our experience, the bonus is landing frequently, at least twice in every 15-20 spins, which is a good rate. That said, there are sacrifices that have to be made here – the maximum win has taken a nosedive from 50,000x to 5,000x bet. Whilst 5,000x is still a solid win, and larger than a lot of games available, it inevitably does feel slightly unimpressive when it follows in the huge footprints of Money Train 2.
However, Money Train 2 has long been known for extended dry periods within the base game, and not all players enjoy spending 100x bet to achieve the bonus, particularly when the 50,000x maximum win seems so far from reach. Alongside this, players in restricted regions cannot buy the feature, instead resorting to long stretches of base game as the bonus chance seems to slip further from their grasp. Those players will undoubtedly enjoy Money Cart 2, which offers the removal of the "boring" aspects, while still offering wins most players would rejoice over.
RTP is impressive at 98%, and volatility remains high, so there will no doubt be some huge hits from Money Cart 2. Landing a combination of special symbols can tip a bonus like this over the edge, and having only paid a regular stake of between 0.10-200 for it, even the 50x offered upon filling the screen is impressive, not to mention the 5,000x maximum win available.
Money Cart 2 is perhaps best considered as an impressive addition in its own right, catering to a vast majority of players who cannot, or will not, buy a feature. Rather than comparing it to its immense predecessor, we choose to consider it alone, and in that regard it gets a tick from us. For players unimpressed by this release, Money Train 2 remains – so there's something for everyone.
*The screenshots taken of games reviewed on this site are taken from Demo Play, as reviews are often written before games are released for real play.