Yggdrasil Gaming's flagship mechanic is being put to use once again – this time by the team at Peter & Sons. These teams have partnered together numerous times in the past, with their most recent example being Hammer of Gods, released in September 2021. For the moment though, we're leaving Norse legend behind and instead venturing into a more fairytale-like land, where monsters roam free and warriors set out to capture them, in Monster Blox Gigablox. With wins on offer up to 7,400x bet, this highly volatile release boasts a fixed RTP of 96.10% alongside a hit frequency of 18.40%. Let's take a look at what these monsters can do for us, and the wins they can provide if we can line them up just right.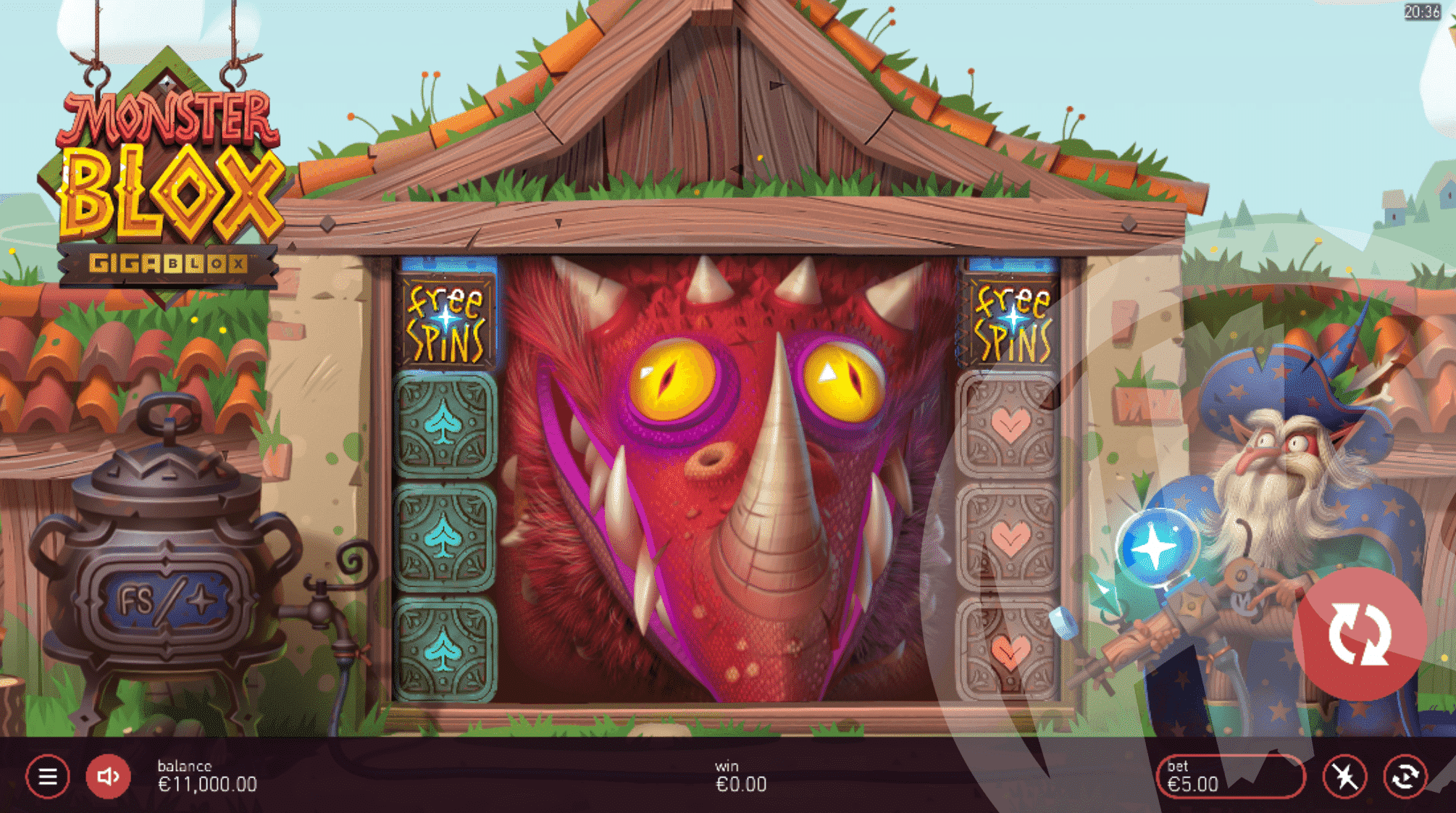 Visually, I'll just say it – the furry pink monster that greeted me upon first loading up the game was the least frightful I've ever seen, reminding me more of a Monsters Inc. type situation. Perhaps these monsters are just misunderstood, friendly creatures, but what I do know is they have been superbly designed. Graphics are bright, clean, and pack so many colours into the screen before us it's hard not to find the whole thing just delightful to look at. To the left of the reels is a cauldron that really just acts decorative until free spins begin, and to the right we see a wizard (hunter), whose powers we'll discuss soon. Audios are suitably 'fairytale', complimenting the theme well.
Monster Blox Gigablox Base Features
Taking place across 6 reels, Monster Blox Gigablox features 40 fixed win lines, with wins formed by matching at least 3 symbols on adjacent reels across a win line, beginning at the leftmost reel. Symbols available begin at the lower end, with the expected diamonds, spades, clubs and hearts, glowing purple, blue, green and red. Land 3 of a kind of any of these to see wins of 0.10x bet, with these values increasing to 0.80x bet for 6 of a kind matches. At the premium end, we meet our monsters, beginning with a red headed teal variety, smoking a pipe, followed by a bright green character with piercing blue eyes – land 3 of a kind to see wins of 0.25 and 0.30x bet, respectively, whilst landing 6 of a kind will see wins of 2 and 2.50x bet respectively. Next up it's a bright purple creature with a hook nose, followed by a giant toothed, cerise pink dragon – paying 0.50 and 1x bet respectively for 3 of a kind. Land 6 of a kind of the top two monsters and you'll be rewarded with wins of 5 and 10x bet, respectively.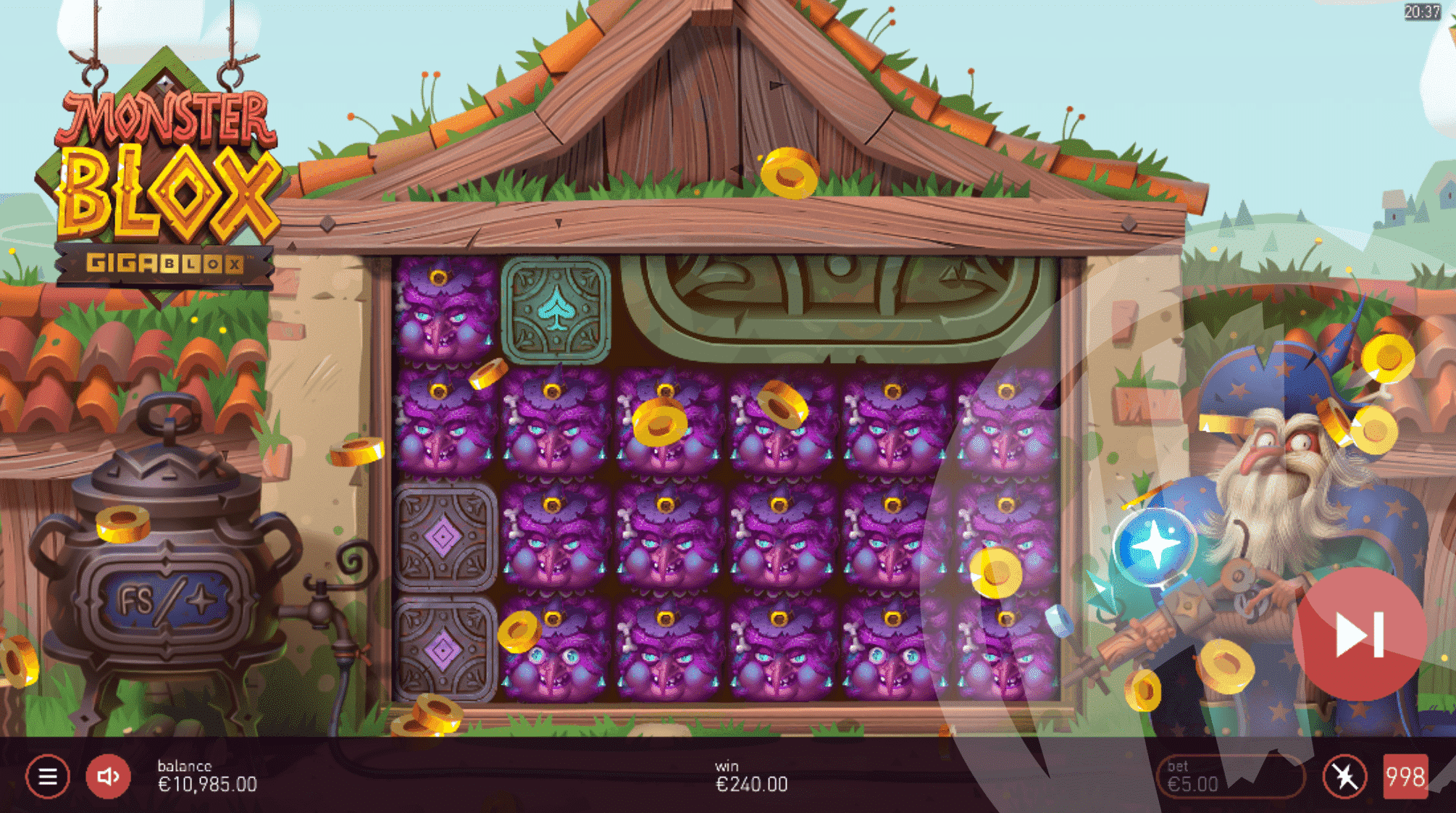 First up to bring life to this base game is the Gigablox feature itself. On every spin, at least one Gigablox reel will appear. Gigablox appear as larger than usual symbols, beginning at 2×2 and increasing as high as 6×6. Once landed, Gigablox symbols will break down into the same symbol, but smaller to pay wins.
Next up it's the Monster Respins feature. Each win in the base game awards a respin, with the reels growing by 1 reel in height, adding an additional 15 win lines. If another win is then formed, the reels will grow again, with a further 15 win lines added. This expansion continues up to a maximum grid size of 6×8, with 100 win lines. Respins are awarded until there is no new win.
Finally, we have Wild Bounty – made possible with the help of our wizard. During any spin in the base game, the wizard can magically transform random symbols into red and yellow glowing Wild Monsters, including Gigablox symbols. Wilds substitute for all symbols except Free Spin symbols.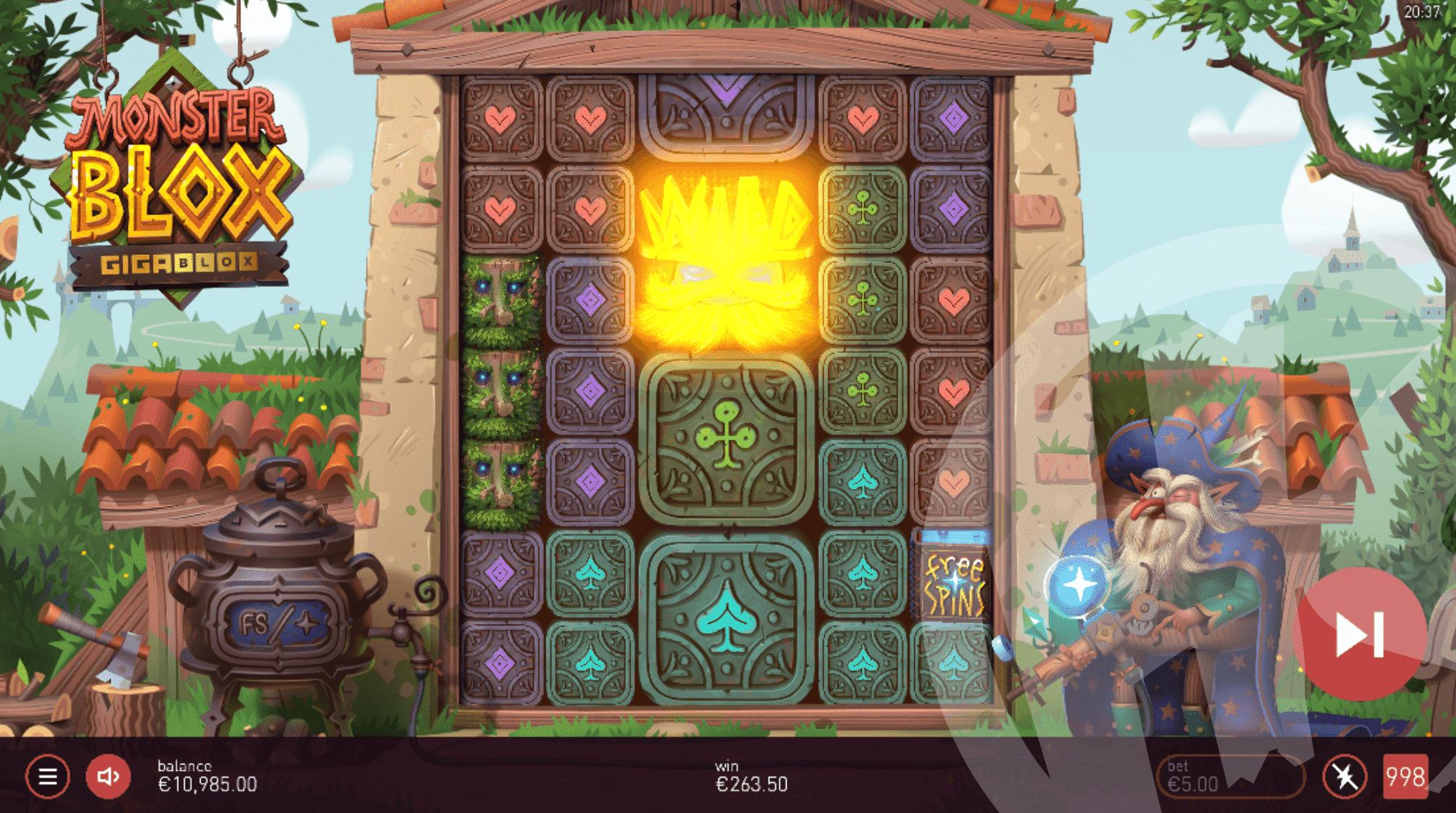 Monster Blox Gigablox Bonus
Land 5 or more Free Spin symbols in view to trigger Monster Free Spins, with 1 free spin awarded for every triggering Scatter. If a Gigablox has been used to trigger free spins, the Gigablox will break down into smaller symbols, with each symbol counting for 1 spin. Monster Free Spins are played on the maximum 6×8 grid space, with 100 win lines active.
During free spins, every Scatter that lands on the reels adds +1 free spins, and is collected along a meter to the left of the reels. Once a certain amount of Scatters have been collected, the Monster Multiplier increments along values of x2, x3, x5 and x10, with every free spin feature beginning at x2. It is at this point we finally see our cauldron come to life, with the amount of Scatters remaining to be collected to progress written on the front, and the win multiplier in the flames. Once the win multiplier has been reached, it remains for the duration of free spins. Scatter collection required is:
0-1 Scatters: 2x multiplier
2-5 Scatters: 3x multiplier
6-14 Scatters: 5x multiplier
15+ Scatters: 10x multiplier
The Wild Bounty feature appears more often during Monster Free Spins, and is guaranteed to land and create a win on every non-winning spin.
Players in appropriate regions also have the option to buy free spins for a cost of 70x bet.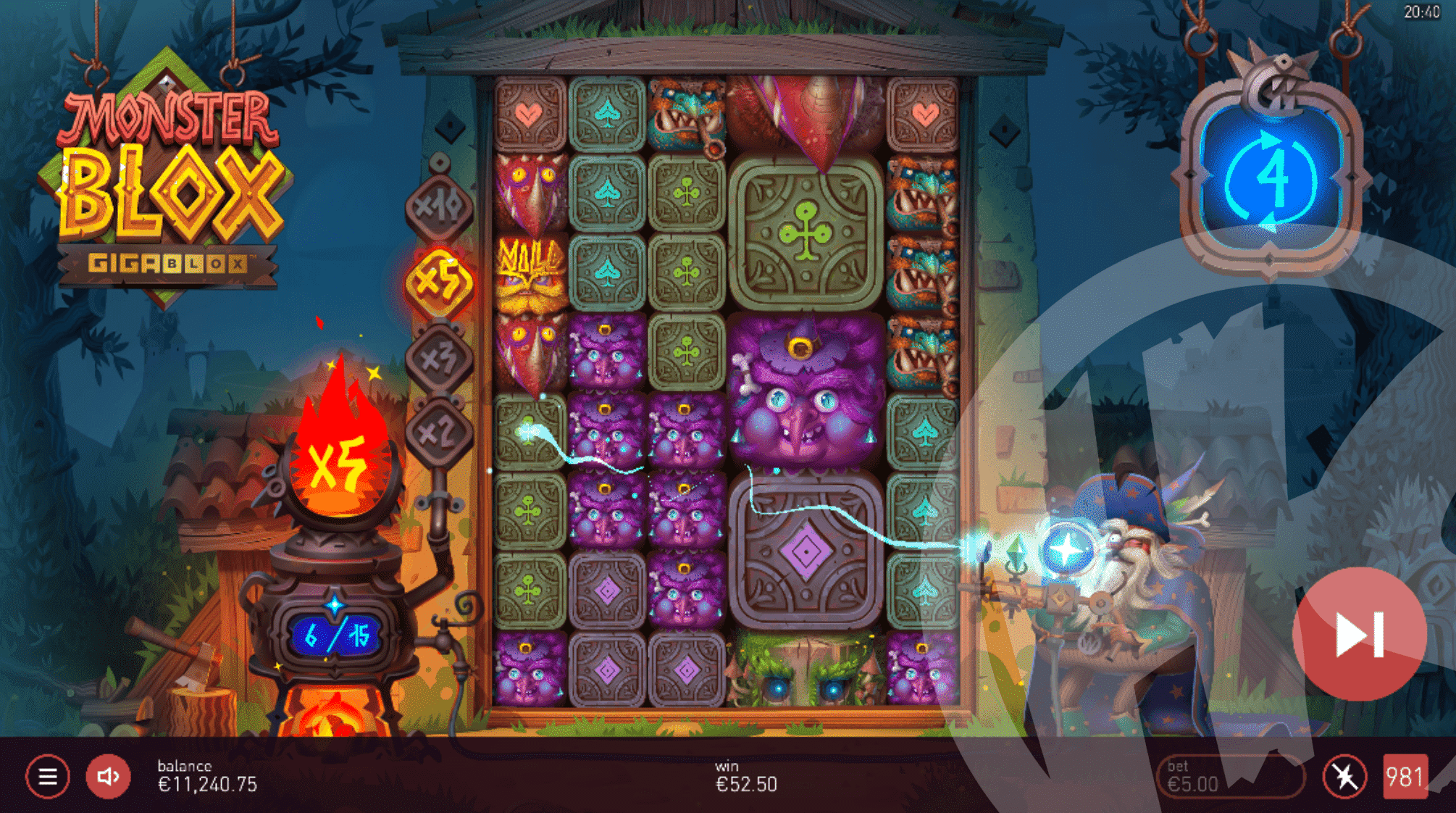 First Impression
So, first things first – Peter & Sons have a style, and visually this is exactly it. If you visit their website and browse their portfolio of games you'll notice how distinctive each of their games are, quite far from what any other provider is releasing graphically. There's certainly no realism here, but what we do have are top notch cartoon vibes, and it really makes the whole thing feel nice to play, so Monster Blox gets a huge tick on that front.
Next up is the idea of choosing a bet size before the game begins. Although I have only played the demo version, I was asked to choose a bet size before the game loaded, and even though this could then be changed, it removes any chance of a player accidentally spinning on the wrong stake as a result of default stakes, or just generally not paying attention – so although it's only a small thing, it's great to see, and I hope we see this on the real play version.
Now onto the game play. Truthfully, there's not much to complain about. Sure, there's not a great deal happening all at once, but what we do have is more than enough to keep things ticking over and keep us entertained. The Monster Respins feature and Wild Bounty working hand in hand go a long way towards helping to produce some nice wins within the base game, although they do of course pale in comparison to a bonus round with 100 pay lines, more frequent Wild Bounty and a win multiplier capable of climbing as high as x10 – a recipe for monstrous hits, and giving us value for money with additional spins awarded for every Scatter. Although landing 15 to reach x10 does seem a bit out of reach, even with Gigablox reels, it is nice to see the x3 multiplier only requires 2 Scatters, and all free spin features begin at x2.
Statistically, there's nothing to complain about. It's always great to see a fixed RTP, and at 96.10% it's a fair figure. Combined with high volatility and wins on offer up to 7,400x bet, and there just aren't any complaints to be had about this release. Delightfully designed, brilliantly executed, with a stellar mechanic in play – what else can be said? It's a release worthy of joining not just Peter & Sons', but Yggdrasil's extensive catalogue too. Fans of Gigablox will love this one, but the strong graphics and win multipliers might be a driving force for those who haven't given this mechanic a chance before.
*The screenshots taken of games reviewed on this site are taken from Demo Play, as reviews are often written before games are released for real play.