Megaways, cascades, and a multiplier – the holy grail? Maybe not to everyone, but certainly to a lot of players. If you're one of them, today's focus will appeal to you. Pragmatic Play are showing no signs of slowing down as their 2022 roadmap heads towards the finish line, with their upcoming release Meurtos Multiplier Megaways capable of producing wins up to 10,000x bet. Let's take a closer look at this highly volatile release, with a default RTP of 96.03%.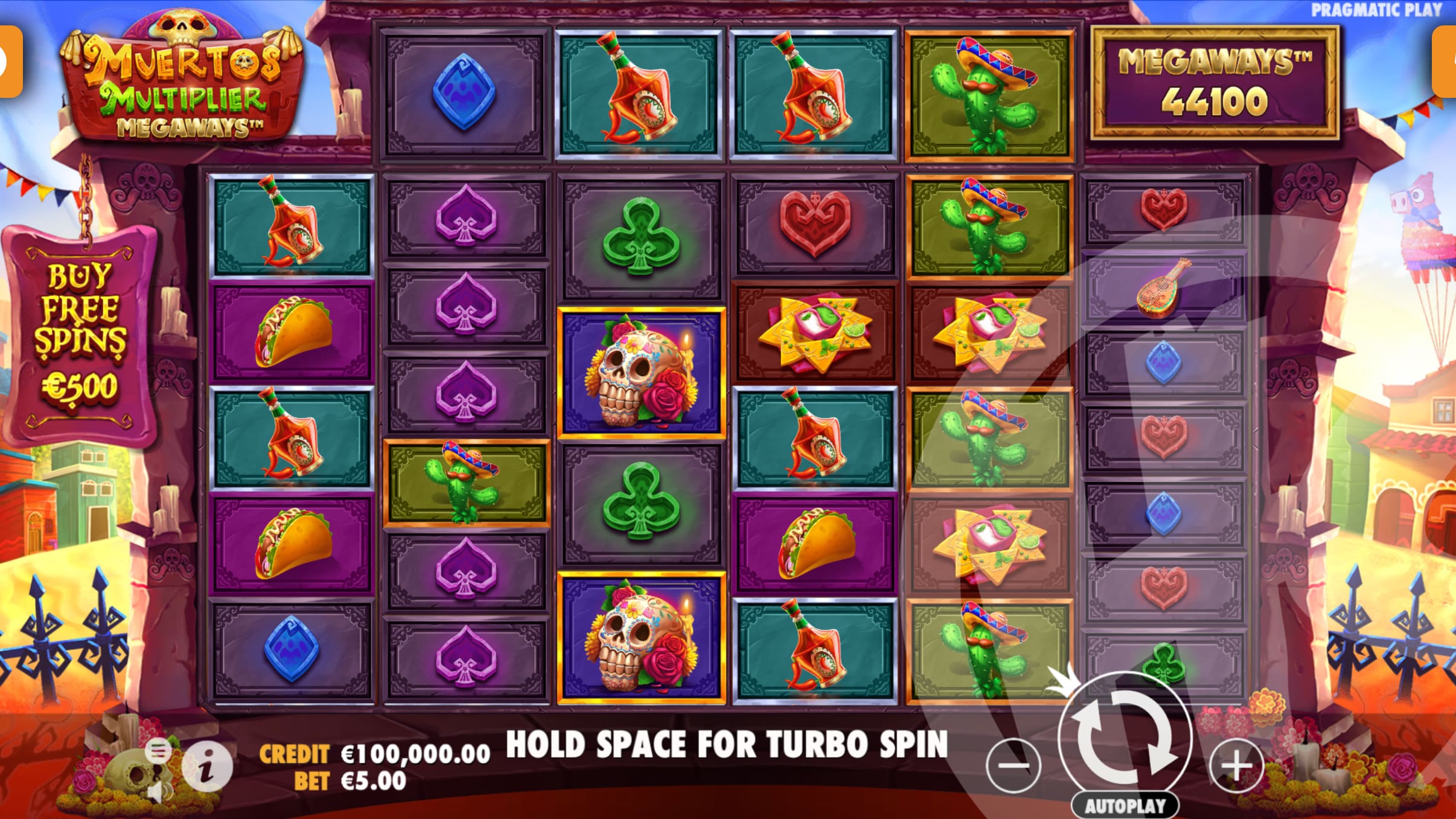 Visually, it looks like we're celebrating Day of the Dead – a classic. The reels take up most of the space, but there's a clear attempt to make things seem Latin-American, with piñatas, buntings, candles, skulls, and roses. Symbols themselves, which we'll get to in a moment, further reinforce this, with guitars, skulls, cacti, nachos, tacos, and hot sauce amongst those available. Audios are basically exactly what you'd expect – there's never a great amount of effort needs to go into these kinds of releases to meet the theme demands.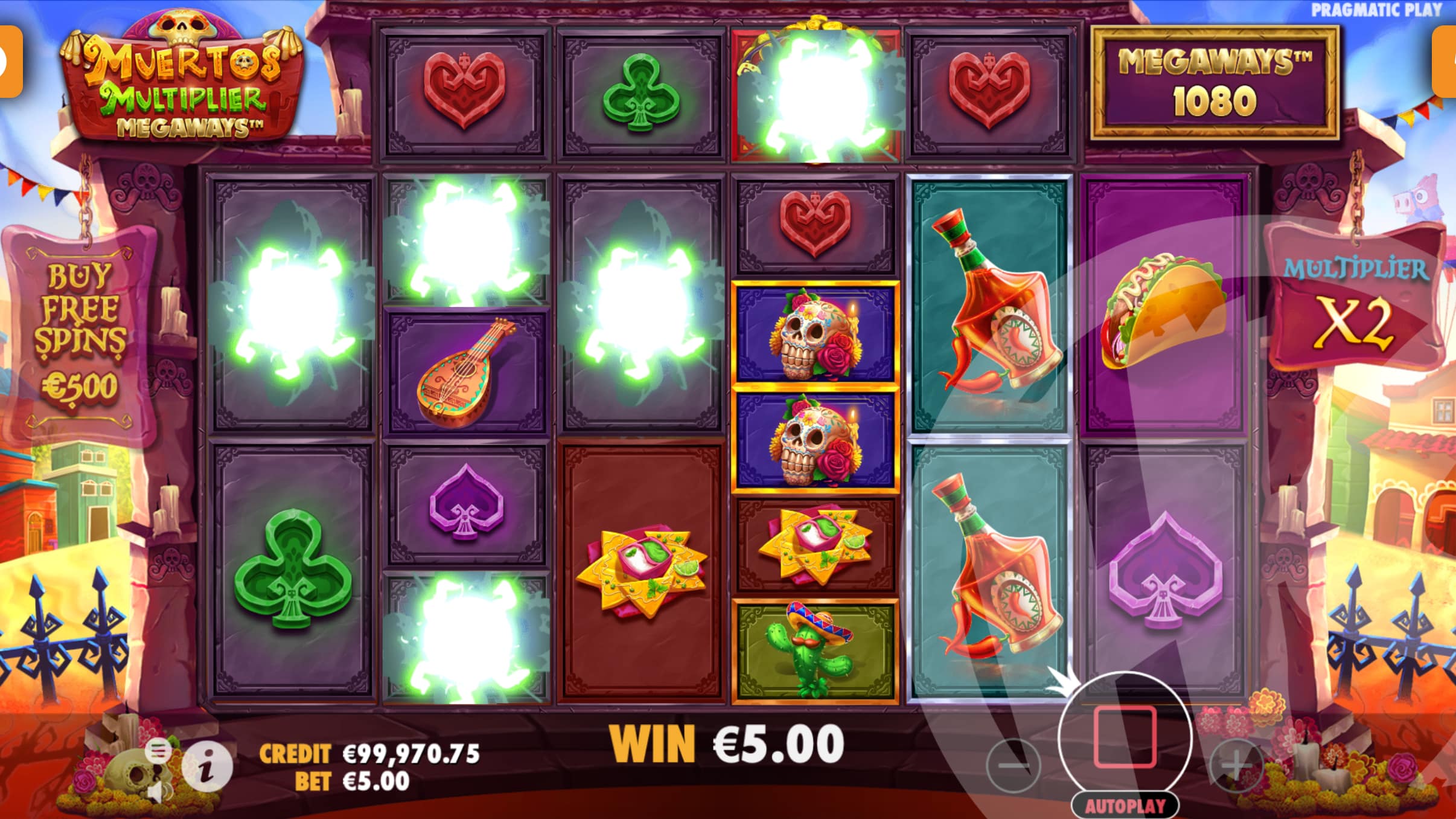 Muertos Multiplier Megaways Base Features
Taking place across 6 reels, wins are formed on Muertos Multiplier Megaways by matching at least 3 symbols on adjacent reels, beginning with the leftmost reel. Each reel can hold 7 symbols in total (including the top track), producing a total of 117,649 ways to win. Symbols available begin with non premiums – hearts, clubs, diamonds, and spades. Land 3 of a kind of any non premium to see wins between 0.10 and 0.15x bet, whilst landing 6 of a kind will produce wins between 0.50 and 0.60x bet. In the mid range we have guitars, nachos, and tacos, awarding wins between 0.20 and 0.25x bet for 3 of a kind, with these wins increasing to values between 0.75 and 1x bet for 6 of a kind. At the premium end, available symbols are cacti, and hot sauce bottles – paying between 0.25 and 0.50x bet for 3 of a kind, increasing to wins between 2 and 3x bet for 6 of a kind. Finally, skulls round off the pay table, and is the only symbol capable of paying for 2 of a kind – land 2, 3, 4, 5, or 6 skulls to see wins of 0.50, 1, 1.50, 2.50, and 5x bet, respectively.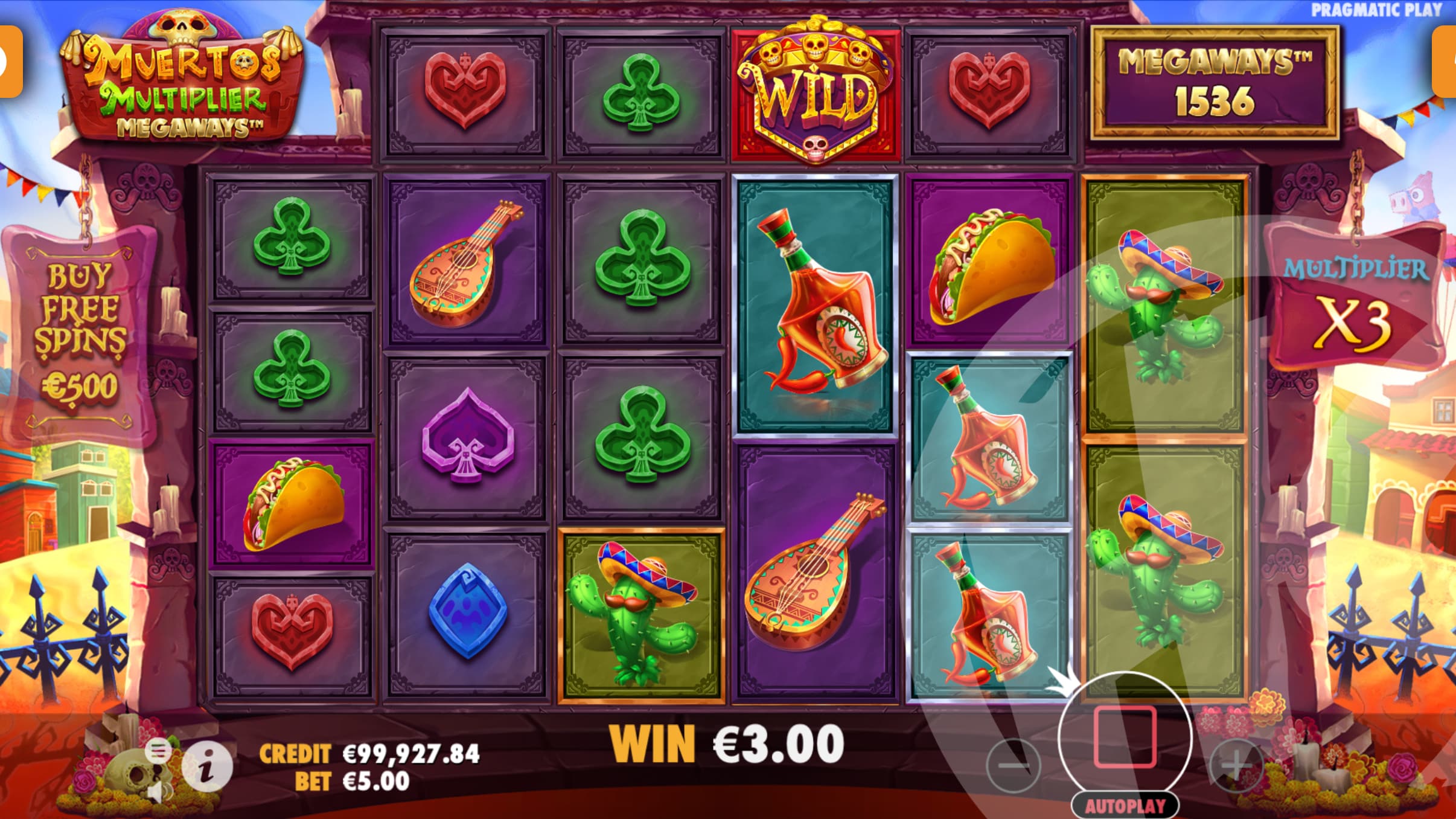 The first thing to look at in the base game is the Tumble mechanic. On every spin, all symbols involved in a win will be removed from the reels, with remaining symbols dropping down to the bottom of the reels (or moving in from the right on the top track). Once remaining symbols have dropped down, new symbols will drop onto the reels to fill all remaining positions, giving a chance for new wins to form. Tumbles continue until no more wins are formed.
Next are Wild symbols. Wilds can only land on the top reel, and substitute for all symbols except the Bonus symbol. When a Wild lands, it will have a multiplier of x2 or x3 attached, which is then taken and collected on the meter to the right of the reels. This multiplier is then applied to the total win of all tumbles in the spin from which it was collected. If a second Wild lands, it will multiply the current multiplier by its value. The multiplier will reset to x1 when all tumbles have finished.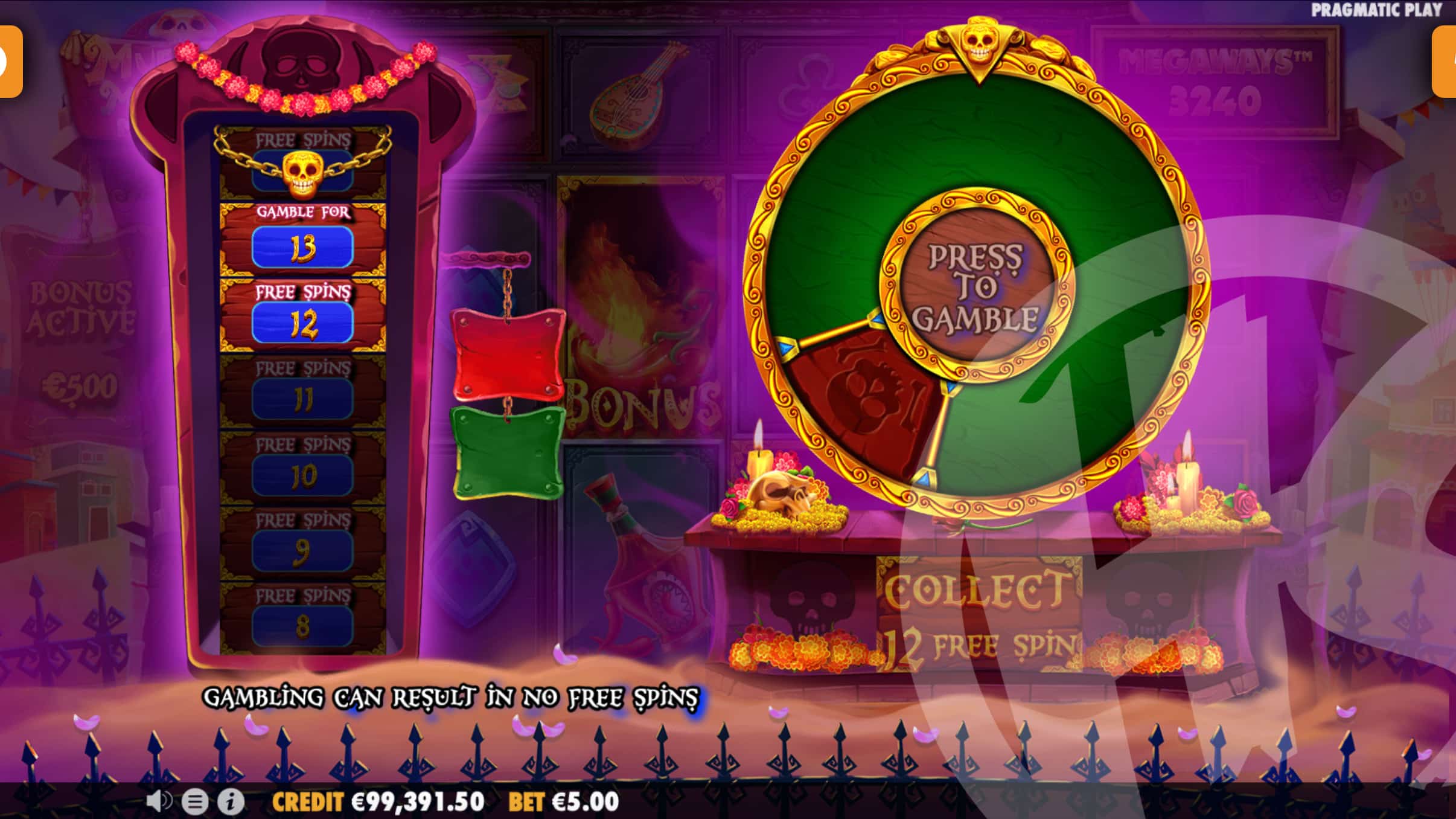 Muertos Multiplier Megaways Bonus
Land 3 or more Bonus symbols to trigger Free Spins. A wheel will then spin to award the number of spins, with this changing depending on the amount of Bonus symbols in view:
3 Bonus Symbols – 5, 6, 7, 8, 10, 12, or 14 Free Spins.
4 Bonus Symbols – 6, 7, 8, 10, 12, or 14 Free Spins.
5 Bonus Symbols – 7, 8, 10, 12, or 14 Free Spins.
6 Bonus Symbols – 8, 10, 12, or 14 Free Spins.
If less than 14 Free Spins are triggered, players have a chance to gamble up to 14 spins, with a wheel gamble. A winning gamble will award +1 spins, and a losing gamble will forfeit all spins. Players can collect at any point. The odds during the gamble are as follows:
Gambling from 5 to 6 spins – 64.43%
Gambling from 6 to 7 spins – 68.37%
Gambling from 7 to 8 spins – 72.05%
Gambling from 8 to 9 spins – 75.39%
Gambling from 9 to 10 spins – 78.27%
Gambling from 10 to 11 spins – 80.80%
Gambling from 11 to 12 spins – 82.99%
Gambling from 12 to 13 spins – 84.83%
Gambling from 13 to 14 spins – 86.41%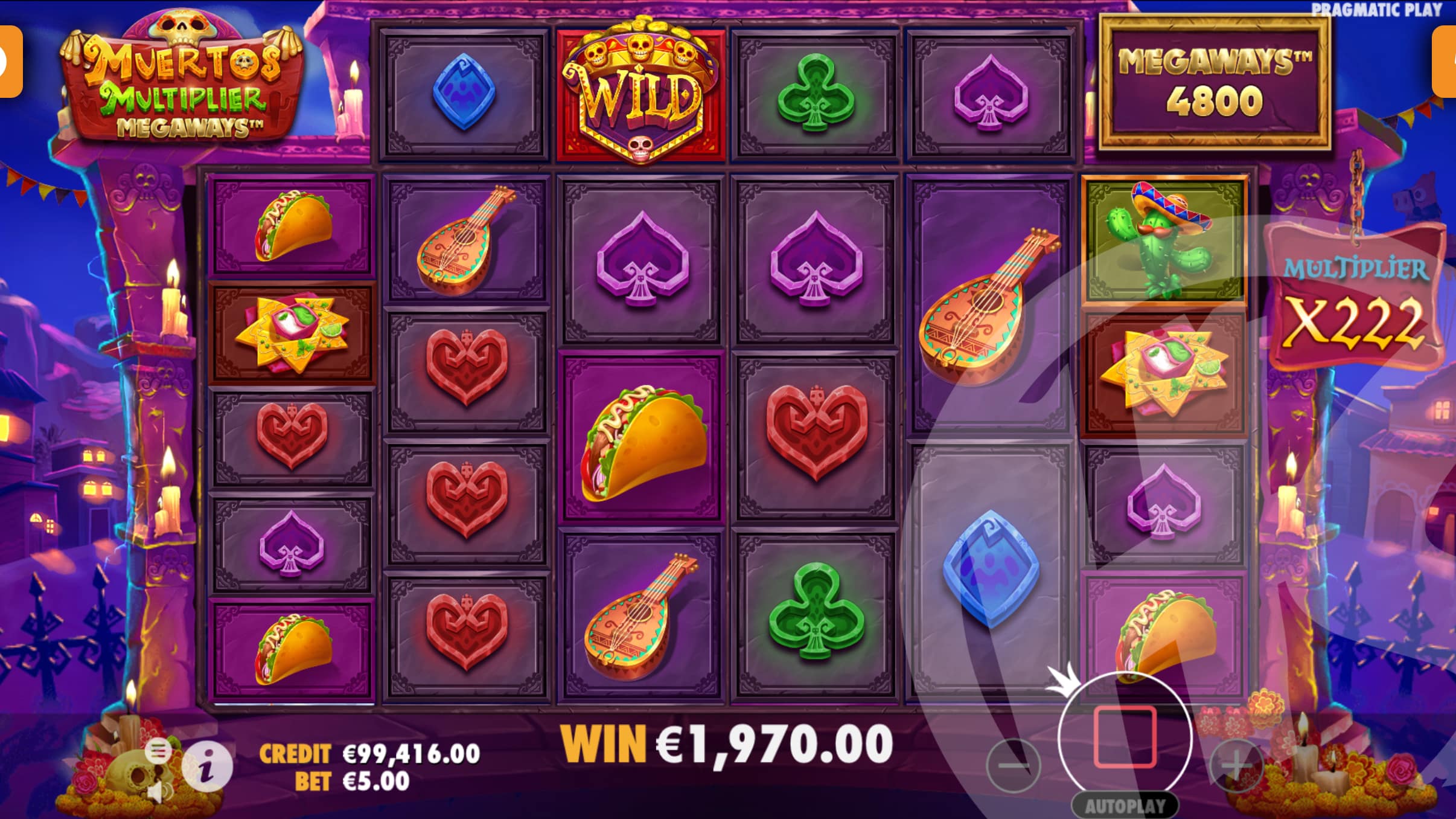 During Free Spins, Wilds continue to land on the top reel, with a multiplier of x2 or x3 attached. Just as is the case in the base game, the first time a Wild symbol is used in a win, its multiplier is collected and added to the meter to the right of the reels. Alongside this, each tumble win will increase the multiplier by +1. However, every subsequent time a Wild symbol is used in a win, its multiplier will multiply the value in the meter. The multiplier is applied to all wins during Free Spins, and does not reset.
Land 2, 3, 4, 5, or 6 Bonus symbols to trigger an additional +1, 2, 3, 4, or 6 spins, respectively.
Players in appropriate regions can buy the bonus for a cost of 100x bet, wherein 3, 4, 5, or 6 Bonus symbols will land at random. RTP when buying the feature is 96.0%. The maximum win available in Muertos Multiplier Megaways is 10,000x bet. If the sum of a single game round exceeds this, the game round will end, and 10,000x bet will be awarded.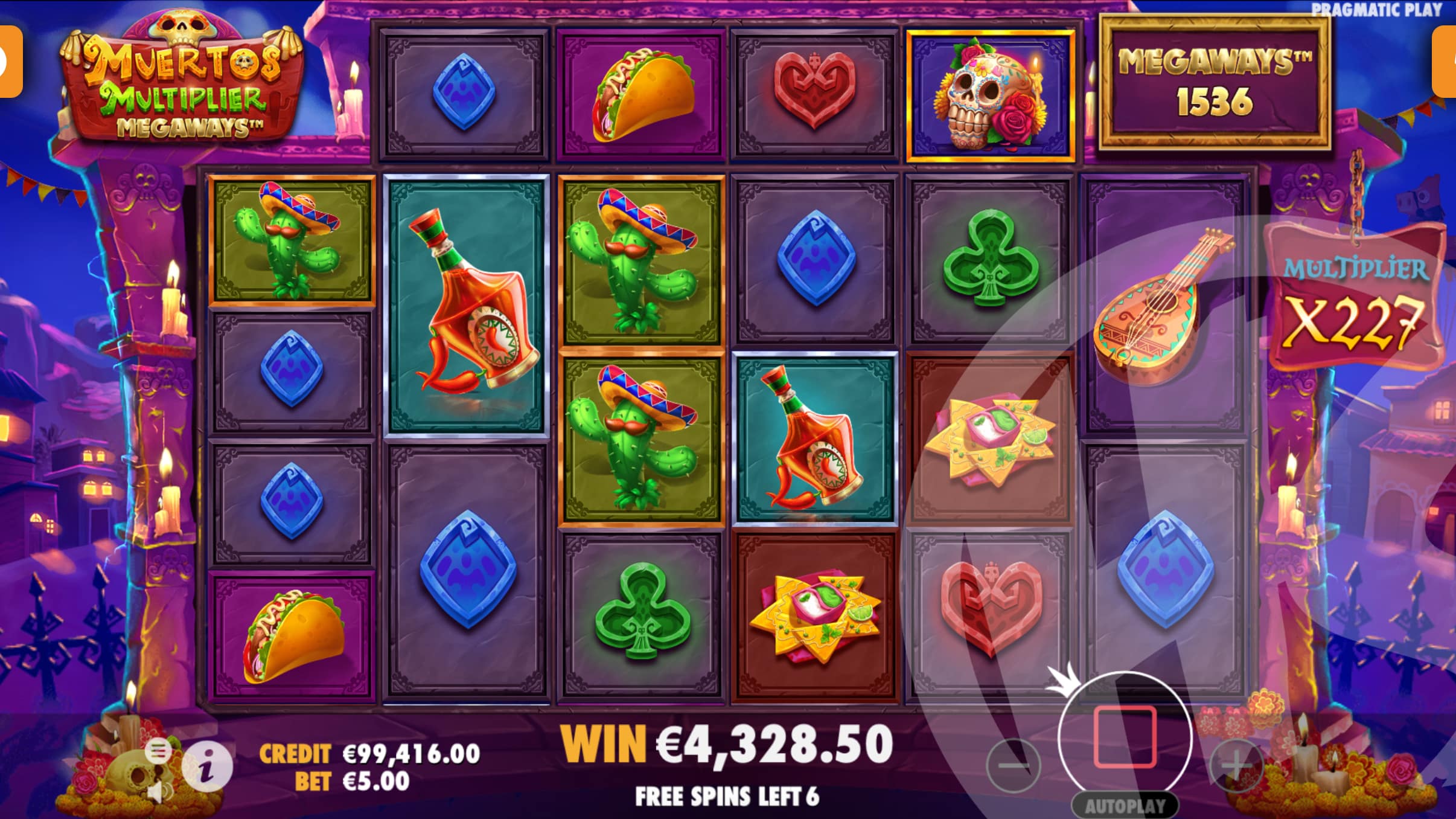 First Impression
There isn't a great deal to say on Muertos Multiplier Megaways – it's a fine release. There's nothing that makes this one particularly special, but nothing to complain about either, and fans of the Megaways mechanic will undoubtably love it. I guess the one element that does separate it from the competition is the chance to have multipliers multiplying multipliers, which is quite rare in these releases. That said, symbol values have been adjusted accordingly, so you really do need to build these multipliers to see things kick into high gear. Of course when they do, wins up to 10,000x bet are possible.
Free Spins are where things get more exciting as this multiplier doesn't reset, and you can see above that we reached over x200. The gamble element is slightly tedious, especially if you want to go from 5 to 14 spins, with 9 gambles to sit through, but the odds are decent, as we noted above.
Maths is highly volatile and RTP is 96.03% at its default, although 95.04% and 94.08% options are available – not bad for Pragmatic. It's like we've said twice now, if you love Megaways and you like the element of building a multiplier through cascades, this one will suit you down to the ground.
*The screenshots taken of games reviewed on this site are taken from Demo Play, as reviews are often written before games are released for real play.