Have you ever heard the phrase 'if it ain't broke, don't fix it'? It seems Relax Gaming have applied this school of thought to their collaboration with CasinoGrounds, as they prepare to release the third in this series. If you've missed what's happened so far, these teams first came together for Iron Bank, a 2021 release, before reuniting earlier this year – for Beast Mode. The connection between these two? Bonuses choices, highly volatile maths models, and huge win potential. Thankfully, the same is true for Net Gains, a highly (5/5) volatile release, with wins available up to 15,000x bet, and RTP options up to 96.10% (96.50% Feature Buy).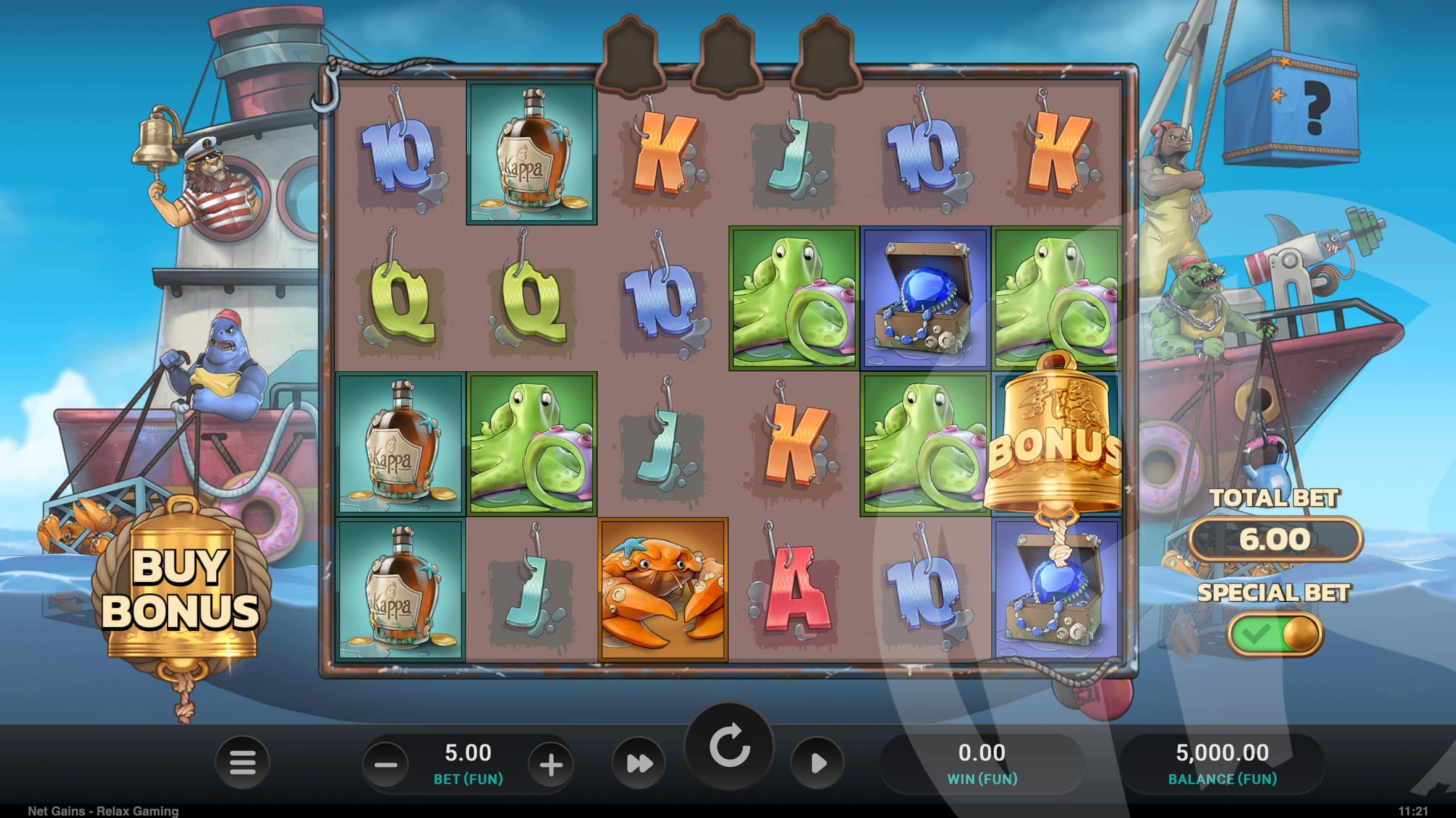 Visually, we're at sea. This entire release seems built around a pun ('net gains'), which I quite enjoy. Skies are clear and waters are choppy, with a ship in the background, carrying the four Beast Mode characters we're welcoming back – the shark, rhino, crocodile, and of course the main character – the lion. Audios are reasonably subtle until wins start to pour in, at which point things kick up a notch. Overall, the whole thing is perfectly Relax – bold and bright, yet potent beneath this innocence.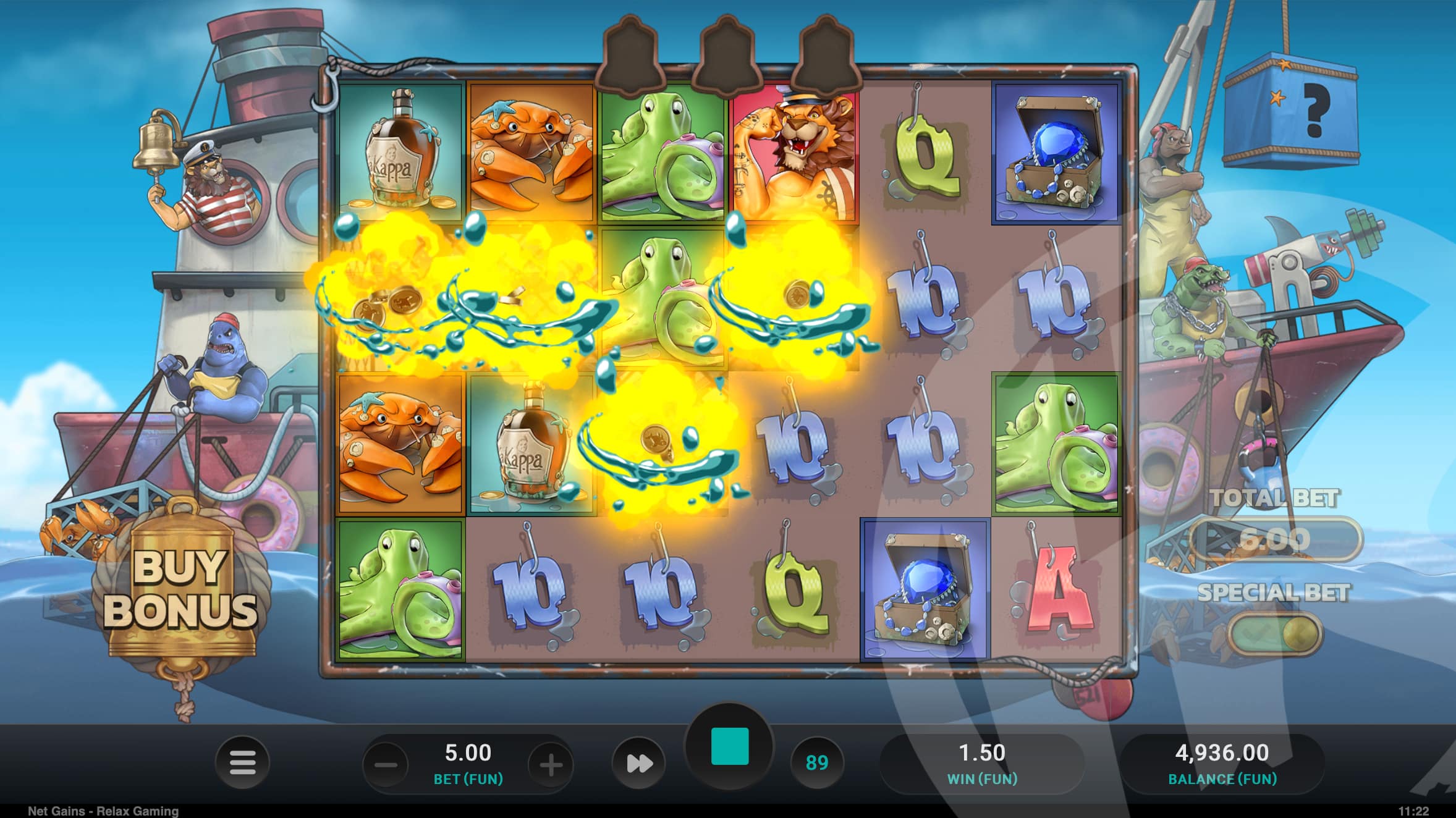 Net Gains Base Features
Taking place across 6 reels, wins are formed on Net Gains by matching at least 3 symbols on adjacent reels, beginning with the leftmost reel – producing 4,096 ways to win. Available symbols begin with non premiums, with 10s, Js, Qs, Ks, and As, awarding wins of 0.10x bet for 3 of a kind, increasing to values between 0.60 and 1.20x bet for 6 of a kind. At the premium end, we have necklaces (Titanic necklaces, basically), rum, octopuses, and crabs. Land 3 of a kind of any premium to see wins between 0.30 and 0.50x bet, increasing to values between 2 and 5x bet for 6 of a kind. Rounding off the regular symbols is the lion character. Land 3, 4, 5, or 6 of a kind lions to see wins of 1, 2.50, 5, and 25x bet, respectively. Finally, Wild sharks are available, substituting for all symbols except Bonus Symbols.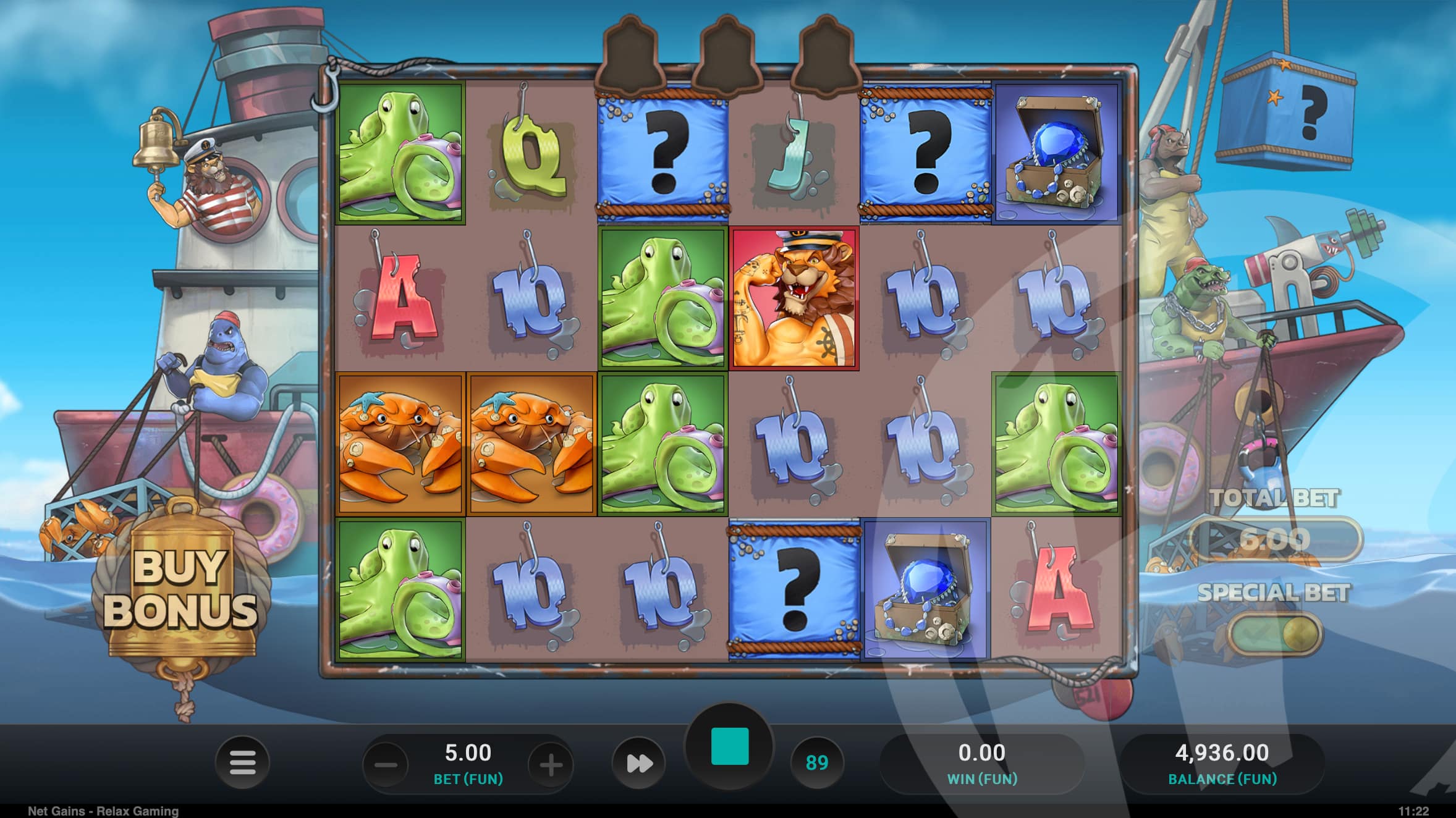 Alright so there are a few things happening in the base game, beginning with cascades. On every spin, any symbols involved in a win will be removed from the reels. All remaining symbols will then drop down to the bottommost available position on their respective reels, and new symbols will drop in from above to fill any remaining gaps. Cascades continue until no more wins are formed.
Next, it's the Special Bet option – a feature that is becoming more and more common. With Special Bet, players can bet an additional 20% to increase the chance of triggering Free Spins by 82%.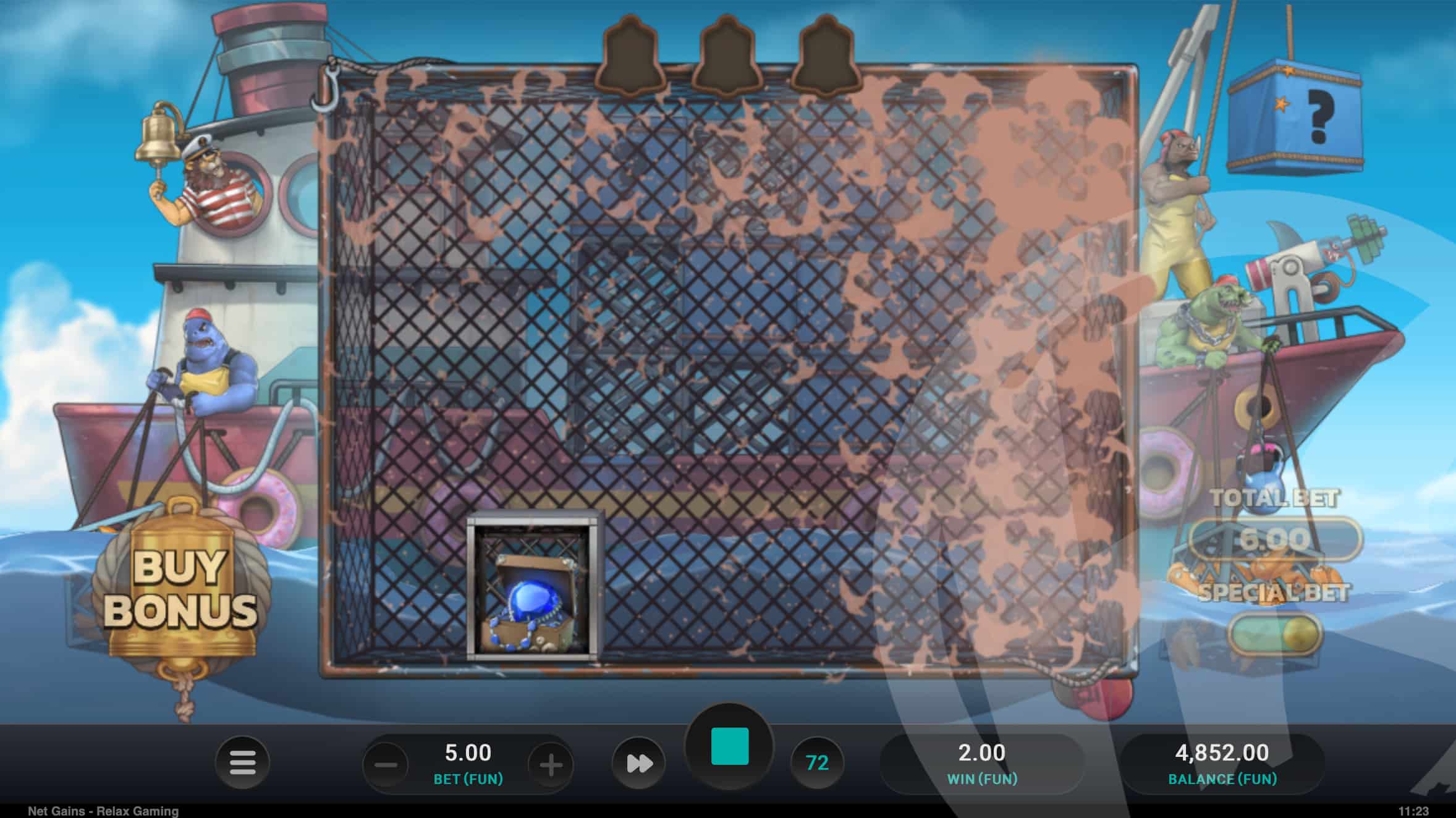 Alright, now onto the good bit. There are 3 Mystery Symbols available in the base game of Net Gains, each with a different purpose, and a similar purpose:
Regular Mystery Symbol – any that land in view will reveal the same symbol.
Bomb Mystery Symbol – reveals a symbol, then destroys all non Mystery Symbols.
Octopus Mystery Symbol – reveals a symbol, then turns all instances of that symbol into Mystery Symbols.
Cascades continue as normal with Mystery Symbols in view. If Mystery Symbols do not form a win but a different win is present, they will reveal a new symbol after each cascade. Cascades will end when no additional symbols (alongside the Mystery Symbols) have been used in a winning connection.
If two Bonus Symbols have been collected, a Mystery Symbol can reveal the third.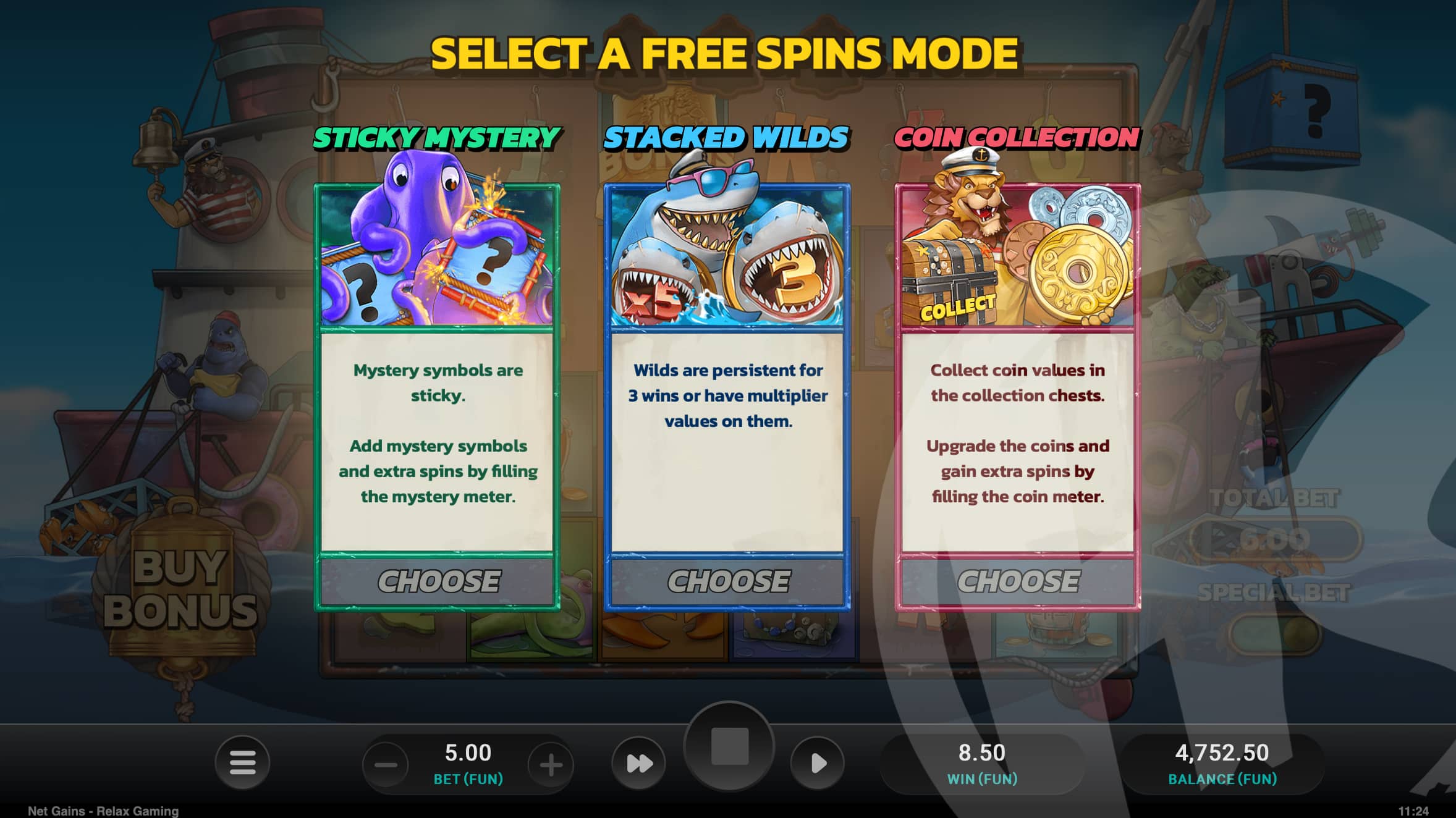 Net Gains Bonus
Collect 3 Bonus Symbols to trigger Free Spins, where 3 modes are available. First up is Sticky Mystery mode, which awards 5 Free Spins. During this mode, Mystery Symbols are more frequent, capable of landing on reels 2-6, and sticky throughout spins. For each win achieved during spins, the meter to the left of the reels will progress by +1. Each time this meter has been filled to 3, an additional +1 spin is awarded, and an additional Mystery Symbol is placed in a random position on the reels. Bomb and Octopus Mystery Symbols continue to land in this mode, but will revert to regular Mystery Symbols to become sticky, after their duty has been done once.
The second choice available is the Stacked Wilds mode, which awards 7 Free Spins. During this mode, two types of Wild Symbol can land on the reels – Multiplier Wilds can have multipliers between x2 and x5 applied to them, whilst Countdown Wilds always begin with a counter of 3 on them. Multiplier Wilds disappear as soon as they are used, or between spins. Countdown Wilds will always be used in 3 wins – if 3 wins do not occur within the spin in which they land, they will drop to the bottom of their respective reel and remain there. For each win they are used in their counter will decrease by 1, and once they have been used in 3 wins, they will disappear from the reels.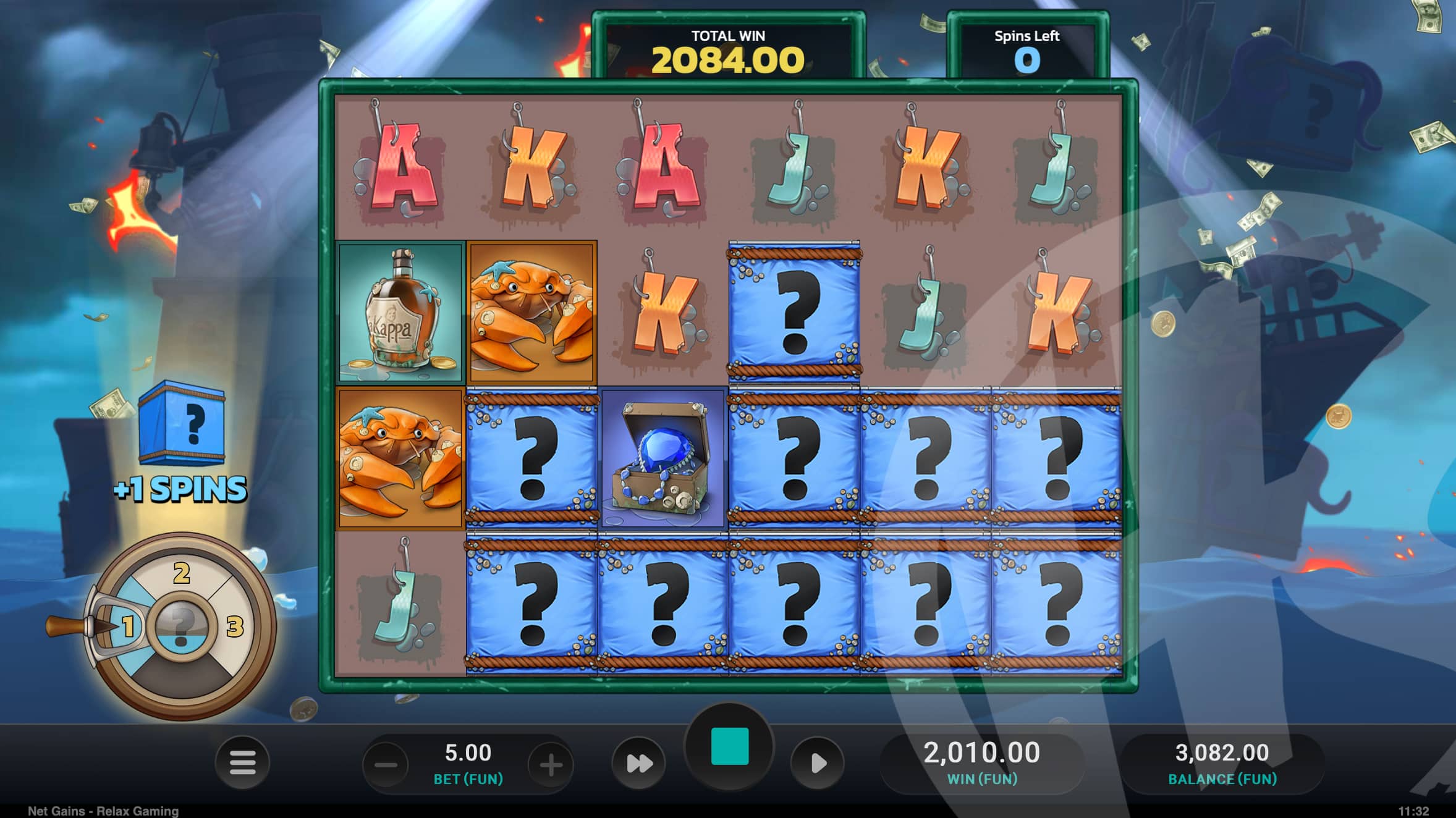 The third option available is Coin Collection mode, which awards 8 Free Spins. During this mode Bronze, Silver, or Gold coins can land on the reels, taking on initial values between 1-10x bet, 3-30x bet, and 10-100x bet, respectively. For each coin that lands on the reels, the meter to the left is filled. Each time this meter has been filled to 10, an additional +1 spins are awarded, and coin values are upgraded. Through the meter, Bronze, Silver, and Gold coins can be upgraded to hold values up to 40x bet, 100x bet, and 2,500x bet, respectively. After being filled 5 times, coin values can no longer be upgraded, but an additional spin will still be awarded.
Landing a Collector Chest will collect the value of all coins in view, and any in view on the following cascade. Alternatively, a Persistent Collector Chest can land once every spin – if this lands, an additional +5 spins will be awarded, and the chest will drop to the bottommost available position, collecting any coins in any remaining spins. If 4 or more coins land in one spin with no chest, their values will be held at the top left of the reels. If a Collector Chest lands in any subsequent cascades on the same spin, their values will be collected. If not, their values will be removed ahead of the next spin.
Finally, a Coin Rain can occur, with 10 coins of the same type dropping in on the reels.
It is possible to land an additional +2 spins in each bonus mode with a symbol dropping onto the reels. Alongside this, it is possible to trigger all of the bonus modes in Hot Mode. If Hot Mode is going to trigger, it will happen after the Free Spins mode has been chosen, randomly. During Hot Mode, there is an increased chance of winning big.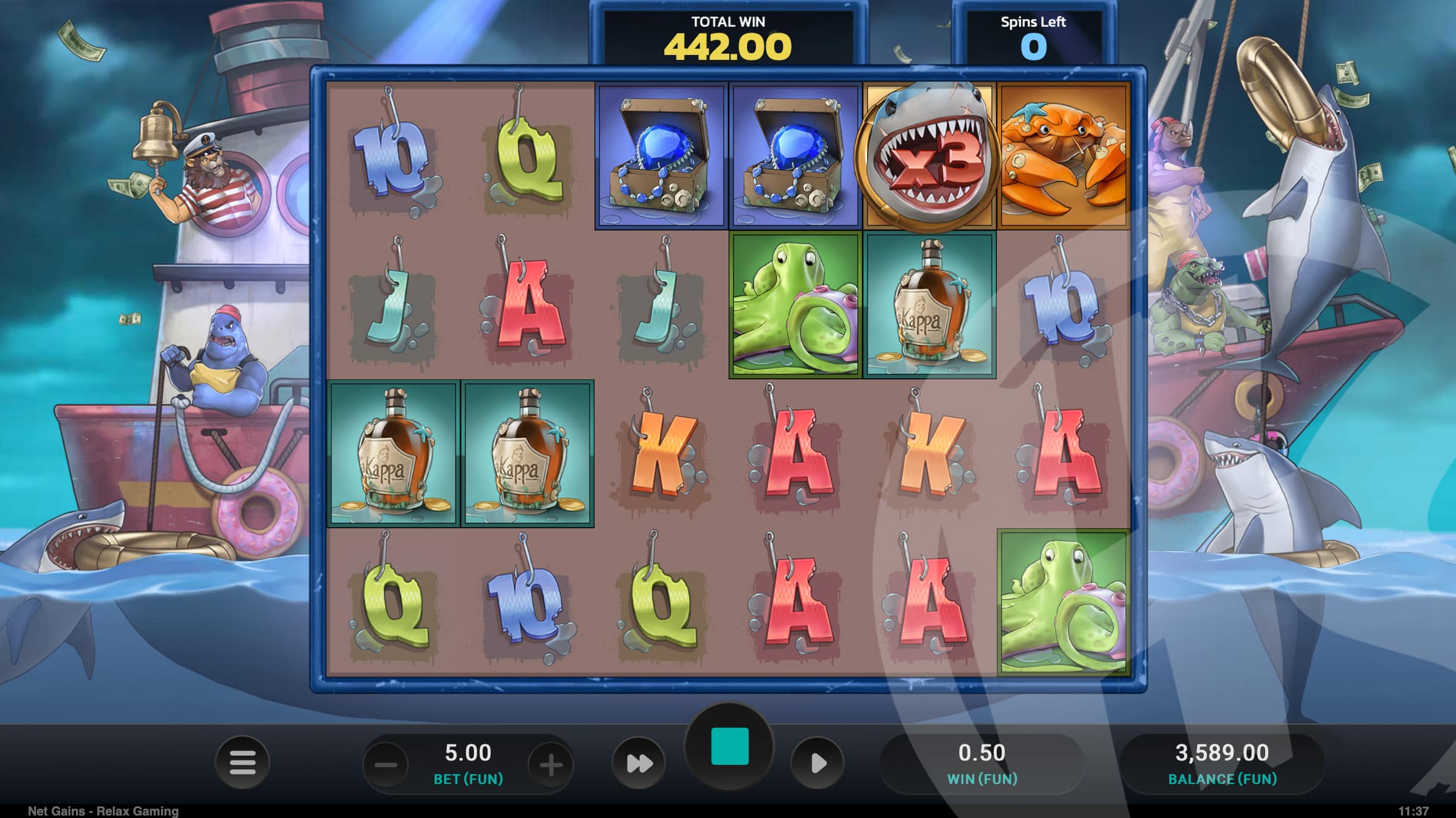 Finally, players in appropriate regions can fast track some of this excitement with the Buy Bonus option. For a cost of 100x bet, players can choose from any of the 3 Free Spin modes. RTP increases slightly to 96.50% when buying the bonus.
The maximum win available in Net Gains is 15,000x bet. If the sum of a single game round exceeds this, the game round will end and 15,000x bet will be awarded.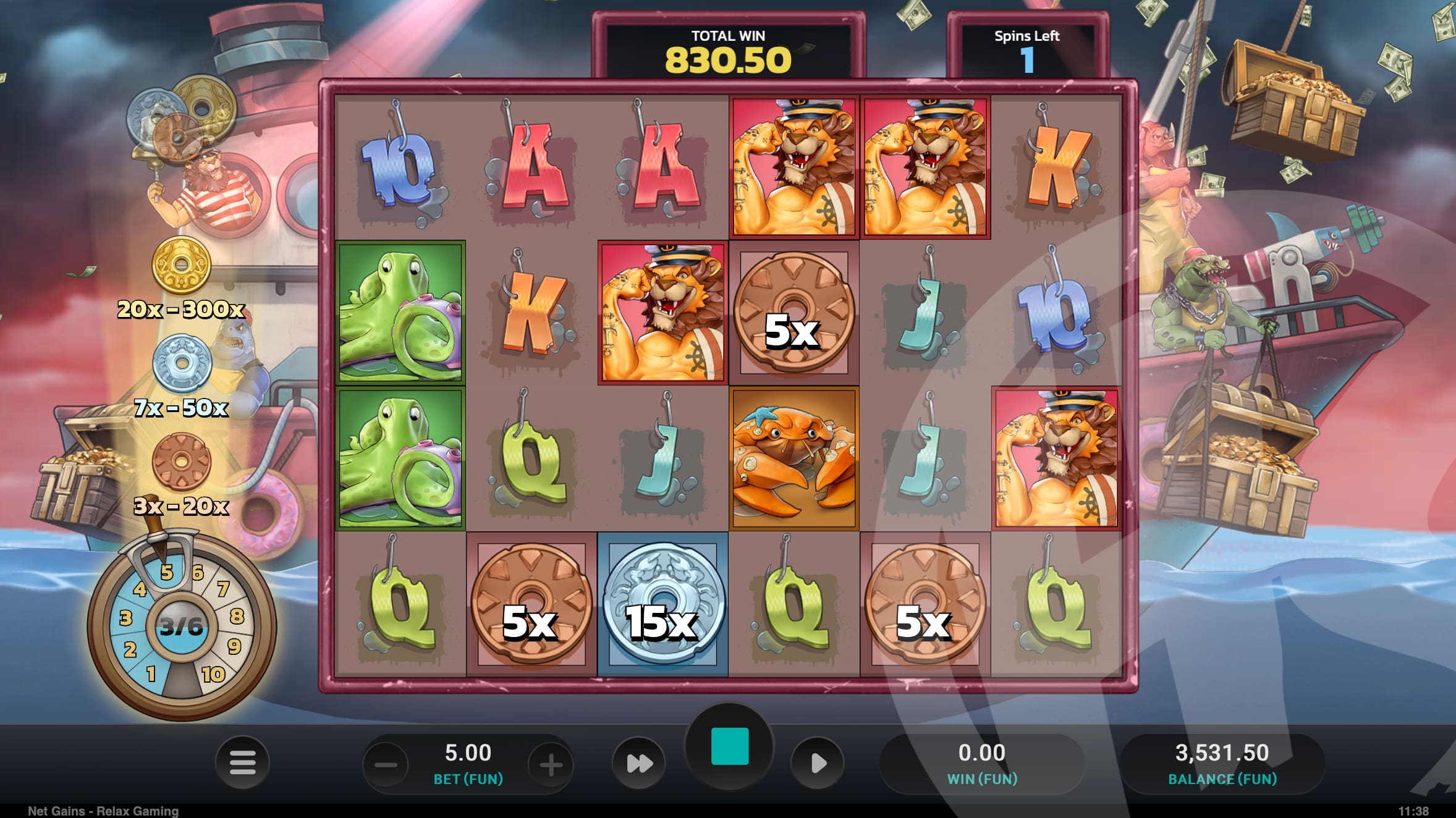 First Impression
I'm a bit of a Beast Mode super-fan, so I definitely have some positive bias towards this collaboration on the whole. This also meant that I was pretty excited to find out Net Gains was coming, but did it live up to the idea in my head? Yes and no. I don't think this one packs the same punch Beast Mode did. Beast Mode was a clear improvement upon Iron Bank – adding cascades and a bonus gamble definitely brought something to the table. Now, we have no bonus gamble, but instead a Hot Mode that can trigger randomly.
Full disclosure, I got Hot Mode within the first 4 or 5 bonuses I bought in demo mode on this – before I'd actually read the rules and knew what was going on. It's a nice touch, and it's nice that it's random, but it feels like it maybe wasn't the right direction to go in. Super Free Spins were triggered with 4 Bonus Symbols in Beast Mode, or by gambling. Capable for players from the point of trigger, or from the gamble after triggering, or through the gamble after going for the Bonus Buy. Now, we've kind of just got the same thing, except it might be more rare, we have no control over when we want to go for it, and we don't see something that is specifically does – just that it's more likely to go big.
Complaints out of the way (most of which are only in comparison to Beast Mode), there is so much good in Net Gains. Firstly, audiovisuals are exactly the level you'd expect from Relax. They're quirky, sure, but they're done well. Mystery Symbols in the base game keep things moving forward in an exciting way, especially with 3 symbols available to land. The Special Bet also offers a great deal of help – increasing the bonus chance by 82% for a cost of an additional 20%.
When you get into Free Spins things definitely kick up in each of the 3 modes. I don't think I have a favourite – which is a bit disappointing because I immediately had a favourite in Beast Mode (multiplier ladder, if you're wondering). The problem is that I don't think I love them all equally in Net Gains, I think it's that I don't love any of them enough to solidify it as a favourite. If I had to choose, I guess I'd say Sticky Multiplier, but that could change. Of course, in any of these modes wins are possible up to 15,000x bet.
Maths is highly (5/5) volatile, and RTP options are available up to 96.10%, although a 94.0% option is available, so as always it's worth checking this. That's pretty much it. I don't think Net Gains will impress quite as much as Beast Mode, but that doesn't stop it from being a great release in its' own right, and if you've been following this collaboration so far, everything points towards you enjoying this one.
*The screenshots taken of games reviewed on this site are taken from Demo Play, as reviews are often written before games are released for real play.