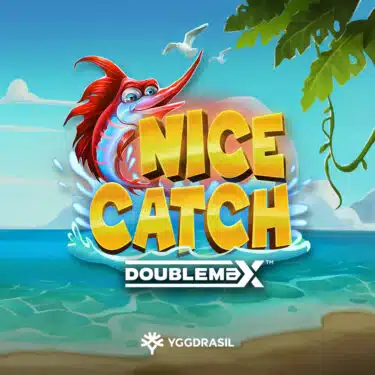 Nice Catch DoubleMax
Game Provider: Yggdrasil Gaming
Release Date: Available Now
Nice Catch DoubleMax
Game Studio Yggdrasil Gaming
Release date Available Now
RTP 90.50% - 96.10%
RTP Feature Buy 96.10%
Paylines 243
Volatility Super High
Min Bet 0.20
Max Bet 30
Max. Win 23,972x
Rating 8/10
One month. One whole month without a fish game review. We're back though, thanks to the minds at Yggdrasil Gaming, who are combining their DoubleMax mechanic made famous through the likes of Raptor DoubleMax and Florageddon! with one of the longest standing mechanics in the industry – fish games. If you're not familiar with a fish game, they tend to focus around cash values being collected by a certain symbol – like a fisherman, as is the case today in Nice Catch DoubleMax. With RTP options up to 96.10%, this super highly volatile release can produce wins up to 23,972x bet.
It's a bright one today as we head to the beach, with golden sand running along the bottom of the screen. Skies and water are clear blue with some mountains in the distance, but the majority of our attention is focused on the bamboo lined reels, and the somewhat strange symbols upon them. Suits, various fish and boats are to be expected, but we also have mobile phones, trainers, anchors, and even a bottle – presumably the items one would find at the bottom of the sea, given that they're wrapped in seaweed. Finally, an upbeat, tropical soundtrack ties it all together.
Nice Catch DoubleMax Base Features
Taking place across 5 reels, wins are formed by matching at least 3 symbols on adjacent reels, beginning with the leftmost reel. Each reel holds 3 symbols, producing 243 ways to win. Symbols available begin with non premiums, with clubs, diamonds, spades, and hearts, awarding wins between 0.10 and 0.20x bet for 3 of a kind wins, increasing to values between 0.50 and 0.60x bet for 5 of a kind matches. At the premium end, anchors, bottles, shoes, and mobile phones award wins between 0.40 and 2x bet for 3 of a kind matches, increasing to values between 1 and 8x bet for 5 of a kind wins. Finally, Fish symbols are available (featuring a variety of fish) and award wins between 0.40 and 1x bet for matches between 3 and 5 of a kind.
There are a few things to cover in Nice Catch DoubleMax, beginning with Golden Bet. By betting an additional 50%, the chance of triggering Free Spins is increased by 50%. More Bonus symbols and more Fisherman symbols are on the reels, so the chance of triggering Fish collection is also increased. We'll explain this next.
Next up is the Fisherman symbol. When Fish symbols land on the reels, they will have a cash value applied. The Fisherman symbol can only land on reel 5, and when it does land it will collect the value of all Fish symbols in view. There is no information provided on the individual values of Fish symbols.
The next feature is the DoubleMax Multiplier. Above each reel, there are wooden planks in the shape of fish with multipliers written on them. The first is x1, the second is x2, and then values are doubled thereafter – x4, x8, and x16. As Fish symbols land and create wins on the reels, they unlock these multipliers. If Fish symbols land on reels 1 and 2, for example, the second multiplier (x2) will be unlocked. If Fish symbols land across all 5 reels, the x16 multiplier will be unlocked.
Fish symbols must land from left to right, beginning from reel 1, to unlock these multipliers. Effectively, the Fish symbols must form their own win. The unlocked multiplier will be applied to all wins that occur in the spin.
Nice Catch DoubleMax Bonus
Land 3, 4, or 5 Bonus symbols to trigger 8, 11, or 14 Free Spins respectively. Before beginning Free Spins, players can choose to gamble for additional spins, or collect those that they have won. It is possible to gamble more than once – from 8 to 11 spins, then 11 to 14 spins. If the gamble is lost, all spins are forfeited.
During Free Spins, Bonus symbols are removed from the reels but any Fisherman symbol that lands will award an additional +1 spin and double the DoubleMax multiplier. Additionally, the multiplier does not reset between spins, which means you can now see higher values than x16 – x2, x4, x8, x16, x32, x64, x128, and x256, to be exact. However, it is still necessary to land fish symbols from left to right, forming wins, to activate these multipliers.
Players in appropriate regions can take advantage of the following Bonus Buy options:
Bonus Game – 100x bet
Super Bonus Game (20 spins guaranteed) – 500x bet
The maximum win available in Nice Catch DoubleMax is 23,972x bet. If the sum of a single game round exceeds this, the game round will end and 23,972x bet will be awarded.
First Impression
There's no shortage of fish games on the market, which is why it's particularly impressive when a new release joins this group and offers something new – which is exactly what Nice Catch DoubleMax has done. By combining the DoubleMax mechanic with the expectation of fish symbol values being collected we're treated to an enhancement on an older idea.
In the base game this offers multipliers up to x16 on fish values, which along with the Golden Bet options offers plenty in the way of excitement. Moving into Free Spins and thinks kick up a notch, with multipliers now on offer up to x256 and not resetting between spins, and any Fisherman symbol that lands awarding additional spins. When the right combinations land, wins are possible up to 23,972x bet.
Finally, maths is described as 'super' highly volatile, with RTP options available up to 96.10%, so as always it's worth checking this. If you're a fan of a fish game and are looking for a new twist, Nice Catch DoubleMax is the perfect option.
*The screenshots taken of games reviewed on this site are taken from Demo Play, as reviews are often written before games are released for real play.