Back in 2020, ELK Studios released Nitropolis – a talking point from the beginning. Offering the highest amount of win ways we'd seen so far, coupled with superb graphics and a stellar soundtrack, many players fell in love with Nitropolis, building anticipation for Nitropolis 2, released in 2021. Now, it's time to complete the trio with Nitropolis 3 – the newest release from the team. With an RTP of 95.0%, and wins on offer up to 50,000x bet, let's take a closer look at this highly (7/10) volatile release.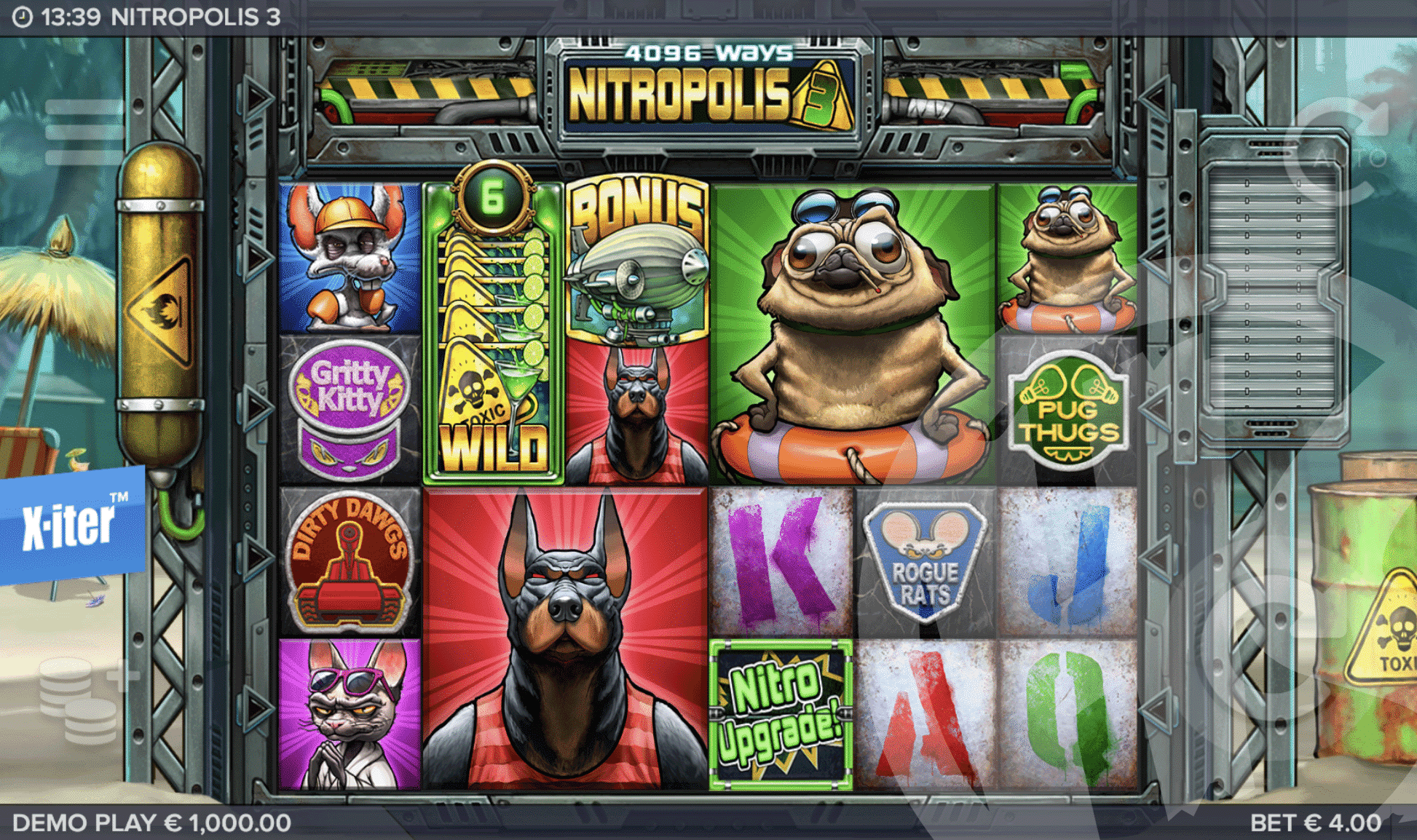 Visually, things are exactly what you would expect from the team – vibrant and crisp, with a superb level of skill. We're on a beach front, with toxic waste to the right and metal cages surrounding the reels, so it's not exactly what you would expect, but the whole thing forms a fantastic image, that captures your attention almost immediately. Audios are fantastic – really, really good. Upbeat, memorable, with distant sounds of cats and dogs dispersed throughout. Overall, just what you could want from Nitropolis 3.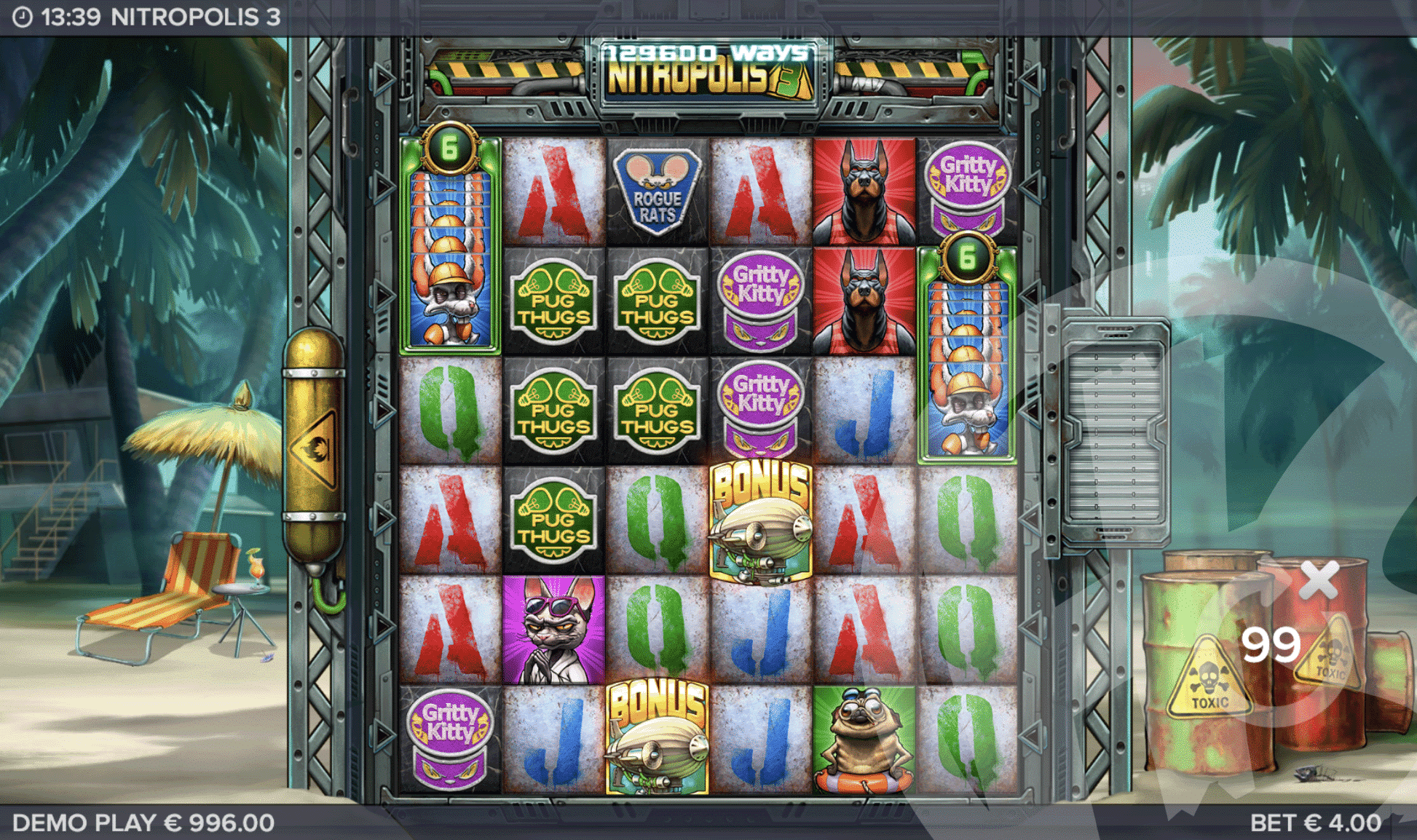 Nitropolis 3 Base Features
Taking place across 6 reels, Nitropolis 3 begins with 4 rows of symbols. Wins are formed by matching at least 3 symbols on adjacent reels, beginning at the leftmost reel, forming 4,096 ways to win. Of course, if you've played the first two in the series, you'll know this is only the starting point – at times wins pay both ways, and additional rows are added throughout spins, taking the amount of ways to win into the millions.
Symbols available begin at the lower end, with J, Q, K and As paying 0.10x bet for 3 of a kind, up to 0.30x bet for 6 of a kind. Four logos greet us in the mid-range, with Rogue Rats and Pug Thugs paying between 0.15 and 0.80x bet for wins between 3 and 6 of a kind, followed by Gritty Kitty and Dirty Dawgs, paying between 0.20 and 1x bet, again for wins between 3 and 6 of a kind. Premiums are character symbols matching the logos – rats and pugs award wins of 0.50 and 0.75x bet for 3 of a kind wins, respectively, up to wins of 2 and 2.5x bet for 6 of a kind wins. Cats and dogs award wins of 1 and 1.5x bet respectively for 3 of a kind, up to wins of 3 and 5x bet for 6 of a kind, respectively. Finally, Wilds are available, substituting for all aforementioned regular pay symbols.
Both Wild symbols and all regular pay symbols come in one of four sizes – Standard 1×1, Super 2×2, Mega 3×3 and Epic 4×4. All big symbols are counted as the number of smaller symbols that make them up – meaning a 2×2 symbol counts as 4 regular 1×1 symbols.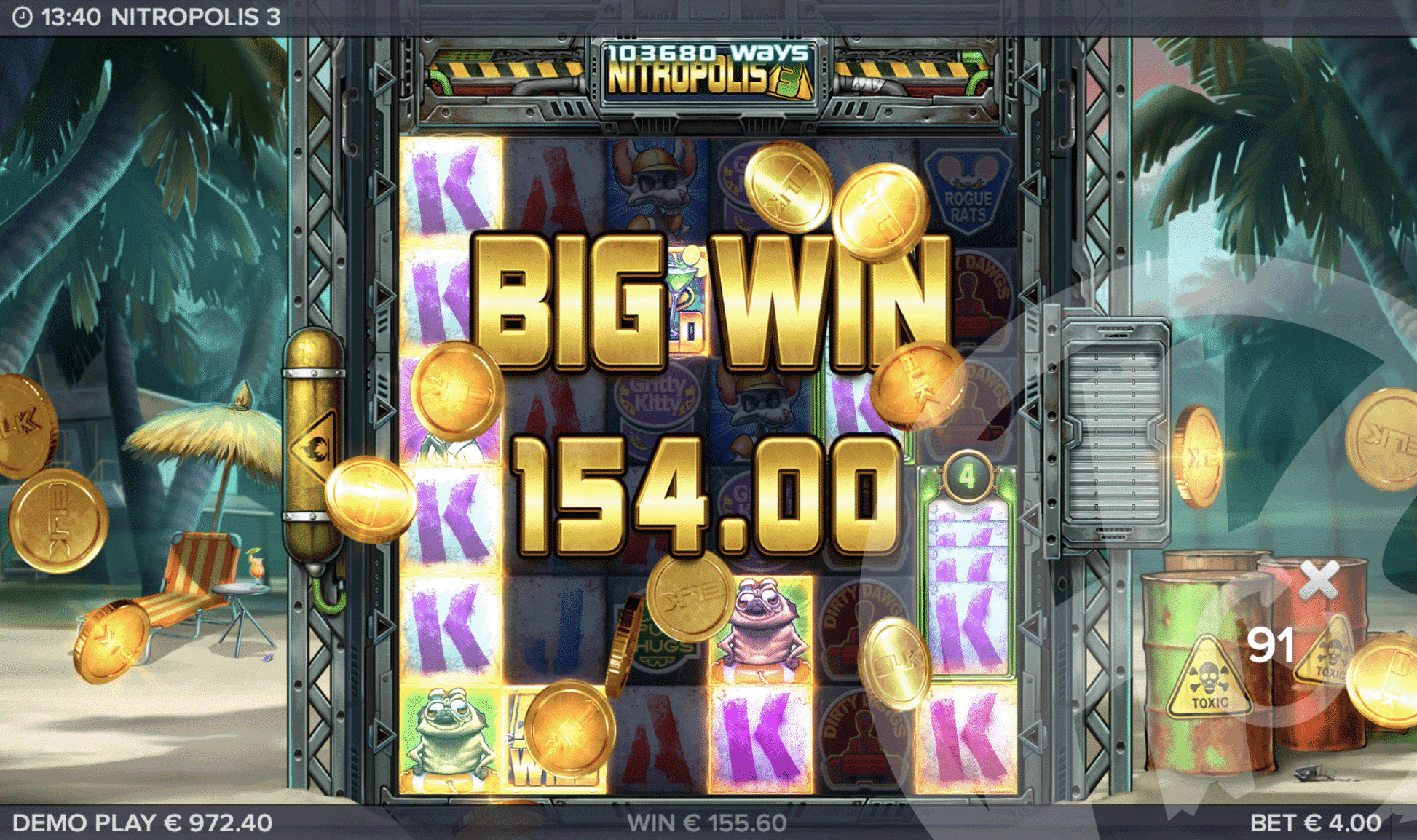 Kicking things off is the Avalanche feature – any symbols involved in a winning combination are removed from the reels, allowing new symbols to drop down into their place. At the same time, an extra row of symbols is added to the top, forming additional ways to win, and this continues until no more wins are formed. Rows can increase a maximum of 8 high, and if Nitro Reels (more on these below) are present they are not removed – rather just the symbols revealed inside are changed.
Next it's Nitro Reels, which help to increase the ways to win. A small Nitro Reel always covers two symbol places and contains 4, 6, 8, 10 or 12 identical 1×1 payout symbols. These can contain Super Bonus Scatter Symbols, however this will only count as one Scatter. A big Nitro Reel always covers six symbol places and contains 2, 3, 4, 5 or 6 identical 2×2 payout symbols.
Empty spaces occurring below big symbols or big Nitro Reels are filled with 1×1 symbols of the same type as the big symbol to reach a stable horizontal resting state.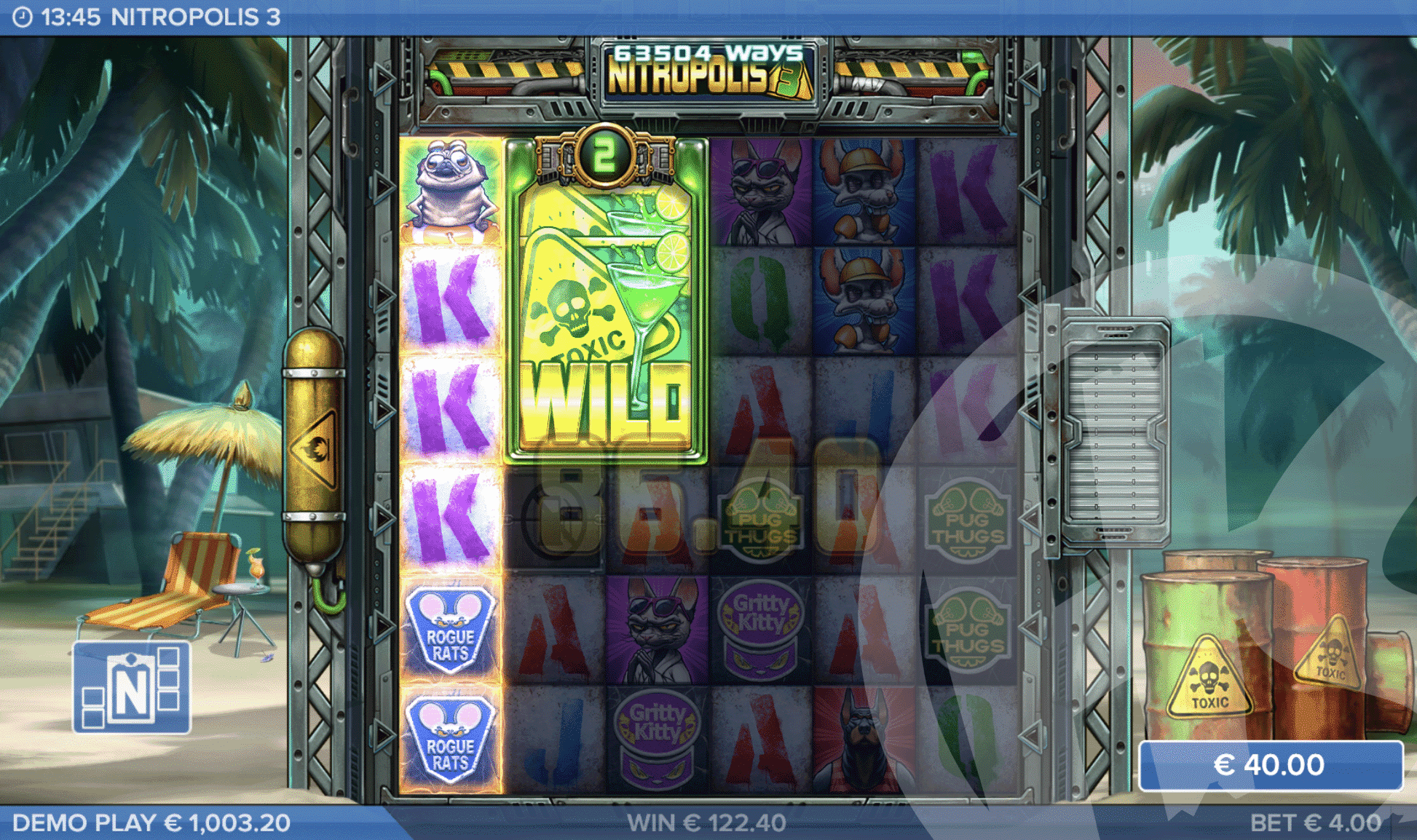 There are 3 different Nitro Features which can affect the Nitro Reels:
Nitro Match: Nitro Reels that are on the same reel or adjacent reel to the Nitro Match symbol will reveal symbols matching one in view on an adjacent reel.
Nitro Upgrade: Nitro Reels that are on the same reel or adjacent reel to the Nitro Upgrade symbol will upgrade to contain a higher number of symbols.
Nitro Wild: Nitro Reels that are on the same reel or adjacent reel to the Nitro Wild symbol will display wild symbols.
These features are activated when all symbols have landed, but prior to payout. Nitro Feature symbols can flip to reveal regular Wild symbols after their initial feature has been performed. If this happens and the Wild contributes to a win, the Nitro Feature symbol will then flip back to a Nitro Feature symbol.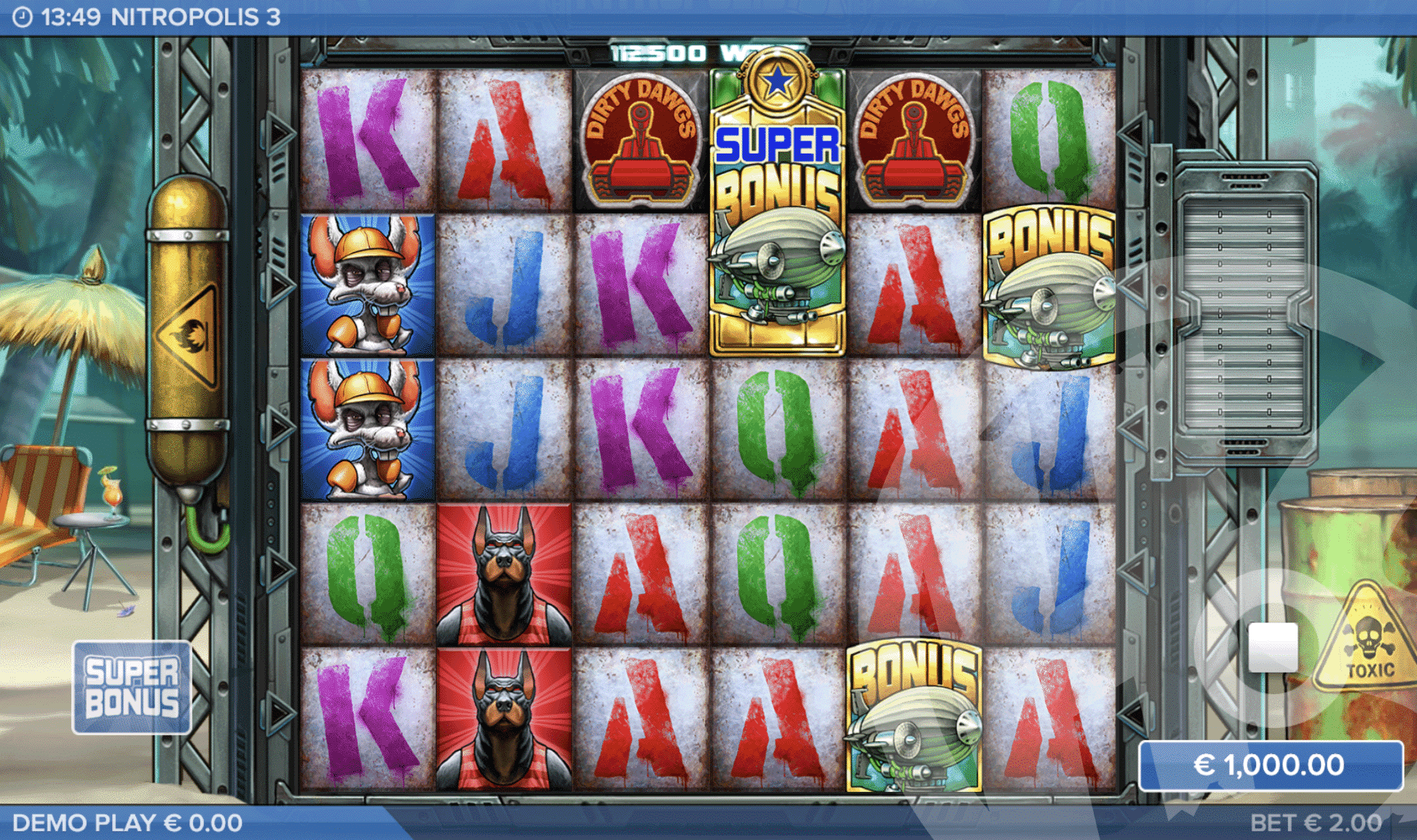 Additional Special Symbols available on the reels are:
Redrop: When no more wins are possible, a re-spin is awarded. Bonus Symbols, Both Ways Symbols, Nitro Feature Symbols and Redrop symbols remain on the reels, Nitro Reels re-spin, and Feature symbols reactivate.
Both Ways: Wins pay left to right, and right to left. Both Ways remain throughout all ensuing Avalanches.
Nitropolis 3 Bonus
Land 3, 4, 5 or 6 Scatter symbols to trigger 8, 12, 16 0r 20 free spins, respectively. Free spins begin with 4,096 ways to win, and each time an Avalanche occurs during a spin an additional row is added to the height – this helps to calculate the new Safety Level, meaning reels will not decrease in size again during free spins. Safety Levels advancement occurs after the payout, with the next spin beginning from this point. Each spin can see reels increase to maximum height thanks to Avalanches, but the Safety Level itself can only increase 1 row per spin. Safety Levels can increase 4 rows high at the most, to 8 rows height total.
During free spins, Nitro Reels are sticky. At the end of each spin, any Nitro Reels in view will drop to the bottom of the reels, landing above any already present. Landing 3 Scatters during free spins re-triggers the bonus round.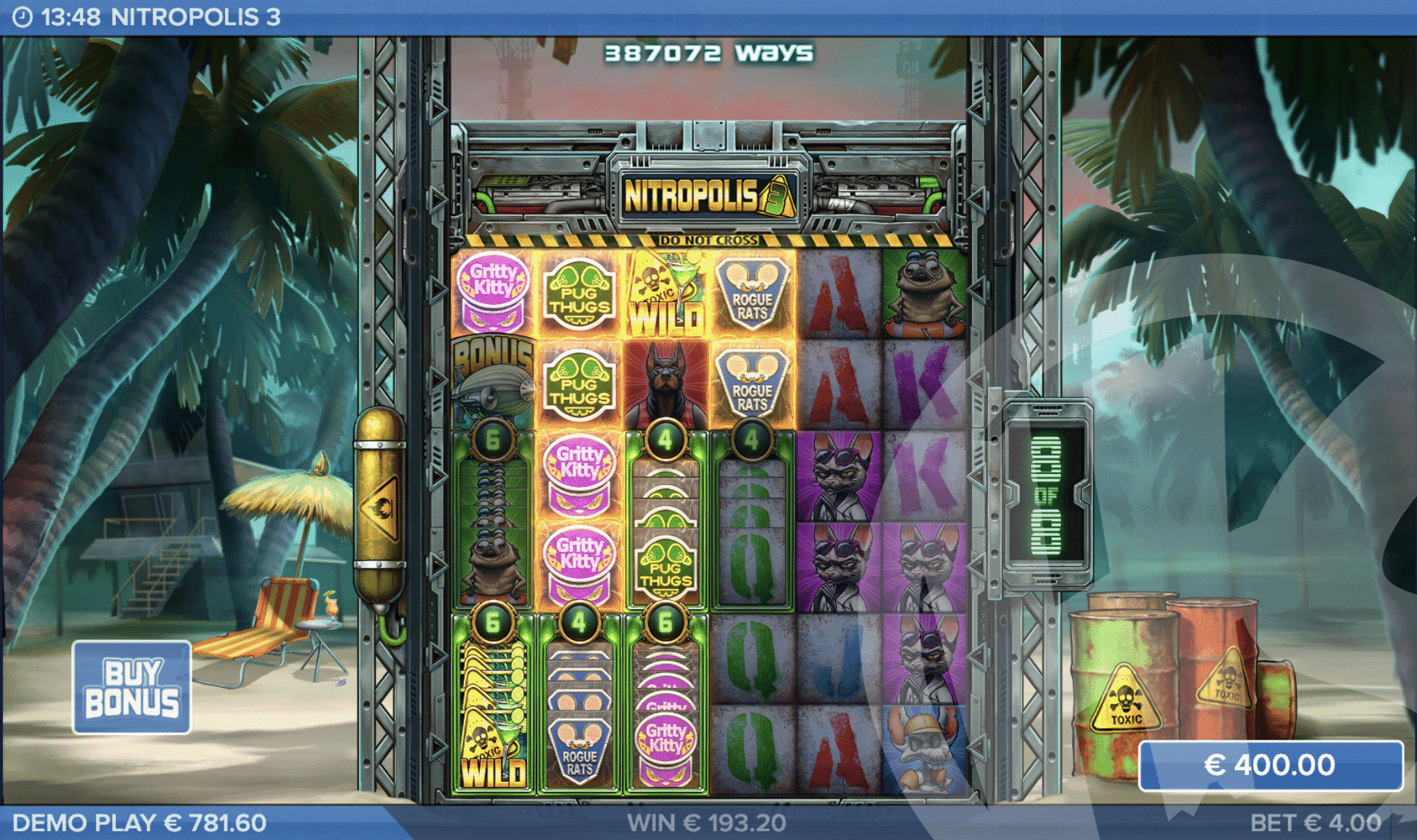 If at least 1 Super Bonus Scatter symbol is used to trigger free spins, the Super Bonus is awarded. This is much the same as the regular bonus with two noticeable differences – reels begin 8 symbols high for the maximum height available, and 'pays both ways' is always active. The super bonus can also be re-triggered.
The maximum win available in Nitropolis 3 is 50,000x bet. If a game round or spin exceeds this, the game round or spin will end, and 50,000x bet will be awarded.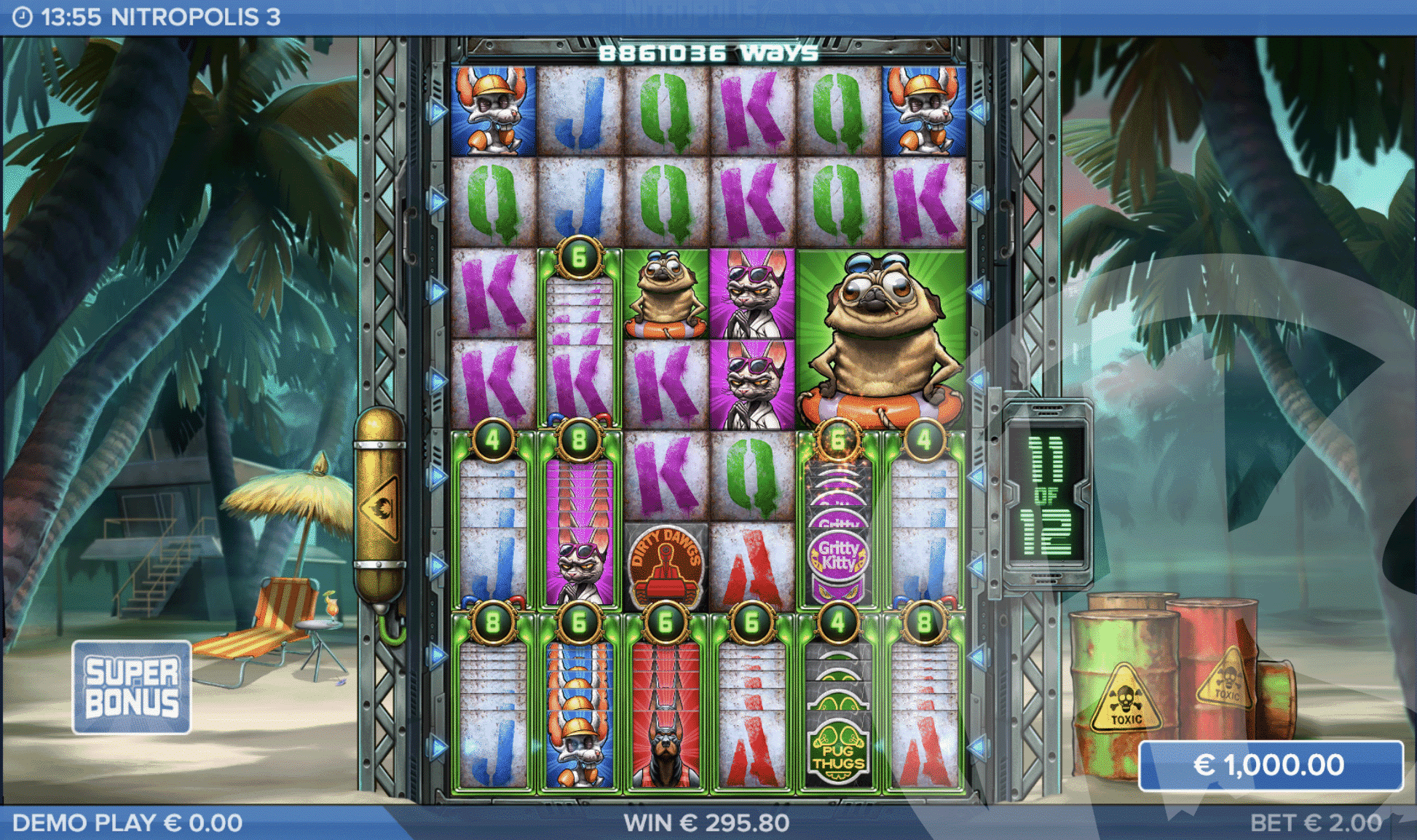 Players in appropriate regions can take advantage of a number of X-iter™ options:
Bonus Hunt for 2x bet: Boosted bonus chance (more than double).
Big Nitro Reel for 10x bet: 1 spin with a guaranteed Big Nitro Reel.
Nitro Match/Both Ways for 25x bet: 1 spin with guaranteed Both Ways and Nitro Match.
Buy Bonus for 100x bet: Buy the regular Bonus Round.
Super Bonus for 500x bet: Buy the Super Bonus Round.
First Impression
Nitropolis 3 is a stellar addition, not only to this specific series, but to the ELK Portfolio as a whole. A lot of players claim these releases are too difficult to follow, and this could be a result of many streamers going straight to the feature buys where the action really kicks into high gear. If you give the base game some spins though, it's not hard to pick up exactly what's going on – still plenty of action, but in a more manageable, understandable way.
Of course, X-iter is one of the reasons players love ELK Studios, and the options available in Nitropolis 3 compliment the game. Although only appropriate regions can take advantage, for those that can there's something to suit everyone – particularly with an option of betting 2x bet for more than double the chance of triggering the bonus round.
When it comes to how things play, Nitropolis 3 is as exciting as they come – there's plenty of special features and symbols available to keep things ticking over. In the bonus round, things move to a new level, especially with Safety Levels, sticky Nitro Reels, and Pays Both Ways in the case of the Super Bonus. With all of these features combining, it's easy for things to take off, and when things really take off it's easy to see how wins are possible up to 50,000x bet in this highly (7/10) volatile release.
*The screenshots taken of games reviewed on this site are taken from Demo Play, as reviews are often written before games are released for real play.