In the early hours of Sunday 7th December 1941, the Imperial Japanese Navy Air Service launched a surprise military strike upon the US, against the naval base in Honolulu – located at Pearl Harbor. Until this point, the United States was a neutral country, although this attack prompted its formal entry into World War II the following day. 2,403 people were killed in the Pearl Harbor attack, including 68 civilians, making it the one of the deadliest events in US history, just behind the September 11th terrorist attacks.
Given how tragic this event was, you might think it's unsuitable to be used as a source of gambling entertainment, but the minds at Nolimit City don't agree. We previously chose not to review Remember Gulag for the same reason, but it seems the team are intending to continue their run of controversial topics, so here we are – reviewing their next release, Pearl Harbor. With wins available up to 41,127x bet, this extremely (10) volatile release comes with RTP options up to 96.06%. According to Nolimit City, "wreaking havoc is the only way. There's NO holding back", so let's dive straight in.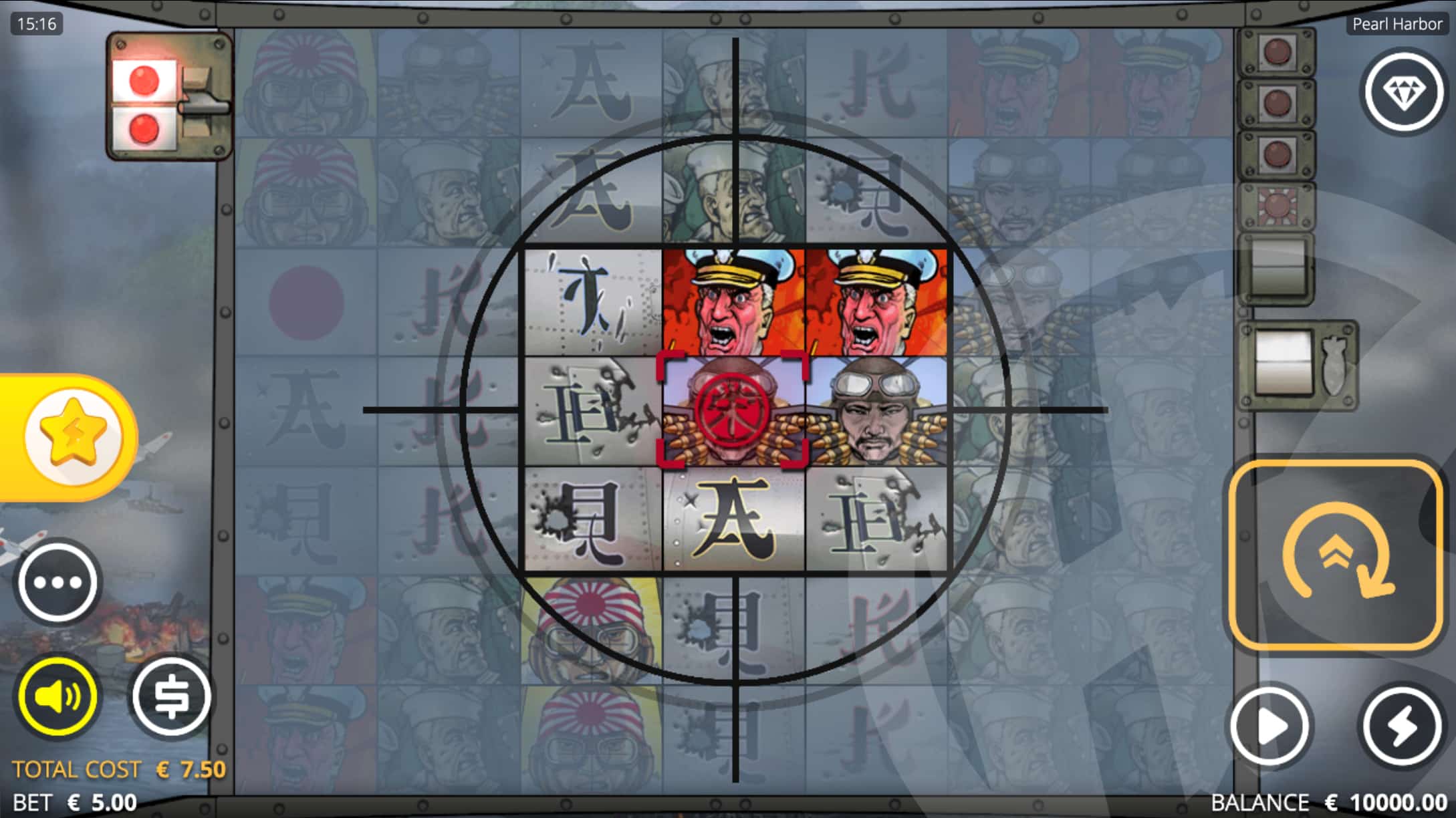 At first glance, Pear Harbor is similar in ways to Das xBoot, the team's 2021 release, although this time we're in the sky rather than the sea, with a target on the reels in front of us. In the distance, you can see the carnage of an attack on a harbour down below, with flames and explosions. Apart from that, it's all quite plain. Symbols are obviously styled to be Japanese, with a variety of pilots in view. Audios are bold and cinematic, tying into the theme well.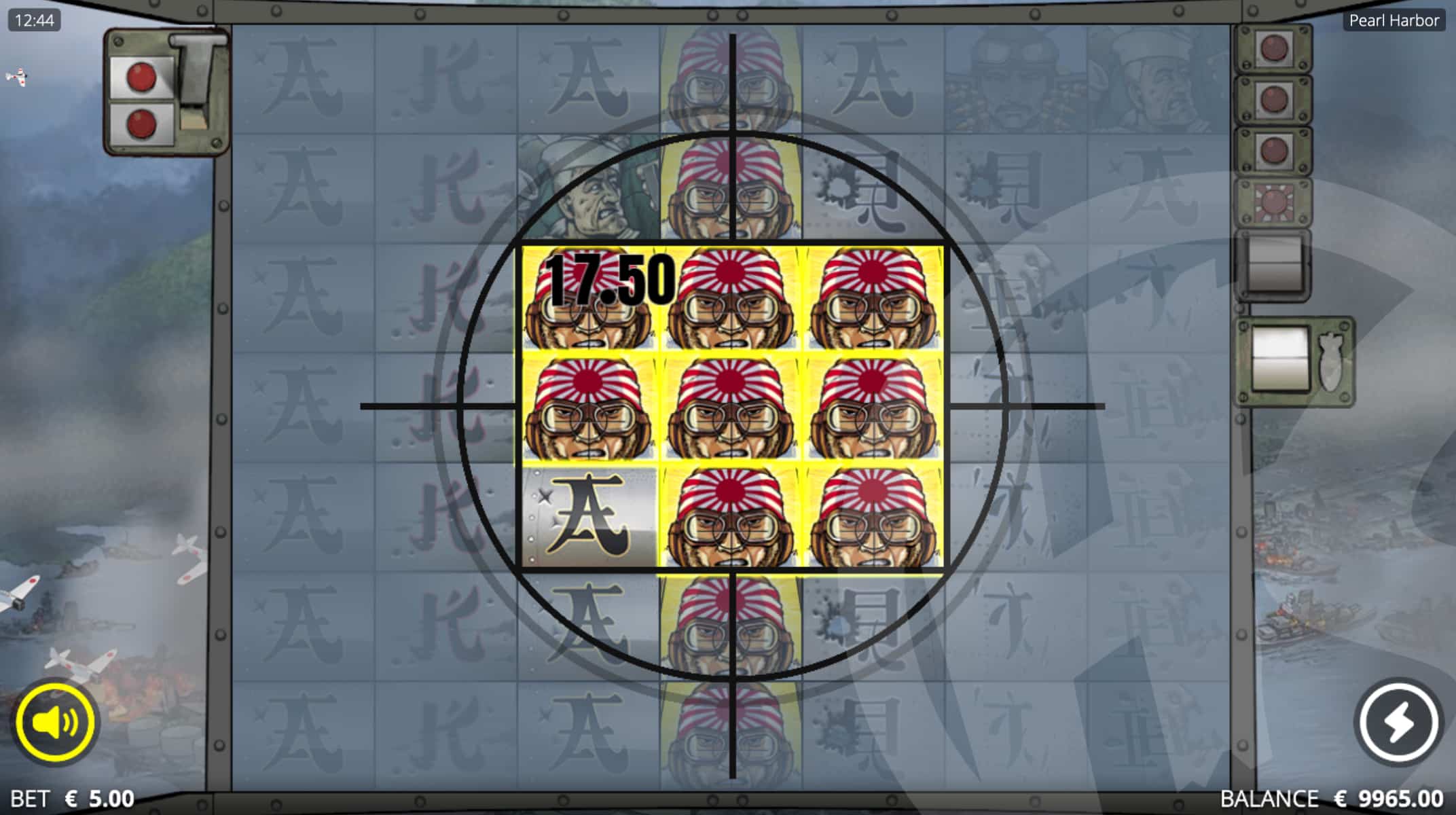 Pearl Harbor Base Features
Taking place on a 7×7 grid, wins are formed on Pearl Harbor by matching clusters of at least 5 symbols, touching horizontally or vertically, within the active area. At the start of each spin, the active area is the 3×3 middle section – displayed within the target, however there are a number of features available to expand this area, which we'll cover soon. For now, let's look at symbols. Every available symbol pays for clusters 5, 6, 7, 8, 9, 10, 11-12, 13-14, 15-16, 17-18, 19-21, 22-24, 25-29, 30-33, 34-37, 38-39, and 40+. First up, it's non premiums – 10s, Js, Qs, Ks, and As, designed in a Japanese style. Land clusters of 5 of any non premium to see wins between 0.15 and 0.40x bet, increasing to values between 30 and 75x bet for clusters of 40+. At the premium end we have four Japanese characters, awarding wins between 0.50 and 1x bet for clusters of 5, increasing to values between 180 and 625x bet for clusters of 40+.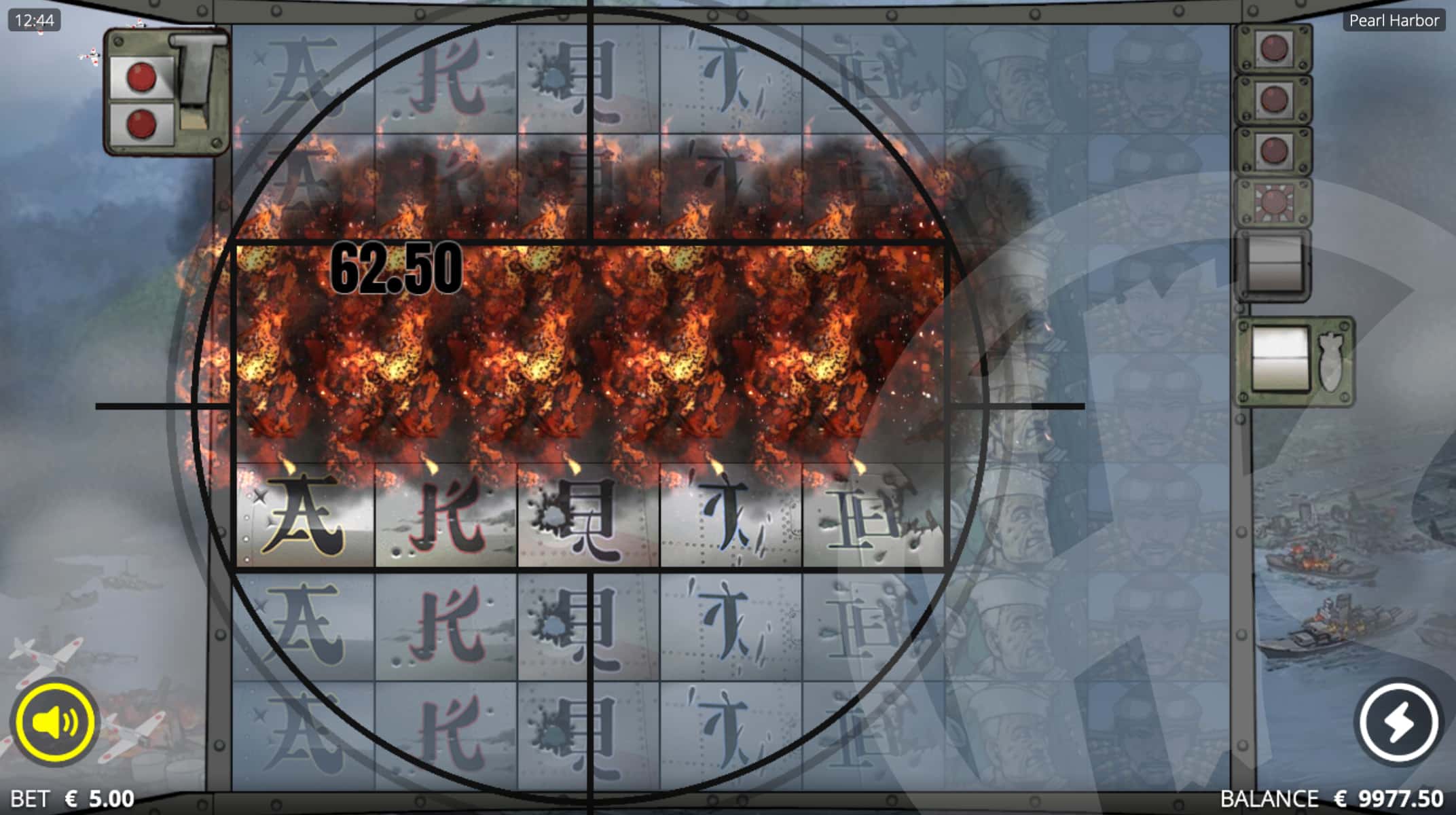 Alright, so the first thing to cover is the xBet Banzai. By betting an additional 50%, players are guaranteed one Scatter to land in the middle of the active reel area – increasing the chances of entering the Dogfight feature by more than 3 times. By betting an additional 100%, players are guaranteed two Scatters to land in the middle of the active reel area – increasing the chances of entering the Tora! Tora! Tora! feature by more than 10 times. Scatters only count towards feature entry if they land in the active reel area. Symbol payouts are unaffected when using xBet. RTP remains the same when betting an additional 50%, but increases to 96.11% when betting an additional 100%, based on the overall setting of 96.06%.
Next up is the active reel area itself. Winning combinations will only count if they occur in the active reel area. On every spin, all symbols involved in a win will be destroyed and removed from the reels with avalanches. Remaining symbols will then drop to the bottommost position on their respective reels, with new symbols dropping in from above to fill any remaining gaps. This continues until no more wins are formed.
Whilst the active reel area begins at 3×3 in the centre of the grid, players can expand this area with the help of the following features – xBomb Wild Explosions, Targets, and Colossal Symbols.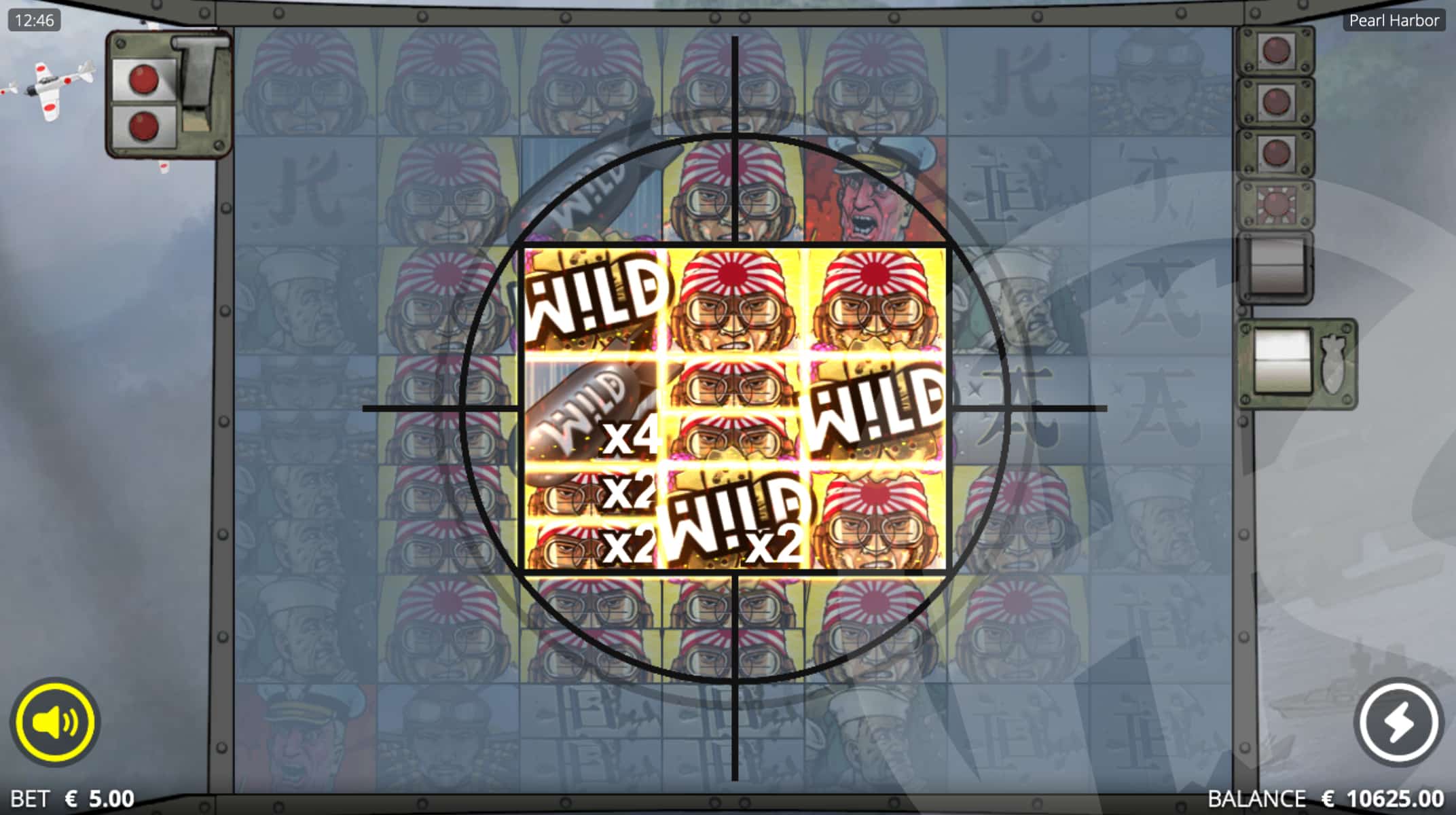 xBomb Wilds will only blow up if they land inside the active reel area, and will blow away a maximum of 10 symbols, also within the active reel area. If an xBomb is adjacent to the active reel area border, it will increase the size by one reel or row. If an xBomb is in the corner of the active reel border, it will increase the size by one reel and row.
All xBombs will explode before the next avalanche. Exploding xBombs will increase the win multiplier for the next avalanche by +1. Any Scatters or Wilds will not be removed with xBomb explosions.
Target symbols can land anywhere on the reels. When they land, the active reel area will increase in size to include the Target. After becoming part of this active reel area, the Target will turn into a Wild symbol, substituting for all wins except Scatters.
The final way to expand the active reel area is with a Colossal symbol. Colossal symbols can be 2×2 or 3×3 in size, with multipliers of x2 or x3. Initially, they are counted as 1 symbol in a cluster win. When a Colossal symbol lands partially in the active reel area, the active reel area will expand to include all of the Colossal symbol.
Lastly for the base game is the xSplit symbol, but it's a complex one, so buckle up. xSplits come in the shape of a samurai sword, and will split all symbols in the direction of the sword's handle. Initially, xSplits can have one or two swords, which can each point horizontally or vertically – they can point in different directions, but only one direction per sword.
xSplit symbols only activate when they land inside the active reel area, after all avalanches have stopped. After splitting, they become Wild symbols – this Wild will have a multiplier depending on how many swords the xSplit had. The following rules are in place:
If an xSplit symbol gets split by another xSplit, it will develop a new sword, pointing in a new direction.
If an xSplit has the maximum of 4 swords and is split again, a x2 multiplier will be added.
If an xSplit symbol has a multiplier when activated, all symbols it splits will receive the multiplier, or have their multiplier multiplied by the xSplit multiplier.
Scatters, Targets, and xBombs receive a x2 multiplier when split by an xSplit.
Consecutive xSplits on multiplied symbols doubles the multiplier value.
Additionally, there are a few other xSplit rules which affect other symbols:
If an xBomb gets split, it will receive a x2 multiplier on the first split, doubling each consecutive split. 
If a 3×3 Colossal symbol is split, it first splits into 3 symbols either vertically or horizontally, depending on where the split comes from. The second xSplit will split this symbol in the other direction, regardless of where the xSplit is. The third xSplit will split all 9 symbols in half to 18. The fourth xSplit will either give a x2 multiplier to each symbol from the initial Colossal symbol, or multiply each individual multiplier by x2.
For 2×2 Colossal symbols, the same principles as above are applied.
Pear Harbor Bonus
Land 3 Scatter symbols to trigger the Dogfight feature. This feature starts with 3 spins and plays inside of a fighter plane cockpit with an instrumental panel of 18 dials.
These dials will all start to spin, and can either land a x multiplier, + multiplier, or nothing. Any multiplier that lands will reset spins to x3, as well as having their values added to the round multiplier.
All + multipliers will be summed up, then multiply all x multipliers before adding the total amount to the round multiplier. Any x multipliers remain active until a + multiplier lands. If the Dogfight feature ends with active x multiplier, they turn into + multipliers, sum up their value, and add that to the round multiplier. 
By filling a column of dials, Dogfight Attack is initiated. If the enemy plane is hit, all multipliers in the column are summed up as normal. If the enemy plane is missed nothing will happen.
If all 19 instrument dials have been filled a Kamikaze Attack will launch, after any relevant Dogfight Attacks have taken place. A multiplier wheel with 10 possible multipliers (including misses) will spin as an aircraft approaches a target ship. If the ship is hit, the wheel multiplier will multiply the total round multiplier from the bonus round. If the ship is missed nothing will happen.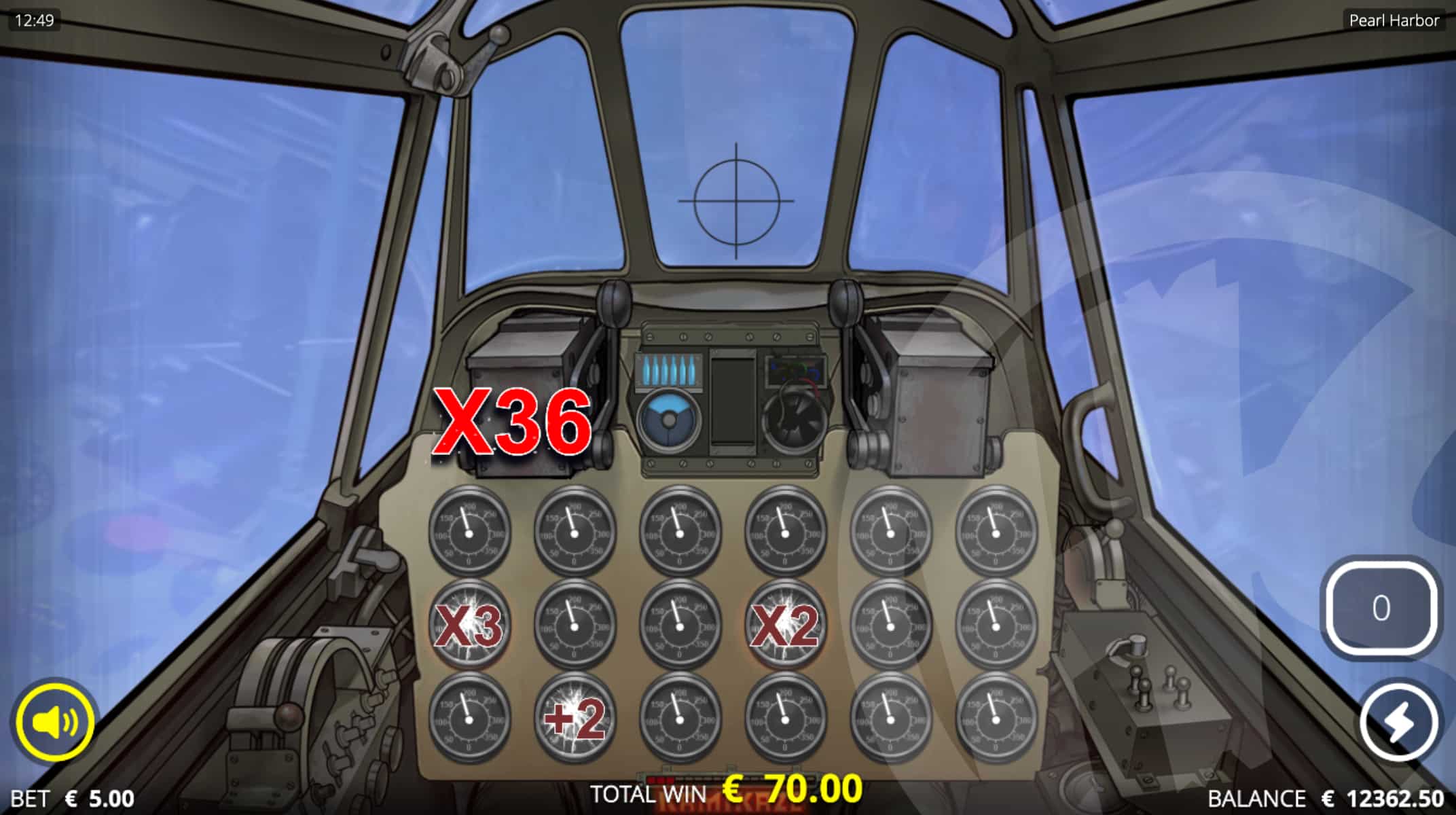 Land 4 Scatter symbols to trigger the Tora! Tora! Tora! feature. This feature also starts with 3 spins and plays inside of a fighter plane cockpit with an instrumental panel of 18 dials.
Gameplay and features from the Dogfight feature remain, but there are now two additional features. Firstly, Midway Pop – which is activated when a multiplier lands on a dial in the middle row. The amount will pop up to the top row in the current column. If no value exists there from before, it will randomly be given a + multiplier or x multiplier, independently of the mid row multiplier type. If a value already exists on the top row, the mid row amount is added to the existing value and the multiplier type remains.
Bomb Drop is activated when a full row of instrument dials is filled. A bomb will be dropped. If the ship is hit, all + multipliers of that row are added together and multiplied with all x multipliers of that row. If the ship is missed nothing will happen.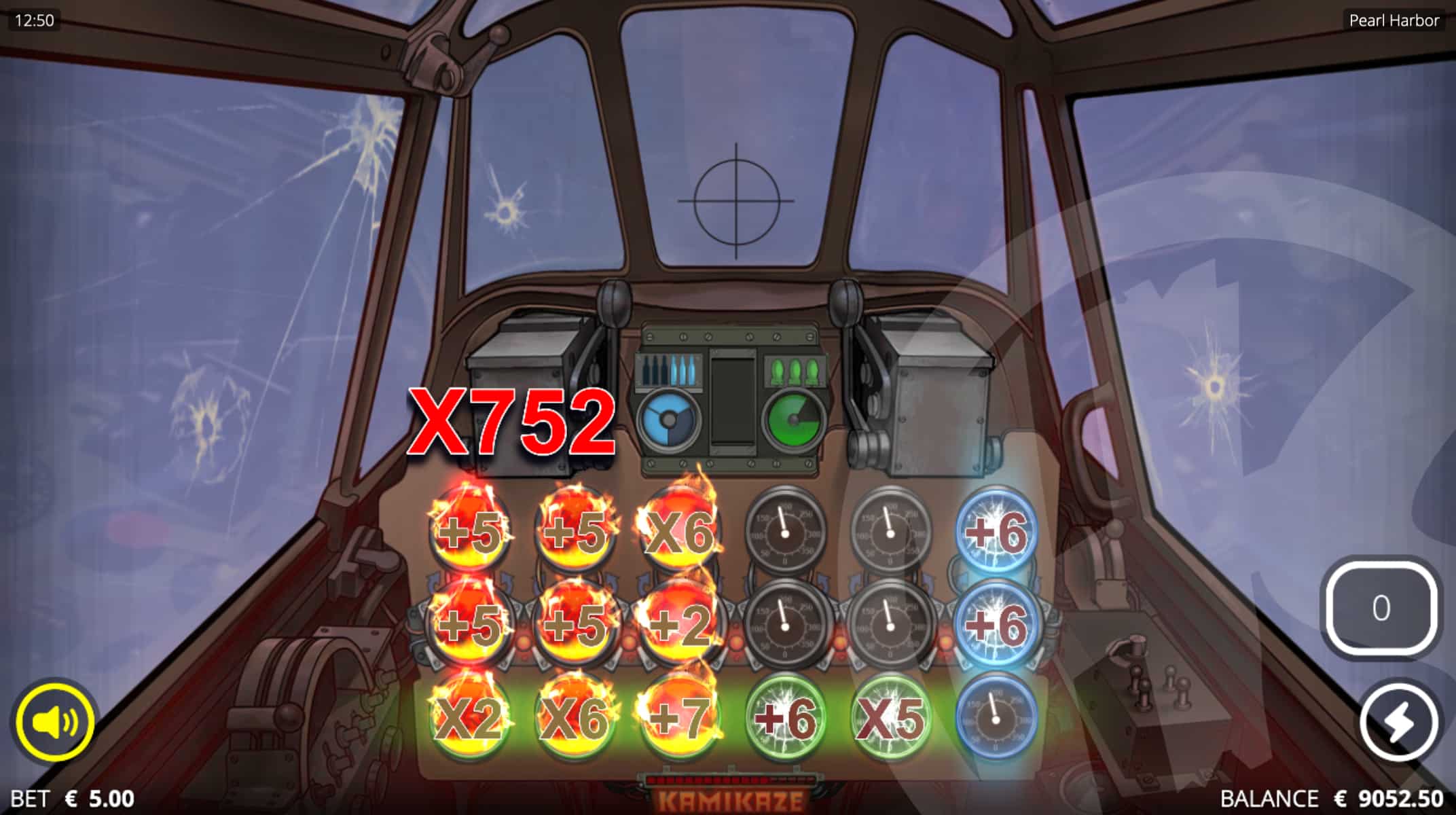 Finally, players in appropriate regions can skip to some of this action with three Nolimit Bonus options:
Dogfight Feature – 60x bet (96.24% RTP)
Tora! Tora! Tora! Feature – 712x bet (96.33% RTP)
Lucky Draw (49/50 Dogfight, 1/50 Tora! Tora! Tora!) – 73x bet (96.25% RTP)
Mission Accomplished occurs when the maximum win of 41,127x bet has been reached. If the sum of a single game round exceeds this, the game round will end and 41,127x bet will be awarded.
First Impression
That was difficult – not just to sit and write, but even to understand. The thing about Nolimit City games so far is that even though players describe them as complicated, I never really struggle to understand them once the game information is reviewed – and no one really would if they dedicated this time to checking the information. Pearl Harbor is a different matter. It just feels needlessly complicated – I mean, just look at the section above on xSplit. The result here is that I'm still not sure I fully understand, and instead have copied a lot of the information above verbatim, so if you don't understand either, don't blame me!
Gameplay certainly can be exciting in spite of this, but I'm still not convinced it's even close to the most exciting release from the team. Even some of the more complicated releases felt like the complication made them what they were, but Pearl Harbor feels a bit lacklustre. Of course, in the Tora! Tora! Tora! feature things do really kick up a notch, but still not quite in the way you'd expect – especially with this kind of hold and win feature we've seen in releases like Money Train 3 on offer rather than free spins. When the right combinations do hit though, wins are possible up to 41,127x bet.
Maths is extremely (10) volatile, and RTP options are available up to 96.06%, so as always it's worth checking this. That's really it. If you're a fan of a risqué theme, the usual Nolimit mechanics, or Nolimit maths, Pearl Harbor is worth a look. If you like to understand what you're doing… Maybe not.
*The screenshots taken of games reviewed on this site are taken from Demo Play, as reviews are often written before games are released for real play.