Do you ever hear someone say '(s)he's my spirit animal'? It seems to be used mostly now as a metaphor for someone you find relatable – quite often a fictitious character. Traditionally though, a spirit animal was a spirit that helped to guide someone on a journey, with whom they would share characteristics. I don't know if it can literally be any animal, but upon Googling it I did find a helpful image, listing possible spirit animal options as a camel, wolf, rabbit, elephant, horse, giraffe, and fox. I like the sound of mine being a giraffe, but patience was listed as a trait of the giraffe, so I guess that's out the window. According to Quickspin, deep in the heartland of Native America, under the moonlit indigo blue sky, the Thunder Bird is crying out to summon Spirit Animals from near and far in their upcoming release, Primal Spirits. If you really immerse yourself in this one, you could apparently reconnect with Mother Earth. Highly (5/5) volatile, this release is capable of producing wins up to 8,623x bet, with an RTP of 96.02% at its highest.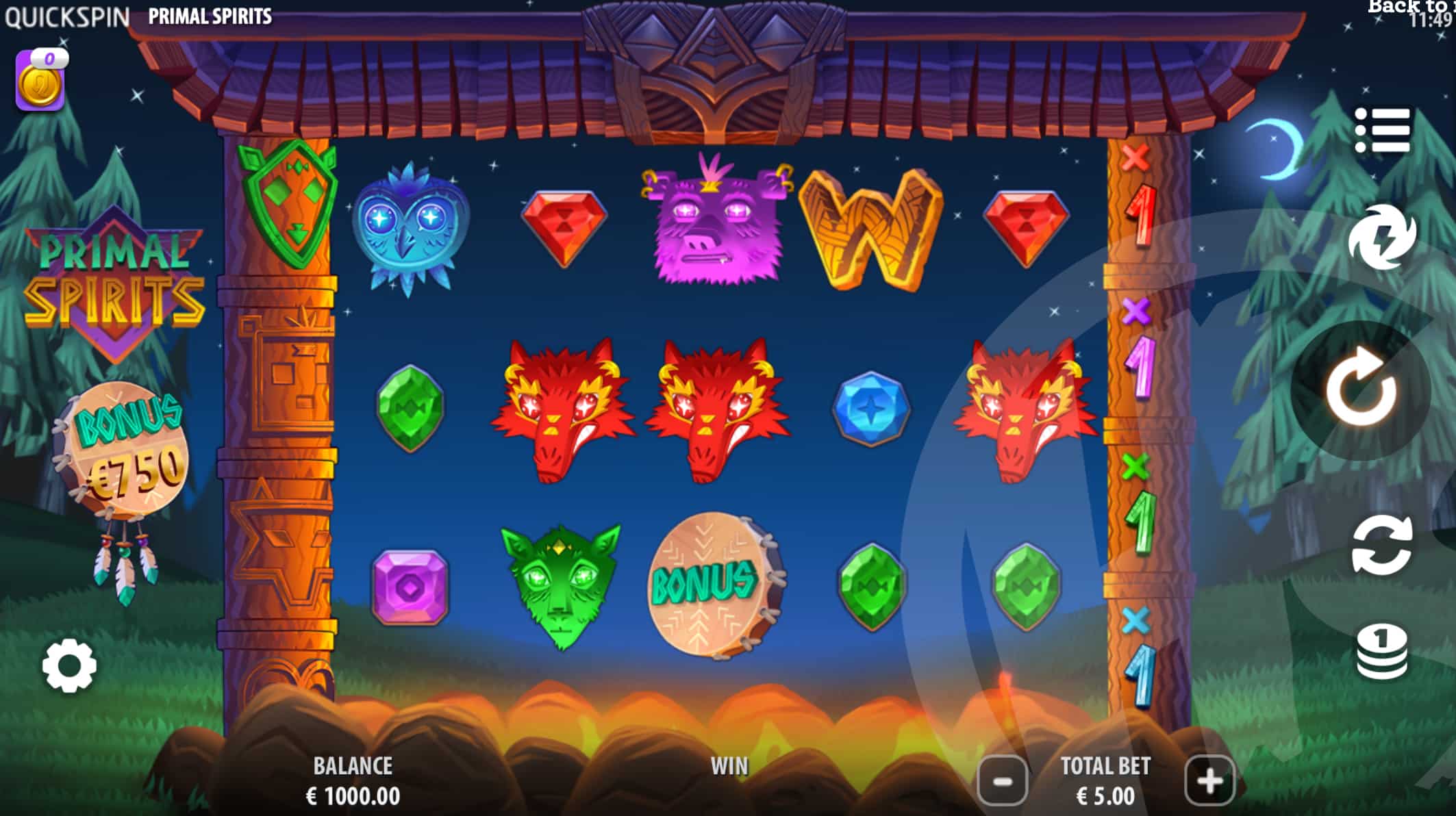 Visually, well they weren't lying when they said this was all happening under the moonlit indigo blue sky. We're outside on a grassy area in front of a fire, with the moon and stars twinkling in the sky, and totem poles to either side of the reels. It all has that Quickspin feel to it – cartoony, but well done. It all looks very nice. Audios tie everything together, but are pretty light, kind of fading into the background after a while.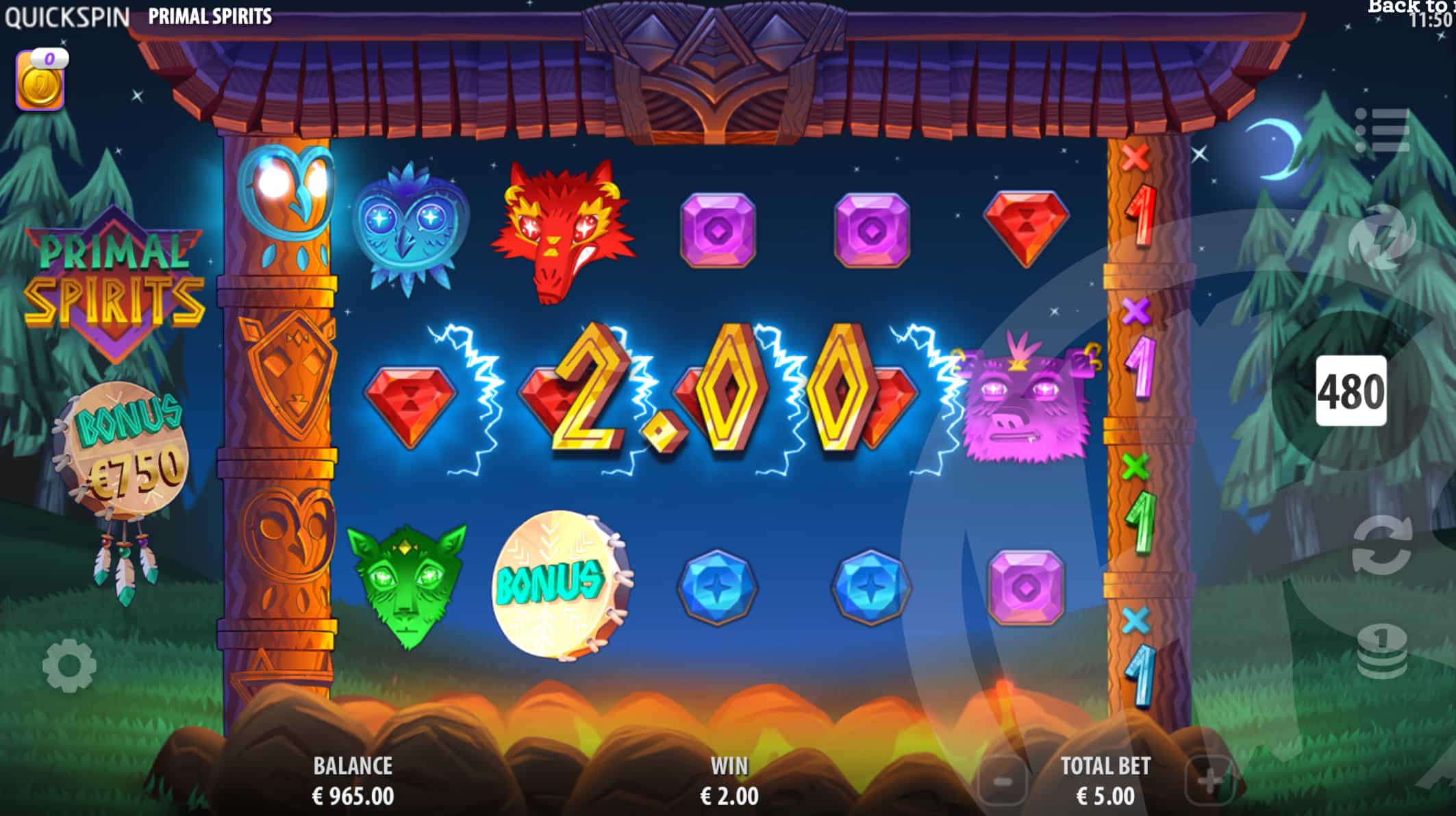 Primal Spirits Base Features
Taking place across 5 reels, wins are formed on Primal Spirits by matching at least 3 symbols on adjacent reels, beginning with the leftmost reel, across 1 of 25 fixed win lines. Symbols available begin with 4 non premium gems – blue, green, purple and red in colour. Land 3 of a kind of any non premium to see wins of 0.20x bet, increasing to 1.20x bet wins for 5 of a kind. At the premium end, we have 4 spirit animals, in the same colour as their non premium counterpart. Spirit animals consist of owls, a gazelle type creature (I think), bears, and wolves. Land 3 of a kind spirit animals to see wins between 0.40 and 0.80x bet, with this increasing to values between 2 and 5x bet for 5 of a kind wins. Finally, carved Wilds are available, substituting for all symbols except Bonus Scatter symbols. Land 3, 4, or 5 Wilds across a win line to see wins of 0.80, 2, and 5x bet, respectively.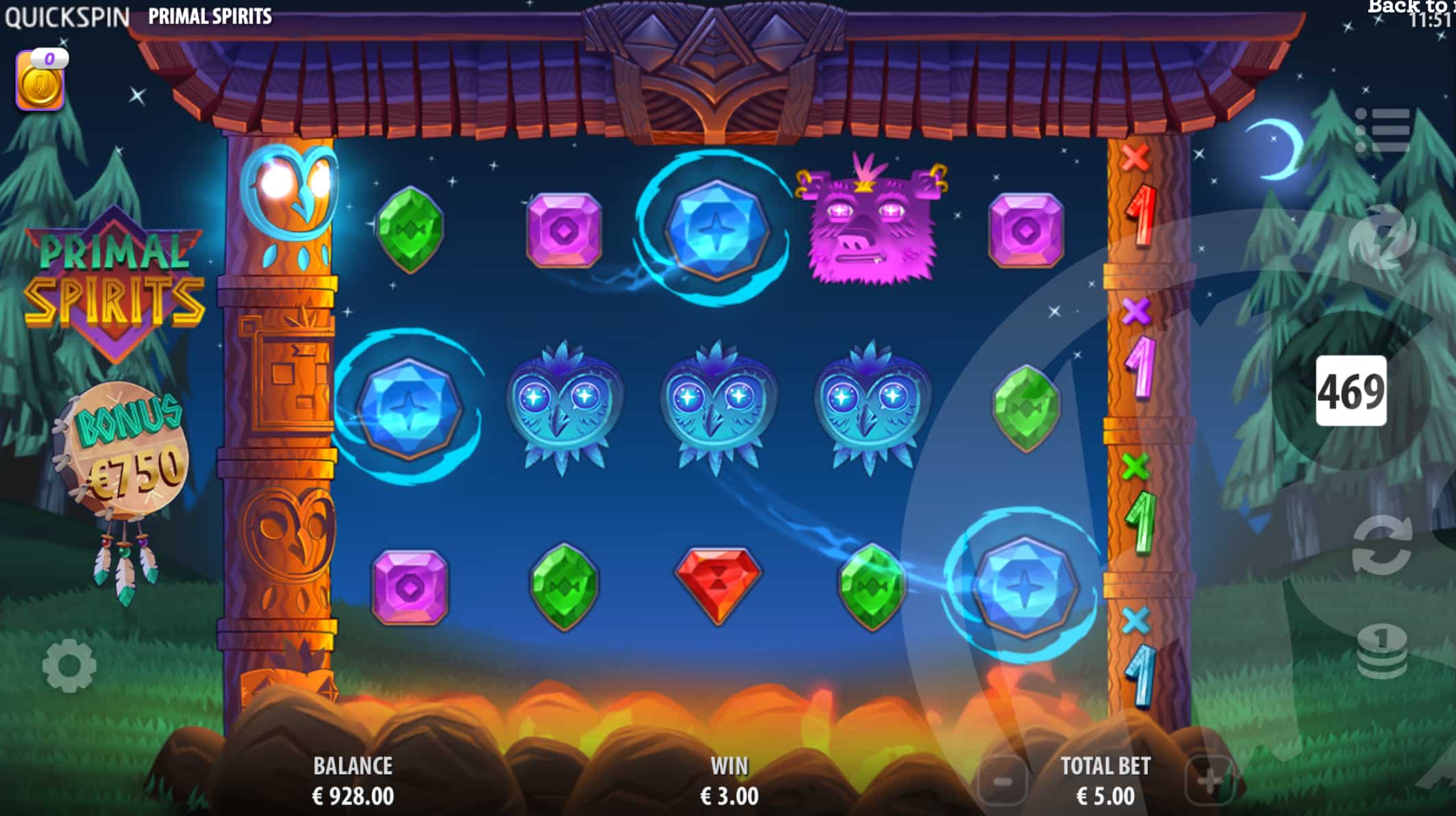 Alright, there are a few things to cover in Primal Spirits, beginning with Tumbling Reels. On every spin, all symbols involved in a win will be removed from the reels. All other symbols will then drop to the bottommost position available on their respective reels, and then new symbols will drop in from above to fill all remaining gaps. Tumbling Reels continue until no new wins are formed.
Working hand in hand with Tumbling Reels is the Totem Trance feature, wherein we focus on the totem pole to the left of the reels – you'll see each of the spirit animals engraved along this totem pole. Whichever Totem symbol is in the topmost position will determine symbol upgrades on the reels. If the top Totem symbol is blue, green, purple, or red, corresponding gems of this colour will be upgraded to their premium counterparts – owls, gazelles, bears, and wolves.
If the top Totem symbol is gold, the Golden Totem Trance feature is triggered, wherein every non premium on the reels is upgraded to its premium counterpart.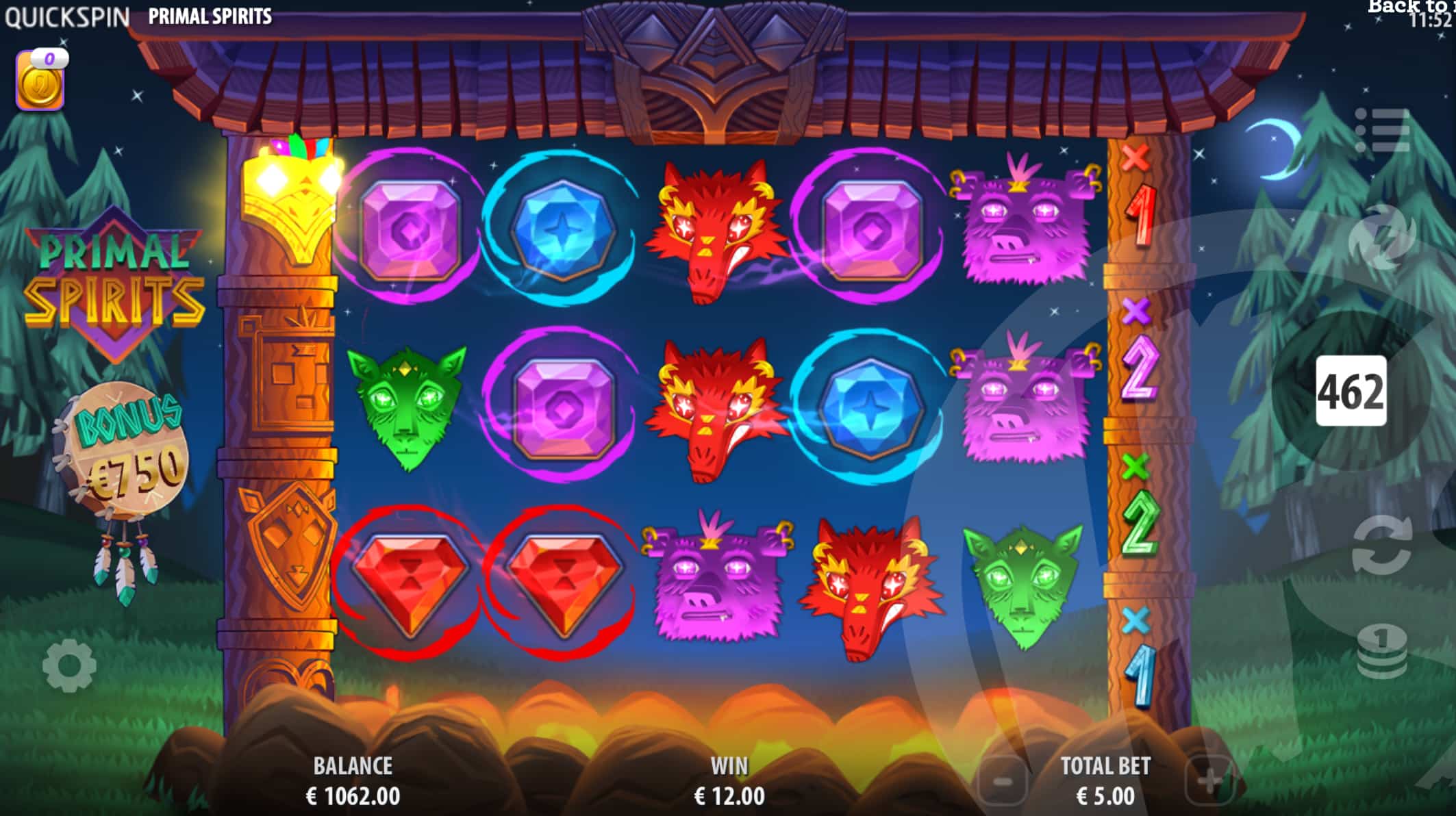 Finally, it's Colour Multipliers – the totem pole to the right of the reels. Each time a Totem symbol upgrades non premium symbols to premiums, their Colour Multipliers can be increased. Colour Multipliers are blue, green, purple, and red, and each of these multipliers can only be applied to wins of their colour – red wins will have the red multiplier applied, and so on.
If there is a win when the Totem symbol upgrade occurs in Totem Trance, every upgraded symbol will add +1 to the relevant Colour Multiplier. If there is a win when Golden Totem Trance occurs, every upgraded symbol will add +1 to their corresponding Colour Multiplier.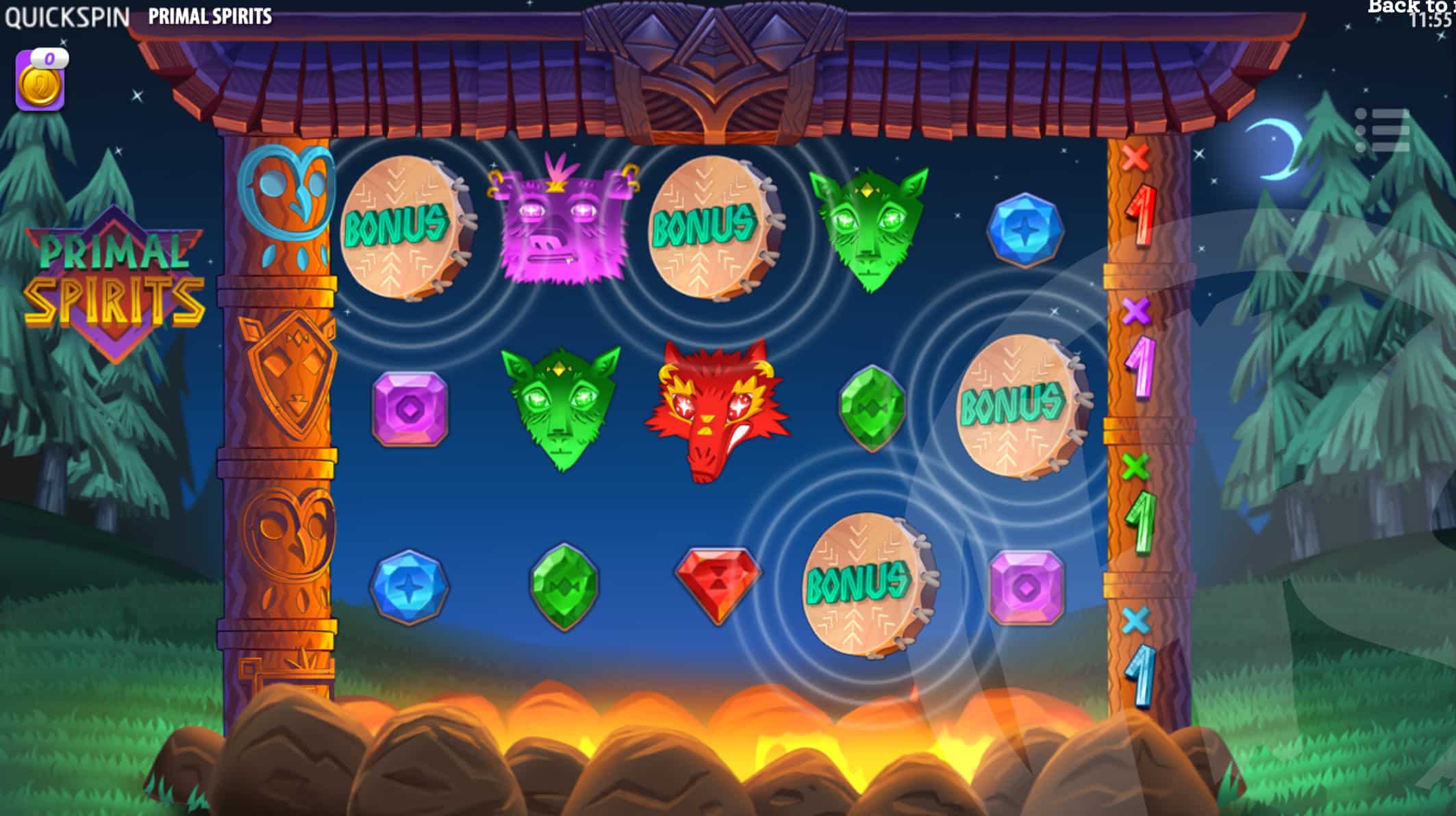 Primal Spirits Bonus
Land 3 or more Bonus Scatter symbols to trigger 10 Thunder Free Spins, with every additional Scatter landing in the triggering game round awarding an additional +5 Free Spins. Any Colour Multipliers that were active in the base game will move over into Free Spins.
During Free Spins, Colour Multipliers are progressive and do not reset between Free Spins. Everything else continues to work in the same way as the base game – Totem symbols upgrade non premiums to premiums, and each symbol upgraded will increase the respective Colour Multiplier by +1.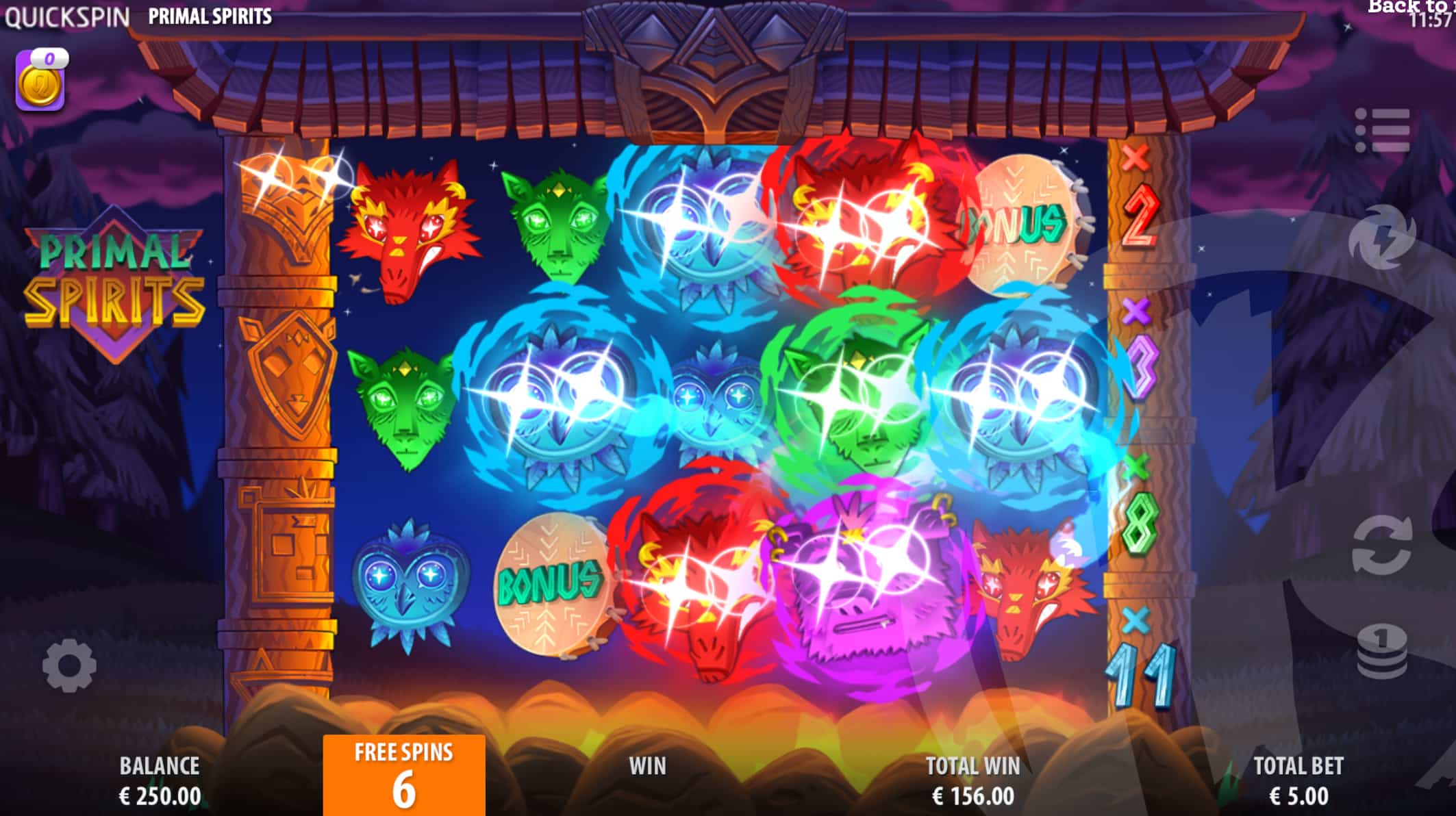 Players in appropriate regions can fast track the action with the option to buy the bonus. For a cost of 150x bet, Thunder Free Spins will be triggered, with at least 3 Bonus Scatter symbols.
The maximum win achieved in Primal Spirits in 100 million spins has been 8,623x bet.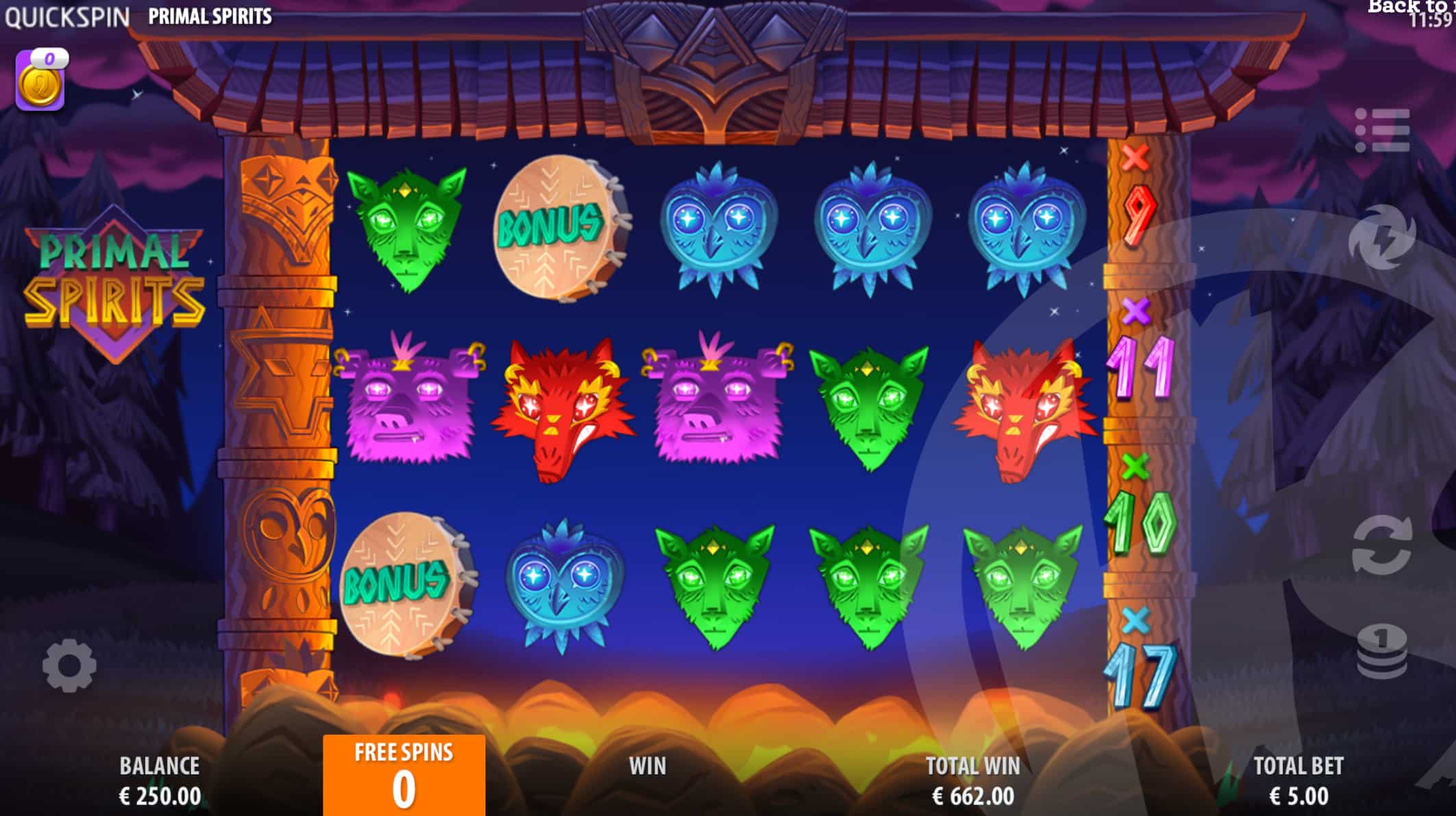 First Impression
Everything comes together fairly well in Primal Spirits – a simple yet interesting idea, which seems to be a staple of Quickspin's. There's nothing overtly complicated about this one – it's all about Tumbling Reels in the base game, and building Colour Multipliers as best you can in Free Spins. Almost all of this is reliant on Totem Trance and Golden Totem Trance, but these do a good job of shouldering this weight.
In Free Spins things do certainly pick up, but it feels a bit like there might just be something missing, and I think for me the issue comes from the 25 fixed win lines. There's something really exciting about Golden Totem symbols transforming the entire board into premiums, but quite often this becomes immediately disappointing when you realise nothing much connects beyond the third reel. Of course, wins are possible up to 8,623x bet, but it felt quite far from reach, save for the idea of a full screen of one premium.
Maths is highly (5/5) volatile, and RTP at its highest is 96.02%, with a lower version of 94.19% also available. Other stats are as follows:
Big Win (15x) – 1 in 73
Super Win (40x) – 1 in 286
Mega Win (70x) – 1 in 694
Epic Win (100x) – 1 in 1,173
All of the above are based upon the 96.02% RTP version. Overall, Primal Spirits is certainly worth a visit if you're a frequent player, and a fan of Quickspin – but if you're only trying your luck once every few weeks, you might not find it the most exciting option available this month.
*The screenshots taken of games reviewed on this site are taken from Demo Play, as reviews are often written before games are released for real play.