Like most children, I used to beg my parents for a dog. I think it was partly due to the old Andrex ads where the cute little Labrador puppy came trotting across the room with toilet paper, but no matter the reason, I wanted a dog. Needless to say, we never got a dog – until I was 19 and my parents decided to get a pug. I have my own sausage dog now (perks of being an adult, right?), but I still have a soft spot for pugs, which means I have pretty high hopes for Hacksaw Gaming's upcoming release, Pug Life. Notoriously pugs are one of the funniest looking breeds on the market, so there's a lot you can do with this theme, and it will be interesting to see if Hacksaw can live up to the expectations of pug fans. With a maths model that is set only at medium volatility, and RTP options up to 96.33%, this release is capable of producing wins up to 7,500x bet – not the biggest win cap we've seen, but you could definitely afford to buy a pug to celebrate – highly recommend.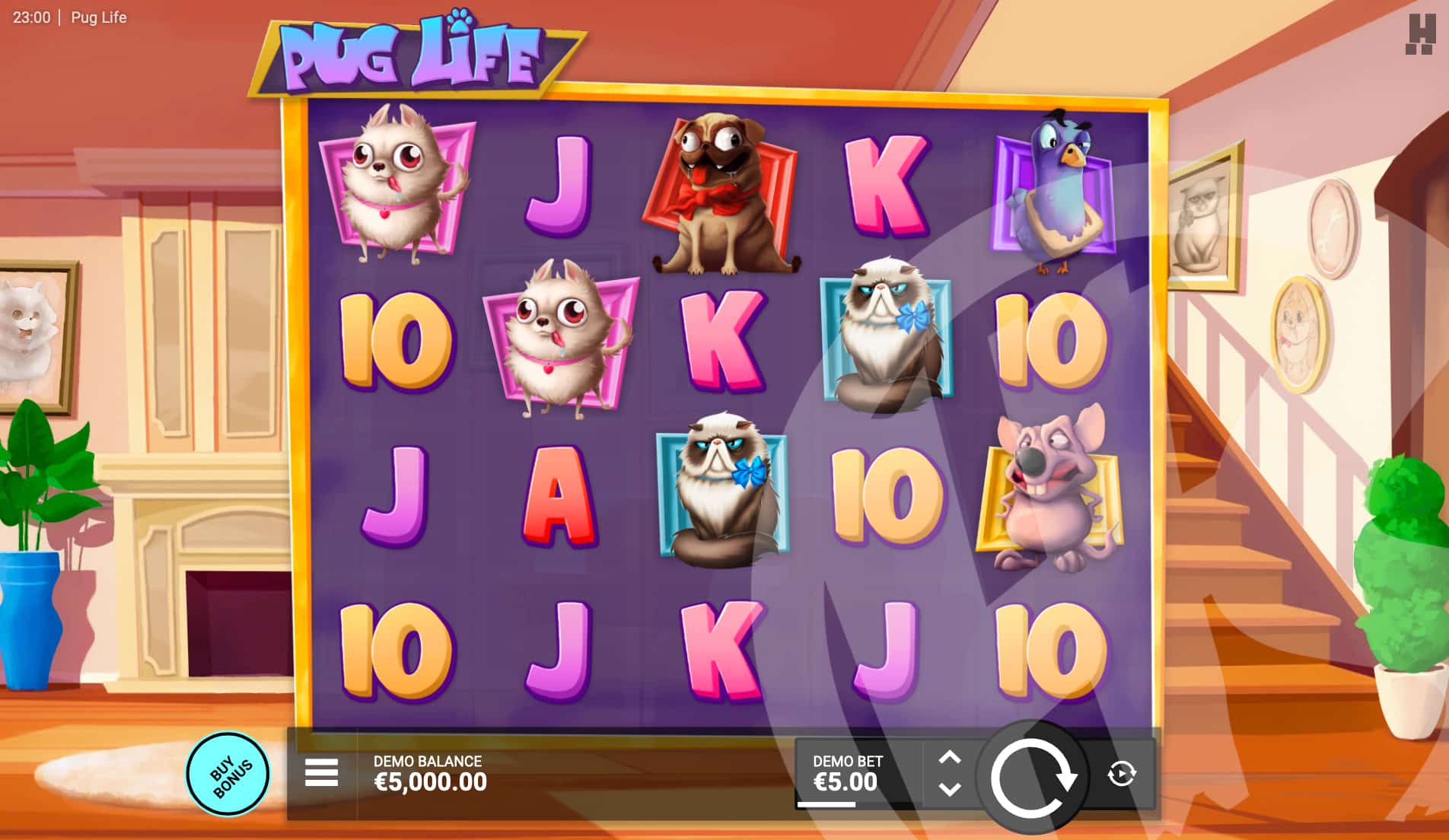 Visually, I'm already a little… meh. We only really have one pug in view, taking the place of one of the pay symbols, although he does sit around on the ground beside the reels too, along with a cat on one of those roomba vacuum cleaners, which is quite fun. We're in a home, with a large staircase to the right, and an open fire in the background. It's all quite flat and abstract in style, which definitely works and looks good, but it feels like more could have been done with a theme as fun as this one, even later in the game when we make our way outside. There are some fun elements, like a dog in a bathtub at the end of the bonus, but either I'm mistaken, or that graphic isn't even a pug? Audios are lively, and keep the whole thing feeling very friendly.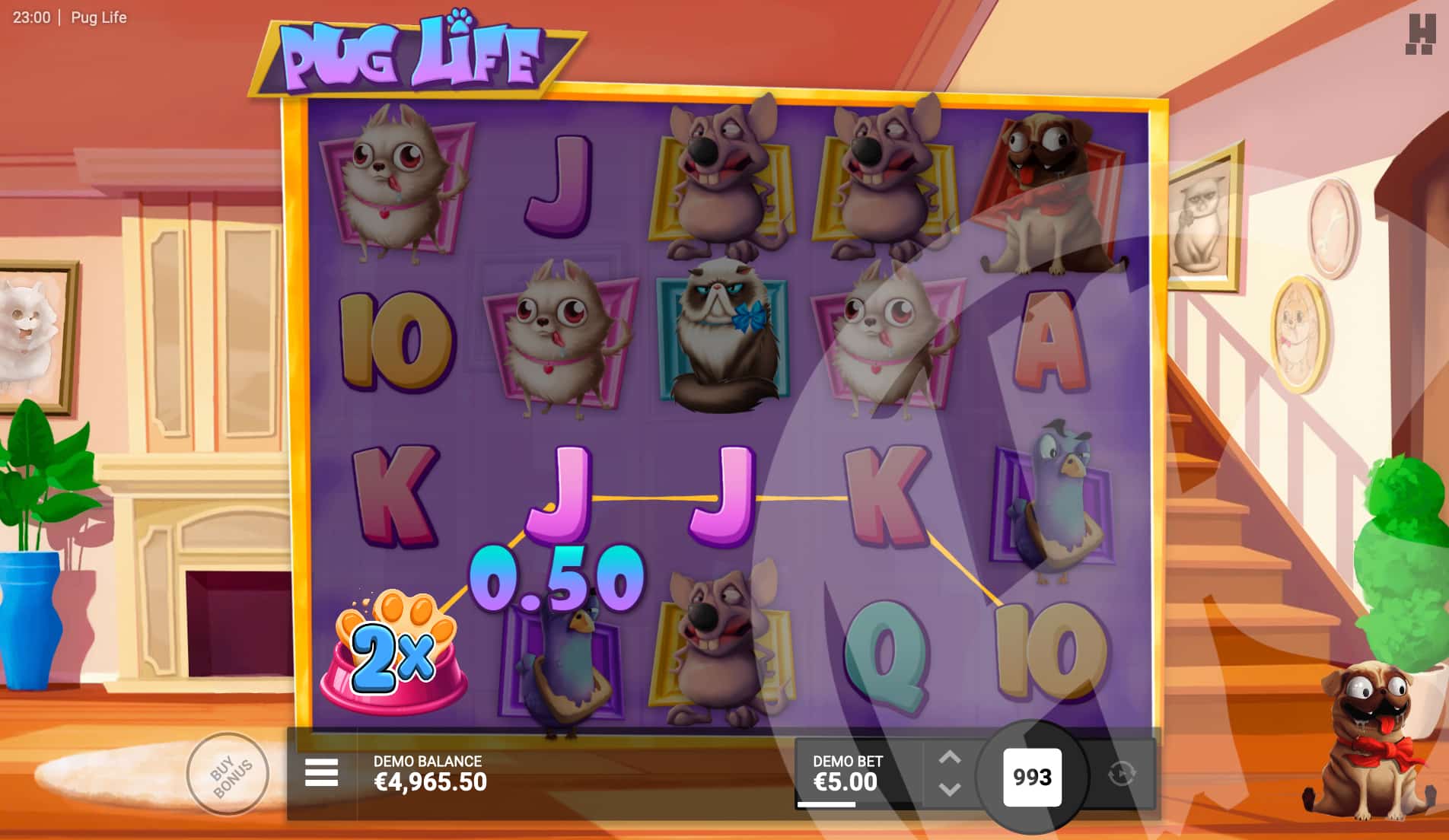 Pug Life Base Features
Taking place across 5 reels, wins are formed on Pug Life by matching at least 3 symbols on adjacent reels, beginning with the leftmost reel, across 1 of 16 fixed win lines.  Symbols available begin with non premiums, with 10s, Js, Qs, Ks, and As, awarding wins between 0.10 and 0.20x bet for 3 of a kind, increasing to values between 1 and 2x bet for 5 of a kind. At the premium end, we have 5 animals, beginning with rats, pigeons, cats, and what look to be chihuahuas. Land 3 of a kind of any of these to see wins between 0.50 and 1x bet, increasing to values between 4 and 7x bet for 5 of a kind. At this point we meet the star of the show – the pug, awarding wins of 2, 4, and 10x bet for 3, 4, and 5 of a kind, respectively. Finally, a variety of special Treat symbols are available – biscuits, steaks, and bones. Treats act as Wilds to substitute for all symbols except dog house Scatters, and award wins of 10x bet for 5 of a kind.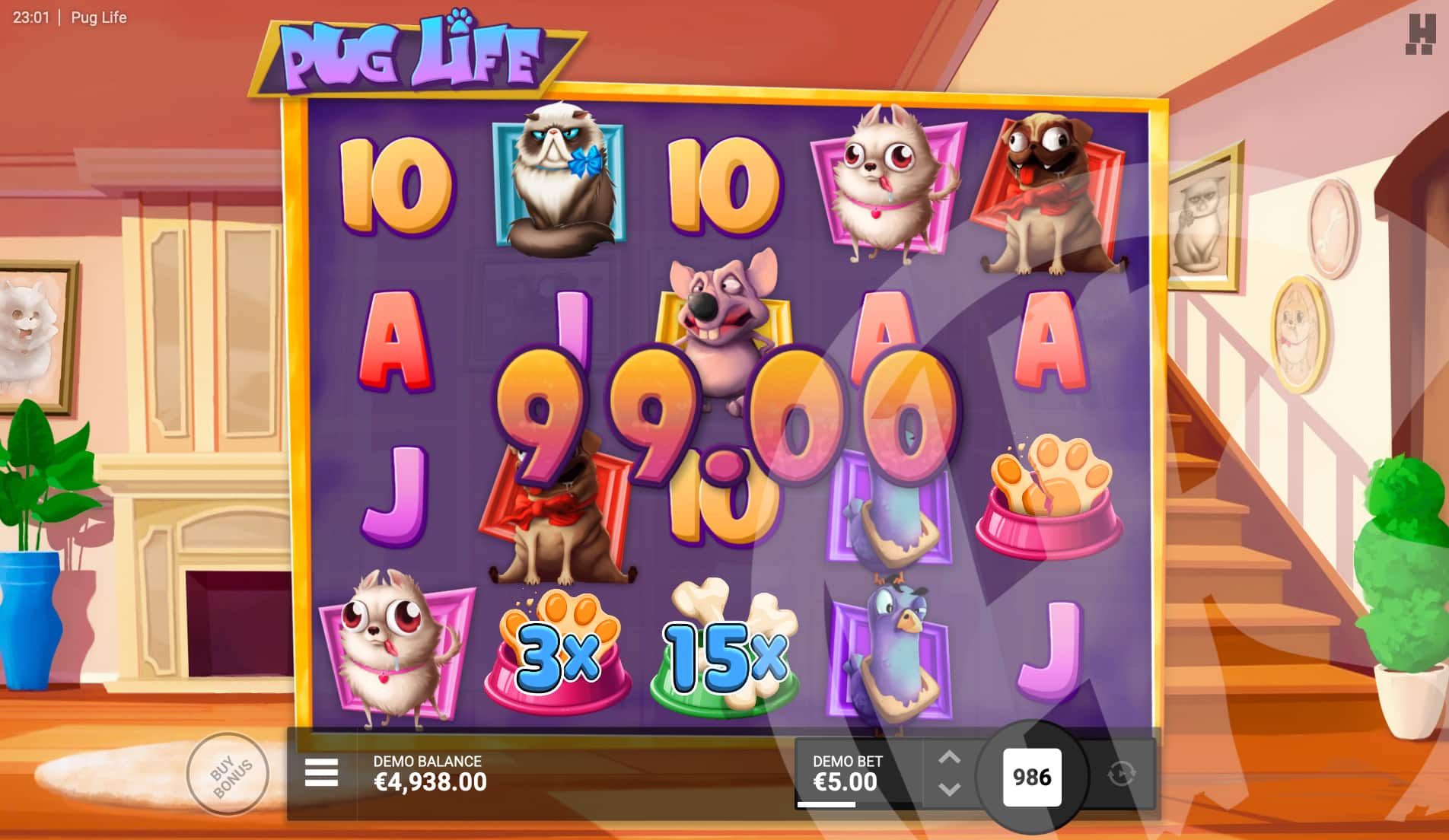 The main thing to cover in Pug Life are these Treat symbols. Alongside acting as Wild symbols, they will also reveal multipliers. When a Treat symbol lands and assists in forming a winning combination, its' multiplier value will be applied to the win it was part of. If more than one multiplier is used in a win, their values will be added together before being applied to the win. Treats can have the following multiplier values:
Biscuits – 2x, 3x, 4x
Bones – 5x, 10x, 15x, 20x
Steaks – 25x, 50x, 75x, 100x, 150x, 200x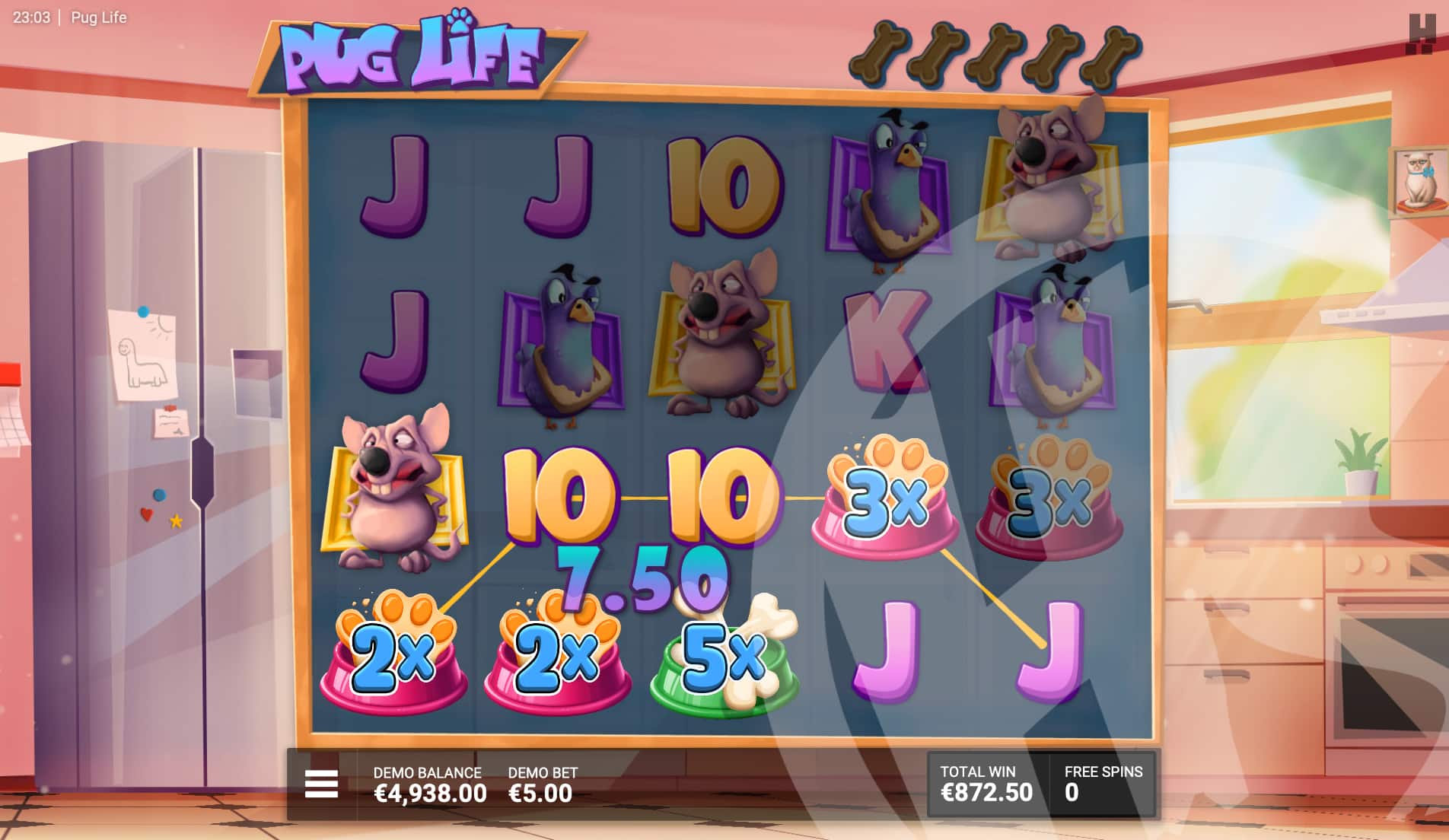 If more than three Treat symbols (of any kind) land in one spin in the base game, the Treat Yo'Self bonus is triggered. During this feature, 5 spins are awarded, and all Treat symbols are sticky, remaining in their position on the reels for the duration of spins. Each sticky Treat symbol will reveal a new multiplier on each spin – this will be one of the possible multiplier values available, depending on the type of treat it is.
Each time a new Treat symbol lands on the reels, an additional +1 spins are awarded. The Treat Yo'Self feature will end when all spins have been used.
Pug Life Bonus
Land 3 or more Dawg's Den Scatter symbols to trigger The Dawg's Den bonus. After landing Scatters, each one in view will reveal either a value of either 3 or 4. These values will be added together and the total will be the number of Free Spins awarded.
In The Dawg's Den, no wins are awarded until the end of the feature. Instead, the value of all winning combinations and the value of all Treat multipliers used in a win will be collected and displayed above the reels. Only multipliers which are used in a winning combination will be collected. This accumulates into a final win, which is paid out when no spins remain.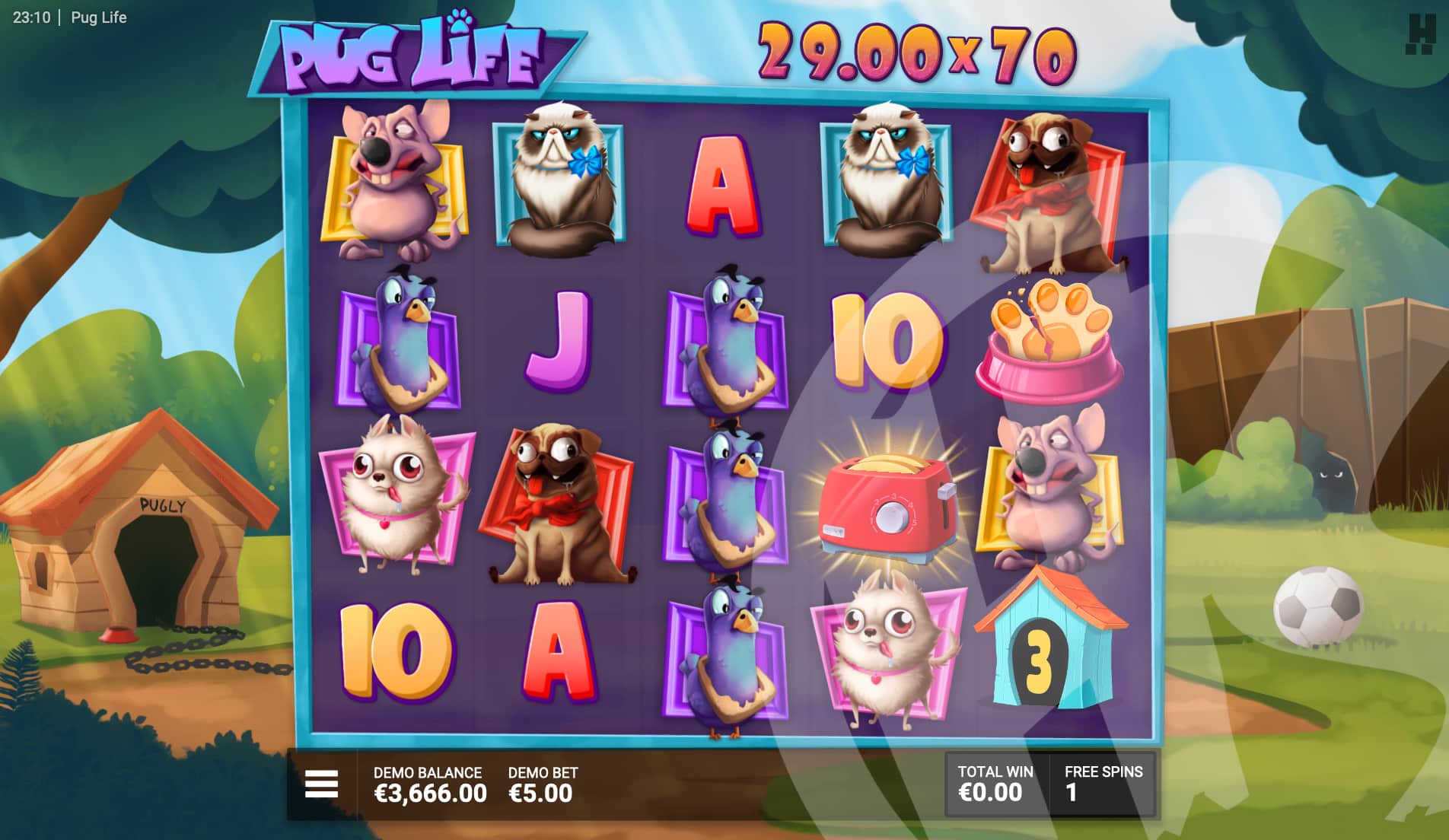 During The Dawg's Den, Treat symbols continue to land, and hold the same possible multiplier values as in the base game:
Biscuits – 2x, 3x, 4x
Bones – 5x, 10x, 15x, 20x
Steaks – 25x, 50x, 75x, 100x, 150x, 200x
In addition to Treat symbols, a sticky Toaster symbol can land in The Dawg's Den bonus. The Toaster cannot land during the base game or the Treat Yo'Self bonus. Toasters can land on reels 4 or 5, and will stick in their position on the reels, counting as Wilds and revealing either a multiplier value or cash value on every subsequent spin:
Toaster Multiplier Values – 2x, 3x, 4x, 5x, 10x, 15x, 20x, 25x, 50x, 100x.
Toaster Cash Values – 0.1, 0.2, 0.5, 1, 2, 3, 4, 5, 10, 15, 20, 25, 50, 100x bet.
Toaster Multiplier or Cash Values will always be collected, regardless of if there is a win or not. Landing additional Dawg's Den Scatters during the feature will award additional spins. Again, the Scatter will reveal a 3 or 4, and this value will be the number of spins awarded.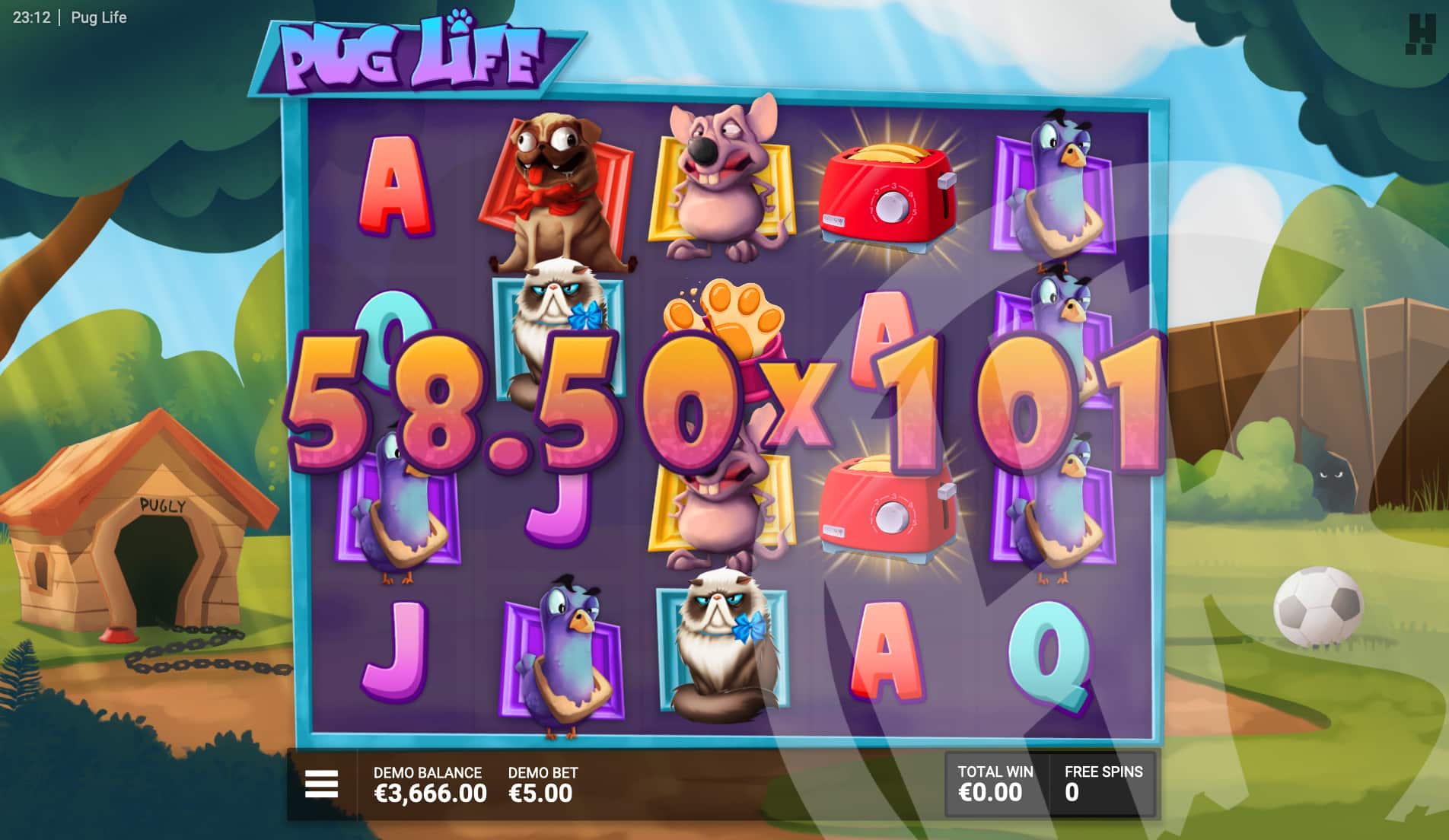 Players in appropriate regions can take advantage of the following Bonus Buy options:
Treats Featurespins (minimum 1 Treat per spin) – 2x bet (96.25% RTP)
Bonus Featurespins (5x chance to trigger either bonus) – 3x bet (96.30% RTP)
Treat Yo'Self Feature – 100x bet (96.27% RTP)
The Dawg's Den Feature – 200x bet (96.29% RTP)
The volatility of both Featurespins options is high, and the volatility of both features is medium. All RTP values noted above are based upon the RTP setting of 96.33%.
The maximum win available in Pug Life is 7,500x bet. If the sum of a single game round exceeds this, the game round will end, and 7,500x bet will be awarded.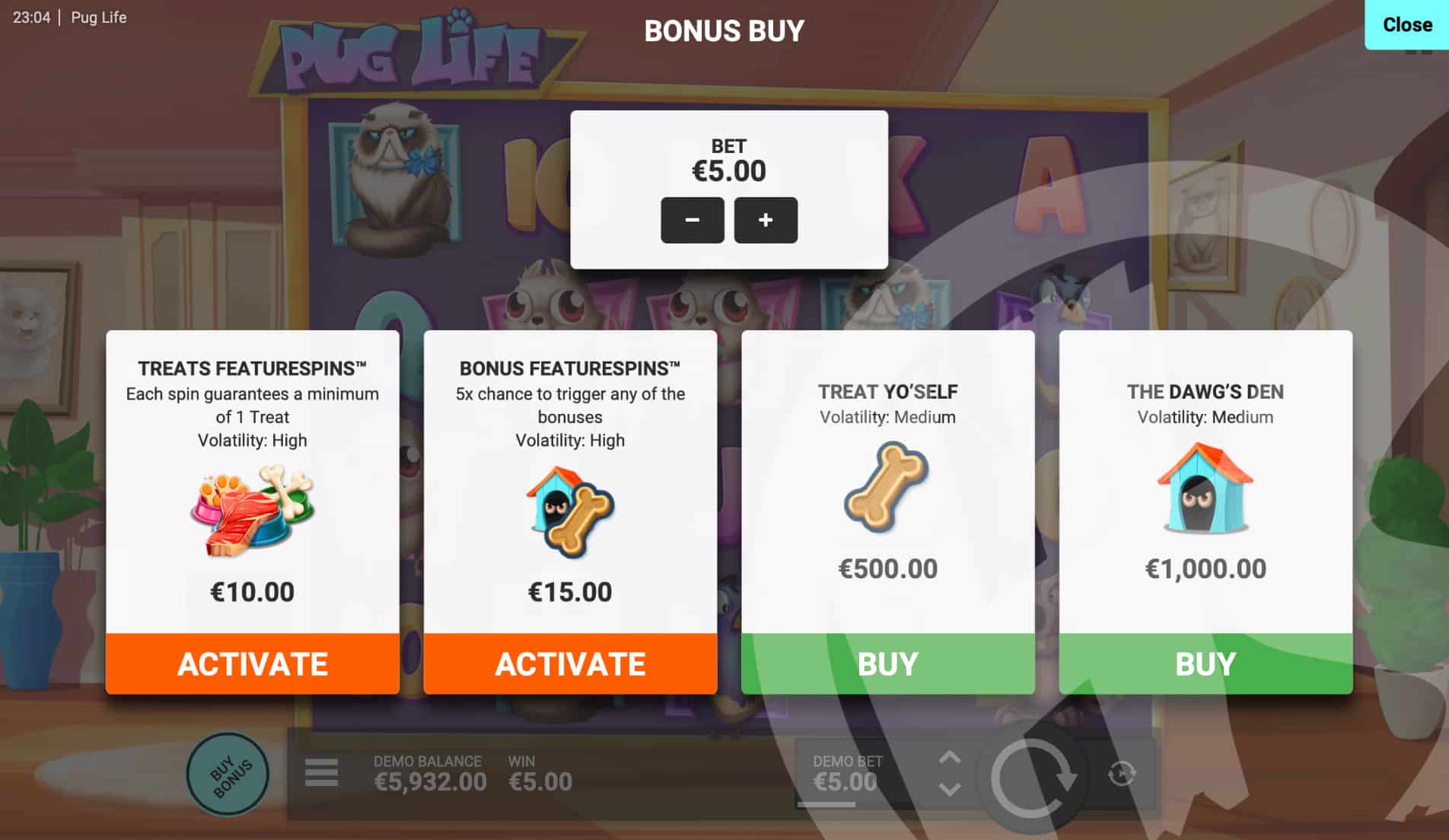 First Impression
I feel like Hacksaw Gaming are a bit of a strange provider. Maybe strange isn't the word, but it sometimes feels like their releases are hit and miss. I don't necessarily think Pug Life is a 'miss', but like I said above, I think more could have been done with the theme – particularly in graphics and animations. Maybe it's just that this team are better suited to the darker releases, as we know a lot of their darker games have proved incredibly popular.
Well, art is subjective and all that, so let's look at gameplay, which I quite liked. Things aren't extremely volatile in this one – it's a medium volatility maths model, and it kind of plays as such. Bonuses seemed fairly common in my experience, but they definitely weren't completely soft when they did land. Both features on offer have their own merit, although I prefer The Dawg's Den, which makes sense because this is the main one, if bonus buy pricing is anything to go by. RTP options are available up to 92.27%, so as always it's worth checking this.
Having all win values and multipliers count up to be awarded at the end is a fun idea, and one that works well, so it definitely serves to build excitement. With multipliers that go as high as 200x and Toaster Cash Values up to 100x bet, it's obvious that Pug Life can go off in just a single spin. When the right combinations land, wins are possible up to 7,500x bet.
Overall, Pug Life is a fine addition to the market, but I don't think it's going to stand out particularly well either against its' peers, or against the catalogue Hacksaw themselves have already built. There's plenty here for the right kind of player – I just don't know if they hit the nail on the head with the 'pug' theme.
*The screenshots taken of games reviewed on this site are taken from Demo Play, as reviews are often written before games are released for real play.