Did you know that in spite of their reputation for stampeding, there are only around 2 or 3 rhino attacks on humans each year? I mean, for those few humans things aren't looking too good, but generally speaking, the rhino is quite a gentle creature, and on that tends to keep to itself. Still, you maybe wouldn't want to come face to face with one in the real world. In the online world of slots though, it's fine, and after their recent success with 300 Shields Mighty Ways, Light and Wonder are back once again to prove to us that rhinos make some of the best slotting companions – in Raging Rhino Mighty Ways. With wins on offer up to 12,000x bet, this highly volatile release comes with RTP options up to 95.93% (96.0% Buy Pass).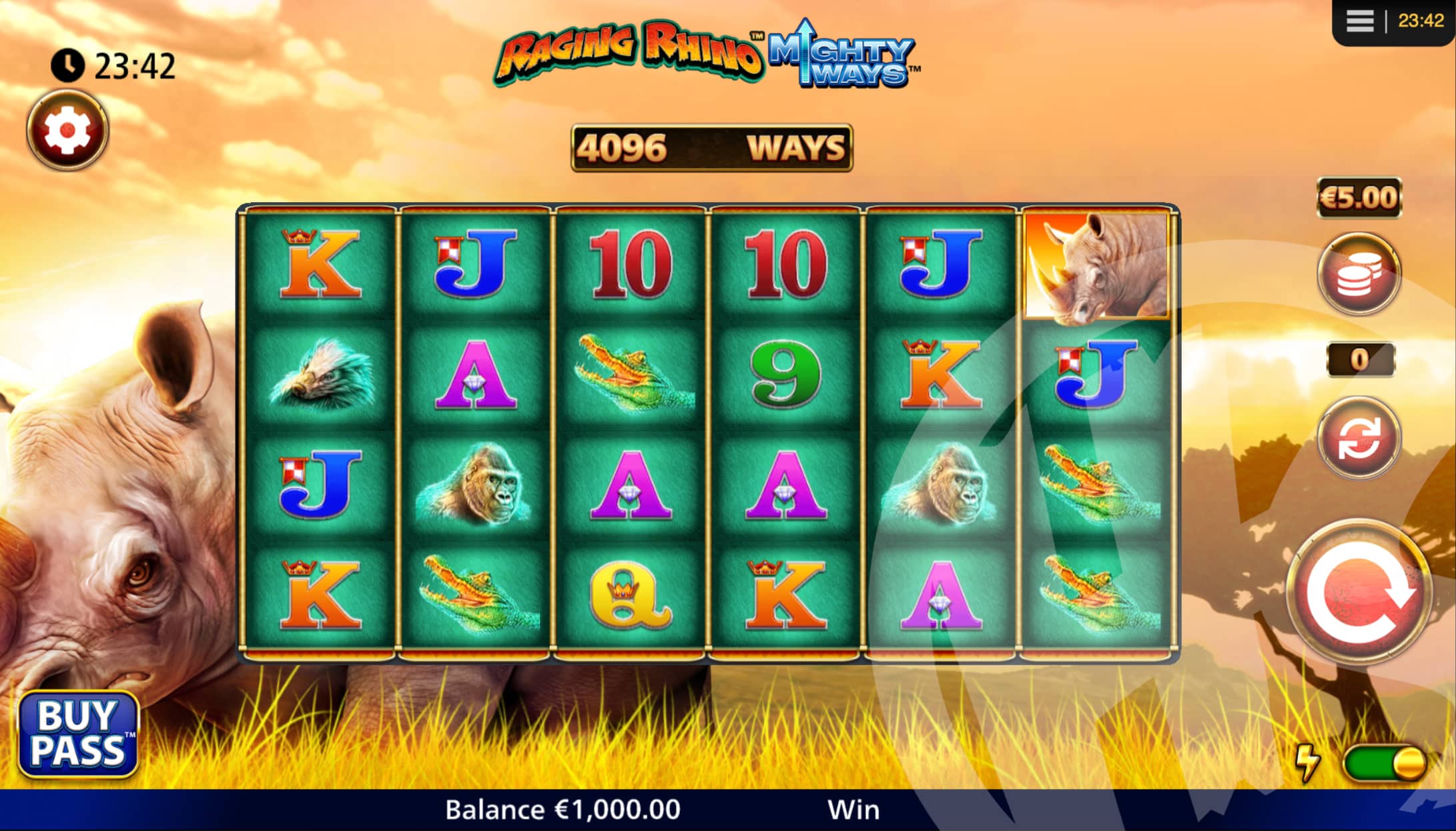 Visually, not too much has changed from the previous releases in this series, but things are definitely looking sharp. We're in a savannah – most likely in South Africa, which is home to the world's largest rhino population. The sun is setting in the sky, as a large, lifelike rhino lurks behind the reels. What looks to be a baobab tree, also known as the 'tree of life', sits to the right of the reels – accurate given where we are, but definitely one of the more cliche art examples across most releases of this nature. Audios are light and upbeat, but remain on theme, tying everything together.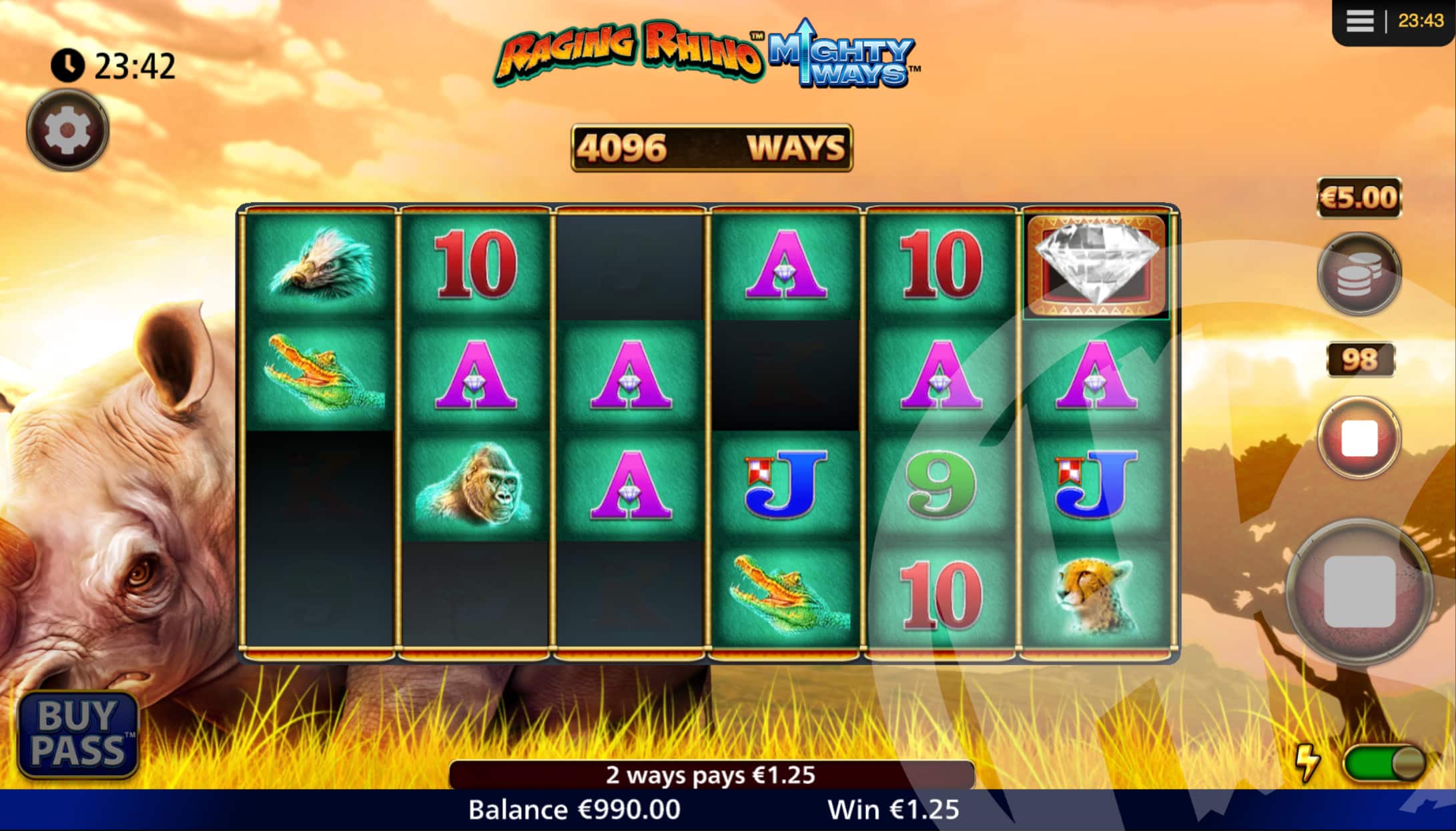 Raging Rhino Mighty Ways Base Features
Taking place across 6 reels, wins are formed on Raging Rhino Mighty Ways by matching at least 2 or 3 symbols on adjacent reels, beginning with the leftmost reel. Reels begin with 4 symbols on each, producing 4,096 ways to win, but this can be increased as high as 262,144 ways to win, thanks to the Mighty Ways mechanic, which we'll explain soon. Symbols available begin with non premiums, with 9s, 10s, Js, Qs, Ks, and As, awarding wins between 0.05 and 0.15x bet for 3 of a kind, increasing to values between 0.50 and 0.90x bet for 6 of a kind. At the premium end, we have badgers, crocodiles, cheetahs, and gorillas, awarding wins between 0.20 and 0.50x bet for 3 of a kind, increasing to values between 1.50 and 5x bet for 6 of a kind. Rounding off premium symbols are the rhinos themselves, which pay for 2 of a kind – land 2, 3, 4, 5, or 6 rhinos to see wins of 0.50, 1, 2, 4, or 10x bet, respectively.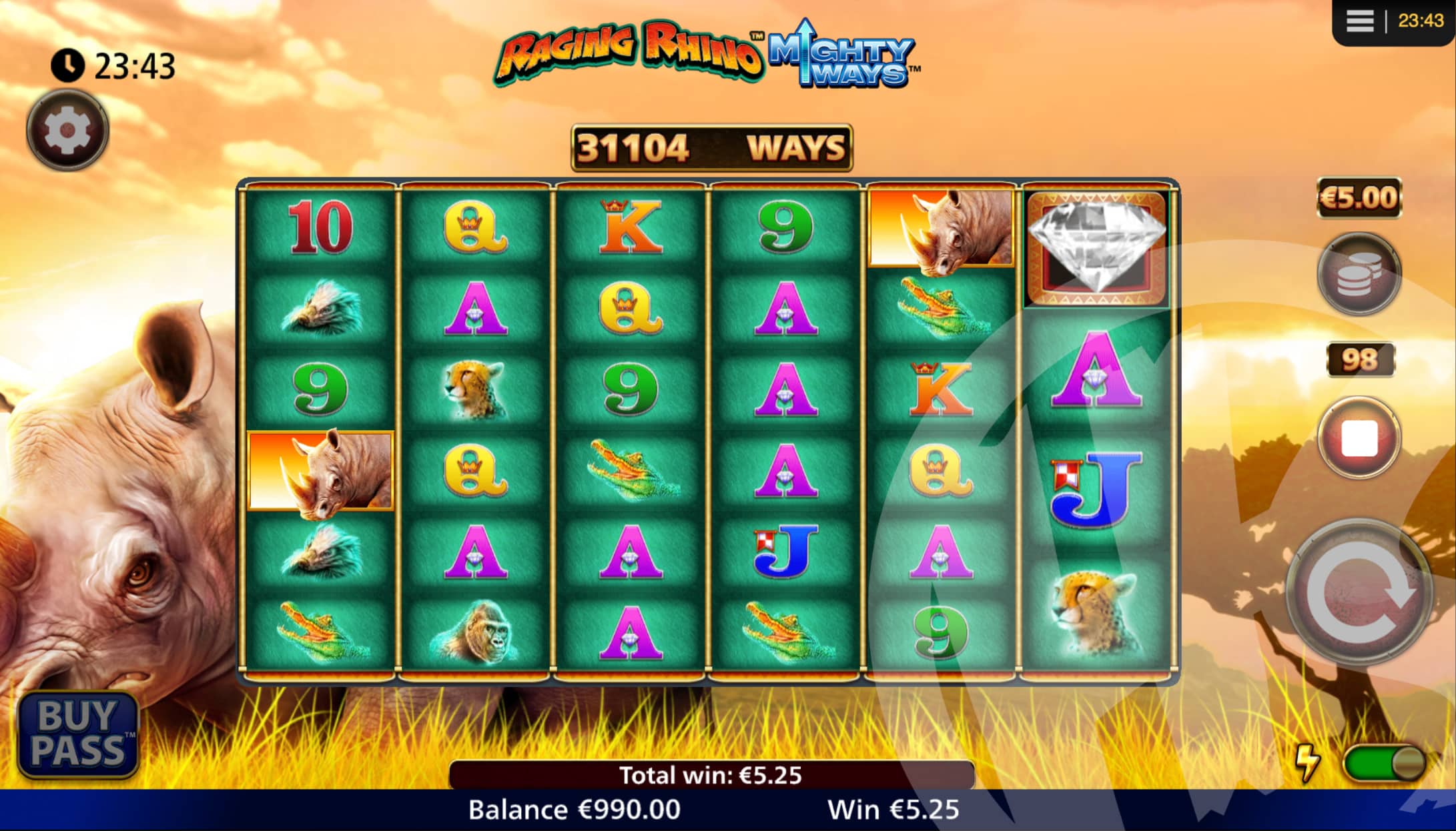 Cascades, Mighty Ways, Enhanced Reels, and Wild symbols bring the excitement necessary to keep the Raging Rhino Mighty Ways base game moving forward. On every spin, all symbols involved in a win will be removed from the reels with Cascades. All remaining symbols will then drop down to the bottommost available position on their respective reels, and new symbols will drop in from above to fill any gaps.
Working alongside Cascades is the Mighty Ways mechanic. Each symbol that has formed part of a winning combination will increase the reel height by 1 symbol, as the new symbols drop in. Reels can increase to hold a maximum of 6 symbols each in the base game – producing 46,656 ways to win. Cascades continue until no more wins are formed, at which point reels are reset back to 4,096 ways to win ahead of the next spin.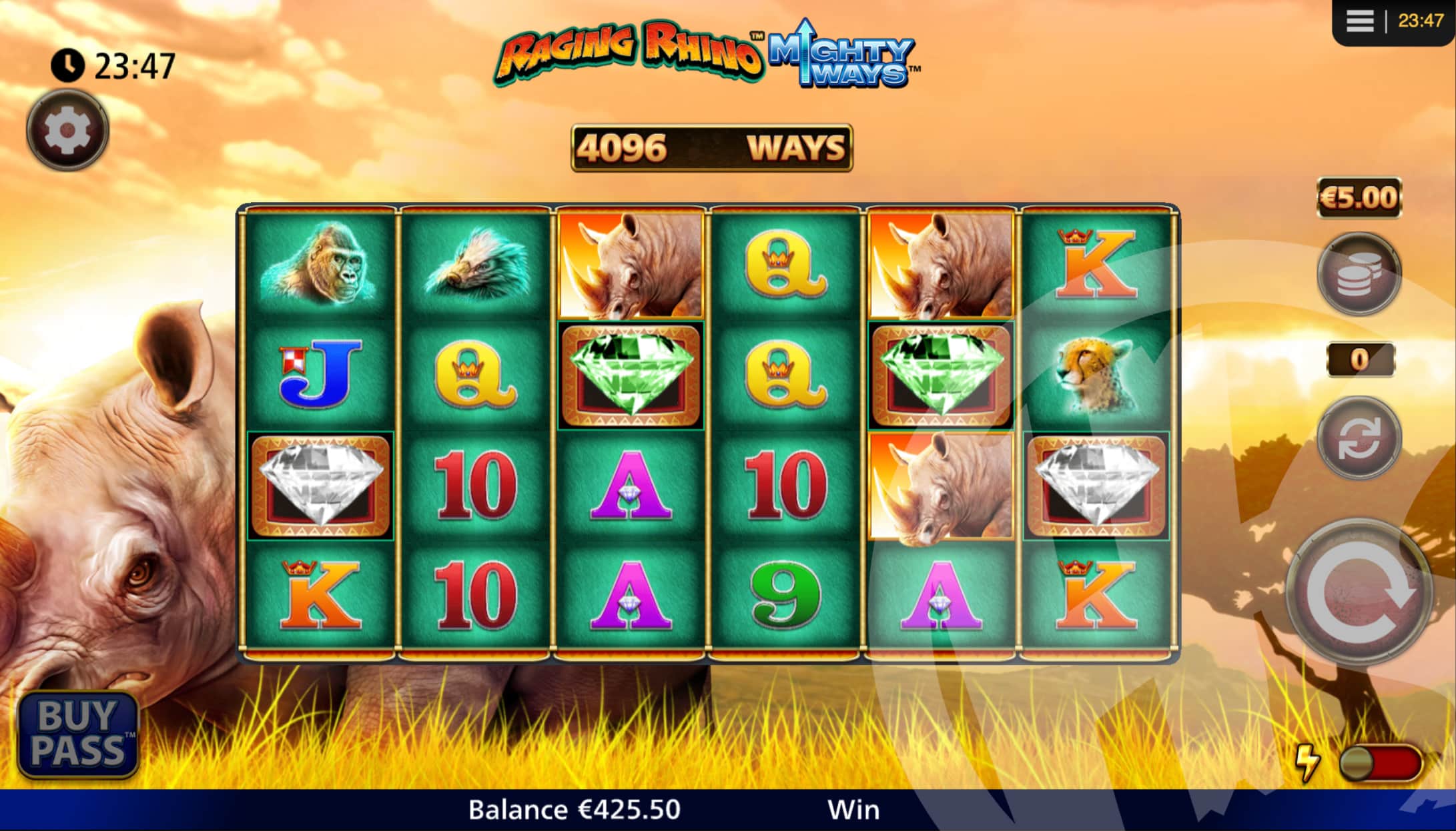 On any spin, Enhanced Reels may be randomly triggered. If this happens, an extra row will be added to the reels, and additional rhinos may be added to this extra row.
The last thing to cover in the base game are Wild symbols. Wild symbols can land on reels 2, 3, 4, and 5 in the base game. When they do appear, they substitute for all symbols except Bonus and Super Bonus symbols.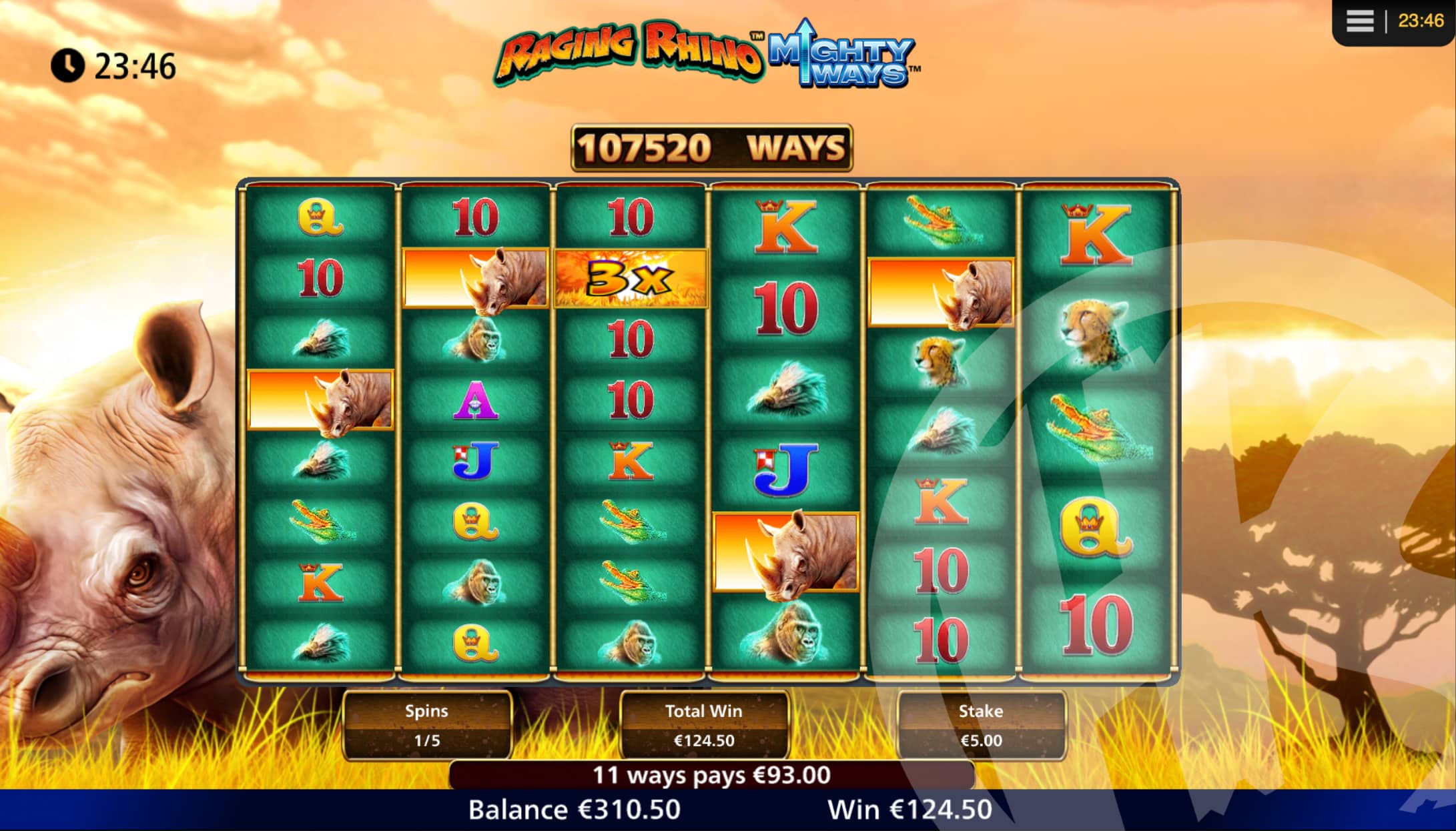 Raging Rhino Mighty Ways Bonus
There are two Bonus symbols available in Raging Rhino Mighty Ways – the regular Bonus symbol, which is a diamond, and the Super Bonus symbol, which is a green diamond. Both these Bonus symbols can appear on any reel, and will trigger 5, 7, 10, or 15 Free Spins when 3, 4, 5, or 6 land in view, respectively. Up to 2 Super Bonus symbols can be involved in any feature trigger.
During Free Spins, Wilds can continue to land on reels 2, 3, 4, and 5. A multiplier of either x2 or x3 will be applied to each Wild that is involved in a winning combination, and if more than one multiplier is in view, they will be multiplied together before being applied to the winning combination.
Apart from this, Cascades, Mighty Ways, and Enhanced Reels continue to work as normal during Free Spins, except reels can now hold up to 8 symbols each – producing 262,144 ways to win. Reels are still reset back to 4,096 ways between spins.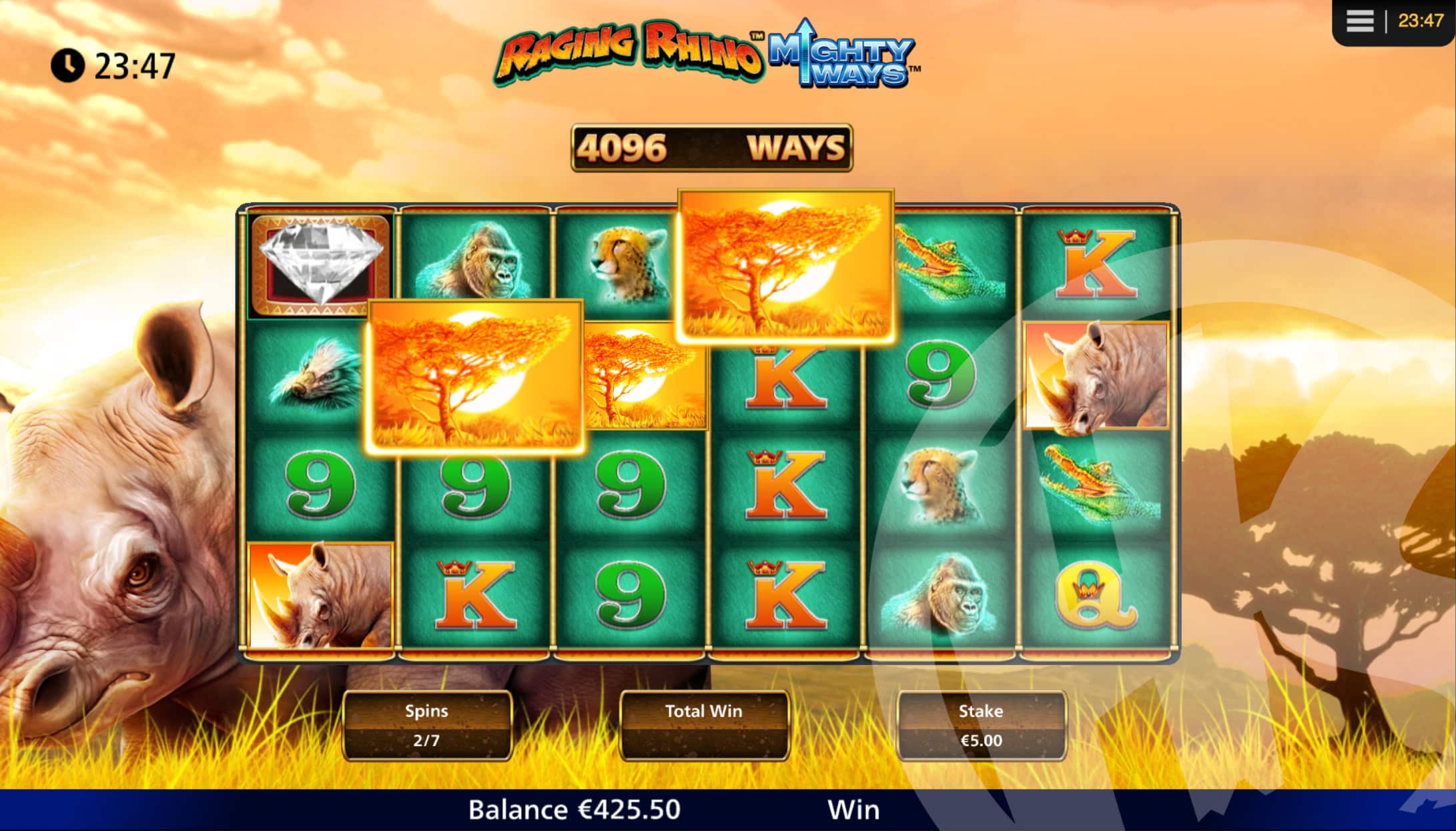 At least 1 Super Bonus symbol will be active in any Free Spins trigger. For each Super Bonus symbol involved, a Guaranteed Wild will be added to the reels during every spin. This Guaranteed Wild will be awarded a multiplier of x2 or x3 and work in the same way as regular Wilds. If there is a winning combination but the Wild is not used, it will move to a new reel position after Cascades, but if it is used in a winning combination, it will disappear until the next spin.
Landing 2, 3, 4, 5, or 6 Bonus symbols during Free Spins will retrigger the feature and award an additional +3, 5, 7, 10, or 15 Free Spins, respectively. Super Bonus symbols do not appear during Free Spins.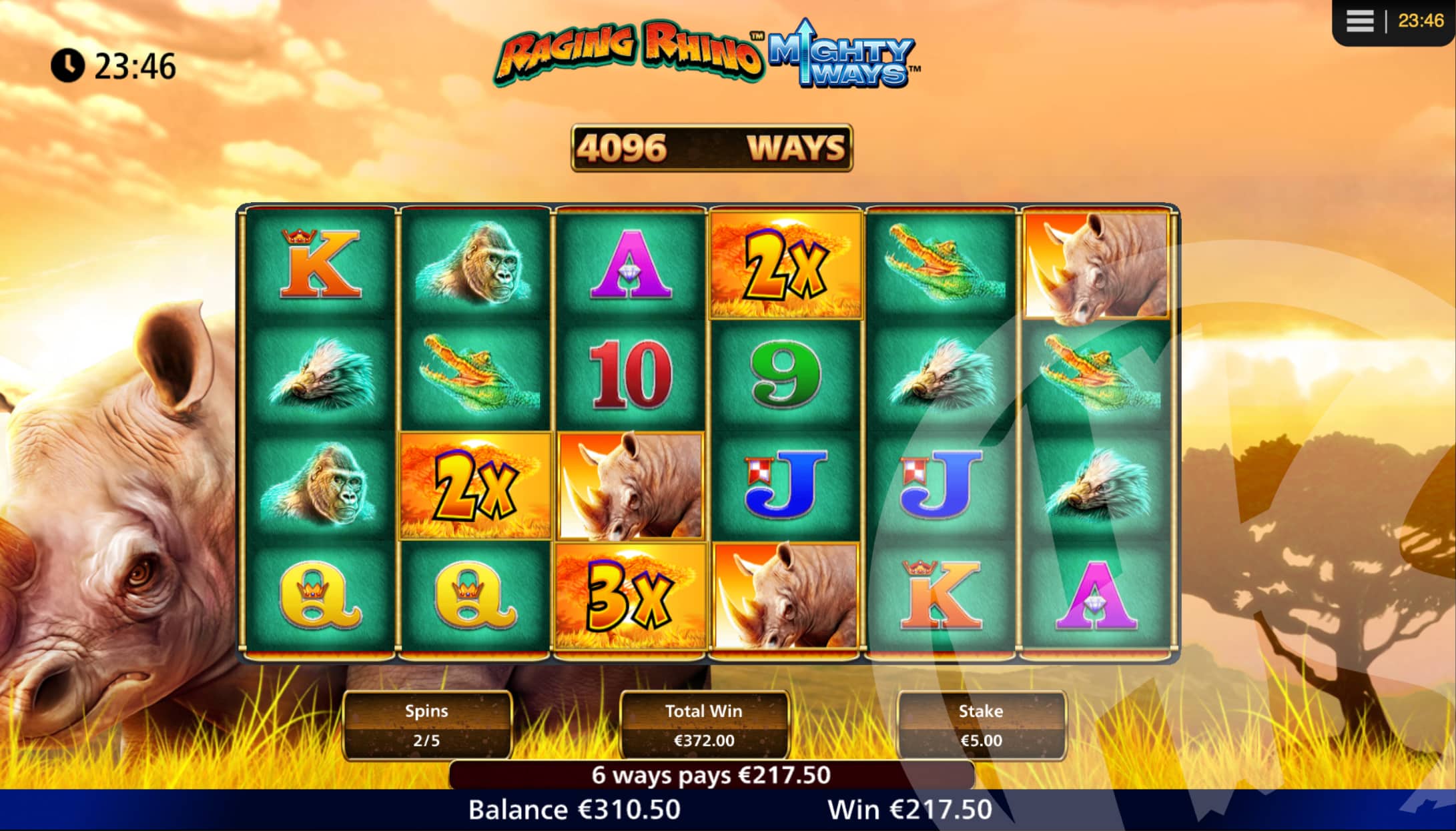 Players in appropriate regions can fast track the action with the following Buy Pass options:
Free Spins with 1 Super Bonus symbol – 35x bet
Free Spins with 2 Super Bonus symbols – 120x bet
When buying Free Spins, a random number of Regular Bonus symbols will land alongside the chosen Super Bonus symbols, triggering 5-15 Free Spins. RTP increases slightly to 96.0% when opting into the Buy Pass option, based upon the RTP setting of 95.93%.
The maximum win available in Raging Rhino Mighty Ways is 12,000x bet. If the sum of a single game round exceeds this, the game round will end and 12,000x bet will be awarded.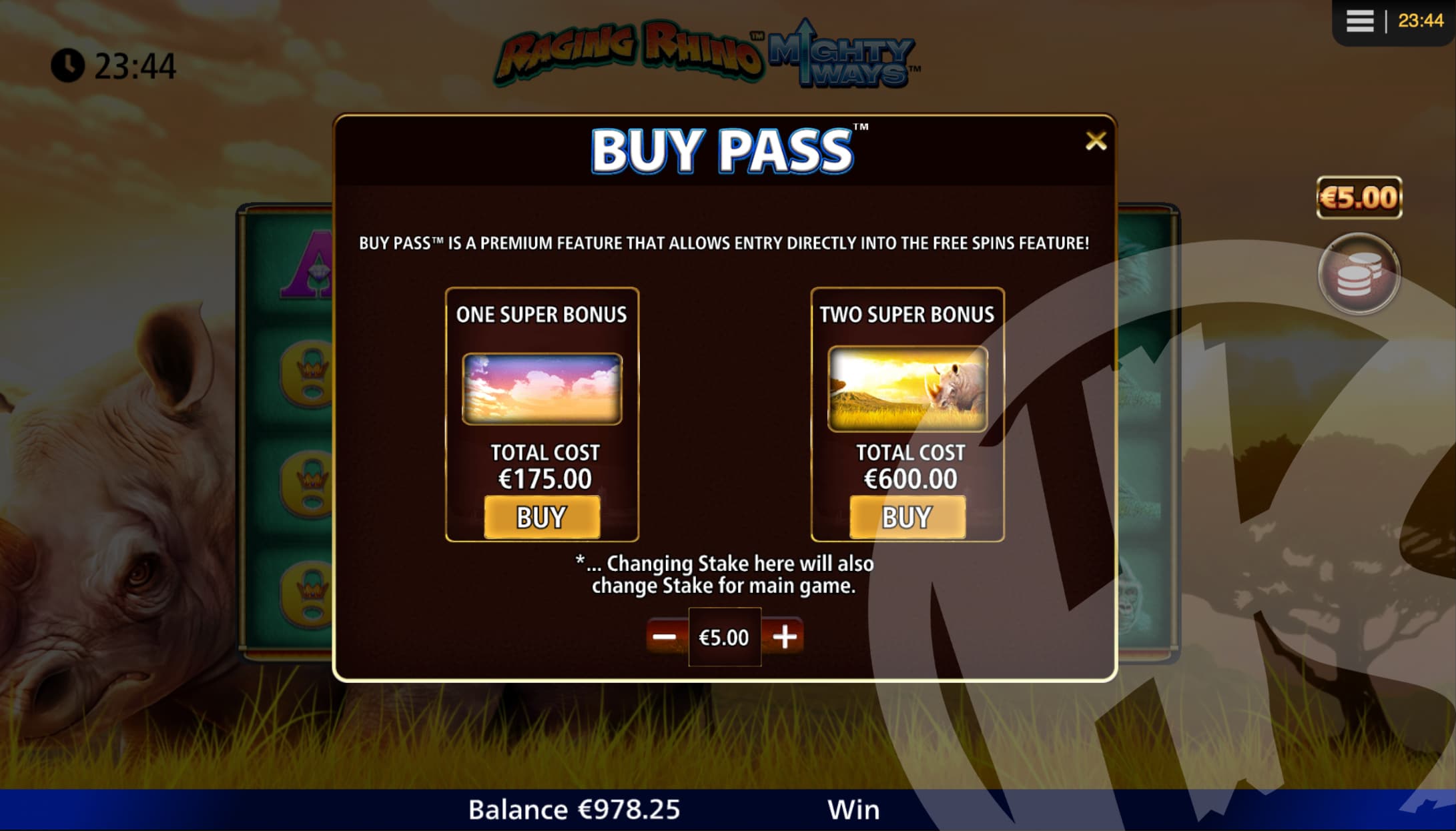 First Impression
As more and more games are afforded the Mighty Ways mechanic, it seemed inevitable that Raging Rhino would be chosen. So far, everything has worked in every game that has had this mechanic applied, and Raging Rhino Mighty Ways is no different. Growing reels with ways available up to 46,656 in the base game and 262,144 in Free Spins kick excitement up a level from the original release, enhanced even further by Wilds and Enhanced Reels – which both go most of the way towards the base game being what it is.
Symbol values can seem quite low, but when we move into Free Spins and Guaranteed Wilds are available, things get a bit more exciting. Wilds appearing outside of those Guaranteed didn't feel overly common, even when I had 25 spins, but they still show their face from time to time. Multipliers take things even further, particularly with multiple multipliers multiplying together. There is still the more recent problem common in many Light and Wonder releases that we can see the win in the win display before it actually has been displayed on the reels, so that's a bit annoying. That said, when the right combinations hit wins are possible up to 12,000x bet, and we wouldn't care how soon we saw it.
Maths is highly volatile and RTP at its highest is 95.93%, although versions are available of 94.0% and 92.0%, so as always it's worth checking this. Basically, if you're a fan of Raging Rhino or the Mighty Ways mechanic, you might have found your new home. If you haven't been convinced, expanding reels and Guaranteed Wilds might be enough to change your mind.
*The screenshots taken of games reviewed on this site are taken from Demo Play, as reviews are often written before games are released for real play.