According to Quickspin, it's time for Viking revival. In their upcoming release, Raven Rising, we are taken on a journey to Ragnarök. In Norse mythology, Ragnarök refers to a series of events predicting the deaths of Gods such as Odin, Thor, Heimdallr, Tyr, and Loki. The events include a great battle, and natural disasters which result in the earth begin submerged in water, eventually being repopulated by two survivors. That all sounds a bit grim, so if you're looking for a more amusing take on Raknarök, I recommend Thor: Ragnarök – and not just because of Chris Hemsworth. I digress, and move on to what is really important here. Raven Rising is a highly volatile release, with an RTP of 96.07% (lower versions are available), and wins available up to 6,804x.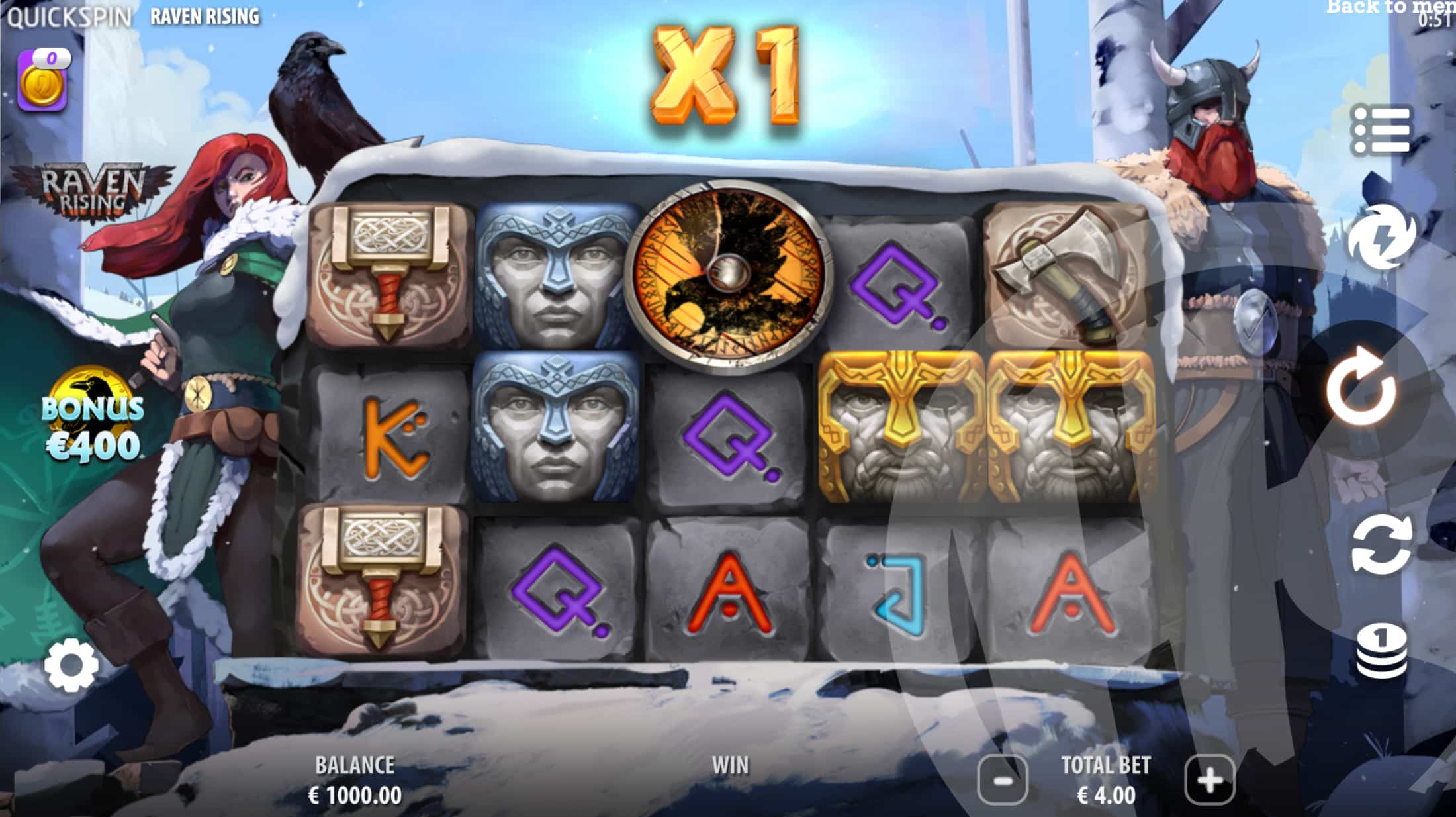 The game starts off on Midgård, the realm of human beings – so basically, earth. It's hard to see most of what is going on in the background, but we can see clear blue skies and a snowy landscape. Most of the screen is engulfed by the reels, and our two Vikings journeying to Rangarök, accompanied by the mystical Raven – a messenger of the Gods. The whole thing looks expertly Quickspin, with audios that compliment graphics perfectly, creating an intense and bold atmosphere.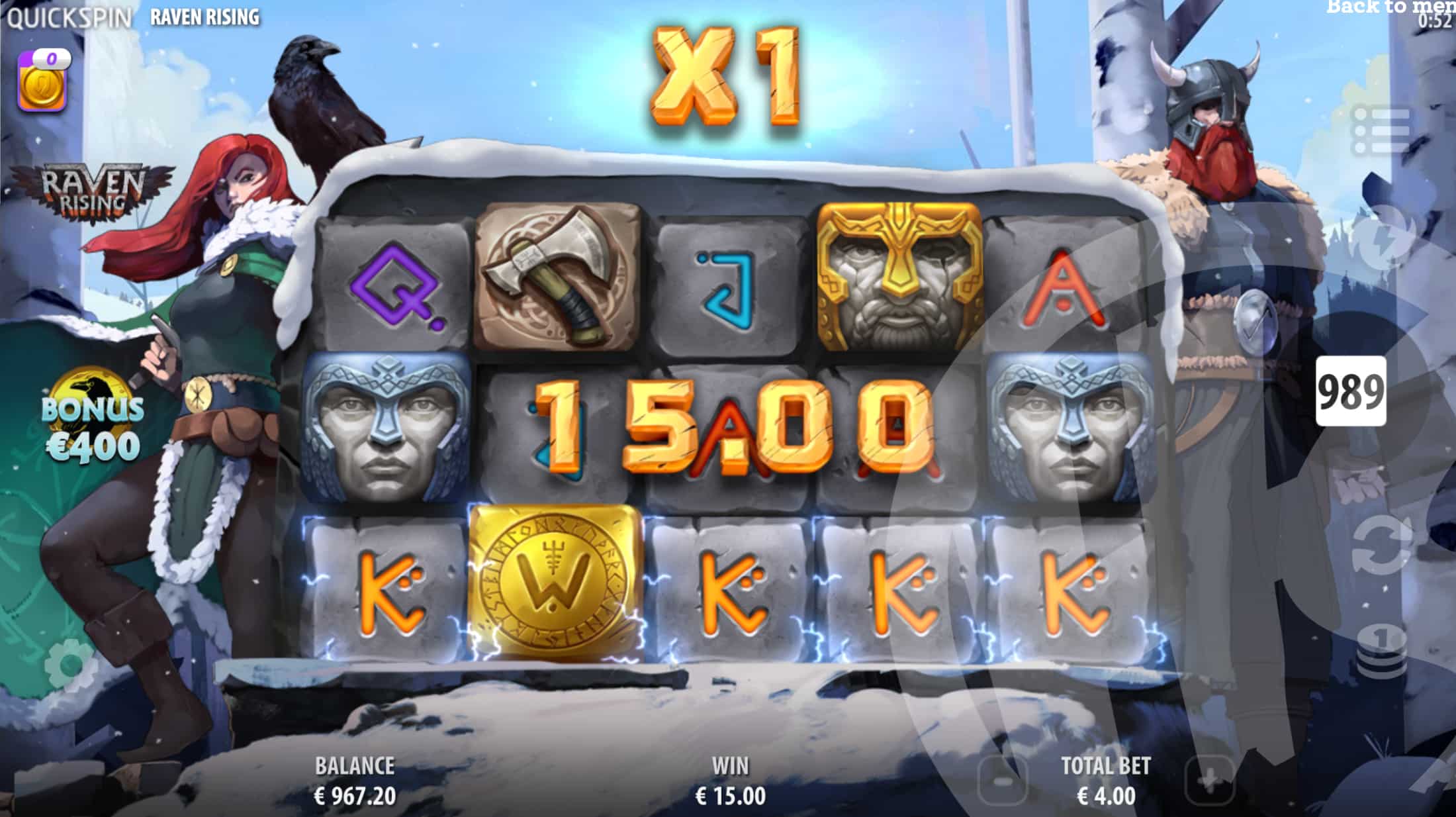 Raven Rising Base Features
Taking place across 5×3 reels, wins are formed on Raven Rising by matching at least 3 symbols on adjacent reels, beginning with the leftmost reel, across one of 20 fixed win lines. Symbols begin with non premiums, which sit upon rocks – J, Q, K and A. Land 3 of a kind of a non premium to see wins between 0.10 and 0.25x bet, with this increasing to values between 1.25 and 5x bet for 5 of a kind. At the premium end we have an axe, a hammer, Freyja – Goddess in charge of love, fertility, battle, and death, and Odin – God of war and death. Land 3 of a kind premiums to see wins between 0.50 and 1.25x bet, increasing to values between 10 and 75x bet for 5 of a kind. Finally, Wilds are available, substituting for all symbols except Raven Scatters. Land 3, 4, or 5 of a kind Golden Wilds to see wins of 2.50, 12.50 and 125x bet.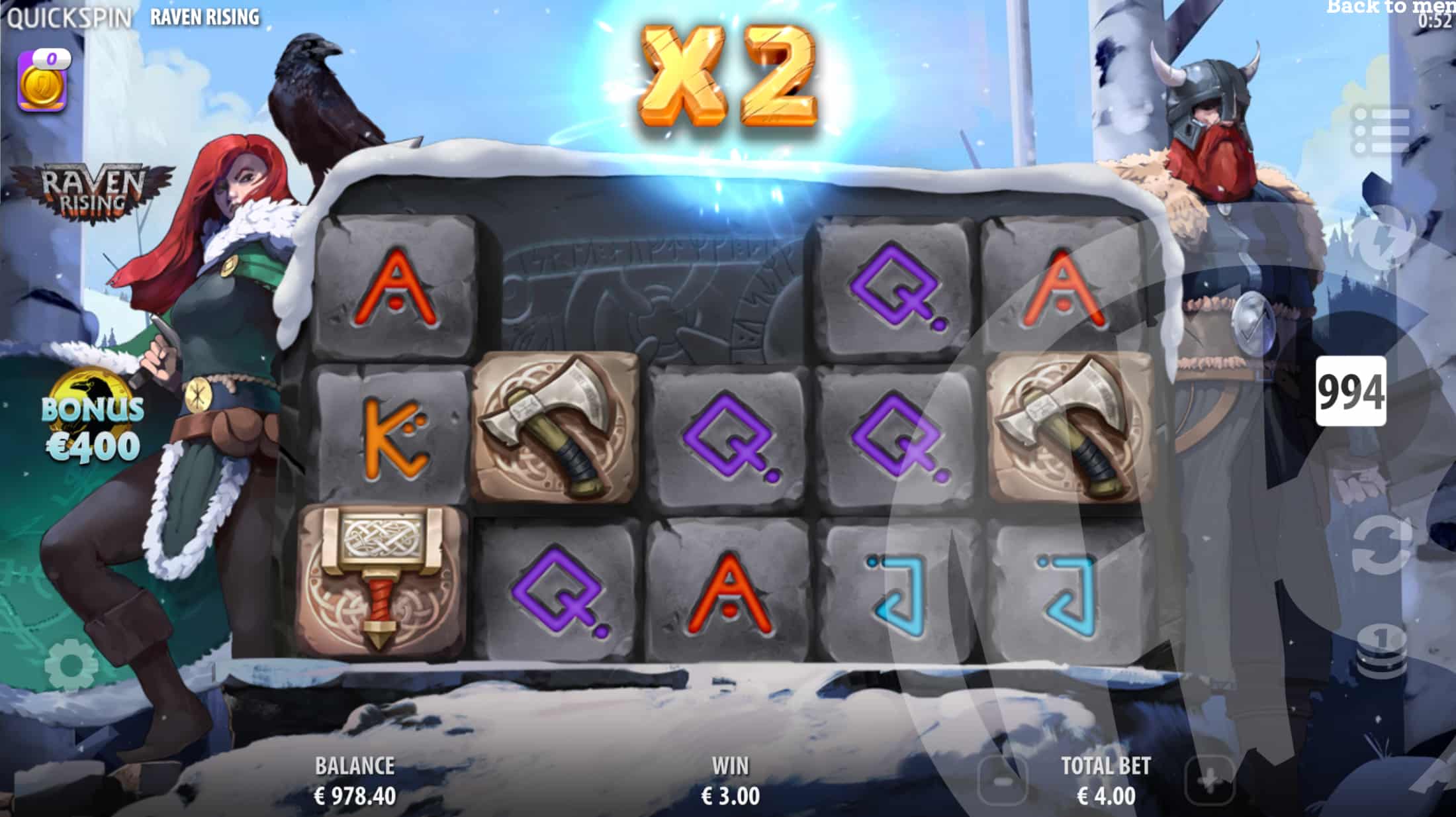 There are a couple of features to talk about in the Raven Rising Midgård base game, beginning with Tumbles. On every spin, all symbols involved in a win will be removed from the reels. Any symbols that remain on the reels will drop down to fill gaps where possible, and then any remaining gaps will be filled by new symbols dropping in from above. Tumbles give the potential for more wins, ending when no new wins are formed.
Working hand in hand with Tumbles is the win multiplier. During the base game, every Tumble will increment the win multiplier by +1. When Tumbles end, the win multiplier resets to x1 ahead of the next spin.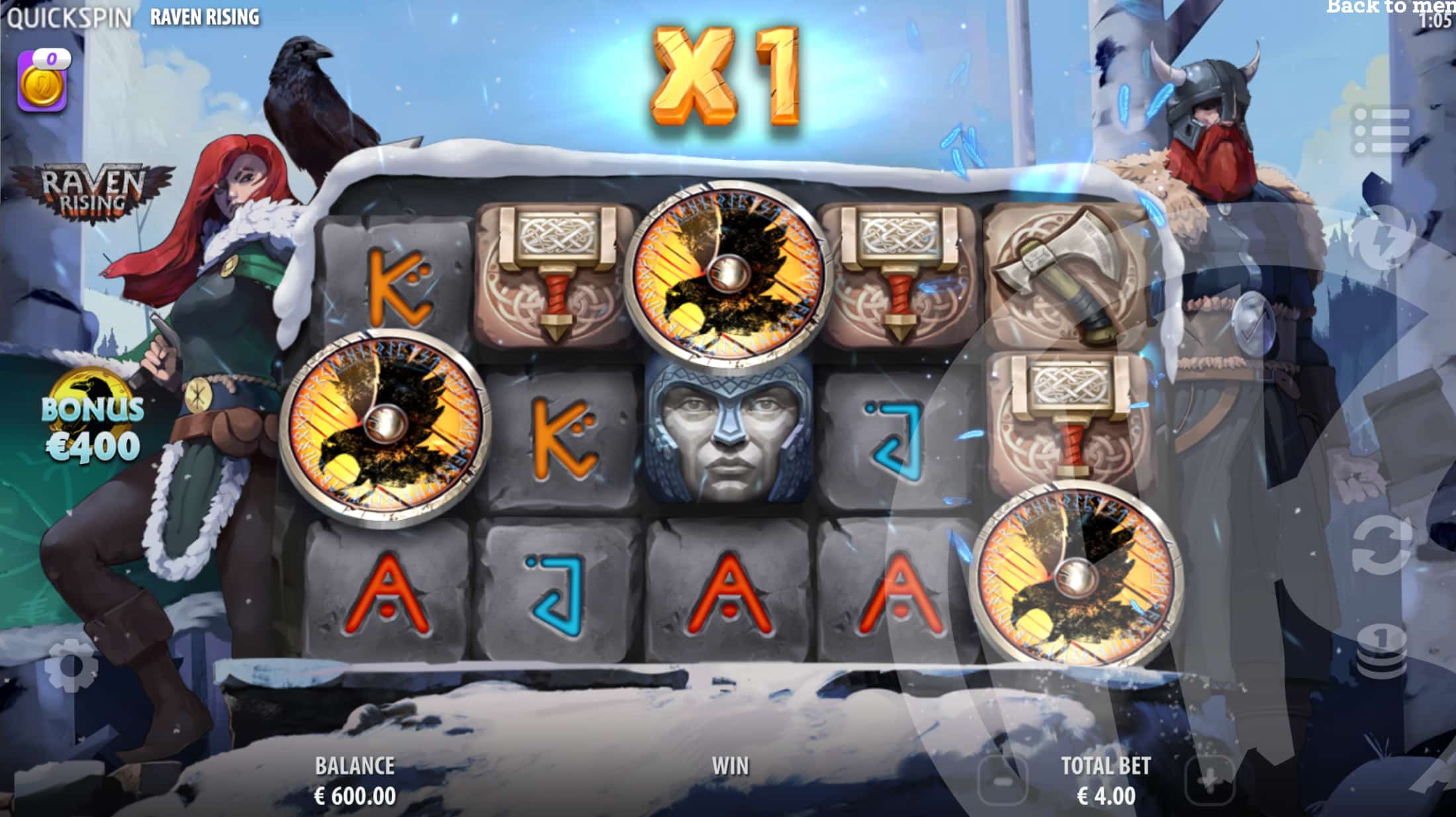 Raven Rising Bonus
Land 3, 4 or 5 Raven Scatters to trigger 7, 10, or 15 Ragnarök Free Spins – in which the setting changes to take place in the midst of Ragnarök. Players who trigger Free Spins with 5 Scatters will head straight into the bonus game, but those who trigger with 3 or 4 Scatters will have a chance to gamble to trigger up to 15 Free Spins.
7 spins unlocked – collect, or gamble to 10 spins.
10 spins unlocked – collect, or gamble to 15 spins.
15 spins unlocked – Free Spins will begin.
It is possible to gamble once, twice, or not at all depending on the trigger. Players who trigger Free Spins with 3 Scatters can gamble once and then choose to collect. If the gamble loses at any stage, the entire Free Spins feature is forfeited.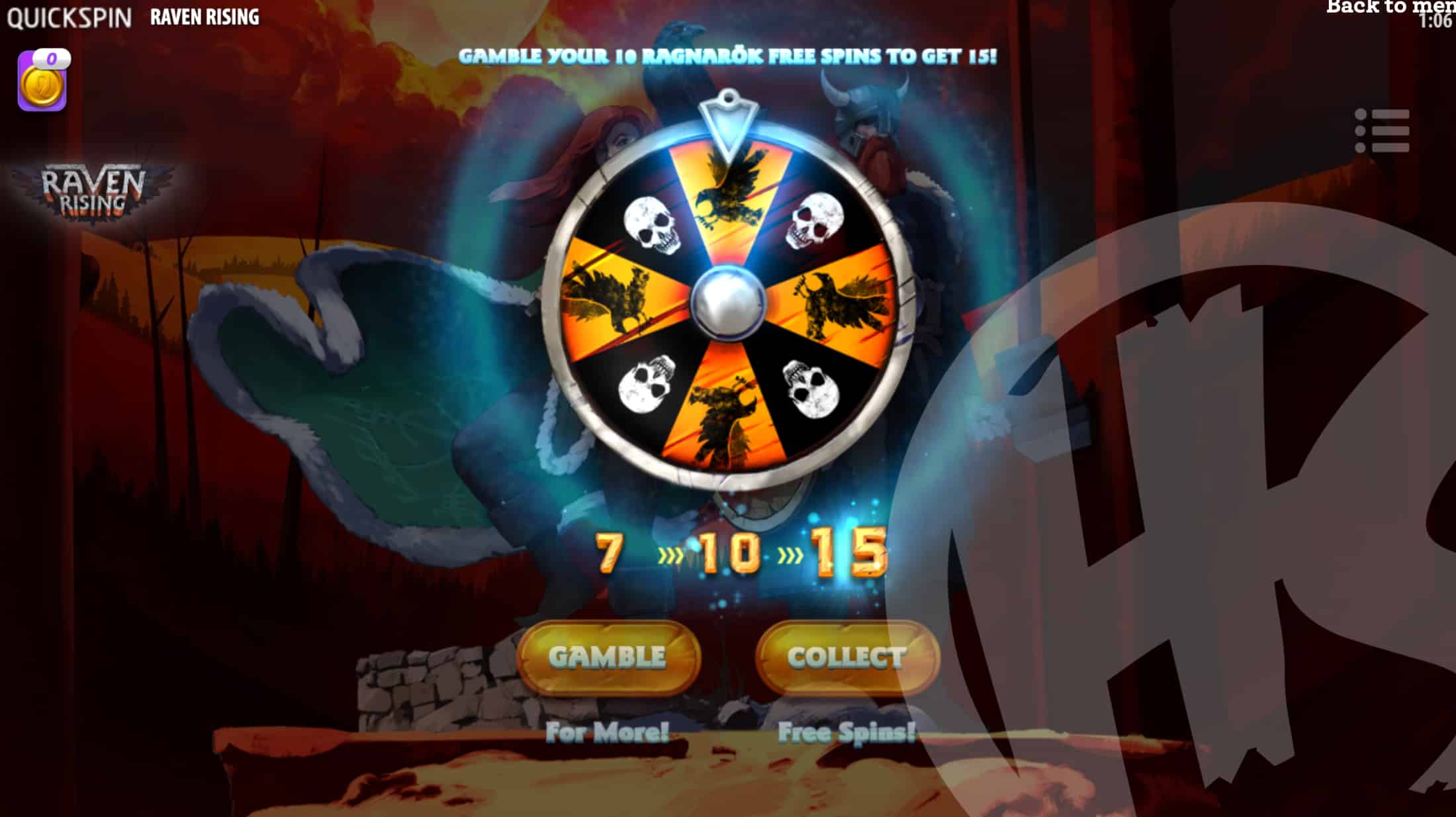 During Free Spins, things continue in much the same was as the base game, with Tumbles and a win multiplier. There are two notable exceptions, however – in Free Spins the win multiplier does not reset between spins, and it increments by +1 for every symbol removed during Tumbles, not every overall tumble. In the base game, a 3 of a kind win would increment the win multiplier from x1 to x2, whereas in Free Spins this would increment the win multiplier from x1 to x4. This is by no means a subtle difference, and it should not be underestimated the effect this can have.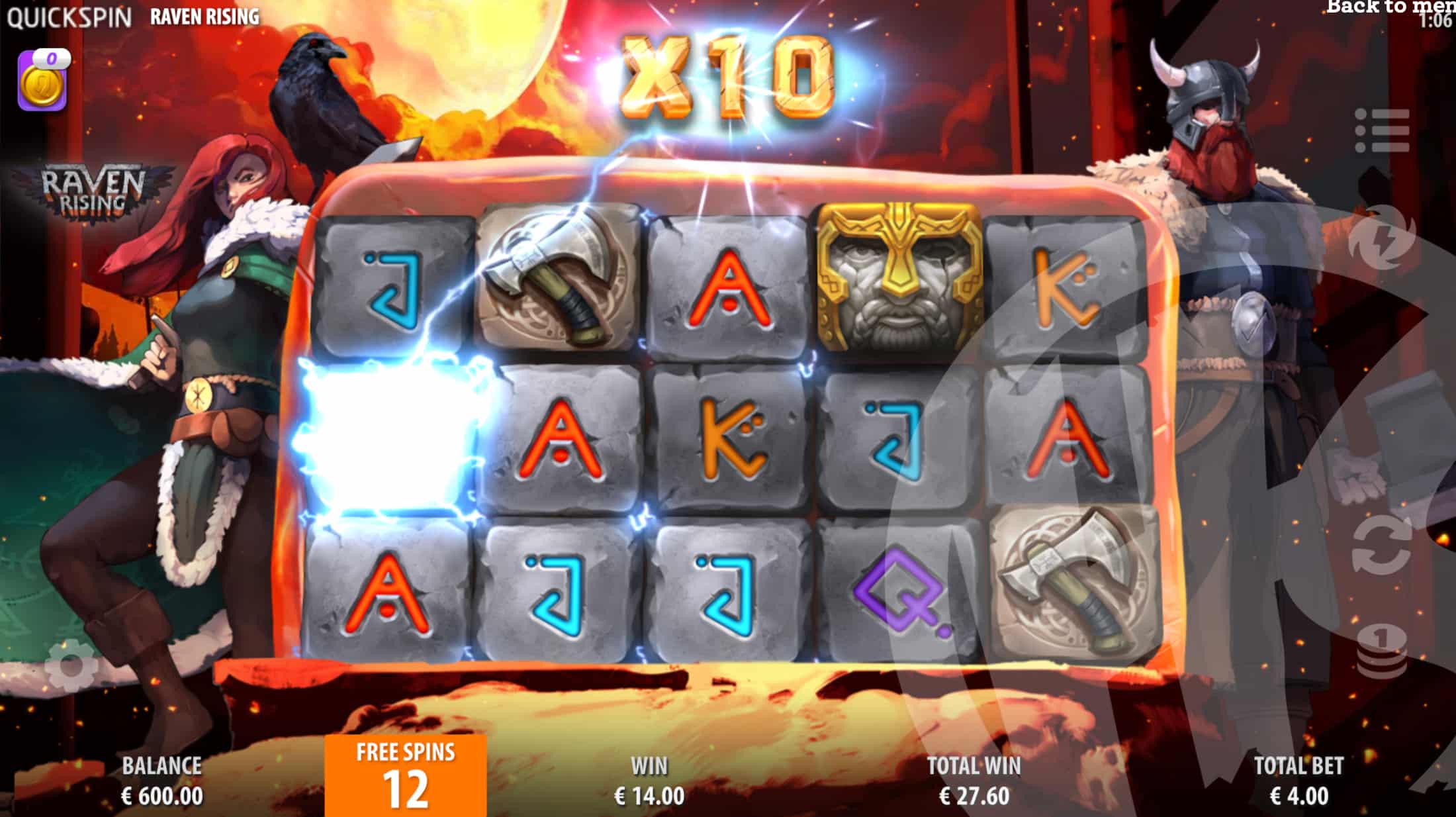 It is possible to re-trigger Free Spins by landing additional Raven Scatters:
3 Raven Scatters – +3 Ragnarök Free Spins
4 Raven Scatters – +5 Ragnarök Free Spins
5 Raven Scatters – +7 Ragnarök Free Spins
It is not possible to gamble any spins won as a result of a re-trigger.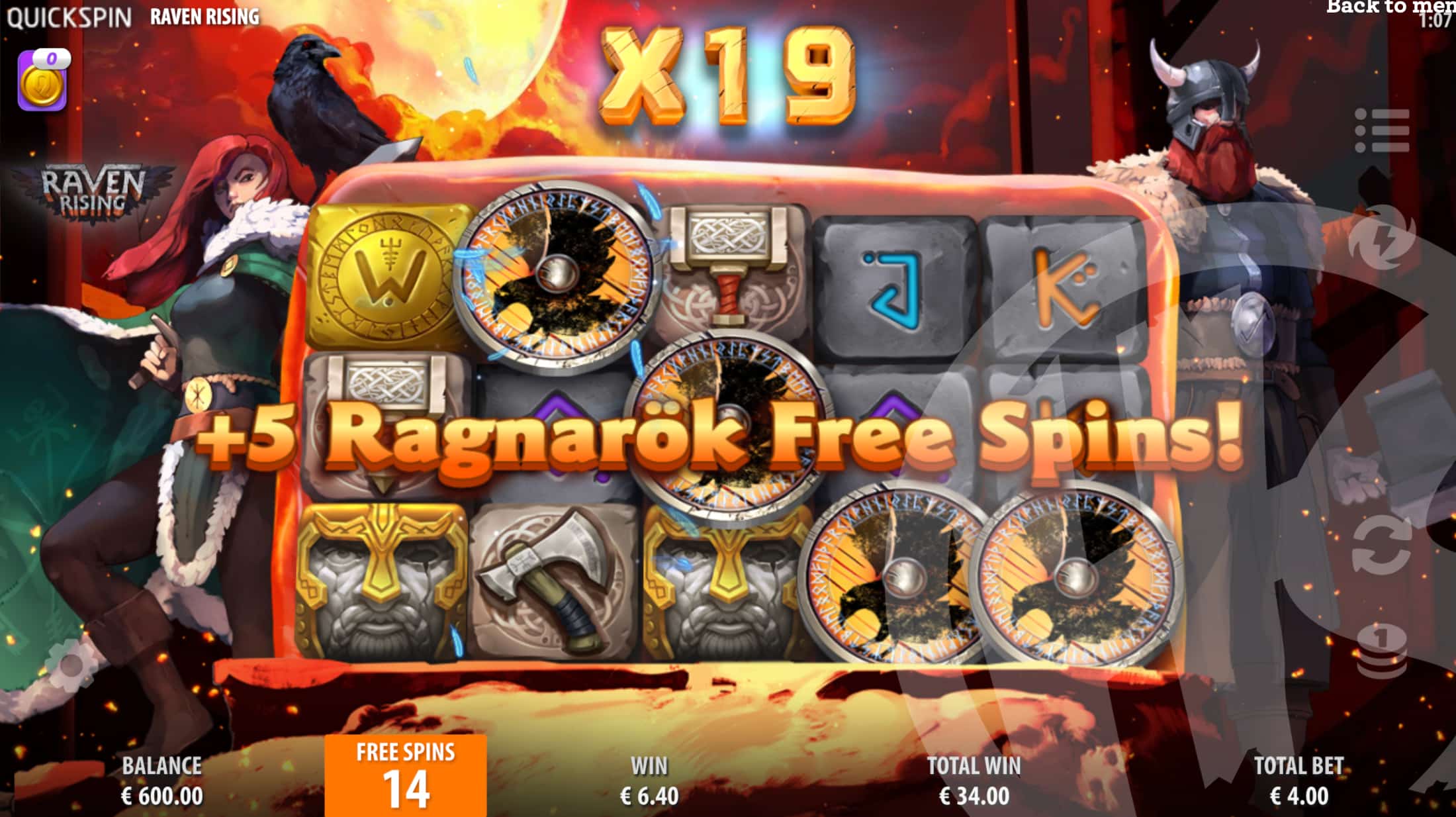 Players in appropriate regions can opt for the Feature Buy in Raven Rising. For a cost of 100x bet, Free Spins are guaranteed, with 3, 4, or 5 Scatters chosen at random. When buying Free Spins the RTP increases slightly to 96.57%.
The maximum win recorded in Raven Rising at the time of writing this review was 6,804x bet.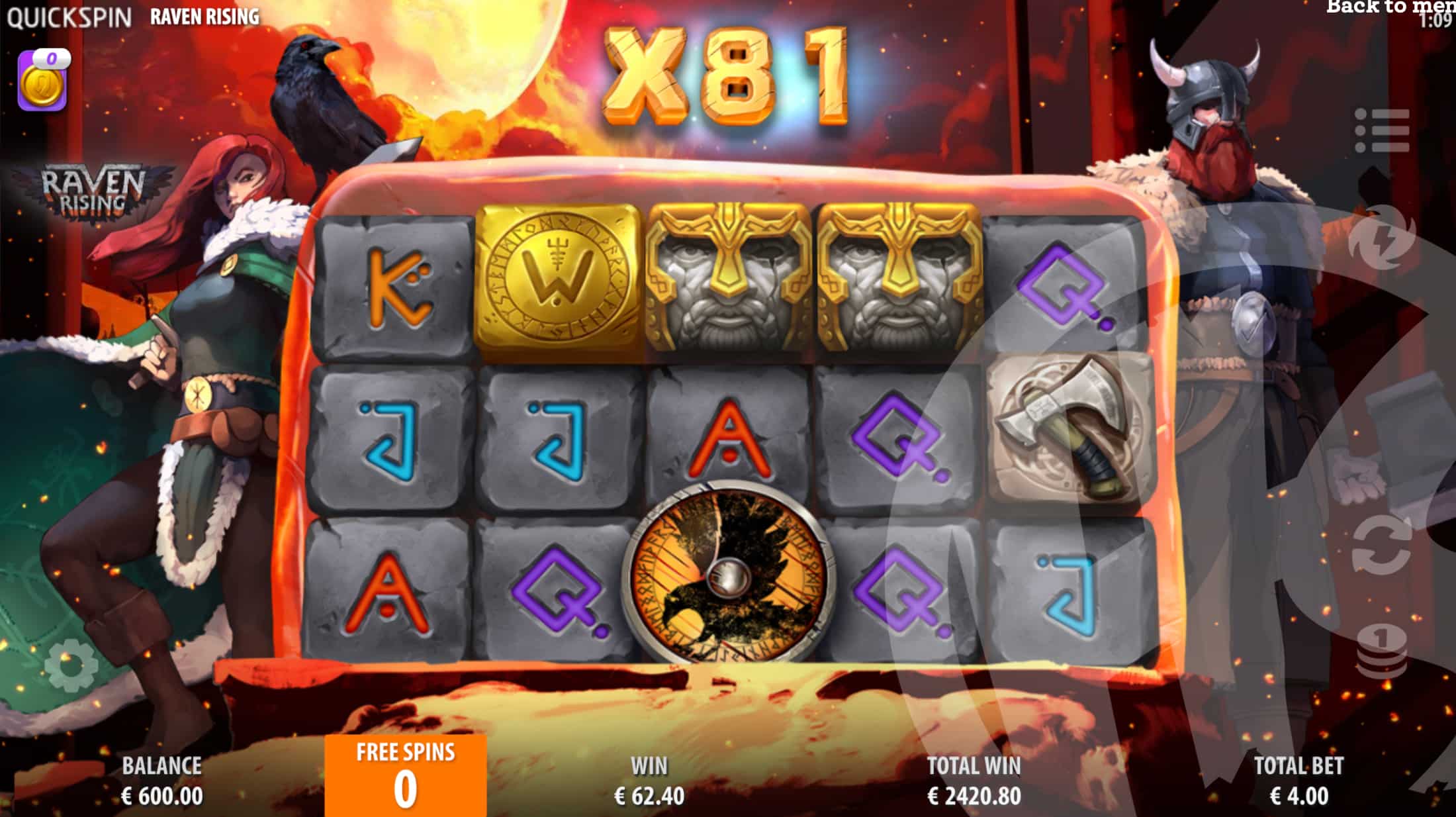 First Impression
When we reviewed Quickspin's latest release, Sticky Bandits Trail of Blood, we had this to say – "Quickspin are one provider that haven't gotten swept up in the newer trend of producing releases so packed full of features they become almost confusing. Instead, they stick to their roots, bringing us games that stand the test of time (…) have maintained their style throughout market changes, and remain one of the few providers that don't have us saying 'is that all?' when we see a full line of premiums."
Well, this first impression just got a lot easier, because I have the same thing to say now. Raven Rising is such a simple, yet potent release – capable of producing wins up to 6,804x bet just from Tumbles and a win multiplier (although it's unclear if this is just what has been achieved in testing, or a win cap). With symbols wins on offer up to 75x bet, and Wild wins on offer up to 125x bet, values are already impressive before we consider the fact that Free Spins increment the multiplier by +1 for every symbol removed. It's kind of similar to Big Time Gaming's Wild Portals, except Wild Portals only collects certain symbols for a Wild multiplier, making it rare to see multipliers beyond x25. In Raven Rising, we had a few bonuses climb beyond x80 – an incredible multiplier.
Each of these instances did come from 15 spins though, so take from that what you will. Re-triggers do seem frequent, so if you don't want to risk losing the bonus you paid 100x for (or worse, waited hundreds of spins on if you don't have access to the Feature Buy), there is still plenty of potential in the regular bonus. In spite of the results we did see, we're still cautious – don't expect an easy ride in this release – it is highly volatile, and although that can be rewarding, it can be destroying too.
Graphics are superb, audios are intense, and RTP is 96.07% (although versions do come as low as 87.0%, so as always its worth checking this before pressing spin). Raven Rising is a great release to add to the Quickspin catalogue, and one that would suit any player.
*The screenshots taken of games reviewed on this site are taken from Demo Play, as reviews are often written before games are released for real play.