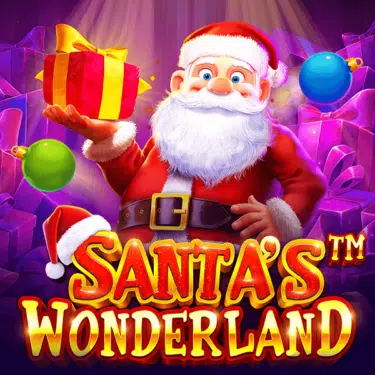 Santa's Wonderland
Game Provider: Pragmatic Play
Release Date: Available Now
Santa's Wonderland
Game Studio Pragmatic Play
Release date Available Now
RTP 94.49% - 96.23%
RTP Feature Buy 96.38%
Paylines Cluster Pays
Volatility High
Min Bet 0.20
Max Bet 100
Max. Win 7,500x
Rating 8.2/10
As the festive season draws nearer, it's a fair bet we're going to be reading a lot of Christmassy Slot Reviews, and today is no different – with this upcoming release coming from the team at Pragmatic Play. Taking a leap back to the October 2020 release from the team, Gems Bonanza, and adding in a jolly theme we arrive at Santa's Wonderland – featuring wins up to 7,500x bet in size, alongside a default RTP of 96.23%. Let's take a closer look into this highly volatile, yet merry release…
Visually, it's obviously Christmas, but its more like Christmas in years gone by, with the entire thing taking a kind of old-fashioned, classy vibe. Of course, with children nowadays receiving gifts like iPads and smart watches, it would be a bit odd to have those taking the symbol placement – so the team had no choice but to go back to the gifts we would have seen before this technological age, with teddy bears, trains and planes visible on the grid. There's a purple hue behind the grid, just drawing enough attention to the piles of gifts in view, alongside a vintage clock to the right – be sure to pay close attention to this during game play. Audios are a generic, Christmas jingle, which might be a positive to many players who tire of listening to 'Jingle Bells' on loop in other seasonal releases.
Santa's Wonderland Base Features
Taking place on an 8×8 grid, Santa's Wonderland adopts the cluster pays mechanic, with wins formed by matching clusters of 5+ symbols, touching horizontally or vertically. Symbols available begin at the lower end of the pay table, with blue, green, red and orange baubles imprinted with diamonds, clubs, hearts and spades, respectively. Landing clusters of 5 of any non-premium symbol will reward you with wins between 0.05 and 0.1x bet, increasing to wins between 25 and 75x bet for cluster sizes between 25 and 64. At the premium end, wooden planes and toy trains award wins between 0.15 and 0.25x bet for clusters of 5, whilst landing clusters between 25 and 64 will award wins between 150 and 250x bet. The highest paying symbol available is the teddy bear, awarding wins of 0.5x bet for clusters of 5, up to wins of 500x bet for clusters between 25 and 64.
Finally, Santa is the Wild symbol, substituting for all symbols to create a win. Santa Wilds can substitute for multiple symbols at once, but can only appear during the Lucky Santa or Wild Santa feature, which we'll get to in a moment.
Much like Gems Bonanza, there's a lot happening in the base game of Santa's Wonderland. First up is the Tumble Feature, wherein any symbols involved in a winning combination are removed from the grid. When this happens, any other symbols remaining on the grid will drop down to take their place, and new symbols will then fall in from the top to fill the spaces. Tumbles continue until no more wins can be formed, or no Spin Features are available.
Speaking of Spin Features, there are 5 available – basically the same 5 we know from Gems Bonanza. At the beginning of every spin in the base game, 5 special Snowflake markers (one of each colour) are placed behind symbols in random positions. To trigger a Spin Feature, a win must form involving the symbol on top of the Snowflake – the relevant feature will then trigger:
Blue Snowflake (Refresh): After all tumbles have ended, all symbols will be removed from the grid and new symbols will drop down in their place. Wilds will not be removed.
Pink Snowflake (Wild Santa): After all tumbles have ended, all instances of one random symbol on the screen will transform into Wild symbols.
Yellow Snowflake (Blocks): After all tumbles have ended, random blocks of 2×2 of the same symbol are added in random positions on the screen.
Red Snowflake (Supersize): After all tumbles have ended, a random block of 3×3, 4×4 or 5×5 of the same symbol is added in a random position.
Green Snowflake (Lucky Santa): After all tumbles have ended, between 5-15 Wild symbols are added to the grid in random positions.
If multiple features are triggered on the same spin, they will play out in the above order – Refresh, Wild Santa, Blocks, Supersize and finally Lucky Santa. When a feature is triggered the relevant colour will light up on the clock to the right of the grid.
Where Santa's Wonderland does differ from Gems Bonanza is in that all 5 markers will appear at the beginning of every base spin – whereas in its predecessor there was no guarantee of even 1 marker, much less all 5 in view on every spin.
Santa's Wonderland Bonus
On every spin in the base game, the amount of winning symbols removed during Tumbles are added to the Midnight Riches meter around the clock to the right of the grid. When tumbles end the meter will reset to 0, and when the meter is filled, the Midnight Riches feature will be triggered.
Collect 140 points from a single base game spin to trigger the feature. The feature will begin after all tumbles and spin modifiers have ended.
The feature will begin at Level 1, with a x3 multiplier attached to all wins. During the feature, every spin modifier is guaranteed to play out at every level. Modifiers will play in their designated order – Refresh, Wild Santa, Blocks, Supersize and Lucky Santa. Collect enough winning symbols during each level to advance to the next level:
Collect 116 winning symbols to advance to Level 2 – with a x6 win multiplier.
Collect 120 winning symbols to advance to Level 3 – with a x9 win multiplier.
Collect 124 winning symbols to advance to Level 4 – with a x12 win multiplier.
Collect 132 winning symbols to advance to Level 5 – with a x15 win multiplier.
The feature will end when not enough symbols are collected to advance to the next level, or all spin featured have played out on Level 5.
Players in appropriate regions can skip straight to the action by buying the Midnight Riches feature for a cost of 100x bet. The feature will begin when all tumbles or spin features of the triggering spin have ended. When buying the feature level requirements and multipliers remain the same, but RTP increases slightly to 96.38%.
First Impression
The first noticeable difference between Gems Bonanza and Santa's Wonderland is one we've already mentioned – on every spin within this new release, every spin feature marker will be visible on the grid. This really changes how things play out comparatively, as multiple spins could go by in Gems Bonanza with only 1-2 markers or worse – none. This will probably be particularly exciting to UK players, as an opportunity to spice up the base game. The next important distinction is that Refresh (which you might remember as 'Nuclear') no longer removes Wilds in view – something a multitude of players have complained about before, particularly when advancing from one level to another within the bonus feature.
Whether this will actually affect the chance of getting a feature remains to be seen, as this boils down to the maths. What these changes do, however, is change the emotional experience for the player – suddenly a game which can feel 'dead' feels full of chances, and that makes all the difference. So much so that we may see players opt for Santa's Wonderland outside of the festive season.
Some other changes include multipliers in levels now moving through x3, x6, x9, x12 and x15, as opposed to x2, x4, x6, x8 and x10. Alongside this, players who buy the feature on Santa's Wonderland no longer need to collect additional symbols for level progression as opposed to those triggering naturally. As far as collection goes, from level to level things have remained the same (other than Level 3-4 now requiring 1 less symbol). Actually triggering the feature is now harder though, with symbols required increasing quite a lot – from 114 to 140.
On a personal level, the graphics of Gems Bonanza, and in particular the audio backing track, are hard to match up to, and Santa's Wonderland doesn't quite have the wow factor the original did – however as a seasonal release, the team have nailed it.
Now, the maths. Santa's Wonderland packs the following statistics:
Base game hit frequency: 1 in 3
Win over 1000x bet hit frequency: 1 in 158,907
Max win hit frequency: 1 in 250,000,000
The maximum win available is 7,500x bet, which we certainly won't turn our nose up at, however this has taken a dive from the 10,000x bet of it's aztec sibling. Default RTP, whilst still fair at 96.23% has again dipped from the default 96.55% we knew before – and as always different settings are available, so players should check. Whilst the hit frequency remains similar, the frequency of wins over 1,000x bet is now 1 in 158,907 – a massive decrease from the 1 in 79,145 of Gems Bonanza. Both releases remain highly volatile.
So, there's some benefits to this new release, and there's some downsides. The benefits to some players may be enough to ignore the fact this is supposed to be a seasonal release, whilst for others Gems Bonanza will do just fine – maybe you already see enough of Santa Claus. Overall though, Santa's Wonderland has made just enough changes to feel somewhat different – and is a nice edition to the Pragmatic catalogue.
*The screenshots taken of games reviewed on this site are taken from Demo Play, as reviews are often written before games are released for real play.