Play'n GO aren't a provider to shy away from new releases, even going as far as releasing one game per week in 2020, adding 52 games to their already extensive catalogue. With such a large selection of games on offer, it's easy for some to get lost amidst the chaos – but on the other end of the scale some of their releases have stood the test of time, remaining fan favourites no matter how many new editions come our way. An example of this, albeit not the most obvious, is Moon Princess, and by extension Rise of Olympus – two 5×5 grid slots, featuring 3 free spin options for players to choose from, alongside win multipliers increasing as high as x20. This year, the team are treating us to Sisters of The Sun, which in many ways is similar to these previous releases, with a couple of tweaks to keep us interested. Part of what led Moon Princess and Rise of Olympus to take such respected positions in Play'n GO rankings was the idea of a 'quick bonus' – interesting when we remember both these releases hold volatility ratings of 'very high (10/10)'. Sisters of The Sun turns this down slightly with volatility rated 8/10 – high, but turns up the heat with a maximum win of 15,000x bet (3x the previous win cap). Let's take a look at the features on offer…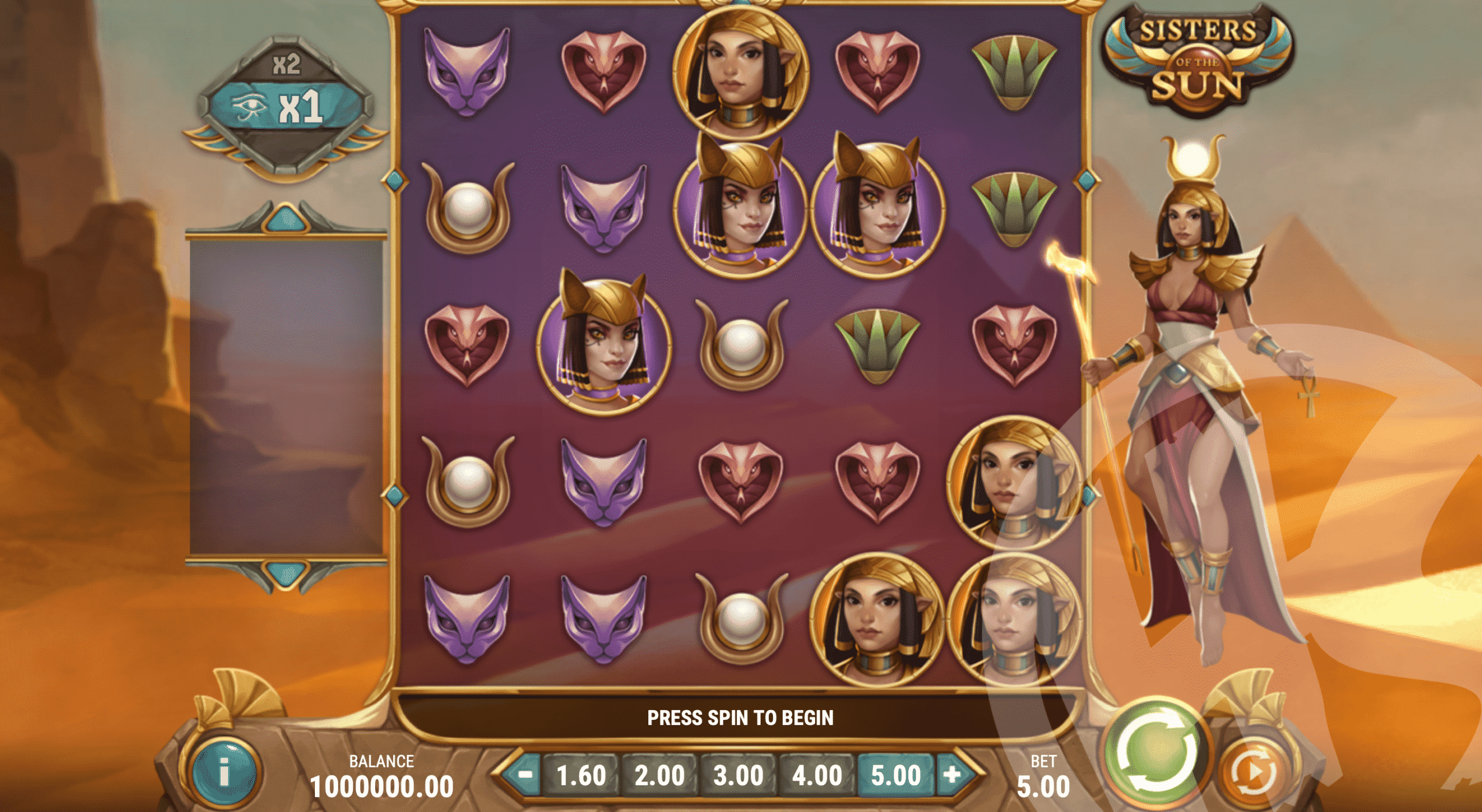 Unsurprisingly, the visuals you'll be greeted with upon starting your game play will entirely depend on which Goddess or feature is active, which we'll explain more on down below. Choices are: neutral sandy landscapes of Egypt, with pyramids visible to the right of the screen, dark blue clouds in a night sky, rocky landscapes amongst a dark haze, and pink tinted sands with a cat Sphinx statue in view to the left. In the forefront, the 5×5 grid sits upon gold with aqua gem details. Audios are stereotypically Egyptian, but remain undistracting.
Sisters of The Sun Base Features
With 25 symbols in view within the 5×5 grid, wins are formed by matching 3 or more symbols in a row, horizontally or vertically, in any position on the reels. The same symbol can be used in multiple winning combinations, and any symbols involved in these winning combinations will removed from the reels, allowing the symbols above to drop down and fill the spaces, however no new symbols will drop down into their place as we would expect. Symbols available include a lower paying selection of shapes, with what looks to be a green leaf, purple Egyptian Mau cats, sun disks and pink cobras, paying between 0.1 and 0.15x bet for 3 of a kind, or between 2 and 3x bet for 5 of a kind wins. At the premium end, our 3 Goddesses each pay 0.3x bet for 3 of a kind, and 10x bet for 5 of a kind, however they are available to mix and match, paying between 0.2 and 5x bet for 3-5 of a kind mixtures. Finally, Wilds are available, represented by red sun symbols atop stones adorned with golden cobras, and pay between 1 and 30x bet, depending on how many are involved in the win.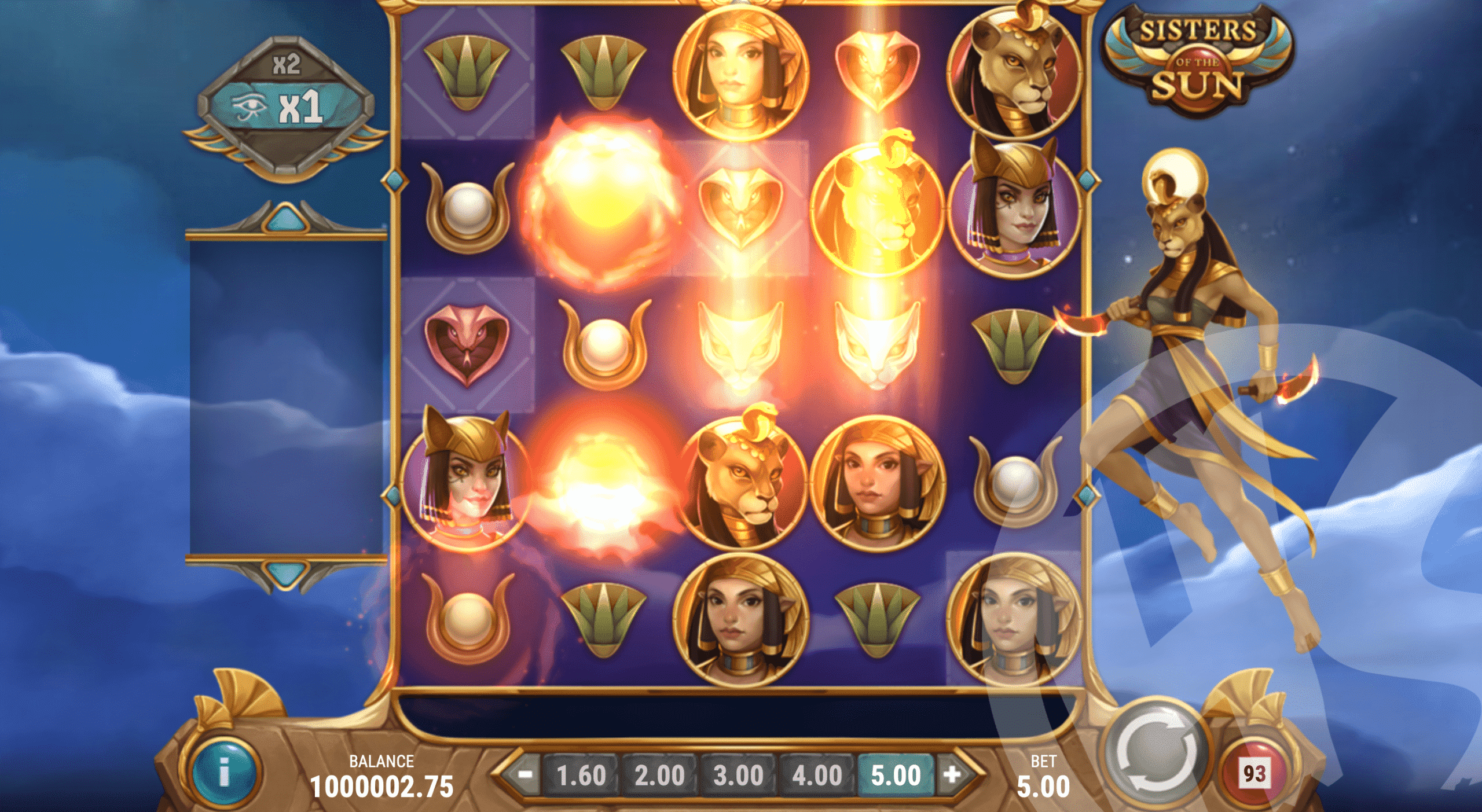 There are a host of features keeping things exciting in Sisters of The Sun, beginning with the Eye of Ra feature, wherein a number of positions on the grid are highlighted with an Eye of Ra at the beginning of each spin. Any win over these positions then increases the win multiplier, which is in view at the top left side of the grid, by +1.
Next up is Goddess Power. As mentioned, we have 3 Goddesses available – Sekhmet, Hathor and Bastet. Each of the Goddesses can be triggered randomly on any non winning spin, and whichever Goddess is in view to the right of the screen will perform her respective power to try and help create a win:
Sekhmet (Lion-Headed): Converts one set of symbols on the reels.
Hathor (Sun Disk): Gifts 1 or two wild symbols onto the reels.
Bastet (Cats Head): Removes two sets of symbols from the reels.
Randomly, a Scatter symbol can land on the grid, denoted by a glowing, blue Egyptian Scroll. If this lands, the Sisterhood feature is triggered, wherein Sekhmet, Hathor and Bastet perform their Goddess Powers one after another, in one free round.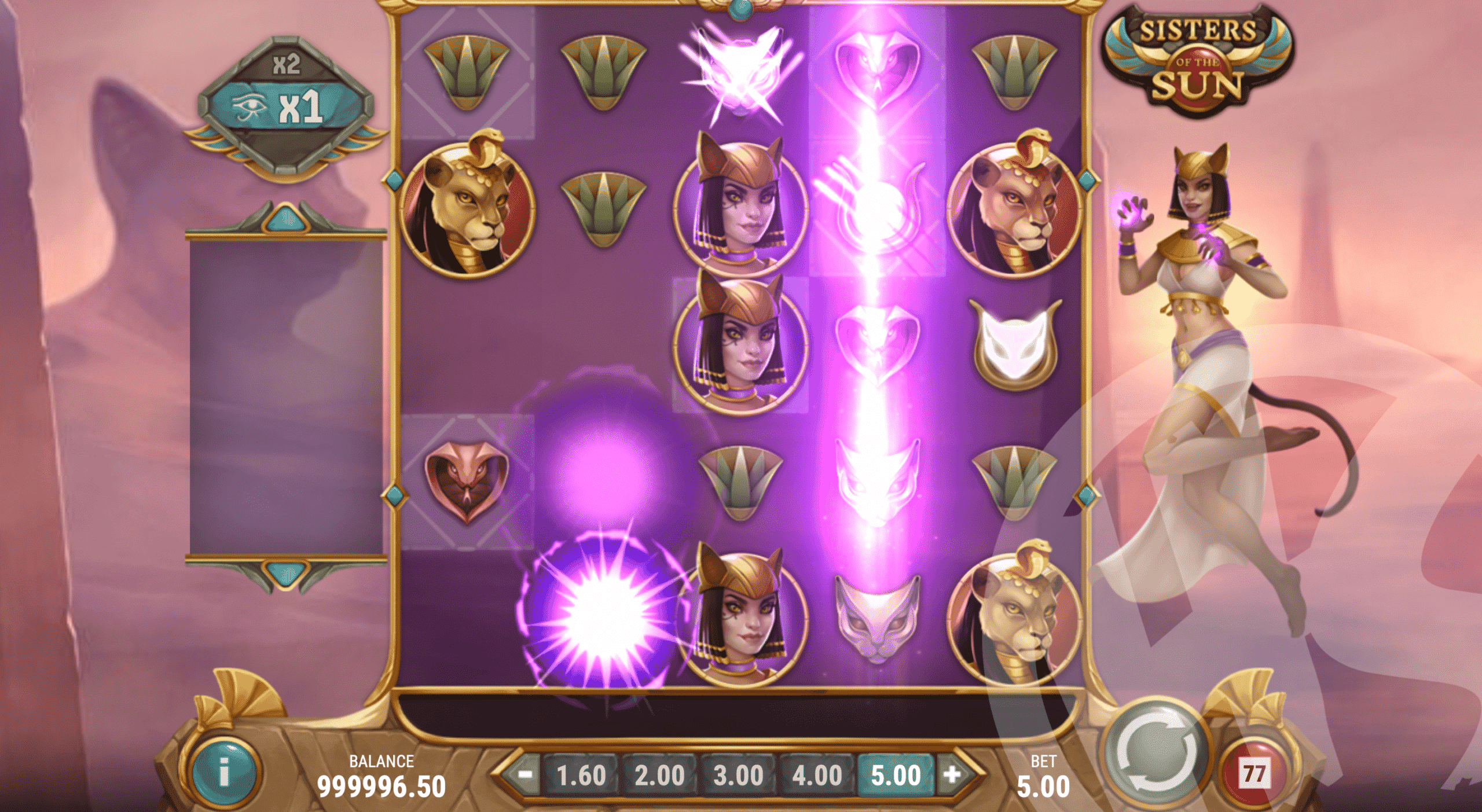 Sisters of The Sun Bonus
During the Sisterhood feature, if all positions on the grid are cleared free spins will be triggered, and players will have a choice of 3 features to play:
Sekhmet: 4 free spins (+4 spins if a Scatter lands in view)
Hathor: 5 free spins (+3 spins if a Scatter lands in view)
Bastet: 8 free spins (+2 spins if a Scatter lands in view)
Fewer spins are higher risk, with higher potential for rewards. Whatever the win multiplier is at the time of triggering free spins will carry over into the free spins round, and will not reset for the duration of the feature. If a Scatter lands in view during the free spins round, the respective amount of extra spins are awarded, up to a maximum of 150 spins.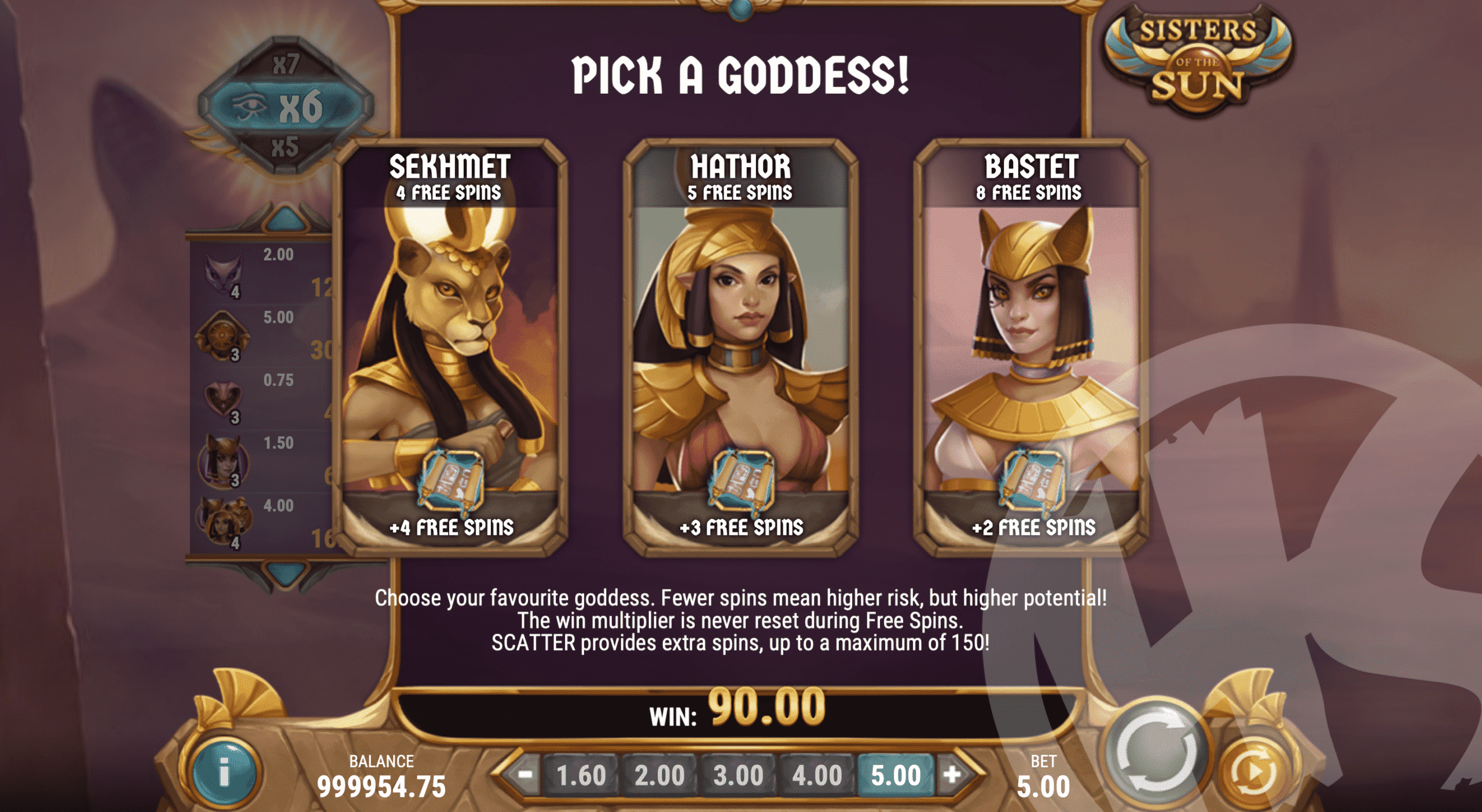 The Eye of Ra feature continues during free spins, with each win over one of these positions increasing the win multiplier. The amount of marked positions on the grid at the beginning of each spin will be doubled in the free spins round.
Clearing all symbols from the grid during free spins will award a prize of 50x bet, which is further multiplied by the active win multiplier – giving the potential for wins up to 15,000x bet.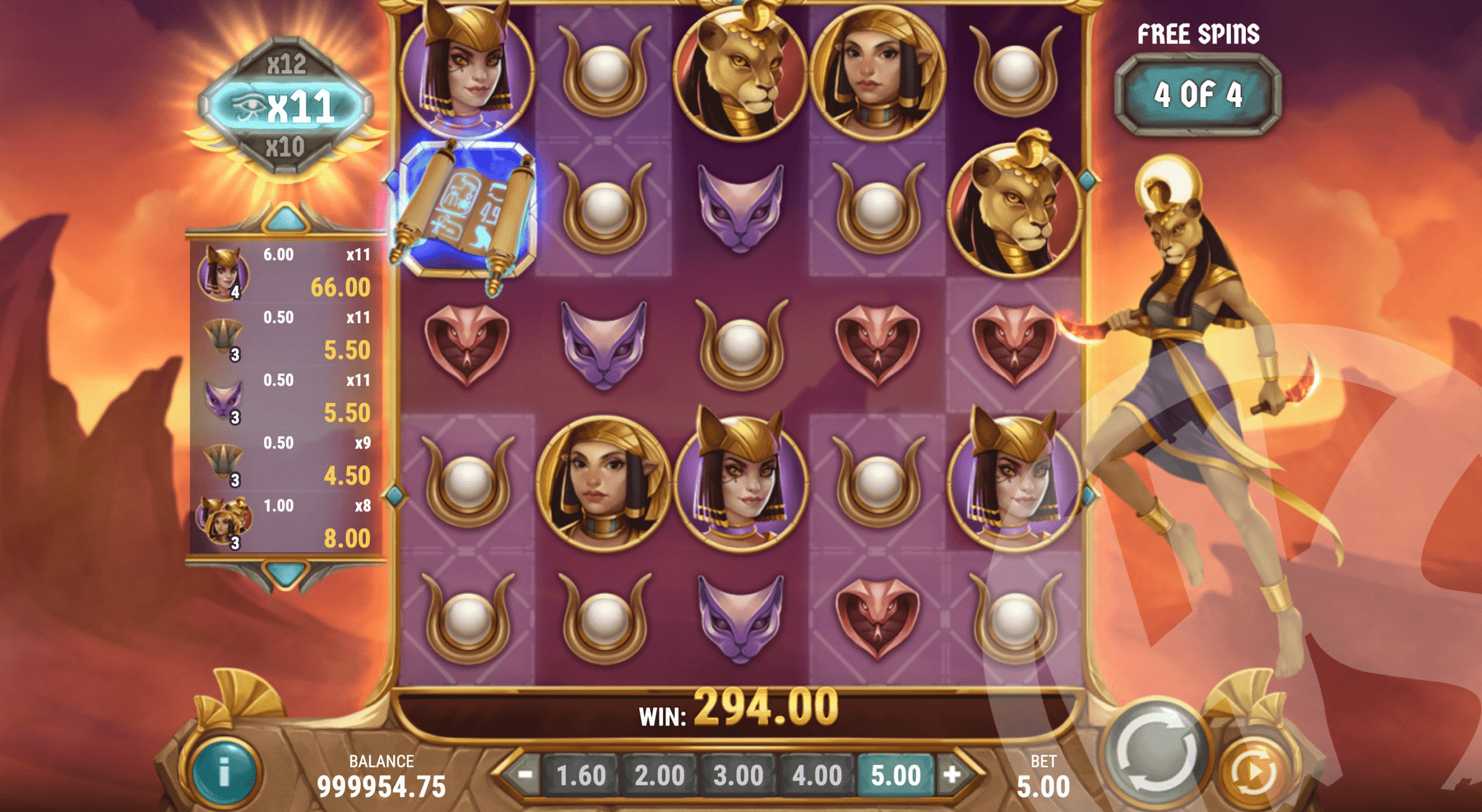 First Impression
Given the popularity of Moon Princess and Rise of Olympus, it would be surprising if Sisters of The Sun was not met with the same acclaim from these players. Some changes have been made; the most obvious of which being that Sisterhood is now randomly triggered, whereas the Trinity feature was always triggered by up to 3 wins involving premium symbols – the same also being true for the retrigger during free spins. The resultant experience is that we now don't need to look for any particular combination to hope for a feature, instead just waiting on a Scatter to land.
A second change is of course in the Eye of Ra feature, wherein the multiplier only increases with wins involving these positions. This could be a negative point for players who preferred when every win increased the multiplier, but we should bare in mind volatility is actually lower now (high 8/10), and the wins available are 3 times as high, coming in at 15,000x bet – so something has been done right within these changes. The bonus remains for clearing the grid outside of the Sisterhood feature, with this now working alongside the win multiplier, going further to add to the excitement. RTP is unfixed, with settings between 84.20% and 96.20%, and although the default value is set at 96.20% players are encouraged to check the game information to be aware of which setting they have.
Sisters of The Sun does a nice job of carrying on what Play'n GO first started in 2017, with enough familiarity for us to feel comfortable, but enough tweaks to keep things feeling fresh.
*The screenshots taken of games reviewed on this site are taken from Demo Play, as reviews are often written before games are released for real play.