We might think we know a lot about space, and sure – compared to 100 years ago our knowledge has increased exponentially with the help of forever improving equipment making it possible to send humans to the moon, launch international space stations and build the telescopes that tell us more than we've ever known about our vast universe. You might know Venus is a hotspot of noxious gasses, making it impossible for humans to survive, or that Pluto is so cold, at -232°C, it cannot sustain life. What you might not know is that scientists estimate to have only explored around 4% of the visible universe so far, leaving limitless possibilities for the other 96% – and of course, what lies beyond the observable.
All this to say, who really knows if life exists beyond our own planet? Could there be other life forms – other humans? We can't really say, but I sure hope if there is extraterrestrial life in this universe, it looks like the characters we're going to explore today. Say hello to Space Miners – a new release from Relax Gaming. An unknown distance from earth, these little creatures are trying their hand at space mining, hopping from planet to planet extracting planetary riches from asteroids, and we get to work alongside them, extracting wins. With an RTP of 96.47% (97.14% feature buy), a hit frequency of 20.18%, and wins on offer up to 50,000x bet, this highly (5/5) volatile release isn't just fun to look at, it packs a serious punch.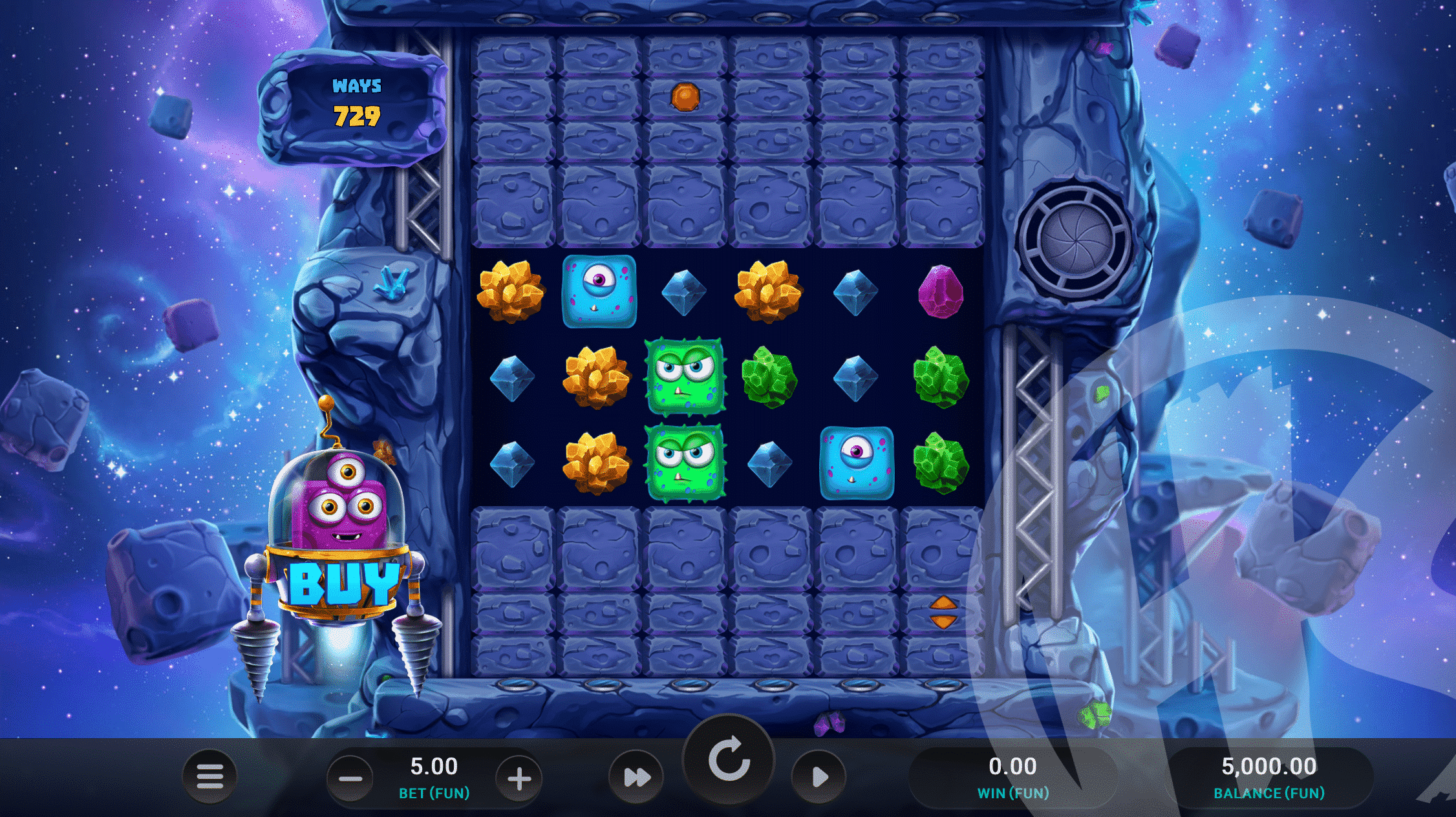 Visually, we're definitely in space, and the design team have made things a lot more interesting than the deep black we would probably see in this position. Instead, the skies have a wonderful blue hue, with stars and swirls penetrating through. The reels are set upon some sort of space craft enabling these creatures to mine, with asteroids floating past, waiting to be captured and broken apart to reveal the precious metals we see upon the reels. Our characters are bright, colourful and quite fun to look at, not unlike the aliens of Reactoonz fame. Audios are suitably outer worldly, adding to the overall experience in a nice way.
Space Miners Base Features
Taking place across 6 reels, each reel starts with 3 symbols, with wins formed by matching at least 3 symbols on adjacent reels, beginning at the leftmost reel. This creates 729 ways to win, but this is just the start – up to 1 million ways to win are available, which we'll explain below. For now though, let's take a look at the payable, beginning with the low paying planetary rocks. Blue, pink, green and yellow in colour, 3 of a kind will reward you with wins of 0.10x bet, increasing to 0.40x bet for 6 of a kind. At the premium end, we meet our Martians, beginning with the blue and purple, paying 0.20x bet for 3 of a kind and 0.60x bet for 6 of a kind, followed by green and orange, rewarding players with wins between 0.30 and 1x bet for matches between 3 and 6 of a kind. The highest paying symbol is our red and blue tentacled creature, awarding wins of 0.50x bet for 3 of a kind matches, up to 5x bet for 6 of a kind – impressive when you remember up to 1 million ways to win are available. Finally, it's Wild symbols and UFO Bonus Symbols. Wilds always expand to fill all positions on the reel they land upon, which can be a maximum of 10 per reel when all 1 million ways are unlocked, and substitute for all symbols except Bonus Symbols.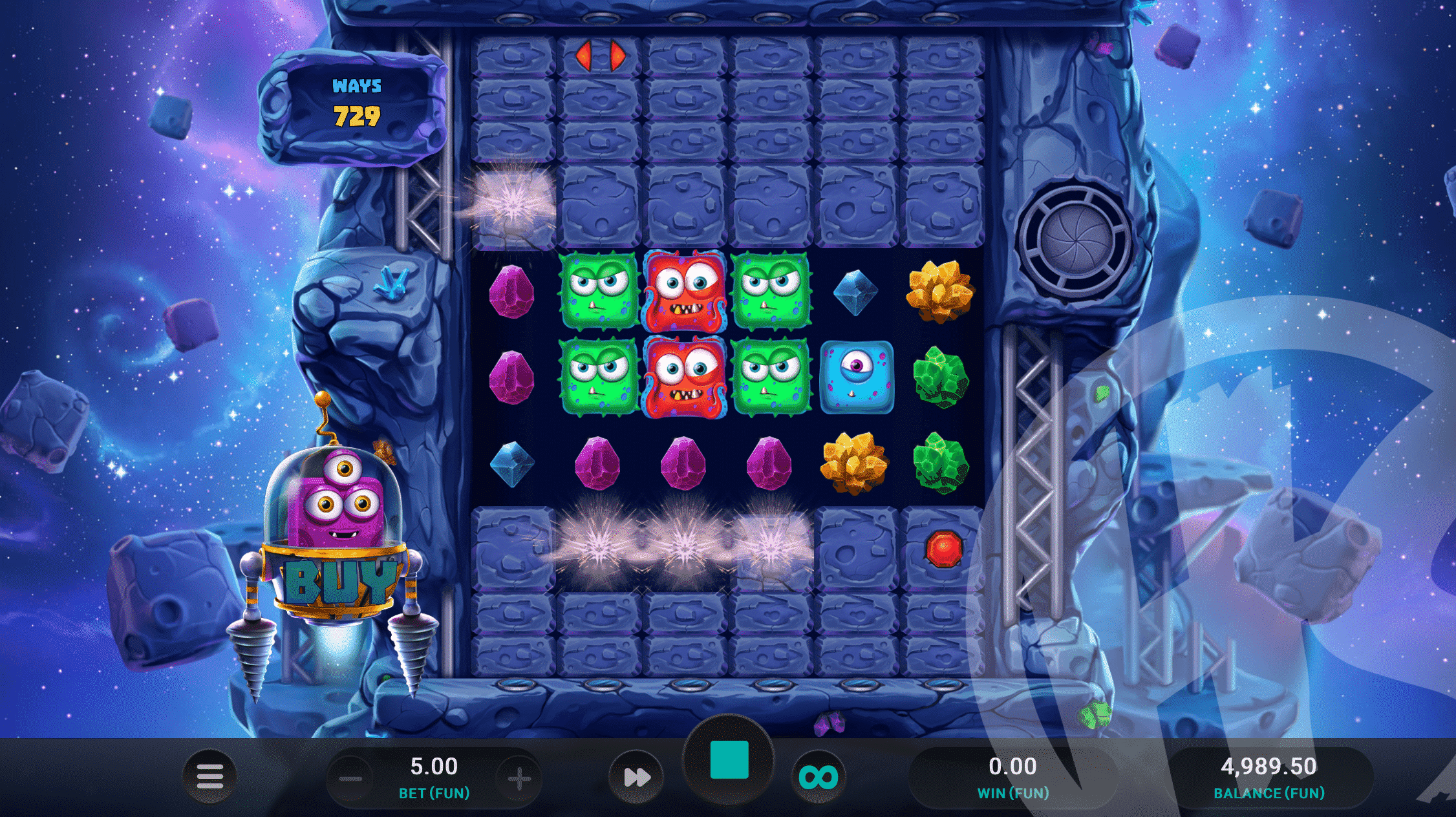 So, how do we get from 729 ways to win up to 1 million? Well, think Temple Tumble Megaways, and you'll get it pretty quickly. The additional ways to win are hidden behind blockers, and any win involving symbols adjacent to blockers will remove the blocker adjacent to them. When a win is created a respin is awarded – not a cascade like you might immediately think, but a brand new respin, with new symbols falling in from above. Any adjacent blocker tiles are again removed if a win is formed, and another respin is awarded. This continues until no more wins are formed, with blockers continuing to be removed until none remain – when each of the 6 reels are 10 symbols high, forming 1 million ways to win. In the base game, when all wins have finished, the reels reset to 6×3 with 729 ways to win for the next spin.
To help remove blockers, there are a number of Power Up Features available. When a blocker is destroyed that includes a Power Up, the respective feature will be triggered. Every base game spin features 2 Power Ups, whilst Free Spins always begin with 4 Power Ups. Available Power Ups are:
Cross: Destroys all blockers in a horizontal and vertical line
Horizontal: Destroys all blockers in a horizontal line
Vertical: Destroys all blockers in a vertical line
3×3: Destroys all blockers in a 3×3 area
Power Ups can interact with each other, meaning when one is activated it can remove a blocker containing another, thereby triggering it also.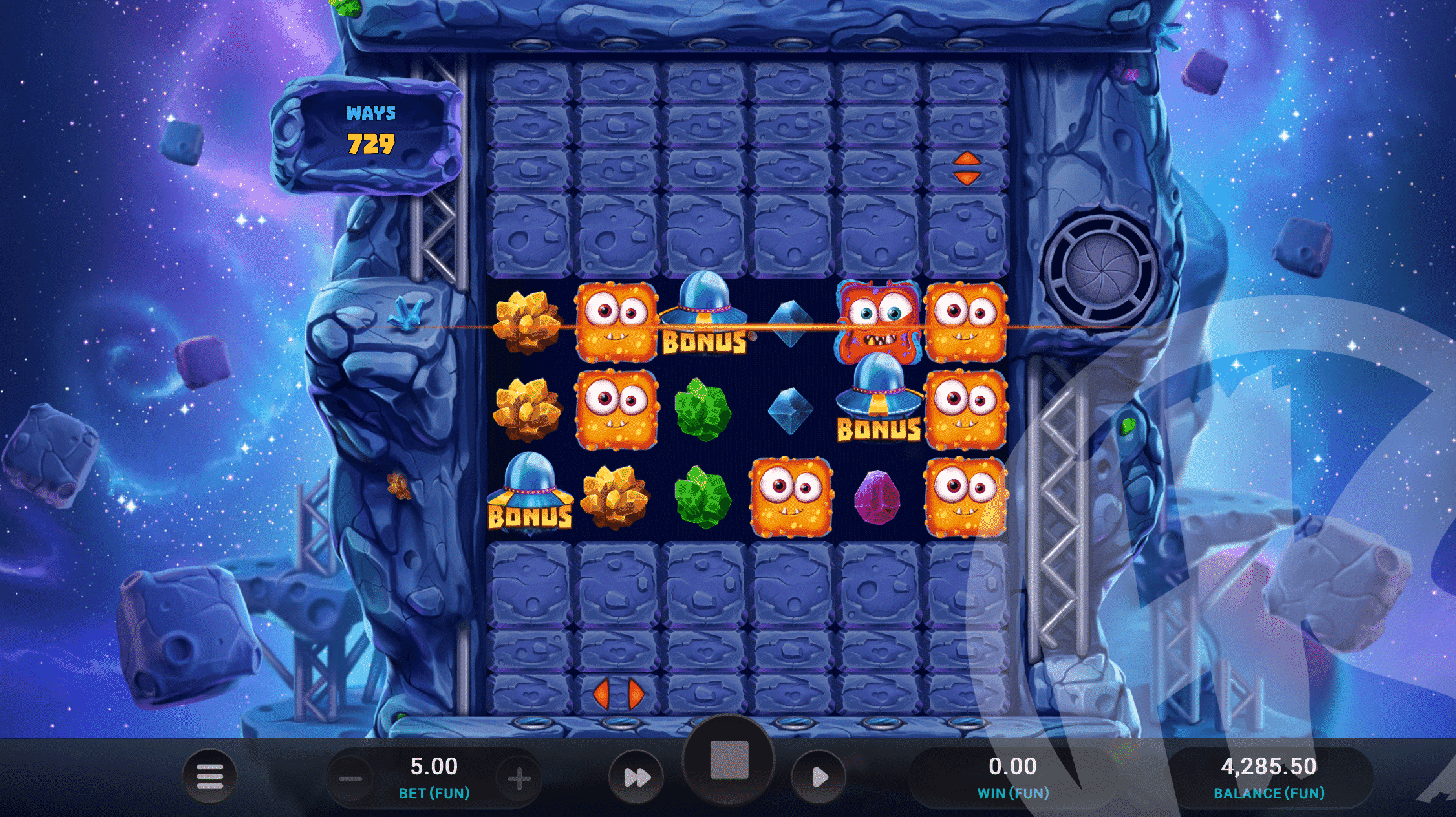 Space Miners Bonus
Land 3 Bonus Symbols to trigger 6 Free Spins, with any additional Bonus Symbols landing triggering an additional 2 Free Spins each. Once in Free Spins, where things take on a bright pink look, any blockers removed will be removed for the duration of spins, and each spin will begin with 4 Power Ups hidden within blockers. Each Bonus Symbol that lands during Free Spins will award an additional +1 spins.
Players in appropriate regions can fast track this and opt in to buy the feature for a cost of 100x bet, wherein RTP will increase slightly to 97.14%.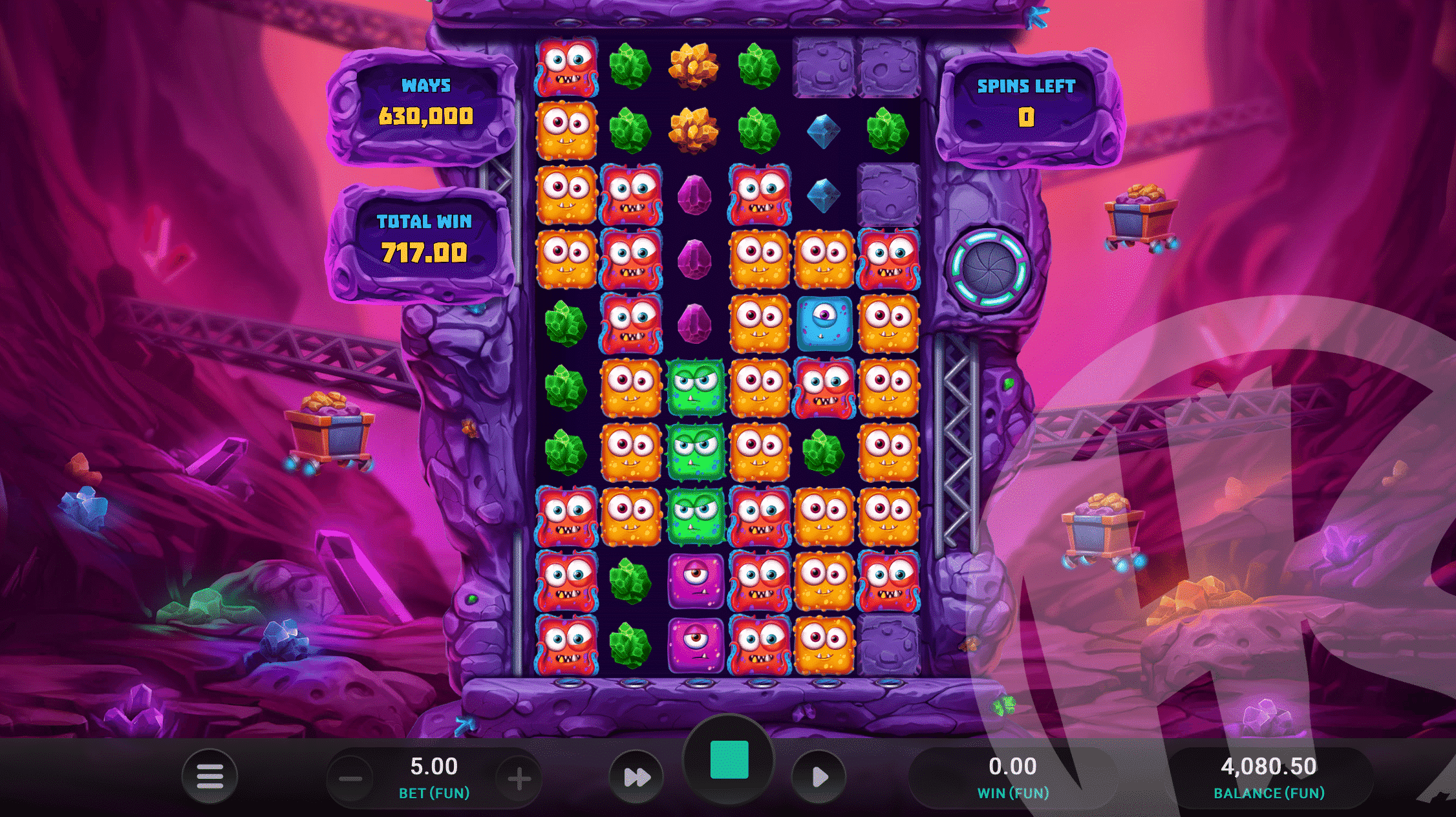 The maximum win available is 50,000x bet. If the sum of all wins during a spin or feature reaches 50,000x bet or higher, 50,000x bet will be awarded and the game round will end. Win probabilities are as follows:
Big Win (15x bet+): 1 in 88
Mega Win (30x bet+): 1 in 194
Epic Win (60x bet+): 1 in 332
First Impression
Relax Gaming have very much cemented their place as a developer who offer simple formats, but do so in a great way, with potent results. They aren't one to have 10 features with 5 sub features for players to keep track of – they do one or two things within their releases, and they do them well. In Space Miners it's the Power Ups and the expanding wilds that really keep things interesting. With up to 1 million ways to win, the mind straight away goes to 1 Million Megaways BC, which was notoriously difficult to reach the 1 million ways – however when it did things really took off. Space Miners doesn't have the same feel, and after buying 25+ bonuses, it feels as though the 1 million ways is fairly simple to achieve, especially with 4 Power Ups in every Free Spin and the reels not resetting between spins. However, once you reach the 1 million ways it does feel as though it has a tendency to 'dead spin' to the end. That said, if things do take off at this level it's easy to see how that 50,000x bet maximum win is achievable, particularly with expanding wilds.
Thematically it's bright, it's fun and it's nice to look at, with superb audiovisuals. I find 6 spins to not be enough, personally – and this comes from a point of enjoying watching things play out, rather than financially. It's like a bit of an intergalactic video game, watching blockers be destroyed. What can sometimes feel odd is the Respin feature. On the one hand, if you know you have no winning combinations possible it's great that it drops in an entirely new set of symbols, but on the other it's hard to shake the feeling that hundreds of games from a variety of developers before have established – cascades. I found myself thinking 'oh just drop a red in' then remembering that I'm not waiting on new symbols to fill the gaps – all my symbols are changing.
It's easy to see pieces that Relax Gaming have taken from their previous successes in this release, combining it with the alien theme we know makes a good look. The result? A highly (5/5) volatile release, capable of producing incredible results for some lucky players. I know when we do see the maximum win on this release we'll see a hoard of additional Bonus Symbols landing, maximum ways to win coming in early and some expanding wilds concocting together to show us how far simplicity can really go.
*The screenshots taken of games reviewed on this site are taken from Demo Play, as reviews are often written before games are released for real play.