Push Gaming, who recently found success with Mad Cars, are pushing themselves once again to bring us their new feature, known as Reel Bets. Think table game meets video slot, and you'll get a clearer picture of this one – Space Stacks. The basics? Volatility is labelled at medium, with wins available up to 5,000x bet, and a default RTP of 96.23%.
Visually, we're in outer space – obviously. Push have put their trademark style on things, with a variety of planets and stars making up the landscape. It's all very blue, but in a nice way, with this hue shifting as different features are triggered. Audios are fitting – actually quite nice to listen to, although they fade into the background after a while.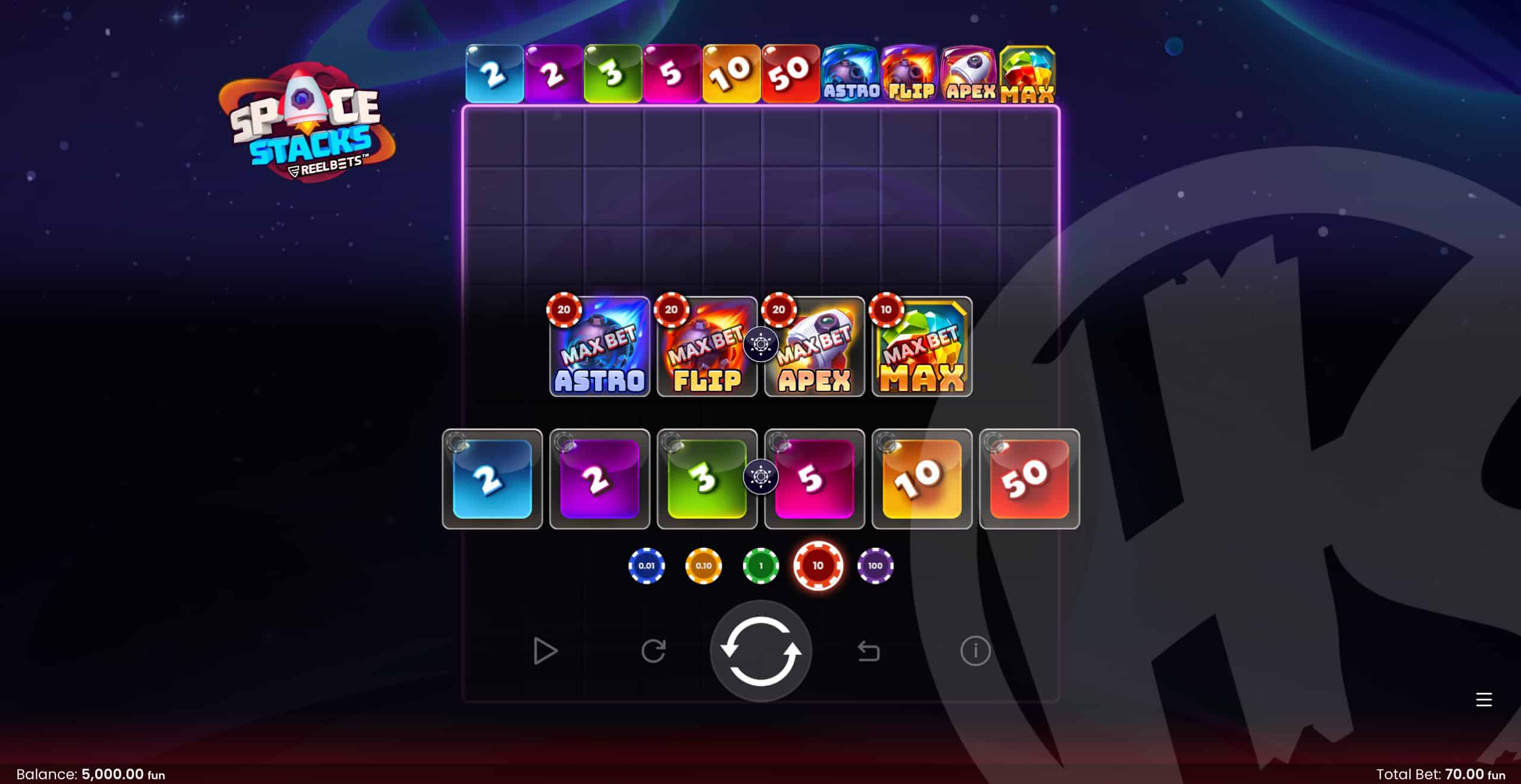 Space Stacks Features
Alright, so forget what you think you know and let's start fresh. Space Stacks has 10 columns, each with 10 positions on them. When you first load the game, the chip display will be visible. At this point, you place your bets. You can bet 0.01, 0.10, 1, 10, or 100 – and each of these take on your regular currency value. If you're playing in euros and you bet 1, you've bet 1 euro, and so on and so forth. You can also choose to use Autoplay, or undo a bet you have placed incorrectly.
So, once you've decided what chip(s) to use, you can choose what to bet on. There are 10 possible outcomes – one for each column. The first 6 columns have Instant Prize Blocks, with the remaining 4 consisting of 3 Feature Blocks, and the final block awarding the maximum win of 5,000x bet. There is a maximum bet of 100 allowed on each Instant Prize Block, 20 for each Feature Block, and 10 for the Max block – making the maximum value of the win 50,000 of your currency.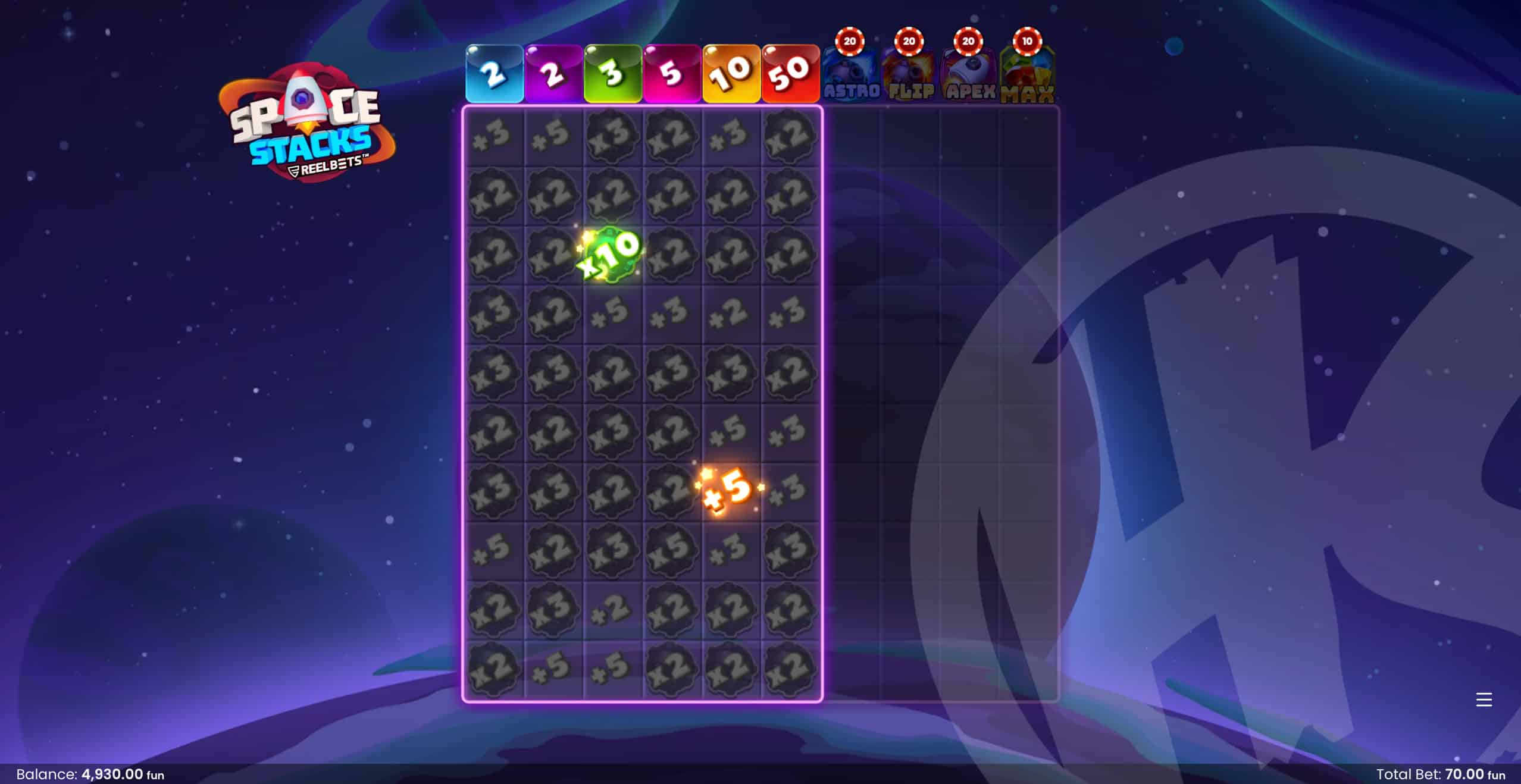 Once you've placed your bets (on which there is no time limit), it's time to press spin. Before the game round begins, the six Instant Prize Blocks can receive an enhancement of between +2 and +100, or x2 and x100. At this point, blocks start to fall into the reels. They continue to fall until at least one column has been filled with 10 symbols. When you fill a column, you will still receive the rest of your block drop for the remaining 9 columns, as more than one can be triggered at once. Filling a column awards the prize directly above it.
Instant Prize Blocks hold the following minimum payouts:
2 – average payout 2.457x (96.39% RTP)
2 – average payout 2.759x (96.35% RTP)
3 – average payout 4.479x (96.33% RTP)
5 – average payout 6.944x (96.31% RTP)
10 – average payout 13.706x (96.22% RTP)
50 – average payout 65.026x (96.13% RTP)
Instant Prizes are multipliers of the bet amount placed on the block. They hold minimum values because of the enhancement feature, noted above.
Alongside the Instant Prize Blocks, it is possible to land 3 features – Astro, Flip, and Apex.
In the Astro feature, an Instant Prize wheel is awarded, with 32 segments. These segments contain Bet Multipliers, Instant Prizes, and Collect segments. The total win is displayed above the wheel, as a multiplier of the bet amount placed on the Astro column. The wheel continues to spin until it lands on a Collect segment, at which point the feature ends and the win is awarded.
In Flip, players are taken to a 6×6 grid, with 36 tiles. Behind each tile is a prize – this can be a Rocket Symbol, or Instant Prizes. Before Flip begins, players are shown the prizes, and then they are covered and shuffled. 3 picks are awarded, with 1 pick used each time an Instant Prize is revealed – which is then added to the total win. The win is displayed as a multiplier of the bet amount placed on the Flip column. When all 3 picks have been used, the feature will end and the win is awarded.
Picking a Rocket Symbol will increase the multiplier that is applied to the total win. The first Rocket Symbol will increase the multiplier to 2x, with each Rocket Symbol revealed thereafter progressing the multiplier further – to 5x, 10x, or 100x. Rocket Symbols do not reduce the number of picks remaining.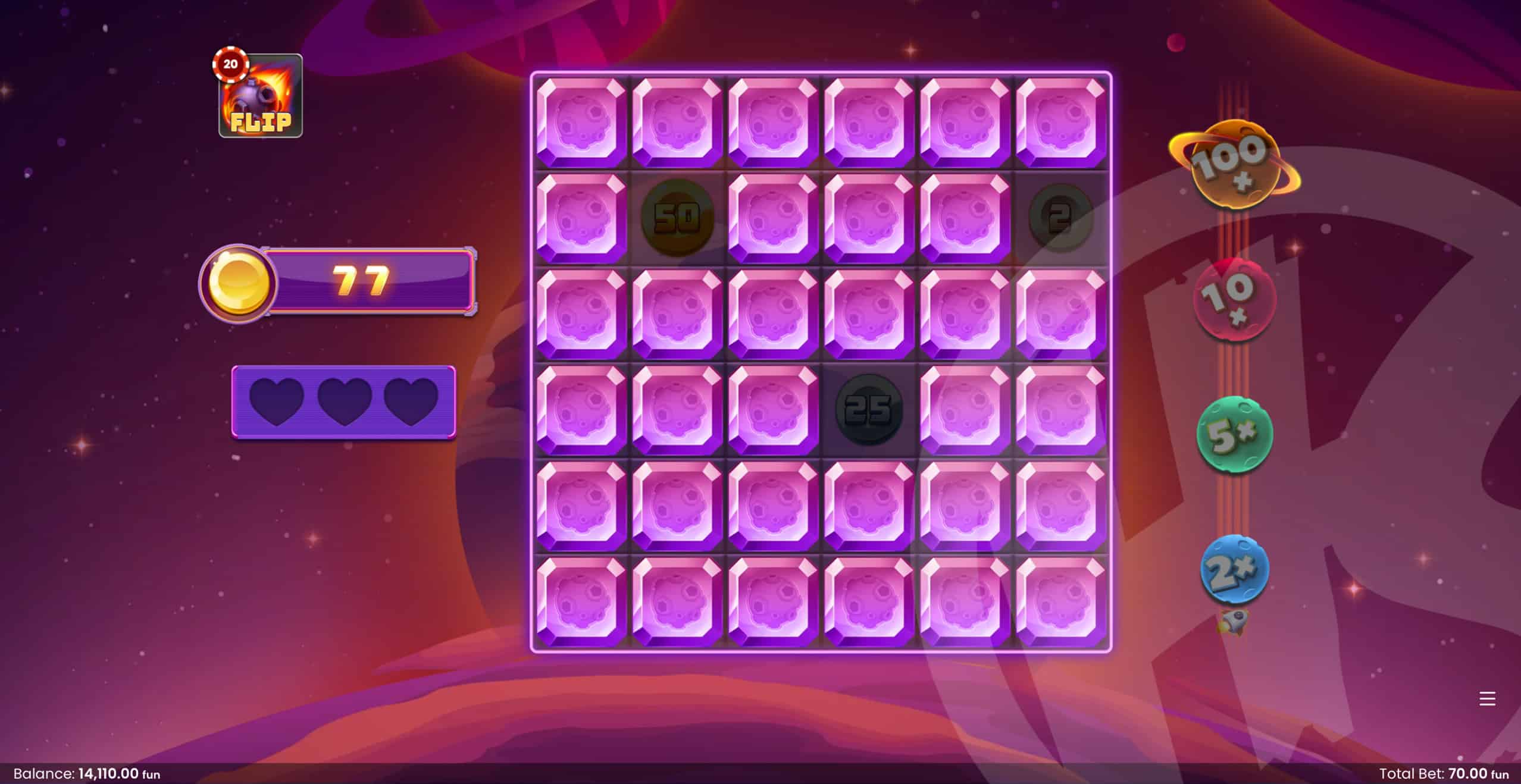 In Apex, players are taken to a new grid – 6 columns, with 10 spaces under each of them, holding values of 2, 3, 5, 7, 10, and 20. First, an enhancement feature takes place, where it is possible to multiply the values by x2, x3, x4, x5, x6, x7, x8, x10, x15, or x20. Symbols will then begin to drop in. When a column has been filled to the top, its prize is added to the total win. Filling a second column will then take its value, and multiply the total win by it, simultaneously activating 3 lives.
Symbols will continue to drop, but each time no symbol lands in a drop, 1 life is removed. Landing at least 1 symbol in a drop will reset lives back to 3. When all 3 lives have been exhausted, the feature ends – or, when all columns have been filled the feature will end and the total win is awarded. The win is displayed as a multiplier of the bet amount placed on the Apex column.
Stats for each of these features are as follows:
Astro – average payout of 34.232x (96.19% RTP)
Flip – average payout of 64.143 (96.17% RTP)
Apex – average payout of 299.335x (96.09% RTP)
Finally, filling the Max column in the main game will award the maximum win – 5,000x bet. If more than one column is filled alongside this, only 5,000x bet will be awarded.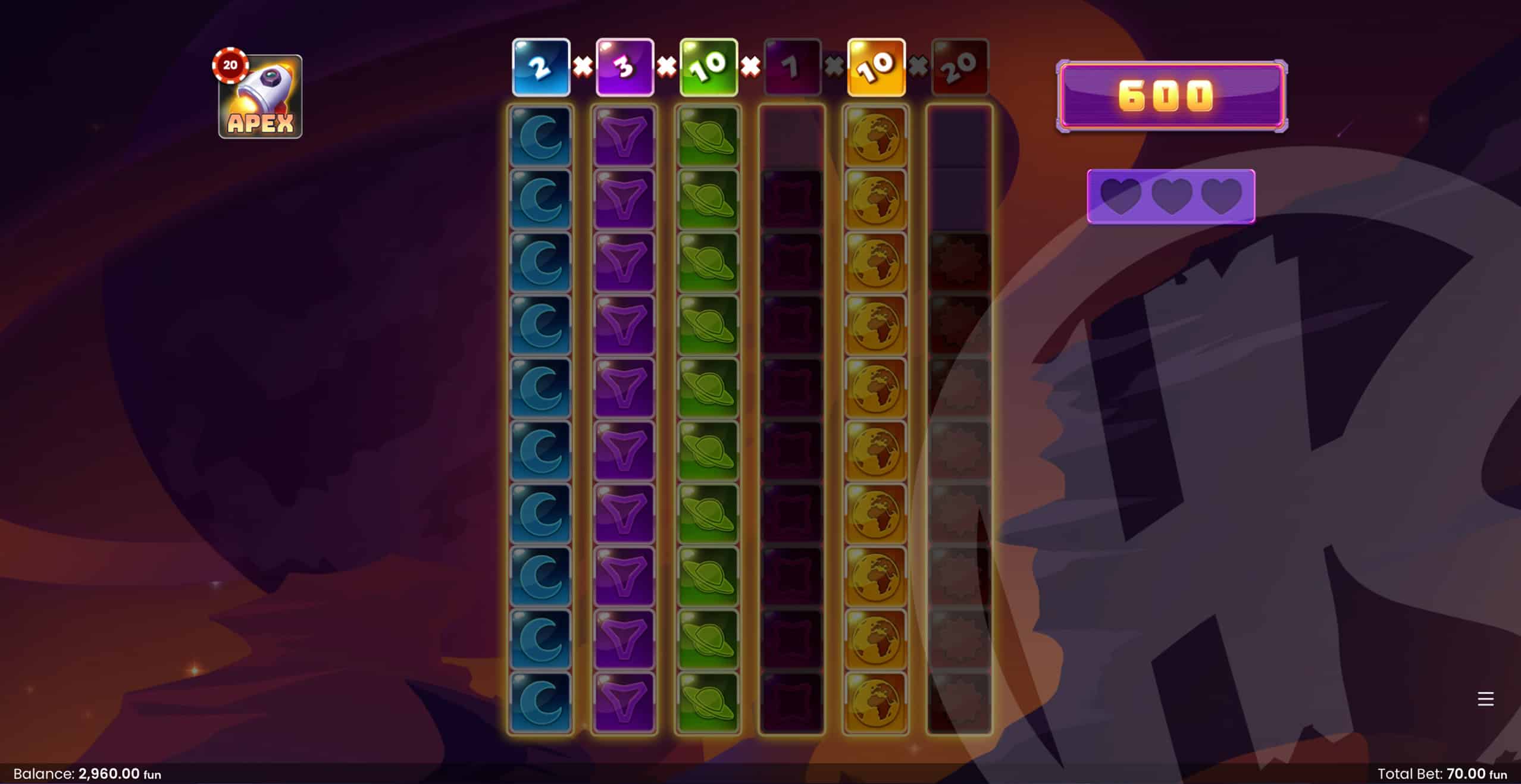 First Impression
It's hard to know how to feel about Space Stacks, because it is unique, so there isn't really much to compare it to. If you compare it to a regular slot, win values can seem low – but we don't really expect someone who usually bets £1 stake to be splitting £1 across all 10 columns. On the other hand, it's not quite a table game or live casino game – it's not live, for a start. But you're also not playing alongside anyone else, and there's no time limit to place the bets, or history of results. It is entirely based around a Random Number Generator.
Things can feel stagnant for sure – but this is true for most games of this style. When you end up on a run of 2x after 2x, it can feel difficult to see what is possible. But then suddenly, one of these features can drop in and it really does turn things on its head, especially with larger bets – landing a 200x with maximum bets activate suddenly becomes 4000. My advice would be to not bet solely on features if you want to see more wins, as they can be quite rare – but if you do so and can place higher bets as a result, there certainly are good results to be seen. That is, if your balance can hold out long enough.
Volatility is medium, and RTP is set at a default of 96.23%, although lower versions are available, so it's always worth checking this. Possible wins are fairly generous at 5,000x bet – although in my testing I got nowhere close to filling this column. Certainly, if you find that you've always yearned after a cross between a live casino game and a slot – this one is for you! Since most people won't fall into that category, I'd say it's still worth trying to see how you feel. Nothing ventured, nothing gained and all that…
*The screenshots taken of games reviewed on this site are taken from Demo Play, as reviews are often written before games are released for real play.