When you played games growing up, were you the good guy or the bad guy? The cop or the robber? There's a certain allure to teaming up with someone on the wrong side of town in the battle of good vs evil, and we see it now more than ever even in the entertainment industry, where you find yourself rooting for the bad guy to win, because he's just too entertaining. Now, Stakelogic are following on from their success with Treasures of Ra and putting our moral decision making skills to the test in their new release, Spartans vs Zombies – and you may find your favour sits with the zombies in this one, as Stakelogic have provided two unique bonus rounds. With an RTP of 96.01%, this highly (5/5) volatile release offers win potential up to 7,000x bet.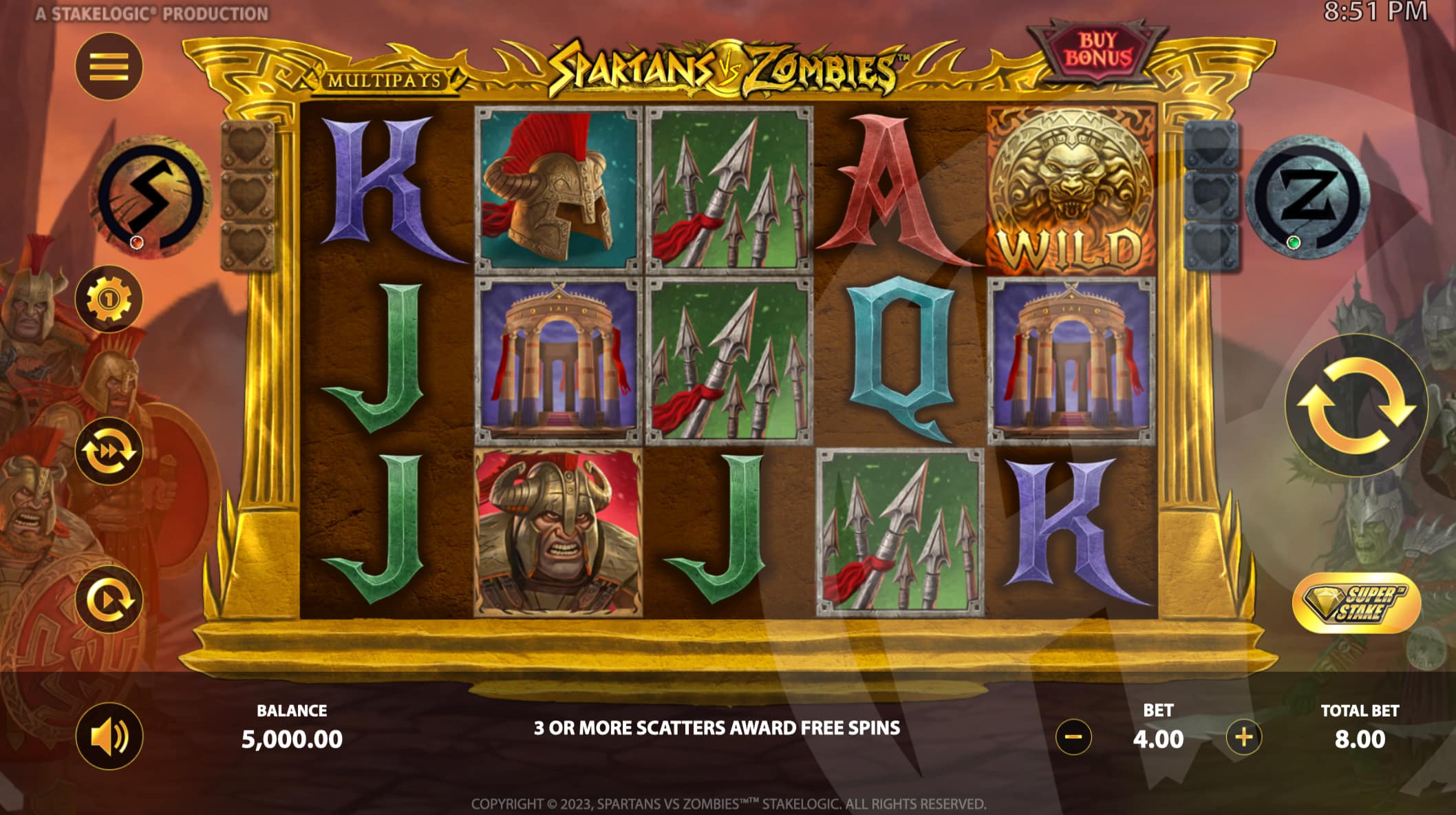 There's nothing particularly complex about spartans vs zombies visually, but it's still a nice looking release. Clowns to the left of me, jokers to the right – except in this case it's spartans to the left of me, zombies to the right. That's really it – we've got a light pinkish sky with some clouds, and mountains in the distance, but other than that everything is pretty plain. All in all though, perfectly nice with a triumphant soundtrack to tie it all together.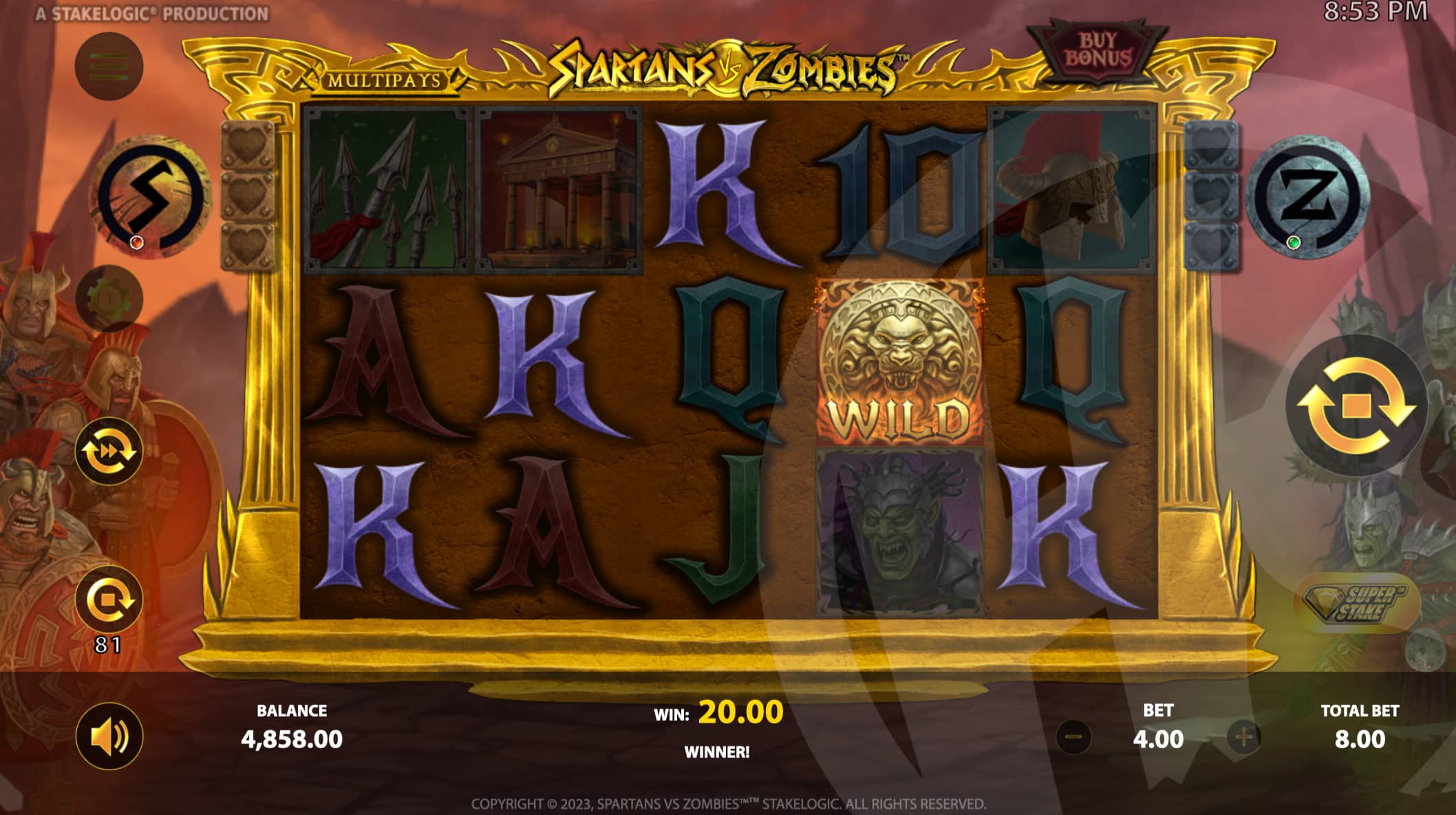 Spartans vs Zombies Base Features
Taking place across 5 reels, wins are formed on Spartans vs Zombies by matching at least 3 symbols on adjacent reels, beginning with the leftmost reel, across 1 of 20 fixed win lines. Symbols available begin with non premiums, with 10s, Js, Qs, Ks, and As, awarding wins between 0.10 and 0.20x bet for 3 of a kind matches, increasing to values between 1 and 2x bet for 5 of a kind wins. In the mid range we have spears, helmets, and two colosseum styled buildings. Land 3 of a kind of any mid range symbol to see wins between 0.40 and 1.25x bet, increasing to values between 4 and 12x bet for 5 of a kind matches. The highest paying symbols are spartans and zombies, both of which are available in a 'mix and match' style of payout – these symbols can land in two different styles with both paying in the same way. Land 3, 4, or 5 of a kind of spartans or zombies to see wins of 2.50, 5, or 42.50x bet, respectively. Finally, Wild Symbols are available, appearing only on reels 2-5 in the base game, and substituting for all symbols except Scatter Symbols.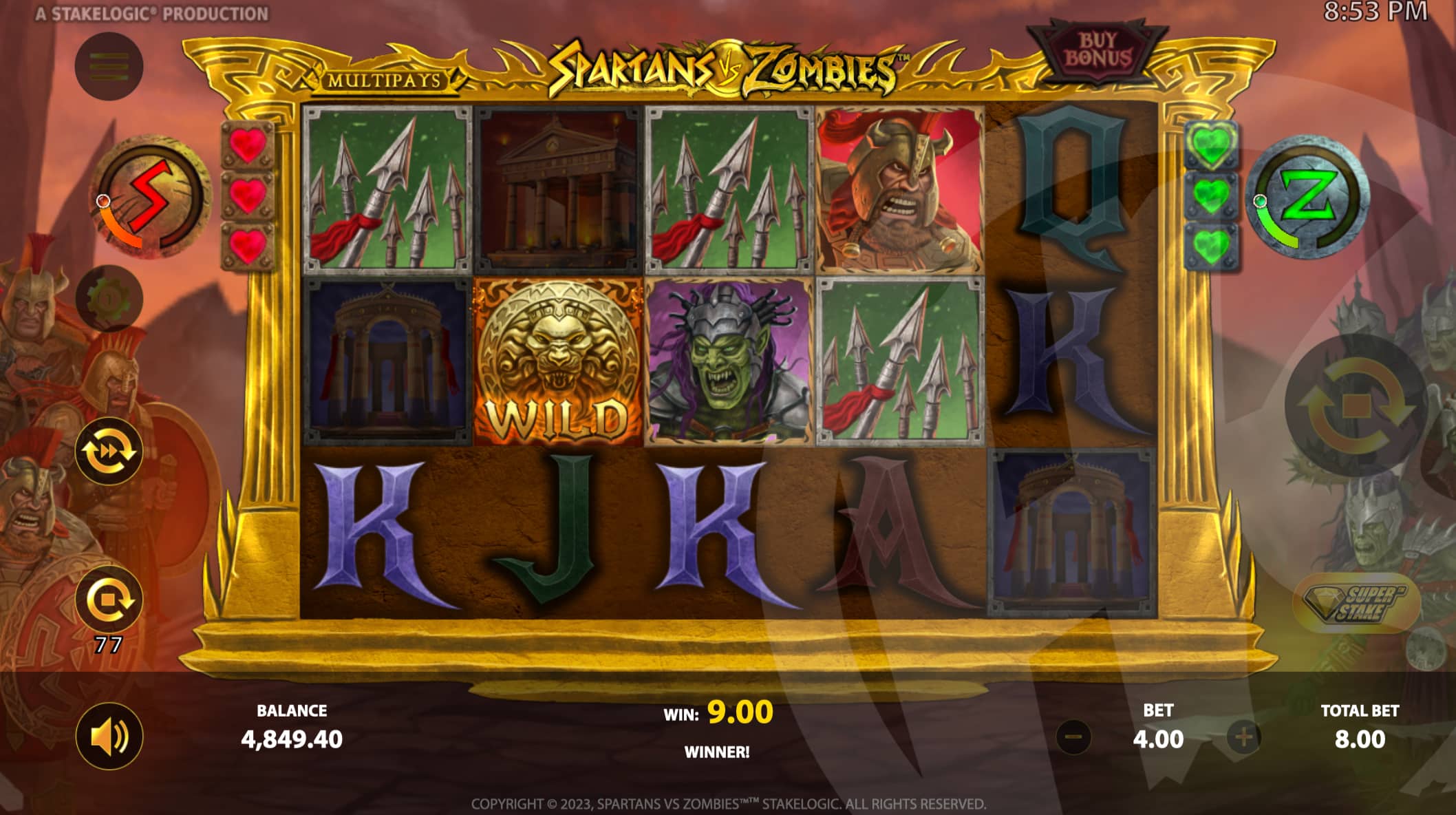 Alright, so the first thing to cover in Spartans vs Zombies is the Super Stake. By betting double the base bet, players can increase their chance of triggering Free Spins – although by how much we are unsure, as this is not stated. Symbols payouts are unaffected by activating Super Stake.
Next up is the pay mechanic – Multipays. In Spartans vs Zombies, winning combinations are evaluated and paid each time a reel stops. Any 3 of a kind wins are calculated once reel 3 stops, followed by any 4 of a kind wins after reel 4 stops, then finally any 5 of a kind wins after reel 5 stops. This means the same symbol wins can be awarded up to 3 times. So let's say hypothetically you land a line of 5 of a kind As. Normally, this would pay 2x bet, but you would first be awarded 0.20x bet for the 3 of a kind win, then 0.30x bet for the 4 of a kind win, and finally the 2x bet value for the 5 of a kind win – totalling a 2.50x bet win.
Finally, it's the Spartan and Zombie Meters. Let's keep it simple and discuss the Spartan Meter first. Each time a Spartan symbol lands on the reels, it is added to the Spartan Meter, and the hearts are set to 3. With each spin, the hearts are decreased by 1, but each time a new Spartan symbol lands, the hearts are reset to 3. If the meter is filled, Spartan Free Spins are triggered. The Spartan Meter resets when no hearts remain, or when Spartan Free Spins are triggered.
Now, all you need to know about the Zombie Meter is that it's the exact same situation as the Spartan Meter, but with Zombie symbols. In either meter, 50 symbols are required to trigger Free Spins. Meter Collections are stored per bet level, so changing the bet level will reset this progress.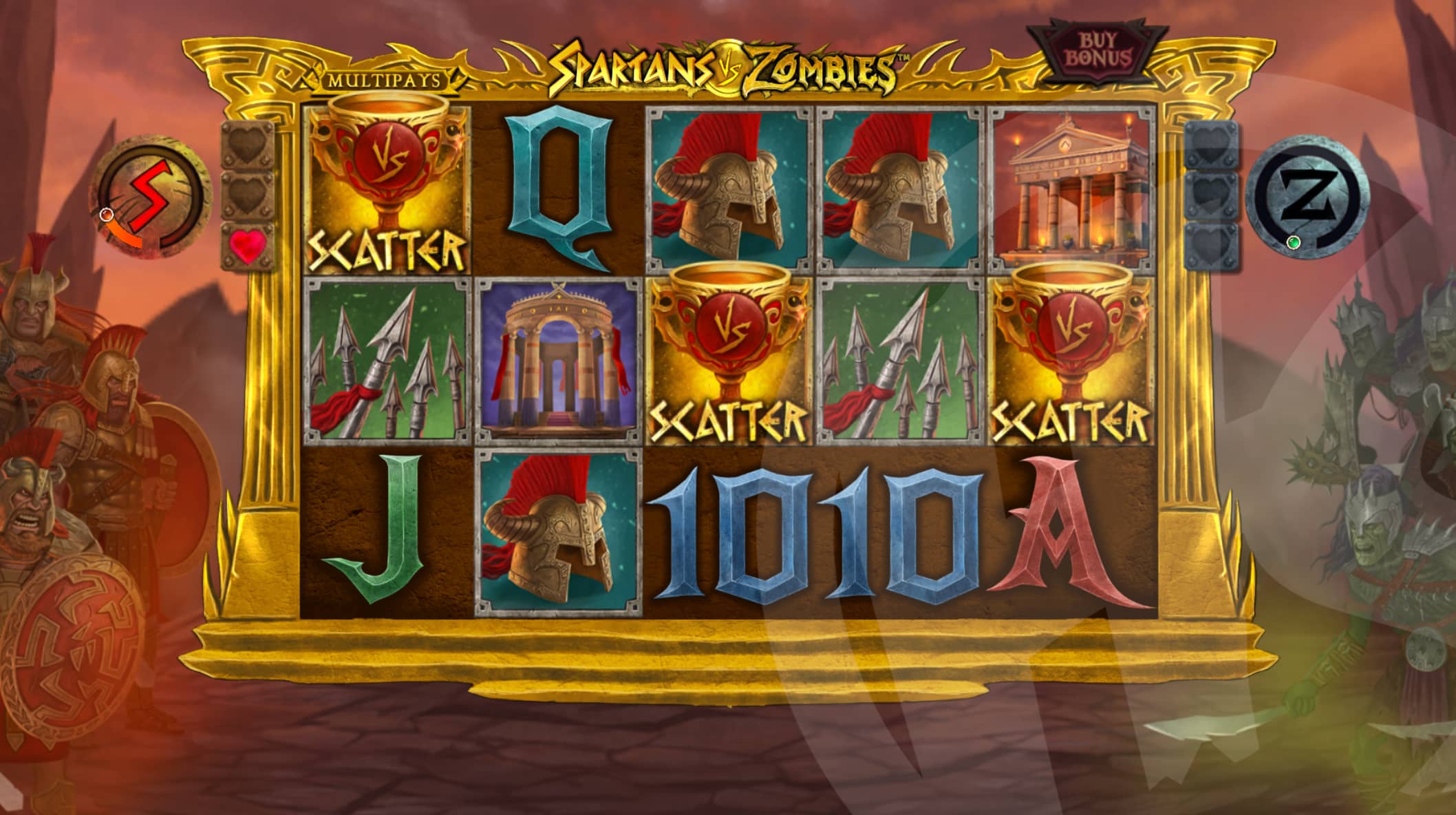 Spartans vs Zombies Bonus
Whilst Free Spins can be triggered via Spartan and Zombie Meters, it is also possible to trigger the feature by landing 3 Scatter Symbols. Scatter Symbols can only land on reels 1, 3, and 5, and will trigger a VS Battle Bonus after landing, awarding Spartan Free Spins or Zombie Free Spins.
Let's cover Spartan Free Spins first – players are awarded 8 Free Spins with a x2 global multiplier. Before the feature begins, players are awarded two bonus picks, wherein they pick two shields to reveal additional spins and a multiplier boost. During Spartan Free Spins, on every spin there is a chance reels 2, 3, or 4 will change to Wild Reels. Finally, each Scatter Symbol that lands during Spartan Free Spins will award an additional +1 spins.
Next is Zombie Free Spins – players are awarded 8 Free Spins. With each spin, there is a chance 1-2 Sticky Wild Symbols will be added to the reels. When two positions are changed to Sticky Wild Symbols on one spin, the second will have a x2-x10 multiplier applied to it. When a Sticky Wild Symbol with a multiplier is used in a winning combination, its' value is applied to the win. When more than one multiplier is to be applied to a winning combination, their values are added together before being applied. Finally, each Scatter Symbol that lands during Zombie Free Spins will award an additional +1 spins.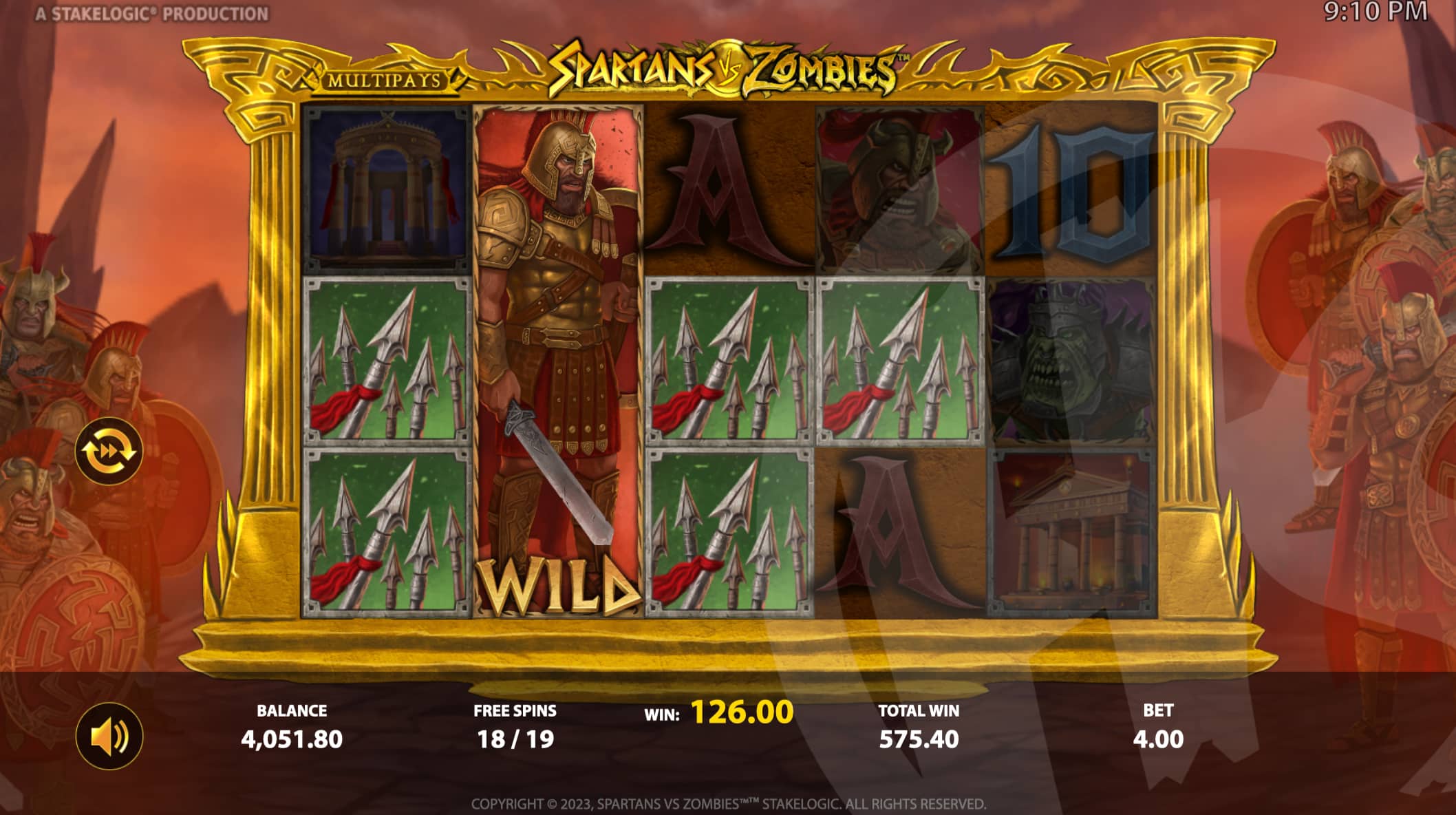 Players in appropriate regions can skip straight to the action with the following Buy Bonus options:
8 Spartan Free Spins – 100x bet
8 Zombie Free Spins – 200x bet
Random Free Spins – 150x bet
The maximum win available in Spartans vs Zombies is 7,000x bet. If the sum of a single game round exceeds this, the game round will end and 7,000x bet will be awarded.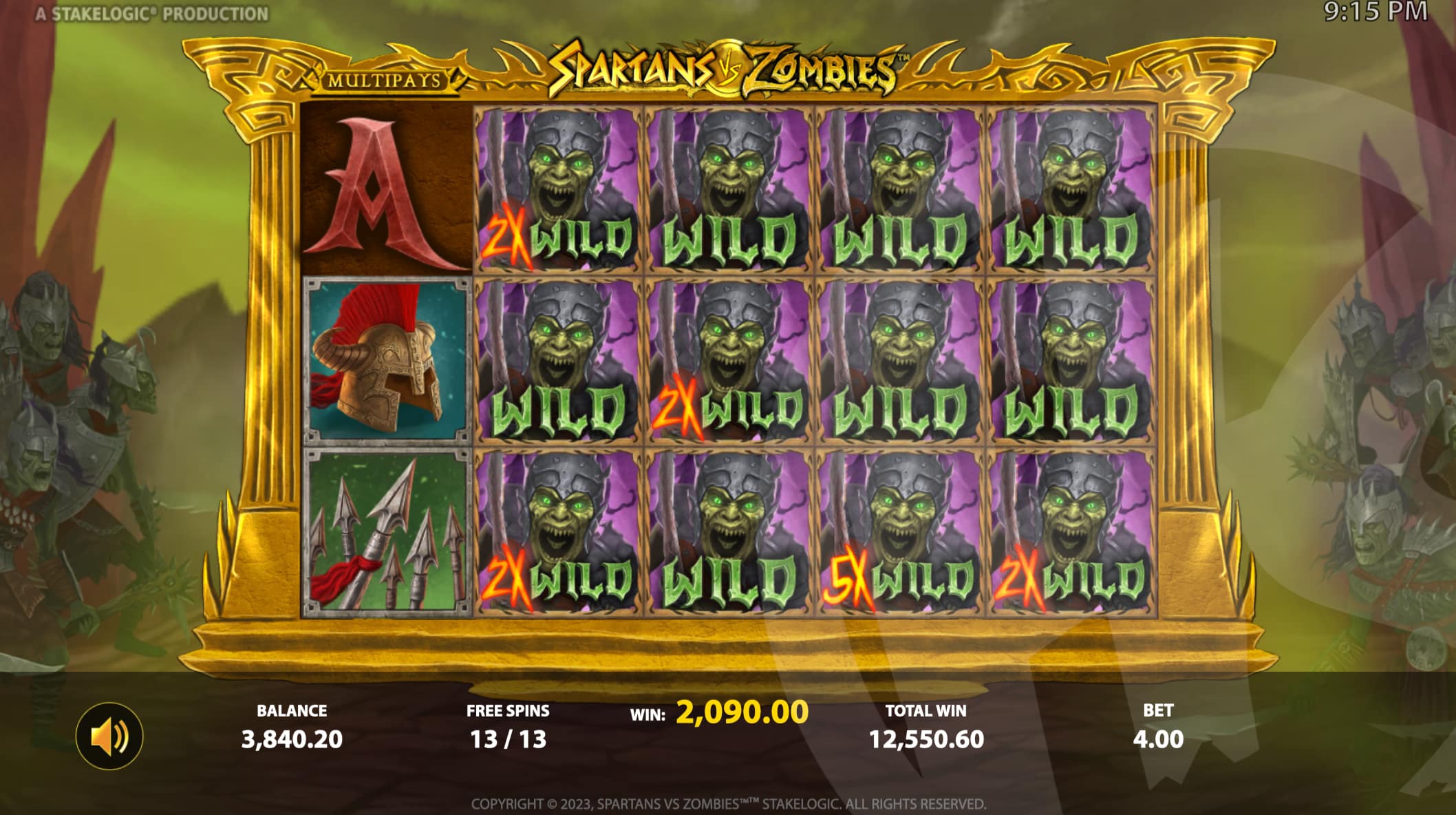 First Impression
There's plenty happening in Spartans vs Zombies to keep players entertained, even in the base game where a progressive element is offered in the form of Spartan Meters and Zombie Meters. It does still remain possible to trigger Free Spins outside of this progression, but the double offering does help players to feel suitably enticed. Combine this with the Super Stake to increase the chance of triggering Free Spins, and all roads lead to the bonus.
Both features offer a unique experience, either with Wild Reels or Sticky Wilds. With no decision offered, players have no choice but to go with what the VS Battle Bonus awards, although this is probably as a result of Zombie Free Spins being worth twice the price of Spartan Free Spins. In either instance, wins are possible up to 7,000x bet when the right combinations land.
Finally, maths is highly (5/5) volatile and RTP is 96.01%, so no complaints on either front. If you want a release that feels packed full of features whilst giving all of its juice to Free Spins, Spartans vs Zombies is the one for you.
*The screenshots taken of games reviewed on this site are taken from Demo Play, as reviews are often written before games are released for real play.