Microgaming have teamed up with PearFiction Studios to bring us another release, and this time we're going deep within a bank to try to grab some riches – 'squealin' riches', that is. With 5 jackpot values on offer, up to 30 free spins, and a LockNWin base feature to keep us interested, Squealin' Riches LockNWin might look simple, but there's plenty going on to keep players entertained. If bright, jazzy releases packed full of action and impressive jackpots is your thing, this piggy might quickly become your friend. Let's take a look at what else is on offer in this highly volatile release, featuring a 96.05% RTP and wins up to 13,500x bet.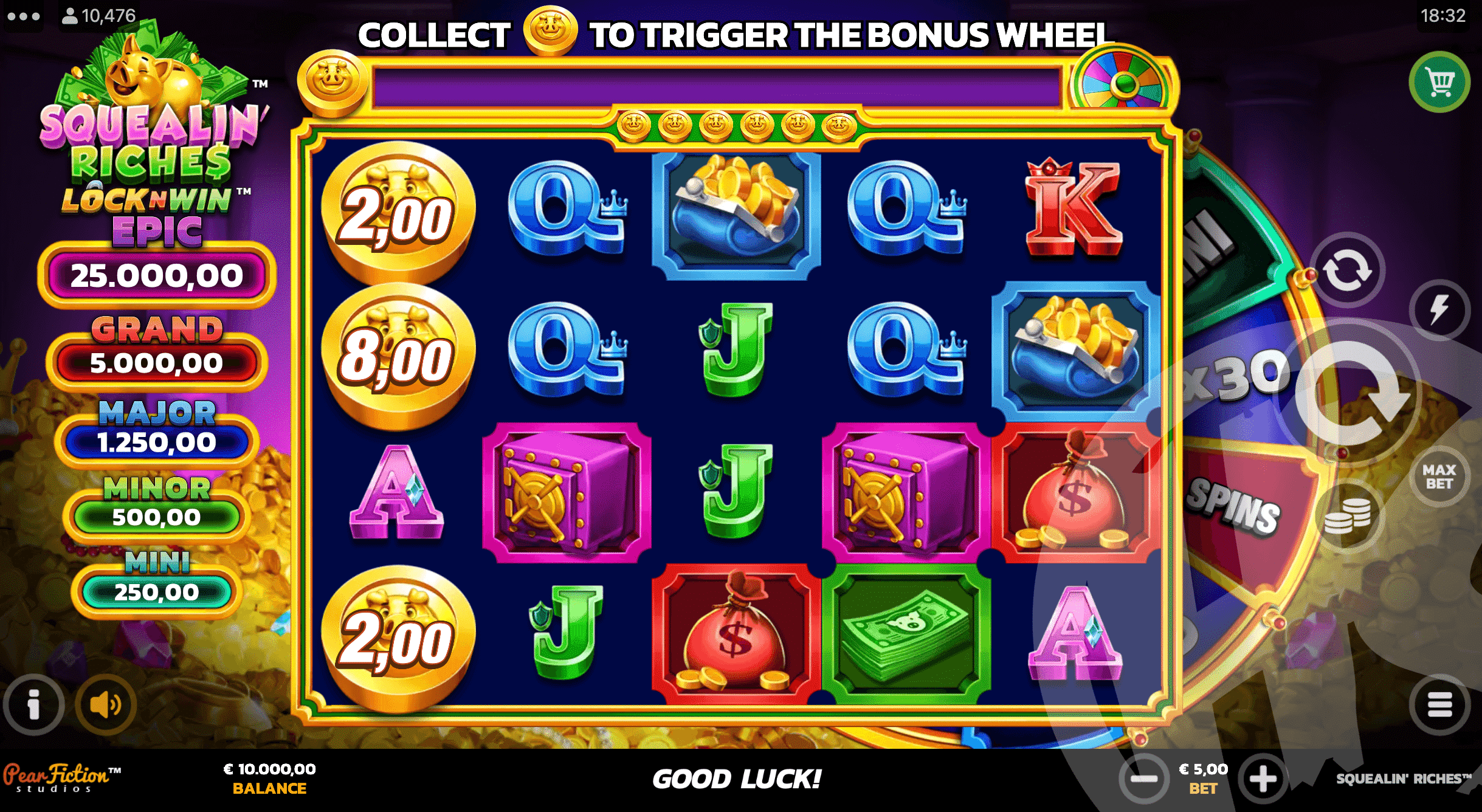 The team have claimed to play on 'well-loved casino themes' with this release, and probably nothing could be truer. Bank vaults, money bags, and stacks of cash frequently form the line up for releases – players love to see some opulence, and on this front Squealin' Riches delivers. It's less of a realistic theme, but realism isn't really what the PearFiction team do – they do cartoon-ish releases, and they do it well, with striking colours and graphics. Squealin' Riches continues this, backed up with the kind of standard, jovial music you'd expect from this sort of thing.
Squealin' Riches LockNWin Base Features
With 5 reels, each containing 4 symbols, Squealin' Riches offers players 1,024 ways to win, with wins formed by matching at least 3 symbols on consecutive reels, beginning at the leftmost reel. Symbols available begin with the lower paying J, Q, K and As, paying between 0.25 and 0.35x bet for 3 of a kind matches, increasing to values between 1 and 1.75x bet for 5 of a kind wins. Moving into the premium end, and green cash stacks and blue coin purses will pay 0.5x bet for 3 of a kind, increasing to values of 3 and 4x bet, respectively, for 5 of a kind. Next, red money bags pay between 0.6 and 5x bet for wins between 3 and 5 of a kind, whereas the premium-most symbol available is the purple and gold vault, rewarding players with 0.75x wins for 3 of a kind, increasing to impressive values of 10x bet for landing 5 of a kind. Finally, gold 'W' wild symbols can appear on any reel, substituting for all symbols except Scatters, which can appear on reels 1, 3 and 5, and Bonus Symbols, which we'll get to in a moment.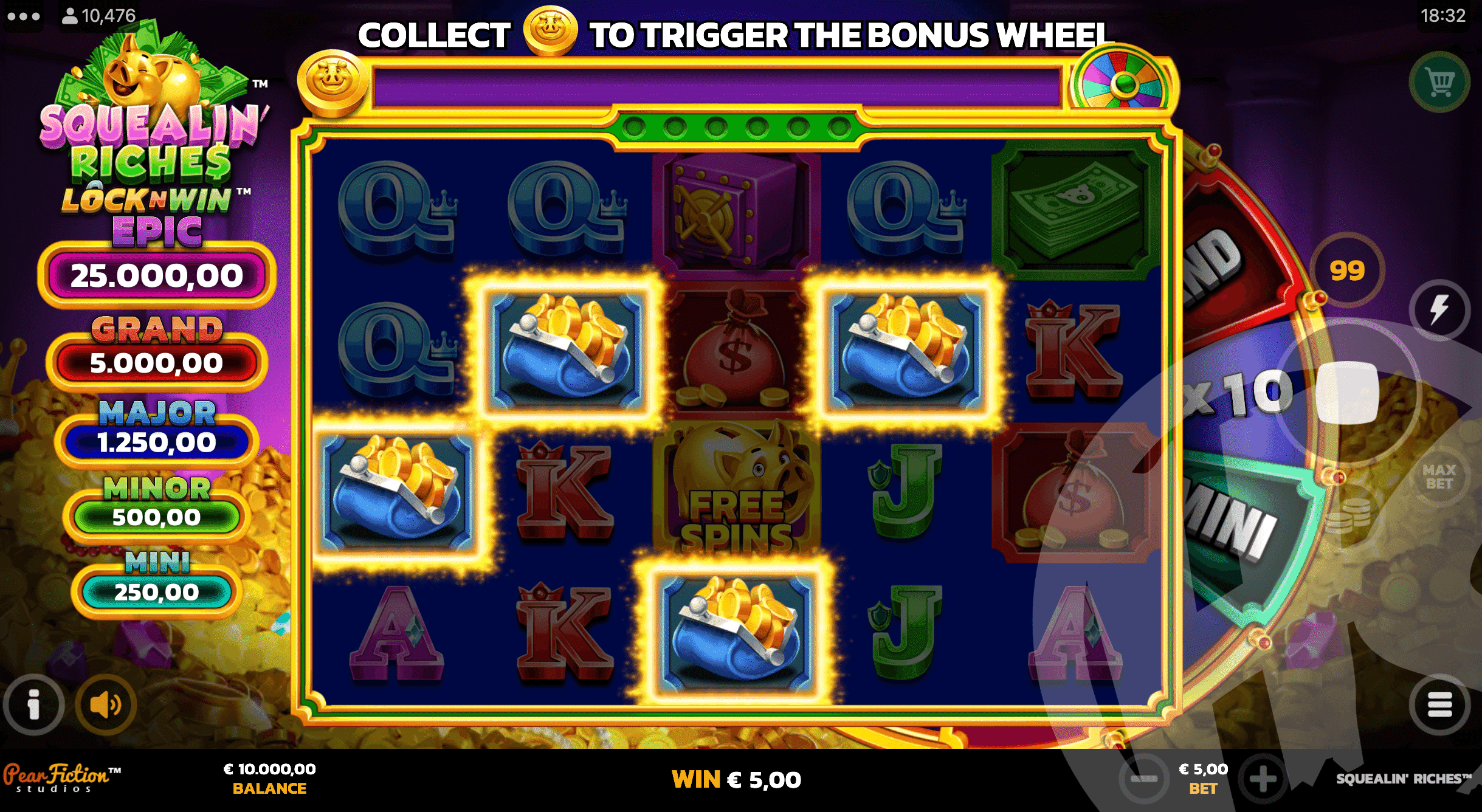 The first noticeable feature within Squealin' Riches involves Bonus Symbols – gold coins embossed with a pigs face and a cash value. Bonus Symbols can award Jackpots or cash prizes, with values between 1 and 25x bet available. Land 6 or more of these Bonus Symbols in view to trigger the LockNWin feature. During LockNWin, 3 respins are awarded, and all symbols except Bonus Symbols are removed from the reels. Each time a new Bonus Symbol lands, it locks into place (along with any triggering symbols), and respins reset to 3. LockNWin ends when no more respins remain, or the reels are full of Bonus Symbols.
Additionally to Bonus symbols, the following symbols may land during LockNWin:
Jackpot Symbols: Award the respective Jackpot.
Jackpot Upgrade: Increases the value of all jackpots by one tier.
Multiplier Upgrade: Instantly multiplies all on screen cash symbols (original value) by up to 10x.
Jackpot Values are:
Mini: 50x bet
Minor: 100x bet
Major: 250x bet
Grand: 1,000x bet
Epic: 5,000x bet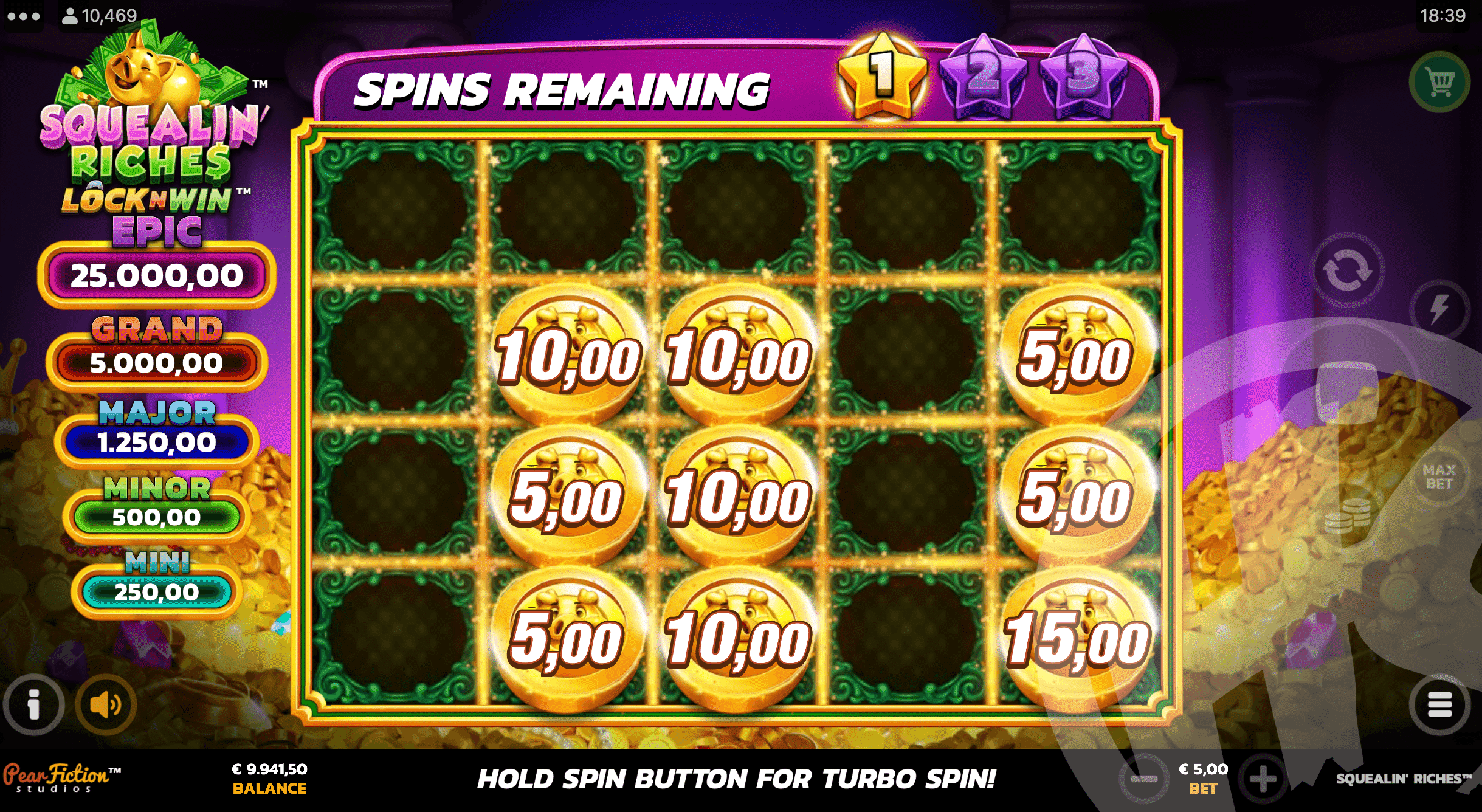 Bonus Symbols can not only trigger the LockNWin feature, but also accumulate to award the Bonus Wheel. At the top of the reels, a progress bar is in view, and any Bonus Symbols that land are added to this bar, to eventually trigger the Bonus Wheel once full. All Bonus Symbols that land are added to the progress bar, including those that trigger or land during the LockNWin feature.
Once triggered, the Bonus Wheel can award:
An Instant Cash Prize
Free Spins
A Jackpot Value
Progress is saved per bet level.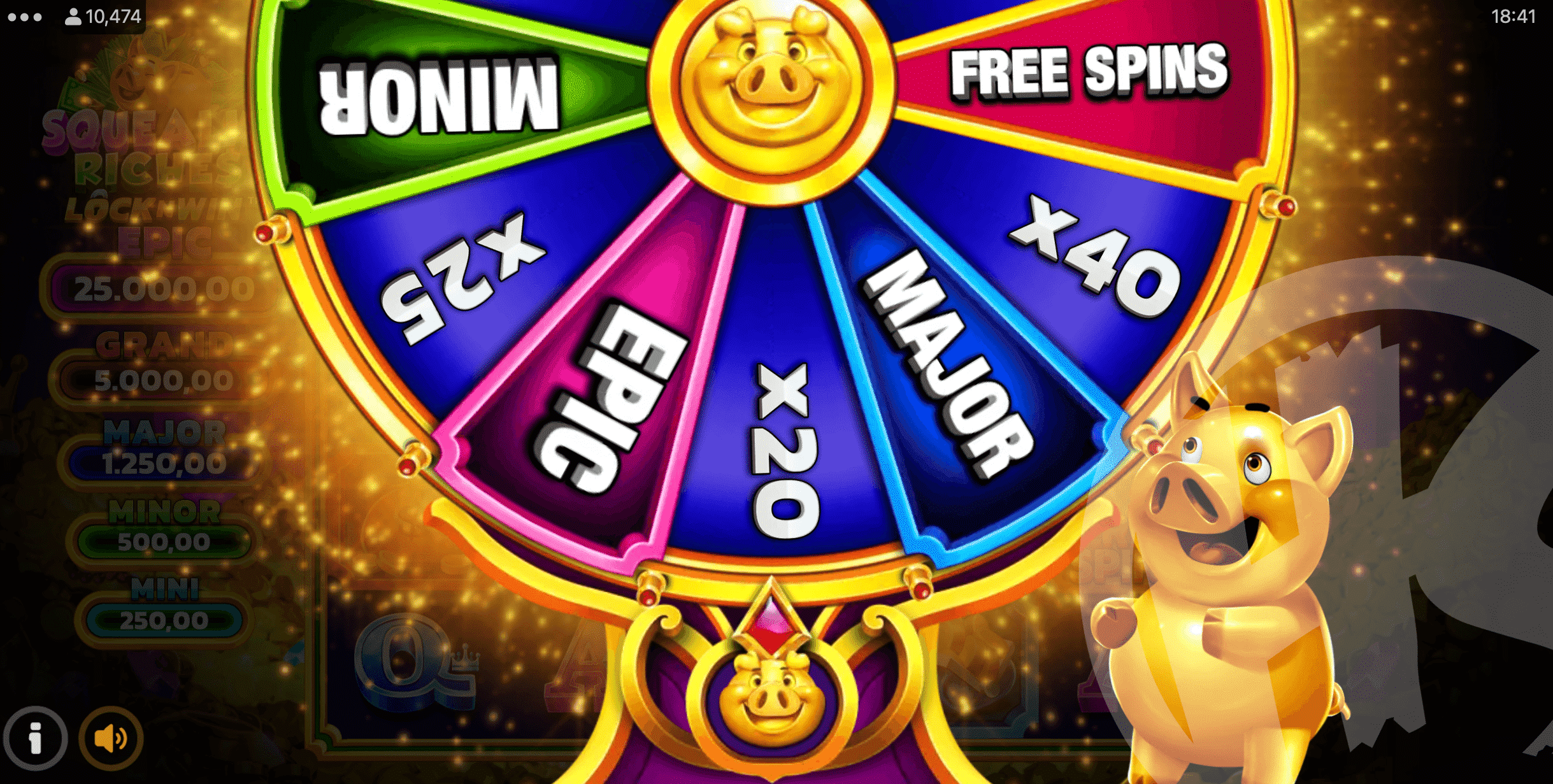 Squealin' Riches LockNWin Bonus
Aside from triggering from the Bonus Wheel, 3 Scatters in view will also award free spins, which begins with the free spins wheel – awarding 10, 15, 20, 25 or 30 free spins. Once free spins have been awarded, players have a chance to gamble as high as 30 free spins. If the gamble loses, an inner wheel will spin to award a random cash prize.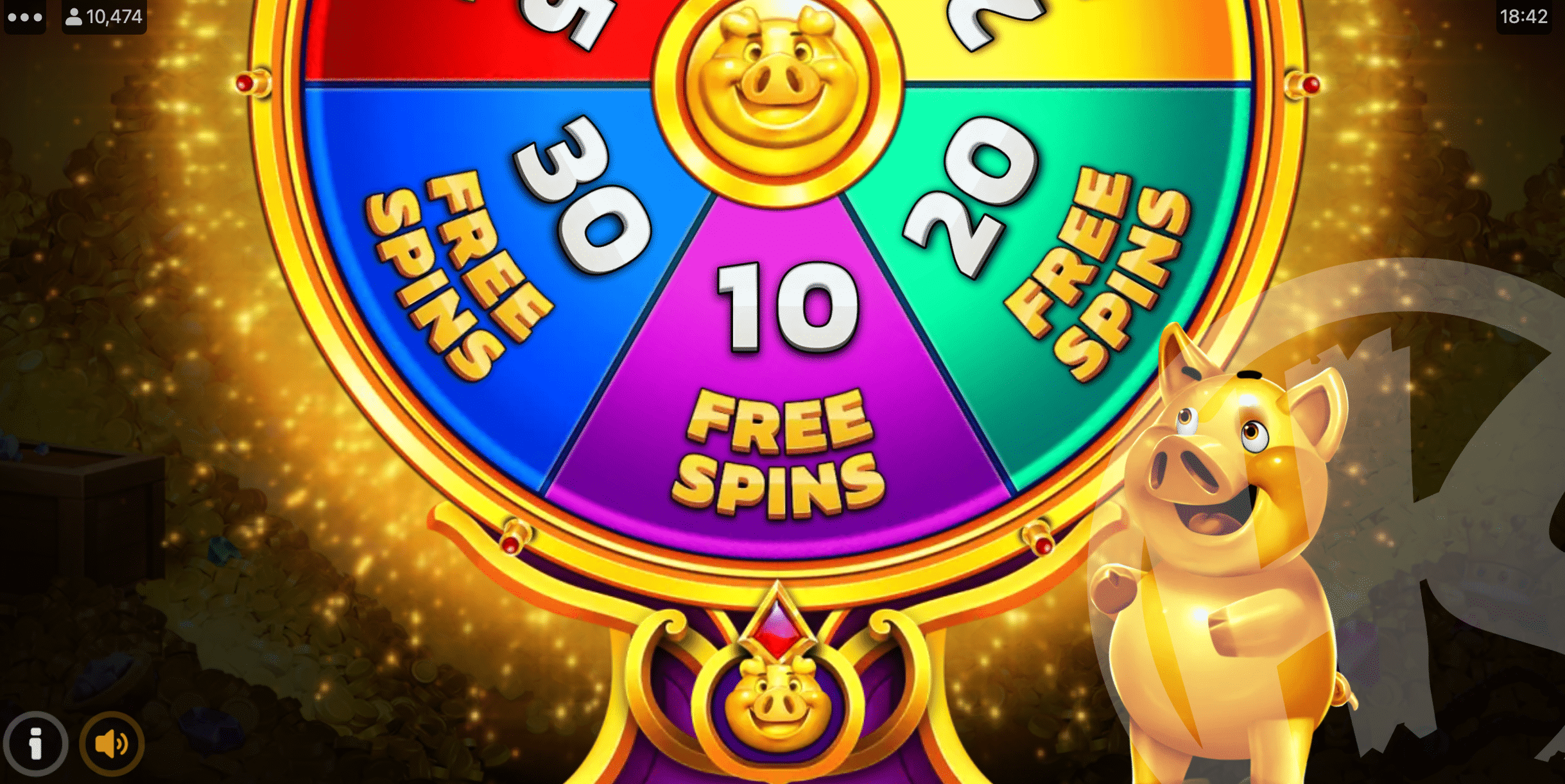 Once into free spins, things continue much the same way as the base game, with Bonus Symbols continuing to add to the progress bar, and 1,024 ways to win. There is no win multiplier active, but free spins can be retriggered.
Players in appropriate regions can utilise the Feature Buy option, with two choices:
Buy a Bonus Wheel spin for a cost of 33.24x bet.
Buy a Free Spins Wheel spin for a cost of 55.02x bet.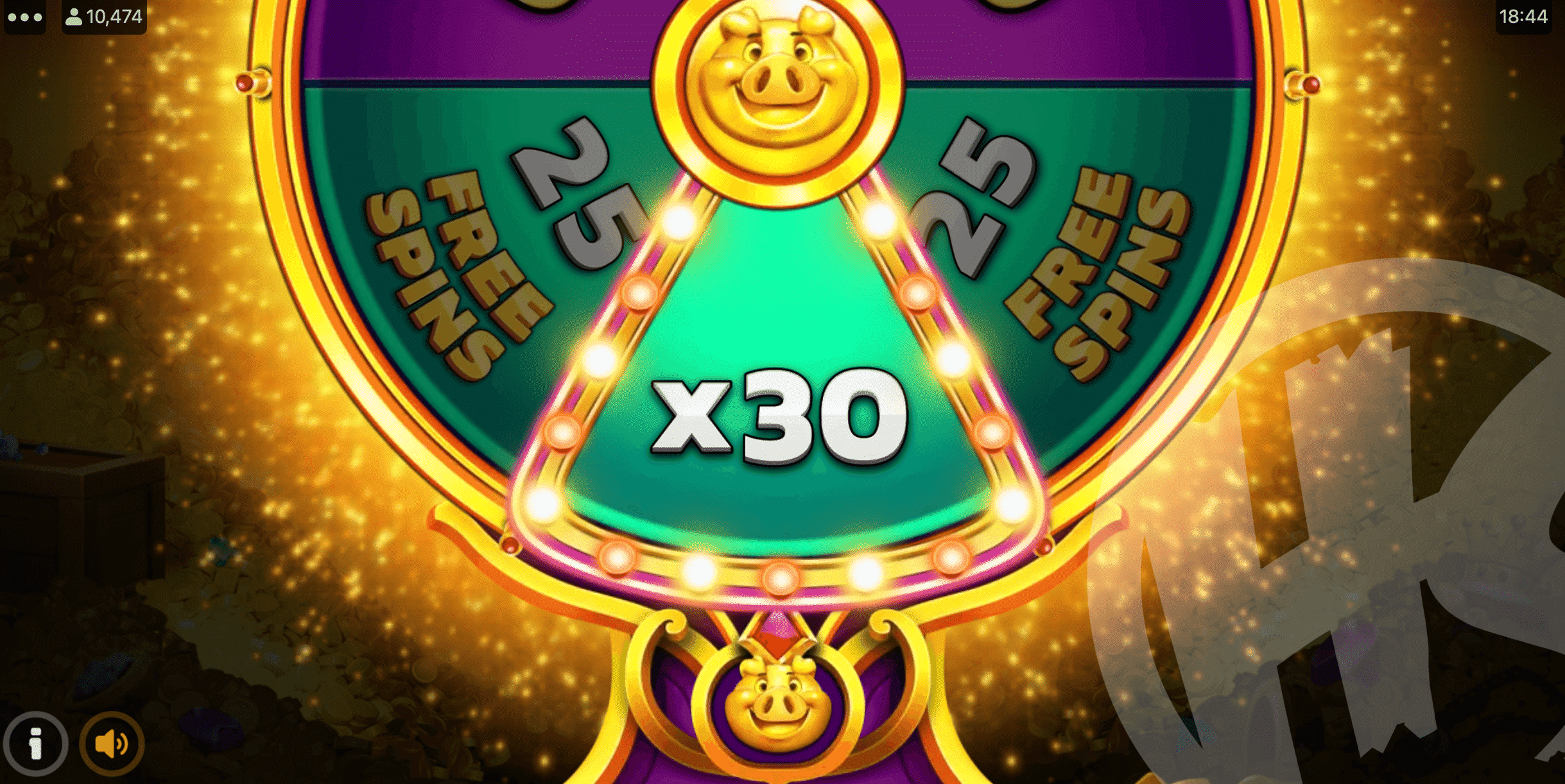 First Impression
Squealin' Riches LockNWin is the kind of game that a lot players might look at and immediately dislike – there's a kind of stigma around a lot of games with jackpots available, almost like they aren't worth playing. What is on offer here, however, is a host of features to keep things ticking over and avoid an all or nothing jackpot kind of affair. Up to 30 free spins are available, alongside the LockNWin feature, so there is just enough to keep players interested. Comparatively to other releases that on the surface look all too similar, Squealin' Riches is a cut above with excellent audiovisuals and this aforementioned host of features.
Bonus Symbols do land regularly, but it probably won't be an Epic Jackpot each time the bar is filled – or any Jackpot for that matter. Adding in Free Spins does keep things exciting, though, as it feels like we have a chance of something more than a low cash prize.
It feels difficult to consider how such huge wins are available, particularly with no win multiplier within free spins, however even with the Epic Jackpot sitting at 10,000x as default, wins up to 13,200x bet are available in this release as a whole. Default RTP is a decent 96.05% (other versions are available) and this release is highly volatile, which when considering the jackpots means you might want to strap yourself in for a rollercoaster ride if you decide to give it a go.
Anyone who does enjoy a hunt for a jackpot with nice visuals certainly wouldn't be disappointed, but if you're a hardcore fan of the more advanced mechanics available out there, there might not be anything here to drag you away.
*The screenshots taken of games reviewed on this site are taken from Demo Play, as reviews are often written before games are released for real play.