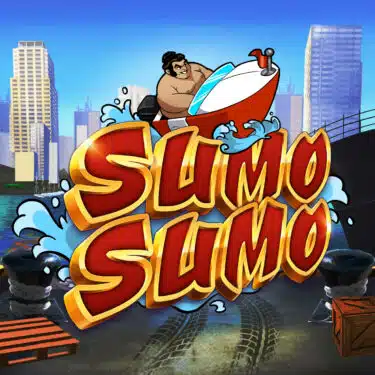 Sumo Sumo
Game Provider: ELK Studios
Release Date: Available Now
Sumo Sumo
Game Studio ELK Studios
Release date Available Now
RTP 94.0%
RTP Feature Buy 94.0%
Paylines 259
Volatility High
Min Bet 0.20
Max Bet 100
Max. Win 25,000x
Rating 8.1/10
A new release is once again forcing me to Wikipedia to brush up on my knowledge of an obscure subject – this time, it's ELK Studios with sumo wrestling. I learned a few things with my trip to Google – most interestingly that sumo wrestling originated as a Shinto ritual, intended to entertain gods so they would bring a plentiful harvest. Aside from this, I learned that the average sumo wrestler is around 150kg (over 23 stone), 185cm (over 6ft tall), with a loin cloth more than 6m in length. Some pretty interesting facts there, right? Well, as I said ELK Studios are the reason for this knowledge today as they bring us Sumo Sumo – a highly volatile release, with a fixed RTP of 94.0%, and win potential up to 25,000x bet.
We appear to be on the streets of Japan today, with a slightly more gritty feeling to things – garbage sits to the right of the reels with an old fishing net and some graffiti to the left, giving the impression that we're in some sort of back alley situation. Everything has a strong Japanese feeling to it, even down to the symbols on the reels – which include sumo wrestlers. A strong, upbeat soundtrack runs throughout – audios are something ELK Studios have always been good at, and Sumo Sumo makes no exception to this rule.
Sumo Sumo Base Features
Taking place across 5 reels, wins are formed on Sumo Sumo by matching at least 3 symbols on adjacent reels, beginning with the leftmost reel. Sumo Sumo offers 259 ways to win, which feels closer to 259 fixed win lines given how many ways are actually available, but I digress – either way, you can match symbols across 259 ways or win lines, so plenty of potential combinations here. Symbols available begin with non premiums, with cherries, grapes, lemons, and watermelons – all styled in a cubed way. Land 3 of a kind matches of any of these symbols to see wins between 0.10 and 0.40x bet, increasing to values between 0.50 and 2x bet for 5 of a kind. At the premium end, we have blue sumos and red sumos, awarding wins of 0.50 and 0.75x bet respectively for 3 of a kind, increasing to values of 5 and 10x bet for 5 of a kind, respectively. Finally, regular Wild Symbols are available, substituting for all symbols except Bonus or Free Spins symbols.
Sumo symbols which land adjacent to each other along a win way can combine to form one Wild Sumo Stack. They do this by jumping on top of each other after a win occurs – although this can be done with only reds or blues, no mixture of colours. Wild Sumo Stacks take on a multiplier that reflects the number of sumos in the stack – although you will also be able to visibly see them stacked on top of one another. After creating a Wild Sumo Stack, a respin is awarded, with further respins awarded if new sumos land adjacent to the stack and jump on top, or a regular win occurs. Throughout respins, Wild Sumo Stacks walk across the reels, changing direction if they reach the end of the reels. Stacks will spin out on the first reel, although interactions can change their walking direction. When no more sumos or wins land, respins will end.
During respins, if opposing Sumo Stacks (blue vs red) meet as they are walking, they will enter a fight or brawl. The biggest Sumo Stack's strength is multiplied by the opponent – for example, if you have a x3 and a x2, the x3 will win, becoming x6. When similar Sumo Stacks of the same colour meet, they will merge together. 
Wild Sumo Stacks substitute for all symbols except Bonus or Free Spins symbols.
Sumo Sumo Bonus
Land 3 Bonus symbols to trigger the Speedboat Bonus, with 3 lives active. The Speedboat Bonus is played on a 5×5 grid, with mini reels and a collection mechanic. At the start of this feature, a Speedboat is placed onto the reels with an initial x bet value. All other reel positions will then spin in to reveal one of the following symbols:
Sumo Swimmers – collect their values.
Wakeboarder – add their value to Speedboats and then attach on, increasing their value for each position moved.
Ramp – multiplies Speedboat and Wakeboarder values. 
Harpoon – adds its value each turn to all uncollected Sumo Swimmers.
Turbo Harpoon – adds its value for each boat collection to all uncollected Sumo Swimmers.
Each time reels spin in, one life is used. Wherever the Speedboat has been placed, there will be a brighter row and column on the grid, moving vertically and horizontally off from this position. When symbols land in one of these spaces, the Speedboat will collect it, resetting the lives back to 3. Wherever the Speedboat is now placed, a new row and column will be highlighted.
The Speedboat Bonus ends when no more lives remain, at which point the value of the Speedboat is awarded, along with the value any Wakeboards attached.
Land 2 Free Spins symbols to trigger the Free Spins feature, wherein 6 spins are awarded. Free Spins are a relatively simple feature – all Wild Sumo Stacks will stick on the reels for the duration of spins, and do not spin off when they reach the leftmost reel.
Free Spins can be retriggered by landing 2 Free Spins symbols, which will award an additional +6 spins.
Finally, there is a Super Speedboat Bonus, in which all Harpoons are Turbo Harpoons, although it is only possible to buy this (more on this below).
Players in appropriate regions can skip to the action with the following X-iter options:
Bonus Hunt (heightened chance for either feature) – 2x bet
Brawl (guaranteed Sumo Stacks brawl) – 25x bet
Speedboat Bonus – 100x bet
Super Speedboat Bonus – 250x bet
Free Spins – 500x bet
The maximum win available in Sumo Sumo is 25,000x bet. If the sum of a single game round exceeds this, the game round will end and 25,000x bet will be awarded.
First Impression
There are some fantastic elements in Sumo Sumo that really help it to stand out from what we've gotten used to. Firstly, graphics are the standard we expect from ELK, and then some – especially in the quirky way we have Sumos stacked, where they wobble across the screen like they're about to fall down. The Speedboat bonus also works to bring us something new – kind of like the collect features we've seen time and time again, but this time with a twist.
Free Spins are where things get really exciting though, with Wild Sumo Stacks sticking for the duration of spins. This is definitely the most lucrative feature available, costing 500x bet if you wish to buy it. When the right combinations hit though, wins are possible up to 25,000x bet.
Maths is highly volatile, but RTP is where things start to fall behind. The value is fixed, but it's fixed at 94.0%, and it feels just a little too low. Whilst many providers do run games around this value, they do at least offer a version in the 96% region to do their part in hopefully bringing you that value, whereas ELK are only offering the one. Look, if you're the kind of player to not care about that sort of thing, then I guess there's nothing stopping you here.
Bright, fun, and quirky – there's plenty of reasons to give Sumo Sumo a go, if you can get past the RTP.
*The screenshots taken of games reviewed on this site are taken from Demo Play, as reviews are often written before games are released for real play.