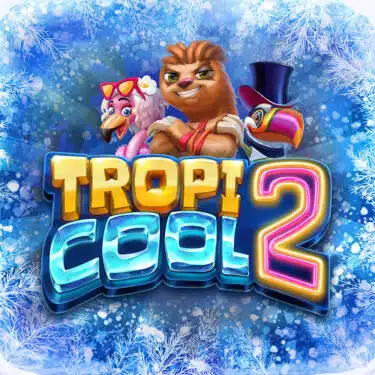 Tropicool 2
Game Provider: ELK Studios
Release Date: Available Now
Tropicool 2
Game Studio ELK Studios
Release date Available Now
RTP 94.0%
RTP Feature Buy 94.0%
Paylines 46,656
Volatility High
Min Bet 0.20
Max Bet 100
Max. Win 25,000x
Rating 8.2/10
What do you think is worse, being too hot or too cold? If you asked me in winter I'd say being too cold, but if you ask me in summer, I'll tell you I'd rather be cold than hot. Fluctuation in temperatures causes many issues for people around the world, but it isn't just humans affected by this. Birds migrate twice a year, usually in search of food or a nesting location, but they also move to avoid the cold weather, typically following warmer paths of flight. It would probably be quite annoying to up sticks twice a year to get a bit of heat, so our friends at ELK Studios, Belle the Flamingo and Emerson the Toucan, have came up with a solution – relocating to a place where the sun shines all year round. Unfortunately they've found themselves setting up shop on Elmo the Sloths' beach and he doesn't like birds, which means chaos is bound to ensue in Tropicool 2, the sequel to the 2021 ELK release. With a fixed RTP of 94.0%, this highly (7/10) volatile release is capable of producing wins up to 25,000x bet.
If you were a fan of Tropicool, you'll notice that Tropicool 2 looks quite similar, with a few differences. We're on a more tropical beach this time around, with just a small amount of ice melting in the water. There's an Ice Bar to the right of the reels, and palm trees wrapped in flowers and lights to set the mood. To the left, a scarecrow draped in a Hawaiian shirt, a straw hat, and a lei – probably put there by Elmo to scare off those pesky birds. Aside from this, surf boards, clear waters and sandy beaches help to create this picturesque image, almost making us want to book a holiday just from looking at it. Audios are the kind you'd hear in a piano bar – smooth, jazzy, but help to set the overall tone of relaxation. All in all, very nice.
Tropicool 2 Base Features
Taking place across 6 reels, wins are formed on Tropicool 2 by matching at least 3 symbols on adjacent reels, beginning with the leftmost reel. Each reel holds 6 symbols, producing 46,656 ways to win. Above the regular 6×6 game play area there are 3 additional rows (the Cool Reel) – these don't contribute to the ways to win, but we'll explain more of this in a moment. For now, let's cover the symbols available, beginning with non premiums – purple, green, yellow, and red fruits. I'd say plums, apples, lemons, and more apples, but they're all the exact same shape. Anyway, land 3 of a kind of any non premium to see wins of 0.05x bet, increasing to wins of 0.25x bet for 6 of a kind matches. At the premium end we have watermelon, limes, pineapples, coconuts, and strawberries – land 3 of a kind of any of these symbols to see wins between 0.10 and 0.50x bet, increasing to values between 0.30 and 3x bet for 6 of a kind wins. Finally, there are Wilds, Locked Wilds, and Mystery symbols available, but more on those below.
So the first thing to cover in Tropicool 2 are the Scatter Birds. If 3 or more birds land on the reels, they will pay anywhere – like Scatters would. To calculate the winning value, the bird's multiplier is multiplied by its' value. The multiplier is equivalent to the height of the bird on the reels – each reel can hold 6 symbols, meaning a bird can cover 1, 2, 3, 4, 5, or 6 positions on the reels, gaining a multiplier of x1, x2, x3, x4, x5, or x6, respectively. The value of Belle the Flamingo is 0.20x bet, whilst the value of Emerson the Toucan is 0.30x bet.
The next feature to cover is the Avalanche feature. On every spin, all symbols involved in a win will explode from the reels, and all remaining symbols will drop to the bottommost available position on their respective reels. Rather than new symbols then falling in from above as is often the case, gravity will do its' job and cause the Feature Symbols in the Cool Reel (the 3 rows above the game play area) to drop down into any available positions. The Cool Reel will then refill. The Cool Reel can contain Big Symbols – if there is not enough space for the whole symbol to drop in, it will break down into individual symbols and fill in the gaps. If there is enough space and the Big Symbol drops onto the reels, it will smash its way to the bottom of the reels. Avalanches continue until no more wins are formed. The following Feature Symbols are available:
Wild – substitutes for all symbols except birds.
Locked Wild – a Wild symbol that is charged to last for 3 wins.
Mystery – reveals a paying symbol at the end of a drop. All Mysterys will reveal the same symbol. 
Row Swap – one symbol replaces all other symbols in a row, except Wild, Bonus, or Elmo symbols.
It is also possible that the Cool reel will contain empty positions or ice. These positions will still drop onto the reels, but will then be replaced by regular paying symbols falling in from above, topping the ways to win back up to 46,656.
Next up are Elmo Redrops. If an Elmo the Sloth symbol drops onto the reels, Elmo Redrops will be triggered. Elmo will move one reel to the right for every Redrop, scaring all birds into Wilds or Locked Wilds. Any Locked Wilds or Bonus symbols will stick during Redrops. Once Elmo moves off the rightmost reel, Redrops will end.
Finally, Big Symbols may appear on the reels. Symbols can be 1×1, 2×2, or 3×3 in size.
Tropicool 2 Bonus
Land 3, 4, 5, or 6 Bonus Symbols to trigger 6, 9, 12, or 15 Free Drops, respectively. During Free Drops there are two additional Feature Symbols in the Cool Reel:
Extra Drops – awards an additional +1, 2, or 3 drops.
Multipliers – increase the win multiplier by +1, 2, or 3.
Locked Wilds remain on the reels between drops, until they have been fully used. 
Players in appropriate regions can skip straight to the action with the following X-iter modes:
Big Blocks (in the first drop and Cool Reel) – 10x bet
Turbo Spins (25 spins in turbo mode) – 25x bet
Elmo Redrops – 50x bet
Bonus – 100x bet
Super Bonus (Free Drops start with x10 multiplier) – 500x bet
RTP is unchanged when activating X-iter game modes.
The maximum win available in Tropicool 2 is 25,000x bet. If the sum of a single game round exceeds this, the game round will end and 25,000x bet will be awarded.
First Impression
Well that was fun. I always liked how quirky Tropicool was, and Tropicool 2 brings this back in bucketloads. There are a lot of similarities between the two releases, which is to be expected in a sequel, but enough tweaks to keep things interesting – namely Elmo Redrops and the addition of a 3 row tall Cool Reel.
Both of these help to keep the base game ticking over, especially with the host of Feature Symbols available. When you move into Free Drops though things really kick up a notch with the addition of multipliers in the Cool Reel. It becomes clear pretty quickly how it's possible to form big wins – when the right combination hits, wins are possible up to 25,000x bet. X-iter modes make things even more exciting with the option to buy straight into Big Symbols, Elmo Redrops, Free Drops, or Super Free Drops – where things start with a x10 multiplier.
Where things fall slightly behind is the same as always – a fixed RTP of 94.0%. Tropicool's 95.0% RTP was quite low at the time, but this has fallen further in the time that has passed. Nonetheless, if you're the sort of player not to worry too much about that sort of thing, don't let it stop you. And anyway – a lot of providers offer a higher RTP, but it's the lower values you'll find at your favourite casino. Just something to be aware of, really. Finally, maths is highly (7/10) volatile, so certainly not an easy ride, but not the roughest of the ELK catalogue.
If you were a fan of Tropicool, there's nothing to say you won't take to Tropicool 2 like a bird to… Well, I don't know, but you're sure to like it.
*The screenshots taken of games reviewed on this site are taken from Demo Play, as reviews are often written before games are released for real play.