One belief of Voodoo is that a singular God does not interact in daily life, but rather multiple spirits do. Well, whatever your beliefs, I can bet you'd be unsettled to think someone was in possession of a voodoo doll that looked a little like you. This seems to be the main thought when we hear voodoo – an almost spooky element that evokes uneasiness, maybe even fear. Set the fear aside for now though, as today we have no choice but to face the voodoo head on, with Lucksome's latest release – Voodoo Temple. With an RTP of 96.50%, and wins available up to 20,000x bet, this highly (8/10) volatile release suddenly doesn't seem quite so frightening, in spite of the theme. Let's take a closer look…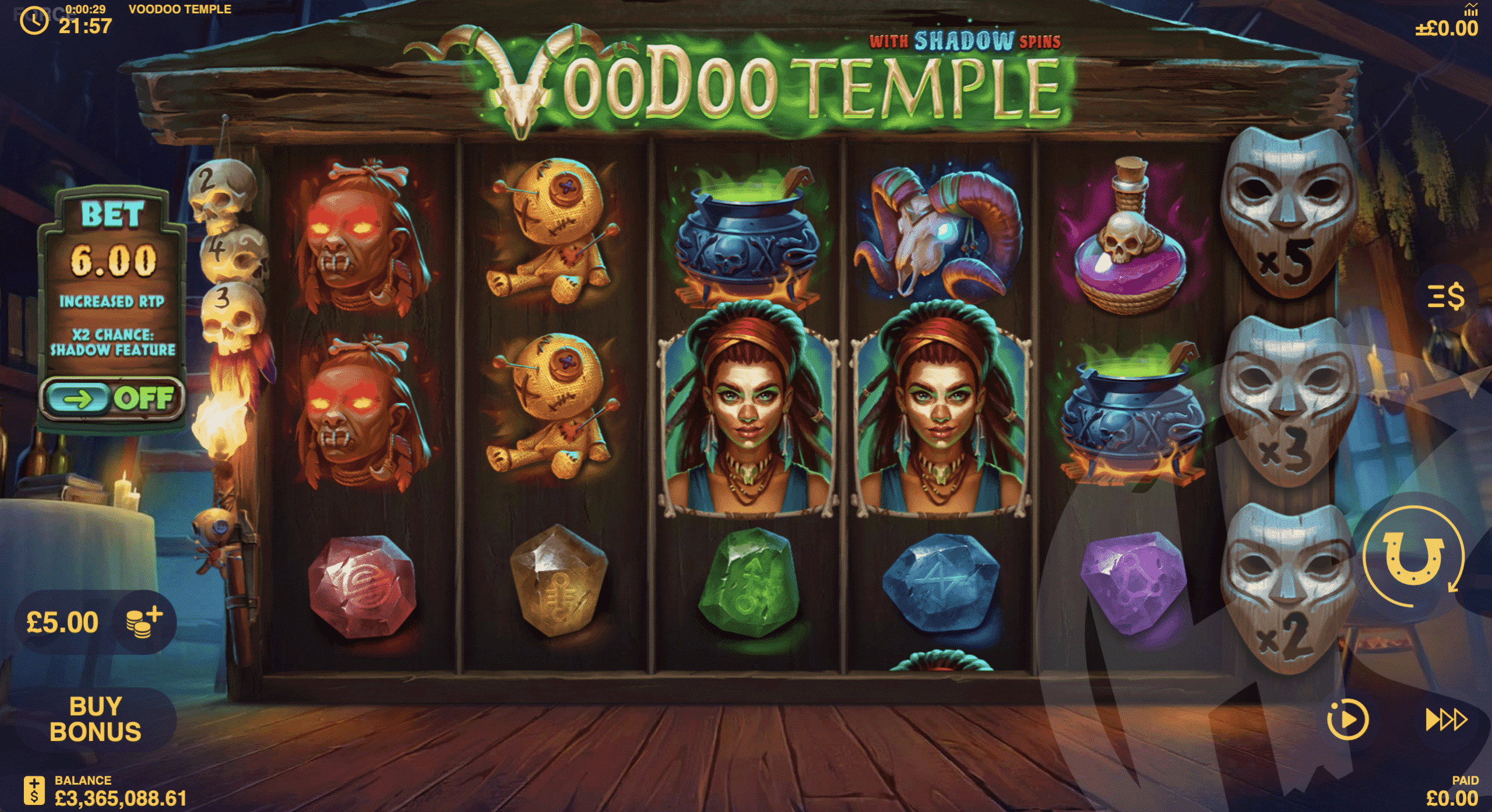 Voodoo Temple Base Features
Taking place across 5×3 reels, wins are formed by matching at least 3 symbols on adjacent reels, beginning at the leftmost reel, for a total of 243 ways to win. Symbols available begin at the lower end, with 6 crystals – pink, purple, blue, green, orange and red in colour. Each of these award wins of 0.10, 0.30 and 0.60x bet for 3, 4 and 5 of a kind matches, respectively. At the premium end, we find potion bottles and animal skulls, worth between 0.20 and 1.50x bet for wins between 3 and 5 of a kind, followed by cauldrons, awarding wins of 0.50 and 3x bet for 3 and 5 of a kind, respectively. Next up it's voodoo dolls, worth 0.50x bet for 3 of a kind, up to 5x bet for 5 of a kind, followed by red heads, which pay from as few as 2 ways. This highest paying symbol awards values between 0.50 and 10x bet for matches between 2 and 5 of a kind.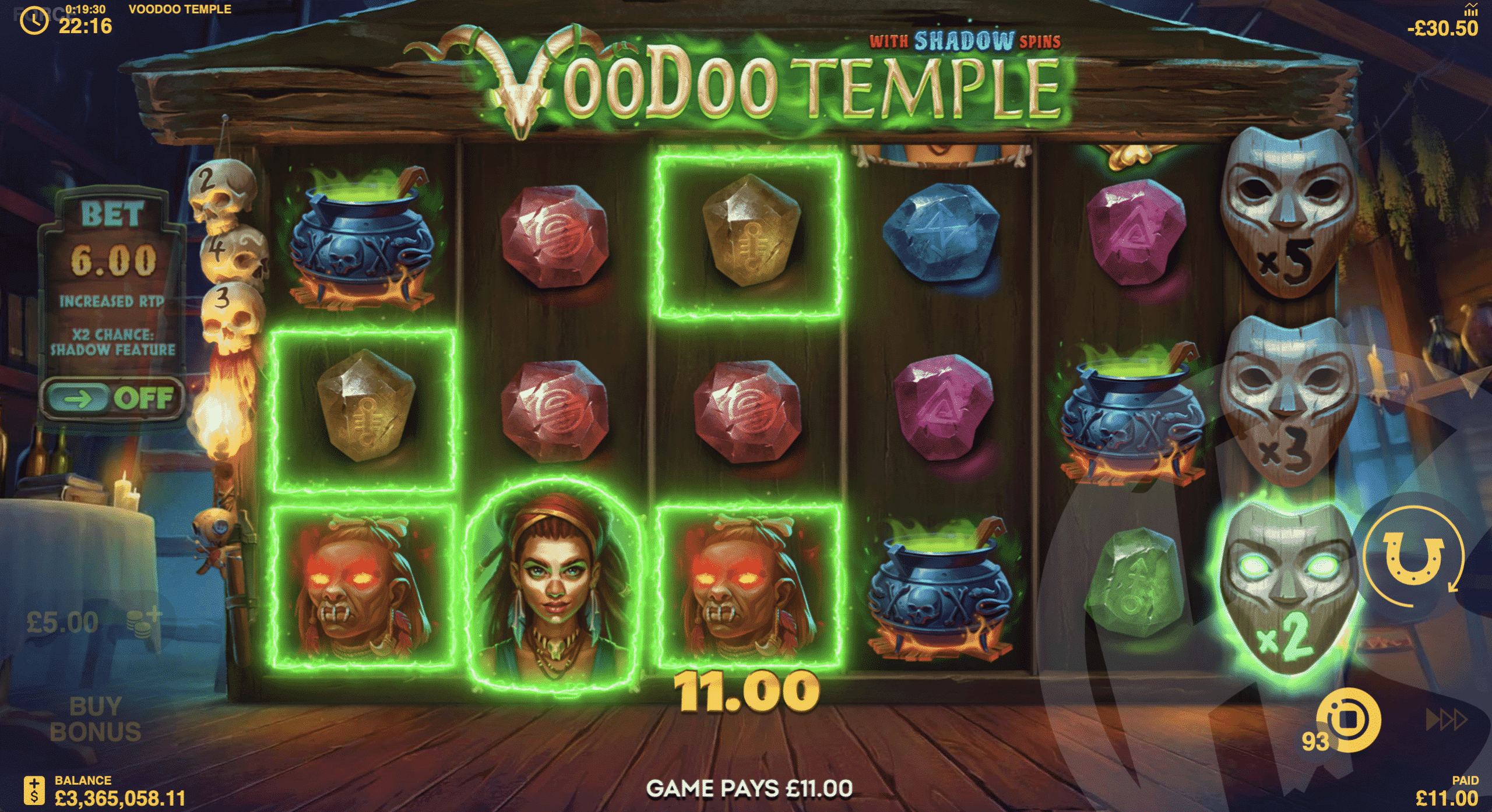 There's a few features which bring Voodoo Temple to life, beginning with the Shadow Bet. Players can choose to increase their bet by 20%, doubling the chance of landing free spins, and increasing the RTP slightly. When the Shadow Bet is activated, wins are still calculated according to the base bet – only the bonus chance and RTP is affected.
Next it's the Priestess Wilds. Landing 1, 2 or 3 of these in view will activate the mask multipliers visible to the right of the reels. These begin at x2, x3 and x5, and are applied to wins as 1, 2 or 3 wild symbols land, respectively. Connected to this is the Multiplier Boost Feature, wherein the multipliers will be boosted – as high as x25 in the base game, or x50 in free spins.
Finally, Shadow Mode can trigger randomly. When this occurs, multipliers will begin at a higher level, and will increase as wilds land in view.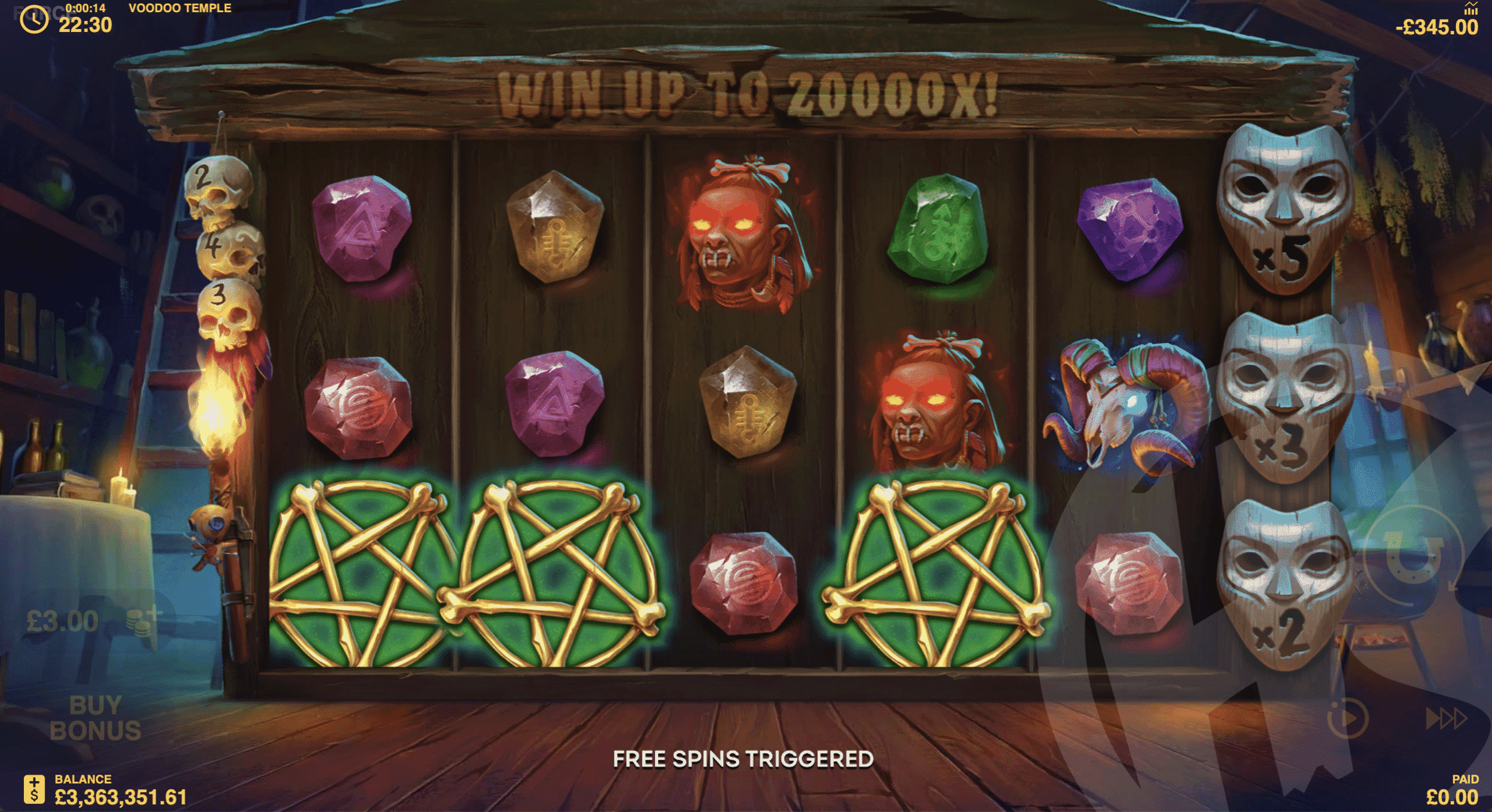 Voodoo Temple Bonus
Land 3 or more pentagram Scatters to trigger free spins, with additional free spins awarded as more Scatters land in view. Alongside this, Scatters award win values of 0.5, 1, 2 and 5x bet for 2, 3, 4 or 5 in view, respectively. Before free spins begin, players much choose their volatility level, where higher risk offers higher rewards:
Low Volatility: Win multipliers of x2, x3, x5 and x6 as 0, 1, 2 and 3 wilds are in view, respectively.
Medium Volatility: Win multipliers of x3, x4, x6 and x8 as 0, 1, 2 and 3 wilds are in view, respectively.
High Volatility: Win multipliers of x2-5, x3-20 and x8-50 as 1, 2 and 3 wilds are in view, respectively.
The spins awarded are also determined by the choice made above:
Low Volatility: 3, 4 or 5 Scatters award 12, 15 or 20 free spins.
Medium Volatility: 3, 4 or 5 Scatters award 9, 12 or 16 free spins.
High Volatility: 3, 4 or 5 Scatters award 5, 8 or 12 free spins.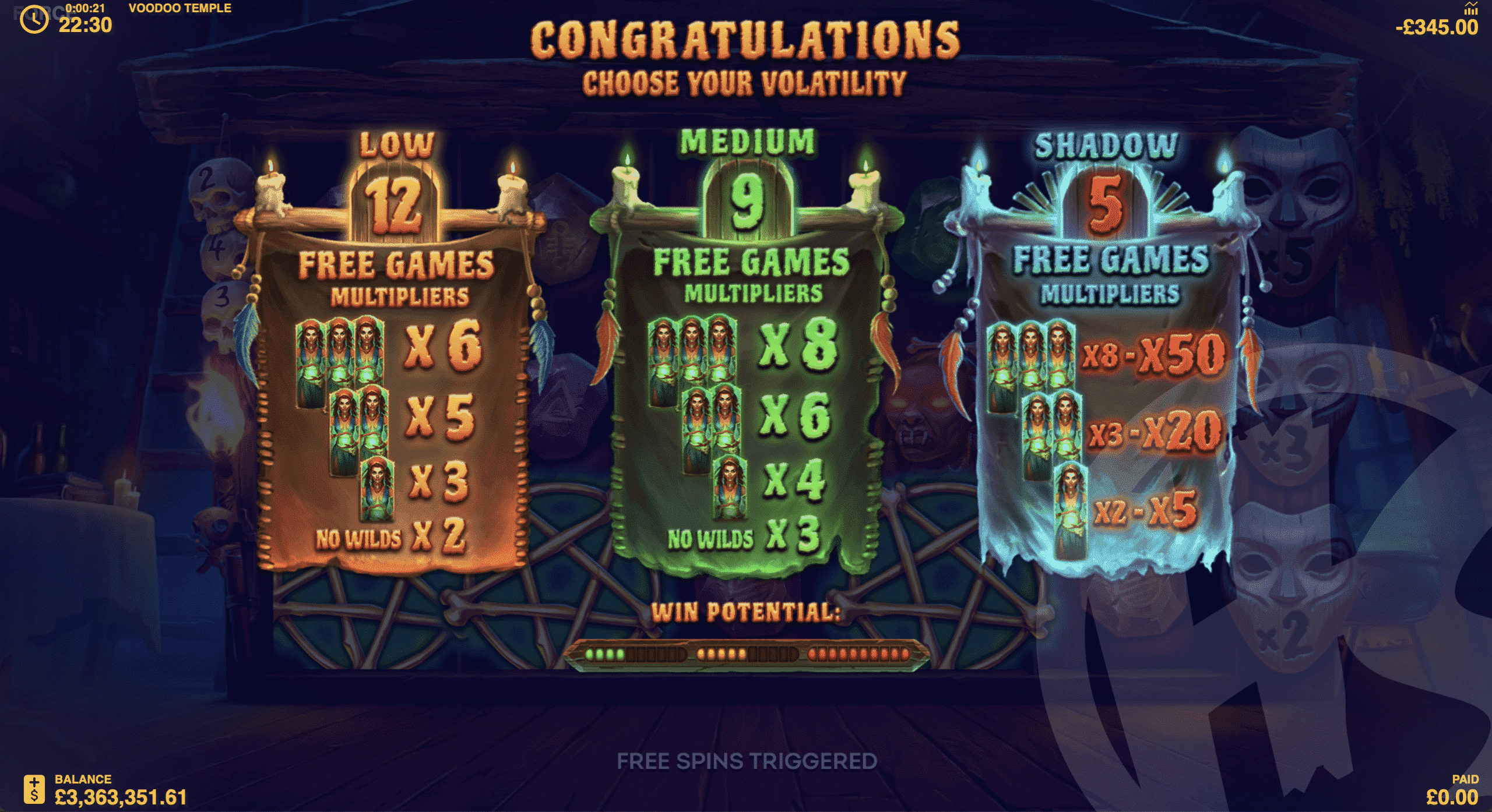 Wild symbols are stacked in free spins, and can trigger the Multiplier Boost or Shadow Mode (Shadow Mode is always active if players choose the High Volatility Shadow Spins).
Players in appropriate regions can fast track the action and buy the feature, with each option varying in cost:
3 Scatters (5-12 free spins): 115x bet
4 Scatters (8-15 free spins): 150x bet
5 Scatters (12-20 free spins): 300x bet
RTP increases during the feature buy, from 96.5% to 97.0%.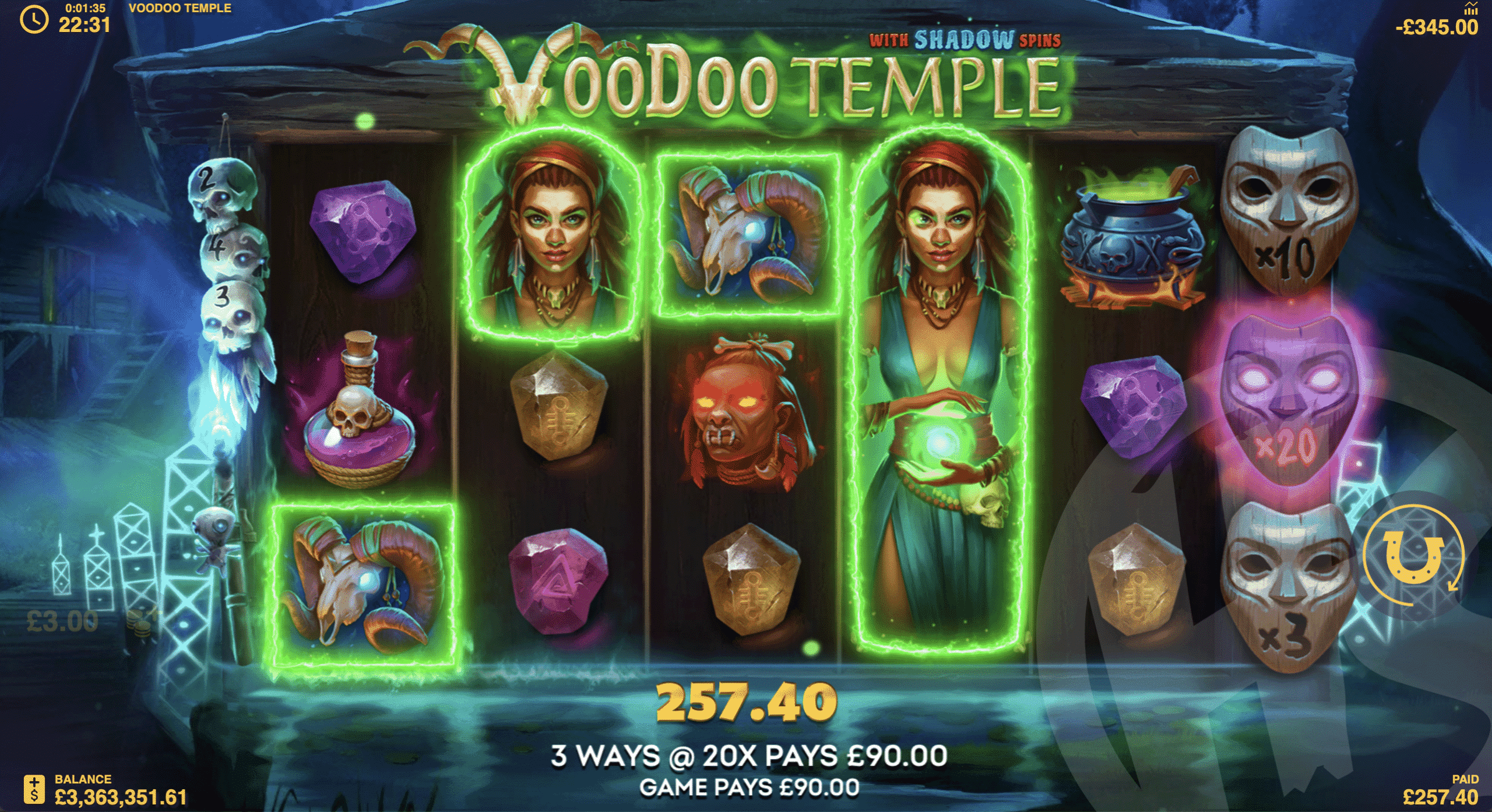 First Impression
There's a lot to be said for the simpler things in life, and Voodoo Temple is one of them. I mean that in a good way, of course. With multipliers and wilds taking on the bulk of the work in this release, it gives players a chance to sit back and enjoy themselves, rather than scratching their heads for their first 100 spins trying to work out quite what's happening. In short, this is one game where you can forgo the information sheet (heck, this review too) and you'll pick things up quickly.
Getting down into the grit of the features, and they're clearly capable of producing potent combinations – particularly for those willing to take the additional risk and go for the highly volatile spin option. Multipliers can climb fairly quickly (especially with the help of Shadow Mode and the Multiplier Boost feature), which is  enhanced by the already fair pay table, with symbols paying as high as 10x bet for 5 of a kind.
Statistically, there's no complaints. RTP is high at 96.5%, and of course this increases to 97.0% during the feature buy (for those able to avail of this option). Maths is highly volatile, although this is high at 8/10, so not the highest it could possibly be. Finally, wins are on offer up to an impressive 20,000x bet, and who wouldn't be happy with that?
The features in this release offer enough potential and enjoyment that it's worth giving it a try – even if you're not a fan of voodoo, there's something for everyone here.
*The screenshots taken of games reviewed on this site are taken from Demo Play, as reviews are often written before games are released for real play.