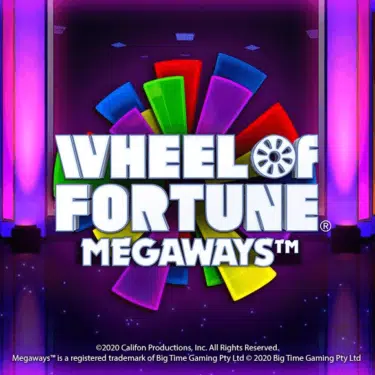 Wheel of Fortune Megaways
Game Provider: Big Time Gaming
Release Date: Available Now
Wheel of Fortune Megaways
Game Studio Big Time Gaming
Release date Available Now
RTP 96.46%
RTP Feature Buy N/A
Paylines Up To 1,000,000
Volatility High
Min Bet 0.20
Max Bet 100
Max. Win 80,150x
Rating 8.4/10
You win a speedboat! You win a speedboat! And YOU win a speedboat! Wheel of Fortunes is back, coming to our screens worldwide on 25th February, in the form of Wheel of Fortune Megaways. Big Time Gaming have taken us back through the years with this slot, combining one of the most popular game shows both in the UK and USA, with one of the most famous slot mechanics of all time: Megaways. Most players believe that when a slot is re-released with the Megaways concept it is usually always better. It's seeming like this is no exception to the rule.
Big Time Gaming have cemented a place within this sector as a provider that specialises in volatility, with slots that pack a huge punch, even though it might take a while to witness the full potential. Usually when Big Time Gaming first launch their slots live, comment sections are full of players disappointed with the "lack of potential" or just expressing general disdain with how the slot turned out. BTG are the biggest victim to backseat slot developers, it seems.
However, this is a provider that has been around for years and have brought us some of the most hotly requested slots and mechanics of all time, regardless of how many years pass: Danger High Voltage, Lil' Devil, and anything Megaways, to name a few. Because of this, players should, by now, have a certain level of trust in the skill set of BTG. We should be confident in the knowledge that not long after a new release the huge hits will soon follow.
Wheel of Fortune Megaways continues this trend, and at first glance its hard to see how it will produce anything incredible, but let's take a closer look at just what this slot can do. Volatility is high, the maximum win per spin sits at 80,150x bet (with the max possible win capped at 250,000x), and an RTP of 96.46%. Lets dive in…
Wheel of Fortune Megaways consists of 10 symbols, comprised of 6 regular symbols and 4 premiums. At the lower end of the pay table, 9s and 10s both pay 0.4x bet for 6 of a kind, and Js pay 0.5x bet, again for 6 of a kind. Qs pay 0.6x bet for 6 of a kind, whereas As and Ks both pay 0.7x bet for 6 of a kind. Like with all other Big Time Gaming slots, premium symbols are made up of green, blue, red and purple symbols. Landing 6 of a kind green sports cars awards 0.9x bet, and landing 6 of a kind blue speed boats pays 1x bet. Private Jets sit atop the red symbols on offer, which pay 2x bet for 6 of a kind.
Finally, as expected, the purple symbol is the highest paying symbol, containing a diamond ring, and paying a whopping 25x bet for 6 of a kind. When you factor in the Megaways mechanic, the Wild Megastacks, and the total 1 million Megaways available within the bonus, even the lowest paying symbol on offer can produce some huge wins.
Wheel of Fortune Base Features
On a personal level, when a Megaways slot is released and chooses not to use the cascading mechanic these days, I find myself experiencing a certain level of disappointment almost immediately. Once you've played the cascading slots on offer, it's hard to feel a lot of excitement when a developer chooses to go in a different direction. Alongside this, one of the most exciting experiences of a Megaways bonus is when that incrementing multiplier has built up. If the multiplier is high enough, suddenly you feel as though one win could change everything.
Big Time Gaming have chosen to walk away from both these mechanics. Instead, they have opted for a Megaways slot that doesn't cascade, and doesn't have a multiplier in the bonus game. That said, there is still plenty on offer for players within this slot. Think White Rabbit listening to Danger High Voltage with Megaways for days, and you'll get Wheel of Fortune Megaways.
Players have the chance to land up to 3 Wild Megastacks in the Wheel of Fortune Megaways base game. This can be triggered by landing a wild symbol on the reels, which then expands to be 7 wilds high. These are available on reels 2-5 only. Landing 3 of these Wild Megastacks together would be the equivalent of landing 3 x7 wild reels. This is where this release is reminiscent of Danger High Voltage, which offers 3 x6 wild reels.
During the bonus game, up to 2 Wild Megastacks can land, expanding to be 10 wilds high. This is about as much as the base game has to offer. However, we know 3 multiplier wild reels can be enough to change everything.
Wheel of Fortune Bonus
Landing 3, 4, 5 or 6 Wheel of Fortune scatters in the base game lands 12, 14, 16, or 18 spins respectively. At the start of the feature, players spin a wheel to determine the amount of Megaways they start with. This wheel starts at 14,000 ways, up to the most commonly maximum amount of 117,649 ways. Within the bonus, landing an Expansion Symbol on a reel increases the total amount of Megaways available in the bonus. This is done by increasing the amount of symbols on that reel by 1.
Once the amount of symbols on the reel reaches 10, a retrigger is awarded. At this point, players spin a second wheel to award up to 12 more free spins. If all reels reach the maximum of 10 symbols, players will experience 1 million Megaways. White Rabbit fans will be familiar with this mechanic of expanding reels to provide higher win possibilities. Although this isn't the first time we have seen any slot offer 1,000,000 Megaways, this is the first of its kind with Big Time Gaming.
First Impression
These days, it seems as though slots are continually released with more and more features on offer. So much so, that they can almost becoming confusing to a point. This slot is simple, and it can seem as though there's not very much to talk about. However, what is on offer is enough to boast some huge wins, with an astonishing amount of potential. Although to some it lacks excitement, players who do await the final scatter to reach 1 million Megaways will disagree. With the potential to have 12 extra spins, who could argue that this slot doesn't pack a punch?
As always, Big Time Gaming have designed a slot that is slick. Although the mechanics within are not unique, they are presented in such a way that enables a smooth playing experience. We have already experienced some solid wins, and expect to see some life changing wins soon from players. This is what we have come to expect from any Big Time Gaming slot.
*The screenshots taken of games reviewed on this site are taken from Demo Play, as reviews are often written before games are released for real play.