Overview
Big Time Gaming are one of the biggest slot providers in the world, and one of the most well known names to gamblers everywhere. Their website states their "team are a collective of industry thought leaders with an extensive track record of innovation in online gaming." This statement is certainly true, as Big Time Gaming continue to pave the way with innovative techniques in online slot design. Nik Robinson (CEO) has been at the forefront of the industry since 1996. Back then, he founded New Tech Media, which then merged with Orbis, after being sold to News Corp, becoming Openbet. The team continues with Huw McIntosh (CTO), who has worked in the gaming industry for over 18 years, both at New Tech Media and Openbet. Ian Schmidt (Creative Director) joined Big Time Gaming after working for Rock Star Games on a range of titles. You can follow Big Time Gaming on Twitter for all the latest news.
"At Big Time Gaming, we think players need to be more involved as we're not just competing with other providers, we're competing for players' time against everything the internet has to offer …. The only real way to predict the future is to build it, and that's what BTG labs are doing every day. We're certainly not resting on our laurels."
Popular Big Time Gaming Games
There have been so many slots released by Big Time Gaming over the years, and the most exciting thing about BTG slots is that they have the potential to pay life changing amounts of money. We've witnessed multiple wins surpassing 25,000x on Big Time Gaming slots, and will continue to see more as time goes on. Probably the most requested BTG slot of all our streams has to be Bonanza, and we've spent many hours chasing that D. The bonus on Bonanza, as expected, can go huge, but can be a grind to get. This is one slot that we personally have yet to hit huge on, but we've seen plenty of others achieve greatness through the GOLD, and we will continue to strive for it.
Another one of BTG's most popular slots has to be Danger High Voltage. This is the slot that continues to divide the nation, with the most paramount question of all – Gates or High Voltage? Danger High Voltage has all things that we love in a slot, with a choice of two equally impressive bonuses and the ability to hit huge in the base game. We long for the day we see x6 x6 x6 with some skulls. To top it all off, Danger High Voltage of course has some incredible music to go alongside everything else on offer. Fire in the disco indeed!
Third on our list of most requested Big Time Gaming slots is a classic; Who Wants To Be a Millionaire Megaways. Of all Big Time Gaming slots, this is the one that we tilt the hardest on. The slot is, of course, themed around the famous game show, but the theme only truly comes into play within the bonus. Once those scatters land (just 3 required, thankfully), you have the opportunity to gamble your 8 free spins for more, up to a maximum of 50. The gamble is just like the show, with 50/50 gambles, ask the audience percentages, and phone a friend odds. Unfortunately, the bonus is only locked in at 10 spins, so the first gamble losing can dissolve your whole bonus before your very eyes. We've lost count of the amount of 80%+ gambles we've lost, but thankfully the bonus isn't too hard to land, so there's always another chance. We haven't yet plucked up the courage to gamble the whole way to 50 spins, with our maximum achieved being 30, but maybe one day…
Last, but by no means least, on our list is Lil' Devil. Lil' Devil was originally branded a "Danger 2" but in the end stood in its' own right as one of the greatest slots of all time. Our biggest Big Time Gaming win has been on Lil' Devil, and one of our moderators hit a whopping 14,000x bet win at the beginning of 2021, winning £1,400 on 10p stake. Big Time Gaming have made it clear that they are trying to create games that do not need to be played on a huge stake to win huge, and Lil' Devil is a testament to this. We have watched videos of wins on this slot over 100,000x – the potential is absolutely massive.
We could go on, as most Big Time Gaming slots are more than worthy of a mention, but for now we'll leave you with a list of other populars, which include:
Opal Fruits
Donuts
Pop
The Final Countdown
Extra Chilli Megaways
White Rabbit Megaways
Temple Quest Spinfinity
Chocolates
Kingmaker Megaways
Slot Vegas Megaquads
Royal Mint Megaways
Cyberslot Megaclusters
Survivor Megaways
Monopoly Megaways
Who Wants To Be a Millionaire Mystery Box
Megas
One of the greatest pieces of slot innovation in history has been the invention of Megaways, pioneered by Big Time Gaming in 2015. Megaways completely reshaped the online slots world, to the point that other slot providers have created their own Megaways slots under the BTG license. Megaways games are formed by 6 reels, with each reel allowing for a possible 7 symbols to land, paying up to a maximum of 117, 649 ways. During a Megaways bonus, there is usually a growing multiplier, so although Megaways wins sometimes seem lower, the potential is often huge within the bonus as the multiplier builds. Megaways slots can cascade, meaning winning symbols are removed and new symbols drop down in their place, however not all do.
Following the success of Megaways, Big Time Gaming released their latest concept in May 2020 – Megaclusters. So far we have seen two slots with this format, Star Clusters Megaclusters & Cyberslot Megaclusters, but we expect to see more in the future. Megaclusters slots start with a square grid, and each win is formed by matching 5 or more adjacent symbols. Each symbol then breaks down into smaller symbols, so the grid becomes bigger. The bonus on both slots starts with a slightly bigger grid, and further breaks down, allowing for a bigger potential of total Megaclusters in the bonus grid. We have seen some huge wins from the Megaclusters format, and expect to see more soon.
Around the time Megaclusters were released, BTG announced that they would be releasing 2 more "Megas" before the end of 2020. The third mega turned out to be Megaquads, released within the game Slot Vegas Megaquads. Megaquads is a concept wherein the slot is made up of 4 unique reel sets, each 4×4 in size. The reels work as Megaways, and can join together, eventually forming a maximum of 16,777,216 ways. Finally, Bonanza Megapays was announced, which was Big Time Gaming's take on a Jackpot slot. Bonanza Megapays plays much the same as Bonanza, but a portion of each stake is added to the Jackpot pots, and players have a chance to win any Jackpot regardless of stake, with the potential to win more 3 million x bet.
Our Biggest Big Time Gaming Win
Our biggest Big Time Gaming win came at the end of the stream below. Already on a crazy lucky streak, we went to Danger High Voltage. It took 19 spins to land the bonus, and of course we went for Gates! We got Kings, landed 4 on the first spin and well… You can watch it for yourself! Timestamp 55:35 in the video below.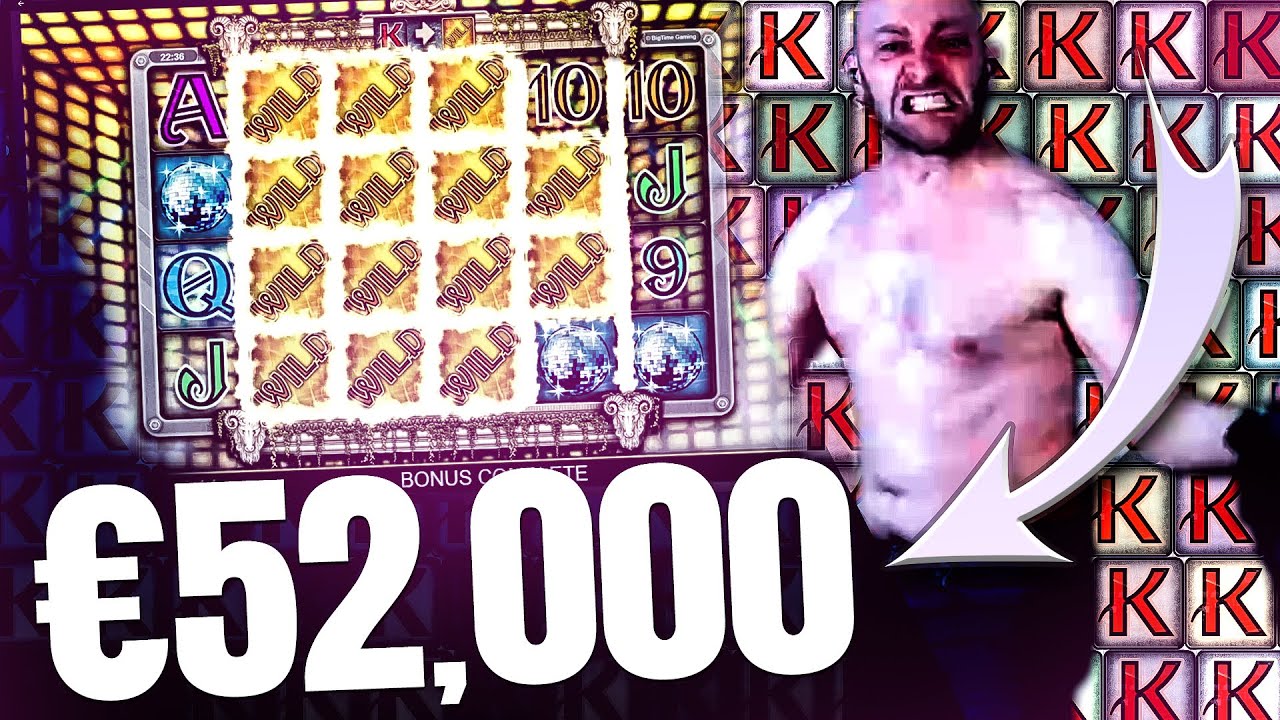 Honourable mention also goes to this hit from March 2021, when we hit a huge win on the Lil' Devil Heartstopper. We went for "Be My Angel", and landed an Ace. Check out what happened next…