Hacksaw Gaming have a distinctive style – not so much in individual element design, having tackled genres from 1930s to jungle creatures, but in overall concept, resulting in simple, yet deadly releases. Producing games that are concise, crisp, and vivid isn't the only ambition for the team, however, who are also producing games that bring us huge bouts of potential, packed into uncomplicated designs. In this latest release, Hacksaw are taking us back to basics, with a clean design geared towards mobile users, something they are famed for. Let's take a look at the features Xpander has to offer, and how wins of 10,000x bet are possible from this highly volatile release, with an RTP of 96.25%.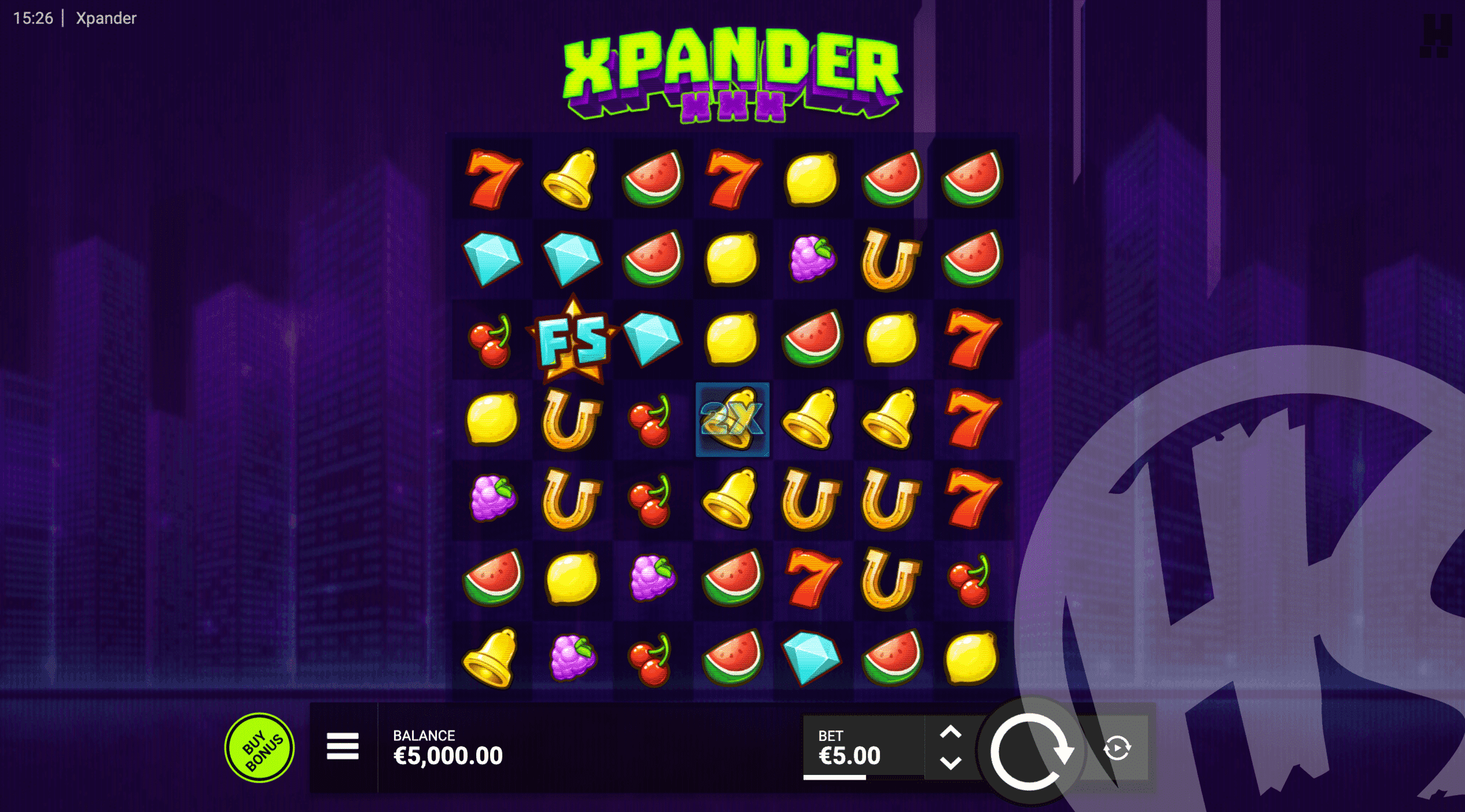 Visually, the word that comes to mind is "nostalgia". Xpander keeps to the tradition of simplicity, but evokes a sentimentality of playing Hot Shots or Crazy Fruits in the pub at the weekend, waiting for bells to land to hit lucky. Neon high rises are lightly visible in the background, whilst soothing backing tracks play through, picking up the pace when the features kick in, but for the most part fading to the back of our minds.
Xpander Base Features
Taking place across a 7×7 grid space, Xpander adopts the cluster pays mechanic that we have come to expect from Hacksaw Gaming, with wins formed by matching at least 5 symbols horizontally or vertically adjacent. The symbols available to form these wins take a nod back to the "classic" fruit machine symbols, including lower paying cherries, lemons, grapes and watermelons, paying 0.1x for clusters of 5, up to 20x bet for clusters of 15+. Landing bells, horseshoes or 7s in clusters of 5 rewards players with wins of 0.25x, climbing to 60x bet, again for clusters of 15+. Diamonds come in as the highest paying available symbol, awarding 0.50-80x bet for clusters of 5-15+, respectively. Finally, wilds substitute all symbols except Scatters.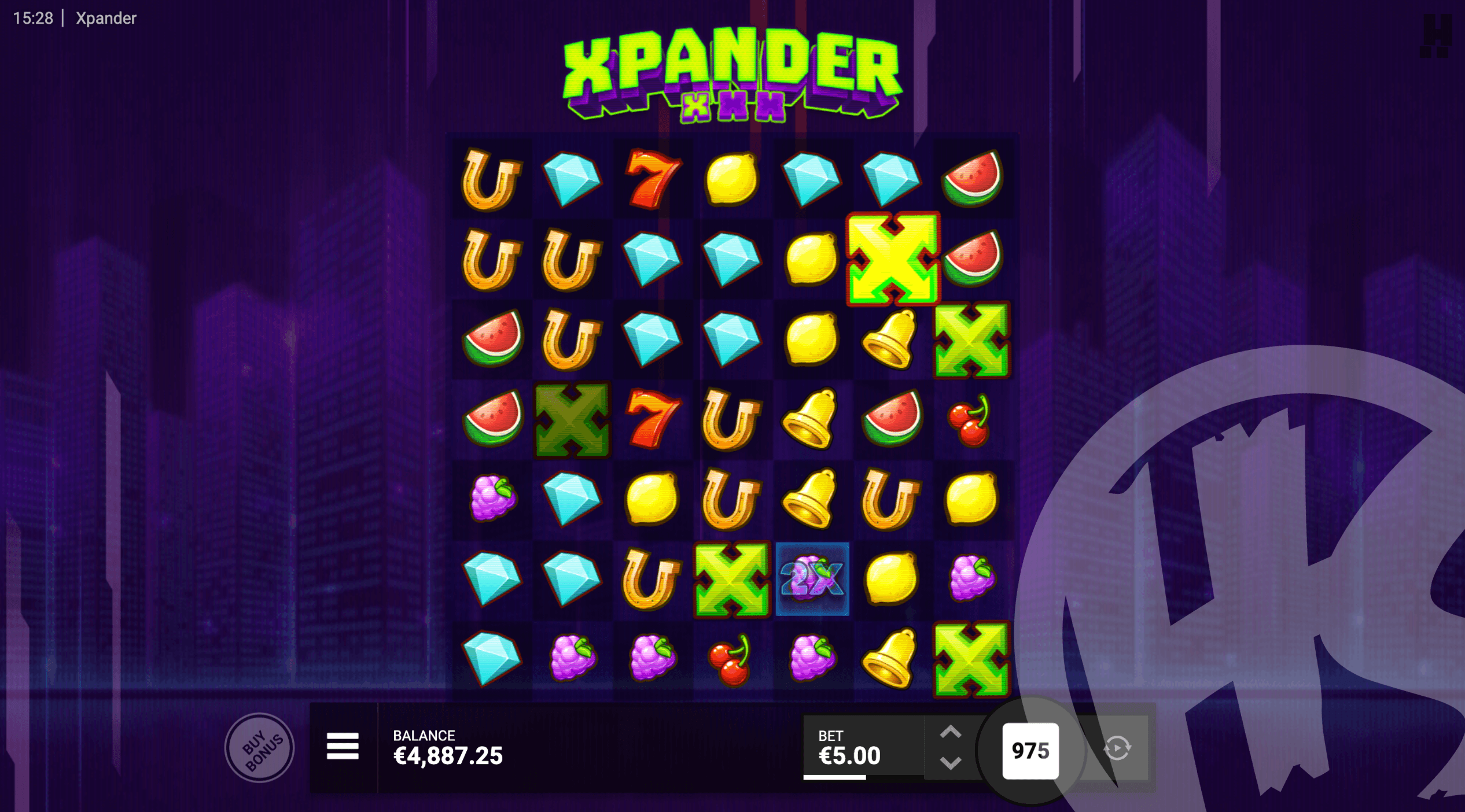 To enhance the base game of Xpander, there are a few different features on offer, which do a nice job of breaking up the monotony. First up are Tumbles, more commonly know to players as cascades, wherein any symbols involved in a winning combination are removed from the grid. Remaining symbols then drop down to the bottom-most available position, allowing for new symbols to drop in from the top, for the chance to form extra wins. Tumbles continue until no more wins can be formed.
Xpander is the most recent in the Hoppers™ series from Hacksaw Gaming, in which there is a hopping multiplier on the grid at all times. When the game begins, players will see a random position (1×1) on the grid is overlaid with a x2 multiplier, with the multiplier changing to a different, random position between spins. If the multiplier overlaps with a winning cluster, the win amount will be multiplied by the multiplier value. Hopper multipliers can expand as large as 4×4 in size, with values as high as x128, with the help of Double Up and Grow symbols:
Double Up: Will double the current multiplier value, up to a maximum of x128. It is possible to land multiple double up symbols in one spin. Each time the multiplier grows a re-spin is awarded.
Grow: Collect 3 grow symbols to increase the size of the multiplier, up to 4×4 in size. Each time 3 grow symbols are collected the multiplier size will increase, progressing through 1×1, 2×2, 3×3 and 4×4 sizes. Each time the size grows a re-spin is awarded. Grow Collection is reset between spins of the base game, but not during free spins.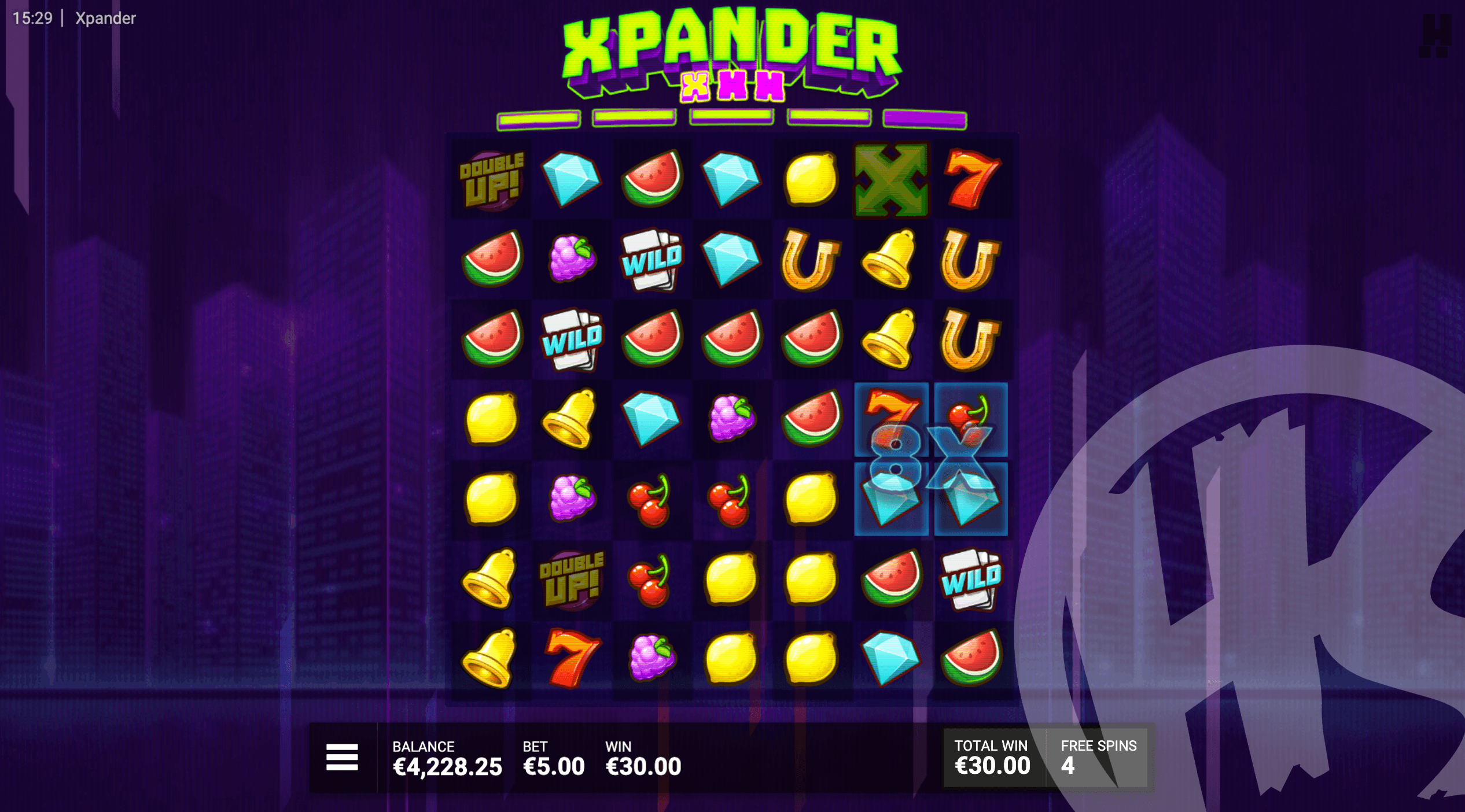 Xpander Bonus
Land 3 or more FS Symbols to trigger free spins. During free spins the multiplier value and size remains progressively for the duration of free spins, with the maximum size and value remaining 4×4 and x128. 5 free spins are awarded upon triggering the feature, with the potential to collect additional free spins through 1UP symbols, which each award +1 free spin.
Double Up symbols and Grow symbols work in the same way as the base game, however progress is kept through the free spin rounds.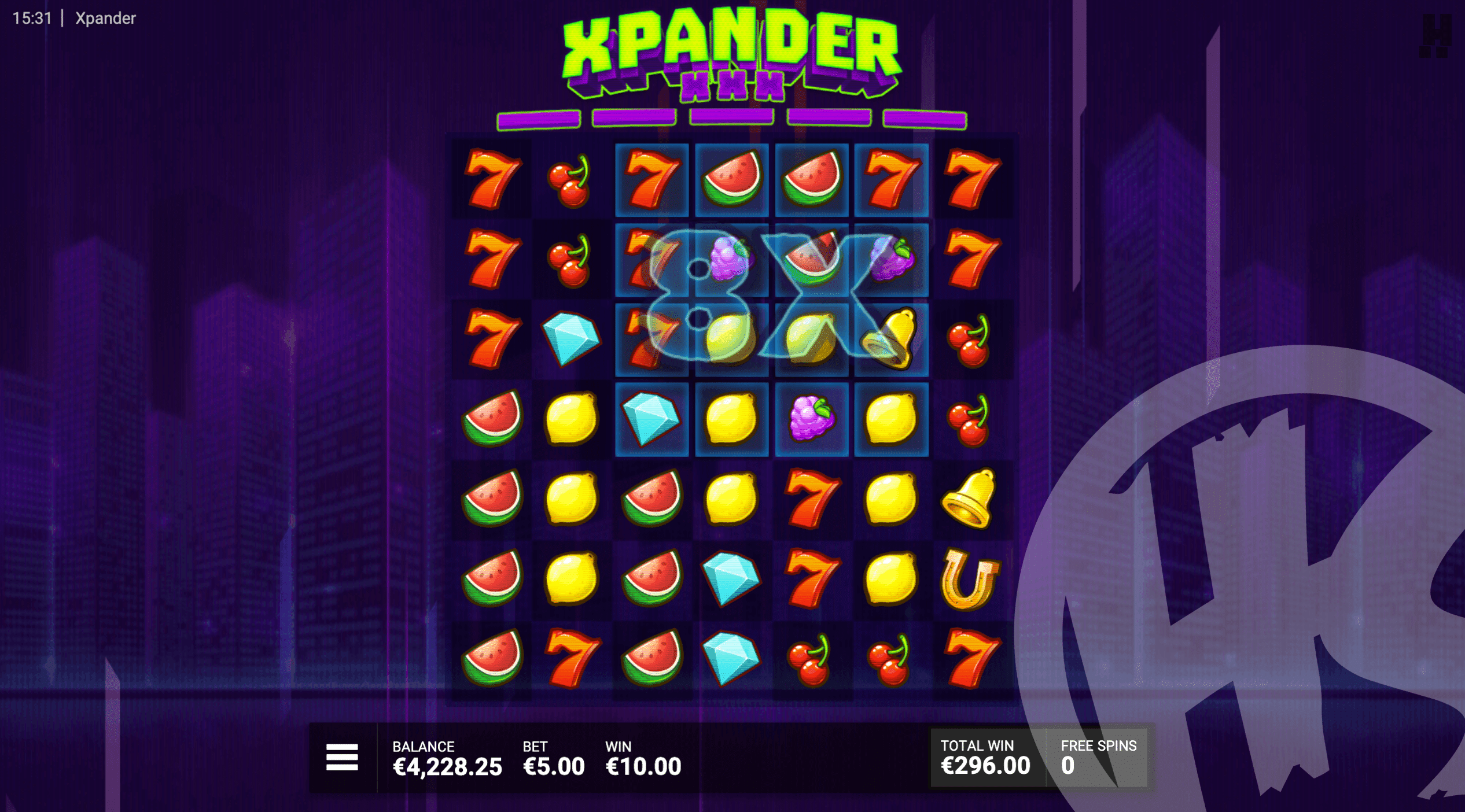 Players in appropriate regions can skip straight to the action with the help of the feature buy, available at a cost of 129x bet. When the feature is bought RTP takes a slight dip to 96.20%.
First Impression
Hacksaw are producing some awesome games this year, that are really bringing excitement to players, and inevitably Xpander will be no different. The Hoppers mechanic, that most recently featured in Hop'n'Pop, has proved successful with players, who like to feel as though there's always something going on, or something to work towards. With the potential to maximise the size of the multiplier as high as 4×4, with values as high as x128, Xpander has some serious power buried beneath its simple demeanour, which is probably how players can expect to see win values up to 10,000x bet in size.
From a statistical point of view, there's nothing to complain about. RTP is fair at 96.25%, and even though it does take a small dip during the feature buy, 96.20% is still more than decent. The maximum win on offer is worthy of the time it may take to land the feature, particularly with the Hopper Multiplier going towards breaking up the base game.
Remembering some of the recent releases from Hacksaw Gaming, including Stack 'Em and Born Wild, reminds us of the volatility we can expect. Each of the aforementioned games pack the punch we all desire, but also pack a literal punch, that can feel as though it hits you straight in the gut when things don't go your way. Xpander is intriguing, with the right mixture of symbols and features to make the base game exciting, taken further by elevating this excitement upon triggering free spins, but it should be approached with caution – when Hacksaw Gaming say high volatility, they mean it.
*The screenshots taken of games reviewed on this site are taken from Demo Play, as reviews are often written before games are released for real play.