Back in 2019, ELK Studios introduced us to Kane, an explorer who was planning to trek through a nondescript South American jungle, presumably the Amazon, in the hunt of big wins and exciting gaming. Since then, the team have brought us an array of similar games, each with their own unique gaming aspects and features. Now, Kane has discovered a temple in located to the east of the infamous KwaZulu-Natal district, where animals come to sacrifice gold to their gods, which means we're being treated to the next in the series – Zulu Gold. With wins up to 10,000x bet on offer and an RTP of 95.0%, let's take a look at the host of features this highly volatile release offers.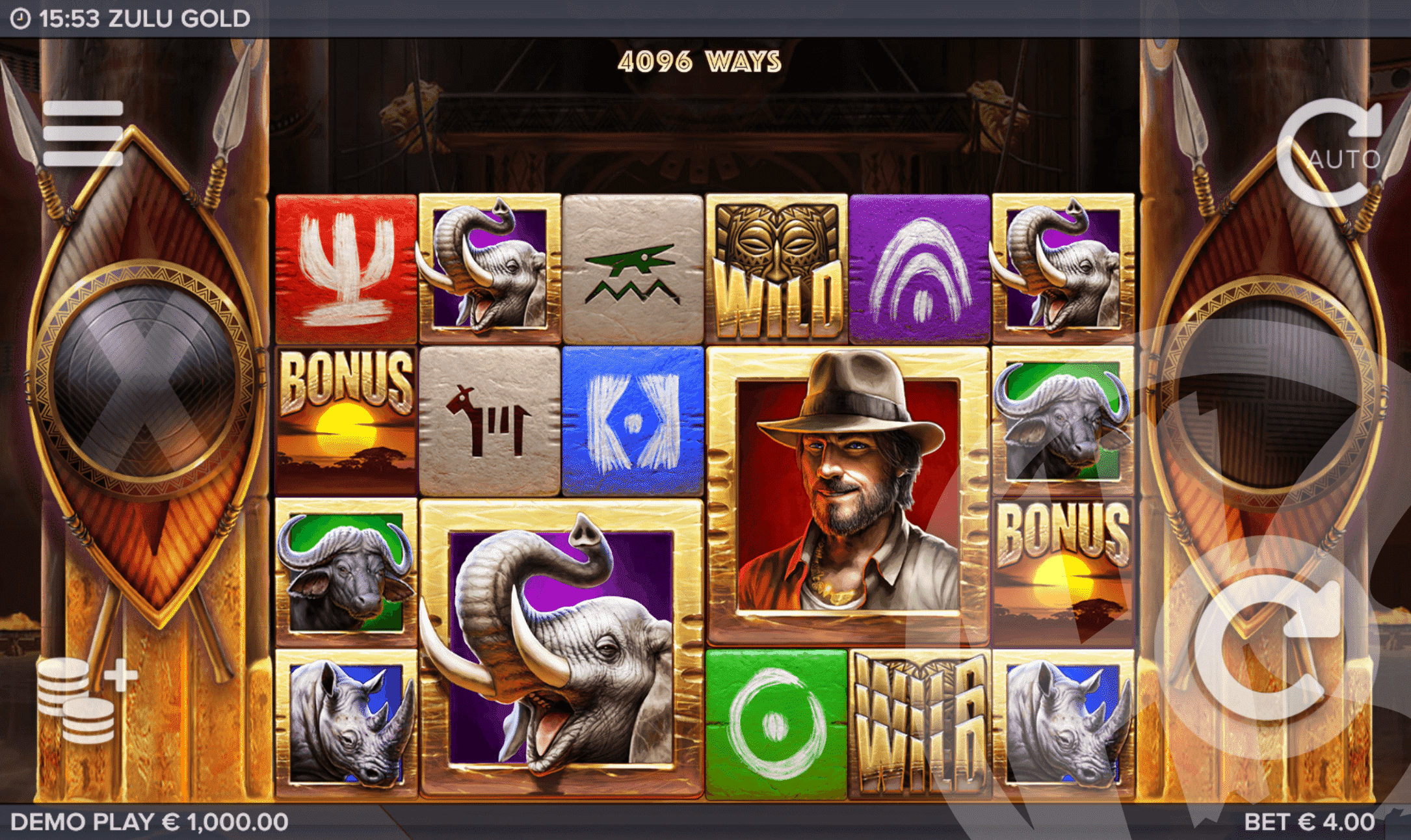 Visually, things are distinctively ELK, with dramatic shields to the sides of the reels, which sit upon wooden boards. Spears are also in view in this quite dimly lit environment, with gold behind the reels, and a throne, whilst audios are suitable for the theme – strong, upbeat and booming through.
Zulu Gold Base Features
Taking place across 6 reels, Zulu Gold offers players 4,096 ways to win at the minimum level. Wins are formed by matching at least 3 symbols across adjacent reels, beginning at the leftmost, in any position. Symbols available include lower paying stones with images carved into them paying 0.1x bet for 3 of a kind, up to 0.3x bet for 6 of a kind. Following this, there are medium level symbols represented by coloured stones, of which green and blue pay 0.15x bet for 3 of a kind, and 0.80x bet for 6 of a kind, whilst landing between 3 and 6 of a kind matches of purple or red stones will reward players with 0.20 – 1x bet. Finally, premium symbols include buffalos, rhinos, elephants and Kane, all rewarding players between 0.5 and 1.5x bet for 3 of a kind, up to 2-5x bet for 6 of a kind matches.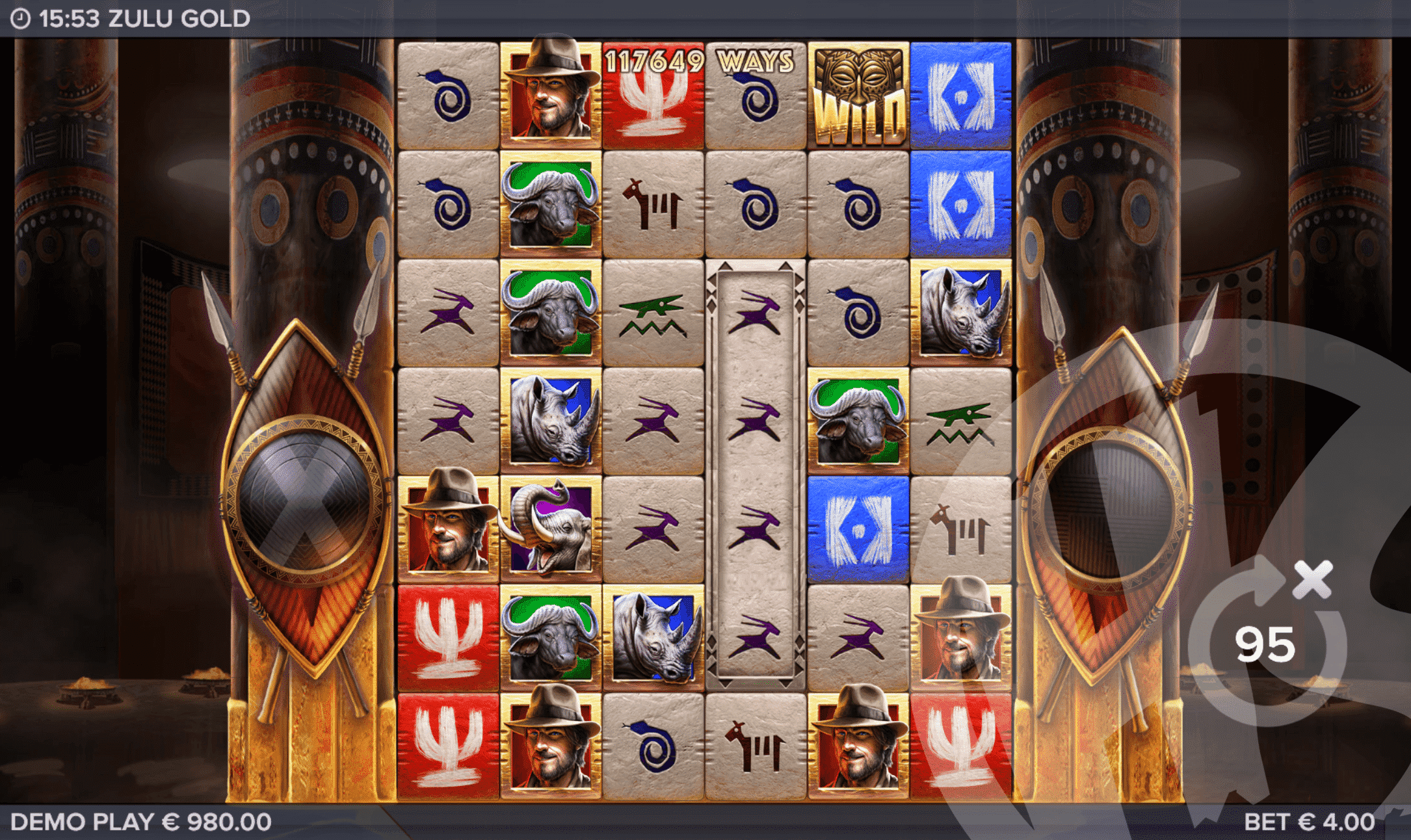 Three different wild symbols are available on the reels, beginning with the regular wild symbol, which substitutes for any symbol except the Bonus symbol, multiplier, Wild Walker or Charged Wild symbol. The Charged Wild is a wild symbol that comes with extra lives, only consuming a life when it contributes to a win. Finally, we have the Wild Walker symbol, which is a lion headed wild symbol that moves and leaves a trail of wilds behind. It is persistent between avalanches.
Additionally, Zulu Stacks or Big Symbols may land on the reels at any point:
Zulu Stacks: A symbol stack that can represent any symbol except Wild Walker, Charged Wild, or Bonus symbol.
Big Symbols: Super, Mega or Epic symbols either 2×2, 3×3 or 4×4 in size may drop down in any symbol drop. These symbols smash smaller, regular symbols out of the way, and if a space is below them they drop down more of the same symbol to fill the gap.
Avalanches – or cascades as we may know them – keep things moving forwards in the base game. All symbols involved in a win in the base game explode, leaving behind a space for the symbols left above to drop into, and new symbols to fill into their place. Once this happens, an additional row of symbols is added at the top of the reels, up to a maximum of 8 reels, or 262,144 ways to win. Avalanches continue until no more wins are formed.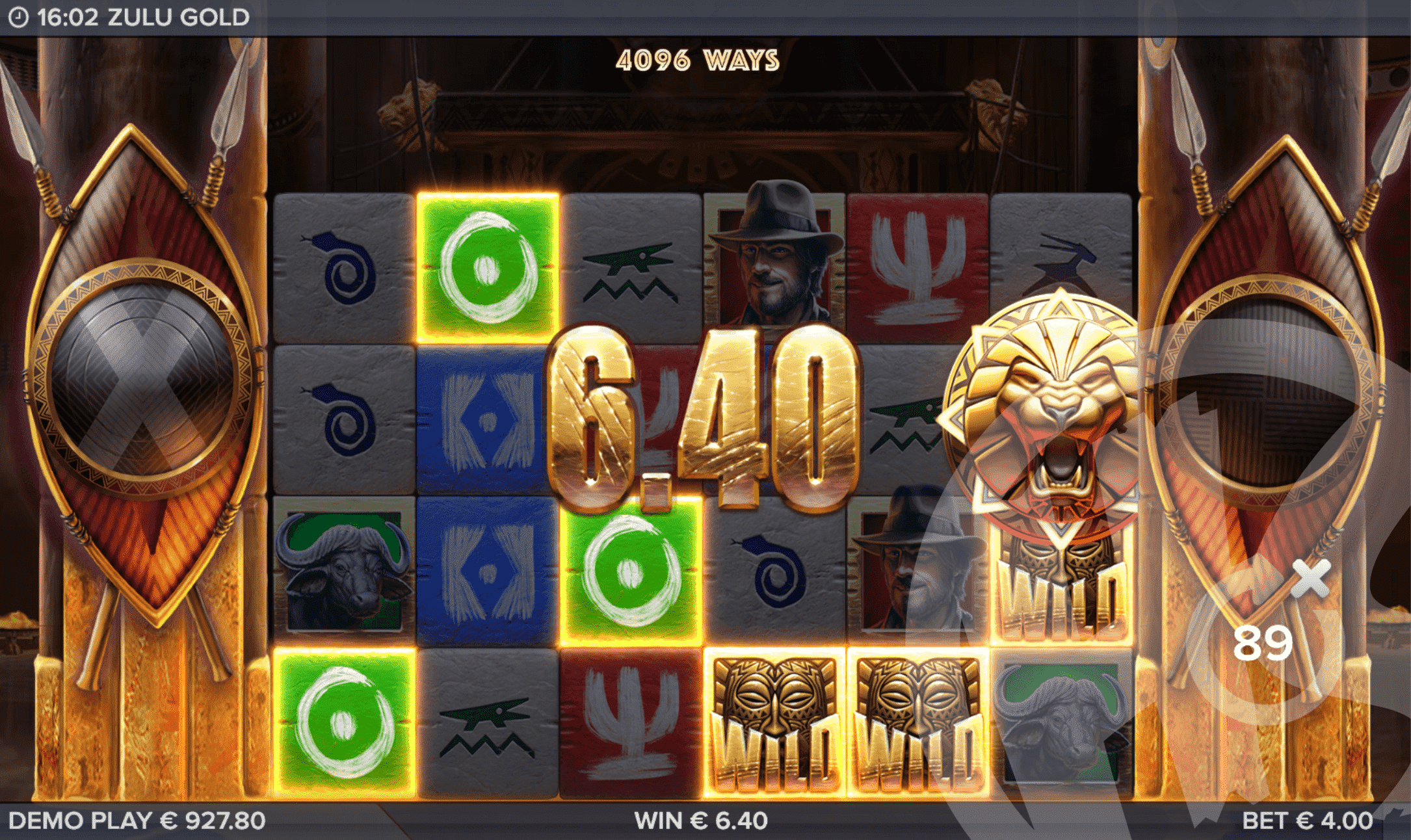 Zulu Gold Bonus
Landing 3, 4, 5 or 6 Bonus symbols triggers 10, 15, 20 or 25 Multiplier Free Drops, respectively. During the bonus round, Safety Levels are active, meaning the reels will only reset back to the size of the current Safety Level. The Safety Level increases by one for every new free drop which results in a win. Safety Levels are:
4,096 ways
15,625 ways
46,656 ways
117,649 ways
262,144 ways
Every new free drop will start at the current active safety level.
A win multiplier is active during the bonus round, buildable with the multiplier symbols which can land on the reels. When 3 or more multiplier symbols land on one free drop, they activate, adding their values to the total progressive multiplier value. After adding to the progressive multiplier, if more multiplier values land in the same free drop the original values still in view will be reactivated and re-added to the progressive value. Multiplier values not yet used remain on the reels between drops.
Players in appropriate regions can fast track the action and go straight to the bonus with 5 different Xciter game modes:
5x bet: 1 guaranteed win spin.
25x bet: 3 drops with Zulu Stacks.
100x bet: A regular bonus buy.
250x bet: 3 drops with Wild Walkers.
500x bet: A super bonus buy. Multipliers are persistent and never drop off the reels.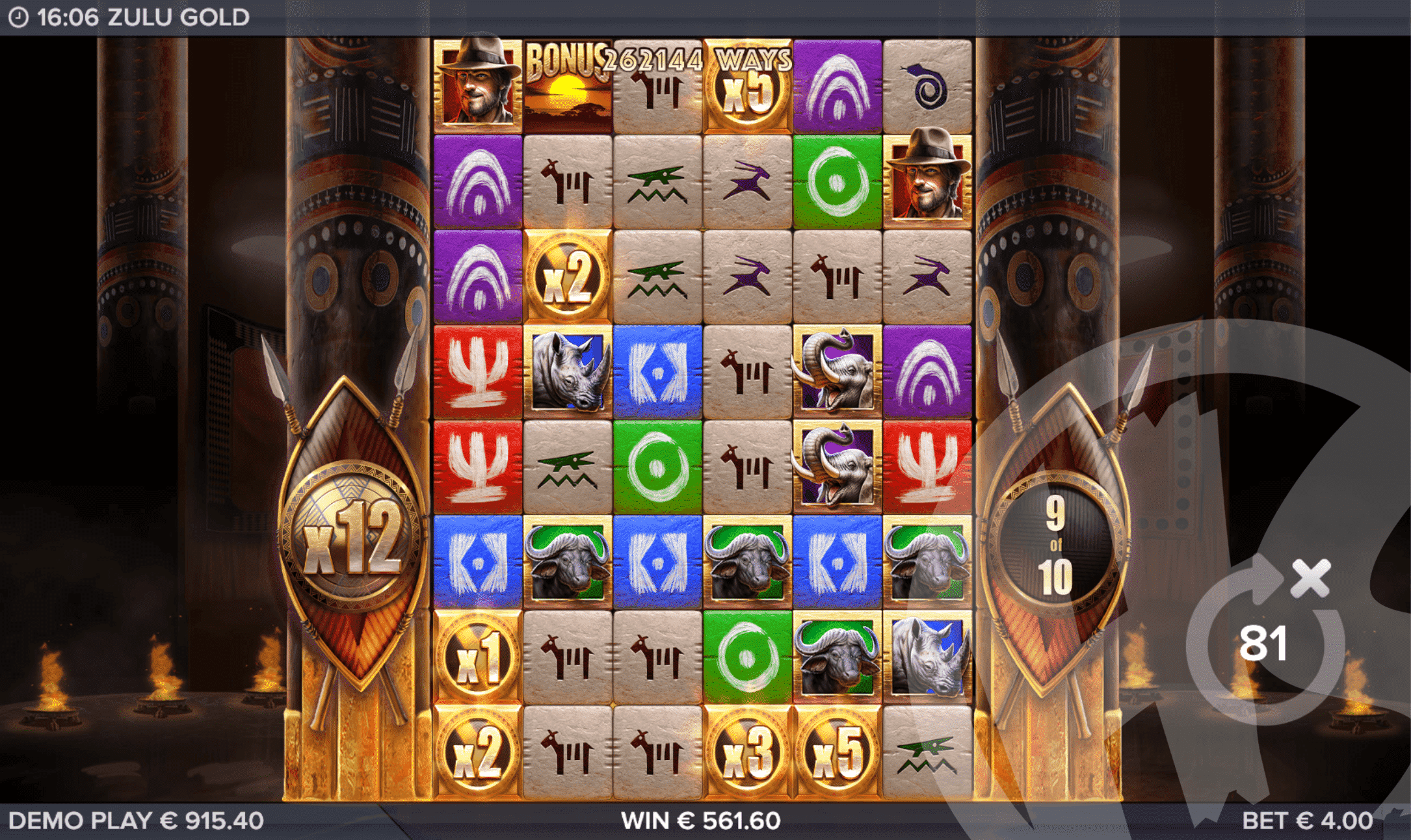 First Impression
ELK Studios have a habit of paving their own way of doing things, with little concern for what goes on outside their bubble. Unfortunately, this is a provider that is often forgotten about, but that's down to the fact their games aren't bonus hunt friendly, rather than not being appealing to players. Zulu Gold continues on the list of 'gold' games the team have released, including Katmandu Gold, Voodoo Gold, Tahiti Gold and the original Ecuador Gold – each proving more popular than the last, and it seems this edition will be no different. There is plenty happening within Zulu Gold, not the least of which is 3 separate wilds working alongside super symbols and Zulu Sacks.
Moving into free spins and multipliers help to keep things exciting, particularly with the potential to reactivate previously activated symbols if more fall within the same drop. These, combined with the Safety Level climbing as high as 262,144 ways to win help the excitement to build, particularly when considering wins up to 10,000x bet are available.
RTP is 95.0% and volatility levels are high, so there isn't much to complain about on that side of things. Players in included regions also have the chance to opt in to 5 different feature buys, from as low as 5x for a guaranteed win, up to 500x for a super bonus wherein the multipliers remain on the reels – a recipe for potential. Zulu Gold is a great follow on to an already exciting series, and fans of these releases should have nothing to complain about.
*The screenshots taken of games reviewed on this site are taken from Demo Play, as reviews are often written before games are released for real play.