One of the most important aspects of gambling online is being aware of the licensing body within your jurisdiction – who are they, and more importantly – what do they do? Having this information to hand can be useful for a number of reasons, not the least of which is recognising a reputable casino when you see one, and knowing exactly where you can visit to find the relevant licensing restrictions – that is, the code of conduct any casino licensed by this body must adhere to in order to retain their license. Failure to adhere to conditions can lead to any number of consequences for operators, including hefty fines, a license suspension, or in the worst case scenario – a complete removal of license.
One of the most talked about licensing bodies, often for both positive and less than positive reasons, is the United Kingdom Gambling Commission – more commonly known as the UKGC. Often regarded the most reputable license, yet one of the most difficult to obtain, players feel safe in the knowledge a casino is bound by the UKGC and their conditions. However, it's not always positive feedback the UKGC receive from players, with some feeling the rules have gone too far, so with that in mind – is it regulation, or is it restriction? Let's take a look at the good the UKGC have achieved, the bad in the eyes of some players, and the decisions many regard as 'just plain mad'.
Codes of Practice
The UKGC, according to their website, 'license, regulate and provide guidance to the individuals and businesses that offer gambling in Great Britain, including the National Lottery in the UK'. As part of their duty of care to protect players, a comprehensive list of licensing conditions is available on their website, and players have the ability to browse these conditions at any point in their gambling journey. Visitors to the website can also check a gambling business license – by name or account number, or search the public register. Remember that any casino licensed and regulated by the UKGC will have this information on the footer of their website alongside their account number, so if you are ever in doubt about the validity of this you can cross-check it against the public register.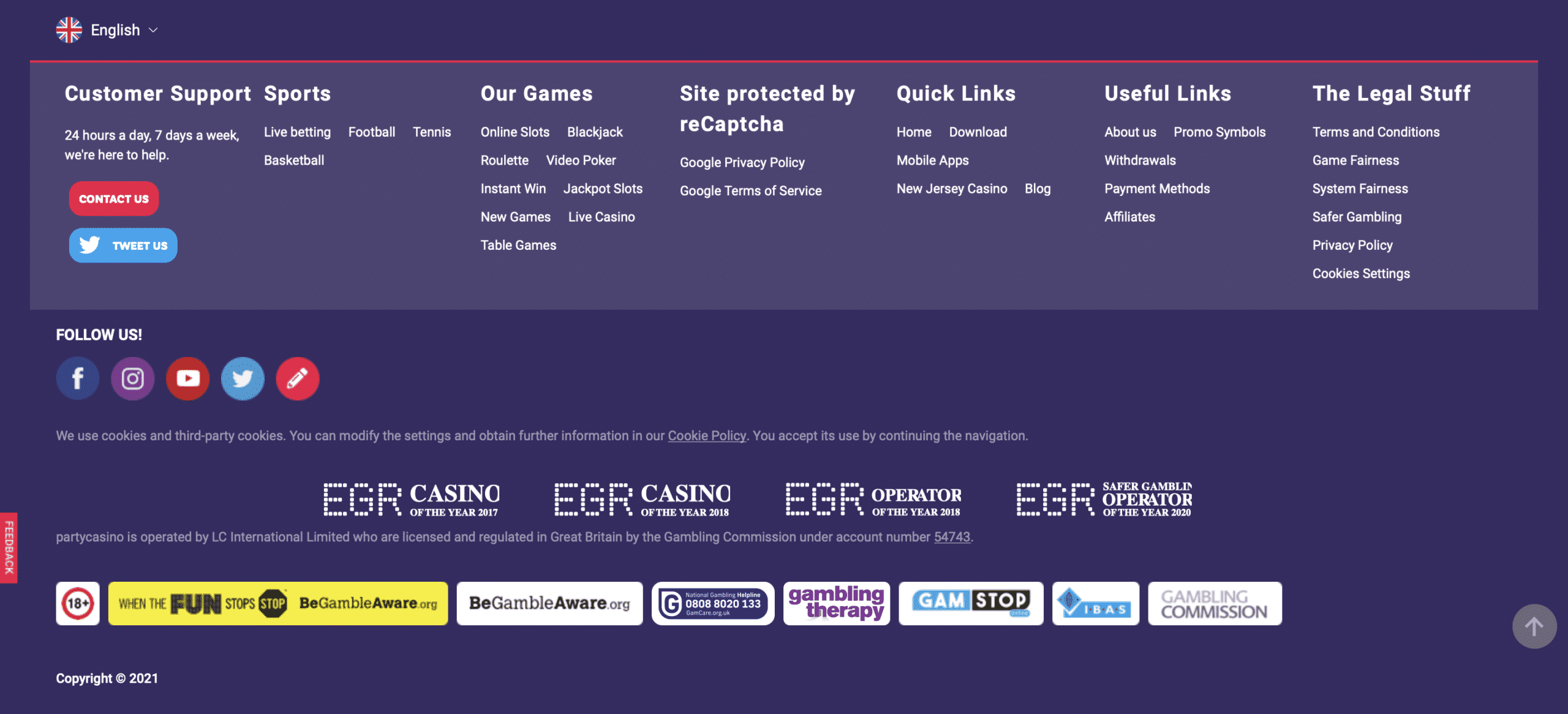 The Good: Player Protection
Over the years, the UKGC have made it clear that protecting players is in their best interests, and this is further made clear by some of the licensing conditions we see within the License Conditions and Codes of Practice (LCCP). However players must also do some work – usually by checking within the Terms and Conditions. Often, we accept Terms and Conditions without so much as a skim read, however many of the conditions set out by the UKGC include information being made available to players, so it's worth reading T&Cs to know where you stand:
Gambling businesses must tell players how their money is protected, if at all, should the company go into administration. There are 3 levels of protection: no protection, medium protection and high protection. It must be made clear to players which level of protection applies in the T&Cs.
 LCCP Condition 17.1.2 tells us that a request made by a customer must not result in a requirement for additional information if the information could been requested earlier. This condition is particularly important, and one players often misunderstand, as they believe they shouldn't ever be asked to verify themselves upon withdrawal, as they could have been asked sooner. However, the second part of this condition tells us that this requirement does not prevent a licensee from seeking information they must obtain due to another legal obligation. What this condition tells us is that other legal obligations do permit operators to request verification upon withdrawal, if necessary. This would include AML Regulations, or Anti Money Laundering. You will often find that operators will make it clear in their T&Cs at which threshold verification may be requested – for example, once £2,000 of withdrawals have been made. This allows players to keep track of this, and foresee the request, so they are prepared for a potential wait.
Similarly, LCCP Condition 17.1.3 states 'before permitting a customer to deposit funds, licensees should inform customers what types of identity documents or other information the licensee may need the customer to provide, the circumstances in which such information might be required, and the form and manner in which such information should be provided'. Again, players can find out from the moment they sign up to a casino, or even before, which documents will be required of them and when, meaning they can be prepared rather than blindsided.
Each of these, along with a host of other conditions such as transparent RTP information, removing reverse withdrawal options and the banning of depositing via credit cards, are examples of how the UKGC offers a level of player protection that is often unmatched in the gambling industry. If we are prepared to do a little of the work ourselves, most of the information we need is available either within the LCCP or the T&Cs of the relevant operator.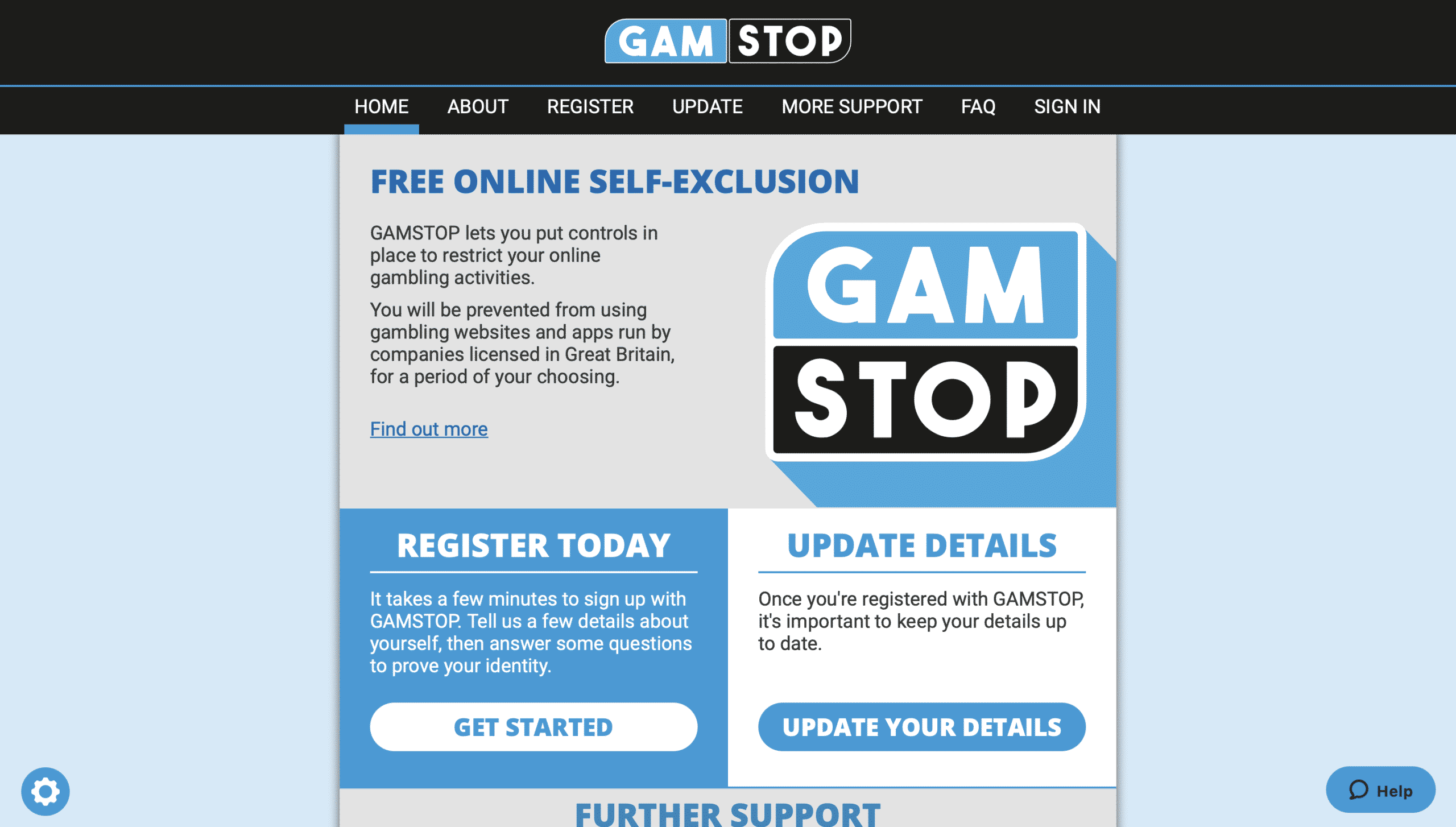 UKGC & GAMSTOP
Perhaps the best decision ever made by the UKGC regards GAMSTOP, the online self exclusion scheme. GAMSTOP is one of the most useful outlets, allowing any players to self exclude for a period of up to 5 years. By using the GAMSTOP service, players will not be able to log into any of their online accounts, and will not be permitted to open any new accounts, as it is compulsory for Casinos regulated by the United Kingdom Gambling Commission to be part of the GAMSTOP Self Exclusion Scheme. This means that any Casino regulated by the UKGC will not allow any player on GAMSTOP to open or use any account. It is free to register on GAMSTOP no matter how long the period of self exclusion you choose is. Further Support is available for free, including a list of useful resources. At the end of the self exclusion period, players can extend their exclusion, and this is also at no cost.
You can read more about GAMSTOP here.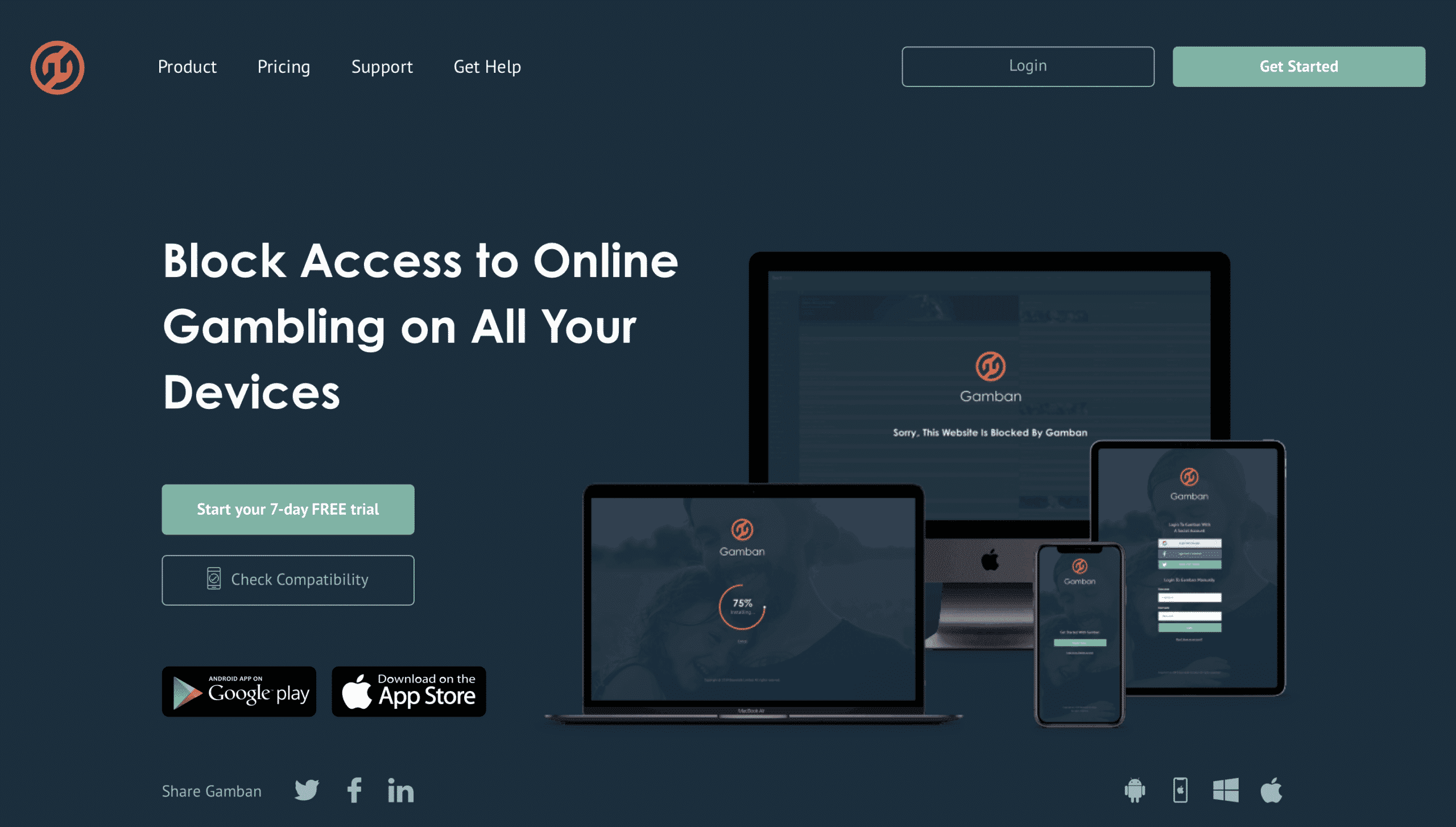 The 'Bad': Player Restriction
Let's preface this section by making it clear that one person's inconvenient could be another person's good, and we're now going to take a look at the decisions that have split the public. In spite of the good the UKGC are responsible for, some decisions have been met with displeasure from players, and not all of their decisions are regarded as highly as the decision to implement a requirement for operators to register with GAMSTOP. One of the main complaints from players is Anti Money Laundering, and the fact this can slow down withdrawals whilst verification documents are processed. "But I'm not money laundering!" is often the cries from players, confused as to why anyone would be laundering £100 through an online casino by playing on 20p stakes. However, the UKGC are not responsible for the Proceeds of Crime Act (2002), which plays a big part in AML Regulations, so it's fair to say these conditions aren't going anywhere, and we probably can't blame the UKGC for those.
Similarly, players continue to feel angered with increased Source of Wealth/Funds requests at UKGC licensed casinos, which is the point at which a casino will limit all play on your account until you can 'prove' you can afford to gamble at the level you do. Whilst we have limited knowledge of the behind the scenes decision making in the Source of Wealth process, it seems unlikely a casino can take into account every individual player and their income, savings, and total outgoings including rent, utilities and luxuries. What seems more likely is a casino adopting a 'one size fits all' approach, with a calculation based upon income and a percentage reserved for gambling. Many casinos will also not accept winnings from another casino as a contributory factor in a SOW declaration, so if you've had a big win don't think this will always be taken into consideration.
Another example of what some players consider to be a 'bad' decision includes the removal of feature buys, which is an option on some slots allowing players to buy a feature, usually for around 100x stake – although this can go as high as 2,000x stake (with pricing limits). Many players felt as though the removal of feature buys was a great decision for UK players, whilst others felt that, although they may not have chosen to buy any, players should be given the right to choose, and should have the right to a feature buy if they wish. This thinking has only gotten stronger with the release of many highly volatile games from providers like Nolimit City, with a lot of UK players feeling these releases focus around feature buys, meaning we do not get the same experience as the rest of the world.
Finally, players feel the 20/21 decision to remove 'quick spins' from players, which is a way of spinning at a faster rate than usual, to be again an example of removing all choice from players, with spins now required to last a minimum of 2.5 seconds in the United Kingdom. Although, again this decision was met with happiness by many, many again still believed it to treat players 'like children', removing any responsibility from them, with some finding it particularly annoying when within 'wagering' of bonus funds, where the goal is to complete wagering and there is no chance of withdrawing money until that point.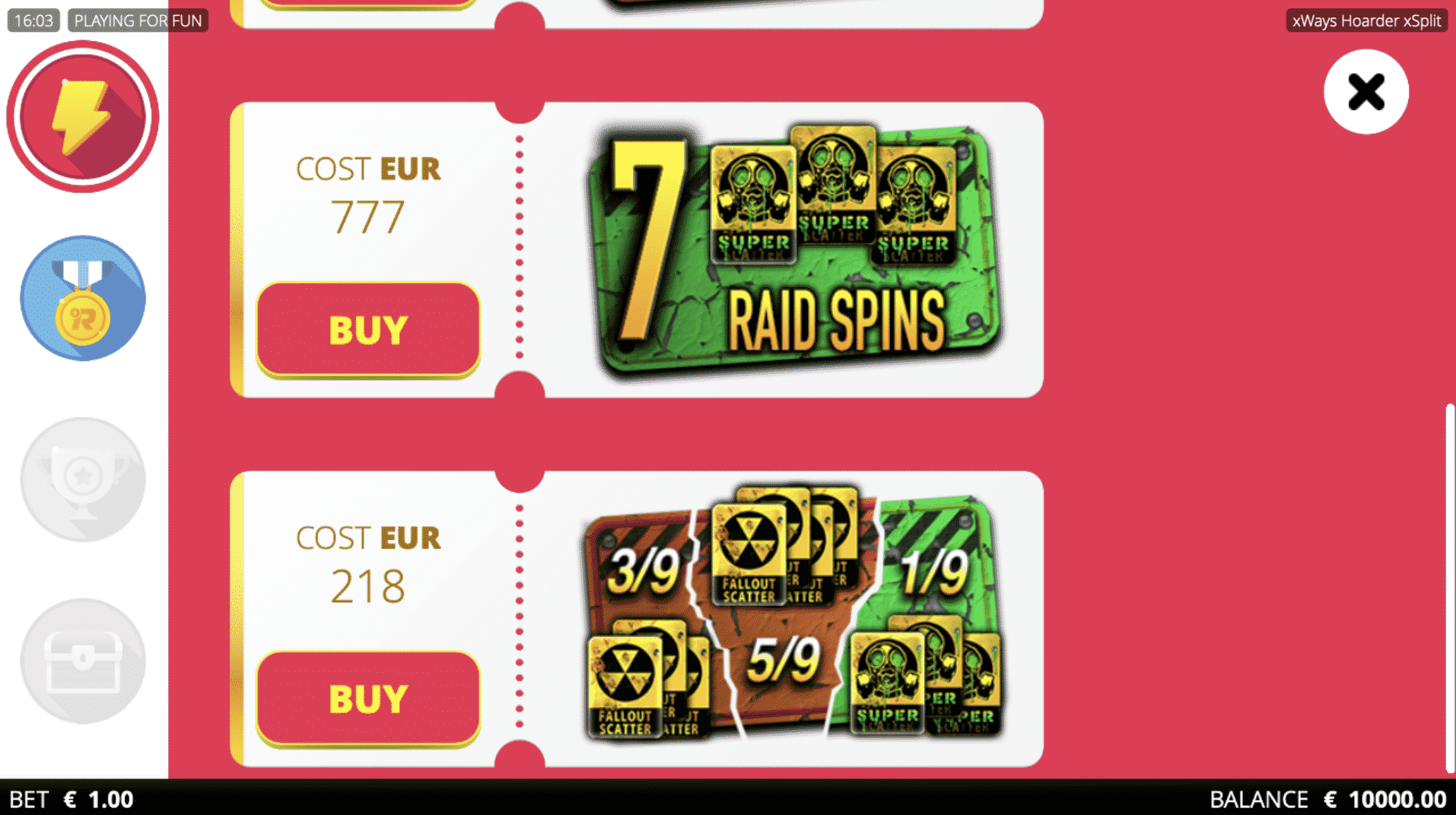 The Mad
Despite the good, and regardless of how you feel about what some consider to be 'the bad', in 2021, players at UKGC licensed casinos will lose access to autoplay, which seems to have been met with a resounding gasp. If you're not sure of what autoplay is, it's a setting within a casino game wherein players can choose an amount of spins (usually 25, 50, 75 or 100), and set a loss limit alongside a single win limit. For example, a player can set their stake to £1, set 50 autospins, with a loss limit of £30 and a single win limit of £100. This means 50 spins at £1 stake will play through, and the game rounds will stop once the 50 spins have been played. Should the player's balance decrease by £30 before the 50 spins have been played, the spins will stop, and should the player achieve a win of £100 or more in one spin before the 50 spins have been played, the spins will again stop. Extra settings are available, including whether or not to stop autoplays if a free spins feature is triggered. Of course, players do not have to use autoplay, and can instead just press the spin button.
Sounds like a dream, right? The perfect way to control how many spins are played, to control how much money you lose, and to stop and reassess the situation if or when you win. Well, that's what a lot of players thought, but the UKGC disagreed, and from October 2021, we can say goodbye to autoplay. Since the announcement, a plethora of players have come forward and stated they use autoplay to control their gambling, believing the UKGC reasoning of 'allowing players to stay in control' makes little, if any, sense. To no avail, though, as the situation hasn't changed.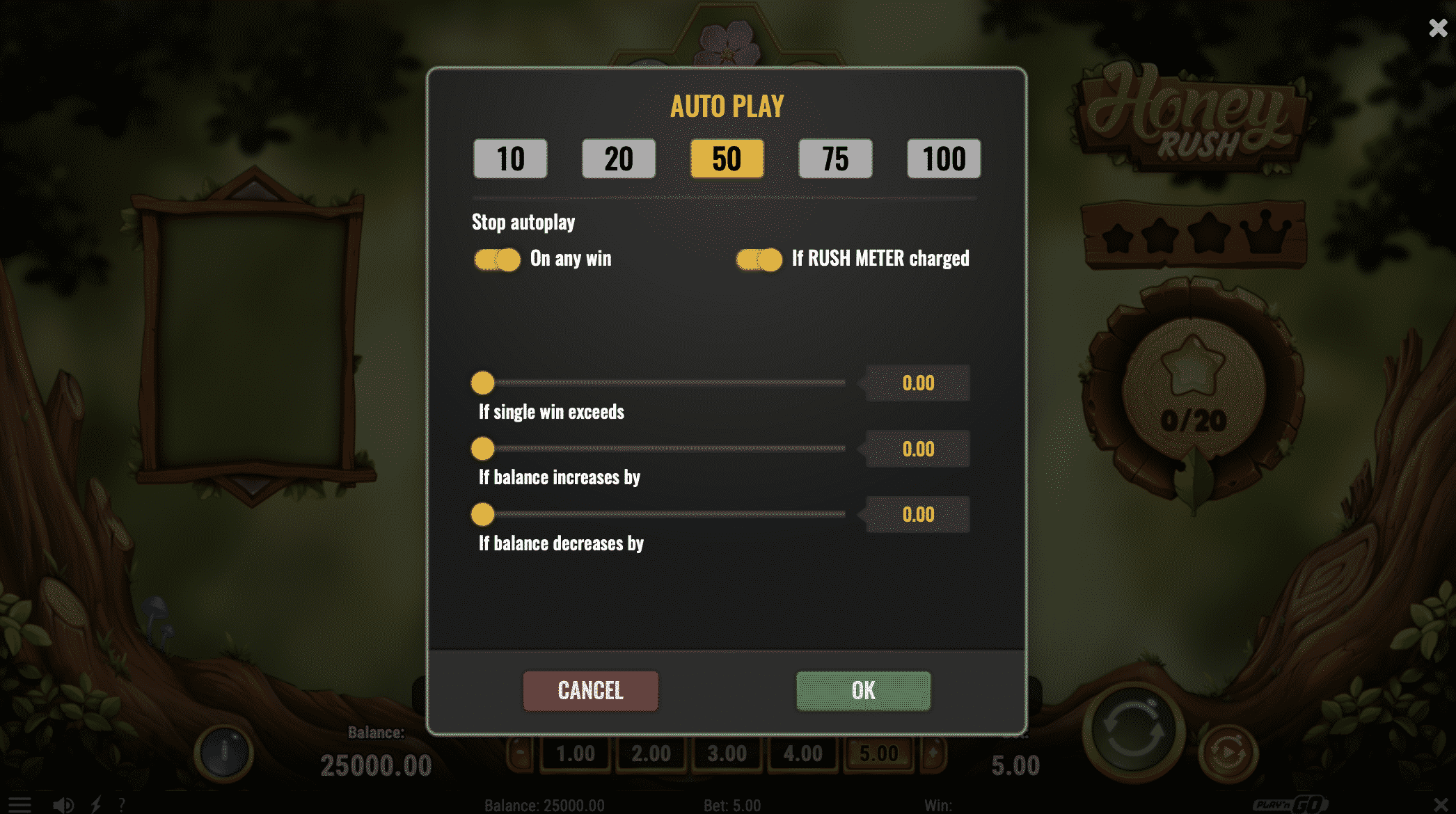 Removal of Auto Play: UKGC Explanation
Perhaps most important to consider in what is arguably the most controversial decision the licensing body has ever made is the information they provided alongside the announcement. In their consultation with players and operators, they posed 'Q17: Do you agree with the proposal to prohibit autoplay on slots?'. Here are some key points from the responses:
Although the majority of respondents did not agree with the proposal to prohibit auto-play on online slots, 29% either agreed or strongly agreed.
Operators were the least positive about the proposal, with around 18% in favour.
Members of other organisations and individual respondents were also not supportive with negative response rates of 73% and 65% respectively.
One operator indicated that they were concerned the UKGC were over-representing the views of those who had been harmed by their gambling, namely giving too much prominence to GamCare survey results.
A number of operators and a trade body pointed to previous data shown to the UKGC by the (then) Remote Gambling Association, which they said showed that auto-play use did not correlate with gambling harms.
A number of operators and one individual suggested that reducing the maximum number of auto-play spins from 100 may be more appropriate than prohibition, with suggested limits ranging from 10 to 50. Other suggestions included limiting the maximum stake permitted using auto-play or limiting the total number of times auto-play could be used per session.
Operators expressed views that the current requirements in place for auto-play, such as requiring a customer to set a loss limit before commencing the gamble, provided consumers with a suitable amount of control and that they required a customer to think about the total financial commitment before using the feature. A number of operators felt that prohibiting auto-play and removing these additional controls could be counterproductive to the aims of the proposal.
A small number of respondents informed the UKGC that removing auto-play would be detrimental to the player experience, that being required to press a button each time would be exhausting or tedious, and that removing auto-play would be unfair on some of the customer base.
Quite a few operators raised concerns about the evidential basis for prohibiting auto-play and mentioned that it was not clear how the UKGC had formed the proposal to ban it. Questions were asked about the correlation between auto-play usage and problematic behaviour.
Operators, trade bodies and some members of the public suggested that auto-play could be used as a way to control gambling expenditure. This was because consumers may use auto-play to play a set number of spins which could be determined beforehand and that it was easier to stick to compared with individually committing to each spin and keeping track of how many they had played.
A group of operators raised concerns that the proposal would make unlicensed gambling sites more appealing and the practice of using auto-play would become unregulated due to circumvention.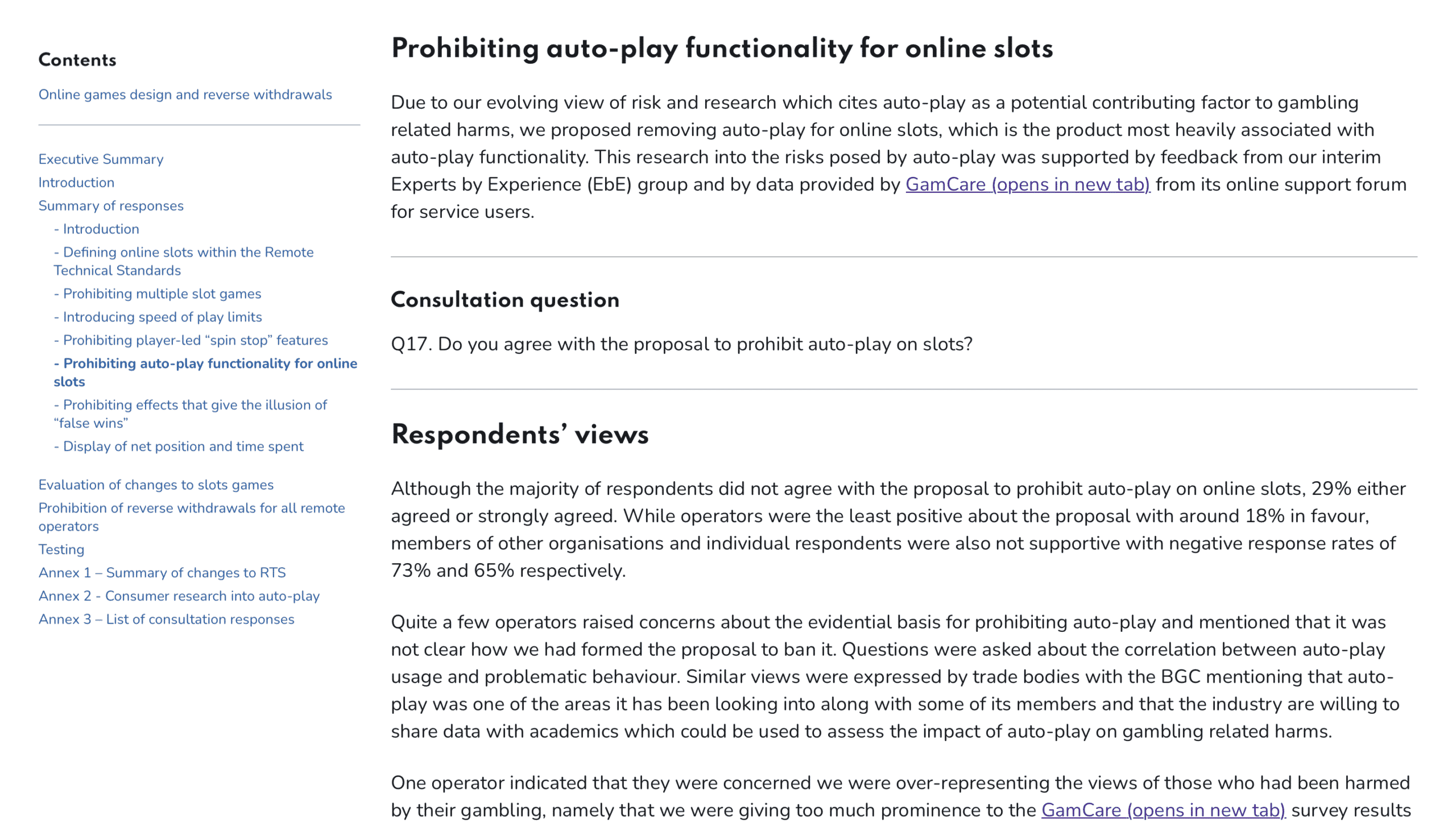 In the end, the explanation was as such: 'While it is not possible to attribute causality in terms of auto-play and intensity of play, these findings imply that there is a strong relationship between them.'
Furthermore, we were provided with the following results from 190 consumers & 33 GamCare survey recipients:
42% of respondents who use auto-play agreed that they lose track of their play whilst using auto-play.
Almost one-third agreed that auto-play makes it difficult for them to stop gambling.
58% of auto-play users agreed that auto-play had resulted in them playing a game faster than they had intended.
45% agreed that auto-play had resulted in them spending more money than they had originally intended
38% agreed that auto-play had resulted in them spending more time on a game than they had intended.
Whilst these results can seem concerning, it is important to remember that autoplay forces us to set a loss limit, and if we use that feature correctly (as opposed to just setting it to the full balance amount), we should know exactly how much we expect to lose. Further to this, auto play on many games was slower than regular play, as win screens were not skipped, however this is moot as there is now a minimum time of 2.5s per spin due to regulations, so it would be impossible for autoplay to go any faster than this.
Auto play is a tool that allows us to set spins and maximum losses so although losing track of play isn't the intended outcome, we do know that if we become distracted, autoplay maintains our original decision. If the alternative is an 'autoclicker', for example, we have no control over maximum losses or wins, and instead must focus and keep track ourselves.
The Future: Can We Trust the UKGC?
What seems to me, on a personal level, to be concerning is the first point – 'although the majority disagreed, 29% either agreed or strongly agreed'. Setting aside that this language could be construed to disregard the views of the majority, it's difficult to see why a proposal would be implemented with such little support, particularly from an outsiders perspective. This is before we consider the quite extensive list of reasoning then provided from operators and individuals, which highlights many valid points for not removing autoplay, including how the feature in fact does enable players to keep control.
Indeed, as one operator (anonymous) did point out, we must consider whether survey results from a selection of those with Gambling Disorders should hold more weight than survey results from a selection of active players. If we were to go down this route, could we face decisions made from those with the worst experience of gambling, with the ultimately the majority of responses from those with a healthy relationship discounted. Potentially, an approach such as this could massively restrict healthy gambling for the general public. As a further group of operators (anonymous) raised concerns about above, continued proposals such as these could make unlicensed gambling sites more appealing, and this could push active players to sites that appear to offer a greater freedom, but unfortunately have little to no player protection.
So, where does this leave the UK, and what can players expect the future to look like? We must continue to hope that we will not be subject to restrictions put into place 'for the sake of it', for want of a better phrase. With one of the most reputable licensing bodies available governing our access to many aspects of gambling, we must hope regular changes are not just to give an impression of doing… something. Can we maintain hope that the UK industry will be regulated by a body that believes in the choices they make – the right decisions, for the good of all players?